………………………………………………………………………………….
Vladimir Putin orders halt to all flights to Egyptian airports as evidence mounts that flight 9268 was brought down rather than suffering mechanical failure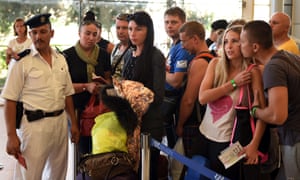 The sound of an apparent explosion can be heard on the flight recorder of the Russian-operated plane that came down over the Sinai peninsula, killing all 224 people on board, adding to mounting evidence that a bomb was smuggled aboard, French media sources said on Friday. Giving further credence to the idea that the plane crash was a terrorist act rather than because of structural failure, Russia, which for a week has been resistant to speculation about a bomb, suspended flights to all Egyptian airports.
An Egyptian-led international team of aviation experts, including some from France, successfully recovered the black box, the flight recorder, from the crash site. Several French media outlets, including the television station France 2, reported that the investigators had listened to it and concluded that a bomb had detonated, which would seem to rule out structural failure or pilot error. The pilots can be heard chatting normally, including contact with airport controllers, up until the apparent explosion.
The reports about the black box contents came as British attempts to bring passengers home from Sharm el-Sheikh descended into chaos on Friday.
While Russia had earlier suggested that the UK was acting prematurely in halting flights to the Red Sea resort over terrorism fears, Vladimir Putin ordered even wider restrictions on Friday, including halting all flights from Cairo. The head of his federal security services said it would be "expedient" to suspend flights until they had discovered why the Airbus 321 had crashed last Saturday.
Meanwhile, the US announced new security measures – including tighter screening – for flights from some airports in the Middle East. Jeh Johnson, the homeland security secretary, said that the move was motivated by "an abundance of caution". Russia initially dismissed claims by Islamic State (Isis) of responsibility for downing the Metrojet flight, which came weeks after threats of retaliation for Russian planes bombing Syria, and Moscow reacted angrily after David Cameron said it was "more likely than not" a bomb.
………………………………………………………………………………………….
Mounting suspicions over Sinai plane crash force Russian response
Russia warned UK against jumping to premature conclusions but has now suspended flights as clues increasingly point to bomb attack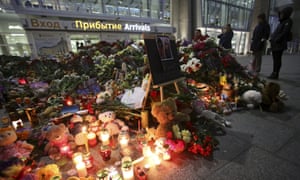 Clues about the fate of Airbus A321 have mounted quickly over the last few days, pointing to the conclusion that the Russian plane was brought down by a bomb.
The balance tipped towards terrorist action when Russia, which had urged the UK against jumping to premature judgments, finally bowed and suspended all Russian flights to and from Egypt.
The move was in response to a series of developments since Tuesday, when it was revealed that US satellite imagery had picked up a heat flash before the plane went down.
British government sources reported "chatter" picked up by surveillance agencies, hinting that a bomb may have been involved. There was alarm over the extent of lax security at Sharm el-Sheikh airport and on Friday, French media reported that sources close to the investigation were saying evidence on the black boxes pointed towards an attack.
The "chatter" was picked up by one of the most important of the overseas listening stations run by Britain's surveillance agency GCHQ at Mount Troodos, in Cyprus. From that listening post, the British can pick up communications as far away as Beijing but the interest this time was nearer at hand, information heard linking the crash to Islamic State and a bomb.
………………………………………………………………………………………..
The UK government's attempt to evacuate thousands of stranded British holidaymakers from the Egyptian Red Sea resort of Sharm el-Sheikh descended into angry scenes as tourists berated the UK ambassador to Cairo over further delays, with only eight out of 29 planned flights cleared to fly.
The first two repatriation flights from Sharm to the UK touched down on Friday afternoon after a day of conflicting information from airlines, embassy staff and Egyptian officials over the timetable for flights, during which the ambassador, John Casson, was heckled by furious tourists.
Sharm el-Sheikh airport is at the centre of security fearsafter a Russian airliner crashed last weekend in Sinai, killing all 224 people on board. British officials fear the plane was brought down by a bomb.
The angry exchanges came as more countries, including Russia, moved to introduce new flight restrictions.
In a crowded terminal of the resort's airport hundreds of Britons were hoping to return home after they were ferried to the airport in buses, only for easyJet to tell them that Egypt was blocking the arrival of extra flights.