Politics and Legislation
Chamber, House Republicans leave discord over the debt ceiling behind
By Kevin Bogardus and Rachel Leven
House Republicans who defied corporate leaders by voting against the debt-ceiling increase last summer will likely have the backing of Washington's most powerful business lobby come November.
Of the 66 House Republicans who voted against legislation to lift the debt ceiling in August, all but one have scored well enough on the U.S. Chamber of Commerce's 2011 legislative scorecard to earn a coveted endorsement, according to a review by The Hill.
The Chamber endorses candidates who earn a 70 percent rating or higher on the scorecard over their career on Capitol Hill, according to Rob Engstrom, the group's national political director. The Chamber's average lifetime rating for the House Republicans who opposed lifting the debt ceiling is more than 85 percent.
"Do we expect them to vote with us 100 percent of time? Absolutely not. Is 95 percent still an A? It is where I am from," Engstrom said. "We are not going to leave our friends who were 95 percent with us because of one or two votes."
Retiring Rep. Ron Paul (Texas) is the odd man out among the House Republicans who opposed the debt-ceiling bill, scoring a 64 percent lifetime rating from the Chamber.
Business groups and House Republicans, particularly members of the freshman class, were at loggerheads last year over the debt ceiling.
GOP lawmakers were elected on promises to shrink the government, not expand its credit line, and raising the debt ceiling became a test of their convictions in Congress's first legislative session.
Business lobbyists saw the conflict coming, and began an extensive effort to educate freshman Republican members about the issue after the 2010 election. Not lifting the debt ceiling, the lobbyists warned, would throw the economy into a tailspin if the country defaulted on its debts.
"We knew this was going to be a big issue. We were weighing in early and often on the debt ceiling," said Ron Eidshaug, the Chamber's vice president of congressional and public affairs. Eidshaug recounted meeting with a freshman GOP House member at a town hall event a week after the 2010 elections to talk about lifting the debt ceiling.
After a brutal political battle, the House eventually approved a deficit-reduction package that authorized a more than $2 trillion increase to the debt ceiling. The vote was 269-161, with 95 House Democrats also voting no.
The debt-ceiling bill was among 16 different House votes that the Chamber placed on its 2011 scorecard. It was given the same weight as the other votes, which included trade deals with Colombia and South Korea, action against the National Labor Relations Board and repealing the healthcare reform law.
"They don't get a free pass on this. That vote carries with them on their scorecard the
entire time they are in Congress," Eidshaug said. "We are aggressive on all these issues. We certainly were on the debt ceiling."
The Chamber continues to tussle with the House GOP at times, most recently over reauthorizing the U.S. Export-Import Bank (Ex-Im). Bruce Josten, the Chamber's executive vice president for government affairs, expressed frustration last month with the House Republicans who voted against renewing the bank's charter.
"It makes us upset that some of them went against us. Some of them typically go against us," Josten said at a Christian Science Monitor breakfast. "There's some new people that, I would contend, who don't truly, to this day, understand Ex-Im as a lending facility or the fact that letters of credit and international trade has been around for a thousand years."
Jade West, senior vice president of government relations for the National Association of Wholesaler-Distributors, said it's possible that the House Republicans could find themselves at odds with business groups once more when it's time to raise the debt ceiling again next year.
"Is there a possibility of disagreements with that group of conservative House Republicans again? Yeah, sure," West said. "But I don't see merit in ignoring several other pro-business votes that they have made and will make. … From where I'm sitting, you take in the totality."
Nevertheless, Eidshaug said, the Chamber enjoys good relations with the House GOP.
"Look at their scores. They are generally getting As," Eidshaug said. "The notion that we generally need to bury the hatchet with them is just not the case. … We need to earn their vote, and that's what we are doing."
The Chamber will aim to weigh in with television and radio ads in as many competitive congressional races as possible where its endorsed candidates are running. The group will release its endorsements on a race-by-race basis throughout the summer.
Engstrom said the Chamber could be active in up to 53 House races, and 12 for the Senate. He said the Chamber is "on track" to execute the largest, most aggressive voter-education effort in its 100-year history.
That's welcome news for the 28 House Republican freshmen who voted against raising the debt ceiling — including several who might be facing competitive races in the fall.
Other groups have not been as kind to House Republicans.
Some cry 'coup' as Egypt's highest court annuls parliament, military extends power
From Mohamed Fadel Fahmy and Josh Levs, CNN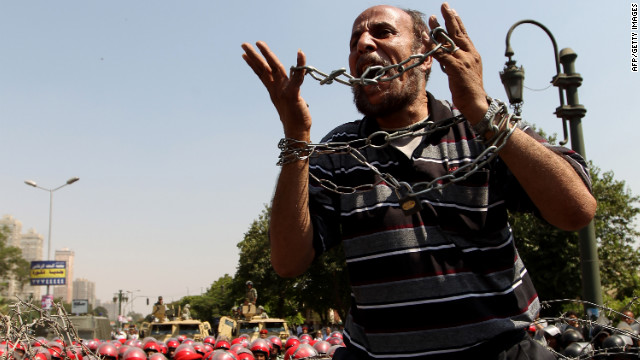 STORY HIGHLIGHTS
NEW: Ex-candidate Amre Moussa says the court ruling is "not a political move"
NEW: U.S. Sec. Clinton says, "There can be no going back on the democratic transition"
The Supreme Council of the Armed Forces declares full legislative authority
A runoff vote is set for this weekend between Mohamed Morsi and Shafik
Lea este artículo en español/Read this article in Spanish
Cairo (CNN) — Egypt's highest court declared the parliament invalid Thursday, and the country's interim military rulers promptly declared full legislative authority, triggering fresh chaos and confusion about the country's leadership.
The Supreme Constitutional Court found that all articles making up the law that regulated parliamentary elections are invalid, said Showee Elsayed, a constitutional lawyer.
The ruling means that parliament must be dissolved, state TV reported.
Parliament has been in session for just over four months. It is dominated by Islamists, a group long viewed with suspicion by the military.
The Supreme Council of the Armed Forces, in control of the country since Mubarak's ouster, said that it now has full legislative power and that by Friday it will announce a 100-person assembly that will write the country's new constitution.
The real obstacle to democracy in Egypt
The Muslim Brotherhood, Egypt's largest Islamist party, said SCAF leaders were taking matters into their own hands "against any true democracy they spoke of."
The court also ruled that former Prime Minister Ahmed Shafik, the last prime minister to serve under ousted President Hosni Mubarak, may run in a presidential election runoff this weekend.
The court rejected a law barring former members of Mubarak's regime from running in the election.
The runoff Saturday and Sunday pits Shafik against Mohamed Morsi, head of the Freedom and Justice Party, which is the Muslim Brotherhood's political arm.
Shafik, at a news conference in Cairo, praised the high court for rejecting the rule preventing former regime members from running. "The age of settling accounts is over and gone. The age of using the law and the country's institutions against any individual is over," he said.
Mahmoud Ghozlan, a spokesman for the Muslim Brotherhood, said a court ruling to ban Shafiq was unnecessary.
What is the Muslim Brotherhood?
"We will put all our efforts into the upcoming elections so that Morsi wins and we avoid the rebirth of the old regime overnight," he said.
Yet some Freedom and Justice members, including parliamentarian Mohamed el-Beltagy, called the rulings "a complete coup d'etat through which the military council is writing off the most noble stage in the nation's history."
Ashraf Khalil, an Egyptian-American journalist and author of the book "Liberation Square," predicted that the Muslim Brotherhood, which has "shied away" from "straight-up confrontation" with the military leadership, won't "go to war over this."
"The activist community, on the other hand, they are very upset," he said.
Hossam Bahgat of the Egyptian Initiative for Personal Rights decried the court's decisions in a tweet.
"Egypt just witnessed the smoothest military coup," said Bahgat "We'd be outraged if we weren't so exhausted."
Perhaps guarding against more popular unrest, riot police and military personnel, some in armored vehicles, were outside the court ahead of the rulings. Military intelligence officers were also present.
After the ruling about Shafik was announced, a crowd of citizens shouted their disapproval. Military police moved to block the road in front of the court — a major Cairo artery.
Shadi Hamid, director of research at the independent Brookings Doha Center, called the court rulings the "worst possible outcome" for Egypt and declared that he felt the transition to civilian rule is "effectively over."
"Egypt is entering into a very dangerous stage and I think a lot of people were caught by surprise," he said.
Johnson & Johnson Becomes 19th Company to Dump ALEC
Johnson & Johnson, a member of the American Legislative Exchange Council's corporate "Private Enterprise" board and its Civil Justice and Health and Human Services task forces, announced [yesterday] that it has decided to "suspend" its ALEC membership.
"We have been in dialogue with the American Legislative Exchange Council (ALEC) for some time, and while we acknowledge ALEC's recent decision to focus only on innovation and growth-supporting policies, we have decided to suspend our participation and membership," a Johnson & Johnson spokesperson told CMD.
Johnson & Johnson is an international health care and pharmaceutical company based in New Jersey with revenues of $65 billion in 2011. Its brands and products include: OneTouch glucose testing, Acuvue contacts, Listerine, Aveeno, Neutrogena, Neosporin, RoC, Band-Aid, Tylenol, Splenda, Carefree, and Visine. It also sells prescription drugs, medical devices, and medical supplies including Cordis and Ethicon.
ColorOfChange.org, CMD, and Allies Urged Johnson & Johnson to Dump ALEC
The Center for Media and Democracy's (CMD's) Executive Director and former Deputy Assistant Attorney General at the U.S. Justice Department, Lisa Graves, applauded Johnson & Johnson and said its decision "demonstrates that the excellent work of concerned citizens to shine a light on ALEC's extreme agenda is working."
19 corporate members have announced they were cutting ties with ALEC since it became clear that ALEC ratified as a "model" bill the law that may protect Trayvon Martin's killer and other unarmed victims. Florida's "Stand Your Ground" law, on which the bill is based, is the subject of a new U.S. Commission on Civil Rights inquiry for racial bias.
ColorOfChange.org, a grassroots organization that aims to strengthen the voice of African Americans, launched radio ads last week targeting African Americans in Chicago, DC, New Brunswick, NJ, and Sanford, FL, with news about Johnson & Johnson's ties to ALEC. ColorOfChange.org Executive Director Rashad Robinson also penned an op-ed for yesterday's New Jersey Star-Ledger saying, "It's time that major companies based in New Jersey, including Johnson & Johnson, realize that membership in ALEC is bad for their customers and bad for the state."
Feinstein fires back at McCain as parties battle over security leaks
By Jeremy Herb
Senate Intelligence Committee Chairwoman Dianne Feinstein (D-Calif.) said Wednesday that Sen. John McCain (R-Ariz.) was wrong to accuse President Obama of hypocrisy for opposing a special counsel to investigate recent national security leaks.
"Senator McCain has his way of saying things," Feinstein told reporters. "He's a United States senator — he can certainly say what he wants. I don't happen to agree with that."
Feinstein's pushback against McCain's hypocrisy charge comes as a major divide has opened between Democrats and Republicans over how to investigate a series of national security leaks, including disclosures about a U.S. cyberattack against Iran, a "kill list" and a double agent in Yemen.
Both Feinstein and McCain are in agreement that the recent series of intelligence leaks is the worst cases they have seen as senators — more egregious than the Valerie Plame CIA leak under the George W. Bush administration.
The partisan fight that's broken out over the leaks this week stems from deep disagreement over the best way to get to the bottom of the security leaks and Republican anger toward perhaps the most contentious figure in the Obama administration, Attorney General Eric Holder.
Republicans allege that the leak investigation Holder announced Friday, in which two U.S. attorneys will investigate and possibly prosecute the leaks, will not be an independent investigation.
McCain on Tuesday said it was the "height of hypocrisy" for Obama to oppose a special counsel when Obama called for independent investigations of the Plame and Jack Abramoff scandals during the Bush administration.
McCain has introduced a nonbinding resolution demanding a special counsel to investigate the leaks.
Republicans on Tuesday pressed Holder, who could face a contempt of Congress vote in the House Oversight Committee next week, to explain why he and Obama did not think a special counsel is appropriate.
McCain and Sen. Lindsey Graham (R-S.C.) cited calls for independent investigations from then-Sens. Obama (Ill.) and Joe Biden (Del.) during the Plame and Jack Abramoff investigations in the Bush administration.
"There is no doubt in my mind that if the shoe were on the other foot, you and everybody on that side would be screaming to high heaven to appoint a special prosecutor that all of us could buy into," Graham said told Judiciary Chairman Patrick Leahy (D-Vt.) at Tuesday's hearing.
Democrats, including Feinstein, have rejected the charges from Republicans. They say that the two U.S. attorneys appointed, D.C.'s Ronald Machen and Maryland's Rod Rosenstein, will operate independently and fairly.
The court also declared that some of the rules in a parliamentary election that ended earlier this year and which handed control to Islamists were unconstitutional, the sources said.. (Reuters)
By AL ARABIYA WITH REUTERS
Former Prime Minister Ahmed Shafiq was given the green light on Thursday to run for president when Egypt's constitutional court ruled against a law that would have thrown him out of the race, judicial sources said.
"The Supreme Constitutional Court has ruled that the political isolation law is unconstitutional," the state MENA news agency reported.
The court also declared that some of the rules in a parliamentary election that ended earlier this year and which handed control to Islamists were unconstitutional, the sources said.
The court found that the seats of a third of the seats in the Islamist-dominated parliament were invalid, stirring fresh uncertainty in the politically divided country.
"The constitutional court ruled unconstitutional some articles of the parliamentary election law related to the direct vote system," MENA reported, referring to the third of seats elected on a first-past-the-post system.
The ruling military decided on a complex electoral system in which voters cast ballots for party lists which made up two thirds of parliament and also for individual candidates for the remaining seats in the lower house.
The individual candidates were meant to be "independents" but members of political parties were subsequently allowed to run, giving the Muslim Brotherhood's Freedom and Justice Party an advantage.
That decision was challenged in court.
The ruling will cast all of parliament's legitimacy into question. Parliament speaker Saad al-Katatni, an Islamist, had said before the ruling that the house would have to consider how to implement it.
In the absence of a constitution, suspended after last year's overthrow of president Hosni Mubarak, no authority had the right to dissolve parliament, Katatni said.
He said one possibility would be to hold by-elections for the seats ruled unconstitutional.
Experts have said the parliamentary ruling could lead to the dissolution of parliament or a re-run for the seats affected. The presidential vote that pits Shafiq against the Muslim Brotherhood's Mohamed Mursi will go ahead on Saturday and Sunday.
A judicial body had already recommended that both laws be overturned, allowing Shafiq to continue his bid and possibly dissolving the parliament. The court was not bound to follow that advice, but it was a likely indication of the ruling.
Analysts say that the election drama only two days before the Saturday and Sunday run-off is emblematic of the tortuous and messy transition overseen by the council of army generals since Mubarak was ousted 16 months ago.
"This sort of overhang is a reflection of our current state of affairs. Only days before the election and there is legal uncertainty," Judge Mohamed Hamad al-Gamal, a former head of the state council, told Reuters.
Seeking to derail presidential bids by senior Mubarak-era officials, parliament approved the law on April 12 to strip political rights from anyone who served in top government or ruling party posts in the last decade of Mubarak's rule.
That law initially prompted the election committee to disqualify Shafiq. But he was let back into the race on appeal and pending the constitutional court ruling.
In a security message its website, the U.S. embassy in Cairo said any decisions from the Thursday's court session may lead to protests. "These court decisions may further raise the level of tension as Egypt heads to the polls to elect their first democratically elected president," it said.
The election pits Shafiq, who is running on a tough law-and-order platform, against the Muslim Brotherhood's Mursi, whose movement has vowed to uphold the goals of the uprising that propelled it to the forefront of Egyptian politics.
Mursi came ahead with 24.7 percent, against Shafiq's 23.6 percent, in the first round of voting in May, which saw 13 candidates compete for the top job.
The race has polarized the nation between those who fear a return to the old regime under Shafiq's leadership and those wanting to keep religion out of politics and who accuse the Muslim Brotherhood — which already dominates parliament — of monopolizing power since last year's revolt.
"It's the worst possible scenario," said Hassan Nafea, professor of political science at Cairo University.
"If Shafiq is elected, this means the revolution has been aborted. If it's Mursi, the country will be run according to the Muslim Brotherhood program, which most Egyptians reject," he told AFP news agency.
The difficult choice has garnered support for the boycott movement, largely ignored in the first round of voting.
Now high-profile activists and celebrities are calling on the 50 million registered voters to abstain or to void their ballots, highlighting the fact that the very same judiciary that issued the controversial Mubarak verdicts will oversee the election.
********************************************************************************
Economy
How Jamie Dimon's New Business Model From Hell Could Take Down Wall Street – Again
An "Investment" office sans licensed investment brokers is the latest deregulatory mutation on Wall Street.
The following piece is a co-exclusive with Wall Street on Parade.
If you want to trade securities at any brokerage firm in the U.S., you'll need to study intensively for about three months, memorize dizzying rules and regulations, then take a six hour licensing exam. (The exam is so rigorous that it's compared to the CPA exam. I don't know if it's fact or lore, but I was told exam rooms in past decades had puke buckets in the corners.  My room didn't in 1986.) Then, you'll need to get fingerprinted, pass a background check, register with a host of stock exchanges, make sure you have a supervisor who holds a principal's license, get approved in each state in which you plan to conduct business, and take ongoing continuing education classes to keep your licenses.
Or, you could skip all of that and earn $14 million a year trading – without a license – stocks, bonds, swaps, options, futures with $374 billion of bank depositors' money at JP Morgan Chase's Chief Investment Office – a unit few on Wall Street had ever heard of until it reported losing billions of dollars in May in the same derivative transaction that made AIG a ward of the taxpayer in 2008.
An "Investment" office sans licensed investment brokers is the latest deregulatory mutation on Wall Street. The other mutation is the JPMorgan model to create an art form out of depicting itself as a "fortress balance sheet" while holding $156 billion of capital and $66 trillion (with a "t") in derivatives according to financial filings for March 31, 2012 with the Comptroller of the Currency.
Ina Drew, the head of the Chief Investment Office at JPMorgan in New York earned $29 million total for years 2010 and 2011.  She was paid on a par with a hedge fund manager because, in essence, she was a hedge fund manager.  She held no securities licenses so she was ineligible under securities law to supervise others who did hold a license; sort of like an operating room full of unlicensed brain surgeons who never went to medical school.
Cenk Uygur: Iceland Shows Bailing out Middle Class Works, Not Bailing Out Banks
On The Young Turks yesterday, Cenk Uygur spoke about two different approaches to the economic bailout.
There's the US m.o., where we gave "everything to the banks, and nothing to the homeowners" and are, predictably, still struggling. Then there's the divergent example of Iceland, where initial efforts at complete deregulation failed and the government switched course by indicting those who had "caused the mess" and bailing out the middle class instead.
Take a look at what they did, and how it worked.
***********************************************************************************
Wars and Rumors of War
The Muslim Brotherhood's presidential candidate Mohammed Mursi urged all Egyptians to unite on the days of the run-off elections. (Al Arabiya)
By Al Arabiya with Agencies
The Muslim Brotherhood's presidential candidate Mohammed Mursi said on Thursday that foul play in Egypt's election run-off that pits him against Hosni Mubarak's last prime minister, Ahmed Shafiq, would be met by "a huge revolution."
Mursi also said at a news conference that a court ruling that overturned a law that would have prevented Shafiq from running in the race and another that will dissolve the Brotherhood-led parliament indicated "there some who seek, strive for and plan ill against the people."
The Muslim Brotherhood candidate urged all Egyptians to unite on the days of the run-off elections, scheduled on Saturday and Sunday, against any attempt to forge the elections. He invited the voters to head to the ballot boxes in millions.
Mursi added that the revolution "is continuing and the power will be transferred from the military to an elected civilian authority."
Earlier Thursday, Mursi said he respected a court ruling that declared as unconstitutional the rules under which Egypt's Islamist-dominated parliament was elected.
He said in an television interview he also respected the Supreme Constitutional Court's decision to allow his rival in the presidential election, Shafiq, to stay in the race — though he said the ruling was "unsatisfactory."
"The ruling must be respected," Mursi told the privately-owned Dream TV in reference to the ruling on parliament, an assembly in which the Brotherhood has the biggest bloc.
"This ruling does not dissolve parliament," he added, saying that it only applied to a third of the members of the assembly.
However, the head of the constitutional court had earlier told Reuters that the ruling would mean parliament would be dissolved and new elections held.
State Department spokeswoman Victoria Nuland said the aid is part of "non-lethal" assistance to Syrians. (File photo)
The United States on Thursday acknowledged providing communication equipment and other forms of assistance to members of the "peaceful opposition" in Syria.
State Department spokeswoman Victoria Nuland said the aid is part of "non-lethal" assistance to Syrians living under President Bashar al-Assad's regime, and part of a global effort to support Internet freedom.
Nuland declined to elaborate on the aid, but a source familiar with the effort said it includes things such as anonymizing software, and satellite phones with GPS capabilities "to document the location of atrocities."
Nuland said the Internet freedom initiatives are part of "programs that we do around the world that we've been doing with Syrians and many, many other countries for quite a long time."
These are programs "that help citizens in countries where the Internet is restricted or unavailable to find ways to have access to the Internet so that they can know their fundamental freedom to expression and access to information is respected," she told a press briefing.
The United States has spent $76 million since 2008 for these programs around the world and has another $25 million that will be allocated this year.
Nuland said that additional aid for Syria "is largely in the communications area" and is "designed to help those who are subjected to government intrusion, government interruption of their ability to communicate with each other, to do so to help support unity among the peaceful opposition."
Time magazine reported this week that the State Department has been providing media-technology training and support to Syrian dissidents by way of small nonprofits.
Asked about the report, Nuland said it was "greatly over-revved."
Yemeni troops and tribesmen advanced on the southern coastal town of Shaqra. (Reuters)
Yemeni soldiers killed 40 Islamist militants and captured one of their outposts in heavy fighting in southern Yemen on Thursday, local Defense Ministry officials said.
The Interior Ministry warned in a statement it had put security forces on alert following warnings al Qaeda-linked militants might try to launch attacks against civilian and government targets following their defeat in southern Yemen.
The Yemeni army is pushing ahead with a U.S.-backed offensive against the last stronghold held by the al-Qaeda-linked Ansar al-Sharia (Partisans of Islamic Law) in Abyan province after they were driven out from the cities of Jaar and Zinjibar on Tuesday.
A local Yemeni official said heavy fighting had taken place during the capture of the outpost at Wadi Salam, some 20 kilometers (16 miles) west of Shaqra. An estimated 300 Islamist militants were besieged by the army after the outpost fell.
The report could not be independently verified.
Earlier on Thursday, a local Yemeni official and residents said Islamist militants were seen fleeing from the advancing Yemeni army.
Government troops and allied tribal fighters were a few kilometers from Shaqra after retaking an area held by the insurgents on the outskirts on Wednesday.
Many insurgents fled at dawn and headed towards the town of Azzan after setting fire to two tanks and other military equipment, Shaqra residents said.
The militants were forced out of their strongholds of Zinjibar and Jaar on Tuesday in the army's most significant victory against them in more than a year of turmoil that has taken Yemen to the brink of civil war.
Thousands of soldiers backed by tanks and war planes launched the offensive last month and were joined by local tribesmen opposed to the militants.
The United States has provided training and other support, including drone strikes, concerned its Islamist foes have gained a new foothold in the Middle East.
Their advance has fuelled fears about al Qaeda's presence in a country next to Saudi Arabia, the world's biggest oil exporter, and close to shipping lanes.
In Sana'a, the Yemeni Interior Ministry warned that Islamist militants could resort to attacks following its defeat in southern Yemen and said it was beefing up security in the capital and other cities against such attacks.
"Security forces have warned that al-Qaeda, in light of the humiliating defeat, could resort to terrorist operations to take revenge for the great victory achieved by the armed forces in destroying the dens of terror in Jaar and Zinjibar," it said in a statement.
Ansar al-Sharia had earlier said it would seek to spread the war across Yemen after it was forced to abandon the towns, according to the SITE Intelligence Group which monitors militant websites.
***********************************************************************************
Articles of Interest
By Jordy Yager
The political appointee at the Justice Department responsible for falsely telling Sen. Chuck Grassley (R-Iowa) that the agency does not allow guns to "walk" into the hand of criminals announced his retirement on Wednesday.
In the Feb. 4, 2011, letter to Grassley — which has been much of the focus surrounding Republicans' outrage about the failed "Fast and Furious" gun-tracking operation — Assistant Attorney General Ronald Weich said that the Bureau of Alcohol, Tobacco, Firearms and Explosives "makes every effort to interdict weapons that have been purchased illegally and prevent their transportation to Mexico."
The DOJ has since taken the rare step to rescind the letter, nine months after it was issued.
Weich, who was the chief legislative correspondent for the DOJ to Congress, is taking a job as the dean of the University of Baltimore School of Law.
By Ben Geman
The House is slated to vote next week on controversial legislation that would exempt the Department of Homeland Security from more than 30 environmental and land-management laws within 100 miles of the border with Mexico and Canada.
The laws covered include the National Environmental Policy Act, the Endangered Species Act, the Clean Water Act, the National Historic Preservation Act and many others.
The provision is part of Rep. Rob Bishop's (R-Utah) wider border security bill.
The Utah lawmaker contends that policies of the Agriculture and Interior departments — agencies that oversee huge swaths of public lands — have restricted federal border security efforts. Under the measure, the Agriculture and the Interior departments cannot "impede, prohibit or restrict" activities of U.S. Customs and Border Protection.
It also gives the border agency "immediate access" to Interior and Agriculture department lands for activities including road and fence construction, use of patrol vehicles and deployment of temporary "tactical infrastructure."
The bill — which would sunset after five years — is rolled into a larger package of land-use bills headed for the House floor next week.
The Bishop measure "Enhances border security by ensuring that Border Patrol has access to federal lands along the border and is not prohibited from doing its job due to bureaucratic red tape," according to an announcement of the land-use package Wednesday from House Natural Resources Committee Republicans.
Bishop, when introducing the bill last year, said it takes steps to "address the unacceptable restrictions that prevent Border Security experts from doing their jobs."
But environmentalists have been battling the plan. Jane Danowitz of the Pew Environment Group said last year that waiving "bedrock" environmental and land-management laws has little to do with enhancing security.
"Instead, the proposed legislation would give unprecedented authority to a single federal agency to destroy wildlife habitat and wetlands, impair downstream water quality and restrict activities such as hunting, fishing and grazing," said Danowitz, the group's director of U.S. public lands, last year as the Natural Resources Committee was considering the measure.
Our Floor Action blog has more coverage here of the wider package of bills coming to the floor next week.
************************************************************************************
[In accordance with Title 17 U.S.C. Section 107, this material is distributed without profit, for research and/or educational purposes. This constitutes 'FAIR USE' of any such copyrighted material.]