Health
Place: Washington, DC | Agency: IANS
Stress may retard brain development in children, altering the growth of a specific part and the abilities tied to it, researchers say.
"There has been a lot of work on animals linking both acute and chronic stress to changes in a part of the brain called the prefrontal cortex, which is involved in complex cognitive abilities like holding on to important information for quick recall and use," says study co-author Jamie Hanson of Wisconsin-Madison, US.
"We have now found similar associations in humans. More exposure to stress is related to more issues with certain kinds of cognitive processes," adds Hanson, the Journal of Neuroscience reports.
Children who had experienced more intense and lasting stressful events posted lower scores on tests of what researchers refer to as spatial working memory.
They had more trouble navigating tests of short-term memory such as finding a token in a series of boxes, according to the study, a Wisconsin statement says.
Brain scans revealed that the anterior cingulate, a portion of the prefrontal cortex believed to play key roles in spatial working memory, takes up less space in children with greater exposure to very stressful situations.
"These are subtle differences, but differences related to important cognitive abilities," says Hanson.
But these may not be irreversible differences. "We're not trying to argue that stress permanently scars your brain. We don't know if and how it is that stress affects the brain," says Hanson, a psychology graduate student at Wisconsin-Madison.
"We only have a snapshot — one MRI scan of each subject — and at this point we don't understand whether this is just a delay in development or a lasting difference," Hanson adds.
"It could be that, because the brains is very plastic, very able to change, that children who have experienced a great deal of stress catch up in these areas," says Hanson.
Researchers determined stress levels through interviews with children aged nine to 14 years and their parents.
The team, which included Wisconsin psychology professors Richard Davidson and Seth Pollak and their labs, collected expansive biographies of stressful events from slight to severe.
Place: Washington, DC | Agency: IANS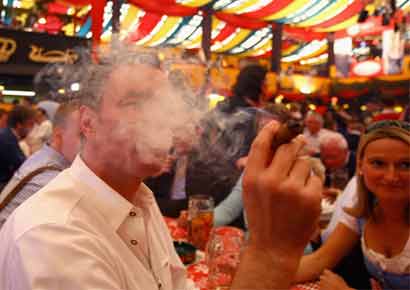 Kick it now!
Getty Images
Eating more fruits and vegetables may help you stay off tobacco for longer, says a new study.
The study, undertaken by University of Buffalo (UB) public health researchers, is the first on the relationship between fruit and vegetable consumption and smoking cessation.
The researchers surveyed 1,000 smokers aged 25 and older from around the country, using random-digit dialing telephone interviews, the journal Nicotine and Tobacco Research reported.
They followed up with the respondents 14 months later, asking them if they had abstained from tobacco use during the previous month, according to a university statement.
"Other studies have taken a snapshot approach, asking smokers and non-smokers about their diets," said Gary A. Giovino, Buffalo head of the department of community health and health behaviour.
"What we didn't know was whether recent quitters increased their fruit and vegetable consumption or if smokers who ate more fruits and vegetables were more likely to quit," added Giovino.
The UB study found that smokers who consumed the most fruit and vegetables were three times more likely to be tobacco-free for at least 30 days at follow-up 14 months later than those consuming the lowest amount of fruits and vegetables.
These findings persisted even when adjustments were made to take into account age, gender, race / ethnicity, education, household income and health orientation.
"We may have identified a new tool that can help people quit smoking," said Jeffrey P. Haibach, study co-author and graduate research assistant in Giovino's department.
In a development that holds great hope in the fight against tuberculosis, an Ahmedabad-basedpharmaceutical and research centre has come up with a capsule that can reduce the treatment time from 6-9 months to just three months.
The BV Patel Pharmaceutical Education and Research Development (PERD) centre has come up with a novel capsule, which contains Rifampicin and Isoniazid. This capsule helps in delivering 100% dosage of the former.
It should be noted that at present the formulation of Rifampicin and Isoniazid available in the market only delivers 70% of Rifampicin dose. This is because in the present formulation Rifampicin ended up reacting with Isoniazid in the acidic medium of stomach.
It should be noted that a better dose of Rifampicin is crucial in the fight against tuberculosis.
The new capsule, when swallowed, prevents the reaction as Rifampicin is released in the stomach and remains there for 5 to 6 hours while Isoniazid is released in the intestine. Dr CJ Shishoo, honorary director of PERD said that as the capsule gives very high Rifampicin levels in blood, it is also expected to treat the disease in a shorter time of say three months.
"At present, a patient needs to take TB medicines for 6 to 9 months. But often patients discontinue it in the middle thinking they have been cured thus leading to relapse. But with the reduced treatment time, patient compliance will go up," said Dr Shishoo. He said that TB has remained defiant with India having the maximum number of TB patient at around 2 million. We also record 5 lakh deaths every year due to the disease, he said."The clinical trials for the new capsules are going on at the All India Institute of Medical Sciences, in New Delhi and final results are likely to be available at the end of the year," he said.
Dr Manish Nivsarkar, director PERD however, said that it will take about 3 to 4 years before the capsule hits the market. On why the fight against TB hasn't been very successful in the country, he said it was because of lack of awareness, poor detection rate, lack of diagnostic test and untrained physicians.
Dr Nivsarkar also said that the most unfortunate thing with the disease is that once the treatment is over, the bacteria can still relapse and may even develop into multi drug resistant tuberculosis (MDR-TB), which at present has no proven treatment.
"There has been no new anti tubercular drug for the last 40 years or so," he said.

HPV vaccines: Gardasil becomes a market dud in wake of informed backlash
By Rosemary Mathis, Vice President of Victim Support, SANE VAX, INC.,
(NaturalNews) On the heels of the Vioxx scandal Merck & Co. has apparently manufactured another marketplace dud with Gardasil. After receiving fast-track approval from the FDA in 2006, Merck's aggressive 'One More Girl' marketing campaign catapulted HPV into the collective consciousness as a serious health issue. Almost overnight, medical consumers went from not knowing HPV existed to fear of infection with the dreaded virus. Presto! HPV pandemonium was born. 5 years later Gardasil sales are decidedly…
***********************************************************************************************
Holistic Health
TIME Magazine pushes death agenda: Remove feeding tubes from the dying elderly (and get a cash bonus!)
By Mike Adams,
(NaturalNews) TIME Magazine is peddling a death agenda propaganda piece with a new issue that features these words on the cover: "HOW TO DIE." Inside, the magazine promotes a cost-saving death agenda that encourages readers to literally "pull the feeding tubes" from their dying elderly parents, causing them to dehydrate and die. This is explained as a new cost-saving measure that drastically reduces return hospital visits by the elderly… yeah, because dead people don't return to the hospital…
---
Spirulina explained: Here's what you need to know about this healing superfood
By Willow Tohi, 
(NaturalNews) One of the oldest life forms on Earth, spirulina is a blue-green microalgae that helped produce the oxygen in our atmosphere billions of years ago so that other life forms could appear (http://www.chinese-herbs.org/spirulina/). The original 'superfood,' spirulina is so nutrient dense that you could survive on it and water alone. Hundreds of studies have confirmed spirulina's powerhouse status. It has 60-70% complete protein, meaning it has all 8 essential amino acids and 10 non-essential…
Progestin treatments for PCOS affect fertility
By Nate Curtis,
(NaturalNews) PCOS, or Polycystic Ovarian Syndrome, is a hormonal disorder that affects millions of women the world over. Its symptoms include: Hirsutism – excessive body hair Problems with the menstruation cycle whereby your periods may be light or irregular Gaining weight otherwise inexplicably Loss of hair from your head The onset of acne Difficulty in conceiving All women's ovaries contain a small number of harmless cysts. But when the number of cysts is dramatically increased, (say…
Vitamins more effective at Type 2 Diabetes treatment than pharmaceuticals
By J. D. Heyes, 
(NaturalNews) A dramatic rise in obesity rates across the country in recent years has led to a parallel increase in new cases of diabetes, but not everyone who develops the chronic illness will need medication to deal with it. Some diabetes can be better controlled through the use of vitamins, contends noted pharmacist Stuart Lindsey. According to Lindsey, who in January wrote a column entitled Confessions of a Frustrated Pharmacist which was critical of pharmaceutical orthodoxy, current medical…
***********************************************************************************************
Pet Health
How Many More Pets Have Been Harmed by These Products Since the EPA's Advisory 3 Years Ago?
By Dr. Becker
Three years after taking notice of a disturbing rise in the number of adverse reactions in pets to spot-on flea/tick products, the EPA has yet to convince manufacturers to change a thing about the way they go to market.
In late September 2011, the EPA committed to send letters to spot-on manufacturers requesting important changes to product labeling within 6 months.
When and if the EPA's recommendations are implemented, spot-on package labeling should provide pet owners with clearer instructions on which species (dog or cat) products are intended for, and hopefully, information on toxicity and documented adverse side effects.
The safest use of dog and cat spot-on products is to simply not use them at all. There are safer effective alternatives to chemical pesticides to help control fleas and ticks on your pet.
This Pint-Sized Pet is Loaded with Charm and Personality
By Dr. Becker
Guinea pigs make great pets for people looking for a small companion to care for.
Guinea pigs, also called 'cavies,' are tailless rodents that weigh between one and a half and three pounds as adults. They range in size from 8 to 10 inches. The average lifespan is 4 to 5 years, but some cavies can live to 8 years.
Guinea pigs are social creatures and thrive in small groups. They need spacious habitats outfitted with hiding and napping places, things to climb on, safe wood to chew and guinea pig toys.
Species-appropriate (herbivore) nutrition makes for healthy guinea pigs. They have a special requirement for vitamin C in their diet.
Cavies have lively personalities and make a variety of entertaining sounds. They require time outside their cages each day to exercise and play (in a safe, escape-proof enclosure or room). It's important to interact with your cavies daily so each pet gets comfortable being handled.
World's most obedient dog
***********************************************************************************************
Rescue Stories
A Buddy for Life
After our old rescue dog died, my daughter longed for another, but I was determined to stick with cats. Finally she wore us down. We found Buddy in a local shelter, shaggy, scared, and with a blue bandaged paw. We took him home on her 10th birthday. He quickly showed us he was smart, funny, and so full of love he doesn't know what to do with it all. We wonder what troubles he might have suffered in his past, but every time we see his fluffy white face, we're happy he finally made his way home to us.
Sara Tolchin
San Geronimo, CA
Your Actions Here Fund Food And Care For Rescued Animals.
***********************************************************************************************
Beyond Our Natural Senses
 Limits of Perception full documentary on Science Channel
Uploaded by cayterr on Nov 7, 2011
"We are surrounded by mysterious worlds. Worlds hidden from us by their sizes, too small or too large to be noticed. But now it's possible to see these worlds. What's changed our perceptions? Technology; extending our natural senses, taking us on a remarkable journey from our own world through strange parrallel worlds down to the smallest and up to the largest elements of creation…"
**This video is for promotional use only. The video and its content belongs to its respectful owner(s).
***********************************************************************************************
Articles of Interest
Breaking news on Whistleblower lawsuit – coverups, deadly cancers and more linked to the drug Actos
By Craig Stellpflug,
(NaturalNews) Avandia, a defunct diabetes drug, has been blamed for tens of thousands of heart attacks and deaths. For their defense, Glaxo Smith Kline's researchers claim that Avandia isn't as bad for the heart when compared to the "other drug" (Actos) in studies. Isn't "as bad"? But they are both bad news. It's just that one is worse. If you want to run your broken-down horse in a race and have it win, hedge your bets and run it against an even more broken-down horse. Big Pharma does this all…
Last year, 79 people died due to cholera and 28 due to malnutrition in Pune. These shocking facts came to light through a right to information (RTI) query.
What's worse, the Pune Municipal Corporation (PMC) that reaped accolades for its 'zero malaria deaths' model may have lied about figures as the RTI reply by the civic body's birth and death registration section shows that 42 people died due to the deadly disease in the last two years.
RTI activist Vihar Durve filed the query and received its reply from incharge of PMC's birth and death registration section, stating that a total of 25,049 people died within PMC limits in 2011. 0f these, 10 people succumbed to malaria, while 14 died due to dengue. Cholera, an infectious disease that is notifiable, claimed 79 lives, according to the RTI reply. These trends are seen in previous years too. The 2010 records show 26 deaths due to malnutrition, 24 due to cholera, while the 2009 records peg cholera deaths alone at a whopping 468.
As the RTI reply raises serious concerns over the reporting of diseases by the civic administration, PMC's health department officials vehemently denied the authenticity of the data. Dr ST Pardeshi, chief medical officer, called the data 'incorrect' and based on improper reporting by hospitals and private doctors.
"The reply that has been given under RTI is based on cause of death as stated by doctors or hospitals. However, we have a system of coding where deaths are investigated and each is assigned a code after determining cause of death. A person having malaria may not die of it, but of other associated problems. We are going to carry out an audit of all these deaths, do the proper coding and only then will we know the actual numbers," said Pardeshi.
However, he denied that there could have been so many cholera, malnutrition or malaria deaths within PMC limits. "Cholera is a notifiable disease and we have to inform the government of India about such cases. Had there been so many cholera deaths, we would definitely have known about it. As far as malaria
and malnutrition are concerned, I am sure the figures are exaggerated too," said Pardeshi.
Despite repeated attempts, VD Khanande, joint director of state health services, couldn't be contacted for comment.
Nutrition blogger files lawsuit against North Carolina for violation of free speech rights
By Ethan A. Huff,
(NaturalNews) A North Carolina man who was told by the state-run North Carolina Board of Dietetics/Nutrition (NCBDN) to stop giving online dietary advice to diabetics via his personal blog has filed a federal lawsuit against the group for violating his free speech rights. As we reported previously, Steven Cooksey, a former diabetic, abandoned conventional wisdom concerning diabetes after watching it fail him and land him in the hospital, and instead chose to take an alternative route. This included…
***********************************************************************************************
[In accordance with Title 17 U.S.C. Section 107, this material is distributed without profit, for research and/or educational purposes. This constitutes 'FAIR USE' of any such copyrighted material.]