Politics and Legislation
Senate Democrats blast national security leak about cyberattack against Iran
By Jeremy Herb
Senate Democrats on Tuesday blasted leaks to the press about a cyberattack against Iran and warned the disclosure of President Obama's order could put the United States at risk of a retaliatory strike.
Sen. Dianne Feinstein (D-Calif.), chairwoman of the Intelligence Committee, said the leak about the attack on Iran's nuclear program could "to some extent" provide justification for copycat attacks against the United States.
"This is like an avalanche. It is very detrimental and, candidly, I found it very concerning," Feinstein said. "There's no question that this kind of thing hurts our country."
The FBI opened its own probe Tuesday into who disclosed information on the Iranian attack, The Wall Street Journal reported. On Capitol Hill, the Senate Armed Service Committee promised hearings, while two Republican senators called for a special counsel investigation.
Several Democrats noted with alarm that the Iranian cyber leak is just the latest in a series of media reports that disclosed classified information about U.S. anti-terrorism activity.
"A number of those leaks, and others in the last months about drone activities and other activities, are frankly all against national-security interests," said Sen. John Kerry (D-Mass.), chairman of the Foreign Relations Committee. "I think they're dangerous, damaging, and whoever is doing that is not acting in the interest of the United States of America."
Rory Cooper
National Review Online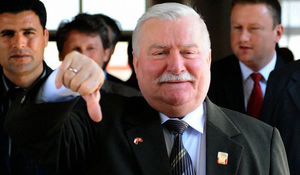 Lech Walesa
Lech Walesa was once a trade-union activist. He was often arrested for speaking his mind against Communist oppression behind the Iron Curtain in Poland and for defying the Soviet Union. He was an electrician who, with no higher education, led one of the most profound freedom movements of the 20th century – Solidarity. He became president of Poland and swept in reforms, pushing the Soviet Union out of his homeland and moving the country toward a free-market economy and individual liberty. And President Obama doesn't want him to set foot in the White House.
According to the Wall Street Journal, Polish officials requested that Walesa accept the Medal of Freedom on behalf of Jan Karski, a member of the Polish Underground during World War II who was being honored posthumously this week. The request makes sense. Walesa and Karski shared a burning desire to rid Poland of tyrannical subjugation. But President Obama said no.
Administration officials told the Journal that Walesa is too "political." A man who was arrested by Soviet officials for dissenting against the government for being "political" is being shunned by the United States of America for the same reason 30 years later.
Meanwhile, one of the recipients of the Medal was Dolores Huerta, the honorary chair of the Democratic Socialists of America. So socialist politics are acceptable, but not the politics of a man who stood up and fought socialism.
This revelation follows an eruption of outrage in Poland after President Obama referred in his remarks at the Medal of Freedom ceremony to "Polish death camps," a phrase that Poles have battled since the end of the Cold War. The phrase suggests that Poles were complicit in Nazi concentration camps, which of course is not the case. In fact, Poles were exterminated in the camps.
The White House's flippant response to the uproar caused the Polish president and prime minister to demand more thoughtful and personal reactions. But White House Press Secretary Jay Carney said Wednesday that the president has no plans to reach out to his Polish counterparts and has shrugged off the outrage in Poland.
Few observers are suggesting that President Obama's written remarks noting "Polish death camps" were intentionally malicious. The comment was more likely a result of historical ignorance and careless inattention. This is the same ignorance and carelessness that would cause a president to turn away Lech Walesa and label him as "too political."
Ironically, Lech Walesa shares a distinction with President Obama: They both won Nobel Peace Prizes. Walesa earned his in 1983 after years of fighting for peace and freedom, and being monitored, harassed, and jailed for it. President Obama received his award in 2009. Some may think that this would be enough of a bond for President Obama to set aside political differences for the greater good. But instead, President Obama treated Walesa the same way he treated the 1989 Nobel Peace Prize winner, His Holiness the 14th Dalai Lama, who was ushered out the White House kitchen past piles of garbage in 2010.
The likelihood is that President Obama didn't want Walesa in the White House because Walesa has made critical remarks toward the president's policies and in 2010 warned that the United States was slipping toward socialism. But rather than taking the mature and diplomatic path and respecting Walesa's right to have a differing perspective, Obama chose to shun his lifetime of achievements.
Congratulating Walesa on his Nobel Prize in 1983, President Ronald Reagan said: "For too long, the Polish government has tried to make Lech Walesa a non-person and destroy the free trade-union movement that he helped to create in Poland. But no government can destroy the hopes that burn in the hearts of a people. The people of Poland have shown in their support of Solidarity, just as they showed in their support of His Holiness Pope John Paul II during his visit to Poland, that the government of that nation cannot make Lech Walesa a non-person, and they can't turn his ideas into non-ideas."
The White House should not treat President Walesa as a non-person, and they cannot turn his ideas into non-ideas.
**********************************************************************************
Economy
US stocks waver, then rise, even though Spain warns that it could lose access to borrowing
Richard Drew, File/Associated Press – FILE – In this June 4, 2012, file photo, trader Lewis Vande Pallen, center, works on the floor of the New York Stock Exchange. US stock futures are sliding along with investor confidence in the ability of the world's economic leaders to unravel Europe's worsening debt crisis.
By Associated Press, Updated: Tuesday, June 5, 3:27 PM
NEW YORK — As world leaders searched for a way out of Europe's mounting debt crisis, U.S. investors moved to the sidelines.The major market indexes closed modestly higher, after wavering between slight gains and losses throughout the morning. Trading volume was light and the stock moves were small. In Europe, markets were mixed.
The Dow Jones industrial average rose 26.49 points, or 0.2 percent, to 12,127.95. It traded within a range of 75 points, one of the narrowest of the year.
Timothy McCandless, senior stock analyst at Bel Air Investment Advisors in Los Angeles, described Tuesday's market as stuck in purgatory: The economy is not strong enough to represent a healthy recovery, but not weak enough for the Federal Reserve to do more to help.
"It's wrestling with those two sides," McCandless said. "We're right in between."
Finance ministers and central bank presidents from the world's seven wealthiest nations held an emergency conference call to discuss how Europe can heal its weakest countries without alienating the stronger ones that have to foot the bill. Leaders are worried that Spain and Cyprus, which are scrambling for money to prop up their troubled banks, will soon need to be bailed out by their richer counterparts.
Debt Crisis Continues to Unravel, Spain at the Forefront
Published on Jun 4, 2012 by IBTimesTV
The debt crisis is still unraveling as the European Union struggles to keep its pieces together. We start today, June 4th in Germany where the DAX fell below 6,000 points today for the first time since January. Its effects are the result of Spain's accumulating debt load. Some argue now is the time for the Central bank to step in and keep Spain from spiraling out of control. Trader Robert Halver with Baader Bank. The European Central Bank announced it will be meeting Wednesday June 6th and the Bank of England on Thursday June 7th to hash out monetary policies for corrective action. But corrective action cannot come fast enough. We take you to Spain where unemployment rates have dipped ever so slightly but still the numbers illustrate the dire situation the people of Spain are facing. This time last year records indicate that the jobless rate is up by 12.5 percent making Spain's unemployment rate the highest in the Euro zone. Some 4.7 million people or 24 percent remain unemployed as shown by Spain's Labor Ministry. Despite these grim tales Prime Minister Mariano Rajoy is still insisting that Spain does not need assistance from the European Commission to clean-up its banking sector. Seen here during a meeting today with Singapore's Deputy Prime Minister and Finance Minister Tharman Shanmugaratnam, instead called for the establishment of a central authority to oversee and coordinate euro zone fiscal policy. As Spain's 10 year loan rates approach 7 percent Traders hold on tightly and anticipate some good news from this week's Central Bank meetings.
CBO: Debt will be double GDP by 2037
By Erik Wasson
U.S. debt is on track to be nearly twice the size of the U.S. economy by 2037, the nonpartisan Congressional Budget Office (CBO) warned Tuesday.
The new CBO report states that increased entitlement spending driven by the retirement of the baby boomers and insufficient revenue is making the long-term outlook for the national debt increasingly dire.
Under CBO's most likely scenario, in which lawmakers extend current tax rates and fail to curb entitlement spending, debt held by the public would reach 109 percent of the economy by 2026, and it would be almost 200 percent of GDP by 2037.
Many economists have warned that if debt held by the public approaches 100 percent of GDP, it can bring on the kind of fiscal crisis being felt in European countries today, in which governments must suddenly slash spending and laying off workers in the face of rising interest rates caused by spooked investors.
CBO's latest prediction is similar to its 2011 report despite the $2.1 trillion in budget cuts enacted in last August's debt-ceiling deal between the White House and Congress.
CBO said last year that debt as a share of GDP would reach 109 percent of the economy by 2023 — rather than 2026 — and would approach 190 percent in 2035.
In its new report, CBO says that if current policies continue, including allowing the Bush-era tax rates to increase in January and going forward with large cuts in payments to doctors under Medicare, the debt path would be less explosive. In that scenario, debt held by the public moves from 73 percent of GDP this year to 61 percent by 2022 and 53 percent by 2037.
Torturing children related to financial crimes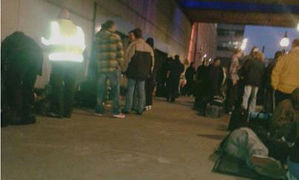 Some of those hired as stewards had to spend the night before the pageant sleeping under London Bridge.
Coachloads of jobless people brought in to work unpaid on river pageant as part of Work Programme
A group of long-term unemployed jobseekers were bussed into London to work as unpaid stewards during the diamond jubilee celebrations and told to sleep under London Bridge before working on the river pageant.
Up to 30 jobseekers and another 50 people on apprentice wages were taken to London by coach from Bristol, Bath and Plymouth as part of the government's Work Programme.
Two jobseekers, who did not want to be identified in case they lost their benefits, said they had to camp under London Bridge the night before the pageant. They told the Guardian they had to change into security gear in public, had no access to toilets for 24 hours, and were taken to a swampy campsite outside London after working a 14-hour shift in the pouring rain on the banks of the Thames on Sunday.
One young worker said she was on duty between London Bridge and Tower Bridge during the £12m river spectacle of a 1,000-boat flotilla and members of the Royal family sail by . She said that the security firm Close Protection UK, which won a stewarding contract for the jubilee events, gave her a plastic see-through poncho and a high-visibility jacket for protection against the rain.
Close Protection UK confirmed that it was using up to 30 unpaid staff and 50 apprentices, who were paid £2.80 an hour, for the three-day event in London. A spokesman said the unpaid work was a trial for paid roles at the Olympics, which it had also won a contract to staff. Unpaid staff were expected to work two days out of the three-day holiday.
The firm said it had spent considerable resources on training and equipment that stewards could keep and that the experience was voluntary and did not affect jobseekers keeping their benefits.
The woman said that people were picked up at Bristol at 11pm on Saturday and arrived in London at 3am on Sunday. "We all got off the coach and we were stranded on the side of the road for 20 minutes until they came back and told us all to follow them," she said. "We followed them under London Bridge and that's where they told us to camp out for the night … It was raining and freezing."
A 30-year-old steward told the Guardian that the conditions under the bridge were "cold and wet and we were told to get our head down [to sleep]". He said that it was impossible to pitch a tent because of the concrete floor.
The woman said they were woken at 5.30am and supplied with boots, combat trousers and polo shirts. She said: "They had told the ladies we were getting ready in a minibus around the corner and I went to the minibus and they had failed to open it so it was locked. I waited around to find someone to unlock it, and all of the other girls were coming down trying to get ready and no one was bothering to come down to unlock [it], so some of us, including me, were getting undressed in public in the freezing cold and rain." The men are understood to have changed under the bridge.
The female steward said that after the royal pageant, the group travelled by tube to a campsite in Theydon Bois, Essex, where some had to pitch their tents in the dark.
She said: "London was supposed to be a nice experience, but they left us in the rain. They couldn't give a crap … No one is supposed to be treated like that, [working] for free. I don't want to be treated where I have to sleep under a bridge and wait for food." The male steward said: "It was the worst experience I've ever had. I've had many a job, and many a bad job, but this one was the worst."
Both stewards said they were originally told they would be paid. But when they got to the coach on Saturday night, they said, they were told that the work would be unpaid and that if they did not accept it they would not be considered for well-paid work at the Olympics.
Molly Prince, managing director of Close Protection UK, said in a statement: "We take the welfare of our staff and apprentices very seriously indeed.
"The staff travelling to the jubilee are completing their training and being assessed on the job for NVQ Level 2 in spectator safety after having completed all the knowledge requirements in the classroom and some previous work experience. It is essential that they are assessed in a live work environment in order to complete their chosen qualifications.
"The nature of festival and event work is such that we often travel sleeping on coaches through the night with an early morning pre-event start – it is the nature of the business … It's hard work and not for the faint-hearted.
"We had staff travel from several locations and some arrived earlier than others at the meeting point, which I believe was London Bridge [pictured left], which was why some had to hang around. This is an unfortunate set of circumstances but not lack of care on the part of CPUK."
The company said it had spent up to £220 on sponsoring security training licences for each participant and that boots and combat trousers cost more than £100.
The charity Tomorrow's People, which set up the placements at Close Protection under the work programme, said it would review the situation, but stressed that unpaid work was valuable and made people more employable. Tomorrow's People is one of eight youth charities that were supported in the Guardian and Observer's Christmas appeal last year.
Abi Levitt, director of development services at the charity, said: "We have been unable to verify the accuracy of the situation with either the people on work experience or the business concerned.
"We will undertake a review of the situation as matter of urgency. Tomorrow's People believes strongly in the value of work experience in helping people to build the skills, confidence and CV they need to get and keep a job and we have an exemplary record going back nearly 30 years for our work with the long-term unemployed."
***********************************************************************************
Wars and Rumors of War
Paul B. Farrell
MarketWatch
San Luis Obispo, Calif. – Yes, I'm mad as hell again. I just read some bad news that should make every American mad as hell. In fact, two bad news items.First, as a U.S. Marine vet, I got angry reading that there have been more military suicides than war deaths the past decade. Yes, more Iraq and Afghan war vets have killed themselves than were killed by America's enemies in combat. And more are expected as we had more than two million serve in the two wars.
Second, if the economic, psychological, political and moral consequences of the past two wars aren't bad enough, many politicians and candidates – some of whom never served in the armed forces – are proposing that the full Congress pass the Ryan budget and force Pentagon generals to spend billions more than they requested.This is insane. More taxpayer money for the Pentagon war machine? Why? We're winding down two wars. We're dealing with the tragedy of vet suicides. These same politicians whining about the debt and taxes. So why do they want to increase Pentagon spending? Do we love war that much? Are they planning to start a new war? Let's analyze this contradiction.
Yes, an epidemic: military suicides now exceed war deaths
The effort to increase Pentagon spending was already public knowledge since the House voted on the Ryan budget plan. But what really triggered the anger was a Newsweek feature, "We Pretend Our Vets Don't Even Exist," by Marine veteran Anthony Swofford. That put the spotlight on this new crisis, now an epidemic, one few are aware of, fewer care about.
Here are the hard facts: "About 18 veterans kill themselves each day. Thousands from the current wars have already done so. In fact, the number of U.S. soldiers who have died by their own hand is now estimated to be greater than the number (6,460) who have died in combat in Afghanistan and Iraq."
Wake up folks. Something is wrong in our thinking. From the beginning we were in a trance, pretending the Iraq War would be short-lived, cheap and self-funded by oil revenues. Yes, from Day 1 the Iraq War was handled more like an economic stimulus program.
Remember, after 9/11 we were urged to focus on the economy, to spend, go to the mall shopping. Draft was unnecessary. And thanks to bonuses, we built a volunteer army, backed up by mercenaries, tens of thousands of private contractors.
We even hid photos of war casualties from the public, to sanitize the public's brain.
War now an economic stimulus program, boosting taxes for investors
Treating war as an economic stimulus program became clear a decade ago in the early years of the Iraq war. That fact was stressed in a Huffington Post interview with Oliver Stone. Ryan Grim said that in a 2004 meeting President George W. Bush said to the Argentine prime minister: "All the economic growth that the U.S. has had, has been based on the different wars it had waged."
Apparently that same ideology remains strong in today's election politics.
Let's put all this in the larger macroeconomic context. War should be about national defense. Wars should have nothing to do with scoring domestic political points. And yet, increasing the Pentagon budget has become a political hot button in today's election drama.
This is insane: Do politicians plan to start new wars?
Ask yourself, are they already itching for a new war? After two exhausting wars? Eleven years? We put 2.3 million in Iraq and Afghanistan; 800,000 served multiple deployments, one of the big reasons for vet suicides. So why demand bigger budgets? Why in a time of national austerity? Why when they're complaining about high taxes?
No, war shouldn't be about domestic politics, but it is. And that's bad news for taxpayers, for investors, for America's values.
Somebody's got to pay for all this. The taxes of all Americans will go up if the Senate passes the Ryan budget plan, forcing Pentagon generals to spend $554 billion in 2013, billions more than they requested. Plus it'll add $6.2 trillion new debt and taxes over the next decade.
Yes, this is insane. A few private contractors will get richer but taxpayers will suffer in this zero-sum economics game.
National defense? No, it's about getting rich, the rest pay the price
America is on a dangerous and costly path. Not just politicians. Americans love war, it's in our genes. Congress spends over 50% our tax dollars on the Pentagon war machine. America spends 47% of the total military budgets of all nations in the world.
Why does the public tolerates such absurdities? Why do we hide this insanity deep in our collective conscience? Why are we planning new wars? Why do we see war as an economic stimulus program? The Iraq-Afghan "economic stimulus" strategy got us in the mess we're in; are we really crazy enough to try it again?
Forget all the campaign rhetoric about national defense. That is not why our politicians want to spent trillions more on the Pentagon war machine. Politician are interested in reelection not national defense. They need votes and will keep military bases open because that means local jobs, satisfied voters.
They need campaign cash. Military contractors are great donors. Cutting war-related jobs is political suicide. So they pass big military budgets, waste billions on outdated weapon systems. Keep throwing money at the Pentagon war machine. Anything to get reelected. National defense is not a first priority; their job, their reelection is.
As a gung-ho teenager, I volunteered to serve with the Marines. I remember telling my dad I wanted to save the world from communism. Today I hate war. Hate war because I know that our leaders deceived us into going to war under false pretenses. I remember all the misleading propaganda about mushroom clouds, a self-funded quickie war paid for by oil revenues, while they dropped the ball on the real Afghan threat.
Now we're looking at trillions in the unfunded future costs of these misguided wars, says Nobel economist Joseph Stiglitz, medical and other costs for the 35,000 wounded warriors. Worse, the manipulation is happening all over again with the proposed increases in the Pentagon budget.
Warning: America's war-mongering psyche, adding new debt, is taxing
In fact, it's obvious to see where these proposed budget plans are headed. The Iraq-Afghan wars were huge foreign policy blunders, wasted too many lives, added trillions in debt and squandered our nation's integrity.
Some few got very rich, are now pushing for new wars. A crazy, dangerous ideology has taken over America's collective conscience.
This mind-set is extremely dangerous. Our nation's lost its moral compass. Our new capitalism has been so distorted that accumulating personal wealth means you can do virtually anything no matter how destructive to the public good.
Hopefully America will wake up soon, get mad as hell because this ideology did not work during the Iraq/Afghan Wars, and it will explode in our faces the next time. In addition to the war deaths … the veterans' suicides … bloated Pentagon budgets … increasing taxes … and the destruction of our value system … this self-destructive "war-is-an-economic-stimulus-program" mind-set will inevitably weaken our national defense.
Remember Kevin Phillips, former Nixon strategist and author of many classics including American Theocracy and American Dynasty? Writing in the early days of the Iraq War, in Wealth and Democracy: A Political History of the American Rich, he warned that "great nations, at the peak of their economic power, become arrogant, wage great world wars at great cost, wasting vast resources, taking on huge debt, and ultimately burning themselves out."
Are we the next one?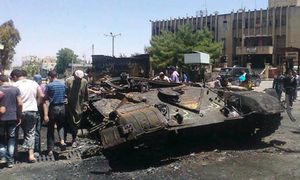 © Hons/AP
Syrians look at an army tank damaged in clashes between rebels and government forces in the northern town of Ariha, in Idlib province.
Syrian rebels killed at least 80 government soldiers at the weekend, an opposition watchdog has said.
The attacks came after rebels warned they would act if Syria's president, Bashar al-Assad, failed to observe a UN-backed ceasefire.
The latest violence, and Assad's defiant speech to parliament on Sunday, raised questions about how long the UN and Arab League envoy, Kofi Annan, can realistically pursue his peace plan.
The Syrian Observatory for Human Rights said local doctors had confirmed the names of 80 dead soldiers.
Insurgents told the British-based group they had killed more than 100 soldiers and destroyed some tanks in clashes across Syria, including in Damascus and Idlib province, in the north-west.
Syria's state news agency reported the burial on Monday of 30 members of the security forces killed by rebels.
Some commanders in the rebel Free Syrian Army announced last week they would be "free of any commitment" to Annan's peace plan if Assad failed to end violence by Friday. The massacre of at least 108 people, nearly half of them children, in the Houla area of Homs province on 25 May dealt a possibly fatal blow to Annan's proposed ceasefire, which was supposed to have taken effect on 12 April.
A withdrawal of Syrian troops was at the top of Annan's six-point plan to halt hostilities in Syria, the country the Assad family has controlled for 42 years.
"The Annan mission is essentially dead, and of course most western powers admit that," said Michael Stephens, researcher at the Royal United Services Institute's branch in Qatar.
"Houla changed the game completely in terms of what people were willing to accept and what they were not."
However, Russia and China, wary of any western-led military intervention in Syria, say Annan's plan is the only way forward. They have twice blocked UN security council resolutions that would have condemned Damascus, and perhaps led to sanctions. The position of the Russian president, Vladimir Putin, was in the spotlight at the start of a summit with EU leaders in St Petersburg.
Both Russia and Europe say they still support Kofi Annan's plan, but EU nations would like Russia to press Assad harder to abide by a ceasefire demanded by the plan, and want him to step aside as part of a political transition.
China's state newspaper, the People's Daily, has warned that any western-backed military intervention would unleash even bloodier chaos, and warned that abandoning Annan's plan could push Syria into full-scale war.
Source: Reuters
Stephen Lendman
sjlendman.blogspot.com
Russian journalist Marat Musin
Going to war depends first on selling it. Gaining public support is vital. Previous articles discussed it. Walter Lippmann coined the phrase "manufacture of consent."
Edward Herman and Noam Chomsky discussed the "propaganda model" in their book titled "Manufacturing Consent: The Political Economy of the Mass Media."
Media scoundrels use it to manipulate and control public thinking and perceptions. News and information are filtered. Acceptable "residue" only is reported.
Dissent is marginalized. Government and dominant private interests are prioritized.
Michael Parenti explained:
"The enormous gap between what US leader do….and what American's think their leaders are doing is one of the great propaganda accomplishments…."
In their book titled "Propaganda and Persuasion," Garth Jowett and Victoria O'Donnell defined their topic as "the deliberate, systematic attempt to shape perceptions, manipulate cognitions, and direct behavior to achieve a response that furthers the desired intent of the propagandist."
Richard Alan Nelson described the technique as follows:
"Propaganda is neutrally defined as a systematic form of purposeful persuasion that attempts to influence the emotions, attitudes, opinions, and actions of specified target audiences for ideological, political or commercial purposes through the controlled transmission of one-sided messages (which may or may not be factual) via mass and direct media channels."

"A propaganda organization employs propagandists who engage in propagandism – the applied creation and distribution of such forms of persuasion."
Propaganda has different forms. Advertisers use it to generate sales. So do politicians to get elected. Religious leaders use it to indoctrinate the faithful. So do nations to promote their agendas.
When war is planned, it's used to create fear, demonize enemies, dehumanize them, falsely accuse them of atrocities and other crimes, and enlist public support for intervention for alleged humanitarian reasons.
In 1917, George Creel first used propaganda successfully to turn pacifist Americans into raging German-haters.
In his 1928 book titled "Propaganda," Edward Bernays said it's possible to "regiment the public mind every bit as much as an army regiments their bodies."
"If we understand the mechanism and motives of the group mind, is it not possible to control and regiment the masses according to our will without their knowing about it?"
In his book titled "Taking the Risk Out of Democracy: Corporate Propaganda versus Freedom and Liberty,"Alex Carey said:
"The twentieth century has been characterized by three developments of great political importance: the growth of democracy, the growth of corporate power, and the growth of corporate propaganda as a means of protecting corporate power against democracy."
It's also used to launch wars, trick enemies for strategic purposes, and deceive the public while waging them. Media scoundrels play a crucial role. People are manipulated to think aggressive wars are just ones.
Big lies launch them. None achieve peace, security and stability. One conflict begets others. Endless destructive cycles follow. Countless millions die. Vast destruction ravages countries. Human misery, not liberation, results.
Human needs go unmet. Wealth, power, and imperial interests only matter. Successful propaganda convinces people that what harms their well-being actually helps them.
Post-9/11, America waged multiple direct and proxy wars. They continue without end. Obama itches for more. Syria is target one, then Iran, then other nations for unchallenged US dominance. At issue is can humanity survive?
On June 1, Global Research published Russian journalist Marat Musin's firsthand observations of what really happened at Houla. He exposed media scoundrel misinformation and lies. Doing so provided a vital service.
Western-enlisted death squads bear full responsibility. Government forces and/or so-called pro-Assad shabbiha had no involvement.
Scoundrel media and Western officials provided fabricated accounts of what went on. It was classic, duplicitous propaganda. It rages to enlist public support for war.
Musin's article is powerful reading. Circulating it widely is important. Only public rage can stop wars. Nothing else works. Knowing the truth and spreading it has impact. Imperial America and war profiteers fear that most.
It's time ordinary people got radicalized for their own well-being. Focus first on ending imperial wars. Imagine what's possible at peace. Imagine public needs prioritized over conquests and domination. If that's not worth fighting for, what is?
Below is a snapshot of what Musin wrote. Read his article for the full account.
On May 25, Houla was attacked by hundreds of "bandits and mercenaries."
Ar-Rastan-based Free Syrian Army terrorists were responsible.
Civilians abandoned the town of Ar-Rastan. Lebanese Wahhabi/Salafist extremists dominate the area. With foreign money and weapons, they carry out terrorist attacks.
When killer gangs entered "the lower checkpoint in the center of" Houla, they attacked pro-government residents.
"Many of those killed were 'guilty' of….dar(ing) to change from Sunnis to Shiites." They were murdered in cold blood "with knives (or) shot at point blank range."
Scandalous accounts blamed Assad. Government forces and/or supporters had nothing to do with it.
Musin called UN observers claiming they heard artillery fire "a bad joke." Assad's forces were in Homs, 50 kilometers away.
"After a visual inspection of (Houla), it is impossible to find traces of any of fresh destruction, bombing and shelling….Militants used heavy weapons and snipers…"
Official and scoundrel media reports wreak of inconsistencies and duplicity.
"Militants opened fire on virtually everyone who tries to get closer to (Houla). Before us a UN convoy was fired upon and two armored jeeps of the UN observers were damaged, when they tried to drive up to an army checkpoint in Tal Dow."
"….(M)any of the militants are professional snipers."
"….(B)andits even fired an automatic burst on our group of journalists…."
About 108 civilians were killed, including 38 or more young children. They were executed in cold blood. They were pro-government loyalists.
Musin discussed media disinformation, saying:
"To exert pressure on public opinion and change the positions of Russia and China, texts and subtitles in Russian and Chinese languages were prepared in advance, reading:

'Syria – Homs – the city of Hula. A terrible massacre perpetrated by the armed forces of the Syrian regime against civilians in the town of Houla. Dozens of victims and their number is growing, mainly women and children, brutally killed by indiscriminate bombing of the CITY.' "

"Two days later, on May 27, after the residents' stories and video recordings made showed that the facts do not support the allegation of shelling and bombing, the bandits' videos had undergone significant changes."

"At the end of the text appeared this postscript: 'And some were killed with knives.' "
Musin reported what everyone needs to know and tell others. Pentagon war plans were ready months ago. Obama itches to attack Syria. Perhaps Houla or another planned incident will trigger it.
On Friday, Syria's Human Rights Council representative, Faisal al-Hamwi, blamed Houla killings on terror gangs. They're trying to incite sedition, he said.
"No sane person can believe some of this session's sponsors when they show sorrow and pain for the victims at the time when they participate in killing the Syrians and shedding their blood," he added.
On June 1, the Human Rights Council met to discuss Syria. Washington pressure assured its conclusions in advance.
United Nations High Commissioner for Human Rights, Navi Pillay, blamed Assad for killer gang crimes. She wrongly said the "Syrian military allegedly unleashed a barrage of heavy weapons on" Houla, "including artillery and tank fire…." She also blamed "pro-government Shabiha paramilitary groups…."
Doing so ignored clear evidence of responsibility. She wants government officials prosecuted at the International Criminal Court. Western and complicit regional states' accountability wasn't mentioned.
On June 2, the State Department claimed satellite images show Houla mass graves. Assad was named responsible. Alleged nearby artillery craters were also shown.
So-called images can be easily manipulated and/or fabricated. They can also be from other areas unrelated to Houla or Syria. State Department claims are spurious and unverified. So are scoundrel media reports about them.
On Friday, Russian Foreign Ministry spokesman Alexander Lukashevich said preliminary government investigations showed a well-planned operation carried out by gunmen intent on violence, not a diplomatic solution to Syria's conflict.
He blamed weapons and funding supplied foreign mercenaries.
Houla killings advanced the ball closer to war. Launching it could happen anytime, with or without Security Council authorization.
Doing so will ignite a regional firestorm. Imagine the potential catastrophic consequences. Future updates will cover more.
About the author
Stephen Lendman lives in Chicago and can be reached at lendmanstephen@sbcglobal.net.

His new book is titled How Wall Street Fleeces America: Privatized Banking, Government Collusion and Class War. purchase it here from Clarity Press.

Visit his blog site at sjlendman.blogspot.com and listen to cutting-edge discussions with distinguished guests on the Progressive Radio News Hour on the Progressive Radio Network Thursdays at 10AM US Central time and Saturdays and Sundays at noon. All programs are archived for easy listening.
************************************************************************************
Articles Of Interest
John W. Whitehead
NJ Today.net
"Injustice anywhere is a threat to justice everywhere." – Martin Luther King Jr.
© unknown
The Supreme Court declined to hear a case involving the Seattle PD's use of a Taser on pregnant woman Malaika Brooks (shown here with her daugher).
Once again, the United States Supreme Court has proven Clarence Darrow, a civil liberties attorney and long-time advocate for the Constitution, correct in his assertion that "there is no such thing as justice – in or out of court." In meting out this particular miscarriage of justice, the Supreme Court recently refused to hear the case of a pregnant woman who was repeatedly tasered by Seattle police during a routine traffic stop simply because she refused to sign a speeding ticket.
Malaika Brooks, 33 years old and seven months pregnant, was driving her 11-year-old son to school on a November morning in 2004, when she was pulled over for driving 32 mph in a 20 mph school zone. Instructing her son to walk the rest of the way to school, Malaika handed over her driver's license to Officer Juan Ornelas for processing. However, when instructed to sign the speeding ticket – which the state inexplicably requires, Malaika declared that she wished to contest the charge, insisting that she had not done anything wrong and fearing that signing the ticket would signify an admission of guilt.
What happened next is a cautionary tale for anyone who still thinks that they can defy a police officer, even if it's simply to disagree about a speeding ticket. Rather than issuing a verbal warning to the clearly pregnant (and understandably emotional) woman, Officer Ornelas called for backup. Officer Donald Jones subsequently arrived and told Brooks to sign the ticket. Again she refused. The conversation became heated. The cops called in more backup. The next to arrive was Sergeant Steven Daman, who directed Brooks to sign the ticket, pointing out that if she failed to do so, she would be arrested and taken to jail. Again, Malaika refused.
On orders from Sgt. Daman, Ornelas ordered a distraught Brooks to get out of the car, telling her she was "going to jail." Malaika refused, and the second cop, Jones, responded by pulling out his taser electro-shock weapon, asking her if she knew what it was and warning her it would be used on her if she continued to resist. Brooks told him "No," and then said, "I have to go to the bathroom, I am pregnant, I'm less than 60 days from having my baby."
Jones and Ornelas then proceeded to discuss how best to taser the pregnant woman and forcibly remove her from the car. One officer said, "Well, don't do it in her stomach; do it in her thigh." Opening the car door, Ornelas twisted Malaika's arm behind her back. Desperate, Brooks held on tightly to the steering wheel, while Jones cycled the taser as a demonstration of its capacity to cause pain.
With the taser in a "drive-stun" mode, Officer Jones then pressed the taser against Brooks' thigh while Ornelas held her hand behind her back. Brooks, in obvious pain, began to cry and honk her car horn – hoping someone would help. Thirty-six seconds later, Ornelas pressed it into her left arm. Six seconds later, he again stunned her, this time on the neck. After being tasered numerous times, Brooks' pregnant body eventually gave way. As Malaika fell over and out of the car, the officers dragged her onto the street, placing the pregnant woman face down on the pavement, handcuffing her and transporting her to jail.
While Malaika Brooks' ordeal with the police did not seem to negatively impact her unborn child – she gave birth to a healthy baby girl two months after the altercation – Malaika bears permanent burn scars on her body where she was tasered by police. Thus, looking to the courts to hopefully right the wrong against her, Malaika sued the arresting officers, charging them with use of excessive force and violating her constitutional rights.
Unfortunately, this is where what happened to Malaika Brooks at the hands of the police – behavior that should be roundly condemned and prohibited – becomes yet another example of the cowardice of our justice system and the corrupt nature of life in a police state. Even though the Ninth Circuit of the United States Court of Appeals recognized that Malaika posed no threat to anyone, nor did she pose a physical threat to the officers, that none of her offenses were serious, and that officers clearly used "excessive force" against her, the justices granted qualified immunity to the officers – a ruling that the U.S. Supreme Court ostensibly upheld when it refused to hear the case. In doing so, the courts have essentially given police carte blanche authority when it comes to using tasers against American citizens.
Indeed, this case highlights a growing trend in which police officers use tasers to force individuals into compliance in relatively non-threatening situations. Originally designed to restrain violent criminals, tasers are now used with impunity against individuals who pose no bodily harm to the police. Rowdy schoolchildren, the elderly, and mentally ill individuals are increasingly finding themselves on the receiving end of these sometimes lethal electroshock devices. Cops who have been shocked in the course of their training have described being tased as "the most profound pain," and "like getting punched 100 times in a row."
Police looking for absolute deference to their authority are quick to utilize tasers. For example, there have been a number of incidents where suspects of minor crimes and even completely innocent people were electroshocked into compliance by cops. In Florida, a 15-year-old girl was tased and pepper sprayed after being taken off of a bus following a disturbance. In Arizona, a run-away 9-year-old girl was tased as she sat in the back seat of a police car with her hands cuffed behind her back. In Oregon, police tased a blind and partially deaf 71-year-old multiple times in her own front yard. In another instance, a Florida woman, 12-weeks pregnant, was tased after refusing to submit to a strip search at a jail. She spontaneously miscarried seven days later. In Texas, a 72-year-old great-grandmother was tased after refusing to sign a speeding ticket.
While law enforcement advocates may suggest otherwise, these incongruous and excessive uses of force by the police are quickly becoming the rule, not the exception. A 2011 New York Civil Liberties Union report showed that of the eight police departments surveyed across the state, over 85 percent of taser uses occurred in cases where suspects were not armed. Incredibly, 40 percent of taser uses were aimed at the elderly, children, the mentally ill, or the severely intoxicated. And despite claims that tasers de-escalate tense situations, a Michigan State University study shows that suspects are more likely to be injured in incidences where police use stun guns (41% of the time), rather than when no stun gun is used (29% of the time).
Moreover, although tasers are touted as being non-lethal, there is a growing body of evidence that suggests otherwise. A study recently published by the American Heart Association has determined that taser shocks applied to the chest can lead to cardiac arrest. According to cardiologist Byron Lee, "This is no longer arguable. This is a scientific fact."
Since 2001, over 500 people have died after being stunned with tasers. In a 2008 report, Amnesty International reviewed hundreds of deaths following taser use and found that 90 percent of those who died after being struck with a taser were unarmed. In late 2007, the United Nations Committee Against Torture declared that the use of tasers constituted a form of torture. Yet despite all of the evidence that tasers are dangerous, taser technology continues to rapidly advance. One of the most recent advances in taser technology is the X12 Taser shotgun, which fires taser rounds at a distance of up to 100 feet, adding nearly 80 feet in range compared to a regular handheld taser. It would not be a stretch to envision police using the X12 against protesters simply exercising their right to free speech and assembly under the First Amendment.
While it is tempting to paint all law enforcement officials as brutish thugs, I truly do not believe that is the case. I have known many honorable law enforcement officials who sincerely struggle with how best to balance the demands placed on them by higher ups in government with the need to treat those around them with respect and dignity.
As John Lennon once remarked, "The trouble with government as it is, is that it doesn't represent the people. It controls them." Indeed, the varied expressions of the government's growing power – the excessive use of tasers by police on non-threatening individuals, allowing drones to take to the skies domestically for purposes of surveillance, the government's monitoring of our emails and phone calls, and on and on – which get more troubling by the day, are merely the outward manifestations of an inner, philosophical shift underway in how the government views not only the Constitution and the Bill of Rights, but "we the people," as well.
What this reflects is a move away from a government bound by the rule of law to one that seeks total control over the populace through the imposition of its own self-serving laws on the populace – laws carried out by a police force hired to do the government's bidding.
Constitutional attorney and author John W. Whitehead is founder and president of The Rutherford Institute. His new book The Freedom Wars (TRI Press) is available online at http://www.amazon.com. He can be contacted at johnw@rutherford.org. Information about The Rutherford Institute is available at www.rutherford.org
Nate Andserson
ars technica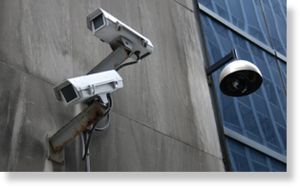 © Jonathan McIntosh
If the government spies on you but brings no charges, you'll never know.
A federal judge estimates that his fellow federal judges issue a total of 30,000 secret electronic surveillance orders each year – and the number is probably growing. Though such orders have judicial oversight, few emerge from any sort of adversarial proceeding and many are never unsealed at all. Those innocent of any crime are unlikely to know they have ever been the target of an electronic search.
In a new paper, called "Gagged, Sealed & Delivered" (PDF), US Magistrate Judge Stephen Smith bashes this culture of continuing secrecy. (Magistrate judges are important members of the federal judiciary; they handle many of the more routine judicial matters, such as warrant applications and initial case management.) In his work as a judge, Smith has become dismayed by the huge number of electronic surveillance orders he sees and by the secrecy that accompanies them.
When police execute a traditional search warrant, they generally bring with them a copy of that warrant and show it to the homeowner or target of the search. That's not always the case, of course; sometimes warrants remain sealed while a case is in progress so as not to tip off a suspect.
But when surveillance enters the digital realm, secrecy becomes the norm. Digital "warrant-like" requests to access stored e-mail in an online account, or to wiretap an Internet connection, or to obtain "pen register" information, or to track a cell phone, are obtained from magistrate judges, many times in secret dockets that don't even appear in the federal government's official PACER document system. They come after one-sided ("ex parte") proceedings in which only the government is heard. And they are generally sealed, only to be unsealed once a criminal case is filed. If no such charges are ever brought, the search warrants and the affidavits defending them can remain buried in the murkiest bits of the federal court system; even knowing that they exist can be a challenge. ISPs, which are often targets of such orders, may also be forbidden from disclosing them.
Most of this surveillance is governed by the Electronic Communications Privacy Act (ECPA) of 1986 – a law so in need of reform that digital rights advocates and corporations alike have made it a key legislative priority. ECPA provides a host of tools to keep searches secret – so secret that they effectively avoid appellate review, making it difficult to know whether they are being properly issued.
Through a potent mix of indefinite sealing, nondisclosure (i.e., gagging), and delayed-notice provisions, ECPA surveillance orders all but vanish into a legal void. It is as if they were written in invisible ink – legible to the phone companies and Internet service providers who execute them, yet imperceptible to unsuspecting targets, the general public, and even other arms of government, most notably Congress and the appellate courts.
Judge Smith set out to find out how much ECPA surveillance exists in the US. Precise numbers were impossible to come by, even for one of the judges involved in issuing such orders, but Smith combined an earlier government survey with data from his own court's docket to produce what sounds like a reasonable estimate.
His estimate finds that 50,000 sealed orders were likely generated by federal judges in 2006, the year the judge analyzes. With 60 percent of these presumed to be ECPA-related surveillance orders, Judge Smith finds that magistrate judges issued more than 30,000 secret electronic surveillance orders that year. To put that in context, "this volume of ECPA cases is greater than the combined yearly total of all antitrust, employment discrimination, environmental, copyright, patent, trademark, and securities cases filed in federal court," he notes.
Smith isn't calling for the abolition of surveillance or anything too terribly radical. He understands why notice of a warrant may be delayed – but he wants the system made far more accountable.
Perfect transparency in criminal investigations is neither practical nor desirable, but ECPA's present system of gagging and sealing is surely overkill. If my diagnosis – that ECPA's regime of secrecy has choked off the oxygen of appellate review necessary for a healthy regulatory scheme – is correct, then the cure is relatively straightforward: open up the information arteries. Greater transparency would enable meaningful oversight not only by appellate courts but also by Congress and the general public.
One simple way to do this would be to open sealed warrants automatically after some period of time. At the moment, most warrant orders are sealed indefinitely, only being unsealed if a prosecutor or investigator in the matter bothers to go back to the judge and bring up the issue. In Smith's own "home court" in Houston, magistrate judges issued 3,886 sealed electronic surveillance orders between 1995 and 2007. In 2008, 99.8 percent of them still remained sealed.That's especially bad news for those never charged with a crime, who will probably never learn that they were a target of government surveillance. And that number isn't trivial. Smith estimates, based on some limited data released by the Department of Justice, that it's "reasonable to infer that far more law-abiding citizens than criminals have been tracked in this fashion."
The situation, says Smith, is bad for democracy and for a transparent judiciary. Fixing it will be up to Congress, which has to decide where to draw the line between personal privacy and the needs of law enforcement. In Smith's view, any fix "will require the elimination of ECPA's current gag, seal, and blindfold."
The Pakistani police have arrested three US diplomats in the city of Peshawar for possession of illegal arms.Police officials told Dawn TV that the diplomats, along with three Pakistani nationals, were stopped at a routine checkpoint at the entrance to the Peshawar Motorway on Monday but they refused to allow the police to search their vehicles.
The police checked the "suspicious cars" anyway and discovered several assault rifles, pistols, and ammunition.
US Consul General Mary Richard visited the police station where the US nationals are being held for questioning and told the police they could keep the weapons but asked them to release the US diplomats.
In January 2011, Raymond Davis, a CIA agent operating under the cover of a diplomat, shot and killed two Pakistanis in Lahore, triggering a diplomatic crisis.
Pakistan charged him with murder, but Washington insisted that he was an "administrative and technical official" attached to its Lahore consulate and had diplomatic immunity.
Davis was finally allowed to leave Pakistan in March 2011 after a $2.4 million diyya (a form of monetary compensation or blood money) was paid to the victims' families.
After the Davis incident, Islamabad ordered all CIA agents to leave the country, but according to local sources, there are still scores of CIA agents working in Pakistan.
Jason Grant
nj.com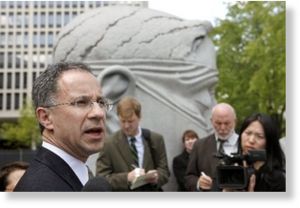 © The Star Ledger
U.S. Attorney Paul J. Fishman is pictured outside the federal courthouse in Newark.
A Long Island mortgage broker whose extensive cooperation with investigators helped break open one of the largest and longest-running insider trading frauds ever prosecuted was sentenced to just 2 years and 3 months in prison today, as the sentencing judge praised Kenneth Robinson for helping the FBI make damning secret recordings of his two co-conspirators.
Robinson, 45, of Long Beach, N.Y., got a sentence that was well below the roughly six to seven years recommended for him under federal sentencing guidelines. And his sentence came just a day after the same judge gave his two co-conspirators 12 years and nine years in prison, respectively.
The 12-year sentence handed down Monday to blue-chip corporate lawyer Matthew Kluger, a central figure in a 17-year insider-trading scheme that funneled $37 million in illicit profits to three white-collar professionals, is being hailed by U.S. Attorney Paul Fishman as the longest sentence ever imposed in an insider-trading case in the United States.
"It's very clear to me that only one of the three defendants (charged in the case) is literally living in this world, living and breathing the air that we breathe," said U.S. District Judge Katharine Hayden as she credited Robinson for both his cooperation with authorities and contriteness, while also distinguishing him from co-defendants who she said may still not grasp the impact and wrongness of their crimes.
"Of the three defendants, Mr. Robinson is the only person I can say that about," Hayden added, referring again to her comment that he seemed to appreciate the full gravity of his crime. "The other two see the world in a very different way."
Robinson, who wore a dark-blue suit and appeared somber-faced throughout the hearing in Newark, pleaded guilty in April 2011 – just days after the arrests and bust was announced by Fishman as the largest insider-trading case ever handled by New Jersey's U.S. Attorney's Office. The broad-shouldered, strapping mortgage broker admitted then to being the "middleman" between a big law-firm New York and Washington attorney, Kluger, and a longtime New York stock trader, Garrett Bauer.
For more than 17 years – starting back in 1994 – Robinson admitted, he'd gotten key insider information on Fortune 500 corporate merger and acquisition deals from Kluger – who had firsthand knowledge of the deals while working at prestigious firms like Wilson, Sonsini, Goodrich & Rosati PC – and then Robinson would pass on that information to Bauer. Bauer would then typically buy stock for the trio in companies involved in the deals before the deals happened, before later selling off the shares at hugely higher values.
"For the last year and three months, there hasn't been an hour that's gone by that I haven't thought about the terrible mistakes I made," Robinson told Judge Hayden just minutes before he was sentenced, his voice breaking with emotion at times, his eyes tearing up. "I'm truly ashamed for my actions."
A husband and father, Robinson said that after FBI agents showed up at his Long Beach, N.Y. home with a search warrant in March 2011, he decided within hours to cooperate fully, which soon led to him making secret tapes of long phone calls with his co-conspirators, who often talked on the tapes about how to cover up their decades of insider trading — including how they'd gone to extremes such as throwing out iPhones and computers and suggesting that Robinson burn $175,000 in cash bills that may show fingerprints.
"I was so afraid I wouldn't be able to make those calls," Robinson said of the telephone conversations he initiated and helped the FBI record. "These were my friends"
"I didn't want to hurt them, but it was the right thing to do, I knew it," he added, just moments after saying, "I knew I had to put my family first."
Judge Hayden later said of Robinson's words to the court, "They are heartfelt," before adding, "One does generally have the sense that Mr. Robinson, of these three defendants, will return to the world and resume a place in it where he can hold his head up." She also indicated that he should be rewarded for following through with his cooperation with investigators, who in turn had recommended to the judge that Robinson get a sentence below the guidelines range.
On Monday, Hayden made headlines when she sentenced Kluger to 12 years in prison, saying during his hearing, "People stay out of the stock market, in part, because they think it's skewed toward the insiders." She added, "The heart of the scheme was a lawyer earning hundreds of thousands of dollars at white-shoe firms, one after another."
Kluger, after the hearing, was outspoken in calling the sentence he got "outrageous." He also noted sarcastically that the sentence he received was actually one year more than the 11 years given to Raj Rajaratnam in New York last year in what has been called the largest insider trading fraud ever uncovered. "I guess it's better to steal $68 million and be unwilling to accept what he did," Kluger said, adding that he pleaded guilty to his crime last year and admitted wrongdoing, while Rajaratnam took his case to trial.
Bauer, who got nine years Monday, also pleaded guilty last year – though both his and Kluger's plea came after they had been charged and knew of the FBI's extensive recordings of their own words that were damning.
During his guilty plea in 2011, Robinson — who admitted to both conspiracy to commit securities fraud and two counts of securities fraud — also said he bought stock ahead of deals at least twice without using Bauer. One was the buying shares of 3Com before its 2009 acquisition by Hewlett-Packard, and another involved McAfee.
The three co-conspirators in the case admitted to trading on some 30 deals over the 17 years, including Bain Capital LLC's 2007 acquisition of 3Com Corp. and Oracle Corp.'s 2009 buying of Sun Microsystems, Inc.
As the FBI closed in last year on Kluger and Bauer, the men seemed panicked in the recorded phone conversations. In one phone detailed in the government's complaint, Bauer said,"I can't sleep. I can't sleep. I am waiting for the FBI to ride into my apartment. And I am on edge all night thinking that they're coming in."
Source: The Star-Ledger
************************************************************************************
[In accordance with Title 17 U.S.C. Section 107, this material is distributed without profit, for research and/or educational purposes. This constitutes 'FAIR USE' of any such copyrighted material.]