Environmental
by Staff Writers
Madrid, Spain (SPX) Apr 27, 2012

This image shows the aquaculture of salmon. Credit: Norsk Havbrukssenter.

Researchers from the University of Oviedo have for the first time analysed a DNA fragment from commercial feed for aquarium cichlids, aquaculture salmon and marine fish in aquariums. The results show that in order to manufacture this feed, eight species of high trophic level fish have been used, some of them coming directly from extractive fisheries.
Aquaculture initially came as an ecological initiative to reduce pressure from fishing and to cover human food needs. However, a problem has emerged: consumers prefer carnivore species, like salmon and cod that require tons of high quality protein for their quick, optimum development.
"If these proteins are obtained from extractive fisheries, aquaculture stops being an alternative to over-fishing and starts contributing to it, turning it into a risk for natural marine ecosystems" Alba Ardura, lead author of the study published in 'Fisheries Research' and researcher in the department of Functional Biology at the University of Oviedo told SINC.
The research team analysed a DNA fragment from commercial feed made for aquarium cichlids, aquaculture of salmon and marine fish in aquariums. After removing oil and fat from the feed, DNA sequences were obtained and compared with public databases to identify the species found.
From fish feed samples, supplied by manufacturers and bought in animal shops, researchers identified eight species of wild marine fish that were from high trophic levels in the food chain.
Industrial waste from processing and commercialisation for human consumption of Peruvian anchoveta (Engraulis ringens), European sprat (Sprattus sprattus), Pacific cod (Gadus macrocephalus), whiting (Merlangius merlangus), Atlantic herring (Clupea harengus), Pacific sandlance (Ammodytes personatus), jack mackerel (Trachurus symmetricus), and blue mackerel (Scomber australasicus), allow fish meal for aquaculture fish to be made.
Nonetheless, according to the researcher "some of the species found in this feed are commercialised fresh without being processed and they suspect that they came to the feed directly from extractive fisheries." This is the case with herring and Pacific sandlance.
The research suggests that aquaculture is partly maintained by fisheries, and aquaculture fishes are fed by wild fish sold "whole" (without being processed) and fresh directly from fishing vessels.
Vegetable proteins, an alternative
"If species from extractive fishing are used to feed farm fish, aquaculture does not help minimise over-fishing" warns the expert who suggests "urgently" revising the composition of aquaculture feed to replace them with other proteins. The aim is to reduce the exploitation of natural fish populations.
Ardura proposes increasing efforts to gain high quality proteins from other sources, such as vegetable proteins, which supplement farmed fish's nutritional needs. This way they will be able to "minimise the impact of aquaculture on wild populations."
Ardura, A.; Horreo, J. L.; Hernandez, E.; Jardon, A.; Pola, I. G.; Martinez, J. L.; Garcia-Vazquez, E. "Forensic DNA analysis reveals use of high trophic level marine fish in commercial aquaculture fish meals" Fisheries Research 115: 115-120 DOI: 10.1016/j.fishres.2011.08.011 March 2012.
Related Links
FECYT – Spanish Foundation for Science and Technology
Water News – Science, Technology and Politics
by Staff Writers
Syracuse, NY (SPX) Apr 27, 2012

Fridley set up an experimental garden on SU's South Campus that includes groups of native plants and their non-native cousins, such as Japanese honeysuckle (invader) and Canada honeysuckle (native), burning bush (invader) and bursting heart (native), and European buckthorn (invader) and Carolina buckthorn (native).

Much like the fabled tortoise and the hare, the competition between native and invasive plants growing in deciduous forests in the Eastern United States is all about how the plants cross the finish line in autumn.
A new study by a Syracuse University biologist has found that the leaves of invasive plants continue to function in the fall, long after their native cousins have hunkered down for the winter. The findings are counter to conventional wisdom, which held that plants living under the forest leafy canopy obtain most of their food via photosynthesis in the spring and early summer before the canopy blocks the amount of sunlight getting to the shrubs.
The study, "Extended leaf phenology and the autumn niche in deciduous forest invasions," will be published online in Nature. "It's a classic case of scientific serendipity," says study author Jason Fridley, assistant professor of biology in SU's College of Arts and Sciences.
"We set up the experiment to quantify the amount of photosynthesis happening in the spring when both groups of plants were thought to be most active. But we found it was all about the finish. This was totally off of everybody's radar."
Many of the plants growing naturally under the forest canopy in the eastern United States, including New York, Pennsylvania and New England, are closely related to those that have been imported for more than 100 years, primarily from Europe, China and Japan, for cultivation in home gardens. The imported plants have invaded the surrounding forests and thrived. Scientific research is focused on uncovering strategies the invaders use that make them so successful.
Fridley set up an experimental garden on SU's South Campus that includes groups of native plants and their non-native cousins, such as Japanese honeysuckle (invader) and Canada honeysuckle (native), burning bush (invader) and bursting heart (native), and European buckthorn (invader) and Carolina buckthorn (native). His research team monitored the plants for three years, recording when the leaves burst, turned brown and dropped.
They also used devices to measure leaf chlorophyll and photosynthesis throughout the leaf growing and dying seasons.
The research team found little differences between the spring emergence of leaves in native and their non-native cousins, the timing of which for both groups varied in response to spring temperatures. They also found little differences in spring food production between the groups.
Most significantly, the researchers found that the invaders retained their leaves and continued to photosynthesize almost four weeks longer into the fall than their native cousins, which begin shutting down between late August and mid-September.
"The extended leaf activity we found in the invaders is rarely seen in native species that inhabit deciduous forests," Fridley says. "However, the data don't tell us whether this is the primary strategy invasive plants use to compete with native species."
The plants in the study have had separate evolutionary histories since at least the Pleistocene Age (11,400 to 2 million years ago). Climate conditions over the North American continent were colder with more ice coverage than Asia, Fridley says. Native species responded to the shorter growing seasons by pulling nitrogen from their leaves to store in the stems, causing the leaves to turn brown and fall off.
"Invaders don't appear to store as much nitrogen," Fridley says. "Their leaves fall off with a higher nitrogen content. It may be that the invasive species are better suited a warming climate."
Which begs the question of how the invaders gain back in the spring the nitrogen that falls to the forest floor in the fall. "One hypothesis," Fridley says, "is that invaders evolved by depending on earthworms to decompose the leaves, making nitrogen available in the spring for the plants." Native plants did not evolve with earthworms because native earthworms did not survive glaciation.
"Eurasian earthworms invaded North America at some point in the past," Fridley says. "It's conceivable that having co-evolved with earthworms, the invaders would devise a nutrient-use strategy that was not dependent on re-absorbing the nutrients from the leaves."
The larger question for scientists is, how does an increase in the amount of nutrient-rich leaf litter affect the overall forest-floor ecosystem? "It's possible the extended growing season of non-native shrubs in deciduous forests may be a major driver of human-induced ecosystem change in eastern North America that may rival climate change in its impact on forest processes," Fridley says.
Related Links
Syracuse University
Farming Today – Suppliers and Technology
Dolphins are Mysteriously Dying Around the World
By Eddie Sage on 27 April 2012
Since January, dead dolphins have washed ashore in Peru, the death toll reaching a staggering 877. Scientists are still trying to explain the bizarre deaths, and their best prediction at the moment is that its due to a virus outbreak or acoustic trauma.
Environmental authorities are investigating the deaths of more than 800 dolphins that have washed up on the northern coast of Peru this year.
The dolphins may have died from an outbreak of Morbillivirus or Brucella bacteria, said Peruvian Deputy Environment Minister Gabriel Quijandria, according to Peru's state-run Andina news agency. Speaking to CNN, he said he expects test results to be ready within the week.
"Right now, the most probable hypothesis is that it's a virus outbreak," he said.
Quijandria said Thursday that 877 dolphins have washed up in a 220-kilometer (137-mile) area from Punta Aguja to Lambayeque, in the north of the country.
More than 80% of those dolphins were found in an advanced state of decomposition, making it difficult to study their deaths, according to Andina.
Earlier last week, the Peruvian government put together a panel from different ministries to analyze a report by the Peruvian Sea Institute (IMARPE). Officials have been able to conclude that the dolphins' deaths were not due to lack of food, interaction with fisheries, poisoning with pesticides, biotoxin poisoning or contamination by heavy metals.
"When you have something this large, my gut would tell me that there's something traumatic that happened," Sue Rocca, a marine biologist with the Whale and Dolphin Conservation Society, told CNN. She floated a number of number of possibilities as to what could have killed the animals, including acoustic trauma, but concluded that investigators just don't know yet. "More investigation needs to be done," she said.
More then 200 Dolphins have beached themselves on Manila Bay, Philippines

**********************************************************************************************************
Cyber Space
By Deirdre Walsh
Ignoring a veto threat from the White House, the House passed legislation Thursday designed to protect communications networks from cyberattacks.
The vote was 248-168.
But even as the House bill moves forward, privacy concerns about granting government agencies access to personal information transmitted on the Internet could prove to be a major obstacle to any new cybersecurity law.
House Intelligence Committee Chairman Mike Rogers, R-Michigan and a former FBI agent, said he spent the last year working on the bill because the national security risk to the United States posed by cyberattacks is one, "we are just not prepared to handle."
"We needed to stop the Chinese government from stealing our stuff. We needed to stop the Russians from what they're doing to our networks and people's personal information data and resources," Rogers said on the House floor on Thursday. "We needed to prepare for countries like
Iran and North Korea so that they don't do something catastrophic to our networks here in America and cause us real harm to real people."
The House bill, called the Cyber Intelligence Sharing and Protection Act, was drafted by Rogers and the committee's top Democrat, Maryland Rep. Dutch Ruppersberger.  It sets up a voluntary system for private companies to share information about any threats or attacks on their networks with U.S. national security agencies. It also gives some liability protections to those companies in return for cooperating with the government.
While the Obama administration and many congressional Democrats agree the United States needs to respond to cyberthreats, they and many outside civil liberties advocates say the House bill fails to sufficiently guard personal information.  They worry the new rules allowing Internet companies to share information with the National Security Agency could give unfettered access by the intelligence community to data about any individual surfing the Web or sending e-mail.
In its statement opposing the bill and promising a veto, the administration on Wednesday said, "Cybersecurity and privacy are not mutually exclusive."
In a reference to the George Orwell book that described a society in which government was eavesdropping on its citizens, Rep Hank Johnson, D-Georgia, said during Thursday's debate, "I know it's 2012 but it still feels like 1984 in the House today."
But House Speaker John Boehner, R-Ohio, argued the administration's insistence on specific standards and broader limitations on how much personal information can be shared goes too far.
"The White House believes the government ought to control the Internet; the government ought to set standards and the government ought to take care of everything that's needed for cybersecurity. They're in a camp all by themselves," Boehner said
CISPA Passes The House: What You Need to Know
By Ian Paul, PCWorld    Apr 27, 2012 7:39 AM
The U.S. House of Representatives passed the Cyber Information and Security Protection Act late Thursday despite concerns over user privacy, the specter of SOPA/PIPA, and a veto threat from the Obama administration. The idea behind CISPA is to empower the government and corporations to work together to better protect American infrastructure from foreign attacks. But many civil liberties groups say the bill is too broad and threatens user privacy.
The Center for Democracy and Technology said it is "disappointed that CISPA passed the House in such flawed form." And the Electronic Frontier Foundation condemned the vote, saying it "would allow companies to bypass all existing privacy law to spy on communications and pass sensitive user data to the government."
There's little doubt that online security is a serious issue for large corporations. Recent reports of online security breaches have involved such high-profile targets as Google, security firm RSA, Verisign, and credit card processing company Global Payments. But whether CISPA is the right legislation to tackle those concerns is hotly debated.
So what is CISPA? Should you be concerned about this legislation? Here's what you need to know.
What Does CISPA Do?
CISPA allows the government to share classified information about security threats with select American companies. These corporations can then use that information to better protect their infrastructure such as computer networks containing intellectual property and trade secrets. The bill also allows corporations to share information relating to cyber security with the authorities and protects those companies against privacy lawsuits. Critics say an Internet Service Provider would be free to share a customer's private communications such as e-mail and instant messages without a court order if the information related to a cyber security concern.
CISPA allows this information to be used not only to protect against cyber attacks, but also to protect individuals from bodily harm, protect children from sexual exploitation, and for general American national security.
[RELATED: How To Encrypt Your E-Mail]
CISPA would shield companies from privacy-related lawsuits brought by customers. And corporations could share information relating to cyber security with each other without fear of the government bringing an antitrust suit against them.
Which Facebook Apps Steal Your Data (and How to Stop Them)
Analysis: Wonder how much of your personal data Facebook apps like Cityville or Words With Friends are sucking down? PrivacyScore has the answer.
By Dan Tynan, ITworld    Apr 27, 2012 12:39 pm
The biggest privacy problem with Facebook isn't Facebook itself, it's Facebook's apps. There are more than 500,000 games, puzzles, quizzes and other time wasters in the Facebook platform, many of which exist for the sole purpose of sucking data out of your account. Worse, these apps not only can access your information, they can also grab data from your friends' profiles, depending on their privacy settings. Thank you, obnoxious Farmville fans.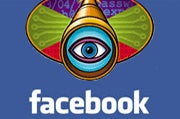 Facebook establishes limits about what data apps can access and what they can do with it, but they don't appear terribly motivated to enforce those rules. For example, in October 2010, ten popular Facebook apps were found to be slurping up user data in direct violation of Facebook's own terms. In response, Facebook removed some of those apps on a Friday, then reinstated them on the following Monday.
Now you can take matters into your own hands and find out who the real data vampires are. PrivacyScore from PrivacyChoice is a Chrome plug in that rates how each app deals with your data on a scale from 0 to 100. It can also do the same for Web sites. You can view these scores on the Web, on Facebook or, if you've installed the Chrome extension, by clicking the PS icon in the browser bar when you install an app.
**********************************************************************************************************
Survival / Sustainability
Swapping lawn for fruit: "because you can't eat grass"
Uploaded by kirstendirksen on Oct 9, 2009
***********************************************************************************************************
Activism
by Staff Writers
Phnom Penh (AFP) April 26, 2012

Chhut Vuthy, president of the Natural Resource Conservation Group.

A prominent Cambodian activist was fatally shot in a remote forest Thursday while documenting illegal logging in a clash that also killed a military police officer, authorities said.
Chhut Vuthy, president of the Natural Resource Conservation Group, was escorting two female reporters from a Cambodian newspaper when a dispute erupted, said Kheng Tito, spokesman for the national military police.
"There was a shooting incident when there was a clash between military police on duty to protect the forest and an environmental team, leading to the deaths of activist Chhut Vuthy and a military police official," he told AFP.
Vuthy, 43, and one military police officer received gun shot wounds in the incident in a forest in southwestern Koh Kong province and died shortly afterwards in hospital.
Koh Kong provincial military police chief, Thong Narong, confirmed the deaths but details of the incident remain unclear and officials were unable to say how the dispute escalated and who had fired the shots.
Vuthy, who received military police training, was known to carry arms, activists told AFP.
Kheng Tito said the two reporters from the English-language Cambodia Daily, one Cambodian and one Ukrainian, would be questioned.
Kevin Doyle, the paper's editor-in-chief, confirmed to AFP that both women were unharmed but said he was unable to give further details of the incident at this stage.
A military police source in the province said the row appeared to have erupted when the officer tried to confiscate a camera memory stick from the team.
"Vuthy was a long-time activist on forestry issues," said Ou Virak, president of the Cambodian Centre for Human Rights. "He was a very brave man."
Land disputes, including forced evictions and protests against illegal logging, have been on the rise in recent years in Cambodia and have become increasingly violent although they rarely result in deaths.
Over the last six months local human rights group Licadho documented five shooting incidents involving land activists, causing 19 injuries, though the last death was in April 2010.
Environmental groups and human rights campaigners have long accused the Cambodian government of selling off land to the highest bidder.
Related Links
Forestry News – Global and Local News, Science and Application
On May Day, Expect Scores of Rallies, Marches, Creative Actions
A strike, if it actually happens on May 1 or thereafter, may not look like one ever has before.
Photo Credit: occupymay1st.org
An Occupy Wall Street organizer I know — one of the original ones, from the planning meetings before the occupation began last September 17 — has a striking banner atop his Facebook Timeline. It's from the History Channel series Life After People, an artist's rendition of a cityscape after which all the humans in it somehow disappear. It's quiet, and still, with trees growing out from the sides of crumbling towers.
To say that this image has anything to do with the movement's plans for May 1, which the person who posted it is involved in making, might cause both paranoid-style right-wing radio hosts and the most anarcho- of primitivists to froth a bit at the mouth. And so they should. Ever since the idea of working toward May Day started catching on in Occupy Wall Street last January, it has been infused with the impulse of creating the vision of a radically different kind of city.
The visionary impulse, however, has also mixed with things more mundane. Over the course of the May Day planning process in New York, in at least two meetings each week, OWS organizers have been patiently patching together an historic joint rally and march with labor unions, immigrants' rights groups and community organizations, many of which were invited to participate in the planning process since the beginning.
***********************************************************************************************************
[In accordance with Title 17 U.S.C. Section 107, this material is distributed without profit, for research and/or educational purposes. This constitutes 'FAIR USE' of any such copyrighted material.]