Earthquakes
EMSC     Western Turkey
Apr 26 23:46 PM
3.4     5.0     MAP
EMSC     Western Turkey
Apr 26 23:40 PM
3.0     5.0     MAP
EMSC     Western Turkey
Apr 26 23:27 PM
2.5     5.0     MAP
EMSC     Western Turkey
Apr 26 23:07 PM
2.4     5.0     MAP
EMSC     Western Turkey
Apr 26 23:02 PM
2.7     3.0     MAP
EMSC     Western Turkey
Apr 26 22:34 PM
2.5     5.0     MAP
EMSC     Southern Greece
Apr 26 22:28 PM
2.9     20.0     MAP
EMSC     Western Turkey
Apr 26 22:26 PM
2.4     5.0     MAP
EMSC     Western Turkey
Apr 26 22:22 PM
2.5     5.0     MAP
USGS     Long Valley Area, California
Apr 26 22:19 PM
2.6     4.5     MAP
EMSC     Greece
Apr 26 22:18 PM
2.5     5.0     MAP
EMSC     Western Turkey
Apr 26 22:18 PM
2.6     5.0     MAP
GEOFON     Off West Coast Of Northern Sumatra
Apr 26 22:17 PM
4.3     10.0     MAP
USGS     Southwest Of Sumatra, Indonesia
Apr 26 22:16 PM
4.3     10.0     MAP
EMSC     Southwest Of Sumatra, Indonesia
Apr 26 22:16 PM
4.3     10.0     MAP
EMSC     Greece
Apr 26 22:07 PM
2.5     10.0     MAP
EMSC     Western Turkey
Apr 26 22:05 PM
4.9     8.0     MAP
GEOFON     Turkey
Apr 26 22:05 PM
4.6     10.0     MAP
USGS     Western Turkey
Apr 26 22:05 PM
4.6     5.8     MAP
EMSC     Western Turkey
Apr 26 22:02 PM
3.0     5.0     MAP
USGS     Island Of Hawaii, Hawaii
Apr 26 21:36 PM
2.9     36.9     MAP
USGS     Long Valley Area, California
Apr 26 21:08 PM
2.5     4.5     MAP
EMSC     Crete, Greece
Apr 26 21:03 PM
2.8     10.0     MAP
EMSC     Western Turkey
Apr 26 19:58 PM
2.8     5.0     MAP
EMSC     Eastern Turkey
Apr 26 19:53 PM
3.4     4.0     MAP
EMSC     Western Turkey
Apr 26 19:48 PM
2.5     3.0     MAP
EMSC     Albania
Apr 26 19:33 PM
2.5     25.0     MAP
USGS     Off The West Coast Of Northern Sumatra
Apr 26 19:21 PM
5.5     26.0     MAP
GEOFON     Off West Coast Of Northern Sumatra
Apr 26 19:21 PM
5.6     10.0     MAP
EMSC     Off W Coast Of Northern Sumatra
Apr 26 19:21 PM
5.4     10.0     MAP
USGS     Mona Passage, Dominican Republic
Apr 26 18:43 PM
3.3     43.0     MAP
EMSC     Hokkaido, Japan Region
Apr 26 18:41 PM
5.2     60.0     MAP
GEOFON     Hokkaido, Japan Region
Apr 26 18:41 PM
5.2     70.0     MAP
USGS     Hokkaido, Japan Region
Apr 26 18:41 PM
5.1     67.2     MAP
GEOFON     Vanuatu Islands
Apr 26 17:26 PM
4.7     10.0     MAP
EMSC     Eastern Turkey
Apr 26 17:26 PM
3.2     7.0     MAP
USGS     Southern Alaska
Apr 26 17:03 PM
2.5     13.7     MAP
EMSC     Ceram Sea, Indonesia
Apr 26 17:01 PM
4.8     20.0     MAP
GEOFON     Irian Jaya Region, Indonesia
Apr 26 17:01 PM
4.8     22.0     MAP
EMSC     Eastern Turkey
Apr 26 16:55 PM
3.0     7.0     MAP
GEOFON     Chile-bolivia Border Region
Apr 26 16:46 PM
4.3     97.0     MAP
USGS     Antofagasta, Chile
Apr 26 16:45 PM
4.4     110.4     MAP
EMSC     Antofagasta, Chile
Apr 26 16:45 PM
4.4     103.0     MAP
USGS     Off The Coast Of Northern California
Apr 26 16:25 PM
3.0     11.8     MAP
EMSC     Eastern Turkey
Apr 26 16:23 PM
3.6     5.0     MAP
EMSC     Western Turkey
Apr 26 16:10 PM
3.0     3.0     MAP
USGS     Baja California, Mexico
Apr 26 14:48 PM
2.6     10.0     MAP
GEOFON     Off West Coast Of Northern Sumatra
Apr 26 14:39 PM
4.2     10.0     MAP
EMSC     Romania
Apr 26 14:32 PM
4.0     126.0     MAP
USGS     Southern California
Apr 26 13:01 PM
2.5     3.6     MAP
USGS     Long Valley Area, California
Apr 26 12:20 PM
2.5     4.5     MAP
EMSC     Central Turkey
Apr 26 11:53 AM
3.0     12.0     MAP
EMSC     Central Turkey
Apr 26 11:41 AM
2.6     9.0     MAP
USGS     Dominican Republic Region
Apr 26 11:18 AM
3.4     87.0     MAP
USGS     Near The Coast Of Southern Peru
Apr 26 07:57 AM
4.2     67.7     MAP
EMSC     Near Coast Of Southern Peru
Apr 26 07:57 AM
4.2     68.0     MAP
EMSC     Near The Coast Of Western Turkey
Apr 26 07:47 AM
2.5     17.0     MAP
EMSC     Greece
Apr 26 07:24 AM
2.5     9.0     MAP
EMSC     Dodecanese Islands, Greece
Apr 26 06:50 AM
3.3     7.0     MAP
EMSC     Greece
Apr 26 06:45 AM
2.7     10.0     MAP
GEOFON     Fiji Islands Region
Apr 26 06:38 AM
4.8     623.0     MAP
USGS     Fiji Region
Apr 26 06:38 AM
5.0     616.7     MAP
EMSC     Fiji Region
Apr 26 06:38 AM
5.1     614.0     MAP
GEONET     Taupo   ,New Zealand
Apr 26 06:13 AM
2.4     2.0     MAP
GEOFON     Afghanistan-tajikistan Border Region
Apr 26 05:54 AM
4.1     152.0     MAP
USGS     Tajikistan
Apr 26 05:54 AM
4.2     164.9     MAP
EMSC     Tajikistan
Apr 26 05:54 AM
4.2     162.0     MAP
EMSC     Dodecanese Islands, Greece
Apr 26 05:51 AM
2.7     5.0     MAP
EMSC     Western Turkey
Apr 26 05:50 AM
2.7     7.0     MAP
EMSC     Germany
Apr 26 05:27 AM
2.4     20.0     MAP
USGS     Andreanof Islands, Aleutian Islands, Alaska
Apr 26 04:24 AM
3.9     70.7     MAP
EMSC     Dodecanese Islands, Greece
Apr 26 04:13 AM
3.0     9.0     MAP
USGS     Southwestern Siberia, Russia
Apr 26 04:11 AM
4.4     10.0     MAP
EMSC     Southwestern Siberia, Russia
Apr 26 04:11 AM
4.4     30.0     MAP
GEOFON     Southwestern Siberia, Russia
Apr 26 04:11 AM
4.3     10.0     MAP
EMSC     Eastern Turkey
Apr 26 03:42 AM
3.1     2.0     MAP
USGS     Baja California, Mexico
Apr 26 03:25 AM
2.5     6.3     MAP
USGS     South Of The Fiji Islands
Apr 26 02:49 AM
4.8     34.6     MAP
EMSC     South Of Fiji Islands
Apr 26 02:49 AM
4.6     100.0     MAP
GEOFON     South Of Tonga Islands
Apr 26 02:49 AM
5.0     30.0     MAP
EMSC     Eastern Turkey
Apr 26 02:43 AM
2.8     7.0     MAP
EMSC     Sicily, Italy
Apr 26 01:59 AM
2.4     26.0     MAP
EMSC     Romania
Apr 26 01:59 AM
2.7     118.0     MAP
EMSC     Greece
Apr 26 01:29 AM
2.8     118.0     MAP
EMSC     Western Turkey
Apr 26 01:06 AM
2.4     15.0     MAP
EMSC     Southern Iran
Apr 26 00:30 AM
3.5     20.0     MAP
USGS     Central Alaska
Apr 26 00:10 AM
4.0     93.4     MAP
GEOFON     Central Alaska
Apr 26 00:10 AM
4.4     92.0     MAP
sources:  USGS – EMSC – GFZ – GEONET
Swarm: Long Valley caldera rattled by small series of tremors

April 26, 2012 – Long Valley, CA – A series of 8 tremors have erupted at the Long Valley super-volcano caldera over the last 24 hours- two yesterday, and six tremors today. The tremors today were a 1.1 mag (3.2 km), a 2.5 mag (4.5 km), a 1.6 mag (4.5 km), a 1.2 mag (2.8 km), a 1.5 mag (7.9 km) and a 1.3 mag at (3.7 km). This could be the beginning of a swarm so we'll keep monitoring events and look for updates. –The Extinction Protocol
New dangers and earthquake risks found in Washington
3 more potentially disastrous faults discovered along coast near Canadian border
Kelsey et al / USGS
This LiDAR image acquired in 2006 by USGS shows five paleoseismic study sites (red dots with block perimeters) and three Holocene faults (solid red lines) inferred from the data.
By Crystal Gammon
OurAmazingPlanet
updated 4/26/2012 12:37:04 PM ET
Tectonically speaking, there's a lot going on in the Pacific Northwest. From the Cascadia subduction zone, where the Juan de Fuca tectonic plate is slowly pushing its way underneath the North American plate, to the Seattle Fault, where Native American legends recorded a massive earthquake 1,100 years ago, the region has its fair share of seismic hazards.
Now add to that three more potentially dangerous faults in the Bellingham Basin, a tectonically active area along the coast of Washington, near the Canadian border. A team of researchers has discovered active tectonic faults in this region nearly 40 miles (60 kilometers) north of any previously known faults.
"We've known for a long time that the whole Pacific Northwest region is contracting very slowly north-to-south, at the rate of a few millimeters per year," said Richard Blakely, a geologist with the U.S. Geological Survey in Menlo Park, Calif., who was part of the study. "It doesn't sound like very much, but when you concentrate that contraction on specific faults, they can become rather dangerous."
Big enough
The faults Blakely and his colleagues found are reverse faults — a type of tectonic fault where one side is shoved up over the other side — and the team estimates they're capable of triggering magnitude-6.0 to -6.5 earthquakes.
"That's big enough to cause damage and hurt people, but it's not as severe as a magnitude-7 earthquake, such as the one that occurred on the Seattle fault 1,100 years ago," Blakely told OurAmazingPlanet.
**********************************************************************************************************
Volcanic Activity
Published: Thursday, Apr 26, 2012, 18:02 IST
Place: Vladivostok | Agency: ANI
The Shiveluch volcano on Russia's Far Eastern Kamchatka Peninsula on Thursday ejected an ash cloud to as high as nearly 11km above the sea level, the Itar-Tass news agency reported.
An ash column from the volcano rose to a height of 10.7km above the sea level.
There was no immediate threat for the population, and no emissions of volcanic dust were monitored in neighboring villages.
Two earthquakes were registered at the volcano over the past 24 hours, which was given the highest Red Aviation Code.
This was the most powerful eruption of ash registered at Shiveluch this year. Shiveluch has been active for more than four weeks.
Shiveluch, standing 3,283 meters above the sea level, is Kamchatka's northernmost active volcano.

April 26, 2012 – REPUBLIKA.CO.ID, JAKARTA – Head of Data Center for Information and Public Relations of the National Disaster Management Agency (BNPB), Sutopo Purwo Nugrogo said Lokon was shaken by another volcanic tremor in Tomohon, North Sulawesi. In addition, the volcano is stirred by 1 to 3 shallow tremors every 5 minutes. If activity continues to increase at the volcano, officials fear an eruption could be imminent. The volcano remains at alert status 3 for now. The public is admonished to monitor the news for the latest updates about the volcano and a 2.5 kilometer exclusion zone remains in effect around the volcano's parameter. –ROL  (translated)
| | | | | | | |
| --- | --- | --- | --- | --- | --- | --- |
| 14 | 26.04.2012 | Volcano Activity | Mexico | State of Puebla, [Popocatepetl Volcano] | | |
***********************************************************************************************************
Extreme Temperatures/ Weather
Short Time Event(s)
Upd.
Date (UTC)
Event
Country
Location
Level
Details
 
 
 
 
 
26.04.2012
Forest / Wild Fire
China
Province of Yunnan, [Near to Luohe Village]
BINGHAMTON NY
TWIN CITIES/CHANHASSEN MN
GRAND FORKS ND
LA CROSSE WI
STATE COLLEGE PA
TAUNTON MA
WILMINGTON OH
CLEVELAND OH
BURLINGTON VT
NEW YORK NY
INDIANAPOLIS IN
GRAND RAPIDS MI
MOUNT HOLLY NJ
ALBANY NY
DETROIT/PONTIAC MI
GREEN BAY WI
CHICAGO IL
 BALTIMORE MD/WASHINGTON DC
NORTHERN INDIANA
***********************************************************************************************************
Storms, Flooding
  Current Emergencies
Upd.
Date (UTC)
Event
Country
Location
Level
Details
 
26.04.2012
Flash Flood
MultiCountries
[Haiti and Dominican Republic]
 GREAT FALLS MT
RIVERTON WY
CHEYENNE WY
 ALBUQUERQUE NM
SPOKANE, WA
MISSOULA MT
BLACKSBURG VA
BOISE ID
PENDLETON OR
LAKE CHARLES LA
POCATELLO ID
************************************************************************************************************
Radiation
The Fukushima Nuclear Disaster Is Far From Over
Spent reactor fuel, containing roughly 85 times more long-lived radioactivity than released at Chernobyl, still sits in pools vulnerable to earthquakes.
More than a year after the Fukushima nuclear power disaster began, the news media is just beginning to grasp that the dangers to Japan and the rest of the world are far from over. After repeated warnings by former senior Japanese officials, nuclear experts, and now a U.S. senator, it's sinking in that the irradiated nuclear fuel stored in spent fuel pools amidst the reactor ruins pose far greater dangers than the molten cores. This is why:
• Nearly all of the 10,893 spent fuel assemblies sit in pools vulnerable to future earthquakes, with roughly 85 times more long-lived radioactivity than released at Chernobyl
• Several pools are 100 feet above the ground and are completely open to the atmosphere because the reactor buildings were demolished by explosions. The pools could possibly topple or collapse from structural damage coupled with another powerful earthquake.
• The loss of water exposing the spent fuel will result in overheating and can cause melting and ignite its zirconium metal cladding resulting in a fire that could deposit large amounts of radioactive materials over hundreds, if not thousands of miles.
This was not lost on Senator Ron Wyden (D-OR), who after visiting the site on April 6, wrote to Japan's U.S. ambassador, Ichiro Fujusaki, that "loss of containment in any of these pools… could result an even larger release of radiation than the nuclear accident."
The urgency of the situation is underscored by the ongoing seismic activity where 13 earthquakes of magnitude 4.0-5.7 have occurred off the northeast coast of Japan between April 14 and 17. This has been the norm since the first quake and tsunami hit the Dai-Ichi site on March 11 of last year. Larger quakes are expected closer to the power plant.
Chernobyl in Fukushima's shadow – nuclear energy today and in the future
Twenty-six years has passed since the Chernobyl catastrophe. And although Fukushima has somewhat eclipsed Chernobyl, the memory of the late Soviet period disaster remains a living memory to many people, especially specialists among whom, as before, there is no consensus on the present and future of nuclear energy. Aleksandr Nikitin, 26/04-2012 – Translated by Charles Digges
Today, there is great distrust of the safety of nuclear power plants has is seen worldwide. First Chernobyl then Fukushima forced a whole array of countries to reassess their attitude toward nuclear power. There have been no new nuclear plants built in the United States over the past 26 years. Now Germany, Switzerland, and Belgium will be shuttering their reactors. Spain is in the process of electing not building any new nuclear reactors, and Italy decided not to begin a nuclear energy industry at all.  In post-Fukushima Japan, only one reactor out of the country's 54 is still running. The future of nuclear energy there is especially foggy as the wrecked reactors at Fukushima are in such a condition that they "temporarily or partially" re-achieve criticality – in other words, the emergency is not over. According to expert analysis, more than 30years will be required to fully dismantle Fukushima.
The list of those casting a suspicious eye on nuclear power goes on: In March this year, Bulgaria decided to stop construction of it's Belene Nuclear Power Plant despite the financial losses it would incur. This is the first instance that an active international contract for the construction of a nuclear power plant has been dissolved. Mexico is putting of the construction of 10 nuclear reactors in favor of developing natural gas power plants. The Lithuanian Seimas, or parliament, is deciding to put to a popular referendum on October 12 the construction of the Visaginas nuclear power plant. India is experiencing difficulties in launching its Kudankulam Nuclear Power Plant because of months of thousands-strong protests by local residents demanding its closure in the seismically active area.
It would also seem that the huge expenses of accident clean up and compensation to victims of the Fukushima disaster, which currently however somewhere around $245 billion, is influencing the mood pro-nuclear countries as well. In France, which relies on nuclear for 78 percent of its energy, Nikolai Sarkozy's opponent from the socialist party, François Hollande – who in current opinion polls is surpassing the incumbent – has suggested cutting France's reliance on nuclear power by a third by 2025, that is to say to 50 percent of the country's energy. The fate of nuclear power in the world's most atomically power country in the world is therefore be decided after the run off round of presidential elections on May 6 (as Sarkozy failed to capture the majority in the first round of balloting on April 22). And China, which wants to shake its large dependence on coal fired plants, and is building more nuclear power plants than anyone else, has begun to invest huge resources in renewable energy, seeing this energy source's future.
World financial markets have also reacted world situation with nuclear power. Bank Austria, which is a subsidiary of the Italian UniCredit, has cut off a credit line it previously issued to a Slovak company that is building Reactor Units 3 and 4 at Mochovce in Slovakia. European energy giants RWE and E.On have declared that they no longer want to be involved in building new nuclear power plants in Great Britain.  Private companies are exiting the nuclear market as well. Of special resonance was the decision by Germany's engineering-giant Siemens to pull out of nuclear power reactor and product production. Uranium markets went into a slump after Fukushima. Because of this, Russian State nuclear corporation Rosatom was unable to complete a deal to acquire 100 percent of the shares in Austria's Mantra Resources Limited, which mines uranium in Tanzania.
Nuclear power cannot survive in a market economy. And for that reason, no country based on a market economy has built a single nuclear power plant since the Chernobyl disaster. Nuclear Energy requires large scale government support. The nuclear power plants in Russia and China belong to the state. Until 2004, the French government entirely owned Electricité de France, which operated every nuclear power plant in the country. Even today, though, even more than 80 percent of the company's shares belong to the government.
by Staff Writers
Chernobyl, Ukraine (AFP) April 26, 2012
Ukraine launched Thursday construction of a new shelter to permanently secure the stricken Chernobyl plant as it marked the 26th anniversary of the world's worst nuclear disaster.
President Viktor Yanukovych pressed a symbolic button at the construction site, watched by workers and ambassadors from countries including China and Japan that contributed to the huge project, expected to cost 1.5 billion euros.
"In the name of Ukraine, I express my deep thanks to all the donor countries to the Chernobyl Shelter Fund for their understanding and effective aid to our country in overcoming the consequences of the worst man-made disaster in human history," Yanukovych said, as cranes loomed over the site.
"We have felt that the whole world has come to help us."
An explosion during testing at the power plant in the early hours of April 26, 1986, sent radioactive fallout into the atmosphere that spread across Europe, particularly contaminating Belarus, Ukraine and Russia.
An international drive has raised funds from governments towards building a new permanent covering to slide over a temporary concrete-and-steel shelter that was hastily erected after the disaster and has since developed cracks.
The 20,000-tonne arched structure that spans 257 metres, known as the New Safe Confinement, is designed to last for a century, and will contain hi-tech equipment to carry out safe decontamination work inside the ruined reactor.
"This construction in its scale has no equals in the world," Yanukovych said.
The construction of the shelter is expected to cost 990 million euros and to be put in place in 2015, while the decontamination work on the site will push the total cost up to 1.5 billion euros ($2 billion).
Yanukovych said in his speech at the site that "the completion of this project will guarantee the environmental safety of all the surrounding land and make it impossible for radiation to reach the atmosphere."
Chernobyl is only around 100 kilometres (60 miles) from Kiev and lies close to the borders with Russia and Belarus. The area around the plant is still very contaminated and is designated as a depopulated "exclusion zone."
International donors have so far agreed to contribute 550 million euros ($730 million) to the project, with the balance coming from the European Bank of Reconstruction and Development.
As the president visited the site, some 1,000 Chernobyl clean-up workers rallied in Kiev over cuts to their benefits in the latest of a string of angry protests over the austerity measure, the Interfax news agency reported.
The Soviet Union ordered thousands of people to take part in the clean-up in Ukraine following the Chernobyl accident, working without adequate protection.
Although only two people were killed in the initial explosions, the United Nations atomic agency says that 28 rescue workers died of radiation sickness in the first three months after the accident.
According to Ukrainian official figures, more than 25,000 of the cleanup workers, known as "liquidators" from then-Soviet Ukraine, Russia and Belarus have died since the disaster.
Ukraine on Thursday announced that it was awarding state honours to more than 40 of the liquidators and Yanukovych laid flowers and held a minute's silence at a memorial at the power station.
On Thursday, relatives of victims held a remembrance ceremony in front of a memorial in Kiev as soldiers in dress uniform stood guard. Chernobyl veterans also attended a memorial ceremony in Minsk.
In neighbouring Belarus which also suffered from Chernobyl's nuclear fallout about 2,000 supporters of the former Soviet republic's opposition took to the streets to commemorate the disaster and denounce political repression.
Demonstrators brandished banners saying "We are suffering from Chernobyl", "There's no such thing as civilian nuclear energy", and "No to nuclear power plants in Belarus".
Other demonstrators shouted anti-regime slogans such as "Freedom to political prisoners".
photo-zzh-am/ma/gk/db
Related Links
Bringing Order To A World Of Disasters
A world of storm and tempest
When the Earth Quakes
  Posted by Alexander Higgins – April 24, 2012 at 2:53 pm – Permalink – Source via Alexander Higgins Blog
Despite being designated as critical infrastructure in the War on Terror a government audit reveals  a system of broken and unmaintained EPA RADNET radiation monitors.
As many of my regular readers already know, I compiled an application that displays radiation readings for every US city being under surveillance by the Federal government's EPA RADNET monitors.
As many have repeatedly noticed for over a year, and as previously reported,  the graphs often display no information for certain cities as the EPA data set is empty for those locations.
We now get official confirmation from a Federal Audit performed by the Office of the Inspector General on the status of the network.
The audit has found a system of broken and unmaintained monitors being neglected by the EPA despite the fact the agency has secured tens of millions of dollars of Taxpayer money to keep the system up and running.
The system has been designated as critical infrastructure that is vital to our national security as part of the War on Terror and move over the federal government has reassured the public that the system would be used to assure the levels of radiation falling on the United States from the Fukushima nuclear fallout did not reach harmful levels.
| | | | | | | |
| --- | --- | --- | --- | --- | --- | --- |
| Today | Nuclear Event | USA | State of Wisconsin, [Point Beach Nuclear Plant] | | | |
The Point Beach nuclear power plant issued an alert after exhaust from a generator created increased carbon monoxide levels in its turbine building.
By: Associated Press report, Associated Press
TWO RIVERS, Wis. — The Point Beach nuclear power plant issued an alert after exhaust from a generator created increased carbon monoxide levels in its turbine building.
Its owner and operator, NextEra Energy Resources, says there was no impact on the operation of the plant or the safety of employees or the public. The state's Emergency Operations Center was activated after the plant issued an alert at about 9 p.m. Wednesday.
NextEra spokeswoman Sara Cassidy said exhaust from diesel generators being tested by workers on the non-nuclear side of the plant seeped into an adjacent room where carbon monoxide was detected. Cassidy said the room was ventilated and readings returned to normal.
The Point Beach plant is located on the shore of Lake Michigan in Manitowoc County.
************************************************************************************************************
Climate Change
Cut world population and redistribute resources, expert urges
Nuclear disaster or plague likely unless population shrinks and natural resources are reassigned to poor, says Prof Paul Ehrlich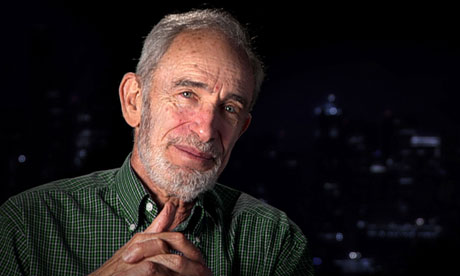 Paul Ehrlich says we face 'catastrophic or slow motion' disasters unless population is brought under control and resources redistributed. Photograph: Rex Features
The world's most renowned population analyst has called for a massive reduction in the number of humans and for natural resources to be redistributed from the rich to the poor.
Paul Ehrlich, Bing professor of population studies at Stanford University in California and author of the best-selling Population Bomb book in 1968, goes much further than the Royal Society in London which this morning said that physical numbers were as important as the amount of natural resources consumed.
The optimum population of Earth – enough to guarantee the minimal physical ingredients of a decent life to everyone – was 1.5 to 2 billion people rather than the 7 billion who are alive today or the 9 billion expected in 2050, said Ehrlich in an interview with the Guardian.
"How many you support depends on lifestyles. We came up with 1.5 to 2 billion because you can have big active cities and wilderness. If you want a battery chicken world where everyone has minimum space and food and everyone is kept just about alive you might be able to support in the long term about 4 or 5 billion people. But you already have 7 billion. So we have to humanely and as rapidly as possible move to population shrinkage."
Warm ocean currents behind majority of ice loss from Antarctica
Apr 26, 3:02 pm
London, April 26 (ANI): Warm ocean currents attacking the underside of ice shelves are the dominant cause of recent ice loss from Antarctica, researchers have claimed.
The finding brings scientists a step closer to providing reliable projections of future sea level rise.
An international team of scientists used a combination of satellite measurements and models to differentiate between the two known causes of melting ice shelves: warm ocean currents thawing the underbelly of the floating extensions of ice sheets and warm air melting them from above.
The researchers concluded that 20 of the 54 ice shelves studied are being melted by warm ocean currents. Most of these are in West Antarctica, where inland glaciers flowing down to the coast and feeding into these thinning ice shelves have accelerated, draining more ice into the sea and contributing to sea-level rise.
This ocean-driven thinning is responsible for the most widespread and rapid ice losses in West Antarctica, and for the majority of Antarctic ice sheet loss during the study period.
"We can lose an awful lot of ice to the sea without ever having summers warm enough to make the snow on top of the glaciers melt. The oceans can do all the work from below," said the study's lead author Hamish Pritchard of the British Antarctic Survey in Cambridge, United Kingdom.
************************************************************************************************************
Solar Activity
2MIN News Apr26: NASA, Magnetic Storm
Published on Apr 26, 2012 by Suspicious0bservers
************************************************************************************************************
Epidemic
by Staff Writers
Rio De Janeiro (AFP) April 25, 2012
Rio de Janeiro has declared a dengue epidemic after diagnosing more than 50,000 cases of the tropical mosquito-borne infection this year and over 500 in the last week alone.
"We have a plan focused on the epidemic and we continue to be in a state of alert," Hans Dohmann, the city's health secretary, said late Tuesday, adding that the number of cases had surpassed 300 per 100,000 residents per month.
State-run Agencia Brasil meanwhile reported that 517 people had been struck with the disease last week alone.
The state of Rio de Janeiro has reported a total of 64,423 confirmed cases thus far this year, with 13 deaths, 12 in the city itself.
Last year authorities recorded 168,242 cases and 140 deaths.
Dengue is caused by any one of four viruses transmitted by Aedes aegypti mosquitoes.
Symptoms include high fever, severe headaches, pain behind the eyes, skin rash and mild bleeding. In its advanced stage the disease causes hemorrhages.
The World Health Organization estimates there are 50-100 million dengue infections worldwide each year.
Related Links
Epidemics on Earth – Bird Flu, HIV/AIDS, Ebola
by Staff Writers
Paris (AFP) April 25, 2012
The climate in northwestern Europe and the Balkans is becoming suitable for the Asian tiger mosquito, a disease-spreading invasive species, scientists said on Wednesday.
The warning comes from scientists at the University of Liverpool, northwestern England, who say the two regions have been having progressively milder winters and warmer summers.
These temperate conditions favour the mosquito, which gained a foothold in Albania in 1979 and is now present in more than 15 countries on Europe's southern rim.
"Over the last two decades, climate conditions have become more suitable over central northwestern Europe — Benelux, western Germany — and the Balkans," they said.
At the same time, drier conditions in southern Spain have made that region less welcoming for the insect, they said.
The Asian tiger mosquito (Aedes albopictus), a native of tropical and subtropical areas of Southeast Asia, can transmit viruses that cause West Nile fever, yellow fever, dengue, St. Louis and Japanese encephalitis and other diseases.
In 2005-6, it caused an epidemic of chikungunya, a disease that attacks the joints, on the French Indian Ocean island of Reunion.
A year later, it unleashed an outbreak of chikungyuna in the Italian province of Ravenna. In 2010, it was fingered as a transmitter of dengue virus in France and Croatia.
As of last December, the mosquito was present in more than 15 countries, from southern Spain to parts of Greece and Turkey, according to the European Centre for Disease Prevention and Control (ECDC).
Reporting in Britain's Journal of the Royal Society Interface, the Liverpool team looked at European weather records for 1950-2009 and ran a widely-used computer model to simulate weather trends for 2030-2050.
"Similar trends are likely in the future with an increased risk simulated over northern Europe and slightly decreased risk over southern Europe," says the study.
"These distribution shifts are related to wetter and warmer conditions favouring the overwintering of A. albopictus in the north, and drier and warmer summers that might limit its southward expansion."
The paper points out that weather alone does not mean that the species will automatically spread there.
It also notes that the study did not consider vegetation or soil types which also determine whether the mosquito would be able to breed there. In addition, cold snaps or hot, dry spell also help limit mosquito survival, and these too were not included in the investigation.
In the mid-1960s, the Asian tiger mosquito was limited to some parts of Asia, India and a handful of Pacific islands.
It has since spread to North and South America, the Caribbean, Africa and the Middle East, as well as Europe, mainly by hitchhiking a ride in exported materials.
Related Links
Epidemics on Earth – Bird Flu, HIV/AIDS, Ebola
| | | | | | | | | | | | | | | | |
| --- | --- | --- | --- | --- | --- | --- | --- | --- | --- | --- | --- | --- | --- | --- | --- |
| 1 | 19.04.2012 | Biological Hazard | China | Ningxia Autonomous region, [Touying township] | | | | 3 | 24.04.2012 | Epidemic Hazard | Vietnam | Province of Quang Ngai, [Son Ky Commune] | | | |
| | | | | | | |
| --- | --- | --- | --- | --- | --- | --- |
| Today | Biological Hazard | USA | State of Oklahoma, Oklahoma City | | | |
| | | | | | | |
| --- | --- | --- | --- | --- | --- | --- |
| Today | Biological Hazard | Australia | State of Tasmania, [Port Esperance, Hastings Bay (Southport) and the coastline between] | | | |
| | | | | | | |
| --- | --- | --- | --- | --- | --- | --- |
| 26.04.2012 | Biological Hazard | Thailand | Province of Ang Thong, [Chamlong in Sawangha district] | | | |
**************************************************************************************************************
Articles of Interest
by Staff Writers
Nashville, TN (SPX) Apr 25, 2012

Mammals have demonstrated the ability to dramatically alter their size and completely change their diet when their environment is altered.

When it comes to adapting to climate change, diversity is the mammal's best defense. That is one of the conclusions of the first study of how mammals in North America adapted to climate change in "deep time" – a period of 56 million years beginning with the Eocene and ending 12,000 years ago with the terminal Pleistocene extinction when mammoths, saber-toothed tigers, giant sloths and most of the other "megafauna" on the continent disappeared.
"Before we can predict how mammals will respond to climate change in the future, we need to understand how they responded to climate change in the past," said Larisa R. G. DeSantis, the assistant professor of earth and environmental studies at Vanderbilt who directed the study. "It is particularly important to establish a baseline that shows how they adapted before humans came on the scene to complicate the picture."
Establishing such a baseline is particularly important for mammals because their ability to adapt to environmental changes makes it difficult to predict how they will respond. For example, mammals have demonstrated the ability to dramatically alter their size and completely change their diet when their environment is altered.
In addition, mammals have the mobility to move as the environment shifts. And their ability to internally regulate their temperature gives them more flexibility than cold-blooded organisms like reptiles.
The study, which was published on Apr. 23 in the journal PLoS ONE, tracked the waxing and waning of the range and diversity of families of mammals that inhabited the continental United States during this extended period. In taxonomy, species are groups of individuals with common characteristics that (usually) can mate; genera are groups of species that are related or structurally similar and families are collections of genera with common attributes.
Scientists consider the fossil record of mammals in the U.S. for the study period to be reasonably complete. However, it is frequently impossible to distinguish between closely related species based on their fossil remains and it can even be difficult to tell members of different genera apart.
Therefore the researchers performed the analysis at the family level. They analyzed 35 different families, such as Bovidae (bison, sheep, antelopes); Cricetidae (rats, mice, hamsters, voles); Equidae (horses, donkeys); Ursidae (bears); Mammutidae (mammoths); and Leporidae (rabbits and hares).
The study found that the relative range and distribution of mammalian families remained strikingly consistent throughout major climate changes over the past 56 million years.
This period began with an extremely hot climate, with a global temperature about six degrees hotter than today (too hot for ice to survive even at the poles) and gradually cooled down to levels only slightly higher than today. It was followed by a dramatic temperature drop and a similarly abrupt warming and finished off with the Ice Ages that alternated between relatively cold glacial and warm interglacial periods.
"These data clearly show that most families were extremely resilient to climate and environmental change over deep time," DeSantis said.
Horses were consistently the most widely distributed family from the Eocene to the Pliocene (and remained highly dominant, just not number one, in the Pleistocene). In contrast, families with more restricted ranges maintained lower range areas.
Thus, their work demonstrates that mammals maintained similar niches through deep time and is consistent with the idea that family members may inherit their ranges from ancestral species. The idea that niches are conserved over time is a fundamental assumption of models that predict current responses of mammals to climate change.
The analysis also found a link between a family's diversity and its range: Family's with the greater diversity were more stable and had larger ranges than less diverse families.
"Diversity is good. The more species a family has that fill different niches, the greater its ability to maintain larger ranges regardless of climate change," said DeSantis.
While most families during certain periods of time yielded either gains in species/genera (e.g., Oligocene to Miocene) or losses (Miocene to Pliocene), these changes were remarkably consistent through time with overall gains or losses in one genera typically yielding a gain or loss in of about two species.
Although the extent of family ranges remained relatively constant, the study found that these ranges moved south and east from the Eocene to the Pleistocene. That is most likely a response to the general climate cooling that took place during the period. However, southeastern movement of ranges from the Pliocene to the Pleistocene may also be complicated by the influx of South American animals when the Isthmus of Panama was formed.
This triggered a tremendous exchange of species that has been labeled "The Great American Interchange." As a result, some of the southern movement of families' ranges may have been due to the influx of South American mammals, like the sloth and armadillo, moving north, the researchers cautioned.
The study also looked for evidence that families containing megafauna or other species that went extinct during the terminal Pleistocene extinction (also known as the Quaternary or Ice Age extinction) might have been in decline beforehand, but failed to find any evidence for any such "extinction prone" families. If climate change was the culprit, DeSantis and her team expect to see differences between families containing megafauna and those composed of smaller animals. However, the fact that they didn't find such evidence cannot completely rule out this possibility.
The role that diversity plays in mammalian adaptation is particularly important because mammal species have been going extinct in record numbers for the past 400 years. In a 2008 report, the International Union for the Conservation of Nature predicted that one in four species of land mammals in the world faces extinction. As a result, the diversity of mammalian families is declining at a time when they need it the most to cope with a rapidly changing climate.
Co-authors on the paper were graduate students Rachel A. Beavins Tracy, Cassandra S. Koontz, John C. Roseberry and Matthew C. Velasco. The project was supported by funds from Vanderbilt University.
Related Links
Vanderbilt University
Explore The Early Earth at TerraDaily.com
by Staff Writers
Vienna (AFP) April 25, 2012
Global positioning systems (GPS) could provide faster tsunami alerts than current warning set-ups, German researchers said Wednesday, citing data collected in last year's deadly Japan earthquake.
"On the occasion of the Fukushima earthquake, we analysed data from more than 500 GPS stations and showed that a correct estimate of the magnitude of 9.0 and of the generated tsunami could have been possible in just three to four minutes after the earthquake," Andrey Babeyko, a scientist from the German Research Centre for Geosciences (GFZ) in Potsdam, said in a statement.
This "shows again what potential a GPS shield has in tsunami early warning systems," he added.
The findings were presented at a week-long conference of the European Geosciences Union in Vienna.
If an earthquake occurs near the coast, it can take just 20-30 minutes before a resulting tsunami hits land, but GPS measurements taken almost while the earthquake is still happening would enable a faster assessment of its scale, the researchers said.
Traditional measuring methods require more time to provide an accurate picture, often underestimating the magnitude of a quake at first, they added.
In the case of last year's earthquake in Japan, the authorities became aware of its scale only 20 minutes after the event, possibly leading to many more casualties than if a warning had gone out earlier, according to GFZ.
Some 19,000 people died when a 9.0-magnitude earthquake off the northeastern coast of Japan on March 11, 2011 triggered a tsunami and a meltdown at the Fukushima nuclear plant.
Related Links
Bringing Order To A World Of Disasters
When the Earth Quakes
A world of storm and tempest
*************************************************************************************************************
[In accordance with Title 17 U.S.C. Section 107, this material is distributed without profit, for research and/or educational purposes. This constitutes 'FAIR USE' of any such copyrighted material.]