Earthquakes
Date/Time (UTC)
Magnitude
Area
Country
State/Prov./Gov.
Location
Risk
Source
Details
25.05.2012 12:55:24
2.1
Europe
Spain
Moalde
EMSC
25.05.2012 12:55:49
2.8
Asia
Turkey
Nize
EMSC
25.05.2012 12:56:12
3.9
Europe
Italy
La Fruttarola
EMSC
25.05.2012 12:56:33
2.0
Europe
Czech Republic
Prostredni Dvur
EMSC
25.05.2012 12:56:53
3.2
Asia
Turkey
Aslankent
EMSC
25.05.2012 12:57:15
2.2
Asia
Turkey
Cayhisar
EMSC
25.05.2012 12:57:36
2.7
Europe
Italy
Finale Emilia
EMSC
25.05.2012 12:57:57
2.8
Europe
Greece
Akrotirion
EMSC
25.05.2012 11:50:35
2.7
North America
United States
Alaska
Tanana
USGS-RSOE
25.05.2012 11:50:59
2.8
North America
United States
Alaska
Kantishna
USGS-RSOE
25.05.2012 11:55:21
3.5
Europe
Greece
Tsaflaiika
EMSC
25.05.2012 12:25:40
3.1
Caribbean
Dominican Republic
Provincia de La Altagracia
Cabo Engano
USGS-RSOE
25.05.2012 11:55:47
2.1
Asia
Turkey
Isiktepe
EMSC
25.05.2012 12:15:45
3.8
Caribbean
Dominican Republic
Provincia de La Altagracia
Cabo Engano
USGS-RSOE
25.05.2012 11:05:34
2.4
North America
United States
California
Solromar
USGS-RSOE
25.05.2012 11:56:54
2.7
Europe
France
Port-Cros
EMSC
25.05.2012 11:01:14
3.4
Pacific Ocean
New Zealand
Woodville County
New Brighton
GEONET
25.05.2012 11:57:15
2.7
Asia
Turkey
Sarkoy
EMSC
25.05.2012 11:57:36
2.5
Europe
Italy
Santa Bianca
EMSC
25.05.2012 10:50:55
2.9
Europe
Italy
L'Orlanda
EMSC
25.05.2012 10:51:16
3.6
Europe
Greece
Kattavia
EMSC
25.05.2012 10:51:35
2.2
Asia
Turkey
Haciomerli
EMSC
25.05.2012 09:52:38
2.0
North America
United States
California
Caldwell Pines
USGS-RSOE
25.05.2012 10:30:41
4.1
North America
Canada
British Columbia
Port Alice
USGS-RSOE
25.05.2012 10:51:56
4.1
North-America
Canada
Port Alice
EMSC
25.05.2012 09:50:56
2.8
Europe
Bulgaria
Vitanovtsi
EMSC
25.05.2012 12:01:26
3.0
Pacific Ocean
New Zealand
Woodville County
New Brighton
GEONET
25.05.2012 09:05:41
2.5
Middle America
Mexico
Estado de Baja California
El Centinela
USGS-RSOE
25.05.2012 12:58:20
2.5
Europe
Greece
Kattavia
EMSC
25.05.2012 09:00:34
4.4
North America
United States
Alaska
Atka
USGS-RSOE
25.05.2012 09:51:17
4.4
North-America
United States
Atka
EMSC
25.05.2012 08:52:51
4.6
North America
United States
Alaska
Atka
USGS-RSOE
25.05.2012 09:51:38
3.1
Europe
Greece
Khamaitoulon
EMSC
25.05.2012 08:50:33
2.5
Asia
Turkey
Colpan
EMSC
25.05.2012 08:50:54
3.2
Asia
Turkey
Uzumlu
EMSC
25.05.2012 08:51:16
2.4
Europe
Italy
Le Cremosine
EMSC
25.05.2012 07:50:37
3.1
Europe
Italy
Burana
EMSC
25.05.2012 07:50:56
2.4
Europe
Italy
Le Cremosine
EMSC
25.05.2012 08:51:34
3.6
Asia
Azerbaijan
Neft Daslari
EMSC
25.05.2012 07:51:17
2.3
Asia
Turkey
Cukurgol Yaylasi
EMSC
25.05.2012 07:51:37
2.3
Europe
Italy
Villa Magri
EMSC
25.05.2012 07:15:44
2.3
North America
United States
Alaska
Drift River
USGS-RSOE
25.05.2012 07:51:57
3.2
Europe
Greece
Karpathos
EMSC
25.05.2012 07:00:34
2.2
North America
United States
Alaska
Iniskin
USGS-RSOE
25.05.2012 07:52:54
4.6
Pacific Ocean
Tonga
Haatua
USGS-RSOE
25.05.2012 08:51:56
4.6
Pacific Ocean – East
Tonga
Haatua
EMSC
25.05.2012 08:05:26
3.2
Caribbean
U.S. Virgin Islands
Bordeaux (historical)
USGS-RSOE
25.05.2012 06:55:29
3.2
Caribbean
U.S. Virgin Islands
Bordeaux (historical)
USGS-RSOE
25.05.2012 06:21:19
3.1
Pacific Ocean
New Zealand
Woodville County
New Brighton
GEONET
25.05.2012 06:25:25
5.0
Europe
Sweden
(( Skaraborgs Lan ))
Vastbacken
USGS-RSOE
25.05.2012 06:50:30
4.6
Europe
Sweden
Vastbacken
EMSC
25.05.2012 06:50:52
4.8
Asia
Japan
Futawatashihama
EMSC
25.05.2012 06:25:52
4.8
Asia
Japan
Fukushima-ken
Karasuzaki
USGS-RSOE
25.05.2012 06:51:13
2.3
Europe
Italy
Le Cremosine
EMSC
25.05.2012 06:51:31
2.8
Europe
Italy
Ca Moro
EMSC
25.05.2012 07:10:34
2.9
Caribbean
U.S. Virgin Islands
Bordeaux (historical)
USGS-RSOE
25.05.2012 06:20:34
3.0
Caribbean
U.S. Virgin Islands
Bordeaux (historical)
USGS-RSOE
25.05.2012 06:51:55
2.2
Asia
Turkey
Gocek
EMSC
25.05.2012 07:52:20
2.3
Asia
Turkey
Uzungeri
EMSC
25.05.2012 05:50:26
2.4
Europe
Italy
Le Cremosine
EMSC
25.05.2012 06:52:16
2.4
Asia
Turkey
Uzungeri
EMSC
25.05.2012 11:01:44
3.4
Pacific Ocean
New Zealand
Woodville County
New Brighton
GEONET
25.05.2012 05:11:43
5.2
Pacific Ocean
New Zealand
Woodville County
New Brighton
GEONET
25.05.2012 05:10:49
4.7
Pacific Ocean
New Zealand
Sumner
USGS-RSOE
25.05.2012 05:50:47
5.0
Australia & New-Zealand
New Zealand
Sumner
EMSC
25.05.2012 04:50:25
2.0
Europe
Italy
Corte Motta
EMSC
25.05.2012 04:50:51
2.4
Europe
Italy
Ponte di San Pellegrino
EMSC
25.05.2012 04:51:12
2.6
Europe
Italy
Casa Modica
EMSC
25.05.2012 03:45:30
2.0
Europe
Italy
La Fruttarola
EMSC
25.05.2012 03:45:50
2.6
Europe
Italy
Pozzallo
EMSC
25.05.2012 03:25:51
5.0
Europe
Sweden
(( Skaraborgs Lan ))
Vastbacken
USGS-RSOE
25.05.2012 02:45:22
4.7
Europe
Sweden
Vastbacken
EMSC
25.05.2012 02:45:44
2.5
Asia
Turkey
Benli
EMSC
25.05.2012 02:46:06
2.5
Europe
Greece
Sarti
EMSC
25.05.2012 01:55:33
2.0
North America
United States
Hawaii
Volcano
USGS-RSOE
25.05.2012 02:16:19
4.7
Europe
Sweden
(( Skaraborgs Lan ))
Vastbacken
USGS-RSOE
25.05.2012 02:46:28
4.6
Europe
Sweden
Vastbacken
EMSC
25.05.2012 02:46:47
2.4
Asia
Turkey
Aktas
EMSC
25.05.2012 11:57:56
2.2
Europe
Sweden
Vastbacken
EMSC
25.05.2012 11:58:17
2.5
Europe
Sweden
Vastbacken
EMSC
25.05.2012 11:58:39
2.8
Europe
Sweden
Vastbacken
EMSC
25.05.2012 01:45:28
2.1
Europe
Italy
Santa Bianca
EMSC

25.05.2012 01:10:35

6.2

Europe

Sweden

(( Skaraborgs Lan ))

Vastbacken
USGS-RSOE

25.05.2012 01:45:50

6.2

Europe

Sweden

Vastbacken

EMSC

25.05.2012 01:00:30

6.5

Europe

Sweden

(( Skaraborgs Lan ))

Vastbacken

USGS-RSOE

25.05.2012 00:50:40
2.3
North America
United States
Alaska
Potter Hill
USGS-RSOE
25.05.2012 01:46:11
2.8
Asia
Turkey
Yaylaliozu
EMSC
25.05.2012 00:40:39
2.8
Europe
Greece
Kimasi
EMSC
25.05.2012 00:41:01
2.0
Europe
Italy
Scortichino
EMSC
25.05.2012 00:41:20
2.8
Europe
Italy
Ospitale
EMSC
25.05.2012 00:41:41
2.5
Europe
Italy
La Pettenella
EMSC
24.05.2012 23:50:52
2.2
North America
Canada
British Columbia
Princeton
USGS-RSOE
24.05.2012 23:35:43
2.0
Europe
Italy
Le Casaccie
EMSC
24.05.2012 22:30:41
2.0
North America
United States
Hawaii
'Ainapö
USGS-RSOE
24.05.2012 22:35:32
2.5
Europe
Italy
Palata Pepoli
EMSC
24.05.2012 22:35:51
2.6
Europe
Italy
San Giovanni
EMSC
24.05.2012 22:36:13
3.1
Europe
Greece
Galaniana
EMSC
24.05.2012 22:36:35
2.0
Europe
Italy
La Massara
EMSC
24.05.2012 22:36:56
5.0
Asia
India
Diglipur
EMSC
24.05.2012 22:15:49
4.9
Asia
India
Union Territory of Andaman and Nicobar Islands
Phaiapong
USGS-RSOE
24.05.2012 22:37:17
2.0
Europe
Italy
San Biagio
EMSC
24.05.2012 22:37:39
2.9
Asia
Turkey
Cukurgol Yaylasi
EMSC
24.05.2012 21:45:47
5.1
Atlantic Ocean
Argentina
Provincia del Neuquen
Bote
USGS-RSOE
24.05.2012 22:38:00
5.2
South-America
Argentina
Cancha Huinganco
EMSC
24.05.2012 21:15:47
2.1
North America
United States
Hawaii
Hïlea
USGS-RSOE
24.05.2012 21:30:29
2.1
Europe
Italy
San Felice sul Panaro
EMSC
24.05.2012 21:30:56
2.1
Europe
Italy
La Fruttarola
EMSC
24.05.2012 20:55:47
2.1
North America
United States
California
Meridian
USGS-RSOE
24.05.2012 21:31:18
2.4
Asia
Turkey
Nizin
EMSC
24.05.2012 21:31:37
4.7
Indonesian Archipelago
Papua New Guinea
Lababia
EMSC
24.05.2012 21:31:58
2.3
Europe
Italy
Villa Magri
EMSC
24.05.2012 21:32:27
2.8
Europe
Italy
Palata Pepoli
EMSC
24.05.2012 20:15:46
2.5
North America
United States
Alaska
Colorado
USGS-RSOE
24.05.2012 20:25:34
2.6
Asia
Turkey
Cicekli
EMSC
24.05.2012 19:50:46
3.4
North America
United States
Colorado
Bedrock
USGS-RSOE
24.05.2012 20:25:55
2.2
Europe
Italy
San Felice sul Panaro
EMSC
24.05.2012 20:26:18
2.6
Europe
Italy
La Pettenella
EMSC
24.05.2012 22:25:31
2.8
Caribbean
Puerto Rico
Loiza
USGS-RSOE
24.05.2012 20:26:38
2.2
Europe
Italy
Gavello
EMSC
24.05.2012 19:25:34
2.5
Europe
Italy
Tramuschio
EMSC
24.05.2012 19:25:55
2.8
Europe
Greece
Manna
EMSC
24.05.2012 18:40:41
2.6
North America
United States
Alaska
Chenik
USGS-RSOE
24.05.2012 19:26:16
2.3
Europe
Italy
Stuffione
EMSC
24.05.2012 18:20:34
2.5
Europe
Italy
Finale Emilia
EMSC
24.05.2012 18:16:07
4.7
South America
Chile
Region de Atacama
Majada el Tomate
USGS-RSOE
24.05.2012 18:20:55
4.7
South-America
Chile
Majada el Tomate
EMSC
24.05.2012 18:21:14
2.7
Asia
Turkey
Caliskan
EMSC
24.05.2012 18:21:34
2.0
Europe
Italy
Scala Greca
EMSC
24.05.2012 17:20:35
2.4
Europe
Italy
La Massara
EMSC
24.05.2012 17:20:55
2.6
Europe
Italy
Vallacquosa
EMSC
24.05.2012 17:21:15
3.2
Europe
Italy
Redena
EMSC
24.05.2012 17:21:37
2.3
Asia
Turkey
Yenikarabag
EMSC
24.05.2012 16:51:05
2.9
Pacific Ocean
New Zealand
Sumner
GEONET
24.05.2012 17:21:58
2.3
Asia
Turkey
Sogut
EMSC
24.05.2012 17:22:21
4.1
Asia
Turkey
Kale
EMSC
24.05.2012 17:22:41
2.4
Europe
Italy
Villa Magri
EMSC
24.05.2012 17:23:01
2.9
Europe
Italy
Quarantoli
EMSC
24.05.2012 17:23:23
2.3
Europe
Italy
Ponte Trevisani
EMSC
24.05.2012 18:16:29
3.4
North America
United States
Alaska
Nikolski
USGS-RSOE
24.05.2012 16:15:55
2.6
Europe
Greece
Aryiria
EMSC
24.05.2012 16:16:20
3.1
Europe
Greece
Methoni
EMSC
24.05.2012 15:35:35
3.1
Caribbean
Dominican Republic
Provincia de La Altagracia
Cabo Engano
USGS-RSOE
24.05.2012 16:16:42
4.5
Indonesian Archipelago
Papua New Guinea
Dangale
EMSC
24.05.2012 15:17:12
4.6
Indonesian archipelago
Papua New Guinea
Dangale
USGS-RSOE
24.05.2012 14:56:07
4.6
Asia
Japan
Iwate-ken
Aneyoshi
USGS-RSOE
24.05.2012 15:15:34
4.6
Asia
Japan
Aneyoshi
EMSC
24.05.2012 15:15:56
3.0
Europe
Greece
Kosmas
EMSC
24.05.2012 15:16:19
3.5
Europe
Greece
Panormitis
EMSC
24.05.2012 15:40:39
2.2
North America
United States
Arkansas
West Richwoods
USGS-RSOE
24.05.2012 14:15:35
2.7
Asia
Turkey
Cukurgol Yaylasi
EMSC
24.05.2012 13:30:35
2.1
North America
United States
California
Black Oaks
USGS-RSOE
24.05.2012 14:15:55
2.2
Europe
Greece
Tyrgia
EMSC
24.05.2012 14:45:34
2.9
Caribbean
Puerto Rico
Tosquero (historical)
USGS-RSOE
24.05.2012 13:15:26
2.6
Europe
Italy
Ponte di San Pellegrino
EMSC
24.05.2012 13:15:50
2.7
Asia
Turkey
Kavakkoy
EMSC
24.05.2012 13:16:11
2.2
Asia
Turkey
Sogut
EMSC
24.05.2012 13:16:33
2.6
Europe
Albania
Luge-Shalqize
EMSC
24.05.2012 16:17:05
2.3
Asia
Turkey
Elekci
EMSC
……………………
5/24/2012 — 6.2M earthquake strikes the Arctic — Norwegian sea , Greenland , Mid-Atlantic
Published on May 24, 2012 by dutchsinse
website post with screenshots: http://sincedutch.wordpress.com/2012/05/24/5242012-6-2m-earthquake-strikes-the-arctic-norwegian-sea-greenland-mid-atlantic/

**********************************************************************************************************
Volcanic Activity
Explosive eruption seen at Japan's Sakurajima Volcano (May 24, 2012)
AP
Emergency officials in Costa Rica say they have moved some residents away from a volcano outside the capital after it spewed toxic gas and ash, signs of a potentially imminent eruption.
The Turrialba volcano located about 40 miles (65 kilometers) outside San Jose began a series of eruptions in 2007. Several nearby villages were evacuated and a surrounding national park closed in 2010.
Costa Rica's National Emergency Commission said its volcano warning level was at green on Wednesday, the lowest of three warning levels, but that it had alerted residents about the possibility of an evacuation and already moved some villagers away from the populated areas closest to the volcano so they would not be harmed by erupting gases.
***********************************************************************************************************
Extreme Temperatures/ Weather
High Winds Trash 75 Cars @ Minnesota Chevy Dealership/Rips 400-lb. AC Units from Roof (May 24, 2012)
Published on May 24, 2012 by adrinilinjunky
"NEW ULM, Minn. (AP/WCCO) — A burst of strong winds has damaged dozens of vehicles at a south-central Minnesota car dealership.Winds and heavy rain ripped through Kohls-Weelborg Chevrolet in New Ulm around 4:30 p.m. Wednesday. Cars sustained broken windows, metal flag poles snapped like twigs and air conditioning units flew off nearby store ceilings.General manager Doug Schablin says the storm hit without warning. He says the rain and wind "turned everything white."Within 20-30 seconds, Schablin says it was over. He says the wind blew out the windows of 70 vehicles and bent flagpoles at the dealership to the ground.The National Weather Service says winds at the airport were clocked at 75 mph.A Brown County sheriff's dispatcher says trees and signs are down in New Ulm, but no injuries are reported.Much of central and northern Minnesota and parts of southern Minnesota are under flash flood watches until Thursday."
| | | | | | | | |
| --- | --- | --- | --- | --- | --- | --- | --- |
|   | Today | Forest / Wild Fire | USA | State of New Mexico, [Gila National Forest] | | | |
Description
Winds and erratic flames forced firefighters to sit on the sidelines Thursday as a massive fire that destroyed a dozen homes and several other structures in small New Mexico community grew larger and put more buildings at risk.
Tripling in size over the last day, the lightning-sparked Whitewater and Baldy fires merged to burn across more than 110 square miles of the Gila National Forest by Thursday."At this point it's just a monitoring situation to see whether (crews) can find some place where they can build lines or do something to slow it down," said fire information officer Iris Estes.The wind-whipped fire burned Wednesday afternoon through the Willow Creek subdivision, a small summer community in southwestern New Mexico. Officials confirmed 12 cabins along with seven small outbuildings were destroyed, and the damage assessment continued Thursday.Fire managers said employees with the State Forestry Division and the U.S. Forest Service would be contacting property owners.While some residents questioned whether fire managers could have done more early on to contain the blaze, others acknowledged that fighting flames in the area's steep canyons was near impossible now."The fire had been around about 10 days, lurking and creeping and then kaboom, it exploded," said Tabitha Sims, secretary of the Willow Creek Landowners Association. "They made a heroic effort at trying to build a break, but I think it was unfortunate that this wind event happened to come right at the worst time."Sims, an Arizona resident who owns a cabin at Willow Creek, said parts of the area were vulnerable due to a lack of fire over decades. She described Willow Creek as "an incredibly special spot" where generations of families have spent their summers."The people who have lifelong memories of going there, I just feel for them," she said.Seven Willow Creek residents evacuated earlier this week, and the community of Mogollon was under voluntary evacuation. Authorities said many structures were still at risk.Firefighters were anticipating winds of up to 35 mph late Thursday afternoon.
In northern Nevada, high winds also were expected in an area where a fire broke out Tuesday, burned 7,500 acres and damaged two homes. Crews near the Nevada-California line raced to secure a line above a second rural community Thursday before the winds kicked up.Meanwhile, firefighters in a rural part of California's San Diego County fought a 1,200-acre wildfire that led to evacuation orders for 100 homes. Gusts of up to 45 mph were forecast in the area Thursday night.In the Gila National Forest, the flames have raced across more than 70,500 acres of rugged terrain. The Baldy fire was first spotted May 9 and the Whitewater blaze was sparked May 16, but nearly all of the growth has come in recent days thanks to relentless winds.There is no containment.The blaze is about half the size of last summer's historic Las Conchas fire, the largest in the state's recorded history. That blaze burned 156,593 acres and destroyed dozens of homes in northern New Mexico's Jemez Mountains.With drought conditions persisting, New Mexico forestry officials have been urging residents to take precautions to help avoid another record fire season.Many trails in the Gila region were off-limits due to the Whitewater-Baldy fire and more could be closed as the blaze continues to burn.About 10 miles to the southeast, volunteers and staff at the Gila Cliff Dwellings National Monument have been watching the column of smoke develop each afternoon."The plume above us yesterday was truly awesome. It was scary awesome," said volunteer Dave Young.The monument was not in any immediate danger, but Young described conditions in the area as "bone dry."We're talking single-digit humidity in the afternoon. We've been down to 1 percent, and you can't get below 1 percent," he said.Aside from low humidity and high temperatures, Estes said crews were expecting the red flag conditions to last through Saturday.More than 400 personnel were assigned to the fire.
MISSOULA MT
BILLINGS MT
GREAT FALLS MT




GRAND JUNCTION CO
SAN DIEGO CA
SPOKANE WA
SALT LAKE CITY UT
LAS VEGAS NV
FLAGSTAFF AZ




FLAGSTAFF AZ




POINT ST GEORGE TO POINT ARENA
POINT ARENA TO POINT CONCEPTION
POINT CONCEPTION TO GUADALUPE ISLAND
LOS ANGELES/OXNARD CA
HATTERAS CANYON TO CAPE FEAR OUT TO 34N 71W TO 32N 73W
CAPE FEAR TO 31N OUT TO 32N 73W TO 31N 74W
HONOLULU HI




FIRE WEATHER MESSAGE
LAS VEGAS NV
GRAND JUNCTION CO
ALBUQUERQUE NM
ELKO NV
PHOENIX AZ
TUCSON AZ
MIDLAND/ODESSA TX
SALT LAKE CITY UT
FLAGSTAFF AZ
EL PASO TX/SANTA TERESA NM


***********************************************************************************************************
Storms, Flooding, Landslides
Name of storm system
Location
Formed
Last update
Last category
Course
Wind Speed
Gust
Wave
Source
Details
| | | | | | | | | | | |
| --- | --- | --- | --- | --- | --- | --- | --- | --- | --- | --- |
| Bud | Pacific Ocean – East | 21.05.2012 | 25.05.2012 | Hurricane II. | 30 ° | 176 km/h | 213 km/h | 3.66 m | NHC | |
| | |
| --- | --- |
| | |
| Storm name: | Bud |
| Area: | Pacific Ocean – East |
| Start up location: | N 9° 18.000, W 99° 36.000 |
| Start up: | 21st May 2012 |
| Status: | 01st January 1970 |
| Track long: | 675.74 km |
| Top category.: | |
| Report by: | NHC |

Useful links:

Past track

Date
Time
Position
Speed
km/h
Wind
km/h
Gust
km/h
Category
Course
Wave
Pressure
Source
21st May 2012
11:05:49
N 9° 24.000, W 100° 6.000
9
56
74
Tropical Depression
280
12
1005 MB
NHC
22nd May 2012
07:05:36
N 9° 48.000, W 101° 48.000
15
56
74
Tropical Depression
290
12
1005 MB
NHC
22nd May 2012
13:05:09
N 10° 24.000, W 103° 0.000
19
65
83
Tropical Storm
295
12
1004 MB
NHC
23rd May 2012
08:05:27
N 12° 54.000, W 105° 54.000
22
65
83
Tropical Storm
315
12
1004 MB
NHC
23rd May 2012
12:05:32
N 13° 18.000, W 106° 30.000
19
65
83
Tropical Storm
310
12
1004 MB
NHC
24th May 2012
06:05:39
N 14° 12.000, W 107° 54.000
9
111
139
Tropical Storm
350
12
991 MB
NHC
24th May 2012
12:05:08
N 15° 0.000, W 107° 30.000
11
139
167
Hurricane I.
10
12
980 MB
NHC

Current position

Date
Time
Position
Speed
km/h
Wind
km/h
Gust
km/h
Category
Course
Wave
feet
Pressure
Source
25th May 2012
10:05:09
N 17° 36.000, W 105° 36.000
13
176
213
Hurricane II.
30 °
12
964 MB
NHC
| | | | | | | | | | | |
| --- | --- | --- | --- | --- | --- | --- | --- | --- | --- | --- |
| Sanvu | Pacific Ocean | 21.05.2012 | 25.05.2012 | Typhoon I. | 25 ° | 139 km/h | 167 km/h | 3.66 m | JTWC | |
| | |
| --- | --- |
| | |
| Storm name: | Sanvu |
| Area: | Pacific Ocean |
| Start up location: | N 10° 48.000, E 145° 54.000 |
| Start up: | 21st May 2012 |
| Status: | 01st January 1970 |
| Track long: | 938.90 km |
| Top category.: | |
| Report by: | TSRC |

Useful links:

Past track

Date
Time
Position
Speed
km/h
Wind
km/h
Gust
km/h
Category
Course
Wave
Pressure
Source
21st May 2012
11:05:55
N 10° 48.000, E 145° 54.000
11
46
65
Tropical Depression
270
12
TSRC
22nd May 2012
07:05:29
N 13° 24.000, E 144° 6.000
17
74
93
Tropical Storm
340
12
TSRC
23rd May 2012
08:05:09
N 16° 24.000, E 140° 54.000
20
93
120
Tropical Storm
315
12
TSRC
23rd May 2012
12:05:38
N 17° 0.000, E 140° 6.000
19
102
130
Tropical Storm
310
12
TSRC
24th May 2012
06:05:36
N 18° 42.000, E 139° 12.000
15
120
148
Typhoon I.
340
12
TSRC
24th May 2012
12:05:00
N 19° 54.000, E 139° 0.000
15
120
148
Typhoon I.
345
12
TSRC

Current position

Date
Time
Position
Speed
km/h
Wind
km/h
Gust
km/h
Category
Course
Wave
feet
Pressure
Source
25th May 2012
10:05:26
N 23° 0.000, E 139° 36.000
17
139
167
Typhoon I.
25 °
12
TSRC
…………………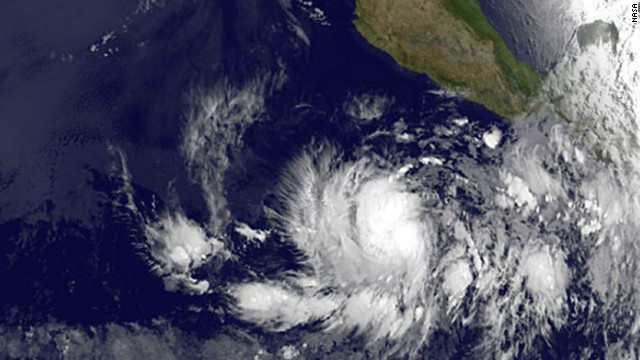 A satellite image shows Tropical Storm Bud off southwestern Mexico on Thursday.
Miami, Florida (CNN) — The Mexican government has issued a hurricane warning for part of its western coast due to a powerful storm that could get even stronger in the coming hours, the National Hurricane Center said.
Earlier Thursday, the Miami-based weather agency reported that Hurricane Bud had grown to become a Category 2 storm. A new advisory at 5 p.m. (8 p.m. ET), indicated that the hurricane continued to pack sustained winds of around 110 mph.
"Slight strengthening is possible (Thursday night) or Friday morning, and Bud could become a major hurricane before weakening begins by Friday afternoon," the center said. "Bud is still expected to reach the coast of Mexico as a hurricane."
A hurricane warning has been issued for Manzanillo northwest to Cabo Corrientes, where winds are expected to exceed 39 mph within the next 36 hours and eventually top 74 mph. There are hurricane and tropical storm watches and warnings in effect for larger swaths of the country, including San Blas and Punta San Telmo, the hurricane center said.
As of early Thursday evening, the system's center was located about 200 miles (325 kilometers) south-southwest of Manzanillo and 260 miles south of Cabo Corrientes. It was moving northeast at a rate of about 9 mph.
Whereas it was once unclear if the storm would make landfall in Mexico, the latest forecast has Bud's center moving over the Latin American nation's mainland "along the Mexican coast late Friday."
"Hurricane conditions are expected to reach the coast within the hurricane warning area by Friday afternoon," the hurricane center said in its advisory.
By Thursday night, meanwhile, the winds should already be strong — in excess of 39 mph — "making outside preparations difficult or dangerous. Preparations to protect life and property should be rushed to completion," said the center.
Bud is the second named tropical storm of the East Pacific hurricane season.
NOAA predicts 4-8 Atlanta hurricanes
The National Hurricane Center warned that Bud is expected to bring 4 to 6 inches of rain along Mexico's southwestern coast, with possible isolated amounts of 10 inches.
"These rainfall amounts could produce life-threatening flash floods and mudslides," added the U.S. agency.
Swells generated by Bud had already begun to affect some coastal areas on Mexico's southern and southwestern coasts Thursday, and "are likely to cause life-threatening surf and rip current conditions," the hurricane center said.
NEWPORT/MOREHEAD CITY, NC
DULUTH MN
SIOUX FALLS SD




DULUTH MN
FAIRBANKS AK


| | | | | | | | |
| --- | --- | --- | --- | --- | --- | --- | --- |
|   | 24.05.2012 | Landslide | Indonesia | Balikpapan | | | |
Description
At least four people died and three others were injured on Thursday in a landslide triggered by massive floods that paralyzed the East Kalimantan city of Balikpapan.The four who died were Anjar, 30, and her kids Zaki, 6, and Bela, 4, as well as her nephew Fikri, 8. They died after a landslide brought down Anjar's house, which sits on a hilly area, on Jalan Martadinata in Balikpapan.Remains of the four have been admitted to Balikpapan's Kanudjoso Djatiwibowo Hospital. The three injured have been hospitalized as well.Sukma Palopo, 45, who also lives in the neighborhood, said that Anjar had actually managed to escape the ruins of her house and that she had gone around asking for help from neighbors.
"But then Anjar went back to the house, trying to get inside to save her two kids and her nephew. Just one minute after that another landslide fell, and all four died," Sukma said. The incident took place at around 10:30 a.m., he added.
Thousands of houses in Balikpapan have been inundated with floods after a heavy rain started to fall at 3:40 a.m. The downpour triggered other landslides too."The rainfall reached about 148 millimeters, with wind blowing at 20 knots. Only after 11 a.m. did the rainfall started dropping to 40 millimeters," an official with the Balikpapan Meteorology Station, Juli Budi Kisworo, said on Thursday.Balikpapan administration spokesman Sudirman said the administration had prepared a number of shelters equipped with food for those displaced by floods."We ask people living in mountainous, hilly and other high-altitude areas to remain alert on the danger of landslides triggered by heavy rains. The disaster mitigation and fire agency is monitoring disaster-prone areas to help the public," Sudirman said.Airplane flights from Balikpapan's Sepinggan Airport have reportedly been disrupted.
Caribbean Sea Region

Date/Time (UTC)
Message
Location
Magnitude
Depth
Status
Details
24.05.2012 22:57 PM
Tsunami Information Statement
Norwegian Sea
6.5
0 km
************************************************************************************************************
Radiation
Fukushima Radiation Spikes in US!

************************************************************************************************************
Climate Change
by Staff Writers
Canberra, Australia (SPX)

Deploying an Argo float in the Tasman Sea.

In a paper published in the journal Science, Australian scientists from the Commonwealth Scientific and Industrial Research Organisation (CSIRO) and the Lawrence Livermore National Laboratory, California, reported changing patterns of salinity in the global ocean during the past 50 years, marking a clear fingerprint of climate change.
Lead author, Dr Paul Durack, said that by looking at observed ocean salinity changes and the relationship between salinity, rainfall and evaporation in climate models, they determined the water cycle has strengthened by four per cent from 1950-2000. This is twice the response projected by current generation global climate models.
"Salinity shifts in the ocean confirm climate and the global water cycle have changed.
"These changes suggest that arid regions have become drier and high rainfall regions have become wetter in response to observed global warming," said Dr Durack, a post-doctoral fellow at the Lawrence Livermore National Laboratory.
With a projected temperature rise of 3 degrees C by the end of the century, the researchers estimate a 24 per cent acceleration of the water cycle is possible.
Scientists have struggled to determine coherent estimates of water cycle changes from land-based data because surface observations of rainfall and evaporation are sparse. However, according to the team, global oceans provide a much clearer picture.
"The ocean matters to climate – it stores 97 per cent of the world's water; receives 80 per cent of the all surface rainfall and; it has absorbed 90 per cent of the Earth's energy increase associated with past atmospheric warming," said co-author, Dr Richard Matear of CSIRO's Wealth from Oceans Flagship.
"Warming of the Earth's surface and lower atmosphere is expected to strengthen the water cycle largely driven by the ability of warmer air to hold and redistribute more moisture."
He said the intensification is an enhancement in the patterns of exchange between evaporation and rainfall and with oceans accounting for 71 percent of the global surface area the change is clearly represented in ocean surface salinity patterns.
In the study, the scientists combined 50-year observed global surface salinity changes with changes from global climate models and found "robust evidence of an intensified global water cycle at a rate of about eight per cent per degree of surface warming," Dr Durack said.
Dr Durack said the patterns are not uniform, with regional variations agreeing with the 'rich get richer' mechanism, where wet regions get wetter and dry regions drier.
He said a change in freshwater availability in response to climate change poses a more significant risk to human societies and ecosystems than warming alone.
"Changes to the global water cycle and the corresponding redistribution of rainfall will affect food availability, stability, access and utilization," Dr Durack said.
Dr Susan Wijffels, co-Chair of the global Argo project and a co-author on the study, said maintenance of the present fleet of around 3,500 profilers is critical to observing continuing changes to salinity in the upper oceans.
The work was funded through the Australian Climate Change Science Program, a joint initiative of the Department of Climate Change and Energy Efficiency, the Bureau of Meteorology and CSIRO.
Dr Durack is a graduate of the CSIRO-University of Tasmania Quantitative Marine Science program and he received additional support from CSIRO's Wealth from Oceans Flagship. Work undertaken at Lawrence Livermore National Laboratory is supported by the U.S. Department of Energy under contract DE-AC52-07NA27344.
Related Links
CSIRO
Water News – Science, Technology and Politics
by Staff Writers
Melbourne, Australia (SPX)

The reconstruction was developed using 27 natural climate records calculated in 3000 different ways to ensure that the results were robust.

In the first study of its kind in Australasia, scientists have used 27 natural climate records to create the first large-scale temperature reconstruction for the region over the last 1000 years.
The study was led by researchers at the University of Melbourne and used a range of natural indicators including tree rings, corals and ice cores to study Australasian temperatures over the past millennium and compared them to climate model simulations.
Lead researcher, Dr Joelle Gergis from the University of Melbourne said the results show that there are no other warm periods in the last 1000 years that match the warming experienced in Australasia since 1950.
"Our study revealed that recent warming in a 1000 year context is highly unusual and cannot be explained by natural factors alone, suggesting a strong influence of human-caused climate change in the Australasian region," she said.
The study published in the Journal of Climate will form the Australasian region's contribution to the 5th IPCC climate change assessment report chapter on past climate.
She said using what is known as 'palaeoclimate' or natural records, such as tree rings, corals and ice cores, are fundamental in evaluating regional and global climate variability over centuries before direct temperature records started in 1910.
Dr Gergis collated these natural records provided by decades of work by more than 30 researchers from Australia, New Zealand and around the world.
The reconstruction was developed using 27 natural climate records calculated in 3000 different ways to ensure that the results were robust.
She said reconstructions of regional temperature not only provide a climate picture of the past but also a significant platform to reduce uncertainties associated with future climate variability.
The study is part of a global collaboration, PAGES, Past Global Changes Regional 2K initiative, which is working to reconstruct the last 2000 years of climate across every region in the world in order to reduce uncertainties associated with future climate change projections.
Collaborators include the Climate Change Research Centre and the ARC Centre of Excellence for Climate System Science, University of New South Wales where the climate modeling was conducted.
Related Links
University of Melbourne
Climate Science News – Modeling, Mitigation Adaptation
************************************************************************************************************
Solar Activity
2MIN News May24: Economic Strife, World Update
Published on May 24, 2012 by Suspicious0bservers
http://eclipse.gsfc.nasa.gov/OH/tran/TOV2012-Fig01.pdf
http://www.reuters.com/article/2012/05/24/us-iran-nuclear-usa-idUSBRE84N09F20…
http://www.astrobio.net/exclusive/4775/did-ancient-mars-have-a-runaway-greenh…
http://phys.org/news/2012-05-geological-air.html
http://www.reuters.com/article/2012/05/24/us-china-economy-pmi-idUSBRE84N08B2…
http://www.reuters.com/article/2012/05/24/us-eurozone-greece-idUSBRE84M0P4201…
Spaceweather: http://spaceweather.com/ [Look on the left at the X-ray Flux and Solar Wind Speed/Density]
HAARP: http://www.haarp.alaska.edu/haarp/data.html [Click online data, and have a little fun]
SDO: http://sdo.gsfc.nasa.gov/data/ [Place to find Solar Images and Videos - as seen from earth]
SOHO: http://sohodata.nascom.nasa.gov/cgi-bin/soho_movie_theater [SOHO; Lasco and EIT - as seen from earth]
Stereo: http://stereo.gsfc.nasa.gov/cgi-bin/images [Stereo; Cor, EUVI, HI - as seen from the side]
SunAEON:http://www.sunaeon.com/#/solarsystem/ [Just click it... trust me]
SOLARIMG: http://solarimg.org/artis/ [All purpose data viewing site]
iSWA: http://iswa.gsfc.nasa.gov/iswa/iSWA.html [Free Application; for advanced sun watchers]
NOAA ENLIL SPIRAL: http://www.swpc.noaa.gov/wsa-enlil/cme-based/ [CME Evolution]
RSOE: http://hisz.rsoe.hu/alertmap/index2.php [That cool alert map I use]
Gamma Ray Bursts: http://grb.sonoma.edu/ [Really? You can't figure out what this one is for?]
BARTOL Cosmic Rays: http://neutronm.bartol.udel.edu//spaceweather/welcome.html [Top left box, look for BIG blue circles]
TORCON: http://www.weather.com/news/tornado-torcon-index [Tornado Forecast for the day]
GOES Weather: http://rsd.gsfc.nasa.gov/goes/ [Clouds over America]
INTELLICAST: http://www.intellicast.com/ [Weather site used by many youtubers]
NASA News: http://science.nasa.gov/science-news/science-at-nasa/
PHYSORG: http://phys.org/ [GREAT News Site!]
Always Check the Foreign News Sources as well!!!
Iran: Mehr News, TehranTimes
China: Xinhua, China.org, Chinadaily
Russia: Ria Novosti
Israel: Jerusalem Post, Israel National News, Haaretz
M/E: ArabNews, AlJazeera

************************************************************************************************************
Space
SpaceX's Dragon spacecraft will rendezvous with the International Space Station (ISS) on Friday, May 25th, making it the first commercial spacecraft to dock with the ISS. Last night, Dave Blanchard photographed the Dragon chasing the space station across the night sky over Flagstaff, Arizona: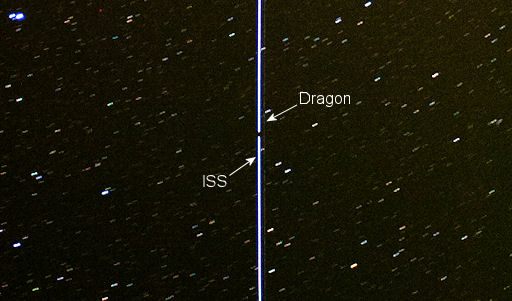 "While the ISS was very bright and clearly visible in this image, the Dragon was very dim," says Blanchard. "It can be seen as a faint streak just below the ISS."
The two streaks will soon be joined. During the early hours of May 25th, the Dragon will approach the docking port on the station's Harmony module. Because this is the Dragon's first visit to the ISS, mission controllers will proceed with caution. A detailed series of navigation and communication tests will be performed before the capsule is allowed to move close enough for astronauts to grab it with the robot arm and connect it to the station.
After docking, the Dragon will remain connected for about three weeks, giving astronauts plenty of time to unload its 1200 lb of supplies and re-load it with used scientific equipment for return to Earth. Reversing the process of connecting the spacecraft to the station, astronauts will use the robotic arm to remove the capsule. The Dragon will then de-orbit and return to Earth under parachutes, splashing down in the Pacific Ocean off the California coast.
*************************************************************************************************************
Epidemic Hazards/Diseases
| | | | | | | | |
| --- | --- | --- | --- | --- | --- | --- | --- |
|   | Today | Epidemic Hazard | India | Agartala | | | |
Description
As many as 19 deaths, including that of six children, were reported from tribal-dominated remote villages of Longtari Valley sub-division in Tripura's Dhalai district.According to reports, viral fever, gastro-entities and meningococcal meningitis have been identified as the causes of deaths in the villages. Unhygienic lifestyle coupled with malnutrition are being blamed for the situation.Joint Director (Preventive Medicine) N Darlong told ToI on Thursday that three medical teams were sent to the affected hamlet by a chopper on Monday and two other teams of medicos with medical consignment had rushed to the localities on Thursday morning."I have asked the SDMO to send me a detailed report of the situation," said Darlong. He added that efforts had been made to provide treatment to the affected people. Darlong, however, claimed that there is a regular medical surveillance in the remote areas and the department has a location-wise yearly calendar of medical camps, besides extension of health service infrastructure in vulnerable villages.
Biohazard name:
viral fever, gastro-entities and meningococcal meningitis
Biohazard level:
1/4 Low
Biohazard desc.:
Bacteria and viruses including Bacillus subtilis, canine hepatitis, Escherichia coli, varicella (chicken pox), as well as some cell cultures and non-infectious bacteria. At this level precautions against the biohazardous materials in question are minimal, most likely involving gloves and some sort of facial protection. Usually, contaminated materials are left in open (but separately indicated) waste receptacles. Decontamination procedures for this level are similar in most respects to modern precautions against everyday viruses (i.e.: washing one's hands with anti-bacterial soap, washing all exposed surfaces of the lab with disinfectants, etc). In a lab environment, all materials used for cell and/or bacteria cultures are decontaminated via autoclave.
Symptoms:
Status:
confirmed
| | | | | | | | |
| --- | --- | --- | --- | --- | --- | --- | --- |
|   | Today | Epidemic | Dominican Republic | Santiago de los Caballeros | | | |
Description
A suspected outbreak of cholera in the Dominican Republic has lead to the hospitalization of at least 60 people.The Ministry of Public Health has taken emergency measures in the town of Santiago de los Caballeros in an attempt to halt the illness before it spreads further, PLEnglish.com reports.The Deputy Minister of Public Health, Jose Rodriguez Aybar, said that the entire area was seized by the health department, which is conducting a series of prevention measures and education efforts. Chlorine is being delivered to the area in an attempt to disinfect local water.The outbreak is believed to be several weeks old based on the onset of symptoms in those affected.Luis Emilio Feliz Roa, the Dominican Director of Environmental Health, said that the outbreak was sparked by poor handling of water supplies in people's homes. For this reason, he said, authorities plan to distribute chlorine in tankers and plastic tanks to local residents, according to PLEnglish.com.Roa also said that efforts are being made to ensure that the area has access to a permanent and clean water supply.The U.S. Centers for Disease Control and Prevention warned that, while cholera cases in the Dominican Republic have fallen overall since the 2010 outbreak, it expects the number of cases to rise with the onset of the rainy season.
Biohazard name:
cholera
Biohazard level:
1/4 Low
Biohazard desc.:
Bacteria and viruses including Bacillus subtilis, canine hepatitis, Escherichia coli, varicella (chicken pox), as well as some cell cultures and non-infectious bacteria. At this level precautions against the biohazardous materials in question are minimal, most likely involving gloves and some sort of facial protection. Usually, contaminated materials are left in open (but separately indicated) waste receptacles. Decontamination procedures for this level are similar in most respects to modern precautions against everyday viruses (i.e.: washing one's hands with anti-bacterial soap, washing all exposed surfaces of the lab with disinfectants, etc). In a lab environment, all materials used for cell and/or bacteria cultures are decontaminated via autoclave.
Symptoms:
Status:
confirmed
*************************************************************************************************************
Biological Hazards/Wildlife
Death toll on Arundel creeks raised tenfold; more seen in Dundalk waters
The state Department of Environment investigated a fish kill by the boat ramp in Merritt Point Park. (Gene Sweeney Jr., Baltimore Sun / May 23, 2012)
By Timothy B. Wheeler, The Baltimore Sun
Something's rotten on the Baltimore area waterfront. Fish are washing ashore by the thousands in a mass die-off that officials say appears to be caused by a weather-driven worsening of the pollution that chronically plagues the Chesapeake Bay.
State investigators expanded their probe Wednesday into what they believe are algae-related fish kills in Marley, Furnace and Curtis creeks in Glen Burnie, raising the estimated death toll there tenfold, while finding a new batch of finny carcasses in a Dundalk creek.
Jay Apperson, spokesman for the Maryland Department of the Environment, said the agency's fish-kill investigators estimated anywhere from 60,000 to 100,000 fish of several species dead in the three creeks in northern Anne Arundel County. Only a day before, Apperson had said investigators figured there were about 6,000 dead.
"You could smell it through the neighborhood," said Rob Rogers, 45, who took a break from work at the Point Pleasant Beach Tavern to describe what he called "unbelievable" conditions on the creeks. Rogers said boaters reported dead fish floating in the water so thick they couldn't avoid hitting them.
The state investigators also found about 300 dead fish in Bullneck Creek in eastern Baltimore County, Apperson said, where residents on Tuesday had reported seeing fish and crabs thrashing on the water's surface in apparent distress. The investigators measured little oxygen in the creek's deepest water for fish to breathe.
The die-offs are a drastic byproduct of algae blooms that have discolored water in much of the upper bay for over a month now, officials said.
"We've been having lots of algae blooms in Middle River, in Baltimore harbor, even down on the Severn River," said Thomas Parham, tidewater ecosystem assessment chief for the Maryland Department of Natural Resources. "This is earlier than normal," he added, and while algae blooms are a common phenomenon on the bay in spring and summer, they normally are "not at this level."
The algae turning area waters reddish brown, in what's often called a "mahogany tide," is known as prorocentrum minimum, a type that has been known to produce a toxin that can kill shellfish, Parham said. While that that toxic trait has not been seen in the bay, the algae do kill fish indirectly, by consuming the life-sustaining oxygen in the water when the tiny aquatic plants die and begin to decay.
Algae feed on nitrogen and phosphorus in the water, and the bay is a super-rich soup of those plant nutrients — from sewage discharges and leaks, from fertilizer washing off farm fields and lawns and from air pollution that trickles down out of the sky.
Scientists suspect this year's algae blooms came earlier and grew thicker because of the extra dose of nutrients and sediment that flooded into the bay last summer from Tropical Storm Lee, turning the water the color of malted milk for weeks afterward.
The situation may have been aggravated more recently by a sewer line break in Baltimore County, which spilled an estimated 50 million gallons of untreated sewage into the lower Patapsco River. Though the spill was halted promptly, it took until this week for bacteria levels to decline enough for health officials to say it was OK to touch the water downriver.
"Whether it's the impacts of last year's storm, it's hard to say," Parham said of the algae blooms. "There's lots of nutrients around. The sewage spill added to that."
Whatever the source of the nutrients feeding the algae, the DNR official said the warm snap in March helped trigger the blooms earlier than normal.
"When you have a condition where it's nice and toasty and warm," Parham said, "it's a perfect recipe for those algal blooms."
And in warm, relatively wind-less weather, oxygen levels can drop precipitously when algae blooms take over small tidal creeks and coves and then begin to die back after consuming all the nutrients in the water. That's the phenomenon officials and scientists believe caused these and most previous fish kills.
Oxygen levels in the bay's deeper waters and in some shallow enclosed areas also have dropped below what's considered normal this time of year. Some volunteers raising oysters in creeks along the bay's western shore have reported finding the shellfish they planted in previous years have died.
Michael Naylor, the DNR's head of shellfish programs, said many of those oysters were placed in places where water quality was marginal to begin with, so some die-offs are not unexpected. Overall, he said, the bay's oyster populations have fared surprisingly well.
Temperatures in the bay are getting closer to normal, Parham said, but the weather usually gets warmer in late spring and early summer, which is when algae blooms normally thrive in the bay
"A lot depends on the weather now," said Naylor.
While state officials portrayed the fish kills as normal, if somewhat earlier and more intense than usual, Rob Rogers said it was the worst he'd ever seen in a lifetime of living along Marley Creek.
"We had that red tide about 10 years ago," he said. "That was nothing compared to this. …The crabs were crawling out of the water to get air. When you're watching fish try to gulp air out of the water, something's wrong there."
**************************************************************************************************************
Articles of Interest
Huge mammoth skeleton found in Mexico
Published on May 23, 2012 by itnnews
The remains of a mammoth with tusks an astonishing 1.8m long has been found in central Mexico. Report by Sam Datta-Paulin.

Several firefighters injured; officials say no threat to public
Smoke and steam rise Wednesday night from the Portsmouth Naval Shipyard as a fire burns on the USS Miami, a nuclear-powered submarine.Ioanna Raptis/iraptis@seacoastonline.com
By Joey Cresta
jcresta@seacoastonline.com
May 24, 2012 2:00 AM
KITTERY, Maine — A fire on a $900 million nuclear submarine stationed at the Portsmouth Naval Shipyard caused injuries to six people and was still burning early this morning.
The cause of the fire in the nuclear-powered USS Miami attack submarine remained unknown as of an 11:30 p.m. news conference, said Capt. Bryant Fuller, commander of the shipyard.
About the USS MIami
Sub class: Los Angeles
Sub value: $900 million
Length: 361 feet, 11 inches
Beam: 32 feet, 10 inches
Draft: 30 feet, 10 inches
Power: Nuclear reactor
Complement: 13 officers and 120 enlisted personnel
Builder: General Dynamics Electric Boat
Launched: Nov. 12, 1988
Commission date:
June 30, 1990
Sub's homeport:
Groton, Conn.
— Information, sub photo courtesy of Wikipedia.com
"While the fire is not out, the situation is improving," Fuller said.
Shipyard firefighters were first called to the dry docks at 5:41 p.m. The fire started in the forward compartment, which Fuller said consists of primarily living quarters and command and control spaces. All nonessential personnel were ordered to evacuate, officials said.
Just after 10 p.m., the fire aboard the submarine, docked at Dry Dock 2, went to four alarms and fire dispatchers were describing the fire as "moderate."
Fuller said that the ship's reactor was not operating at the time of the fire and remained in a safe and stable condition throughout the event. There were no weapons aboard, he said. Kittery Police Chief Paul Callaghan said the shipyard made no requests for police to evacuate residents in the area and there was no danger to the community.
According to Fuller, there were six reported injuries, including one firefighter who suffered from heat exhaustion. "He is conscious and alert," Fuller said.
The shipyard commander said that due to the heat created from the fire, steam linked to the firefighting effort was emitting from the vessel.
All personnel were accounted for and those who were injured were either treated at the scene or taken to the hospital. Ambulances from multiple Seacoast fire departments arrived and departed from the shipyard throughout the night.
"We have received firefighter assistance from numerous Seacoast communities and we appreciate the tremendous support," Fuller said.
Responding agencies included an engine and foam trailer from Logan International Airport in Boston, Mass. According to the Boston Sparks Association, a fire buff club founded in 1938, an engine from the submarine base in Groton, Conn., was also responding. Apparatus from Hanscom Air Force Base in Massachusetts arrived shortly after 11 p.m.
Residents in some parts of Kittery reported a smell of burning plastic in the air, and sirens from fire apparatus were heard throughout the night.
Smoke and steam continued to billow from the shipyard early into today and was visible from areas such as Peirce Island in Portsmouth, N.H., and the Piscataqua River Bridge. Peirce Island attracted many people eager to get a view of the fire until police officers shut it down to the public, citing safety concerns.
The shipyard gates remained open late Wednesday night, and Fuller said workers should prepare to report to their jobs as normal in the morning. More information will be released as it becomes available, he said.
"A full investigation will be conducted," he said, noting that local, state and federal officials were notified and that Maine and New Hampshire officials were in the shipyard command center.
The USS Miami (SSN 755) and its crew of 13 officers and 120 enlisted personnel arrived at the Navy Yard on March 1 to undergo maintenance work and system upgrades.
It is the third vessel named for the city of Miami and the fifth "improved" Los Angeles-class nuclear-powered submarine, according to the Navy. The Miami was commissioned June 30, 1990, and its home port is Groton, Conn.
The submarine's commanding officer is Cmdr. Roger E. Meyer, who assumed command Sept. 20, 2010. The Miami's host community is Sanford.
According to U.S. Navy specifications, the ship weighs in at 7,102 tons submerged, is 360 feet long and can travel up to 32 knots while submerged. The Electric Boat Division of General Dynamics Corporation in Groton, Conn., built the submarine, which was first launched Nov. 12, 1988. The single-propeller ship features a single nuclear reactor propulsion system. It carries an armament of Tomahawk missiles and Harpoon missiles and has the capacity to lay mines.
Tom Clancy's non-fiction book, "Submarine: A guided tour inside a nuclear warship," published in 1993, was based on the USS Miami.
By Roser Toll (AFP)
SANTIAGO — In less than 24 hours Lake Cachet II in Chile's southern Patagonia vanished, leaving behind just some large puddles and chunks of ice in the vast lake bed.
The lake's water comes from ice melting from the Colonia Glacier, located in the Northern Patagonian ice field, some 2,000 kilometers (1,250 miles) south of the capital, Santiago.
The glacier normally acts as a dam containing the water, but rising temperatures have weakened its wall. Twice this year, on January 27 and March 31, water from the lake bore a tunnel between the rocks and the glacier wall.
The result: Lake Cachet II's 200 million cubic liters of water gushed out into the Baker river, tripling its volume in a matter of hours, and emptying the five square kilometer (two square miles) lake bed.
Cachet II has drained 11 times since 2008 — and with global temperatures climbing, experts believe this will increase in frequency.
"Climate models predict that as temperatures rise, this phenomenon, known as GLOFs (Glacial Lake Outburst Floods), will become more frequent," said glaciologist Gino Casassa from the Center for Scientific Studies (CES).
Casassa, a member of the 2007 Nobel Peace Prize-winning Intergovernmental Panel on Climate Change, told AFP there have been 53 similar cases of lakes draining in Chile between 1896 and January 2010, with increased frequency in the later years.
CES research assistant Daniela Carrion was camped out with a small research team taking measurements of the Colonia Glacier when the lake drained in March.
"When we woke up, we saw a change in the valley," Carrion told AFP. "The paths that we walked on had flooded, and the whole area was filled with large chunks of ice."
The lake dropped 31 meters (90 feet) when the water drained out, according to a report from the General Water Directorate, which monitors lake levels in Chile using satellite data.
When the lake starts draining an alarm system is triggered, giving residents in the sparsely-populated area up to eight hours to move animals and flee to higher ground.
The Tempanos Lake, also in far southern Chile, drained in a similar fashion in May 2007. Forest rangers working to save endangered huemuls — mid-sized deer native to the region — were surprised when they came across the empty lake. There were ice floes on the floor of the ten square kilometer lake bed, but no water.
Forestry officials had visited Tempanos in April and it was full, and when a team of scientists and naval officials flew over the area in July they found that the lake, which also is fed by waters from a nearby glacier, was starting to re-fill.
The GLOF phenomenon is not exclusive to Patagonia: it has happened in places like the Himalayas, and in Iceland due to volcanic activities, Casassa said.
In a phenomenon also related to rising temperatures, a slab of ice the size of a city block broke off Peru's Hualcan glacier and slid into a high mountain lake with destructive consequences in April 2010.
The crash unleashed a giant wave that breached the lake's levees, causing a tsunami of mud on a village in the northern province of Carhuaz that destroyed more than 20 homes and leaving some 50 people homeless, regional Civil Defense chief Cesar Velasco told the state Andina news agency.
A 2009 World Bank report said that in the last 35 years, Peru's glaciers have shrunk by 22 percent, leading to a 12 percent loss in the amount of fresh water reaching the coast, home to most of the country's citizens.
by Staff Writers
Boston MA (SPX)

While the atmospheric source of mercury in the Arctic was previously recognized, it now appears that twice as much mercury actually comes from the rivers. (Photo courtesy of the U.S. Fish and Wildlife Service.)

Environmental scientists at Harvard have discovered that the Arctic accumulation of mercury, a toxic element, is caused by both atmospheric forces and the flow of circumpolar rivers that carry the element north into the Arctic Ocean. While the atmospheric source was previously recognized, it now appears that twice as much mercury actually comes from the rivers.
The revelation implies that concentrations of the toxin may further increase as climate change continues to modify the region's hydrological cycle and release mercury from warming Arctic soils.
"The Arctic is a unique environment because it's so remote from most anthropogenic (human-influenced) sources of mercury, yet we know that the concentrations of mercury in Arctic marine mammals are among the highest in the world," says lead author Jenny A. Fisher, a postdoctoral fellow in Harvard's Atmospheric Chemistry Modeling Group and the Department of Earth and Planetary Sciences (EPS).
"This is dangerous to both marine life and humans. The question from a scientific standpoint is, where does that mercury come from?"
The results of the study, which was led jointly by Harvard School of Engineering and Applied Sciences (SEAS) and Harvard School of Public Health (HSPH), appeared in the journal Nature Geoscience.
Mercury is a naturally occurring element that has been enriched in the environment by human activities such as coal combustion and mining. When converted to methylmercury by microbial processes in the ocean, it can accumulate in fish and wildlife at concentrations up to a million times higher than the levels found in the environment.
"In humans, mercury is a potent neurotoxin," explains co-principal investigator Elsie M. Sunderland, Mark and Catherine Winkler Assistant Professor of Aquatic Science at HSPH. "It can cause long-term developmental delays in exposed children and impair cardiovascular health in adults."
Mercury is considered a persistent bioaccumulative toxin because it remains in the environment without breaking down; as it travels up the food chain, from plankton to fish, to marine mammals and humans, it becomes more concentrated and more dangerous.
"Indigenous people in the Arctic are particularly susceptible to the effects of methylmercury exposure because they consume large amounts of fish and marine mammals as part of their traditional diet," Sunderland says.
"Understanding the sources of mercury to the Arctic Ocean and how these levels are expected to change in the future is therefore key to protecting the health of northern populations."
Sunderland supervised the study with Daniel Jacob, Vasco McCoy Family Professor of Atmospheric Chemistry and Environmental Engineering at SEAS, where Sunderland is also an affiliate.
Mercury enters the Earth's atmosphere through emissions from coal combustion, waste incineration, and mining. Once airborne, it can drift in the atmosphere for up to a year, until chemical processes make it soluble and it falls back to the ground in rain or snow. This deposition is spread worldwide, and much of the mercury deposited to Arctic snow and ice is re-emitted to the atmosphere, which limits the impact on the Arctic Ocean.
"That's why these river sources are so important," says Fisher. "The mercury is going straight into the ocean."
The most important rivers flowing to the Arctic Ocean are in Siberia: the Lena, the Ob, and the Yenisei. These are three of the 10 largest rivers in the world, and together they account for 10% of all freshwater discharge to the world's oceans. The Arctic Ocean is shallow and stratified, which increases its sensitivity to input from rivers.
Previous measurements had shown that the levels of mercury in the Arctic lower atmosphere fluctuate over the course of a year, increasing sharply from spring to summer. Jacob, Sunderland, and their team used a sophisticated model (GEOS-Chem) of the conditions in the Arctic Ocean and atmosphere to investigate whether variables like melting ice, interactions with microbes, or the amount of sunlight (which affects chemical reactions) could account for the difference.
Incorporating those variables, however, was not enough.
The GEOS-Chem model, which is backed by rigorous environmental observations and more than a decade of scientific review, quantifies the complex nuances of the ocean-ice-atmosphere environment. It takes into account, for example, ocean mixing at various depths, the chemistry of mercury in the ocean and the atmosphere, and the mechanisms of atmospheric deposition and re-emission.
When the Harvard team adapted it for their Arctic mercury simulations, the only adjustment that could explain the spike in summertime concentrations was the incorporation of a large source to the Arctic Ocean from circumpolar rivers. This source had not been recognized previously.
As it turns out, approximately twice as much mercury in the Arctic Ocean originates from the rivers as from the atmosphere.
"At this point we can only speculate as to how the mercury enters the river systems, but it appears that climate change may play a large role," says Jacob. "As global temperatures rise, we begin to see areas of permafrost thawing and releasing mercury that was locked in the soil; we also see the hydrological cycle changing, increasing the amount of runoff from precipitation that enters the rivers."
"Another contributing factor," he adds, "could be runoff from gold, silver, and mercury mines in Siberia, which may be polluting the water nearby. We know next to nothing about these pollution sources."
As the contaminated river water flows into the Arctic Ocean, Jacob says, the surface layer of the ocean becomes supersaturated, leading to what scientists call an "evasion" of mercury from the ocean into the lower atmosphere.
"Observing that telltale supersaturation, and wanting to explain it, is what initially motivated this study," says Fisher. "Relating it to Arctic rivers was detective work. The environmental implications of this finding are huge. It means, for example, that climate change could have a very large impact on Arctic mercury, larger than the impact of controlling emissions to the atmosphere. More work is needed now to measure the mercury discharged by rivers and to determine its origin."
Fisher, Jacob, and Sunderland were joined on this work by co-authors Anne L. Soerensen, a research fellow at SEAS and HSPH; Helen M. Amos, a graduate student in EPS; and Alexandra Steffen, an atmospheric mercury specialist at Environment Canada.
Related Links
Harvard's Atmospheric Chemistry Modeling Group
Beyond the Ice Age
by Staff Writers
Beijing (UPI)

disclaimer: image is for illustration purposes only

A leading Chinese meteorologist says the country will employ more rainmaking technology and make better use of it in the next five years.
Zheng Guoguang, administrator of the China Meteorological Administration, said China's use of artificial precipitation technologies lags behind the leading countries in the field by 15 to 45 percent, the state-run news agency Xinhua reported.
"Many of the nation's natural and agricultural disasters, especially those involving grain and tobacco, are caused by drought," he said during the National Weather Modification Conference in Beijing Tuesday.
"With so many areas in China, especially rural areas, vulnerable to storms, blizzards, hail and other natural disasters, the demand has been rapidly increasing to use science and technology to reduce the risks," he said.
Some 560,000 manipulations of the weather have been conducted since 2002 using aircraft, rockets and projectiles carrying dry ice or silver iodide particles to stimulate rainfall, the China Meteorological Administration reported.
That helped release 489.7 billion tons of rain and saved about $10.4 billion in economic losses, officials said.
However, lack of investment in scientific and technological research has slowed development of weather manipulation efforts, Wang Guanghe of the meteorological association's artificial weather intervention center said.
A lack of cloud-seeding equipment in some cities and an absence of a system for relaying information promptly hampers efforts to concentrate on more than one particular region at a time, Wang said.
Related Links
Water News – Science, Technology and Politics
| | | | | | | | |
| --- | --- | --- | --- | --- | --- | --- | --- |
| | Today | Chemical Accident | USA | State of Nebraska, [Tyson Fresh Meats Pork Plant] | | | |
Description
About 30 workers at the Tyson Foods pork plant in Madison, Neb., were taken to the hospital Thursday night after an anhydrous ammonia leak.The employees were directly exposed to ammonia and needed medical care, a spokeswoman for Faith Regional Health Services in Norfolk told KTIV-TV in Sioux City, Iowa.Ten of the injured workers were taken by ambulance to the Norfolk hospital about 8:45 p.m."Patients were quickly assessed for severity of inhalation and potential contamination," Kelly Driscoll, vice president of patient care services, told KTIV."All 10 patients were found to suffer from minor chemical inhalation, were treated and then released."The leak was at the Tyson Fresh Meats Pork Plant.
The Tyson plant, with 1,200 full-time employees, is the largest employer in Madison, which has a population of 2,438.
| | | | | | | | |
| --- | --- | --- | --- | --- | --- | --- | --- |
|   | Today | Technological Disaster | China | Guangxi Zhuang Autonomous Region, Guigang | | | |
Description
Ten people were injured in an internet bar collapse accident on Thursday, in Guigang city of south China's Guangxi Zhuang Autonomous Region, China's Xinhua news agency reported quoting local police.The accident occurred at about 10 p.m. when the bar was in business. The roof and wood structure of the 30-square-meter Internet surfing area suddenly collapsed and buried 10 people.Rescuers pulled out the 10 people, two of them severely injured and the rest only slightly. All of them were hospitalized.The police has detained the bar owner and further investigation is under way.
*************************************************************************************************************
[In accordance with Title 17 U.S.C. Section 107, this material is distributed without profit, for research and/or educational purposes. This constitutes 'FAIR USE' of any such copyrighted material.]