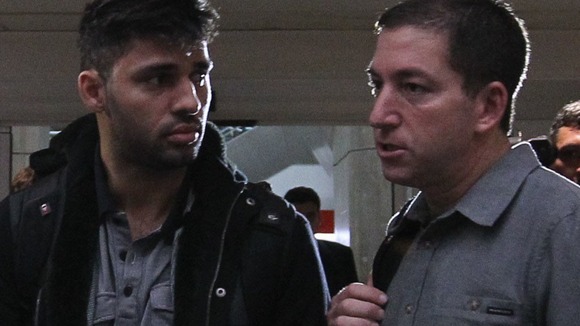 David Miranda with journalist Glenn Greenwald at an airport in Brazil. Credit: Joao Laet/DPA/Press Association Images
ITV News
*****************************************************************
The White House says the U.S. government got a "heads-up" that detention was going to happen
Elements of the U.S. government were given a "heads-up" before the British government detained David Miranda, the Brazilian partner of Glenn Greenwald, for nine hours over the weekend, White House Deputy Press Secretary Josh Earnest said Monday. He also declined to condemn the action.
"There was a heads-up that was provided by the British government," he told reporters in the midst of a spirited exchange with reporters. "So this — again, this is something that we had an indication was likely to occur, but it's not something that we requested. And it's something that was done specifically by the British law-enforcement officials there."
Earnest said there were "classified, confidential conversations" around the detention, but would not state whether the U.S. government expressed displeasure with the action. He would not say why the British informed the American government before the detention.
Miranda was detained for nine hours under that country's Terrorism Act while transiting through Heathrow Airport, and had a range of electronic devices confiscated. He was traveling home from Germany, where he had stayed for a time with Laura Poitras, an American documentary filmmaker who has worked with Greenwald on stories about the National Security Agency. Greenwald is the author of a series of articles about the U.S.'s intelligence efforts at home and abroad based on information given to him by Edward Snowden, a former U.S. intelligence contractor.
Earnest would not say whether U.S. intelligence services have reviewed any documents obtained from Miranda's devices. "I'm just not in a position to talk to you about the conversations between British law-enforcement officials and American law-enforcement officials," he said.
Earnest denied that the U.S. government was involved in the decision to detain Miranda. "What you're referring to is a law-enforcement action that was taken by the British government," Earnest said. "The United States was not involved in that decision or in that action."
Earnest would not state whether Miranda is on any U.S.-government operated travel watch-lists.
A selection of the exchange with reporters Monday:
Read More and Watch Video Here
Related articles