Earthquakes
MAG
UTC DATE-TIME
y/m/d h:m:s
LAT
deg
LON
deg
DEPTH
km
 Region
MAP

 6.2  

2012/09/25 23:45:26
  24.835
 -110.152
10.1
 

GULF OF CALIFORNIA

MAP
 2.6
2012/09/25 22:55:09
  32.112
 -115.746
0.1
 BAJA CALIFORNIA, MEXICO
MAP
 5.2  
2012/09/25 19:42:33
  -9.764
  159.758
27.5
 SOLOMON ISLANDS
MAP
 2.7
2012/09/25 19:30:22
  32.179
 -115.231
26.7
 BAJA CALIFORNIA, MEXICO
MAP
 2.8
2012/09/25 18:43:13
  36.014
 -118.394
2.0
 CENTRAL CALIFORNIA
MAP
 5.4  
2012/09/25 18:33:05
 -21.134
 -174.323
29.0
 TONGA
MAP
 4.7  
2012/09/25 17:49:08
  -8.877
  -75.923
113.0
 CENTRAL PERU
MAP
 3.8
2012/09/25 16:03:33
  36.500
 -114.854
11.5
 NEVADA
MAP
 4.9  
2012/09/25 15:48:46
  54.145
 -164.101
51.7
 UNIMAK ISLAND REGION, ALASKA
MAP
 4.5  
2012/09/25 15:15:10
  39.168
 -123.166
11.5
 NORTHERN CALIFORNIA
MAP
 3.2
2012/09/25 15:07:00
  31.828
 -115.003
10.0
 BAJA CALIFORNIA, MEXICO
MAP
 5.0  
2012/09/25 14:21:40
  36.108
  142.305
25.4
 OFF THE EAST COAST OF HONSHU, JAPAN
MAP
 2.9
2012/09/25 12:02:15
  33.147
 -115.695
4.1
 SOUTHERN CALIFORNIA
MAP
 3.1
2012/09/25 12:02:05
  33.159
 -115.641
4.0
 SOUTHERN CALIFORNIA
MAP
 2.6
2012/09/25 11:37:40
  59.979
 -141.588
1.3
 SOUTHEASTERN ALASKA
MAP
 3.0
2012/09/25 11:00:26
  19.061
  -65.394
52.0
 PUERTO RICO REGION
MAP
 4.9  
2012/09/25 10:41:28
  9.717
  126.702
57.7
 MINDANAO, PHILIPPINES
MAP
 2.5
2012/09/25 10:06:39
  33.158
 -115.641
2.6
 SOUTHERN CALIFORNIA
MAP
 3.4
2012/09/25 09:59:54
  18.976
  -65.381
71.0
 PUERTO RICO REGION
MAP
 4.7  
2012/09/25 09:59:19
  9.839
  126.724
49.3
 MINDANAO, PHILIPPINES
MAP
 2.8
2012/09/25 09:26:46
  33.791
 -116.021
7.2
 SOUTHERN CALIFORNIA
MAP
 5.1  
2012/09/25 08:33:02
  36.383
  69.186
33.5
 HINDU KUSH REGION, AFGHANISTAN
MAP
 4.7  
2012/09/25 08:08:27
  1.887
  127.368
111.5
 HALMAHERA, INDONESIA
MAP
 2.8
2012/09/25 07:14:26
  36.221
 -118.317
7.1
 CENTRAL CALIFORNIA
MAP
 5.2  
2012/09/25 05:37:52
 -25.144
  178.860
565.0
 SOUTH OF THE FIJI ISLANDS
MAP
 4.8  
2012/09/25 03:08:14
  -9.420
  124.717
21.4
 TIMOR REGION
MAP
 5.7  
2012/09/25 03:06:52
 -15.472
 -173.923
104.5
 TONGA
MAP
 5.2  
2012/09/25 01:43:14
 -53.252
  25.399
15.7
 SOUTH OF AFRICA
MAP
 2.7
2012/09/25 01:42:22
  19.023
 -155.421
43.2
 ISLAND OF HAWAII, HAWAII
MAP
 3.4
2012/09/25 00:43:35
  19.128
  -64.782
68.0
 VIRGIN ISLANDS REGION
MAP
 2.9
2012/09/25 00:38:55
  19.245
  -64.728
48.0
 VIRGIN ISLANDS REGION
MAP
 2.8
2012/09/25 00:35:40
  19.334
  -64.722
33.0
 VIRGIN ISLANDS REGION
MAP
 2.9
2012/09/25 00:33:48
  19.137
  -64.632
68.0
 VIRGIN ISLANDS REGION
MAP
 2.6
2012/09/25 00:27:52
  19.327
  -64.763
9.0
 VIRGIN ISLANDS REGION
MAP
 2.8
2012/09/25 00:23:34
  19.133
  -64.692
64.0
 VIRGIN ISLANDS REGION
MAP
 2.8
2012/09/25 00:19:41
  19.214
  -64.797
7.0
 VIRGIN ISLANDS REGION
MAP
 2.8
2012/09/25 00:15:36
  19.358
  -64.777
48.0
 VIRGIN ISLANDS REGION
MAP
 2.8
2012/09/25 00:14:25
  18.972
  -64.549
79.0
 VIRGIN ISLANDS REGION
(Reuters) – A magnitude 6.2 earthquake struck off the southern tip of Mexico's Baja Peninsula, on Tuesday and caused panic, but local officials said there were no reports of damage or injuries.
The quake's epicenter was located 46 miles north of La Paz, Mexico, and was centered in the Gulf of California, according to the U.S. Geological Survey.
"It felt pretty strong," said Ivan Calderon, a Baja California Sur state civil protection official, adding there were no reports of damages or injuries.
"So far there have just been some reports of people panicking, but nothing serious," Calderon said.
He said school was suspended across the state on Wednesday while officials examined sites for damages. Some other public buildings would also be closed Wednesday for checks, he said.
A magnitude 6 earthquake is capable of causing severe damage. Four more tremors, magnitude 4.8 or less, followed the bigger quake, all clustered north of La Paz, the USGS said.
The southern part of Mexico's Baja Peninsula is sparsely populated outside of La Paz, the capital of Baja California Sur, and the tourist resort of Los Cabos, located about 98 miles to the south.
(Reporting By Michael O'Boyle; Editing by Bill Trott and Stacey Joyce)
6.2 Mwp – GULF OF CALIFORNIA
Preliminary Earthquake Report
Magnitude
6.2 Mwp
Date-Time

25 Sep 2012 23:45:26 UTC
25 Sep 2012 17:45:26 near epicenter
25 Sep 2012 17:45:26 standard time in your timezone

Location
24.835N 110.152W
Depth
10 km
Distances

75 km (47 miles) N (11 degrees) of La Paz, Baja California Sur, Mexico
154 km (96 miles) E (98 degrees) of Constitución, Baja California Sur, Mexico
155 km (96 miles) SW (220 degrees) of Ahome, Sinaloa, Mexico
1086 km (675 miles) SE (140 degrees) of Tijuana, Baja California, Mexico

Location Uncertainty
Horizontal: 13.7 km; Vertical 1.9 km
Parameters
Nph = 441; Dmin = 470.7 km; Rmss = 1.12 seconds; Gp = 69°
M-type = Mwp; Version = A
Event ID
us c000cw0l
For updates, maps, and technical information, see:
Event Page
or
USGS Earthquake Hazards Program
National Earthquake Information Center
U.S. Geological Survey
http://neic.usgs.gov/
Tectonic Summary
Seismotectonics of Mexico
Located atop three of the large tectonic plates, Mexico is one of the world's most seismologically active regions. The relative motion of these crustal plates causes frequent earthquakes and occasional volcanic eruptions. Most of the Mexican landmass is on the westward moving North American plate. The Pacific Ocean floor south of Mexico is being carried northeastward by the underlying Cocos plate. Because oceanic crust is relatively dense, when the Pacific Ocean floor encounters the lighter continental crust of the Mexican landmass, the ocean floor is subducted beneath the North American plate creating the deep Middle American trench along Mexico's southern coast. Also as a result of this convergence, the westward moving Mexico landmass is slowed and crumpled creating the mountain ranges of southern Mexico and earthquakes near Mexico's southern coast. As the oceanic crust is pulled downward, it melts; the molten material is then forced upward through weaknesses in the overlying continental crust. This process has created a region of volcanoes across south-central Mexico known as the Cordillera Neovolcánica.
The area west of the Gulf of California, including Mexico's Baja California Peninsula, is moving northwestward with the Pacific plate at about 95 mm per year. Here, the Pacific and North American plates grind past each other creating strike-slip faulting, the southern extension of California's San Andreas fault. In the past, this relative plate motion pulled Baja California away from the coast forming the Gulf of California and is the cause of earthquakes in the Gulf of California region today.
Mexico has a long history of destructive earthquakes and volcanic eruptions. In September 1985, a magnitude 8.1 earthquake killed more than 9,500 people in Mexico City. In southern Mexico, Volcán de Colima and El Chichón erupted in 2005 and 1982, respectively. Paricutín volcano, west of Mexico City, began venting smoke in a cornfield in 1943; a decade later this new volcano had grown to a height of 424 meters. Popocatépetl and Ixtaccíhuatl volcanos ("smoking mountain" and "white lady", respectively), southeast of Mexico City, occasionally vent gas that can be clearly seen from the City, a reminder that volcanic activity is ongoing. In 1994 and 2000 Popocatépetl renewed its activity forcing the evacuation of nearby towns, causing seismologists and government officials to be concerned about the effect a large-scale eruption might have on the heavily populated region. Popocatépetl volcano last erupted in 2010.
More information on regional seismicity and tectonics
GSN Stations
These data update automatically every 30 minutes. Last update: September 26, 2012 05:19:09 UTC
Seismograms may take several moments to load. Click on a plot to see larger image.
**********************************************************************************************************
Volcanic Activity
Mexico, Sep 25 (Prensa Latina) At least 26 eruptions accompanied by steam and gas, as well as a volcano tectonic quake were registered as a consequence of the Mexican volcano Popocatépetl activity during the last hours, it was reported Tuesday.
The National Center of Disaster Prevention (Cenapred) said eruptions were of low and medium intensity with no ash expulsion in any of them.According to the institution, the volcano tectonic quake was registered at 11.54 local time (16:54 GMT).At this moment, the alert light of volcano activity remains yellow phase 2 and the surrounding population to keep informed as to alerts on the activity of the volcano also known as Don Goyo.Traffic between Santiago Xalitzintla and San Pedro Nexapa, via the Cortes passage, is under control.The Popo is located at the center of the country, in the territorial limits of the Morelos, Puebla and Mexico states.

Located 55 kilometers Southeast of the Federal District, the Popocatépetl is the second highest volcano in Mexico, with a maximum height of five thousand 458 meters above sea level, only second to the Pico de Orizaba (Veracruz) with five thousand 610 meters.

sgl/ef/lac/dfm
Modificado el ( martes, 25 de septiembre de 2012 )
***********************************************************************************************************
Extreme Temperatures/ Weather
| | | | | | | |
| --- | --- | --- | --- | --- | --- | --- |
| 25.09.2012 | Extreme Weather | United Kingdom | Scotland, [Scotland-wide] | | | |
Description
Ferries have also been cancelled and commuiters suffered severe delays to rail services. A number of trees came down overnight in Aberdeen, causing roads in the city centre to close, including Union Terrace and Willowbank Road. The city council said it received dozens of calls about fallen trees and crews are working to remove them. Drivers were also warned to take extra care on the Esplanade after sand and water was blown on to the road. In Dundee a driver suffered minor injuries after a tree came down and hit a car on Arbroath Road near Baxter Park at about 9am. Fife Constabulary also reported trees down in the area, with "Standing Stane road" between Kirkcaldy and Leven shut as well as the road from Cupar to Melville Lodges roundabout. High winds also led to restrictions on bridges, with the Forth Road bridge opened to cars only this morning. There was widespread disruption on the main East Coast rail line between Edinburgh and Newcastle, although ScotRail reported only "minor disruption" to its West Highland line. For those hoping to travel by ferry, many Caledonian MacBrayne services were facing disruption and some routes were cancelled.Flood warnings are in place for Haddington in East Lothian and many parts of the Borders. A further nine flood alerts were issued across Scotland, including in Aberdeenshire, Dumfries and Galloway and Fife. The Met Office put out yellow "be aware" warnings of severe weather for much of the country and forecasters predicted the most persistent rain would be in the south and east throughout the day. Transport minister Keith Brown is leading the Scottish Government's resilience committee meeting this morning to receive updates on the transport network, utilities and flooding. The resilience committee meeting was told that about 2,000 households across a number of areas were without power, but electricity providers had staff trying to reconnect customers as quickly as possible. It also heard the heavy rain had seen some areas record about 40mm of water in the past 36 hours. Mr Brown said: "Yet again, we have seen a wide range of agencies and organisations react quickly to weather alerts and to put in place their response plans for the potential impact of heavy rain and high winds. "This activity, including a significant level of multi-agency co-operation, has played its part in keeping disruption to a minimum in difficult conditions. "The travelling public also deserve praise for the way they have reacted to the various travel updates this morning. "But no-one is being complacent and whilst the weather alerts remain in place, the focused response will continue."
| | | | | | | |
| --- | --- | --- | --- | --- | --- | --- |
| 26.09.2012 | Extreme Weather | United Kingdom | Multiple region, [South west, northern England and Scotland] | | | |
Updated:
Tuesday, 25 September, 2012 at 18:56 UTC
Description
Hundreds of homes have been evacuated and dozens of cars abandoned by drivers after widespread flooding across the UK. Flood warnings are in place across Britain as rivers burst their banks and forecasters say there is more bad weather to come. The North East has been worst affected, with towns such as Morpeth, Chester-le-Street, Stockton on Tees and parts of Newcastle badly hit. Other areas in England, Wales and Scotland have also been flooded, with over 200 official warnings and alerts still in place. More than 300 properties have flooded since Sunday. Over a month's worth of rain fell in just one day in some parts of the country. There has been widespread disruption to travel after roads were closed and long delays to rail services. The A1 and the East Coast Main Line were among the routes hit by the conditions. The Met Office said many places have had between 50mm and 70mm (2in to 2.8in) rain in the past 48 hours. Heavy rain and strong winds are forecast to return to some southern areas with 20mm to 40mm (0.8in to 1.6in) likely in places into Wednesday. There is also no sign of the downpours easing in the Midlands. Among the properties evacuated was a council care home at Gilling West, in North Yorkshire.The Oswin Grove Unit's 19 pensioners had to be carried to safety by firefighters after it became swamped by 3ft of water. Parts of the UK are also experiencing strong winds, with gusts over 60mph across parts of Scotland and Ireland at times. The Environment Agency is urging people to sign up to its flood alerts and has issued guidance to residents who may be affected by flooding. Kath Evans, from the Environment Agency, told Sky News that the situation had been made worse by the wet summer. "With the rainfall over the summer and more falling over the last 24 to 36 hours, it has caused this widespread flooding," she said. She said they were watching areas around the River Ouse in Yorkshire and the River Severn as the water moved downstream and would "urge people to keep an eye out and listen out for flood warnings". Communities in Yorkshire, the North West and North Wales were urged to remain on guard for further floods. In Morpeth, parts of the town were evacuated as a precaution before the river burst its banks and some 40 stranded residents were rescued using lifeboats, although water levels later appeared to have peaked. Heavy rain sent cars careering down the River Coquet and homes were flooded in Rothbury, Northumberland, with at least two more flooded in Thropton and Netherton.Hebden Bridge, which suffered severe flooding twice this summer, appeared to have escaped further damage as river levels seemed to level off just below bank tops. About 50 properties in and around Wearside were evacuated, Sunderland City Council said. A number of roads and two primary schools were closed and residents were warned refuse collections could be disrupted. Emergency services evacuated around 30 properties in Hartburn, Stockton, Teesside, as water levels rose, and a crew of refuse collectors had to be rescued by firefighters at Eryholme, North Yorkshire, when a river burst its banks and swamped their truck. The A1 was closed near Catterick in both directions and is not expected to reopen until Wednesday morning. The A66 was closed in both directions near Darlington as a result of flooding. In Durham, police threatened to prosecute impatient drivers who tried to use closed roads. There was no service on the East Coast Main Line between York and Newcastle for much of the day because of flooding at Eryholme, near Northallerton, preventing the running of services between London and Scotland. East Coast Trains advised people not to travel and said tickets for Tuesday would be valid on trains on Wednesday. The West Coast line remained open.
***********************************************************************************************************
Storms, Flooding
  Active tropical storm system(s)
Name of storm system
Location
Formed
Last update
Last category
Course
Wind Speed
Gust
Wave
Source
Details
Jelewat (18W)
Pacific Ocean
20.09.2012
26.09.2012
SuperTyphoon
305 °
250 km/h
306 km/h
5.18 m
JTWC
| | |
| --- | --- |
| Share: | |
| Storm name: | Jelewat (18W) |
| Area: | Pacific Ocean |
| Start up location: | N 13° 42.000, E 132° 18.000 |
| Start up: | 20th September 2012 |
| Status: | Active |
| Track long: | 507.67 km |
| Top category.: | |
| Report by: | JTWC |

Useful links:

Past track

Date
Time
Position
Speed
km/h
Wind
km/h
Gust
km/h
Category
Course
Wave
Pressure
Source
22nd Sep 2012
06:41:44
N 11° 42.000, E 129° 54.000
6
93
120
Tropical Storm
200
9
JTWC
23rd Sep 2012
06:04:26
N 11° 48.000, E 128° 54.000
7
139
167
Typhoon I.
270
11
JTWC
24th Sep 2012
08:06:11
N 13° 36.000, E 128° 30.000
9
241
296
Typhoon IV.
350
10
JTWC
24th Sep 2012
10:43:47
N 14° 12.000, E 128° 12.000
13
232
278
Typhoon IV.
335
14
JTWC
25th Sep 2012
05:16:53
N 15° 42.000, E 127° 48.000
7
259
315
Super Typhoon
360
9
JTWC
25th Sep 2012
10:29:06
N 16° 24.000, E 127° 30.000
15
259
278
Super Typhoon
340
18
JTWC

Current position

Date
Time
Position
Speed
km/h
Wind
km/h
Gust
km/h
Category
Course
Wave
feet
Pressure
Source
26th Sep 2012
10:56:11
N 18° 0.000, E 126° 6.000
15
250
306
SuperTyphoon
325 °
18
JTWC

Forecast track

Date
Time
Position
Category
Wind
km/h
Gust
km/h
Source
27th Sep 2012
18:00:00
N 21° 48.000, E 123° 48.000
SuperTyphoon
213
259
JTWC
27th Sep 2012
06:00:00
N 20° 12.000, E 124° 12.000
SuperTyphoon
232
278
JTWC
28th Sep 2012
06:00:00
N 23° 6.000, E 124° 6.000
Typhoon IV
194
241
JTWC
29th Sep 2012
06:00:00
N 25° 24.000, E 126° 36.000
Typhoon III
167
204
JTWC
30th Sep 2012
06:00:00
N 29° 18.000, E 132° 6.000
Typhoon I
120
148
JTWC
01st Oct 2012
06:00:00
N 34° 48.000, E 137° 54.000
Tropical Depression
83
102
JTWC
| | | | | | | | | | | |
| --- | --- | --- | --- | --- | --- | --- | --- | --- | --- | --- |
| Miriam (EP 13) | Pacific Ocean – East | 22.09.2012 | 26.09.2012 | Hurricane II | 310 ° | 130 km/h | 157 km/h | 2.74 m | NOAA NHC | |
| | |
| --- | --- |
| Share: | |
| Storm name: | Miriam (EP 13) |
| Area: | Pacific Ocean – East |
| Start up location: | N 13° 42.000, W 107° 30.000 |
| Start up: | 22nd September 2012 |
| Status: | Active |
| Track long: | 663.50 km |
| Top category.: | |
| Report by: | NOAA NHC |

Useful links:

Past track

Date
Time
Position
Speed
km/h
Wind
km/h
Gust
km/h
Category
Course
Wave
Pressure
Source
22nd Sep 2012
06:35:22
N 13° 42.000, W 107° 30.000
19
56
74
Tropical Depression
275
10
1005 MB
NOAA NHC
23rd Sep 2012
06:07:18
N 14° 54.000, W 108° 30.000
13
74
93
Tropical Storm
300
15
1002 MB
NOAA NHC
24th Sep 2012
08:09:13
N 16° 48.000, W 111° 18.000
19
148
185
Hurricane I.
305
15
979 MB
NOAA NHC
25th Sep 2012
05:19:32
N 18° 30.000, W 113° 54.000
13
167
204
Hurricane II.
305
14
968 MB
NOAA NHC
25th Sep 2012
10:37:14
N 18° 42.000, W 114° 18.000
9
167
204
Hurricane II.
310
10
968 MB
NOAA NHC

Current position

Date
Time
Position
Speed
km/h
Wind
km/h
Gust
km/h
Category
Course
Wave
feet
Pressure
Source
26th Sep 2012
10:58:11
N 19° 30.000, W 115° 30.000
9
111
139
Hurricane I
320 °
15
990 MB
NOAA NHC

Forecast track

Date
Time
Position
Category
Wind
km/h
Gust
km/h
Source
27th Sep 2012
06:00:00
N 21° 30.000, W 116° 0.000
Tropical Depression
83
102
NOAA NHC
27th Sep 2012
18:00:00
N 22° 24.000, W 116° 24.000
Tropical Depression
65
83
NOAA NHC
28th Sep 2012
06:00:00
N 22° 54.000, W 116° 36.000
Tropical Depression
56
74
NOAA NHC
29th Sep 2012
06:00:00
N 23° 12.000, W 116° 48.000
Tropical Depression
46
65
NOAA NHC
30th Sep 2012
06:00:00
N 23° 30.000, W 117° 0.000
Tropical Depression
37
56
NOAA NHC
| | | | | | | | | | | |
| --- | --- | --- | --- | --- | --- | --- | --- | --- | --- | --- |
| Ewiniar (19W) | Pacific Ocean | 24.09.2012 | 26.09.2012 | Typhoon I | 60 ° | 93 km/h | 120 km/h | 4.88 m | JTWC | |

| | |
| --- | --- |
| Share: | |
| Storm name: | Ewiniar (19W) |
| Area: | Pacific Ocean |
| Start up location: | N 18° 30.000, E 139° 0.000 |
| Start up: | 24th September 2012 |
| Status: | Active |
| Track long: | 498.82 km |
| Top category.: | |
| Report by: | JTWC |

Useful links:

Past track

Date
Time
Position
Speed
km/h
Wind
km/h
Gust
km/h
Category
Course
Wave
Pressure
Source
24th Sep 2012
08:04:10
N 18° 30.000, E 139° 0.000
26
46
65
Tropical Depression
335
17
JTWC
24th Sep 2012
10:42:45
N 19° 36.000, E 138° 54.000
20
56
74
Tropical Depression
350
17
JTWC
25th Sep 2012
05:14:15
N 21° 48.000, E 138° 18.000
15
74
93
Tropical Storm
355
15
JTWC
25th Sep 2012
10:28:32
N 22° 48.000, E 138° 30.000
19
74
93
Tropical Storm
10
10
JTWC

Current position

Date
Time
Position
Speed
km/h
Wind
km/h
Gust
km/h
Category
Course
Wave
feet
Pressure
Source
26th Sep 2012
10:53:51
N 26° 24.000, E 142° 12.000
24
93
120
Typhoon I
40 °
19
JTWC

Forecast track

Date
Time
Position
Category
Wind
km/h
Gust
km/h
Source
27th Sep 2012
18:00:00
N 31° 18.000, E 142° 30.000
Typhoon I
111
139
JTWC
27th Sep 2012
06:00:00
N 29° 48.000, E 141° 42.000
Typhoon I
111
139
JTWC
28th Sep 2012
06:00:00
N 32° 42.000, E 143° 48.000
Typhoon I
102
130
JTWC
29th Sep 2012
06:00:00
N 37° 24.000, E 148° 54.000
Tropical Depression
83
102
JTWC
************************************************************************************************************
Radiation / Nuclear
| | | | | | | |
| --- | --- | --- | --- | --- | --- | --- |
| Today | Non-categorized event | Russia [Asia] | Novaya Zemlya archipelago, [K-27 Russian nuclear submarine wreck, Kara Sea] | | | |
Description
A group of 16 Russian and Norwegian researchers who sailed to take measurements surrounding a Russian nuclear submarine that was scuttled for nuclear waste off the coast of the former Soviet nuclear test archipelago Novaya Zemlya in the Kara Sea have found no radioactive leaks, Norwegian radiation authorities said today. Per Strand, a director at the Norwegian Radiation Protection agency told Bellona, however, that the primary purpose of the expedition, which returned today, was to inspect the possibility of an uncontrolled chain reaction aboard the K-27 Russian nuclear submarine, which was sunk in 50 meters of water in Novaya Zemlya's Stepovogo Bay in the Kara Sea as nuclear waste in 1981. "The Russian side indicated there might be a hypothetical possibility that spent nuclear fuel in the reactor in extreme situations could cause an uncontrolled chain reaction, which can lead to heat and radioactivity releases," Strand said in a telephone interview from Kirkeness. The K-27, was dumped by the Soviet Navy in 1981, with spent nuclear fuel packed in its reactors, after a 1968 reactor leak aboard the killed nine sailors.The navy tried to repair it before deciding to seal the nuclear units and sinking the sub. The researchers also examined some 2000 containers of various kinds of radioactive waste that were dumped in Stepovogo Bay, but found no increase in radiation since the site was last inspected in 1994. Authorities in Russia and their counterparts in Norway, which lies about 965 kilometers to the west of the sunken sub, need to make a decision about a safe disposal of the K-27, which was the top priority of the expedition, Strand said. Strand said that the joint research team aboard the Ivan Petrov research vessel took sediment, plant and sea life samples. They also used a mini submarine to take photos of the K-27's condition. Though emphasizing that all data collected is preliminary, Strand said it would "contribute to making decisions about whether the submarine needs to be lifted out of the water" for safer storage. "For now, the first priority will be the development of environmental impact studies based on the information we have collected to judge the feasibility of lifting the submarine," he said. Norway's number one focus for the moment, said Strand, will be developing an effective system of countermeasures should a chain reaction occur aboard the K-27.
| | | | | | | |
| --- | --- | --- | --- | --- | --- | --- |
| Today | Nuclear Event | USA | State of Minnesota, Monticello [Monticello Nuclear Power Plant] | | | |
Description
Xcel Energy says its Monticello nuclear power plant automatically shut down Tuesday, Sept. 25, for unknown reasons. The shutdown occurred at 11:07 a.m. and all plant safety systems were functioning, the Minneapolis-based utility said Tuesday. The shutdown posed no danger to the public or the plant's workers, Xcel officials said. The cause of the shutdown is under investigation. Xcel said it has notified the Nuclear Regulatory Commission and the state. Monticello is located about 40 miles northwest of Minneapolis. The 600-megawatt boiling water reactor plant was last shut down in August for seven days due to a leaking gasket on a pipe flange. Monticello also had a three-week shutdown last year that started on Nov. 19 when safety systems detected low oil pressure in the plant's turbines, Xcel said at the time of the incident. In both previous shutdowns, Xcel said there was no danger to the public or workers. Monticello generates enough electricity to supply almost 500,000 homes. Xcel officials said the current shutdown is not expected to be lengthy.
************************************************************************************************************
Epidemic Hazards / Diseases
| | | | | | | |
| --- | --- | --- | --- | --- | --- | --- |
| Today | Epidemic Hazard | Denmark | South Denmark, Odense [Odense University Hospital] | | | |
Description
Five persons showing symptoms of infection from a SARS-like virus have been admitted to Odense University Hospital (OUH), central Denmark, the hospital said in a press statement Tuesday. The five patients are currently being examined for symptoms of infection from a new corona virus, which can lead to severe respiratory disease. Corona viruses are a large family of viruses including those which cause the common cold, as well as severe acute respiratory syndrome (SARS), an outbreak of which killed some 800 people in 2003. The new corona virus is thought to have an incubation period lasting seven to 10 days, and has previously been found among patients who had traveled from Qatar and Saudi Arabia. OUH Director Jens Peter Steensen said to Danish media late Tuesday that the five patients, who are all Danish residents, will be tested for the new corona virus and for a range of more common triggers of respiratory infection. The results of these tests will be released Wednesday afternoon, Steensen said, adding the patients will be kept in isolation until then. On Monday, the Danish Health and Medicines Authority advised persons who had traveled to Qatar or Saudi Arabia to seek medical advice if they experienced fever, cough or difficulty breathing within ten days of their return from these countries. It followed a warning from British health officials who alerted the World Health Organization on Saturday of the new virus found in a man transferred from Qatar to the UK on Sept. 11.
Biohazard name:
SARS (susp, human)
Biohazard level:
4/4 Hazardous
Biohazard desc.:
Viruses and bacteria that cause severe to fatal disease in humans, and for which vaccines or other treatments are not available, such as Bolivian and Argentine hemorrhagic fevers, H5N1(bird flu), Dengue hemorrhagic fever, Marburg virus, Ebola virus, hantaviruses, Lassa fever, Crimean-Congo hemorrhagic fever, and other hemorrhagic or unidentified diseases. When dealing with biological hazards at this level the use of a Hazmat suit and a self-contained oxygen supply is mandatory. The entrance and exit of a Level Four biolab will contain multiple showers, a vacuum room, an ultraviolet light room, autonomous detection system, and other safety precautions designed to destroy all traces of the biohazard. Multiple airlocks are employed and are electronically secured to prevent both doors opening at the same time. All air and water service going to and coming from a Biosafety Level 4 (P4) lab will undergo similar decontamination procedures to eliminate the possibility of an accidental release.
Symptoms:
Status:
suspected
| | | | | | | |
| --- | --- | --- | --- | --- | --- | --- |
| 26.09.2012 | Epidemic Hazard | Qatar | Ad Dawhah, Qatar | | | |
Updated:
Tuesday, 25 September, 2012 at 03:03 UTC
Description
The World Health Organisation (WHO) issued a global alert on Monday for a new SARS-like respiratory virus which left a man from Qatar critically ill in a London hospital and killed at least one more in Saudi Arabia. The 49-year-old Qatari was admitted to an intensive care unit in Doha on September 7 suffering from acute respiratory infection and kidney failure before being transferred to Britain by air ambulance on September 11, the WHO said. A Saudi Arabian national died earlier this year from a virtually identical virus, the WHO said, while Saudi medical authorities said they were investigating other possible cases of the disease. The WHO confirmed the illness was in the coronavirus family but was not SARS, or Severe Acute Respiratory Syndrome, which swept out of China in 2003, killing more than 800 people worldwide. "This is a new virus," WHO spokesman Gregory Hartl told AFP. "We haven't heard of any more new cases. We don't have an appreciation of how widespread the virus is," Hartl said. "This is one reason why we're trying to get more information. We don't know how it's transmitted."The WHO said the Qatari first fell ill on September 3 after visiting Saudi Arabia. Britain's Health Protection Agency confirmed the presence of the new coronavirus and then found that it was a 99.5 percent match with a virus obtained from the lung tissue of a 60-year-old Saudi man who died earlier this year. Coronaviruses are causes of the common cold but can also include more severe illnesses including SARS. In Riyadh, the health ministry revealed that a total of three people, including the Qatari man, had been diagnosed with the virus after spending time in Saudi Arabia, according to state media. The other two later died. The ministry said it would continue to "follow developments" linked to the disease "in coordination with international health organisations," adding that "these are rare cases and the situation is reassuring". The announcement comes ahead of next month's annual Muslim hajj pilgrimage to Saudi Arabia's holy city of Mecca which will attract nearly three million believers, although the WHO said it did not recommend any travel restrictions. In Britain, the HPA, an organisation set up by the government to manage infectious diseases, meanwhile, stressed no-one else in Britain, including those who had come into contact with the man, were reporting symptoms. The HPA said the new virus was "different from any that have previously been identified in humans." It said there were encouraging signs that it was not as infectious as SARS as there had been no evidence of illness in people who had been in contact with the Qatari or the Saudi, including in health workers."Based on what we know about other coronaviruses, many of these contacts will already have passed the period when they could have caught the virus from the infected person," it said. John Watson, head of the respiratory diseases at the HPA, said: "Immediate steps have been taken to ensure that people who have been in contact with the UK case have not been infected, and there is no evidence to suggest they have." Peter Openshaw, director of the Centre for Respiratory Infection at Imperial College London, urged caution, saying any evidence of human-to-human transmission causing severe disease "would be very worrying". But fellow expert John Oxford, professor at the University of London, said he was "somewhat relaxed" because he believed the illness was more likely to behave "like a nasty infection rather than join the 'exception' group like SARS."
Updated:
Tuesday, 25 September, 2012 at 05:15 UTC
Description
A previously unknown virus has appeared in both Saudi Arabia and in a traveler who recently returned from the country. The virus killed one and has left the other in intensive care in London. Officially, the World Health Organization called the disease a "novel coronavirus." Coronaviruses include multiple viruses including the common cold and SARS, according to the WHO. SARS killed hundreds of people in Asia during a 2003 epidemic. British officials informed the World Health Organization over the weekend of the new virus in a man that had recently been sent to London for treatment from Qatar. The patient has since suffered renal failure. Health officials don't know much about the new virus and the WHO said it's "in the process of obtaining further information to determine the public health implications of the two confirmed cases." However, the WHO is not recommending any travel restrictions at this time.
| | | | | | | |
| --- | --- | --- | --- | --- | --- | --- |
| 25.09.2012 | Epidemic Hazard | Canada | Province of Ontario, [Southwestern area] | | | |
Description
Ontario has found a case of an infection with a new swine flu virus, in a man who had close contact with pigs. The infection was caused by an H1N1-variant virus, which is not the swine flu virus that has been jumping from pigs to people in the United States this summer. That virus was an H3N2-variant, and has caused 305 infections this year in the U.S. but has not been spotted in Canada to date. Most infections with the H3N2-variant flu have been in people who visited pig barns at state and county fairs. The Ontario case was announced by the province's chief medical officer of health, Dr. Arlene King on Tuesday morning. Ms. King said the man is being treated in hospital in southwestern Ontario. She did not indicate whether that is as a precaution or because he is seriously ill. Health Minister Deb Matthews said the fact that the case was detected in Ontario demonstrates that the province has a strong surveillance system for infectious diseases."It's one case, the first we've seen in Ontario, but not really unexpected because there have been cases in the States," Ms. Matthews told reporters on Tuesday. Ms. Matthews said health care providers in Ontario learned a lot about infectious diseases from the earlier outbreaks of SARS and H1N1. "Our hospitals know exactly what to do when they get a case," she said. Ms. King said this new virus is one that rarely spreads from animals to people, and human-to-human spread is also rare. She stressed the discovery of the infection does not trigger food safety concerns. "Proper cooking of meats, including pork, kills all bacteria and viruses." She also urged people to remember that hand washing and getting a flu shot are the best way to protect against contracting the flu. The term variant is added to flu virus names when viruses that normally circulate in animals cause infections in humans. In written form it is often shortened to a "v" at the end of the virus's name. This H1N1v virus would be a distant cousin of the H1N1 viruses that have been circulating in people for most of the last century. That family includes the virus that cause the 2009 pandemic. But viruses within a large family group such as H1N1 can be sufficiently different from one another that antibodies to one won't fully protect a person from becoming infected with another. U.S. authorities have also seen one case of infection with an H1N1v virus there this summer, in Missouri. Ms. King did not say whether the genetic blueprints of the Ontario and Missouri viruses were closely related.
Biohazard name:
H3N2
Biohazard level:
2/4 Medium
Biohazard desc.:
Bacteria and viruses that cause only mild disease to humans, or are difficult to contract via aerosol in a lab setting, such as hepatitis A, B, and C, influenza A, Lyme disease, salmonella, mumps, measles, scrapie, dengue fever, and HIV. "Routine diagnostic work with clinical specimens can be done safely at Biosafety Level 2, using Biosafety Level 2 practices and procedures. Research work (including co-cultivation, virus replication studies, or manipulations involving concentrated virus) can be done in a BSL-2 (P2) facility, using BSL-3 practices and procedures. Virus production activities, including virus concentrations, require a BSL-3 (P3) facility and use of BSL-3 practices and procedures", see Recommended Biosafety Levels for Infectious Agents.
Symptoms:
Status:
confirmed
************************************************************************************************************
Solar Activity
3MIN News Sept 25. 2012
Published on Sep 25, 2012 by Suspicious0bservers
2012 Pole Shift Video: http://youtu.be/uI10tKuLtFU
TODAY'S LINKS
GOES14 Takes the Stage: http://www.nnvl.noaa.gov/MediaDetail2.php?MediaID=1195&MediaTypeID=1
Jupiter Explosion: http://phys.org/news/2012-09-explosion-jupiter.html
Arab Cyclones: http://phys.org/news/2012-09-tropical-cyclones-arabian-sea-due.html
Arctic Methane Mission: http://phys.org/news/2012-09-methane-gas-arctic-seafloor.html
Great Barrier Reef Climate Change: http://phys.org/news/2012-09-climate-great-barrier-reef.html
Grim Prediction: http://phys.org/news/2012-09-arctic-ice-cap.html
Europa Water: http://www.astrobio.net/pressrelease/5043/water-near-europas-surface-doesnt-s…
REPEAT LINKS
Spaceweather: http://spaceweather.com/ [Look on the left at the X-ray Flux and Solar Wind Speed/Density]
HAARP: http://www.haarp.alaska.edu/haarp/data.html [Click online data, and have a little fun]
SDO: http://sdo.gsfc.nasa.gov/data/ [Place to find Solar Images and Videos - as seen from earth]
SOHO: http://sohodata.nascom.nasa.gov/cgi-bin/soho_movie_theater [SOHO; Lasco and EIT - as seen from earth]
Stereo: http://stereo.gsfc.nasa.gov/cgi-bin/images [Stereo; Cor, EUVI, HI - as seen from the side]
SunAEON:http://www.sunaeon.com/#/solarsystem/ [Just click it... trust me]
SOLARIMG: http://solarimg.org/artis/ [All purpose data viewing site]
iSWA: http://iswa.gsfc.nasa.gov/iswa/iSWA.html [Free Application; for advanced sun watchers]
NASA ENLIL SPIRAL: http://iswa.gsfc.nasa.gov:8080/IswaSystemWebApp/iSWACygnetStreamer?timestamp=…
NOAA ENLIL SPIRAL: http://www.swpc.noaa.gov/wsa-enlil/
US Wind Map: http://hint.fm/wind/
NOAA Bouys: http://www.ndbc.noaa.gov/
NOAA Environmental Visualization Laboratory: http://www.nnvl.noaa.gov/Default.php
RSOE: http://hisz.rsoe.hu/alertmap/index2.php [That cool alert map I use]
GOES Xray: http://www.swpc.noaa.gov/sxi/goes15/index.html
JAPAN Radiation Map: http://jciv.iidj.net/map/
LISS: http://earthquake.usgs.gov/monitoring/operations/heliplots_gsn.php
Gamma Ray Bursts: http://grb.sonoma.edu/ [Really? You can't figure out what this one is for?]
BARTOL Cosmic Rays: http://neutronm.bartol.udel.edu//spaceweather/welcome.html [Top left box, look for BIG blue circles]
TORCON: http://www.weather.com/news/tornado-torcon-index [Tornado Forecast for the day]
GOES Weather: http://rsd.gsfc.nasa.gov/goes/ [Clouds over America]
RAIN RECORDS: http://www.cocorahs.org/ViewData/ListIntensePrecipReports.aspx
EL DORADO WORLD WEATHER MAP: http://www.eldoradocountyweather.com/satellite/ssec/world/world-composite-ir-…
PRESSURE MAP: http://www.woweather.com/cgi-bin/expertcharts?LANG=us&MENU=0000000000&…
HURRICANE TRACKER: http://www.weather.com/weather/hurricanecentral/tracker
INTELLICAST: http://www.intellicast.com/ [Weather site used by many youtubers]
NASA News: http://science.nasa.gov/science-news/science-at-nasa/
PHYSORG: http://phys.org/ [GREAT News Site!]
QUAKES LIST FULL: http://www.emsc-csem.org/Earthquake/seismologist.php

************************************************************************************************************
Space
Astronomy forums are buzzing with speculation about newly-discovered Comet C/2012 S1 (ISON). Currently located beyond the orbit of Jupiter, Comet ISON is heading for a very close encounter with the sun next year. In Nov. 2013, it will pass less than 0.012 AU (1.8 million km) from the solar surface. The fierce heating it experiences then could turn the comet into a bright naked-eye object. (continued below)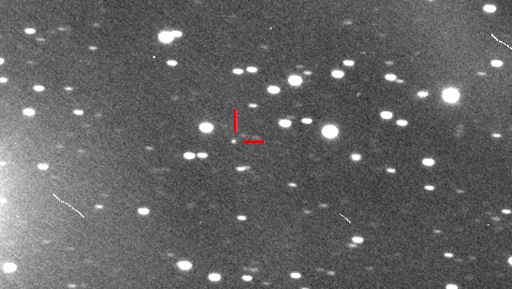 Comet ISON photographed by E. Guido, G. Sostero & N. Howes on Sept. 24. [more]
Much about this comet–and its ultimate fate–remains unknown. "At this stage we're just throwing darts at the board," says Karl Battams of the NASA-supported Sungrazer Comet Project, who lays out two possibilities:
"In the best case, the comet is big, bright, and skirts the sun next November. It would be extremely bright — negative magnitudes maybe — and naked-eye visible for observers in the Northern Hemisphere for at least a couple of months."
"Alternately, comets can and often do fizzle out! Comet Elenin springs to mind as a recent example, but there are more famous examples of comets that got the astronomy community seriously worked up, only to fizzle. This is quite possibly a 'new' comet coming in from the Oort cloud, meaning this could be its first-ever encounter with the Sun. If so, with all those icy volatiles intact and never having been truly stressed (thermally and gravitationally), the comet could well disrupt and dissipate weeks or months before reaching the sun."
"Either of the above scenarios is possible, as is anything in between," Battams says. "There's no doubt that Comet ISON will be closely watched. Because the comet is so far away, however, our knowledge probably won't develop much for at least a few more months."
Meanwhile, noted comet researcher John Bortle has pointed out a curious similarity between the orbit of Comet ISON and that of the Great Comet of 1680. "Purely as speculation," he says, "perhaps the two bodies could have been one a few revolutions ago."
Stay tuned for updates.
The onset of northern autumn means it's aurora season. For reasons researchers don't fully understand, equinoxes are the best times to see Northern Lights. And, right on cue, the Arctic Circle is glowing. Marianne Bergli sends this picture of auroras shimmering directly above Storfjord, Norway: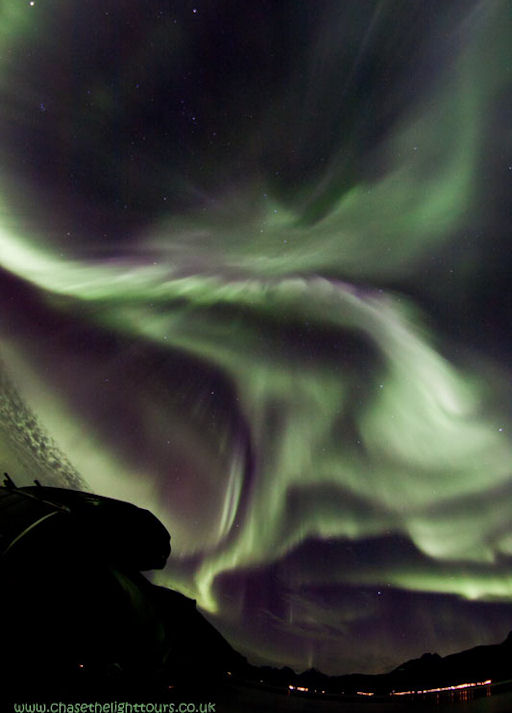 "Last night it was difficult to select [which part of the sky to photograph]. The auroras were dancing everywhere," says Bergli. "Eventually I was just lying on my back looking up. It was absolutely, unbelievable wonderful."
As the week begins, the solar wind velocity is low (~350 km/s), but at this time of year it only takes a gentle gust to ignite bright auroras around the Arctic Circle. High-latitude sky watchers should remain alert for auroras
Object Name
Apporach Date
Left
AU Distance
LD Distance
Estimated Diameter*
Relative Velocity
(2002 EZ2)
26th September 2012
0 day(s)
0.1922
74.8
270 m – 610 m
6.76 km/s
24336 km/h
(2012 SM8)
26th September 2012
0 day(s)
0.0376
14.6
15 m – 33 m
5.57 km/s
20052 km/h
334412 (2002 EZ2)
26th September 2012
0 day(s)
0.1922
74.8
270 m – 600 m
6.76 km/s
24336 km/h
(2012 SL50)
27th September 2012
1 day(s)
0.0073
2.8
14 m – 31 m
12.04 km/s
43344 km/h
(2012 QF42)
27th September 2012
1 day(s)
0.1095
42.6
130 m – 280 m
8.67 km/s
31212 km/h
(2012 SY49)
28th September 2012
2 day(s)
0.0067
2.6
19 m – 42 m
15.84 km/s
57024 km/h
(2012 SJ32)
28th September 2012
2 day(s)
0.0297
11.6
26 m – 59 m
8.11 km/s
29196 km/h
(2012 SM50)
30th September 2012
4 day(s)
0.1074
41.8
36 m – 81 m
8.68 km/s
31248 km/h
(2012 RH10)
03rd October 2012
7 day(s)
0.1260
49.0
98 m – 220 m
12.90 km/s
46440 km/h
(2012 QE50)
09th October 2012
13 day(s)
0.0809
31.5
450 m – 1.0 km
11.47 km/s
41292 km/h
(1994 EK)
14th October 2012
18 day(s)
0.1356
52.8
230 m – 520 m
12.22 km/s
43992 km/h
(2012 PA20)
15th October 2012
19 day(s)
0.1502
58.5
100 m – 230 m
10.36 km/s
37296 km/h
(2012 RV16)
18th October 2012
22 day(s)
0.1270
49.4
310 m – 700 m
16.14 km/s
58104 km/h

| | |
| --- | --- |
| 1 AU = ~150 million kilometers,1 LD = Lunar Distance = ~384,000 kilometers | Source: NASA-NEO |
*************************************************************************************************************
Biological Hazards / Wildlife / Hazmat
| | | | | | | |
| --- | --- | --- | --- | --- | --- | --- |
| Today | Biological Hazard | USA | State of Washington, [Seattle region] | | | |
Description
Experts and citizen scientists are tracking the "zombie bee" infection across the country. The insects have a parasite that causes them to fly at night and lurch around erratically until they die. The infection is another threat to bees that are needed to pollinate crops, in addition to the mysterious ailment "colony collapse disorder." The infection is as grim as it sounds: "Zombie bees" have a parasite that causes them to fly at night and lurch around erratically until they die. And experts say the condition has crept into Washington state. "I joke with my kids that the zombie apocalypse is starting at my house," said Mark Hohn, a novice beekeeper who spotted the infected insects at his suburban Seattle home. Hohn returned from vacation a few weeks ago to find many of his bees either dead or flying in jerky patterns and then flopping on the floor. He remembered hearing about zombie bees, so he collected several of the corpses and popped them into a plastic bag. About a week later, the Kent man had evidence his bees were infected: the pupae of parasitic flies. "Curiosity got the better of me," Hohn said. The zombie bees were the first to be confirmed in Washington state, The Seattle Times reported. San Francisco State University biologist John Hafernik first discovered zombie bees in California in 2008.Hafernik now uses a website to recruit citizen scientists like Hohn to track the infection across the country. Observers also have found zombie bees in Oregon and South Dakota. The infection is another threat to bees that are needed to pollinate crops. Hives have been failing in recent years due to a mysterious ailment called colony collapse disorder, in which all the adult honey bees in a colony suddenly die. The life cycle of the fly that infects zombie bees is reminiscent of the movie "Alien," the newspaper reported. A small adult female lands on the back of a honeybee and injects eggs into the bee's abdomen. The eggs hatch into maggots. "They basically eat the insides out of the bee," Hafernik said. After consuming their host Relevant Products/Services, the maggots pupate, forming a hard outer shell that looks like a fat, brown grain of rice. That's what Hohn found in the plastic bag with the dead bees. Adult flies emerge in three to four weeks. There's no evidence yet that the parasitic fly is a major player in the bees' decline, but it does seem the pest is targeting new hosts, said Steve Sheppard, chairman of the entomology department at Washington State University. "It may occur a lot more widely than we think," he said. That's what Hafernik hopes to find out with his website, zombeewatch.org. The site offers simple instructions for collecting suspect bees, watching for signs of parasites and reporting the results. Once more people start looking, the number of sightings will probably climb, Hohn said.
Biohazard name:
Colony collapse disorder (bees)
Biohazard level:
3/4 Hight
Biohazard desc.:
Bacteria and viruses that can cause severe to fatal disease in humans, but for which vaccines or other treatments exist, such as anthrax, West Nile virus, Venezuelan equine encephalitis, SARS virus, variola virus (smallpox), tuberculosis, typhus, Rift Valley fever, Rocky Mountain spotted fever, yellow fever, and malaria. Among parasites Plasmodium falciparum, which causes Malaria, and Trypanosoma cruzi, which causes trypanosomiasis, also come under this level.
Symptoms:
Status:
confirmed

---
……………….
| | | | | | | |
| --- | --- | --- | --- | --- | --- | --- |
| Today | HAZMAT | USA | State of  , Charlotte [Emerald Performance Materials plant] | | | |
Description
Mecklenburg County and Charlotte fire fighters responded to the Emerald Performance Materials plant Tuesday to help contain an acid spill. The West Mecklenburg Fire Department was the first on scene at about 9 p.m. Soon after, they called for the hazmat team from the Charlotte Fire Department. Hazmat teams determined the spill was triflic acid. A pipe that was malfunctioning caused the leak. One employee was treated on the scene for chemical burns. He was not taken to the hospital, firefighters said. Triflic acid is extremely strong acid, often called a "super acid," according to manufacturers. It is used to make a variety of products. Investigators told WBTV News an improper mixture of chemicals caused a chemical cloud, that plant operators feared was caustic, caused the incident. Hazmat crews were able to control the spill and contain it to the plant. The scene was cleared in about an hour, and hazmat crews said there was no environmental impact.
*************************************************************************************************************
[In accordance with Title 17 U.S.C. Section 107, this material is distributed without profit, for research and/or educational purposes. This constitutes 'FAIR USE' of any such copyrighted material.]