Politics and Legislation
Protests Erupt in Egypt As Mubarak's Ex-PM Secures Spot in Presidential Runoff
Published on May 29, 2012 by democracynow
DemocracyNow.org – Sharif Abdel Kouddous reports from Egypt where protests erupted last night after final results were announced in the country's first-ever competitive presidential election. The top two candidates in the first round of the race are Mohamed Morsi, of the Muslim Brotherhood, and Ahmed Shafik, the last prime minister under Hosni Mubarak — who was ousted in a popular uprising 15 months ago. "[Shafik] speaks the language of Mubarak's regime and what that means is the retention of broad discretionary powers given to the executive and given to security forces, a very strong role for Security Agency involvement whether the intelligence services or Ministry of Interior Security agencies to ensure stability and control over protests, which as far as he is concerned, are the source of instability," says Heba Morayef of Human Rights Watch. Morsi and Shafik will face each other in a runoff vote set to begin June 16. Special thanks to Democracy Now! video producer Hany Massoud.
To watch the complete weekday independent news hour, read the transcript, download the podcast, search our vast archive, or to find more information about Democracy Now! and Amy Goodman, visit http://www.democracynow.org/

Filipino government fires top judge
Published on May 29, 2012 by AlJazeeraEnglish
The Filipino government has fired the country's top judge, after he failed to declare millions of dollars in assets.
Chief Justice Renato Corona was impeached by the Senate on Tuesday, on charges of betraying public trust, as part of a new effort to clean up corruption in the country.
Al Jazeera's Marga Ortigas reports.

Protester at Leveson accuses Tony Blair of war crimes!! 28th May 2012
Published on May 29, 2012 by danielofdoriaa
Tony Blair gets worries as a protester manages to get past security and accuse Tony Blair of war crimes at the Leveson inquiry.
Recorded from Sky News, 28 May 2012
Link added by request:-
http://www.prnewswire.com/news-releases/tony-blair-appointed-senior-advisor-t…­-chase-56871787.html
Tony Blair Appointed Senior Advisor to JPMorgan Chase

Alan Cowell
The New York Times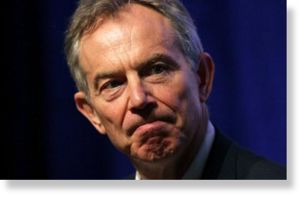 © Getty Images
London – The judicial inquiry into Britain's phone hacking scandal was set to hear testimony on Monday from Tony Blair, a former prime minister who sought the endorsement of Rupert Murdoch's newspapers but once described the press as "feral."
Mr. Blair's appearance may, paradoxically, offer welcome relief for Prime Minister David Cameron, switching attention from the close relationship between Mr. Murdoch and the current government to the tycoon's ties to its Labour Party predecessor.
For much of last week, the judicial inquiry headed by Lord Justice Sir Brian Leveson sought to probe what seemed a cozy relationship between the Murdoch empire and the office of Culture Minister Jeremy Hunt at a time when Mr. Murdoch's News Corporation was seeking to acquire full ownership of BSkyB, Britain's biggest satellite broadcaster.
Mr. Hunt, who was the minister overseeing the bid, has been depicted as favorable to the takeover at a time when his role required impartiality. He is to testify before the Leveson inquiry on Thursday.
The $12 billion bid was abandoned last year as the phone hacking scandal broke over parts of the Murdoch media outpost in Britain.
In Mr. Blair's case, the ties date to 1990s when Mr. Murdoch's top-selling tabloid, The Sun, swung its support behind Mr. Blair's Labour Party before the 1997 general election and later took credit for the Labour victory. Two years before the election, Mr. Blair, then leader of the opposition, flew to an Australian island to address News Corporation executives as the Labour Party sought to reverse a hostile relationship with the press.
One of Mr. Blair's former close aides and allies, Lord Peter Mandelson, told the Leveson inquiry last week that it was "arguably the case" that the relationship between Mr. Murdoch, Mr. Blair and his successor, Gordon Brown "became closer than was wise."The bonds endured: Mr. Blair was reported in the British media to have acted as godfather to one of Mr. Murdoch's 's children in 2010.
While his government took power on a huge wave of popularity, Mr. Blair's close alliance with former President Bush in the Iraq war and accusations that he had misled Britons about the conflict contributed to a gradual souring of his relationship with newspapers.
Shortly before he left office in 2007, he told an audience: "The fear of missing out means today's media, more than ever before, hunts in a pack. In these modes it is like a feral beast, just tearing people and reputations to bits. But no one dares miss out."
He also quoted a past prime minister, Stanley Baldwin, who berated the news media for having "power without responsibility – the prerogative of the harlot through the ages," a charge that borrowed from Kipling.
Shortly before the 2010 general election, in which Mr. Cameron came to power as head of a coalition government with the junior Liberal Democrats, The Sun abandoned Labour to swing behind Mr. Cameron's Conservatives.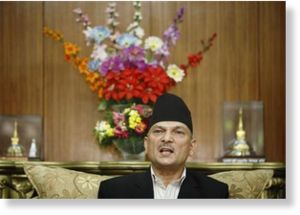 © Reuters/Navesh Chitrakar
Nepalese Prime Minister Baburam Bhattarai addresses the nation from his official residence to declare fresh elections for November 22, 2012 for the Himalayan republic after political parties failed to finalize the new constitution, in Kathmandu May 28, 2012.
Three parties quit Nepal's Maoist-led government on Monday as the Himalayan republic slipped deeper into crisis after the prime minister called elections following the failure to agree on a new constitution aimed at ending years of instability.
Prime Minister Baburam Bhattarai has called for Nov 22 elections to resolve the constitutional impasse, sparking a backlash from politicians and Nepalis who have seen the country lurch from one crisis to the next after a civil war ended in 2006.
With political rivals calling for the prime minister's resignation, the desertion of three parties from his coalition may force Bhattarai to step down, but it is not likely to derail fresh elections.
However, the political row could trigger months of street protests and violence in one of the world's poorest countries, wedged between India and China.
Security forces in Kathmandu remained on "high alert" after clashes between protesters and police injured more than a dozen people over the weekend. The streets were quiet in the capital on Monday, which was a public holiday.
But protesters took to the streets again in southern pockets of the country, angry at the ongoing deadlock.
"Political parties are not interested in a constitution. They simply want power and money for themselves and don't care about us," said Bal Bahadur Lama, a 63-year-old laborer in the Nepali capital.
Bhattarai is Nepal's fifth prime minister since the end of the civil war, which killed more than 16,000 people and ended the rule of a centuries-old monarchy.
Efforts for a new constitution have been scotched by demands for the country to be divided into states along ethnic lines, which triggered violent protests in recent weeks and saw ethnic groups stage demonstrations outside the parliament building.
The call for new elections prompted three smaller allies of the Maoist-led government to quit on Monday morning.
"The prime minister brought the election proposal suddenly without consulting us," said Ishwar Pokharel, from the Communist UML party, who resigned as deputy prime minister.
"The government has no constitutional or political legitimacy to hold new elections," he told Reuters.
Critics accuse the Maoists, whose guerrilla army fought against the monarchy during the war, of using the elections as a cynical ploy to remain in power.
Prolonged instability in Nepal, with immense potential to generate hydro-electric power could have regional implications as energy-hungry China and India could compete to influence an unstable neighbor, dependent on aid and tourism.
**********************************************************************************
Economy
by Administrator
It happened again yesterday morning. There was an accident on the Schuykill Expressway so I had the pleasure of navigating through the 30 Blocks of Squalor, again. After having made at least 25 posts about the 30 Blocks of Squalor over the years, I keep thinking I've run out of things to say. But it seems to be a never ending treasure trove of insights about our society and the people who live in this country. It was a particularly grey day in Philadelphia with a dreary overcast and intermittent rain. It seemed fitting for this trek through the slowly decaying landscape leading to my workplace in West Philly. I've talked previously about the stretch of highway leading to the 30 Blocks of Squalor. It's called West Chester Pike (Route 3) and it cuts through Delaware County where I grew up. It cuts through Havertown, Haverford, Drexel Hill, and Upper Darby and eventually spits you out at 69th Street, where I've previously detailed the flash mob of savages rampaging through the Sears stealing everything in sight (all caught on surveillance cameras to be shown on a future reality TV show). In a shocking turn of events, Sears decided to later close this retail establishment.
The 30 minute excursion along West Chester Pike and then the 30 Blocks of Squalor (Chestnut St from 69th St to 39th St) is like traveling through Dante's nine circles of hell. Every mile leads you deeper and deeper into the abyss. My observations along this route are of a country in a slow methodical steady decline that has been underway for decades and shows no signs of abating.
The neighborhoods and towns along West Chester Pike were occupied by the rising middle class during the 1950′s, 60′s and 70′s. These towns were where blue collar middle class families built a life and raised their families. The fathers worked in factories, refineries, schools, power plants and thousands of other productive enterprises. Americans made stuff back then. Most wives stayed home and raised the three or four children in the small brick row homes or small detached singles that dotted the landscape. These neighborhoods were entirely white and most were church going. Most of the adults had not graduated college, but they were still able to move up the economic ladder through hard work, saving, and living within their means. Their children were guaranteed an even better life if they studied hard, went to college, and got an office job as an accountant, engineer, marketing executive, or in some other promising profession.
This progression began to transform into regression in the 1980s and the slow steady descent has picked up speed. There is now a grey pallor that seems to engulf this once thriving corridor. The houses that were built in the 1950s and 1960s and kept up by middle class families that took pride in their neighborhoods have been deteriorating for years. The homes are in disrepair. The bricks have grown dingy from years of pollution buildup and lack of power washing. Porches and awnings are sagging. The woodwork hasn't seen a paint brush since the 1970s. Trash is strewn in the streets. Gardens are no longer tended to. Lawns are overgrown with weeds. The inhabitants of these neighborhoods either don't care or don't have the financial wherewithal to maintain their homes. On the current trajectory, these once proud neighborhoods will eventually resemble the 30 Blocks of Squalor.
Quebec Student Movement Grows with Popular Support
Published on May 29, 2012 by TheRealNews
People from Montreal's communities bang pots and pans to show support as students broaden demands
"Inside Job" Director Charles Ferguson: Wall Street Has Turned US Into a "Predatory Nation"
Published on May 29, 2012 by democracynow
DemocracyNow.org – Two years after directing the Academy Award-winning documentary, "Inside Job," filmmaker Charles Ferguson returns with a new book, "Predator Nation: Corporate Criminals, Political Corruption, and the Hijacking of America." Ferguson explores why no top financial executives have been jailed for their role in the nation's worst economic crisis since the Great Depression. We also discuss Larry Summers and the revolving door between academia and Wall Street as well as the key role Democrats have played in deregulating the financial industry. According to Ferguson a "predatory elite" has "taken over significant portions of economic policy and the political system and also, unfortunately, major portions of the economics discipline."
To watch the complete weekday independent news hour, read the transcript, download the podcast, search our vast archive, or to find more information about Democracy Now! and Amy Goodman, visit http://www.democracynow.org/

Keiser Report: Asymmetric Accounting (E294)
Published on May 29, 2012 by RussiaToday
In this episode, Max Keiser and co-host, Stacy Herbert, discuss 'asymmetric accounting,' flatulent dark market clubs in austerity London and the $72 trillion claim against Limewire, while President Obama settles for $26 billion for widescale, systemic mortgage fraud. In the second half of the show Max talks to Jan Skoyles of TheRealAsset.co.uk about her campaign to Buy Britain's Gold Back.
Follow Max Keiser on Twitter: http://twitter.com/maxkeiser

Dewey and Lebeouf Bankruptcy Biggest Law Firm Collapse in US History
Published on May 29, 2012 by IBTimesTV
Dewey and Lebeouf, a crippled law firm has made history as the biggest collapse of a law firm in U.S history. The firm filed for Chapter 11 bankruptcy protection Monday night, and will seek approval to liquidate its business after failing to find a merger partner.
Dewey is one of the largest law firms in the U.S, and was hit by the loss of the vast majority of its roughly 300 partners to other firms amid concerns about compensation and a heavy debt load. But employees had been warned at the beginning of the month that there was in fact a chance the firm could shut down.
The firm is expected to keep around 90 employees to assist in the liquidation over the next few months. Dewey has stated there was a number of reasons that caused the company's ultimate demise, including partnership compensation arrangements, capitol expenses and compensation expectations.
Dewy has now already terminated 433 of its 533 New York employees, and the firm will now go down in history as the biggest collapse of a law firm in US history.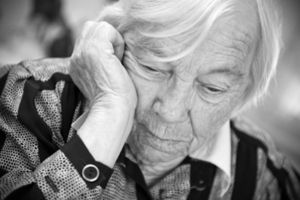 © iStockphoto
The gap between the wealthiest and poorest retirees is growing
Growing numbers of older Americans are spending their retirement years in poverty, according to a recent Employee Benefit Research Institute study. The proportion of older people living below the poverty line has been growing steadily since 2005, and many of those people are falling into poverty as they age and spend down their savings.
Poverty rates for people ages 65 to 74 climbed from 7.9 percent in 2005 to 9.4 percent in 2009, according to the EBRI analysis of University of Michigan health and retirement study data. For older retirees ages 75 to 84, there was an even steeper increase, from 7.6 percent to 10.7 percent over the same time period. But it's the oldest retirees who are the most likely to live in poverty: 14.6 percent did so in 2009.
Many older Americans are falling into poverty as they age. In 2009, the most recent year included in the study, 6 percent of those age 85 older were new entrants in poverty, up from 4.6 percent in 2005. And while 3.3 percent of people ages 75 to 84 fell newly into poverty in 2005, that number increased to 5.6 percent by 2009.
One of the biggest drivers of poverty in old age is failing health and the associated medical costs. Most retirees living below the poverty line (70 percent) have suffered acute health conditions such as cancer, lung disease, heart problems, or stroke, compared with 48 percent for those above the poverty line, according to health and retirement study data. And almost all senior citizens living in poverty (96 percent) have some sort of health condition, such as high blood pressure, diabetes, psychological problems, or arthritis, versus 61.7 percent of retirees with incomes above the poverty line.
"Medical expenditures go up for the elderly as they age and medical expenses have been rising over the past decade very rapidly," says Sudipto Banerjee, a research associate at EBRI and author of the report. "A lot of people have to move to nursing homes, and nursing homes are very expensive. People who live there, they lose their income and assets very quickly."
Many people also spend down their retirement savings too quickly, especially during recessions. "As people age, personal savings and pension account balances are depleted," says Banerjee. "Also, the rising poverty rates noted correspond to the two economic recessions that occurred during the last decade. I would expect that as the economy does better, the rates will go down."
Comment: Alas, the economy is not doing better. As medical expenses have continued to rise and interest rates have remained at virtually zero for the last four years, we can only assume a very sharp increase in the rate of poverty among the elderly since 2009.
Once you have spent your nest egg, your only remaining source of income is likely to be Social Security. Social Security payments are based on your earnings during your 35 highest earning years in the workforce. Those who didn't work for 35 years get smaller payments because zeros are included in the average.
Poverty rates for women were nearly double that of men in almost all years between 2001 and 2009. In 2009, poverty rates were 7 percent for men and 13 percent for women. And both men and women who are single have significantly higher poverty rates than married couples. When one spouse dies, the total Social Security benefit received by the household often decreases.
The Census Bureau reports that 9 percent of people age 65 and older lived below the poverty threshold in 2010. But there is an incredible amount of geographic diversity in poverty rates, ranging from over 25 percent in Opelousas-Eunice, La., and Gallup, N.M., to less than 2 percent in Pocatello, Idaho, Helena, Mont., and Ames, Iowa.
A recent Urban Institute study predicts that poverty rates for people at age 67 are likely to decline in the future. The analysis projects that 7 percent of Depression-era babies are expected to live in poverty at age 67, compared with 6.1 percent of late baby boomers and 5.7 percent of Generation Xers. However, retirement poverty is expected to increase for people without advanced education. For example, the study predicts that retirement poverty rates for high-school dropouts could increase from 13.5 percent among Depression-era babies to 24.9 percent for the oldest baby boomers.
Older retirees may have few opportunities to pull themselves out of poverty once they have crossed that threshold. The elderly may not have many opportunities for employment, and could be limited by health issues.
The Urban Institute expects retirement income inequality to increase dramatically over time. The study found that among Depression-era babies, the median income in the top income quintile will be 7.5 times higher than in the bottom income quintile. For Generation Xers, the retirement income gap will increase to a factor of 10.4. "More income for boomers and Generation Xers is from retirement accounts and less from defined-benefit pensions, and a larger share of income will be from earnings," says Barbara Butrica, senior research associate at the Urban Institute and coauthor of the report. "If we look at their [retirement income] replacement rates, Generation Xers and boomers are projected to be significantly worse off on a relative basis."
***********************************************************************************
Wars and Rumors of War
Annan holds talks with Syria's Assad
Published on May 29, 2012 by AlJazeeraEnglish
The massacre in the Syrian area of Houla has prompted Australia to expel two Syrian diplomats, and France now says that it will be expelling the Syrian ambassador to Paris.
Earlier on Tuesday, in Damascus, UN-Arab League peace envoy Kofi Annan met Syrian president Bashar al-Assad, to discuss a peace plan that looks to be in tatters.
Al Jazeera's Rosiland Jordan reports.

Slaughter Slant: Houla massacre sparks media blame-game
Published on May 29, 2012 by RussiaToday
The most gruesome episode in Syria's uprising is quickly turning into a PR battle, as each side, and their allies, portion blame for the slaughter in Houla. Just four days after the murders of over a hundred men, women and children – the media has been flooded with images furthering one, or the other agenda.
Commenting on the BBC's blunder with the Iraq picture, journalist and human rights investigator Keith Harmon Snow says there's simply no way it could have been posted by mistake.

Hannah Furness
The Telegraph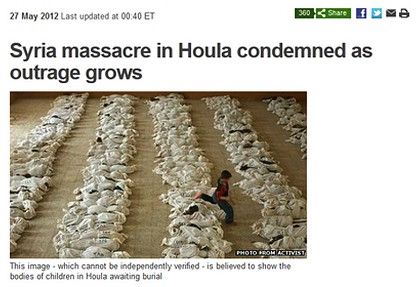 The photograph was actually taken by Marco di Lauro in Iraq in 2003
The BBC is facing criticism after it accidentally used a picture taken in Iraq in 2003 to illustrate the senseless massacre of children in Syria.
Photographer Marco di Lauro said he nearly "fell off his chair" when he saw the image being used, and said he was "astonished" at the failure of the corporation to check their sources.
The picture, which was actually taken on March 27, 2003, shows a young Iraqi child jumping over dozens of white body bags containing skeletons found in a desert south of Baghdad.
It was posted on the BBC news website today under the heading "Syria massacre in Houla condemned as outrage grows".
The caption states the photograph was provided by an activist and cannot be independently verified, but says it is "believed to show the bodies of children in Houla awaiting burial".
A BBC spokesman said the image has now been taken down.
Mr di Lauro, who works for Getty Images picture agency and has been published by newspapers across the US and Europe, said: "I went home at 3am and I opened the BBC page which had a front page story about what happened in Syria and I almost felt off from my chair.
"One of my pictures from Iraq was used by the BBC web site as a front page illustration claiming that those were the bodies of yesterday's massacre in Syria and that the picture was sent by an activist.
"Instead the picture was taken by me and it's on my web site, on the feature section regarding a story I did In Iraq during the war called Iraq, the aftermath of Saddam.
"What I am really astonished by is that a news organization like the BBC doesn't check the sources and it's willing to publish any picture sent it by anyone: activist, citizen journalist or whatever. That's all.
He added he was less concerned about an apology or the use of image without consent, adding: "What is amazing it's that a news organization has a picture proving a massacre that happened yesterday in Syria and instead it's a picture that was taken in 2003 of a totally different massacre.
"Someone is using someone else's picture for propaganda on purpose."
A spokesman for the BBC said: "We were aware of this image being widely circulated on the internet in the early hours of this morning following the most recent atrocities in Syria.
"We used it with a clear disclaimer saying it could not be independently verified.
"Efforts were made overnight to track down the original source of the image and when it was established the picture was inaccurate we removed it immediately."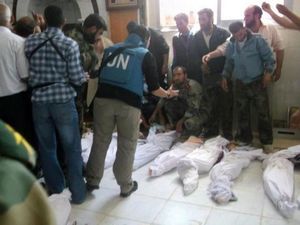 © AFP/Shaam News Network
UN observers examine bodies at a hospital morgue in the Syrian town of Houla before their burial, May 26
The new Iranian Majlis (parliament) has strongly condemned the ruthless massacre of defenseless Syrians in Houla, saying the US is responsible for the attack.
"The barbaric massacre of the innocent people of Houla, in Homs, is reminiscent of the merciless terrorist atrocities in Sabra and Shatila and is a blatant symbol of terrorist acts and mass murder in this juncture of human history," the 9th Majlis lawmakers said in a statement Monday.
On May 25, deadly clashes broke out between Syrian forces and armed groups in Houla, located in the central province of Homs.
Head of the UN observer mission in Syria Major General Robert Mood said in a briefing via video from Damascus to an emergency meeting of the UN Security Council on Sunday that UN observers in Houla estimate 108 people were killed, including 49 children and 34 women.
The Iranian lawmakers said there is no doubt the terrorists responsible for such atrocities are armed and trained by the West and its regional allies and are dispatched into Syria by some of its neighbors.
"The US should be held accountable for its incorrect policies in Syria," they said.
The lawmakers called on the United Nations Security Council to prevent the shipment of weapons into Syria.
Earlier, Iran's Foreign Ministry Spokesman Ramin Mehmanparast also condemned the "suspicious attack" in the village of Houla and stressed the necessity of identifying and punishing the perpetrators.
"The attack has been carried out in order to create chaos and instability in Syria and its perpetrators are trying to block the way to a peaceful resolution," Mehmanparast said on Sunday.
Karim Shanqiti
al-monitor.com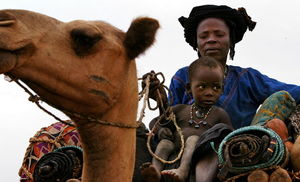 © REUTERS/Finbarr O'Reilly
A mother and child ride atop a camel as a Tuareg caravan travels north through a remote region of southern Niger July 4, 2005.
Libyan Tuaregs Flee to Algeria Amid Reports of Ethnic Cleansing
More than 55 Libyans from the Tuareg tribe have crossed over into Algerian territory in the last two days through the border crossing at Debdeb in the province of Illizi. They left the town of Ghadames and its surrounding villages out of fear of reprisals by armed groups against certain individuals, and particularly against Tuareg families.
Sources inside the Libyan city of Ghadames told El-Khabar that the Tuareg tribes have been subjected to ethnic cleansing for the past eight months. The Ghadames tribe, which is backed by forces affiliated with the National Transitional Council, is allegedly carrying out these acts. The latter burned and destroyed hostels and stables belonging to the Tuareg tribe and expelled them from the city, forcing them to flee into Algeria.
According to the escapees, many Tuareg members were subjected to "illegal" detention in secret locations under inhumane conditions. They added that members of the Ghadames tribes are searching for Tuareg members everywhere, even in hospitals, to kill and torture them. They have also recently arrested a large number of them, including women.
Tuareg representatives from the Libyan city of Ghadames expressed their fear of physical liquidation by the Ghadamesites, especially after the arrival of a large number of NTC troops who support them to the area in the last couple of days. According to the Tuaregs, the escalation of events have put them in danger, and international intervention is now required to save them from death. Libya has more than 500,000 Tuaregs distributed among the cities of Ghadames, Ghat, Ubari and Sabha, where they have established close relations with some Libyan families.
According to information out of Ghadames, the situation is now stable after a week of armed clashes between young members of local Tuareg families and the Ghadamesites. The latter have waged a war which the Tuareg described as "vengeful." Fourteen people have been killed, including a military field commander named Issa Tlili, and at least 20 others from both sides have been wounded by gunfire. The Debdeb crossing of the Algeria border is now closed and prohibits the entry of escapees from the deteriorating security situation in Ghadames. These orders come from the highest authorities in the country, as confirmed by official sources to El-Khabar.
Now, hundreds of Libyan Tuaregs who have escaped from hell are stranded at the Algerian-Libyan border and suffering harsh conditions. They are unable to enter Algeria since they do not carry passports or other proof of their identities.
***********************************************************************************
Articles of Interest
Inside Story – Israel accused of ill-treating African migrants
Stuxnet x20: Massive cyber spy virus 'Flame' hits Iran, Israel
Published on May 29, 2012 by RussiaToday
A powerful data-snatching virus targeting computers in Iran, Israel and other Middle Eastern countries has been discovered by Russian experts. The worm has been used for years for what seems to be state-sponsored cyber espionage.

Huffington Post
A Catholic priest who was defrocked in 2002 over sex abuse allegations has a new job…with the TSA.CBS Philadelphia reports that Thomas Harkin, who worked at churches across southern New Jersey before being removed by the Diocese of Camden because he was found to have abused young girls,
now has a job as a "Transportation Security Manager, Baggage" with the TSA at Philadelphia International Airport
.The station saw Harkin working as a checkpoint supervisor between terminals D and E at the airport even as a new lawsuit has been filled against him for sexually abusing an 11-year-old girl.Karen Polesir, a spokeswoman with the Survivors Network of those Abused by Priests, told the station, "They should know who they're hiring…As the public,
we are screened to our underwear getting on a plane
, and yet they hire a man like that."Yet a TSA official told the station that his title reflects that he deals mostly with luggage, not people. When asked by CBS Philadelphia if the flying public should be wary of his appointment, Harkin said, "No, they shouldn't be."Beginning in October 2007, the TSA "
began requiring airports to receive a favorable security threat assessment
result for all employees prior to issuing airport badges," according to its website. The airport is in charge of doing background investigations, including checking fingerprints and checking for any of 28 "disqualifying crimes," according its site. The 28 crimes are not listed, so it's unclear if sexual abuse is one of them.In Harkin's case, the TSA said that
because the allegations against him were so old, criminal charges were not filed
. A spokesman with the Diocese of Camden said that two previous lawsuits against Harkin were settled.In April, it was found that the TSA gave Atlanta's Hartsfield-Jackson airport (
the world's busiest
)
license to hire "any workers needed" for the job due to a backlog of background checks
. At the time, U.S. Rep. Paul Broun told Atlanta's Channel 2, "
You can't put unsecured people or people that you haven't checked in a secured environment
."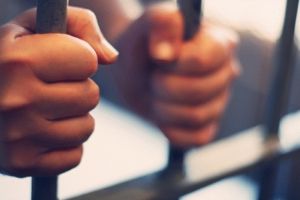 © iStockphoto/helenecanada
This week has been full of illuminating disclosures concerning the American criminal-justice system. Last Monday, a Columbia Law School project showed convincingly that Carlos DeLuna, executed for homicide by the state of Texas in 1989, was innocent of the crime; the project also showed who actually committed the crime. The revelation was shocking in part because DeLuna's name had never figured among the dozen or more prisoners executed by Texas whose guilt has been vigorously and publicly contested; even his own lawyers seemed to have assumed his guilt.
Four days later, news broke in the case of Cameron Todd Willingham – executed by Texas in 2004 for murders, dubbed the "Texas witch trials," that involved bizarre allegations of occultism related to the defendant's love of heavy-metal music – when a state district-court judge reviewing the case concluded that Texas had wrongfully convicted and executed Willingham. The judge, who cited "overwhelming, credible and reliable evidence" presented at a hearing in October 2010, prepared an order of posthumous exoneration, but its issuance was effectively blocked by a state appellate court, which criticized the continued exploration of the Willingham case.
Now, a joint project by students and faculty at the University of Michigan and Northwestern University law schools has assembled the details (.pdf) of more than 2,000 exonerations since 1989.
The ABA Journalarticle on the report notes:
873 exonerations from 1989 through March 1, 2012 [were examined] in close detail, of which nearly half were wrongly convicted of murder. Of those, 101 were sentenced to death….

In half of the 873 detailed exonerations, 43 percent of the cases involved mistaken eyewitness identification, and 24 percent of the cases involved false or misleading forensic evidence. Researchers also noted 1,170 individuals cleared in "group exonerations" related to 13 police-corruption scandals across the country, the Columbus Dispatch reports. It took an average of 11 years, from conviction to exoneration, for wrongfully convicted people to be cleared.
The cities with the most exonerations were Chicago and Dallas – but should not necessarily be taken as evidence of a wrongful-conviction problem in those two cities. Rather, their rankings point to the fact that special projects were launched in both cities to review dubious convictions – often making use of new DNA-evidence techniques – after scandals exposed corruption involving police and prosecutors. Similar scandals erupted in other jurisdictions, notably New Orleans, but no special review efforts took place.
CBS News legal commentator Andrew Cohen asks the obvious questionprompted by the report:
How does this happen? Why are there so many wrongful convictions when there is so much at stake for both the defendants and the victims and when we pride ourselves on a legal system designed to ensure meaningful judicial review? The reasons are legion. It matters where you are convicted, for example, and the color of your skin matters too. And it matters who your police and prosecutors and judges are. The report reveals that in a whopping 56 percent of murder-case exonerations the initial convictions was based upon "official misconduct."
It isn't surprising that the system misfires – judges, prosecutors, and jurors are human, and thus fallible. Indeed, the 2,000 instances of exoneration documented by the study are undoubtedly only a sampling of the false convictions produced by the nation's criminal-justice system since 1989 – they are simply the misfires the system itself has acknowledged. Unfortunately, our system is highly resistant to recognizing such misfires. The data therefore serve to highlight those judicial defenders of capital punishment who insist, as Antonin Scalia has put it, that "capital cases are given especially close scrutiny at every level" – an observation that could only be made by someone who is either woefully ignorant about the actual process or determined to shill for it.
Judicial reticence about exonerations and support for capital punishment rest, at their core, on hollow professions of certitude about case results, coupled with two other considerations. The first is an economically driven perspective that views process as a sort of metered utility, arguing that society can expend only so much time and effort on court activities before reaching a remedy and bringing the proceedings to a conclusion. This view has been applied with special vigor to capital-punishment cases, which in the view of conservatives require far too much judicial time and energy. The second consideration relates to confidence in the criminal-justice system. It argues that once a final conviction has been pronounced, it should not be unsettled lest that confidence be undermined. But this view essentially confuses justice with the vanity of its human actors, especially those prosecutors and judges who fear the embarrassment associated with being proven wrong (a trait which is itself disqualifying of a good prosecutor or judge).
The Michigan – Northwestern exoneration database provides another powerful tool for understanding a badly flawed criminal-justice system. Legislatures, prosecutors, and courts must be challenged to extract from it a clearer understanding of the system's weaknesses, and to accept with humility the compromised role they have thus far played.
Another phenomenon merits notice here, too: In the war-on-terrorism detention cases, students at dozens of law schools across the United States (led by Seton Hall) played a critical role in disclosing abuse and misconduct by American government actors. Likewise, death penalty and innocence projects have been fueled by the extraordinary diligence of students at Columbia, Michigan, Northwestern, and many other universities. It is remarkable to contrast the complacency and self-satisfaction of many figures at the highest echelons of our legal system with the relentless questioning and demands for improvement from students who are committed to their ideals.
************************************************************************************
[In accordance with Title 17 U.S.C. Section 107, this material is distributed without profit, for research and/or educational purposes. This constitutes 'FAIR USE' of any such copyrighted material.]