Earthquakes
Date/Time (UTC)
Magnitude
Area
Country
State/Prov./Gov.
Location
Risk
Source
Details
06.06.2012 22:05:24
2.6
Europe
Greece
Kalomoiraiika
EMSC
06.06.2012 22:05:49
2.8
Asia
Turkey
Karaca
EMSC
06.06.2012 22:05:50
2.9
Asia
Turkey
Karaca
EMSC
06.06.2012 22:06:11
2.6
Europe
Greece
Douvia
EMSC
06.06.2012 21:10:41
2.0
North America
United States
Alaska
Birches
USGS-RSOE
06.06.2012 22:06:33
2.6
Europe
Italy
Palata Pepoli
EMSC
06.06.2012 21:02:30
2.5
North America
United States
Hawaii
Volcano
USGS-RSOE
06.06.2012 21:00:33
2.4
Asia
Turkey
Gulpinar
EMSC
06.06.2012 21:00:57
4.9
Indonesian Archipelago
Indonesia
Hinako
EMSC
06.06.2012 21:01:15
2.4
Asia
Turkey
Sagur
EMSC
06.06.2012 20:25:48
2.4
North America
United States
Alaska
Port William
USGS-RSOE
06.06.2012 21:01:33
3.0
Asia
Turkey
Cerdin
EMSC
06.06.2012 20:00:29
2.6
Asia
Turkey
Taslik
EMSC
06.06.2012 20:00:49
2.6
Asia
Turkey
Cukurgol Yaylasi
EMSC
06.06.2012 20:01:10
2.2
Asia
Turkey
Alakilise
EMSC
06.06.2012 21:01:54
4.4
Europe
Portugal
Corvo
EMSC
06.06.2012 20:01:36
4.8
Indonesian Archipelago
Indonesia
Pasirputih
EMSC
06.06.2012 20:03:39
5.0
Indonesian archipelago
Indonesia
Pasirputih
USGS-RSOE
06.06.2012 20:01:57
2.0
Europe
Greece
Monoxilitai
EMSC
06.06.2012 20:02:19
2.4
Europe
Greece
Ampelos
EMSC
06.06.2012 19:15:32
2.8
Caribbean
British Virgin Islands
The Settlement
USGS-RSOE
06.06.2012 20:02:40
4.8
Europe
Russia
Karaus
EMSC
06.06.2012 19:35:32
4.7
Asia
Russia
Respublika Tyva
Kagzhirba
USGS-RSOE
06.06.2012 19:55:47
2.8
Caribbean
Puerto Rico
Arenas
USGS-RSOE
06.06.2012 22:06:55
5.1
Pacific Ocean – East
Tonga
Haatua
EMSC
06.06.2012 19:00:32
3.2
Asia
Turkey
Bahcelikisla
EMSC
06.06.2012 21:15:59
2.3
North America
United States
Alaska
Atka
USGS-RSOE
06.06.2012 18:05:40
2.4
North America
United States
California
Paicines
USGS-RSOE
06.06.2012 18:00:48
2.6
North America
United States
Alaska
Ugashik
USGS-RSOE
06.06.2012 19:00:53
4.8
Africa
Democratic Republic of the Congo
Alombi
EMSC
06.06.2012 18:55:33
4.8
Africa
Democratic Republic of the Congo
Alombi
USGS-RSOE
06.06.2012 19:01:13
2.5
Europe
Greece
Ayios Evstratios
EMSC
06.06.2012 17:15:37
2.3
North America
United States
Alaska
Iniskin
USGS-RSOE
06.06.2012 17:30:35
2.7
Asia
Turkey
Camarasi
EMSC
06.06.2012 16:30:32
2.3
Asia
Turkey
Ciftlikkoy
EMSC
06.06.2012 16:31:47
5.2
Asia
Russia
Respublika Tyva
Karaus
USGS-RSOE
06.06.2012 16:30:53
5.2
Europe
Russia
Karaus
EMSC
06.06.2012 16:31:12
3.4
Europe
Romania
Plostina
EMSC
06.06.2012 15:25:45
2.0
North America
United States
Alaska
Chulitna
USGS-RSOE
06.06.2012 15:30:34
2.0
Asia
Turkey
Cinarli
EMSC
06.06.2012 14:27:23
2.4
North America
United States
Alaska
Toklat
USGS-RSOE
06.06.2012 19:50:51
2.7
Middle America
Mexico
Estado de Baja California
Jesus Gonzalez Ortega
USGS-RSOE
06.06.2012 14:10:35
2.0
North America
United States
California
Pinnacles
USGS-RSOE
06.06.2012 14:25:28
2.4
Asia
Turkey
Kayakoy
EMSC
06.06.2012 14:25:54
3.2
Asia
Georgia
Zhdanovi
EMSC
06.06.2012 14:35:43
4.5
Pacific Ocean
Fiji
Vatoa
USGS-RSOE
06.06.2012 15:30:56
4.5
Pacific Ocean – East
Fiji
Vatoa
EMSC
06.06.2012 14:26:16
2.4
Europe
Italy
La Collevata
EMSC
06.06.2012 14:26:36
2.2
Asia
Turkey
Inlice
EMSC
06.06.2012 14:26:55
2.5
Europe
Greece
Varyiani
EMSC
06.06.2012 13:50:52
2.7
Caribbean
Puerto Rico
Aceitunas
USGS-RSOE
06.06.2012 13:25:33
2.0
Europe
Italy
Resega
EMSC
06.06.2012 13:25:53
3.1
Europe
Greece
Monoxilitai
EMSC
06.06.2012 12:23:58
2.7
North America
United States
Alaska
Chickaloon
USGS-RSOE
06.06.2012 12:20:37
2.6
Asia
Turkey
Rindali
EMSC
06.06.2012 12:20:55
2.1
Europe
Italy
Riva Verde
EMSC
06.06.2012 12:21:14
2.4
Europe
Italy
Bosellina
EMSC
06.06.2012 12:21:36
2.0
Asia
Turkey
Karaca
EMSC
06.06.2012 12:21:55
2.7
Asia
Turkey
Bayir
EMSC
06.06.2012 12:22:18
2.5
Europe
Greece
Velotoula
EMSC
06.06.2012 12:36:12
4.4
Atlantic Ocean
Argentina
Provincia de Santiago del Estero
El Negrito
USGS-RSOE
06.06.2012 13:26:17
4.4
South-America
Argentina
El Negrito
EMSC
06.06.2012 11:20:33
2.2
Europe
Portugal
Sagres
EMSC
06.06.2012 12:22:39
2.5
Asia
Turkey
Naldoken
EMSC
06.06.2012 13:26:35
2.7
Europe
Cyprus
Ayia Marina
EMSC
06.06.2012 10:45:44
2.6
Middle America
Mexico
Estado de Baja California
Canon de Guadalupe
USGS-RSOE
06.06.2012 10:40:46
4.3
Middle America
Mexico
Guerrero
Ujerita
USGS-RSOE
06.06.2012 11:20:55
4.3
Middle-America
Mexico
Ujerita
EMSC
06.06.2012 10:10:45
2.2
North America
United States
California
Caldwell Pines
USGS-RSOE
06.06.2012 10:15:34
2.5
Europe
Greece
Dhimaina
EMSC
06.06.2012 13:26:57
4.0
Europe
Ireland
Aghleam
EMSC
06.06.2012 15:55:31
4.0
Europe
Ireland
County Mayo
Aghleam
USGS-RSOE
06.06.2012 10:15:55
4.6
Pacific Ocean – East
Northern Mariana Islands
Marasu
EMSC
06.06.2012 10:17:54
4.6
Pacific Ocean
Northern Mariana Islands
Marasu
USGS-RSOE
06.06.2012 10:16:17
2.5
Europe
Greece
Ampelos
EMSC
06.06.2012 10:16:36
4.5
Asia
Kazakhstan
Keytyn
EMSC
06.06.2012 10:16:57
2.3
Asia
Turkey
Kavustuk
EMSC
06.06.2012 10:17:16
3.4
Europe
Greece
Kontaiika
EMSC
06.06.2012 09:00:46
2.3
North America
United States
Alaska
Beluga
USGS-RSOE
06.06.2012 09:15:30
2.2
Europe
Italy
San Biagio
EMSC
06.06.2012 21:11:09
2.2
North America
United States
Alaska
Amchitka
USGS-RSOE
06.06.2012 09:15:48
2.7
Asia
Turkey
Kargalik
EMSC
06.06.2012 08:20:40
2.2
North America
United States
California
Templeton
USGS-RSOE
06.06.2012 07:50:36
2.5
Middle America
Mexico
Estado de Baja California
Tule Check
USGS-RSOE
06.06.2012 08:15:34
2.5
Europe
Italy
La Campa
EMSC
06.06.2012 08:15:55
2.2
Europe
Italy
Casa Nuova
EMSC
06.06.2012 08:16:17
2.5
Europe
Greece
Agridhion
EMSC
06.06.2012 11:21:16
4.7
Indonesian Archipelago
Indonesia
Garunggarung
EMSC
06.06.2012 07:15:28
4.9
Indonesian Archipelago
Indonesia
Garunggarung
EMSC
06.06.2012 06:15:24
4.3
Europe
Italy
Ca Vecchia
EMSC
06.06.2012 06:25:35
2.9
Caribean
Puerto Rico
Aguacate
USGS-RSOE
06.06.2012 06:15:45
2.8
Asia
Turkey
Taskoy
EMSC
06.06.2012 06:16:04
2.1
Europe
Italy
Casa Alta
EMSC
06.06.2012 05:10:48
2.3
Europe
Italy
Vallacquosa
EMSC
06.06.2012 05:11:09
2.4
Europe
Italy
Vigarano Mainarda
EMSC
06.06.2012 04:45:31
5.0
Solomon Islands
Western Province
Apaora
USGS-RSOE
06.06.2012 05:11:33
5.1
Pacific Ocean – Middle
Solomon Islands
Apaora
EMSC
06.06.2012 05:11:54
2.2
Europe
Italy
Alberica
EMSC
06.06.2012 04:10:28
3.4
Europe
France
Loubert
EMSC
06.06.2012 03:35:31
3.0
North America
United States
California
Sperry
USGS-RSOE
06.06.2012 06:16:29
2.3
Asia
Turkey
Karaca
EMSC
06.06.2012 06:16:55
2.2
Asia
Turkey
Ovacik
EMSC
06.06.2012 04:10:52
5.7
Asia
Taiwan
Shan-fu-ts'un
EMSC
06.06.2012 03:25:59
5.7
Asia
Taiwan
T'ai-wan Sheng
Shan-fu-ts'un
USGS-RSOE
06.06.2012 03:10:33
2.9
Europe
Italy
Castello del Lago
EMSC
06.06.2012 06:35:28
2.3
North America
Canada
British Columbia
Princeton
USGS-RSOE
06.06.2012 02:10:30
2.1
Europe
Switzerland
Visse
EMSC
06.06.2012 03:10:54
2.0
Europe
Italy
La Collevata
EMSC
06.06.2012 03:11:15
2.4
Asia
Turkey
Bektasli
EMSC
06.06.2012 02:13:24
2.7
North America
United States
California
Lonoak
USGS-RSOE
06.06.2012 02:00:30
2.2
North America
United States
California
Glenbrook
USGS-RSOE
06.06.2012 02:00:51
3.1
North America
United States
Alaska
Jakolof Bay
USGS-RSOE
06.06.2012 02:10:51
2.2
Europe
Italy
San Biagio
EMSC
06.06.2012 02:11:11
3.5
Europe
Greece
Ydroussa
EMSC
06.06.2012 01:45:27
5.0
Pacific Ocean – West
Vanuatu
Tafea Province
Navolou
USGS-RSOE
06.06.2012 02:11:32
5.0
Pacific Ocean – West
Vanuatu
Navolou
EMSC
06.06.2012 01:36:13
4.7
Atlantic Ocean
South Georgia and the South Sandwich Islands
Grytviken
USGS-RSOE
06.06.2012 02:11:53
4.7
Atlantic Ocean – North
South Georgia and the South Sandwich Islands
Grytviken
EMSC
06.06.2012 02:12:16
2.5
Europe
Italy
La Pettenella
EMSC
06.06.2012 01:30:56
4.5
Asia
Russia
Sakhalinskaya Oblast'
Sarychevo
USGS-RSOE
06.06.2012 02:12:36
4.5
Europe
Russia
Sarychevo
EMSC
06.06.2012 01:10:37
2.2
North America
United States
Nevada
Sloan
USGS-RSOE
06.06.2012 02:12:57
3.2
Europe
Greece
Agioi Theodori
EMSC
06.06.2012 01:00:32
2.4
North America
United States
California
Toomey
USGS-RSOE
06.06.2012 01:05:31
2.6
Europe
Italy
Casa Castellana
EMSC
06.06.2012 00:55:29
2.0
North America
United States
Alaska
Usibelli
USGS-RSOE
06.06.2012 01:05:51
2.4
Asia
Turkey
Kucukkagdaric
EMSC
06.06.2012 01:06:13
2.2
Europe
Italy
Il Motto
EMSC
06.06.2012 01:06:34
2.8
Asia
Turkey
Marmaraereglisi
EMSC
06.06.2012 00:05:24
2.7
Europe
Italy
Casa Castellana
EMSC
06.06.2012 00:05:45
2.5
Europe
Italy
Ravarino
EMSC
06.06.2012 00:06:12
2.6
Europe
Greece
Ano Kotsanopoulon
EMSC
06.06.2012 00:06:32
3.6
Middle-East
Iran
Tang-e Kur
EMSC
06.06.2012 00:06:50
2.4
Europe
Italy
Melara
EMSC
06.06.2012 01:06:53
2.6
Europe
Greece
Ampelos
EMSC
06.06.2012 00:07:09
2.1
Europe
Italy
Il Motto
EMSC
06.06.2012 00:07:30
3.9
Europe
Greece
Kato Kotsanopoulon
EMSC
06.06.2012 00:07:50
2.3
Europe
Greece
Vrysai
EMSC
06.06.2012 00:08:16
2.8
Europe
Greece
Sourides
EMSC
06.06.2012 00:08:37
2.7
Europe
Greece
Kontaiika
EMSC
05.06.2012 22:51:00
2.3
North America
United States
Hawaii
Volcano
USGS-RSOE
05.06.2012 22:51:22
2.7
North America
United States
Hawaii
Volcano
USGS-RSOE
05.06.2012 22:45:40
2.4
North America
United States
Hawaii
Volcano
USGS-RSOE
05.06.2012 23:05:23
2.7
Europe
Greece
Neon Karlovasion
EMSC
05.06.2012 22:46:00
2.5
North America
United States
California
Hacketsville
USGS-RSOE
05.06.2012 22:35:40
2.0
North America
United States
Alaska
Skwentna
USGS-RSOE
05.06.2012 23:11:01
2.9
Middle America
Mexico
Estado de Baja California
Canon de Guadalupe
USGS-RSOE
05.06.2012 23:05:49
2.0
Asia
Turkey
Rahimler
EMSC
06.06.2012 00:30:43
2.6
North America
United States
California
Capetown
USGS-RSOE
…………………………..
JAKARTA, Indonesia — A strong earthquake swayed tall buildings in Indonesia's capital Monday afternoon but caused no tsunami or apparent damage.
Office workers said the swaying was felt for about 10 seconds in high-rise buildings around the city of 9 million people. Even two-story homes shook strongly.
No damage or casualties have been reported. Earthquakes occur frequently across the sprawling archipelago nation, but it is uncommon for tremors to be felt in Jakarta.
The U.S. Geological Survey said the 5.9-magnitude quake hit in the Indian Ocean 100 kilometers (62 miles) southwest of Sukabumi, a town in West Java province. It was about 171 kilometers (106 miles) from Jakarta and 67 kilometers (41 miles) beneath the ocean floor.
Indonesia's Meteorology and Geophysics Agency had the magnitude at 6.1. Slight discrepancies are common in the initial measurements.
Indonesia is located on the Pacific "Ring of Fire," an arc of volcanos and seismic faults encircling the Pacific Basin.
A giant 9.1-magnitude quake off the country on Dec. 26, 2004, triggered a tsunami in the Indian Ocean that killed 230,000 people, half of them in Indonesia's westernmost province of Aceh.
**********************************************************************************************************
Volcanic Activity
A new series of eruptions have begun on Manam Island off Madang in Papua New Guinea, with warnings to residents to take precautions.
Manum Island's volcano erupting
The volcano is one of the most active in PNG claiming several lives over the last decade.
Vents on the volcano are glowing at nights and explosions in the craters can be heard more than 15 kilometres away.
Ima Itakarai, the assistant director of the Rabaul Volcanology Observatory says it's possibility of a major explosion cannot be ruled out, but it's not imminent.
Presenter: Brian Abbott
Speaker:Ima Itakarai, the assistant director of the Rabaul Volcanology Observatory in PNG
  Volcano Activity Report [Last 30 days]
Log date
Location
Name of Volcano
Status
Volcano Number
Volcano type
Last erupt.
Upd.
Details
05.06.2012 08:21 AM
Bismarck Sea, Papua New Guinea
Manam Volcano
Volcano Activity
0501-04=
Submarine volcano ?
No. 0
Volcano Activity in Papua New Guinea on Tuesday, 05 June, 2012 at 08:21 (08:21 AM) UTC.
Base data
EDIS Number:
VA-20120605-35330-PNG
Event type:
Volcano Activity
Date/Time:
Tuesday, 05 June, 2012 at 08:21 (08:21 AM) UTC
Last update:
—
Cause of event:
Damage level:
Minor
Geographic information
Continent:
Indonesian Archipelago
Country:
Papua New Guinea
County / State:
Bismarck Sea
Area:
Manam Volcano
City:
Coordinate:
S 4° 4.761, E 145° 2.305
Number of affected people / Humanities loss
Foreign people:
Affected is unknown.
Dead person(s):
—
Injured person(s):
—
Missing person(s):
—
Evacuated person(s):
—
Affected person(s):
—
Description
Residents living around Manam Island off Madang in Papua New Guinea have been warned to take precautions after volcanic eruptions on the island. Manam is one of PNG's most active volcanos and recent explosions in the craters have been heard 15 kilometres away. Ima Itakarai from Rabaul's Volcanology Observatory says he doesn't believe a major eruption is imminent, but it cannot be ruled out. "There has been an ongoing mild eruptive activity happening at one of the craters on the side of Manam," he said. "That activity has consisted of occasional plumes, coming up every now and then, with a bright glow at night."
***********************************************************************************************************
Epidemic Hazards / Diseases
Six people are in hospital and a further four are receiving medical attention after an outbreak of Legionnaires' disease in Edinburgh.
NHS Lothian is investigating four confirmed and four suspected cases of the Legionella bacteria in the Gorgie, Dalry, and Saughton areas of the capital.
Six men are being treated in hospitals throughout Lothian. Five of the men are in intensive care units while the sixth is in a high dependency unit.
A further four cases, as yet unconfirmed, are also being probed.
All ten cases are linked geographically to the Dalry, Gorgie and Saughton areas of Edinburgh.
The source of the outbreak is being investigated by officials from Edinburgh Council's Environmental Health Department and the Health and Safety Executive who are concentrating on the south-west Edinburgh area.
Steps are being taken to treat cooling towers in the area as a precaution until the source is located.
Dona Milne, acting director of Public Health and Health Policy for NHS Lothian, said: "We have four confirmed cases of Legionnaires' disease which all seem to come from the same point source in the South West of Edinburgh.
"Anybody who develops symptoms of Legionnaires' disease should contact NHS 24 immediately or go to their GP.
"The safety of the public is our number one priority and we would urge people to look out for the symptoms of this disease."
Duncan McCormick, consultant in public health for NHS Lothian said: "Investigations into the possible source of this outbreak are on-going and we continue to urge anyone who develops symptoms of Legionnaires disease to contact NHS 24 or go to their GP."
The cases currently under investigation arose between May 28 and Monday, June 4. All GP surgeries in Lothian are open on Monday but some will be closed on Tuesday for the Jubilee holiday.
Legionella bacteria is commonly found in sources of water, such as rivers and lakes but can also enter artificial supply systems such as air conditioning devices, hot and cold water facilities, and cooling towers. The bacteria have the potential to spread rapidly once they have entered a water system.
Legionnaires' disease is contracted by breathing in small droplets of contaminated water. The condition is not contagious and cannot be spread directly from person to person.
Symptoms usually begin within three to six days of contraction. They often originate as mild headaches and muscular pain before escalating to more severe symptoms including high fever, intense muscle pain, and chills. Once the bacteria infect the lungs, the sufferer will experience a persistent cough – dry at first but later bringing up mucus and even blood – shortness of breath, and chest pains.
There is also a risk of nausea, vomiting, diarrhoea, and loss of appetite, while around half of those who contract Legionnaires' disease will also suffer changes to their mental state, such as confusion.
*************************************************************************************************************
Nuclear
A nuclear power plant in Germany. Photo by iStock.
A University of Adelaide scientist believes it is inevitable that Australia will become a user of the world's most advanced nuclear power technology, if the country is serious about cutting carbon emissions.
Professor Barry Brook, Director of Climate Science at the University of Adelaide's Environment Institute, says Australia will eventually turn to nuclear power to meet our sustainable energy needs – and when we do, we will choose to focus on next-generation nuclear technology that provides major safety, waste and cost benefits.
Speaking on the eve of World Environment Day (5 June), Professor Brook says: "Coal, oil, and natural gas are the main cause of recent global warming, and these fossil fuels must be completely replaced with clean sustainable energy sources in the coming decades if serious climate change impacts are to be avoided.
"One particularly attractive sustainable nuclear technology for Australia is the Integral Fast Reactor (IFR). Although the scientific community has known about the benefits of IFR-type designs for many years, there are currently none in commercial operation because the energy utilities are typically too risk averse to 'bet on' new technologies. This is a wasted opportunity for Australia and for the rest of the world.
"Integral Fast Reactors are much more efficient at extracting energy from uranium, can use existing nuclear waste for fuel, produce far smaller volumes of waste that does not require long-term geological isolation, and can be operated at low cost and high reliability. They are also inherently safer than past nuclear reactors due to passive systems based on the laws of physics," Professor Brook says.
"In order to re-start the nuclear power debate in Australia, it is best to have a solution that overcomes as many public objections as possible: safety, constraints on uranium supplies, long-lived waste, cost, and proliferation. The IFR technology offers a vast improvement in all of these areas."
Professor Brook's forecast timeline for nuclear power in Australia:
2020 – Public and political debate heightens as need for reliable low-carbon electricity mounts
2025 – First reactor contracts issued, Small Modular Reactors (SMR) built in outback mining sites
2030 – 3 GWe (gigawatt electrical) of nuclear power connects to national electricity grid
2040 – Up to 5 GWe of new capacity being installed per year
2050 – A total of 30-50 GWe installed, located at a dozen 'energy park' sites and various remote areas
2100 – >100 GWe installed for total energy displacement, including replacing oil and gas needs
Professor Brook, a professional ecologist and conservation biologist, has also built an international reputation as a commentator on sustainable energy and the potential benefit of nuclear fission in curbing climate change.
He was the first Australian appointed to the international selection committee of the Global Energy Prize. This month he will be a guest at the prize ceremony in Saint Petersburg, where Russian President Vladimir Putin will present the $1.2 million prize to the 2012 laureates.
Provided by University of Adelaide
************************************************************************************************************
Climate Change
by Staff Writers
Washington DC (SPX)

There are several larger environmental implications to the group's findings, too. Because plants grow more efficiently under diffuse light conditions such as this, global photosynthetic activity could increase, pulling more of the greenhouse gas carbon dioxide out of the atmosphere.

One idea for fighting global warming is to increase the amount of aerosols in the atmosphere, scattering incoming solar energy away from the Earth's surface. But scientists theorize that this solar geoengineering could have a side effect of whitening the sky during the day.
New research from Carnegie's Ben Kravitz and Ken Caldeira indicates that blocking 2% of the sun's light would make the sky three-to-five times brighter, as well as whiter. Their work is published in Geophysical Research Letters, a journal of the American Geophysical Union.
Carbon dioxide emissions from the burning of coal, oil, and gas have been increasing over the past decades, causing the Earth to get hotter and hotter. Large volcanic eruptions cool the planet by creating lots of small particles in the stratosphere, but the particles fall out within a couple of years, and the planet heats back up.
The idea behind solar geoengineering is to constantly replenish a layer of small particles in the stratosphere, mimicking this volcanic aftermath and scattering sunlight back to space.
Using advanced models, Kravitz and Caldeira-along with Douglas MacMartin from the California Institute of Technology-examined changes to sky color and brightness from using sulfate-based aerosols in this way. They found that, depending on the size of the particles, the sky would whiten during the day and sunsets would have afterglows.
Their models predict that the sky would still be blue, but it would be a lighter shade than what most people are used to looking at now. The research team's work shows that skies everywhere could look like those over urban areas in a world with this type of geoengineering taking place. In urban areas, the sky often looks hazy and white.
"These results give people one more thing to consider before deciding whether we really want to go down this road," Kravitz said. "Although our study did not address the potential psychological impact of these changes to the sky, they are important to consider as well."
There are several larger environmental implications to the group's findings, too. Because plants grow more efficiently under diffuse light conditions such as this, global photosynthetic activity could increase, pulling more of the greenhouse gas carbon dioxide out of the atmosphere.
On the other hand, the effectiveness of solar power could be diminished, as less sunlight would reach solar-power generators.
"I hope that we never get to the point where people feel the need to spray aerosols in the sky to offset rampant global warming," Caldeira said. "This is one study where I am not eager to have our predictions proven right by a global stratospheric aerosol layer in the real world."
Related Links
Carnegie Institution
Climate Science News – Modeling, Mitigation Adaptation
************************************************************************************************************
Solar Activity
2MIN News June5: NASA Sats, Disaster Update, Spaceweather
Published on Jun 5, 2012 by Suspicious0bservers
TODAYS LINKS
Botswana Flooding: http://earthobservatory.nasa.gov/IOTD/view.php?id=78166
G7: http://finance.yahoo.com/news/g7-hold-emergency-eurozone-talks-172150504.html
NASA Satellites: http://www.washingtonpost.com/national/health-science/nasa-gets-two-military-…
Sweden Cold: http://phys.org/news/2012-06-stockholm-braves-coldest-june-weather.html
REPEAT LINKS
Spaceweather: http://spaceweather.com/ [Look on the left at the X-ray Flux and Solar Wind Speed/Density]
HAARP: http://www.haarp.alaska.edu/haarp/data.html [Click online data, and have a little fun]
SDO: http://sdo.gsfc.nasa.gov/data/ [Place to find Solar Images and Videos - as seen from earth]
SOHO: http://sohodata.nascom.nasa.gov/cgi-bin/soho_movie_theater [SOHO; Lasco and EIT - as seen from earth]
Stereo: http://stereo.gsfc.nasa.gov/cgi-bin/images [Stereo; Cor, EUVI, HI - as seen from the side]
SunAEON:http://www.sunaeon.com/#/solarsystem/ [Just click it... trust me]
SOLARIMG: http://solarimg.org/artis/ [All purpose data viewing site]
iSWA: http://iswa.gsfc.nasa.gov/iswa/iSWA.html [Free Application; for advanced sun watchers]
NOAA ENLIL SPIRAL: http://www.swpc.noaa.gov/wsa-enlil/cme-based/ [CME Evolution]
RSOE: http://hisz.rsoe.hu/alertmap/index2.php [That cool alert map I use]
LISS: http://earthquake.usgs.gov/monitoring/operations/heliplots_gsn.php
Gamma Ray Bursts: http://grb.sonoma.edu/ [Really? You can't figure out what this one is for?]
BARTOL Cosmic Rays: http://neutronm.bartol.udel.edu//spaceweather/welcome.html [Top left box, look for BIG blue circles]
TORCON: http://www.weather.com/news/tornado-torcon-index [Tornado Forecast for the day]
GOES Weather: http://rsd.gsfc.nasa.gov/goes/ [Clouds over America]
INTELLICAST: http://www.intellicast.com/ [Weather site used by many youtubers]
NASA News: http://science.nasa.gov/science-news/science-at-nasa/
PHYSORG: http://phys.org/ [GREAT News Site!]
************************************************************************************************************
Space
Eddie Wrenn
The Daily Mail, UK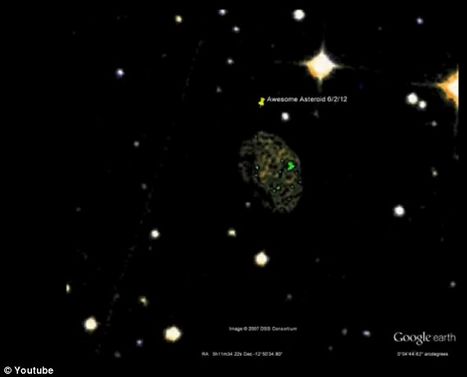 The asteroid – the co-ordinates of which are available below – was spotted by user planetkrejci in a video posted three days ago
A user has found a 'huge asteroid' while scanning the virtual heavens using Googly Sky.
Youtube user planetkrejci, who has investigated other anomalies on NASA pictures, claims the object – found using the Google website which transports the heavens to desktop computers and smartphones – is an asteroid which is heading towards Earth.
He says the asteroid – which, if real, has not been spotted by other scientists or astronomers – has only appeared recently on Google Sky, which receives updated images every few months.
Announcing his find on YouTube, he says the black object, mottled with green spots, is so clear that it must be within the solar system.
The user had been exploring the region a few months earlier, and had 'bookmarked' a spot just to the left of the asteroid – so he is certain the object was not there previously.
There are other explanations – this could be a simple technical glitch, either on Google Sky's end or within the original photograph.
The earthbound Google Maps regularly has glitches where pictures have been incorrectly sewn together.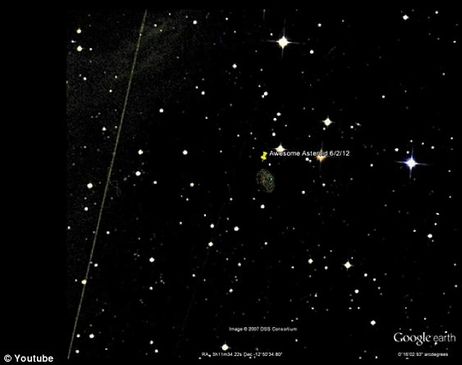 In context: The apparent clarity of the 'asteroid' implies it is close, certainly within our solar system
One thing that planekrejci does not substantiate is his claim that the object is moving towards the Earth, as it is not apparent how this calculation could be obtained without more information than the image provides.
However, if planetkrejci has found a new object, it will be quite an achievement for an earth-bound Internet user to discover a new object in our solar system before NASA or other observatories.
The object is easy to find on Google Sky, by typing in the co-ordinates 5h 11m 33.74s -12 50′ 30.09″ – although conspiracy theorists might read something into the fact that the search function on Google Sky is currently down…
Lee Rannals
RedOrbit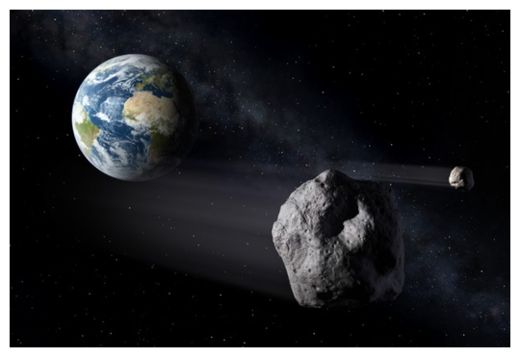 © ESA/Space Situational Awareness – Near Earth Objects, P. Carrill
To deal with potentially hazardous Near Earth Objects (NEOs) that could strike the Earth, there is need to establish an effective international communications strategy. The Near Earth Object Media/Risk Communications Working Group Report has been issued by Secure World Foundation.
Scientists have gathered with other experts to create a strategy for potentially hazardous Near earth Objects (NEOs).Nearly 40 scientists, reporters, risk communications specialists, and Secure World Foundation staff participated in a meeting in November last year to come up with a strategy for dealing with hazardous NEOs.
The report created by the team will be presented at the United Nations Committee on the Peaceful Uses of Outer Space (COPUOS) and its Action Team-14 on NEOs during the 55th session of the UN COPUOS being held in Vienna, Austria.
During the meeting, the group explored in detail the views of risk communication experts and experienced science journalists on the development of a successful communications strategy.
"A lot of attention is focused on the catastrophic damage a large asteroid could do if it collided with Earth," Dr. Michael Simpson, Executive Director of Secure World Foundation, said in a press release. "This report focuses on how to prevent the even greater damage we could cause ourselves by mis-communicating or failing to work together on a common response to the threat."
He said the threat of an impact of a large asteroid could be what shows us that our future depends on working together.
"In technical organizations, communications with the public are often treated more as an afterthought than a critical mission element," Dr. Ray Williamson, SWF Senior Advisor, said in a press release. "This report emphasizes how important clear, effective, and accurate assessments to the public of the danger posed by a threatening Near Earth Object are to the ultimate goal of protecting human life and property."
The group determined that there is a need to establish an effective international communications strategy for potentially hazardous NEOs by using anything from the television to the Internet.
They said that general education should include information about NEOs and their place in our solar system, the nature of the potential threat, and specific information related to warnings of potentially hazardous NEO.
The experts determined that a support group should be created for hazardous NEOs, complete with analysts, planners, scientists, psychologists, emergency management experts and other functional experts.
No one reading this will still be alive the next time Venus crosses the sun in 2117. That makes today special. On June 5th at 3:09 pm PDT, the second planet begins its historic 7-hour transit of the solar disk. Observers on parts of all seven continents (map) will witness something like this:
The timing favors observers in the mid-Pacific where the sun is high overhead during the crossing. In the USA, the transit will be at its best around sunset. Creative photographers will have a field day imaging the swollen red sun "punctured" by the circular disk of Venus.
Stay tuned to Spaceweather.com's realtime gallery for constantly updated images of the transit. Another photo-stream of interest comes from the International Space Station where Don Pettit will be the first man in history to photograph a Venus transit from space. There are also many live webcasts of the transit from locations around the world: #1, #2, #3, #4. (Submit more webcast links here.)
Observing Tip: Do not stare at the sun. Venus covers too little of the solar disk to block the blinding glare. Instead, use some type of projection technique or a solar filter. A #14 welder's glass is a good choice. Many astronomy clubs will have solar telescopes set up to observe the event; contact your local club for details.
Transit of Venus Web Links:
BEFORE THE TRANSIT: As Venus approaches the sun, it turns its nightside toward Earth. This turning transforms Venus into a rarely-seen thin ring of light. Lorenzo Comolli photographed the phenomenon from Tradate, Italy, on June 4th:
The effect is caused by particles in upper layers of Venus's atmosphere which scatter sunlight around the circumference of the planet. The ring is very difficult to observe, and often only black-belt astrophotographers are able to record the phenomenon.
"This picture was taken while Venus was a scant 2°17′ from the sun's center, and it was very difficult to obtain due to the extreme proximity of the solar limb," says Comolli. "Extreme care was due to avoid the sun light entering the telescope. The extension of the crescent to form a nearly complete ring was remarkable on June 4, while nearly invisible on June 2. Another interesting observation is the limb brightening in Venus's southern hemisphere between 50° to 70° latitude. For confirmation, I obtained a second image using a W25 filter (red) that shows the presence of the brightening in the same way."
More images: from Tobias Kampschulte of Gennadi, Rhodes, Greece; from Steve Miller of Lake Havasu City, Arizona: from Antonios Pantelidis of Florina, Greece; from Rob of Liverpool, UK; from Elias Chasiotis of Markopoulo, Greece; from Pavol Rapavy of Observatory Rimavska Sobota, Slovakia; from Ernie Mastroianni of Milwaukee, Wisconsin; from Joe Mcbride of Grand Rapids, Michigan
Object Name
Apporach Date
Left
AU Distance
LD Distance
Estimated Diameter*
Relative Velocity
(2009 LE)
06th June 2012
0 day(s)
0.1150
44.8
50 m – 110 m
13.61 km/s
48996 km/h
(2006 SG7)
06th June 2012
0 day(s)
0.0857
33.4
71 m – 160 m
16.47 km/s
59292 km/h
(2001 LB)
07th June 2012
1 day(s)
0.0729
28.4
200 m – 450 m
11.56 km/s
41616 km/h
(2012 JU11)
09th June 2012
3 day(s)
0.0736
28.6
27 m – 60 m
3.80 km/s
13680 km/h
(2012 GX11)
10th June 2012
4 day(s)
0.1556
60.5
170 m – 380 m
6.38 km/s
22968 km/h
(2012 KM11)
14th June 2012
8 day(s)
0.0942
36.7
30 m – 67 m
5.92 km/s
21312 km/h
(2012 HN40)
15th June 2012
9 day(s)
0.1182
46.0
230 m – 510 m
13.79 km/s
49644 km/h
(2002 AC)
16th June 2012
10 day(s)
0.1598
62.2
740 m – 1.7 km
26.71 km/s
96156 km/h
137120 (1999 BJ8)
16th June 2012
10 day(s)
0.1769
68.8
670 m – 1.5 km
14.88 km/s
53568 km/h
(2011 KR12)
19th June 2012
13 day(s)
0.1318
51.3
140 m – 310 m
10.10 km/s
36360 km/h
(2004 HB39)
20th June 2012
14 day(s)
0.1605
62.5
77 m – 170 m
8.88 km/s
31968 km/h
(2008 CE119)
21st June 2012
15 day(s)
0.1811
70.5
21 m – 46 m
3.22 km/s
11592 km/h
308242 (2005 GO21)
21st June 2012
15 day(s)
0.0440
17.1
1.4 km – 3.1 km
13.27 km/s
47772 km/h
(2011 AH5)
25th June 2012
19 day(s)
0.1670
65.0
17 m – 39 m
5.84 km/s
21024 km/h
(2012 FA14)
25th June 2012
19 day(s)
0.0322
12.5
75 m – 170 m
5.28 km/s
19008 km/h
(2004 YG1)
25th June 2012
19 day(s)
0.0890
34.7
140 m – 310 m
11.34 km/s
40824 km/h
(2010 AF3)
25th June 2012
19 day(s)
0.1190
46.3
16 m – 36 m
6.54 km/s
23544 km/h
(2008 YT30)
26th June 2012
20 day(s)
0.0715
27.8
370 m – 820 m
10.70 km/s
38520 km/h
(2010 NY65)
27th June 2012
21 day(s)
0.1023
39.8
120 m – 270 m
15.09 km/s
54324 km/h
(2008 WM64)
28th June 2012
22 day(s)
0.1449
56.4
200 m – 440 m
17.31 km/s
62316 km/h
(2010 CD55)
28th June 2012
22 day(s)
0.1975
76.8
64 m – 140 m
6.33 km/s
22788 km/h
(2004 CL)
30th June 2012
24 day(s)
0.1113
43.3
220 m – 480 m
20.75 km/s
74700 km/h
(2008 YQ2)
03rd July 2012
27 day(s)
0.1057
41.1
29 m – 65 m
15.60 km/s
56160 km/h

| | |
| --- | --- |
| 1 AU = ~150 million kilometers,1 LD = Lunar Distance = ~384,000 kilometers | Source: NASA-NEO |
*************************************************************************************************************
Biological Hazards / Wildlife
Professor Ratul Rajkhowa of the Department of Zoology of Cotton College, holds a dead spider that was the alleged species that killed two people in the north-eastern Indian state of Assam, in the department's laboratory in Guwahati. Panicked villagers in a remote Indian state complained of an invasion of giant venomous spiders that resemble tarantulas but are unknown to local specialists. (AFP Photo/)
**************************************************************************************************************
Articles of Interest
Associated Press
Alicia Chang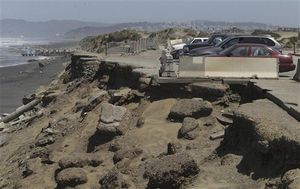 © AP Photo/Jeff Chiu
In this photo from Thursday, May 24, 2012, the parking lot at Ocean Beach is shown in San Francisco. In San Francisco, officials are mulling a significant retreat on its western flank, where the Great Highway is under assault from the Pacific Ocean. Right now, a beach parking lot that abuts the highway is crumbing into the sea just across the highway from the San Francisco Zoo.
Los Angeles, California – Years of ferocious storms have threatened to gnaw away the western tip of a popular beachfront park two hours drive north of Los Angeles. Instead of building a 500-foot-long wooden defense next to the pier to tame the tide, the latest thinking is to flee.
Work is under way to gauge the toll of ripping up parking lots on the highly eroded west end of Goleta Beach County Park and moving a scenic bike path and buried utility lines inland away from lapping waves.
Up and down the California coast, some communities are deciding it's not worth trying to wall off the encroaching ocean. Until recently, the thought of bowing to nature was almost unheard of.
But after futile attempts to curb coastal erosion – a problem expected to grow worse with rising seas fueled by global warming – there is growing acknowledgment that the sea is relentless and any line drawn in the sand is likely to eventually wash over.
"I like to think of it as getting out of the way gracefully," said David Revell, a senior coastal scientist at ESA PWA, a San Francisco-based environmental consulting firm involved in Goleta and other planned retreat projects.
The issue of whether to stay or flee is being confronted around the globe. Places experimenting with retreat have adopted various strategies. In Britain, for example, several sites along the Essex coast have deliberately breached seawalls to create salt marshes, which act as a natural barrier to flooding.
In the U.S., the starkest example can be found in Alaska, where entire villages have been forced to move to higher ground or are thinking about it in the face of melting sea ice. Hawaii's famous beaches are slowly shrinking and some scientists think it's a matter of time before the state has to explore whether to move back development.
Several states along the Atlantic coast have adopted policies meant to keep a distance from the ocean. They include no-build zones, setbacks or rolling easements that allow development but with a caveat. As the sea advances, homeowners promise not to build seawalls and must either shift inland or let go.
Over the past half-century, the weapon of choice against a shrinking shoreline has been building a seawall or other defense. Roughly 10 percent of California's 1,100-mile coast is armored. In Southern California, where development is sometimes built steps from the ocean, a third of the shore is dotted with man-made barriers.
While such buffers may protect the base of cliffs, and the land and property behind them, they often exacerbate the problem by scouring beaches, making them narrower or even causing them to disappear.
This is one reason state coastal regulators in 2009 turned down a proposal by Santa Barbara County to fortify an eroding section of Goleta Beach park lashed by periodic storms. A rock wall was built as a temporary stopgap, but a long-term solution was needed. After the state rejected the construction of another hard structure, park officials, working with environmentalists, came up with a Plan B: Move gas, water and sewer lines out of the risk zone. Relocate a bike path to higher ground. Demolish 150 parking spaces and allow the acre of asphalt to be reclaimed by the beach.
Last month, the county Board of Supervisors gave the go-ahead for an environmental review. Work could begin next year if the $4 million plan passes other regulatory hurdles.
Around California, relocation of coastal infrastructure and development is being pushed by the Surfrider Foundation and other environmental groups. But the efforts also are being driven by increased awareness of climate change. Sea level has risen by 7 inches over the last century in California. By 2050, it's projected to rise between 12 to 18 inches.
San Francisco is mulling a significant retreat on its western flank where the scenic Great Highway is under assault from the Pacific. Erosion has inched closer to the roadway each year, and the U.S. Army Corps of Engineers continues girding segments with broken-up rock, a costly temporary fix that has had limited success.
The San Francisco Planning and Urban Research Association favors mixing retreat with coastal armoring. City, state and federal agencies are considering the group's plan, which calls for moving segments of the Great Highway inland and allowing sand dunes to reclaim some of the paved-over space. The group also wants a temporary seawall to protect a sewer tunnel that's part of a multi-billion dollar sewage and storm water system expected to be affected by sea level rise while money is raised to relocate it in about 50 years.
South of San Francisco, the beach town of Pacifica has been an early adopter of planned retreat as it battles constant erosion. The city in 2002 purchased some homes that were at risk of falling into the sea and demolished them.
This summer, the city of Ventura is pressing ahead with its $4.5 million retreat. Last year, crews removed a disintegrating oceanfront bike path at Surfer's Point, a popular surfing spot, and built a new one farther inland. The beach was widened and cobblestone was put down.
Mark Gold, associate director at UCLA's Institute of the Environment and Sustainability, commended local efforts but thinks a large-scale approach is needed.
"It's definitely something that needs to be taken a lot more seriously," Gold said.
So far, most of the scaling back in California has occurred on public land. It's a harder sell for private property owners to take the same action unless beachfront homes are on the verge of being submerged. The state, however, has a built-in retreat: People who want to build new oceanside construction agree not to build a seawall if their homes become threatened in the future.
Charles Lester, executive director of the California Coastal Commission, said planned retreat is an attractive option in theory, but it's hard to execute in densely populated coastlines where there may not be room to move back. Still, he said it's a tool worth using where possible.
Just don't call it surrender.
"I don't think it's giving up. It's about making a smart, sustainable decision," said Gary Griggs, who studies coastal erosion at University of California, Santa Cruz.
| | | | | | | | |
| --- | --- | --- | --- | --- | --- | --- | --- |
| 1 | 06.06.2012 | Explosion | Bulgaria | Obshtina Sliven, Sliven [Unnamed ammunition depot] | | | |
Description
All residents of the Bulgarian village of Gorno Alexandrovo have been urged to leave their homes over the incident in which an ammunition depot exploded near the city of Sliven in Southeastern Bulgaria Tuesday afternoon. The blasts at the ammo site near the Petolachkata road junction close to Sliven occurred at 2:40 pm on Tuesday, injuring at least 7 people, two of them critically. The facility in question is the property of a Sofia-based firm, Bereta Trading, which uses it to dismantle munitions – including shells from the Chelopechene military depot near Sofia that exploded in July 2008. As the explosions at the Bereta Trading depot continued into the evening, the authorities moved to evacuate the 630 residents of Gorno Alexandrovo, while also considering the evacuation of another nearby village, Lozenets. Sliven Mayor Kolyo Milev, who is a former military officer, has announced that the Sliven Municipality has immediately activated its plan for reaction in disaster situations. He has promised the villagers' homes are already guarded by local police to protect them from looters. "Danger could grow greater if there are larger-scale secondary explosions but for the time being this is unlikely," the Sliven Mayor said, as cited by Focus. According to Prof. Nikolay Miloshev, Director of the Geophysics Institute at the Bulgarian Academy of Sciences, the blasts near Sliven caused an earthquake with a magnitude of 1.5 on the Richter Scale. His statement came early Tuesday night, after earlier the Bulgarian Academy of Sciences announced it had registered no earthquake that might have caused the blasts. Meanwhile, the blasts did cause panic among the local population, with the people mistaking the explosions for an earthquake in the wake of the 5.8-6.0-magnitude earthquake that jolted Sofia and Western Bulgaria on May 22, 2012.
*************************************************************************************************************
[In accordance with Title 17 U.S.C. Section 107, this material is distributed without profit, for research and/or educational purposes. This constitutes 'FAIR USE' of any such copyrighted material.]