The case involved five allegations of oil spills in Nigeria, four of which were quashed by the court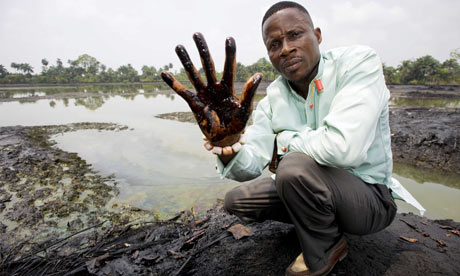 Plaintiff Nigerian farmer Eric Dooh showing his hand covered with oil from a creek near Goi, Ogoniland, Nigeria. Photograph: Marten Van Dijl/EPA
Shell was acquitted in a Dutch court on Wednesday morning of most of the charges against it for pollution in Nigeria, where disputed oil spills have been a long-running source of contention between the oil company, local people and environmental campaigners.
The case involved five allegations of spills in Nigeria, and four of these were quashed by the court. On the fifth count, Shell was ordered to pay compensation, of an amount yet to be decided.
The case was brought in the Netherlands because of Shell's dual headquartership, being both Dutch and British, and was brought by four Nigerian farmers co-sponsored by the international green campaigning group Friends of the Earth.
In a statement, Friends of the Earth Netherlands said: "This verdict is great news for the people in lkot Ada Udo who started this case together with Milieudefensie [Friends of the Earth Netherlands]. But the verdict also offers hope to other victims of environmental pollution caused by multinationals. At the same time, the verdict is a bitter disappointment for the people in the villages of Oruma and Goi – where the court did not rule to hold Shell liable for the damage. Fortunately, this can still change in an appeal."
Audrey Gaughran, Amnesty International's Africa programme director, said: "Clearly it's good news that one of the plaintiffs in this case managed to clamber over all the obstacles to something approaching justice. However, the fact that the other plaintiffs' claims were dismissed underscores the very serious obstacles people from the Niger Delta face in accessing justice when their lives have been destroyed by oil pollution."
Shell's subsidiary, the Shell Petroleum Development Company of Nigeria, said the main cause of oil spills in the country was from people taking oil for illegal refineries. Mutiu Sunmonu, managing director of SPDC said: "We welcome the court's ruling that all spill cases were caused by criminal activity. Oil pollution is a problem in Nigeria, affecting the daily lives of people in the Niger Delta. However, the vast majority of oil pollution is caused by oil thieves and illegal refiners. This causes major environmental and economic damage, and is the real tragedy of the Niger Delta."
He added: "SPDC has made great efforts to raise awareness of the issue with the government of Nigeria, international bodies like the UN, the media and NGOs. We will continue to be at the forefront of discussions to find solutions. For SPDC no oil spill is acceptable and we are working hard to improve our performance on operational spills. In the past years we have seen a decline in operational spill volumes. These spills, however, were caused by sabotage and the court has, quite rightly, largely dismissed the claims."
Related articles