Earth Watch Report  -  Extreme Weather
Fallen trees have closed dozens of roads and damaged cars [PA]
…..
| | | | | |
| --- | --- | --- | --- | --- |
| Extreme Weather | United Kingdom | Scotland, [Scotland-wide] | | |
…..
Extreme Weather in United Kingdom on Thursday, 05 December, 2013 at 07:45 (07:45 AM) UTC.
Description
A storm with gales of up to 142mph battered Scotland causing travel disruption across the country. The weather brought treacherous conditions for motorists on Thursday morning, which included blowing over an articulated lorry on the M74 southbound close to Lesmahagow in South Lanarkshire at around 6am. Earlier, the M74 was blocked nearby at Happendon after a tree was brought down onto the road amid high winds. At around 5am the A86 at Kinloch Laggan in Inverness-shire was also blocked by a fallen tree. The Met Office had put in place amber severe weather warnings for large parts of the country on Thursday morning, while a gust of 142mph was recorded at Aonach Mor at the Nevis Ski Centre at around 6am. The Tay Road Bridge between Dundee and Fife was closed to all vehicles at around 7am, while the Forth Road Bridge was open to cars only. The Skye, Dornoch, Kessoch, Erskine and Kincardine bridges were also shut to traffic for a period on Thursday amid the windy conditions. Flooding caused by the downpour forced the closure of the A83 at Inverary in Argyll and Bute, while the A96 was closed in both directions at Huntly in Aberdeenshire. The A76 between Kirkconnel and New Cumnock in East Ayrshire was closed due to the adverse weather.

Previously, ScotRail had cancelled all trains due to depart before 7am, while it is not expecting to run any services on 22 routes across the country, including Edinburgh to Perth via Kirkcaldy, Glasgow Central to Edinburgh via Shotts/Carstairs and Motherwell/Edinburgh to Milngavie. The rail operator said the step had been taken after speed restrictions put in place on lines across the country by Network Rail Scotland. STV's Sean Batty said the winds would peak between 3am and 9am with gusts of 60-70mph hitting Glasgow and the surrounding area on Thursday morning. He also revealed a weather buoy around 250 miles west of the Outer Hebrides recorded 35ft waves. Before the stormy weather hit, Martin Thomson, winter resilience manager for Transport Scotland, said: "Transport Scotland is working closely with transport operators, the Met office and Police Scotland to make sure that the most useful and up to date information is given to those who need it most. We have held a number of meetings with key partners and tonight we will activate the multi-agency response team.

"Traffic Scotland are already informing the travelling public about the expected difficult conditions on Thursday morning. The Scottish Government is also monitoring the situation to assess what impact these warnings will have and stand ready to respond. "I would also urge the travelling public to consider the conditions before they set-off on their journeys. They should listen to radio reports, visit the Traffic Scotland website or twitter feed, and carefully consider police advice." Chief Superintendent Iain Murray, head of road policing, Police Scotland, added: "The weather in Scotland can change very quickly and it's vital drivers are prepared. In recent years we have seen high winds, blizzards, snow and freezing conditions. The next few days is expected to bring with it some strong winds and severe cold weather and I would advise motorists to take care. Allow extra time for your journey and a keep a few emergency supplies, such as water and food in your vehicle to cover any eventualities."
…..
Extreme Weather in United Kingdom on Thursday, 05 December, 2013 at 07:45 (07:45 AM) UTC.
Updated:
Thursday, 05 December, 2013 at 14:30 UTC
Description
Gale-force winds hit Scotland on Thursday, causing a fatal truck accident, halting all trains and leaving tens of thousands of homes without electricity as much of northwestern Europe braced for a storm that was expected to bring flooding to coastal areas. Winds gusting up to 142 miles (229 kilometers) per hour were measured overnight in the Scottish Highlands, and many roads and bridges were closed. All train services in Scotland were suspended; Network Rail spokesman Nick King said that "there's too much debris and too much damage to equipment to continue." A truck driver was killed and four people were injured in an accident west of Edinburgh when high winds toppled his vehicle onto several cars, police said. A number of flights serving Scotland were also canceled, and power companies said up to 100,000 homes were without electricity. Another 7,000 homes were reported without power in Northern Ireland. Glasgow's central rail station was evacuated after debris smashed glass in the roof, though no one was hurt.
…..
Lorry driver killed as vehicle overturns and chaos on roads and railways as 100mph storm batters Scotland
SCOTLAND has been battered by storm-force winds and driving rain today which left one man dead, left thousands of homes without power and caused chaos on the roads and railways.

The driver of an HGV has died in an accident on the A801 road outside Bathgate, West Lothian
A LORRY driver has died and more than 60,000 homes have been left without power as gale force winds battered Scotland.
The man was killed when his HGV was blown onto cars near Bathgate in West Lothian.
Four other people were treated for minor injuries after the lorry overturned on the A801 one mile north of Boghead roundabout at around 8.10am.
The road was closed and police have appealed for witnesses.
Scotland's rail network was shut down at 8am and only partially reopened at 1.30pm and drivers are being warned of "extremely poor" road conditions.
Gusts of more than 140mph were recorded overnight at Aonach Mor near Fort William in the Highlands, the Met Office said.
Speeds of 93mph were recorded at Altnaharra, rising to 106mph at Glen Ogle.
Winds reached 59mph in Edinburgh and 63mph in Glasgow.
A 61-year-old man was struck by a falling tree in the Meadows in Edinburgh and was taken to the city's Royal Infirmary. His injuries are not thought to be life-threatening.
A tree also fell on a car in the city's Quality Street but no one was hurt.
A woman was taken to Hairmyres Hospital in South Lanarkshire after a tree fell on a taxi in Bothwell Road, Hamilton.
Part of the roof around the helipad at Southern General Hospital in Glasgow was blown away by the severe wind.
Glasgow Central station had to be evacuated when debris smashed glass in the roof. No one was hurt and arriving passengers were escorted from the station. The station has since been reopened.
Police Scotland reported an explosion at an electricity substation in Coatbridge. No one was hurt.
Lorries were blown over on the M74 at Douglas, South Lanarkshire, and on the A83 at Rest and Be Thankful in Argyll and Bute.
First Minister Alex Salmond said the Scottish Government's resilience operation is underway.
Transport Minister Keith Brown is in the Transport Scotland control room where he will remain until the emergency passes.
Speaking during First Minister's Questions at the Scottish Parliament, Mr Salmond said: "I can confirm to the chamber there has been one reported fatality, weather related, in Scotland. There have been a number of injuries, thankfully none of them yet reported as serious. There has been significant disruption to road, rail and ferry infrastructure."
He praised the work of the emergency services in responding to the severe weather, just days after they dealt with a major incident in Glasgow, when a police helicopter crashed into a pub killing nine people.
"In light of the tragedy at the Clutha bar, we've had very good reason, all of us, to pay tribute to the outstanding work of our emergency services," he said.
"I can reassure the chamber that that work is on again today as we respond to the ongoing emergency of the weather conditions."
Motorists were advised not to travel this morning because of the "extremely dangerous" road conditions.
Transport Scotland escalated its travel warning to stage-four red, advising people to avoid using roads particularly in high-sided vehicles.
Closures, fallen trees, minor accidents and flash flooding have affected much of the road network, particularly in the south, west, central and Perthshire areas.
Many bridges have been closed or restricted to traffic, including the Forth Road Bridge, A898 Erskine Bridge, Dornoch Bridge, Skye Bridge and Tay Road Bridge.
As the winds subsided in some parts of the country, police reduced their warning to motorists but said a high risk of disruption remains.
…..
Scotland starts to clear up damage left by 100mph winds
Rail network, schools and bridges close and lorry driver is killed as forecasters warn harsh weather could continue overnight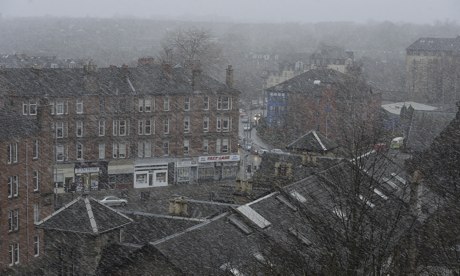 Workers across Scotland have been clearing debris and repairing damage after winds of over 100mph shut down the country's rail network, closed schools and bridges, damaged property and left at least one person dead.
A lorry driver on the A706 was killed after a vehicle overturned on top of two cars at the Bogton roundabout in Bathgate, West Lothian, at 8.10am on Thursday. A second person has been killed in Retford in Nottinghamshire.
Train travel has been severely disrupted north of the border, with Network Rail closing the entire Scottish rail network early on Thursday morning because of the high winds and debris on railway lines. Commuters were left unable to make their journeys to work, and some passengers were left stranded at stations when their trains were cancelled mid-journey.
A spokesman for the train operator Scotrail said: "We have had to bring trains into stations and we have tried to ensure that passengers on those trains are as comfortable as possible. We have been giving them teas and coffees and trying to help them complete their journey by taxi wherever possible.
"We have tried to provide alternative transport, but that's difficult today because obviously the road networks are also being affected by the weather."
Glasgow Central station was also closed to the public after flying debris shattered part of the building's glass roof. The station has since re-opened. Scotrail tweeted that services between Glasgow and Motherwell, East Kilbride and Barrhead are now running again as are services between North Berwick and Edinburgh. Sleeper services are also set to run as normal, although Scotrail advises passengers to check before making their journeys.
On Scotland's roads, drivers faced bridge closures and danger from debris. The Forth road bridge, Friarton bridge in Perth and Erskine bridge in Renfrewshire were all closed to traffic while police in Aberdeenshire warned of road closures after the river Dee burst its banks.
…..
Related articles