Earthquakes
Date/Time (UTC)
Magnitude
Area
Country
State/Prov./Gov.
Location
Risk
Source
Details
08.07.2012 03:30:35
3.3
Caribbean
Dominican Republic
La Altagracia
Boca de Yuma
USGS-RSOE
08.07.2012 03:05:35
3.1
Caribbean
Dominican Republic
San Juan
Punta Cana
USGS-RSOE
08.07.2012 02:40:59
4.7
Pacific Ocean
New Zealand
Gisborne
Ruatoria
USGS-RSOE
08.07.2012 02:50:27
4.7
Australia & New-Zealand
New Zealand
Gisborne
Ruatoria
EMSC
08.07.2012 02:50:45
2.6
Europe
Spain
Canary Islands
La Restinga
EMSC
08.07.2012 02:51:03
2.4
Asia
Turkey
Van
Toyga
EMSC
08.07.2012 02:51:19
3.0
Asia
Turkey
Mu?la
OEluedeniz
EMSC
08.07.2012 02:51:36
2.5
Europe
Spain
Canary Islands
La Restinga
EMSC
08.07.2012 02:51:55
4.7
Australia & New-Zealand
New Zealand
Gisborne
Ruatoria
EMSC
08.07.2012 02:53:06
4.7
Pacific Ocean
New Zealand
Gisborne
Ruatoria
USGS-RSOE
08.07.2012 02:52:15
4.4
Asia
Japan
Wakayama
Shingu
EMSC
08.07.2012 02:10:33
4.4
Asia
Japan
Wakayama
Shingu
USGS-RSOE
08.07.2012 01:50:26
3.0
North America
United States
Alaska
Kokhanok
USGS-RSOE
08.07.2012 02:52:34
4.7
Atlantic Ocean – North
South Georgia and the South Sandwich Islands
Grytviken
EMSC
08.07.2012 02:00:40
4.7
Atlantic Ocean
South Georgia and the South Sandwich Islands
Grytviken
USGS-RSOE
08.07.2012 01:45:51
2.1
Europe
Spain
Andalusia
Blazquez
EMSC
08.07.2012 01:46:10
2.9
Europe
Spain
Canary Islands
La Restinga
EMSC
08.07.2012 01:46:29
5.1
Indian Ocean
Mauritius
Cargados Carajos
EMSC
08.07.2012 01:15:43
5.0
Indian Ocean
Mauritius
Cargados Carajos
USGS-RSOE
08.07.2012 00:10:41
3.4
North America
United States
California
Port Hueneme
USGS-RSOE
08.07.2012 00:40:27
2.8
Europe
Spain
Canary Islands
La Restinga
EMSC
08.07.2012 00:40:47
3.2
Europe
Spain
Canary Islands
La Restinga
EMSC
08.07.2012 00:40:47
3.0
Europe
Spain
Canary Islands
La Restinga
EMSC
08.07.2012 00:40:48
3.3
Europe
Spain
Canary Islands
La Restinga
EMSC
08.07.2012 00:41:06
2.3
Asia
Turkey
Mu?la
Bodrum
EMSC
07.07.2012 23:35:26
3.7
Europe
Spain
Canary Islands
La Restinga
EMSC
07.07.2012 23:35:42
3.6
Europe
Spain
Canary Islands
La Restinga
EMSC
08.07.2012 00:41:25
3.5
Europe
Spain
Canary Islands
La Restinga
EMSC
08.07.2012 00:41:25
3.2
Europe
Spain
Canary Islands
La Restinga
EMSC
08.07.2012 00:41:44
4.7
Europe
Russia
Kuril'sk
EMSC
07.07.2012 23:40:37
4.6
Asia
Russia
Kuril'sk
USGS-RSOE
07.07.2012 23:35:59
5.2
Caribbean Sea
Dominican Republic
Barahona
Pescaderia
EMSC
07.07.2012 22:46:00
5.1
Caribbean
Dominican Republic
Barahona
Cachon
USGS-RSOE
07.07.2012 23:36:20
3.0
Europe
Spain
Canary Islands
La Restinga
EMSC
07.07.2012 23:36:39
2.4
Asia
Turkey
Kütahya
Simav
EMSC
07.07.2012 23:36:57
3.2
Europe
Spain
Canary Islands
La Restinga
EMSC
07.07.2012 22:25:39
2.0
North America
United States
Hawaii
Volcano
USGS-RSOE
07.07.2012 23:37:15
2.5
Asia
Turkey
Siirt
Uzyum
EMSC
07.07.2012 23:37:32
2.7
Europe
Spain
Canary Islands
La Restinga
EMSC
07.07.2012 22:30:26
2.7
Europe
Italy
Tuscany
Marciano
EMSC
07.07.2012 22:30:43
2.3
Asia
Turkey
Van
Toyga
EMSC
07.07.2012 22:31:01
2.3
Europe
Italy
Tuscany
Marciano
EMSC
07.07.2012 22:31:20
2.8
Europe
Spain
Canary Islands
La Restinga
EMSC
07.07.2012 22:31:40
3.3
Europe
Portugal
Azores
Furnas
EMSC
07.07.2012 22:31:59
2.6
Europe
Spain
Canary Islands
La Restinga
EMSC
07.07.2012 22:32:19
3.8
South-America
Chile
Atacama
Vallenar
EMSC
07.07.2012 22:32:38
2.6
Europe
Spain
Canary Islands
La Restinga
EMSC
07.07.2012 22:32:56
2.7
Europe
Spain
Canary Islands
La Restinga
EMSC
07.07.2012 22:32:57
2.5
Europe
Spain
Canary Islands
La Restinga
EMSC
07.07.2012 22:32:58
2.6
Europe
Spain
Canary Islands
La Restinga
EMSC
By Cherie Howie
North Islanders were again rattled by a strong earthquake yesterday, but experts say the tremor was not related to a much larger quake four days earlier.
GeoNet reported a magnitude 5.7 quake struck 10km south of Turangi at 12.50pm. The quake was 90km deep and, though police said there were no reports of damage, some residents said trinkets had been smashed.
It came four days after a magnitude 7 earthquake, centred at a depth of 230km and offshore from Taranaki, rattled residents from the Bay of Plenty to Canterbury, but caused little damage.
Shaken people took to social media and message boards yesterday to share their experiences, some describing the shake as "huge".
A Trade Me post from Taumarunui said the quake "smashed a few photo frames" and GeoNet duty seismologist Lara Bland said a report on their website from a Turangi resident indicated some damage.
However, central North Island residents spoken to by the Herald on Sunday were stoic. Raetihi woman Wiki Brown said she felt a little tremor and "that was it".
"The 7.0 was out of it. The whole house was shaking, I thought the mountain was blowing up. This quake was tiny."
Another Raetihi resident, Creedence McNaught, described the quake as "just a little shake".
Several residents spoken to in Turangi said they did not feel the quake.
Pura Smith was alerted to the drama by a friend who felt the earthquake 100km away in Napier.
"I never felt a thing. Turangi's still standing."
Bland said she was not surprised the quake felt stronger to those further away from the epicentre.
That was because the tectonic plate was dipping under the North Island, so energy from it travelled back up the plate following the easiest path available, which was to the east.
"On our maps [of earthquakes felt], there is a big empty space around Turangi. Sometimes it actually feels weaker to those closer to it."
Even though the two quakes this week occurred on the same plate, that was the only similarity. "The distances are too great for one to have affected the strains of the other."
Neither had caused major damage because of their depth.
"That's the problem in Christchurch – it has the misfortune that its earthquakes have been very shallow, so almost all the energy comes up to the surface."
The Canterbury earthquake sequence began with a magnitude 7.1 tremor, centred 10km deep and 40km west of Christchurch, but it was a 5km deep, 6.3 magnitude aftershock that struck 5km from the city months later that caused the bulk of the damage and the mass casualties.
Yesterday's quake did not mean future shakes were any more or less likely than before, Bland said.
"It's just another day, another earthquake. It's just New Zealand."
AP
SANTO DOMINGO, Dominican Republic – A 5.1 earthquake has struck the Dominican Republic near its border with Haiti, but no damage has been reported.
The U.S. Geological Survey says the quake's epicenter was 7 kilometres (4 miles) west-northwest of the southern Dominican city of Barahona. It struck Saturday at a depth of 19 kilometres (12 miles).
Emergency management officials in Haiti and the Dominican Republic say no injuries or damages have been reported.
An earthquake of the same intensity struck the Caribbean island of Anguilla on Wednesday.
**********************************************************************************************************
Volcanic Activity
BY: T
The collapse pits at the site of the 2012 lava dome in the western part of the summit crater of Krakatau (2 July 2012)
One of the new areas with shallow submarine hydrothermal activity on the western shore of Anak Krakatau, causing an intense orange water stain (2 July 2012)
During our recent expedition to Krakatau volcano, we could no longer see the lava dome active during Feb-May this year. Probably, the magma column had dropped in mid to late May and the dome collapsed. At its place, there were only 2 collapse pits, very hot ground and intense degassing from numerous fumaroles inside and outside of the now large summit crater.
Seismic activity when visiting the local volcano observatory was at very low levels, suggesting that Anak Krakatau is at the moment in a phase of repose.
Interestingly, a number (at least 4) areas with apparent submarine hydrothermal iron-bearing vents were observed that had not been there last year. In these areas, bubbling could be seen in the water, and where accessible, iron-rich greenish warm mud was found at the sea floor, which oxidized to orange when brought to the surface. The sea water around these areas had an intense yellow stain. Very similar submarine activity is known from around Nea Kameni island, Santorini.
***********************************************************************************************************
Extreme Temperatures/ Weather / Drought
WILMINGTON OH
MOUNT HOLLY NJ
PHOENIX AZ
ST LOUIS MO
WAKEFIELD VA
NEWPORT/MOREHEAD CITY NC
JACKSON KY
WILMINGTON OH
LOUISVILLE KY
BLACKSBURG VA
PADUCAH KY
CHARLESTON WV
RALEIGH NC
WILMINGTON NC
PITTSBURGH PA
PENDLETON OR
ST LOUIS MO
| | | | | | | |
| --- | --- | --- | --- | --- | --- | --- |
| 07.07.2012 | Heat Wave | USA | State of Ohio, [Ohio-wide] | | | |
Description
Ohio's heat wave has turned deadly, a coroner said Friday as he blamed excessive temperatures for the deaths of three people found alone in their homes earlier this week. The state Health Department urged people to check on friends and family. Violent storms that accompanied the high temperatures also contributed to two more deaths this week, including a Toledo area man killed Thursday when an uprooted tree fell on the car he was in. Forecasts continued to call for triple-digit temperatures as some cities broke heat records. Temperatures in Columbus hit 100 degrees Friday. A man in his 70s was found dead Monday in the city of Newark, about 40 miles east of Columbus, and two women – one in her late 60s, the other in her 80s – were found Tuesday in rural parts of the county, said Dr. Jeff Lee, Licking County deputy coroner. He said all three were suffering from heart disease but died from stress caused by high temperatures in their houses. Temperatures inside were stifling, recorded in the 90s in two cases, with windows shut and no ventilation. The houses lacked electricity because of the recent power outages. Customers of American Electric Power-Ohio in the Newark area have been among the last to have their power restored.

"The reason why these people died is because they were all in their homes with all the windows and doors shut, with no ventilation, and with no electricity, they couldn't run fans," Lee said. "If they had gotten cooling, we would have expected them to survive," he said. The Health Department's safety campaign urged Ohioans to look in on people to be sure they are all right and know how to survive the heat. Utility crews hoped to have power restored to the majority of Ohio customers by the end of the day Saturday, but they acknowledged that many would still have to wait at least another day. Efforts were hampered by another day of scorching temperatures and new rounds of storms, including one in northwest Ohio, where an uprooted tree fell on a car, killing a man inside. A second storm in the Columbus area late Thursday cut power to 11,000 residents, some of whom had previously lost power and had it restored. All but about 2,000 of those had power back Friday. American Electric Power-Ohio had a total of about 82,000 customers without power Friday, mostly in central and southwest Ohio. The utility said the recent storms have far surpassed the damage caused by the remnants of Hurricane Ike four years ago. It said it was on schedule to have power restored by midnight Saturday to 95 percent of the 660,000 customers affected by the storms. The heat wave has left residents longing for their air conditioning and has complicated repairs. Four utility workers have been hospitalized for heat exhaustion, according to AEP-Ohio. The job is getting harder and more dangerous as workers make their way into areas of rough, wooded terrain, AEP-Ohio spokeswoman Terri Flora said.
European Pressphoto AgencyJoggers cool off Saturday in a water sprinkler on the National Mall in Washington.
Americans dipped into the water, went to the movies and rode the subway just to be in air conditioning Saturday for relief from unrelenting heat that has killed 30 people across half the country.
The heat sent temperatures soaring over 100 degrees in several cities, including a record 105 in Washington, St. Louis (106) and Indianapolis (104); buckled highways; and derailed a Washington-area train even as another round of summer storms threatened.
If people ventured outside to do anything, they did it early. But even then, the heat was stifling.
"It was baking on the 18th green," said golfer Zeb Rogerson, who teed off at 6 a.m. at an Alexandria, Va., golf course but was sweltering by the end of his round.
The heat sent temperatures soaring in more than 20 states to 105 in Louisville, Ky., 101 in Philadelphia, and 95 in New York; besides in Washington, a record of 104 was set in Sioux Falls, S.D.,
At least 30 deaths were blamed on the heat, including nine in Maryland and 10 in Chicago, mostly among the elderly. Three elderly people found dead in their houses in Ohio had heart disease, but died of high temperatures in homes lacking power because of recent outages, officials said. Heat was also cited as a factor in three deaths in Wisconsin, two in Tennessee and three in Pennsylvania.
Officials said the heat caused highways to buckle in Illinois and Wisconsin. In Maryland, investigators said heat likely caused rails to kink and led a green-line train to partially derail in Prince George's County, Md., on Friday afternoon. No one was injured, and 55 passengers were safely evacuated.
Thousands of mid-Atlantic residents remained without power more than a week after deadly summer storms and extreme heat struck the area, including 120,000 in West Virginia and some 37,000 in the Washington, D.C., suburbs. In the Washington area, Pepco asked customers to conserve power, saying the heat was stressing the system.
Time for a Pool Party!
Michael Heinz/Journal & Courier/Associated PressEthan Pastore, front left, and his brother Evan swam in their family's pool Thursday near Lafayette, Ind.
"This is becoming a black swan of heat waves, in the sense that it's such a long heat wave, such a severe heat wave and encompassing such a large area," said Chris Vaccaro, spokesman for the National Oceanic and Atmospheric Administration.
At the Smithsonian's National Museum of Natural History, Abraham Lewis and his wife, Dzifa Fianoo of Lorton, Va., brought their 8-week-old son out for a walk in the 100-degree heat.
"I really don't want to be out, but she's a new mother and was feeling cooped up," Lewis said. "Do you see how hot it is?" he said, wiping beads of sweat from his forehead more than once.
The couple's home in northern Virginia lost power for two days last week after a severe wind storm swept through. Ms. Fianoo had to haul the family's food to a cousin's house to prevent it from spoiling, then took it home again.
Micah Straight, 36, brought his three daughters to dance in jets of water spurting from a "sprayground" near Philadelphia's Logan Square fountain to cool off.
"We got here early, because I don't think we'll be out this afternoon—we'll be in the air conditioning," he said. "So I wanted to get them out, get some sunshine, get tired."
In South Bend, Ind. on Saturday, serious kayakers took to the East Race Waterway, a 1,900-foot-long manmade whitewater course near downtown.
"A lot of times I'll roll over just to cool off," said Robert Henry of Carmel, just north of Indianapolis. "The biggest challenge is walking coming back up carrying a kayak three-eighths of a mile in this heat."
In Manhattan, customers who stepped in to see "Jiro Dreams of Sushi" at an IFC movie theater were there for more than entertainment.
"Of course we came to cool off!" said John Villanova, a writer who was on his second sweaty T-shirt of the day—expecting to change again by evening.
He said that earlier, he rode the subway back and forth for a half an hour, with no destination in mind, "because it really keeps you cool."
In cities around the Midwest and Mid-Atlantic region, people struggled to find ways to cope with the heat, but at least one such effort ended in tragedy.
In Aurora, Ill., Gene Autry Pryor, 52, had been drinking with three adult friends near Veterans Memorial Island and jumped into the Fox River to cool off, police said. The man's friends lost sight of him after a few minutes and then spotted him floating face down and pulled him to shore. Pryor died Friday evening.
One man figured out a way to beat the heat: stay in the car. Roger Sinclair of Batavia, Ill., was headed home Saturday from Detroit, where he'd spent a few days visiting an old friend and catching Friday night's Tigers game. The Tigers won 4-2, but the conditions were less than ideal.
"It was 97 at the first pitch and still in the 80s at the time of the last out," he said. "It was tough. There was no breeze."
Sinclair said he had been spending hours in his air-conditioned car to stay out the worst of the heat.
In Chicago, street magician Jeremy Pitt-Payne said he has been working throughout the three-day stretch of triple-digit temperatures but acknowledged that he might doff the Union Jack leather vest by the end of the day, even though it's part of his British magician character, along with the black top hat.
But he had a secret for beating the heat—he starts his shows at 2 p.m. "when the Trump Tower is gracious enough to block out the sun" along his stretch of sidewalk.
At New York City's Penn Station, the air conditioning was falling short of capacity. Amtrak officials have said for weeks that they've been trying to adjust it. The doors were left wide open at a half-dozen locations around the two-block-wide underground station.
"It's so hot I feel like I want to faint," said Betty De la Rosa, 19, of the Bronx, who was working at a station doughnut shop.
The heat didn't stop Taylor Heaton of Houston from joining friends in Washington for her bachelorette party. They spent three hours walking the National Mall, seeing the Washington Monument and other tourist sites. They cooled off for a bit at the Lincoln Memorial but kept walking until they reached the Smithsonian museum.
How hot was it by Saturday afternoon?
"Hotter than the gates of Hades," said Cathy Corey, of Bethesda, Md.
The bachelorette crew had a cocktail reservation for Saturday night at an outdoor deck at a hotel that overlooked the White House.
"How else are we going to see Barack?" Heaton said of Barack Obama. "It's really not too bad in the shade."
By Amy Hubbard
It's not that the Midwest hasn't been extremely hot before, and it's not that it hasn't been incredibly dry.
But it's unusual for a vast swath of the Midwest to be so very hot and so very dry for so very long — particularly this early in the summer.
The current heat wave — which is spurring comparisons to the catastrophic heat of 1936 –  is "out of whack," meteorologist Jim Keeney said Friday in an interview with the Los Angeles Times.
"Even on the East Coast today, temperatures are 100 or above" — basically, Keeney said, the heat wave extends from Kansas all the way to the East Coast.
"It's a good chunk of the eastern half of the country, barring the far northern states, of course.  So it's pretty intense."
Temperature records are being broken and residents are suffering in what Keeney called a "corridor of extreme heat," generally through Nebraska, Kansas, Missouri, Illinois, Indiana and into western Kentucky.
Heat records are being shattered as are records for the number of days in a row the temperature has hit 100 or higher, he said.
Take St. Louis, for example. The last time the city was this hot for this long was in 1936, said Keeney, a meteorologist with the National Weather Service Central Region Headquarters in Kansas City, Mo. Then, the city recorded 13 days in a row of temperatures 100 degrees Fahrenheit or over.  That  devastating heat wave of the mid-'30s killed thousands of people and destroyed many crops.
The culprit in the current wave is a dome of high pressure that has been hovering over the eastern part of the U.S., said NWS spokesman Pat Slattery in an interview with The Times on Friday.
"It's kicked the jet stream way to north, in some places into Canada, so there's no way for the normal rotation of weather systems to get here into the middle of the country, which would bring us some moisture. So drought becomes more and more a major factor."
Gregg Steele, a farmer for 35 years, has acreage in Missouri's Ray County and has been watching as the heat and drought have damaged his crops.
"It hasn't been this hot here this long since the '30s," Steele, of Richmond, Mo., said Friday in a phone interview.  On Thursday, it was 105 degrees, he said, and it's been 10 days with no sign of rain.
According to meteorologist Keeney, 56% of the country is experiencing drought conditions. And the timing of the heat wave couldn't have been much worse. "June, early July, that's when crops pollinate and mature," he said. "It's a critical time for moisture."
Steele agreed. The heat and drought have continued for so long, he said, that, locally, worry is growing over the water supply for livestock. "Very easily, ponds could be dry by the end of summer."
With grass dwindling, some livestock producers are starting to feed their animals hay, he said, which normally wouldn't occur until November or December.
Relief could be on the way. The high pressure system causing the current problem is expected to start to make a move toward the east on Saturday, Keeney said.
That would allow a cold front, which currently is up in Minnesota and the Dakotas, to move southeast, bringing air that's much cooler — by 10 to 15 degrees.  By Sunday, Keeney said, Kansas, Missouri, Illinois, Nebraska and Iowa should see temperatures in the upper 80s and low 90s, which are typical for this time of year.
As the cold front moves through the Midwest, there will the chance of large hail and damaging winds, but nothing widespread. There's also no major relief expected from the drought conditions. It may rain, the meteorologist said, but it will be limited.
Steele said he would just continue to cope — and hope.
"There's nothing you can do about it," he said. "It's just a day-to-day thing. They're talking about a little cooler weather, and we just hope that we get some rain.
The heat wave that has gripped much of the nation continues this weekend, but there are signs that it may come to an end soon. NBC's Michelle Franzen reports.
By Miguel Llanos, msnbc.com
The heat wave smothering the Midwest wasn't the only thing spreading into the East Coast on Saturday — so too were storms and even smoke from the wildfires out west.
The New York City area, which saw muggy heat Saturday, was also in the path of a thunderstorm expected by late afternoon, NBCNewYork.com reported.
Parts of Ohio and West Virginia, two states where several hundred thousand people are still without power after last weekend's storms, can expect severe thunderstorms through Saturday evening, as can Pennsylvania, the National Weather Service warned.
By Saturday afternoon, trees were reported down across parts of upstate New York, Pennsylvania, Ohio and Missouri.
More storms are likely across the Midwest and Mid-Atlantic through Sunday, the Weather Channel reported.
St. Louis on Saturday saw 106 degrees, its 10th straight day of temperatures at 100 or above. Its record — 13 straight days — is not likely to be broken, with Sunday's forecast in the mid-90s.
The smoke, meanwhile, has brought with it pollutants that will make the next few days even tougher for people with breathing issues.
In fact, prevailing winds over the last week have been sending that smoke east, with officials issuing local health advisories.
Maryland issued a "code orange" air quality alert on Friday and again on Saturday, meaning that the young and elderly are at risk, NBC affiliate WBAL-TV reported.
The wildfire smoke is on top of other air pollution coming into Maryland from other states.
"Maryland is not alone in these extreme conditions," Jay Apperson, a Maryland Department of the Environment spokesman, told WBAL-TV. "Chicago and other areas of the Midwest are issuing these type of advisories and that pollution is coming into Maryland, and we're also being affected by the wildfires."
Celebrating the warm summer months, as schools let out and the cooling off begins
On Friday, smoke was detected "from the Rockies to to the Eastern Great Lakes, the mid Atlantic, and the Southeast," according to the U.S. Air Quality "Smog Blog" compiled by the University of Maryland. "The smoke is primarily light density but a moderate density area can be seen in and around the Ohio River Valley.
The highest values on Friday, it added, were "mainly over the Midwest and down towards the Southeast."
The heat wave shifting east comes after last weekend's storms that left millions without power. Hundreds of thousands still don't have electricity back.
Moreover, since the first round of extreme heat two weeks ago, at least 46 deaths have been tied to the high temperatures, according to a list compiled by the Weather Channel.
On Saturday, Washington, D.C., could break it's all-time record of 106 degrees, the Weather Channel reported. So could Pittsburgh (103) and Louisville, Ky., (107), it added.
Chicago, meanwhile, stands a chance of a fourth straight day of temperatures at 100 or above — something it's never before seen.
Visit msnbc.com for breaking news, world news, and news about the economy
In the hot zone emergency room visits are on the rise as the number of heat-related deaths rose, especially among the sick and elderly. NBC's John Yang reports.
By msnbc.com staff and news services
Cooler weather was on the horizon for the Midwest, but not before two weeks of oven-like temperatures had taken their toll: at least 46 deaths were tied to the heat over that period, according to a list compiled by the Weather Channel. Friday also saw the 9th straight day at 100 degrees or above in St. Louis, Mo., and the third straight day above 100 in Chicago.
Virginia saw the most heat-related deaths with 10, followed by Maryland (9) and Illinois (6). Three of the dead were children, with the rest adults between 45 and 83.
Temperatures in the Midwest should be back in the 80s by Sunday — but only after another hot round on Saturday as the heat wave shifts to the East Coast.
Washington, D.C., on Saturday could break its all time record of 106, the Weather Channel reported. Same with Pittsburgh (103) and Louisville, Ky., (107).
The heat wave has included several rounds of storms that add to the misery.
The extreme heat in Indianapolis, Indiana is proving to be too much for a chocolatier's air conditioning system, reluctantly closing rather than risk having their inventory melt. WTHR's Emily Longnecker reports.
Following last weekend's storms, at least 406,000 people were without electricity on Friday in West Virginia, Virginia, Maryland and Ohio, power companies said.
Indiana, Virginia and West Virginia on Thursday saw new storms and new power outages, while the same happened in Michigan on Wednesday.
St. Louis, Milwaukee, Minneapolis, Chicago and several other Midwest cities already have broken heat records this week.
St. Louis hit a record high of 105 on Wednesday and a record low of 83. The city hadn't seen 9 straight days at or above 100 since 1936.
In Chicago, three straight days above 100 hadn't been seen since 1947 and the city has no longer stretch on record. There's a slight chance that could be broken Saturday.
In Wisconsin, the coolest Milwaukee and Madison got was 81 in the early morning, beating previous low records by 2 and 4 degrees respectively. Temperatures didn't fall below 79 in Chicago, 78 in Grand Rapids, Mich., and 75 in Indianapolis.
"When a day starts out that warm, it doesn't take as much time to reach high temperatures in the low 100s," said Marcia Cronce, a meteorologist with the National Weather Service. "You know it'll be a warm day when you start out at 80 degrees."
Investigators say at least two deaths in the Midwest are the result of the sweltering heat that continues to cook the region. NBC's John Yang reports.
When the air conditioner stopped in Ashley Jackson's Southfield, Mich., home, so too did normal conversations and nightly rest.
"Inside the house it was 91 degrees. … I wasn't talking to anybody. Nobody was talking to anybody," said Jackson, 23, who works as a short-order cook in Detroit. "We mostly slept, but it was hard to sleep because of the heat. I probably got about four hours of sleep each night."
In Chicago on Thursday, the Shedd Aquarium lost power as temperatures soared to 103 degrees, a record for July 5. Officials said emergency generators immediately kicked in and the outage never threatened any of animals, but several hundred visitors were sent back out into the heat.
The other heat-related deaths happened across a wide swathe of the country: Alabama (5), Missouri (5), Ohio (3), Wisconsin (3), Tennessee (2), South Carolina (2) and Kentucky (1).
The heat has also taken a toll on agriculture.
Dean Hines, the owner of Hines Ranch Inc. in the western Wisconsin town of Ellsworth, said he found one of his 80 dairy cows dead Thursday, an apparent victim of the heat. He said he was worried about the rest of his herd, in terms of death toll, reproductive consequences and milk production.
"We're using fans and misters to keep them cool," he said. "It's been terrible. When it doesn't cool down at night, the poor animals don't have a chance to cool down."
The Associated Press and Reuters contributed to this report.
FIRE WEATHER MESSAGE
PENDLETON OR
POCATELLO ID
BOISE ID
SPOKANE WA
Visit msnbc.com for breaking news, world news, and news about the economy
The Texas Forest Service is warning homeowners about the dangers of drought-stricken dead trees.
By msnbc.com staff
Business is booming in Texas, and not just the oil and gas business. Tree trimmers are raking in the bucks after last year's drought killed an estimated 500 million trees.
"I've been so swamped, we've had to call in reinforcements" from other states, arborist Glen Jennings told NBCDFW.com.
The Texas Forest Service, which estimates 5.6 million trees died in urban areas, urged homeowners to be pro-active about removing dead trees — before they land on neighboring property.
"Be aware that your tree could fall onto someone else's property," service official Jim Rooni said in a statement Thursday. "he rules vary from place to place, but generally the owner of the tree is responsible. Bottom line: You could be liable."
Jennings was stunned by the amount of dead trees across the state.
"I, personally, have never been in the middle of something like this before," he said. "Small droughts, yeah, but statewide?"
***********************************************************************************************************
Storms, Flooding
SPOKANE WA
ST LOUIS MO
GOODLAND KS
MEMPHIS TN
ST LOUIS MO
PENDLETON OR
  Active tropical storm system(s)
Name of storm system
Location
Formed
Last update
Last category
Course
Wind Speed
Gust
Wave
Source
Details
Daniel (04E)
Pacific Ocean – East
04.07.2012
07.07.2012
Hurricane I.
270 °
148 km/h
185 km/h
4.57 m
NHC
| | |
| --- | --- |
| Share: | |
| Storm name: | Daniel (04E) |
| Area: | Pacific Ocean – East |
| Start up location: | N 12° 18.000, W 105° 30.000 |
| Start up: | 04th July 2012 |
| Status: | 01st January 1970 |
| Track long: | 986.86 km |
| Top category.: | |
| Report by: | NHC |

Useful links:

Past track

Date
Time
Position
Speed
km/h
Wind
km/h
Gust
km/h
Category
Course
Wave
Pressure
Source
05th Jul 2012
04:07:06
N 13° 36.000, W 108° 54.000
19
56
74
Tropical Depression
290
15
1005 MB
NHC
06th Jul 2012
04:07:49
N 14° 24.000, W 113° 6.000
20
102
120
Tropical Storm
280
16
995 MB
NHC

Current position

Date
Time
Position
Speed
km/h
Wind
km/h
Gust
km/h
Category
Course
Wave
feet
Pressure
Source
07th Jul 2012
22:07:59
N 14° 36.000, W 120° 0.000
19
148
185
Hurricane I.
270 °
15
977 MB
NHC

Forecast track

Date
Time
Position
Category
Wind
km/h
Gust
km/h
Source
09th Jul 2012
18:00:00
N 15° 18.000, W 130° 0.000
Tropical Storm
93
111
NHC
09th Jul 2012
06:00:00
N 15° 12.000, W 127° 12.000
Tropical Storm
111
139
NHC
10th Jul 2012
18:00:00
N 15° 30.000, W 136° 0.000
Tropical Storm
65
83
NHC
11th Jul 2012
18:00:00
N 15° 30.000, W 142° 30.000
Tropical Depression
56
74
NHC
12th Jul 2012
18:00:00
N 15° 30.000, W 149° 0.000
Tropical Depression
46
65
NHC
| | | | | | | | | | | |
| --- | --- | --- | --- | --- | --- | --- | --- | --- | --- | --- |
| 05E | Pacific Ocean – East | 07.07.2012 | 07.07.2012 | Tropical Depression | 285 ° | 56 km/h | 74 km/h | 4.88 m | NHC | |
| | |
| --- | --- |
| Share: | |
| Storm name: | 05E |
| Area: | Pacific Ocean – East |
| Start up location: | N 9° 54.000, W 101° 36.000 |
| Start up: | 07th July 2012 |
| Status: | Active |
| Track long: | 0.00 km |
| Top category.: | |
| Report by: | NHC |

Useful links:

Past track

Date
Time
Position
Speed
km/h
Wind
km/h
Gust
km/h
Category
Course
Wave
Pressure
Source

Current position

Date
Time
Position
Speed
km/h
Wind
km/h
Gust
km/h
Category
Course
Wave
feet
Pressure
Source
07th Jul 2012
22:07:53
N 9° 54.000, W 101° 36.000
24
56
74
Tropical Depression
285 °
16
1005 MB
NHC

Forecast track

Date
Time
Position
Category
Wind
km/h
Gust
km/h
Source
09th Jul 2012
06:00:00
N 11° 48.000, W 108° 42.000
Hurricane I.
120
148
NHC
09th Jul 2012
18:00:00
N 12° 30.000, W 110° 54.000
Hurricane I.
139
167
NHC
10th Jul 2012
18:00:00
N 13° 42.000, W 114° 18.000
Hurricane II.
157
194
NHC
11th Jul 2012
18:00:00
N 15° 0.000, W 118° 0.000
Hurricane II.
157
194
NHC
12th Jul 2012
18:00:00
N 16° 0.000, W 121° 30.000
Hurricane I.
139
167
NHC
Joe Harper playing in the water in Hebden Bridge
By Sarah Westcott
Express.co.uk
BRITAIN is facing its "worst ever" summer with cold wet weather ruining family holidays and blighting the Olympics, forecasters warned last night.
August is set to be a washout following a miserable July and the wettest June since records began – meaning summer is effectively over.
Gloomy forecasts suggest dire weather will continue as officials last night put Britain on flood alert after torrential downpours yesterday wreaked havoc.
As the Environment Agency warned of a "potential danger to life" with rivers swelling to breaking point in the Midlands, Yorkshire and Wales, Government forecasters were on standby to brief the Cabinet if severe floods strike.
The agency last night issued 51 flood warnings – meaning flooding is expected – and 135 alerts. Monsoon-like downpours hit 85,000 music fans at the T In The Park festival in Kinross, Scotland, and 28,000 Formula 1 spectators camping for the British Grand Prix weekend at Silverstone. Race meetings today in Nottingham and Carlisle were cancelled while play was delayed on all courts at Wimbledon – other than Centre Court.
This could cause significant disruption
Tony Waters, deputy chief forecaster at the Met Office
In Leeds, organisers cancelled music festival MFEST over safety concerns.
Emergency services reported a surge of flood callouts, dispatched special operations teams and told motorists not to drive through floodwater.
The misery is set to continue with parts of the Midlands and northern Britain braced for six inches of rain – more than two months' worth – in the 72 hours to tomorrow night.
Tony Waters, deputy chief forecaster at the Met Office, said: "We are expecting very heavy and thundery rain, with worst affected spots likely to be in central and northern parts.
"Some places could see around 100mm (3.9in).
DENVER CO
CHEYENNE WY
GRAND JUNCTION CO
PENDLETON OR
JACKSONVILLE FL
JACKSONVILLE FL
MISSOULA MT
SPOKANE, WA
DULUTH MN
| | | | | | | | |
| --- | --- | --- | --- | --- | --- | --- | --- |
| | 07.07.2012 | Flash Flood | United Kingdom | England, [England-wide] | | | |
Description
The Environment Agency issued more than 40 flood warnings and over 120 less serious flood alerts as a month's rain fell in just 24 hours. Motorists battled with treacherous conditions on the roads, and the M50 motorway in Gloucestershire was partially closed in both directions. Householders in the worst-affected areas in East Anglia, the Midlands and northern England were advised to move their valuables upstairs, roll up carpets and put down sandbags. The British Red Cross put emergency response teams on standby to help flood-hit communities and urged people to pack their bags so they could be ready to leave their homes at a moment's notice Insurers have pledged to help people whose homes and businesses are damaged by the flooding. Many events were cancelled, including today's racing at Warwick and this weekend's MFEST music festival at Harewood House in Leeds, which was due to have been headlined by the Human League and Texas in front of 30,000 fans. Motor racing fans travelling to Silverstone for the practice sessions for Sunday's British Grand Prix were stuck in lengthy queues getting to the circuit from the M1 and then had to negotiate waterlogged car parks. The flooding caused delays and cancellations on the railways, with problems reported in Manchester, Yorkshire, Derbyshire, Lincolnshire and Nottinghamshire.

The Prince of Wales was among those held up by rain-related travel disruption when he visited Hebden Bridge in West Yorkshire. The town, which was badly flooded a fortnight ago, was again hit by heavy rain and Charles was an hour late arriving. However, the Prince paid no heed to the bad weather, touring a flood-affected primary school before braving the elements without a coat to call in at several of Hebden Bridge's shops and cross a bridge over the swollen and swift-flowing River Calder. The Met Office said the main band of rain would leave central England and move north before curling back overnight to reach south-west England, which is likely to be the worst affected area tomorrow. Forecasters added that between the showers conditions should be bright, with temperatures possibly reaching as high as 20C. The Met Office has issued amber weather warnings for south-west England and parts of central Scotland for tomorrow. It said: "The public should be prepared for the likelihood of surface water flooding and some disruption to travel and outdoor activities." Last month was the wettest June since records began, with double the average rainfall for the period, and this month looks set to break the record for July. There is no immediate end in sight to the wash-out summer, with meteorologists warning that Britain is very unlikely to see a long spell of hot, sunny weather during the Olympics. However, the Met Office does say that the conditions when the Games are on should not be as bad as they have been over the past month. Bookmakers William Hill today cut the odds of rain falling during the Olympics opening ceremony on July 27 from 4/1 to 1/1.
| | | | | | | |
| --- | --- | --- | --- | --- | --- | --- |
| 07.07.2012 | Flash Flood | Russia [Asia] | Krasnodar Territory, [Southern region] | | | |
Description
At least ten people have perished in heavy downpours that caused flooding across the South Russian Krasnodar Territory, the Emergencies Ministry said on Saturday. Most heavily affected is the city of Gelendzhik where five people received electric shock and died after a transformer fell on the ground. Two other bodies were found by rescuers in the debris of a home destroyed by a flash flood. Three other bodies were found in villages near Gelendzhik. The heavy torrential rain began on Friday. All in all, 320 homes and about 1,000 households have been flooded. The emergencies ministry introduced state of emergency in Gelendzhik. Due to security concerns, 17 power substations had been temporarily closed there, leaving about 20,000 people without electricity. "The situation is now returning to normal… new flood alerts have not been issued," a spokesman for the ministry said.
Aleksandr Tkachyov
The flooded town of Krymsky is seen Saturday in a photo tweeted by regional Gov. Aleksandr Tkachyov .
By msnbc.com staff and news services
Updated at 5 p.m. ET: At least 134 people were killed and thousands of homes were flooded by torrential rain, landslides and a "wave of water" that rushed through one town in the Krasnodar region of southern Russia overnight.
Some of the victims were electrocuted while others were swept into the sea. Many of the dead were elderly people who had been sleeping and drowned.
The English-language Russian news channel RT reported that at least 1,000 people were displaced.
In the town of Krymsk, residents reported being hit by a 20-foot wave that they suspect came downhill from a nearby reservoir.
"It all happened during the night," Anna Kovalyovskaya, whose parents were in the flood zone, told the Russian News Service. "People just ran from their homes, because there was a huge wave of water, nobody warned them. Two-story houses were flooded up to the second floor. The water came on very fast. It wasn't rain."
RT said the Interior Ministry confirmed 123 people had been killed in Krymsk after an average two-months' rain fell in just a few hours in the popular holiday region on the Black Sea where Russia will host the 2014 Winter Olympics.
Television footage showed flooded streets and people scrambling onto rooftops.
Deadly flooding has claimed the lives of dozens of people in southern Russia.
"There are lots of overturned cars, even huge trucks. Brick fences are washed away," a local resident, Vladimir Anosov, said by telephone from the village of Novoukrainsky.
"People are on the street, they are at a loss what to do. Helicopters are flying overhead, they are evacuating people from the flooded areas. The floods are really, really huge," he said.
The BBC reported that, according to residents, the flooding came with no warning in the middle of the night.
Ignat Kozlov / AP
A homeowner inspects the damage in Gelendzhik on Saturday.
Police spokesman Igor Zhelyabin said 11 people had been killed in Novorossiisk and the coastal town of Gelendzhik.
"Police are beefing up their presence to prevent mass looting," Zhelyabin said.
"The floods hit at night when people were asleep. You can't do anything about that. Many people in Gelendzhik were hit by electric shocks and some of them were washed away into the sea."
A state of emergency was declared in Krymsk, Novorossiisk and Gelendzhik, where 5,000 homes were said to be flooded, RT said. The station reported that part of the Northern-Caucasus railroad had been washed out.
No such floods 'in our history'
Aleksandr Tkachyov, the governor of the Krasnodar region, urged local residents not to panic.
"No one can remember such floods in our history. There was nothing of the kind for the last 70 years. More than 5,000 households were hit," Itar-Tass news agency quoted him as saying.
"The water came with such force that it tore up the asphalt" in one area, he said via Twitter, according to RT.
Kovalyovskaya told the BBC that her relatives in Krymsk were caught by surprise.
Russia's Interior Ministry via AFP – Getty Images
This street in Gelendzhik was swamped on Saturday
"People were running out into the streets in their underwear and wrapping their children in blankets," she said. "People were only able to save their passports."
"There is no electricity and the shops are shut," she added. "Many people have lost everything and are in a state of panic."
More rain was in the forecast for Saturday and Sunday.
"The region's transportation is in a state of collapse," a transportation spokesman said, and Russian Railways' website said all trains heading to and from Novorossiisk had been suspended.
"The water has risen half a meter above the rails," it said.
Msnbc.com staff and Reuters contributed to this report.
| | | | | | | |
| --- | --- | --- | --- | --- | --- | --- |
| 07.07.2012 | Extreme Weather | USA | State of Tennessee, [Great Smoky Mountains National Park] | | | |
Description
Violent thunderstorms swept through the Tennessee side of the national park, toppling hundreds of huge trees, killing at least two people and leaving an unknown number of people injured during the height of the summer tourist season. Ralph Frazier, 50, of Buford, Ga., was riding a motorcycle when a falling limb struck him in the head, park officials said. Rachael Burkhart, 41, of Corryton, Tenn., died when a tree fell on her at Abrams Creek campground near a popular swimming spot during the height of Thursday's storm. The same tree struck a family, including a 7-year-old girl swimming in a creek. She and her father were airlifted to a Knoxville hospital. Their conditions were not available Friday. The storms hit Thursday evening at the west end of the 500,000-acre, densely forested reserve on the Tennessee-North Carolina line. The storms then moved down the mountains to the Tennessee River Valley. Most of the damage appeared to be in the popular Cades Cove area of the park and in communities just outside park boundaries.

The storm swept into those areas about 6:30 p.m. In the Smokies, rescue crews initially focused efforts in the areas of Little River Road east of the Townsend "Y," Laurel Creek Road into Cades Cove and the Abrams Creek campground. Authorities set up a command center in Townsend, Tenn., at a hamburger restaurant on state Road 73 near the Lazy Daze Campground. Rural/Metro ambulances were posted at the ready to deal with any injuries. Ambulances were sent to Cades Cove for three injuries and one cardiac incident, according to the park. The same storm system killed a child and her grandmother in Chattanooga, Tenn., when high winds overturned a 30-foot double-decker pontoon boat she was on in Chickamauga Lake. Linda Nguyen, a producer at WATE-TV in Knoxville, Tenn., was at Cades Cove working on a special program about the Smokies when the storm hit at about 6 p.m. She and her photographer tried to get out and were stuck on the road for more than five hours. Violent thunderstorms swept through the Tennessee side of the national park, toppling hundreds of huge trees, killing at least two people and leaving an unknown number of people injured during the height of the summer tourist season.

Ralph Frazier, 50, of Buford, Ga., was riding a motorcycle when a falling limb struck him in the head, park officials said. Rachael Burkhart, 41, of Corryton, Tenn., died when a tree fell on her at Abrams Creek campground near a popular swimming spot during the height of Thursday's storm. The same tree struck a family, including a 7-year-old girl swimming in a creek. She and her father were airlifted to a Knoxville hospital. Their conditions were not available Friday. The storms hit Thursday evening at the west end of the 500,000-acre, densely forested reserve on the Tennessee-North Carolina line. The storms then moved down the mountains to the Tennessee River Valley. Most of the damage appeared to be in the popular Cades Cove area of the park and in communities just outside park boundaries. The storm swept into those areas about 6:30 p.m. In the Smokies, rescue crews initially focused efforts in the areas of Little River Road east of the Townsend "Y," Laurel Creek Road into Cades Cove and the Abrams Creek campground. Authorities set up a command center in Townsend, Tenn., at a hamburger restaurant on state Road 73 near the Lazy Daze Campground. Rural/Metro ambulances were posted at the ready to deal with any injuries.

Ambulances were sent to Cades Cove for three injuries and one cardiac incident, according to the park. The same storm system killed a child and her grandmother in Chattanooga, Tenn., when high winds overturned a 30-foot double-decker pontoon boat she was on in Chickamauga Lake. Linda Nguyen, a producer at WATE-TV in Knoxville, Tenn., was at Cades Cove working on a special program about the Smokies when the storm hit at about 6 p.m. She and her photographer tried to get out and were stuck on the road for more than five hours.
Several buildings and a marina were badly damaged by storms in eastern Tennessee. Msnbc.com's Dara Brown reports.
By Miguel Llanos, msnbc.com
A storm that tore through Tennessee killed at least four people while tossing boats, tipping over trailers at a campground and toppling hundreds of trees with winds up to 70 mph.
A child and her grandmother died when a double-decker pontoon boat on a Chattanooga lake capsized after being hit by a strong gust, Dan Hicks, a spokesman with the state's Wildlife Resources Agency, told msnbc.com. The grandmother had been hospitalized but later died of her injuries.
The storm "came up really quick … they were trying to get back to the bank," said Hicks, who noted the high profile of the boat probably contributed to the accident.
"It was the fastest storm I've ever seen," witness Stan Crawley told The Chattanoogan. "It was fine, then two minutes later the storm was here. The waves were three and four feet high. We saw the pontoon boat flip on its top."
The other two deaths, and eight injuries, were at Great Smoky Mountains National Park.
Teams on Friday were searching for more victims from the Thursday evening storm, but felt confident the toll would not rise. While rangers "have not walked all trails," spokesman Carey Jones told msnbc.com, all visitors "appear to be accounted for" based on a search of main roads and public areas.
Jeff Farrell / The Mountain Press via AP
The roof of the Carl Ownby & Co. hardware store, background center, sits on the Juvenile Detention Center, foreground right, in Sevierville, Tenn., on Thursday after winds ripped it off and hurled it across a five-lane street. No injuries were reported.
A man riding a motorcycle died when hit by a tree limb and a woman was crushed to death by a falling tree that injured three others, the park said in a statement. A girl, 7, and her father were airlifted to a hospital. Their conditions were not known. The girl's mother suffered minor injuries.
Much of the damage was at the popular Cades Cove.
Staff from other parks were being brought in to help with the search and cleanup, the Knoxville News Sentinel reported. "We're calling all hands on deck," said Deputy Park Superintendent Kevin Fitzgerald. "The most important thing right now is to get crews safely in there to assess what's going on."
Many roads inside the park were blocked by trees, and access into the park was blocked on the highway leading out of Townsend.
On nearby Douglas Lake, many boats at Mountain Cove Marina were destroyed or damaged.
Mark Northern said he was in his houseboat at the marina when the storm hit.
"It just took me and everybody on that dock like we were just toys," he told NBC affiliate WBIR-TV. "It happened so fast that I didn't even know where I was until I walked out to the front of the houseboat … there was wreckage as high as you could see."
Several trailers were knocked over at a campground in Wears Valley, the Knoxville News Sentinel reported
The storm cut power to some 56,000 households in eastern Tennessee, including parts of Knoxville. The local utility said it could take several days for power to be restored to everyone.
| | | | | | | |
| --- | --- | --- | --- | --- | --- | --- |
| 07.07.2012 | Flash Flood | United Kingdom | Scotland, Edinburgh | | | |
Description
The Edinburgh City by-pass has been closed due to flooding as heavy rain hit Scotland. The A720 was closed between Hermiston Gait and Straiton from around 9am. Lothian and Borders police advised motorists to avoid the area and allow extra time for their journey, particularly if travelling to the airport. Forecasters warned of rain and flooding for much of Scotland on Saturday. The Met Office issued amber "be prepared" warnings of heavy and persistent rain for central Scotland, Tayside, Fife, south-west Scotland and Lothian and Borders. They warned members of the public to be prepared for the likelihood of surface water flooding and some disruption to travel and outdoor activities, Yellow "be aware" warnings were in place for Strathclyde and Grampian. The Scottish Environment Protection Agency issued 12 flood warnings. Tayside Police used Twitter to advise people driving to the T in the Park festival at Balado near Kinross to take extra care due to heavy rain and surface water on the roads. Forecasters predicted that the rain would move north throughout the day. Brendan Jones, a forecaster with MeteoGroup, the weather division of the Press Association, said: "There is a narrow line of rain running from south west to north-east Scotland at the moment. "It's going to push north across Scotland.

By the end of today the rain is likely to be stretched through the northern part of Scotland and the south is likely to be dry." Meanwhile the Taste of Edinburgh Festival cancelled all its Saturday sessions after its site at The Meadows was flooded. The event, from 6-8 July, features pop-up restaurants, chef demonstrations and exhibitors. In a statement organisers said: "This has not been an easy decision but the health and safety of all our restaurants, exhibitors and visitors is of paramount importance. "We're continually assessing the situation and will make a decision at 6pm today about whether we will open for our Sunday sessions. We are insured and weather aside, we are doing everything we can to make this possible. "If we are open on Sunday, Saturday tickets will be valid for entry subject to site capacity. "Refunds on Saturday tickets will be made but at this current time we would ask visitors to be patient as we deal with some very challenging conditions." The organisers said that further communication about refunds will be sent to ticket holders as soon as possible.
*************************************************************************************************************
Epidemic Hazards / Diseases
| | | | | | | |
| --- | --- | --- | --- | --- | --- | --- |
| 07.07.2012 | Epidemic Hazard | India | State of Gujarat, Dhanera | | | |
Description
A day after Dhanera was declared "cholera-hit", 25 more persons were hospitalised with diarrheal symptoms in this town of Banaskantha district on Thursday. Health authorities sent back, with medicines and advice, 69 others who suspected they were suffering from the illness. Officials from the epidemiology division of the state's Health Department said a notification about the disease's outbreak on Wednesday may have triggered mild panic, leading to the large turnout. The district administration had declared an outbreak in the town and nine surrounding villages after five persons died and 222 persons were hospitalised for diarrheal symptoms in the preceding week. Authorities believe the outbreak may have been caused by an unauthorised connection that diverted water from the main pipeline connecting the Sipu dam, the town's main water source. Four such connections, or leakages, were detected soon after the outbreak and one of them – a plastic pipe that ran through a gutter – is believed to be the source. Authorities had earlier tested water from the dam and from bores within the water-scarce town but found no contamination there.
Biohazard name:
Cholera
Biohazard level:
2/4 Medium
Biohazard desc.:
Bacteria and viruses that cause only mild disease to humans, or are difficult to contract via aerosol in a lab setting, such as hepatitis A, B, and C, influenza A, Lyme disease, salmonella, mumps, measles, scrapie, dengue fever, and HIV. "Routine diagnostic work with clinical specimens can be done safely at Biosafety Level 2, using Biosafety Level 2 practices and procedures. Research work (including co-cultivation, virus replication studies, or manipulations involving concentrated virus) can be done in a BSL-2 (P2) facility, using BSL-3 practices and procedures. Virus production activities, including virus concentrations, require a BSL-3 (P3) facility and use of BSL-3 practices and procedures", see Recommended Biosafety Levels for Infectious Agents.
Symptoms:
Status:
confirmed
| | | | | | | |
| --- | --- | --- | --- | --- | --- | --- |
| 07.07.2012 | Epidemic Hazard | Cuba | Departmento de Granma, Manzanillo | | | |
Updated:
Saturday, 07 July, 2012 at 03:29 UTC
Description
The first cholera outbreak in Cuba in a century has left at least 15 dead and sent hundreds to hospitals all but sealed off by security agents bent on keeping a lid on the news, according to reports Friday. "There are 1,000-plus cases" in the southeastern province of Granma, said Yoandris Montoya, who lives in Bayamo, the provincial capital. Security agents have locked down the city's hospital, he added, but staff told him the situation inside is "chaotic." Santiago Marquez, a physician in the neighboring town of Manzanillo, said there is "a lot of panic" in the region because of the lack of official information about the intestinal disease. Cuba's Public Health Ministry, which rarely makes public any information that could give the island a negative image, declared Tuesday it had "controlled" an outbreak of cholera that had killed three people and affected 50 others in Granma province. But unofficial reports from the region Friday indicated the disease was continuing to spread, with hundreds more suspected cases jamming hospitals in Manzanillo and Bayamo. Montoya said more cases were reported in nearby Niquero and Pilón.

As of Friday, the outbreak had killed at least 15 people and affected hundreds more, Havana independent journalist Calixto R. Martinez wrote in a report for the Miami-based blog Café Fuerte, or Strong Coffee. Cholera was reported to have been eradicated in Cuba in the late 19th or early 20th century, although it has killed more than 7,400 people and sickened 574,000 in Haiti, just east of Cuba. Scores of Cuban medical personnel work in Haiti. Cuba's once-vaunted public health system has slipped significantly since the end of Moscow's massive subsidies in the early 1990s. During one 24-hour period in January, three flights from Cuba to Toronto arrived with groups of passengers suffering from nausea, vomiting and fever. Manzanillo human rights activist Tania de la Torre, the wife of Marquez, said residents were boiling their water but could not wash their hands as often as they wished because the city of about 130,000 people has an acute soap shortage. Calls from El Nuevo Herald to the Celia Sánchez Manduley Hospital in Manzanillo, the biggest health institution in the region, were answered by women who said they were not authorized to comment.

Martínez told El Nuevo Herald that he had gathered his information from residents and health workers in the region. Some of them called him from public phones because police and state security agents are trying to block reports on the cholera outbreak, he added. A Manzanillo man named Enrique Piñeiro told him the death toll had surpassed 16, said Martinez, a member of the independent news agency Hablemos Press. Another man who claimed to have a relative working in a regional hospital put the death toll at 15, he added. The journalist also wrote that Piñeiro and a hospital employee reported that doctors are signing death certificates saying that the victims died from "acute respiratory insufficiency" rather than cholera. "We have been forbidden from using the word cholera, and there have been people arrested and detained temporarily in stations of the PNR," the National Revolutionary Police, Piñeiro was quoted as saying. The provincial newspaper, La Demajagua, and radio stations have reported nothing on the outbreak.

Havana residents said there have been unconfirmed reports of cholera in the capital, especially near José Martí International Airport, as well as rumors of an increase in dengue, a disease transmitted by mosquitoes that thrive during the hot and rainy months of summer. Spanish tourism companies operating in Cuba meanwhile noted that they have not been affected by the outbreak and that Granma province is far from the main tourist areas in Havana and the beaches along the northern coast. "Everything is under control," declared the Cuba director for Meliá Hotels International, Gabriel Cánaves, according to Preferente.Com, a travel industry website. The Iberostar Hotels & Resorts added that the company had "recorded not one case of cholera in the hotels until now, or cancellations of reservations because of that," and that for the chain "the safety and health of its clients and employees is an absolute priority.
************************************************************************************************************
Solar Activity
2MIN News July 7, 2012: X-Class Flare, Radiation Storm, Magnetic Storm
Published on Jul 7, 2012 by Suspicious0bservers
TODAYS LINKS
Aerosol Map: http://earthobservatory.nasa.gov/NaturalHazards/view.php?id=78452
Romanian Parliament: http://news.xinhuanet.com/english/photo/2012-07/07/c_131700409.htm
Russian Rain: http://en.rian.ru/russia/20120707/174447610.html
REPEAT LINKS
Spaceweather: http://spaceweather.com/ [Look on the left at the X-ray Flux and Solar Wind Speed/Density]
HAARP: http://www.haarp.alaska.edu/haarp/data.html [Click online data, and have a little fun]
SDO: http://sdo.gsfc.nasa.gov/data/ [Place to find Solar Images and Videos - as seen from earth]
SOHO: http://sohodata.nascom.nasa.gov/cgi-bin/soho_movie_theater [SOHO; Lasco and EIT - as seen from earth]
Stereo: http://stereo.gsfc.nasa.gov/cgi-bin/images [Stereo; Cor, EUVI, HI - as seen from the side]
SunAEON:http://www.sunaeon.com/#/solarsystem/ [Just click it... trust me]
SOLARIMG: http://solarimg.org/artis/ [All purpose data viewing site]
iSWA: http://iswa.gsfc.nasa.gov/iswa/iSWA.html [Free Application; for advanced sun watchers]
NOAA ENLIL SPIRAL: http://www.swpc.noaa.gov/wsa-enlil/cme-based/ [CME Evolution]
NOAA Bouys: http://www.ndbc.noaa.gov/
RSOE: http://hisz.rsoe.hu/alertmap/index2.php [That cool alert map I use]
JAPAN Radiation Map: http://jciv.iidj.net/map/
LISS: http://earthquake.usgs.gov/monitoring/operations/heliplots_gsn.php
Gamma Ray Bursts: http://grb.sonoma.edu/ [Really? You can't figure out what this one is for?]
BARTOL Cosmic Rays: http://neutronm.bartol.udel.edu//spaceweather/welcome.html [Top left box, look for BIG blue circles]
TORCON: http://www.weather.com/news/tornado-torcon-index [Tornado Forecast for the day]
GOES Weather: http://rsd.gsfc.nasa.gov/goes/ [Clouds over America]
INTELLICAST: http://www.intellicast.com/ [Weather site used by many youtubers]
NASA News: http://science.nasa.gov/science-news/science-at-nasa/
PHYSORG: http://phys.org/ [GREAT News Site!]

On July 4th, sunspot AR1515 hurled at least four minor CMEs into space. Most flew south of the ecliptic plane (the orbital plane of the planets), on track to miss everything. One of them, however, appears to be heading toward Earth. Click to view an animated forecast track of the incoming cloud: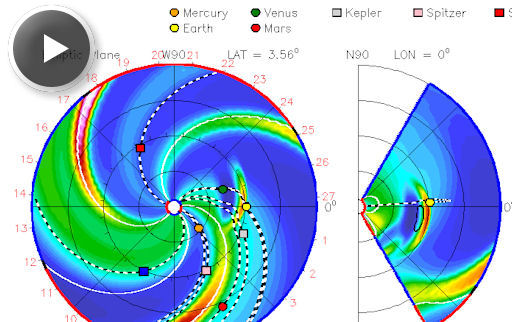 According to analysts at the Goddard Space Weather Lab, who prepared the forecast, the cloud will reach Earth on July 7th around 0600 UT. High-latitude sky watchers should be alert for auroras on that date.
For days, giant sunspot AR1515 has looked capable of producing a really strong explosion. On July 6th it finally did. Yesterday, the sunspot's magnetic canopy erupted, producing a brief but potent X1.1-class solar flare. NASA's Solar Dynamics Observatory recorded the extreme ultraviolet flash: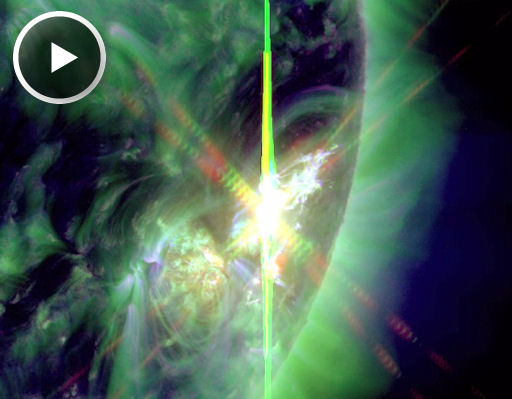 The explosion hurled a CME into space. According to this movie from the Solar and Heliospheric Observatory, the cloud appears to be heading south and away from Earth. However, we cannot yet rule out a glancing blow to our planet on July 8th or 9th. Stay tuned for further analysis.
Look at the CME movie one more time. The speckles near the end are caused by energetic protons accelerated by the flare. Guided toward Earth by solar magnetic fields, the protons are peppering Earth-orbiting satellites, causing "snow" in imaging systems and posing a slim threat for single-event upsets (computer glitches). X-flare alerts: text, voice.
************************************************************************************************************
Space
Object Name
Apporach Date
Left
AU Distance
LD Distance
Estimated Diameter*
Relative Velocity
(2003 MK4)
08th July 2012
0 day(s)
0.1673
65.1
180 m – 410 m
14.35 km/s
51660 km/h
(1999 NW2)
08th July 2012
0 day(s)
0.0853
33.2
62 m – 140 m
6.66 km/s
23976 km/h
189P/NEAT
09th July 2012
1 day(s)
0.1720
66.9
n/a
12.47 km/s
44892 km/h
(2000 JB6)
10th July 2012
2 day(s)
0.1780
69.3
490 m – 1.1 km
6.42 km/s
23112 km/h
(2010 MJ1)
10th July 2012
2 day(s)
0.1533
59.7
52 m – 120 m
10.35 km/s
37260 km/h
(2008 NP3)
12th July 2012
4 day(s)
0.1572
61.2
57 m – 130 m
6.08 km/s
21888 km/h
(2006 BV39)
12th July 2012
4 day(s)
0.1132
44.1
4.2 m – 9.5 m
11.11 km/s
39996 km/h
(2005 NE21)
15th July 2012
7 day(s)
0.1555
60.5
140 m – 320 m
10.77 km/s
38772 km/h
(2003 KU2)
15th July 2012
7 day(s)
0.1034
40.2
770 m – 1.7 km
17.12 km/s
61632 km/h
(2007 TN74)
16th July 2012
8 day(s)
0.1718
66.9
20 m – 45 m
7.36 km/s
26496 km/h
(2007 DD)
16th July 2012
8 day(s)
0.1101
42.8
19 m – 42 m
6.47 km/s
23292 km/h
(2006 BC8)
16th July 2012
8 day(s)
0.1584
61.6
25 m – 56 m
17.71 km/s
63756 km/h
144411 (2004 EW9)
16th July 2012
8 day(s)
0.1202
46.8
1.3 km – 2.9 km
10.90 km/s
39240 km/h
(2012 BV26)
18th July 2012
10 day(s)
0.1759
68.4
94 m – 210 m
10.88 km/s
39168 km/h
(2010 OB101)
19th July 2012
11 day(s)
0.1196
46.6
200 m – 450 m
13.34 km/s
48024 km/h
(2008 OX1)
20th July 2012
12 day(s)
0.1873
72.9
130 m – 300 m
15.35 km/s
55260 km/h
(2010 GK65)
21st July 2012
13 day(s)
0.1696
66.0
34 m – 75 m
17.80 km/s
64080 km/h
(2011 OJ45)
21st July 2012
13 day(s)
0.1367
53.2
18 m – 39 m
3.79 km/s
13644 km/h
153958 (2002 AM31)
22nd July 2012
14 day(s)
0.0351
13.7
630 m – 1.4 km
9.55 km/s
34380 km/h
(2011 CA7)
23rd July 2012
15 day(s)
0.1492
58.1
2.3 m – 5.1 m
5.43 km/s
19548 km/h
(2012 BB124)
24th July 2012
16 day(s)
0.1610
62.7
170 m – 380 m
8.78 km/s
31608 km/h
(2009 PC)
28th July 2012
20 day(s)
0.1772
68.9
61 m – 140 m
7.34 km/s
26424 km/h
217013 (2001 AA50)
31st July 2012
23 day(s)
0.1355
52.7
580 m – 1.3 km
22.15 km/s
79740 km/h
(2012 DS30)
02nd August 2012
25 day(s)
0.1224
47.6
18 m – 39 m
5.39 km/s
19404 km/h
(2000 RN77)
03rd August 2012
26 day(s)
0.1955
76.1
410 m – 920 m
9.87 km/s
35532 km/h
(2004 SB56)
04th August 2012
27 day(s)
0.1393
54.2
380 m – 840 m
13.72 km/s
49392 km/h
(2000 SD8)
04th August 2012
27 day(s)
0.1675
65.2
180 m – 400 m
5.82 km/s
20952 km/h
(2006 EC)
06th August 2012
29 day(s)
0.0932
36.3
13 m – 28 m
6.13 km/s
22068 km/h

| | |
| --- | --- |
| 1 AU = ~150 million kilometers,1 LD = Lunar Distance = ~384,000 kilometers | Source: NASA-NEO |
© 2004 – 2012 RSOE Emergency and Disaster Information Service
Camelopardalis – Red Giant Is Nearing The End Of Its Life 
MessageToEagle.com – Camelopardalis, or U Cam for short, is a star nearing the end of its life.
As it begins to run low on fuel, it is becoming unstable.
Every few thousand years, it coughs out a nearly spherical shell of gas as a layer of helium around its core begins to fuse.
The gas ejected in the star's latest eruption is clearly visible in this picture as a faint bubble of gas surrounding the star.

U Cam is an example of a carbon star. This is a rare type of star whose atmosphere contains more carbon than oxygen.

Due to its low surface gravity, typically as much as half of the total mass of a carbon star may be lost by way of powerful stellar winds.

Located in the constellation of Camelopardalis (The Giraffe), near the North Celestial Pole, U Cam itself is actually much smaller than it appears in Hubble's picture.
In fact, the star would easily fit within a single pixel at the center of the image.
Its brightness, however, is enough to saturate the camera's receptors, making the star look much bigger than it really is.
U Cam located in the constellation of Camelopardalis (The Giraffe), near the North Celestial Pole. Image credit: ESA/NASA
The shell of gas, which is both much larger and much fainter than its parent star, is visible in intricate detail in Hubble's portrait. While phenomena that occur at the ends of stars' lives are often quite irregular and unstable, the shell of gas expelled from U Cam is almost perfectly spherical.
The image was produced with the High Resolution Channel of the Advanced Camera for Surveys.
Camelopardalis – the Giraffe. Photo Credits: http://www.constellationsofwords.com
The nape of the neck of the Giraffe of this constellation, Camelopardalis, is very close to the Pole-star, Polaris, at the North Pole (in the Urania's Mirror picture above the star, Polaris, is named Alruccababh, the Polar Star).
Atlas owned the Garden of Hesperides and in this garden he had the responsibility of holding up the heavens, and there the dragon (Draco) named Ladon guards the tree from which the Golden Apples grow (Newton discovered gravity from seeing an apple fall from a tree, it was Atlas who went and picked the apples for Hercules).
The tree is also the Pole, Polaris or Ursa Minor which is enclosed on three sides by the coils of Draco. Atlas is said to have reigned in Arcadia. The adjacent constellation, Ursa Minor, is identified with Arcas the eponym of Arcadia.
@ MessageToEagle.com
See also:
Near-Miss Asteroid 2012 DA14 Returns Next Year
*************************************************************************************************************
Biological Hazards / Wildlife
| | | | | | | |
| --- | --- | --- | --- | --- | --- | --- |
| 07.07.2012 | Biological Hazard | Canada | Province of Northwest Territories, [Near to Mills Lake] | | | |
Description
The Northwest Territories government is warning people to stay away from 128 dead bison that were found during a routine flight to monitor anthrax. The animals were discovered Tuesday near Mills Lake northwest of Fort Providence. The territory says samples are being sent to the Canadian Food Inspection Agency lab in Lethbridge, Alta., for testing. The N.W.T. Environment Department has activated its anthrax emergency response plan as a precaution — anyone who discovers a carcass is asked to notify officials. The region where the bison were found is only accessible by boat at this time of year, but there are cabins in the area. Humans can develop skin, respiratory or intestinal infections if they contract anthra from an infected animal. Anthrax can be fatal but is controllable if promptly treated with antibiotics. The disease is caused by a bacteria that, once introduced into an area, leaves spores that can remain viable in the soil for many years. Under certain conditions such as wet weather followed by a hot, dry spell, the spores become concentrated in low-lying areas. Bison usually contract the disease by inhaling contaminated soil while they are wallowing in dust baths. Anthrax is not normally spread from animal to animal.
Biohazard name:
Anthrax (bison)
Biohazard level:
4/4 Hazardous
Biohazard desc.:
Viruses and bacteria that cause severe to fatal disease in humans, and for which vaccines or other treatments are not available, such as Bolivian and Argentine hemorrhagic fevers, H5N1(bird flu), Dengue hemorrhagic fever, Marburg virus, Ebola virus, hantaviruses, Lassa fever, Crimean-Congo hemorrhagic fever, and other hemorrhagic or unidentified diseases. When dealing with biological hazards at this level the use of a Hazmat suit and a self-contained oxygen supply is mandatory. The entrance and exit of a Level Four biolab will contain multiple showers, a vacuum room, an ultraviolet light room, autonomous detection system, and other safety precautions designed to destroy all traces of the biohazard. Multiple airlocks are employed and are electronically secured to prevent both doors opening at the same time. All air and water service going to and coming from a Biosafety Level 4 (P4) lab will undergo similar decontamination procedures to eliminate the possibility of an accidental release.
Symptoms:
Status:
confirmed
| | | | | | | |
| --- | --- | --- | --- | --- | --- | --- |
| 07.07.2012 | Biological Hazard | Canada | Province of Prince Edward Island, [Trout River] | | | |
Description
The P.E.I. and federal governments are investigating after a number of dead fish were found in a tributary of the Trout River, the same area of West Prince where a large fish kill was recorded a year ago. The province says the Trout Unlimited chapter of Prince County found the dead fish in Barclay Brook in Coleman on Thursday afternoon after a heavy rainfall the night before. It says samples of soil, foliage and water have been collected for analysis. The number of fish that were killed wasn't immediately known, but 52 brook trout and one juvenile Atlantic salmon were collected for samples. A provincial biologist involved in the investigation wasn't available to comment. Last July, hundreds of dead fish were found in the Trout, Big Pierre Jacques and Mill rivers after heavy rainfalls but officials said it was likely that thousands of fish were killed. After that fish kill, a farmer was fined $3,000 last September after he pleaded guilty to farming within 200 metres of a watercourse boundary without the protection of a grass headland. The P.E.I. government says the provincial departments of Environment Labour and Justice, along with Environment Canada, were involved in the investigation.
Biohazard name:
Mass. Die-off (fishes)
Biohazard level:
0/4 —
Biohazard desc.:
This does not included biological hazard category.
Symptoms:
Status:
J. Miles Cary / Knoxville News Sentinel via AP
Crews using rakes and an industrial vacuum remove dead fish from Butterfly Lake in Knoxville, Tenn., on Monday. Some 10,000 bluegills died.
By Miguel Llanos, msnbc.com
In lakes and rivers across parched areas of the U.S., heat and lower water levels are reducing oxygen levels — and killing fish populations by the thousands.
At one lake in Delaware, up to 6,000 dead gizzard shad and 600 perch were found floating this week.
"Aggravating this summertime problem, increased temperatures lead to warmer water, which holds less dissolved oxygen," state natural resources spokesman John Clark told NBCPhiladelphia.com.
In South Carolina, some 500 fish died at Lake Hartwell.
"It started Sunday afternoon," local resident Brandi Pierce told NBC affiliate WYFF-TV. "We started seeing ten fish popping up out of the water. Then Monday, it was full."
Across South Dakota, fishermen have reported thousands of fish kills in multiple lakes and rivers.
And in Tennessee, a fish kill on Butterfly Lake left a horrid stench in one Knoxville neighborhood.
"It's really putrid," Paula Gumpman, president of the local neighborhood association, told the Knoxville News Sentinel. "It's like after a hurricane. Gooky and yucky."
Some 10,000 bluegills were thought to have died, and city workers were tasked with the cleanup even though the lake is on private property.
"It's a public health issue," said Public Service Director David Brace, "and it just smells real bad."
| | | | | | | |
| --- | --- | --- | --- | --- | --- | --- |
| 07.07.2012 | Biological Hazard | USA | State of Washington, [Toutle Valley, Mount Saint Helens, Gifford Pinchot National Forest] | | | |
Description
They're everywhere up here, and they've brought the elements of an insect horror movie to the upper Toutle Valley. The Hummocks Trail near Coldwater Lake is speckled with their brown, fuzzy bodies, and you can't help squashing them by the dozen as you hike the terrain northwest of Mount St. Helens. They've turned the trunks of trees into wiggling, squirming masses. If you briefly stand still, several will creep up your boots and legs. Interpretive signs and kiosks are curtained with their writhing bodies, and if you stand silent you can hear them munching away at the leaves of red alder trees. A breakout of tent caterpillars that began last summer has exploded this year at the heart of the volcano's blast zone. Billions and billions of inch-long critters are stripping alders of foliage and bringing a creepy, but fascinating new factor to the evolution of the landscape Mount St. Helens blasted 32 years ago. Later this summer, after the caterpillars emerge from cocoons, the air will be filled with clouds of white, creamy moths. Tent caterpillars, like many other species of insect, typically experience boom-and-bust cycles, according to ecologists and entomologists. These cycles depend on the weather, food availability, the status of predators and other factors.

However, no one knows why caterpillar numbers surged last year and are really mushrooming this year, said Peter Frenzen, chief scientist for the U.S. Forest Service-managed Mount St. Helens National Volcanic Monument. Nor is there any way to determine whether the outbreak could be related to climate change, which has been cited as a factor in the pine beetle forest kill that is fueling massive fires in the Rocky Mountain states. Scientists don't, however, expect the tent caterpillar outbreak here to have such calamitous effects. "From what I've read, this should be a three-to-five year cycle. We should see an increase in the population until their food supply and/or disease causes the population to crash," Frenzen said. Robert Michael Pyle, an award-winning nature writer and entomologist from Grays River, said boom-and-bust insects like tent caterpillars typically "eat themselves out of house and home and parasites increase and then they collapse. … It's an absolutely natural thing for them." Because they are a native species, and the Volcanic Monument was established to allow natural processes to occur without human interference, the Forest Service does not plan to institute any controls, Frenzen said.

For now, the caterpillars are eating almost exclusively alder, a pioneering plant that is the dominant tree species in the area because it grows in the sterile volcanic debris that buried the valley floor hundreds of feet deep. There's some indication, Frenzen said, that caterpillars are also eating blackberry bushes. How the caterpillars affect the landscape is an intriguing question Frenzen is hoping some researcher looks into. He and Pyle doubt the caterpillars will kill the alders, which grow rapidly and should put on new foliage once the caterpillar spin cocoons, a process that turns them into moths. Usually, foliage-eating insects typically don't destroy their host plants, Pyle noted. However, the caterpillars could kill off some struggling alders and thereby give more light to other species, Frenzen speculated. In addition, the caterpillars' droppings could also act as a fertilizer for other plants and trees, such as the Douglas fir, Pacific silver fir and other conifer species that now dapple the landscape. "If you're an alder in the shade and already stressed, this may push you over the edge. Naturally thinning will occur," Frenzen said. "If you're a Doug fir or hemlock hanging around in the understory, this would be a good thing because it will mean more light and more nutrients." So, it's possible the caterpillar could play a role in determining the nature of the forest that emerges. Certainly their presence will attract songbirds and other predators to the areas, Pyle said.

"You never have that much fat and protein in one place without something wanting to eat it," he said. Once the caterpillars turn into moths, they'll be an ample food supply for bats, "which are under great stress," he added. Only time will tell whether the caterpillars play a major evolutionary role in shaping the future of the landscape, a process scientists called "succession." "As an event in the natural succession, this could be a significant one," Frenzen said. "It is an event that might explain something later."

Biohazard name:
Caterpillars invasion
Biohazard level:
0/4 —
Biohazard desc.:
This does not included biological hazard category.
Symptoms:
Status:
| | | | | | | |
| --- | --- | --- | --- | --- | --- | --- |
| 07.07.2012 | Biological Hazard | USA | State of California, [Scripps pier, Coronado and Mission Bay] | | | |
Description
North County lifeguards have witnessed an increase in jellyfish stings, according to our media partner North County Times. Oceanside lifeguards said they have seen a "significant increase" in the amount of sting injuries from jellyfish, with about 25 people reporting injuries in the last few days, said Lifeguard Sgt. Greg Trebbe. Jellyfish stings at Oceanside beaches have been minimal to nonexistent before, lifeguards said to North County Times. It's unknown exactly what type of jellyfish is causing the problems. But the executive director at Birch Aquarium said she has noticed a purple striped jellyfish present at the Scripps pier, Coronado and Mission Bay. The jellyfish have purple and white circular stripes and stings are not venomous. And this kind of jellyfish is common in San Diego. "This is a typical time when we have warmer waters and a lot of movements with currents from deeper waters," Nigella Hillgarth said. "There is also a lot of plankton in the waters, so there is a lot of food for them." Victims with more serious stings should seek medical attention, Hillgarth told North County Times. If the sting is minor, Hillgarth recommended washing it with fresh water.
Biohazard name:
Jellyfish invasion
Biohazard level:
0/4 —
Biohazard desc.:
This does not included biological hazard category.
Symptoms:
Status:
| | | | | | | |
| --- | --- | --- | --- | --- | --- | --- |
| 07.07.2012 | Biological Hazard | South Africa | State of Western Cape, [Stilbaai coastal waters] | | | |
Description
A SOUTH African surfer survived an attack by a shark measuring up to 4.5 metres at a popular beach on Friday, rescuers said. Jacque Mostert, 29, was attacked and injured while he was surfing during a holiday in Stilbaai in Western Cape province, Rico Menezies of the National Sea Rescue Institute said in a statement. "He was surfing with friends and his fellow surfers, who reportedly witnessed the incident, removed him from the water," said Mr Menezies. He said the shark of unknown species of between four to 4.5 metres bit him in his leg and he was taken to hospital suffering serious cuts and blood loss. His condition was described as "serious but stable". Shark attacks in South Africa are less common but more often fatal than other shark international hotspots like Australia and the United States. The country accounts for one-third of the 24 deaths worldwide on the International Shark Attack File for the past three years.
Biohazard name:
Shark attack (Non-Fatal)
Biohazard level:
0/4 —
Biohazard desc.:
This does not included biological hazard category.
Symptoms:
Status:
**************************************************************************************************************
Articles of Interest
| | | | | | | |
| --- | --- | --- | --- | --- | --- | --- |
| 07.07.2012 | Unusual geological event | USA | State of Louisiana, [Bayou Corne and Grand Bayou areas] | | | |
Description
Assumption Parish emergency officials have asked to meet with an expert from the U.S. Geological Survey and for portable seismic equipment to get a better understanding of new tremors reported in the Bayou Corne and Grand Bayou areas, officials said Friday. The earth tremors are being reported by residents in a swampy area of northern Assumption Parish where venting streams of natural gas have been roiling the surface of waterways for about a month. The source of the natural gas remains uncertain and is not an explosive risk but detailed tests to fingerprint the source of the leaking gas are pending, said John Boudreaux, director of the parish Office of Homeland Security and Emergency Preparednes. He said company reports posted on the parish's website are from earlier tests that mainly established that natural gas had been bubbling up through the waterways. Boudreaux said residents reported tremors last month and again on Tuesday and Wednesday, about 7:30 a.m. each day. State and parish officials have not made a connection between the tremors and the natural gas releases and are focusing on the oil and gas infrastructure in the area to pinpoint the source of the leaking gas. One of those lines of inquiry has been the Napoleonville Dome, a 3-by-1-mile salt dome containing 51 caverns used to produce brine and for hydrocarbon storage.

The Bayou Corne and Grand Bayou areas are on one of the dome's flanks. Two of the caverns store natural gas.Boudreaux said the cavern holding natural gas nearest to the two communities has undergone a scientific test to assess its integrity. He said the Louisiana Department of Natural Resources is evaluating a report on the test and is expected to provide the results next week. The cavern is ultimately owned by Chevron Pipeline. The other cavern, which is about a mile north of the Chevron cavern and is owned by Acadian Gas Pipeline of Houston, Texas, has been shut in for the past five days as a precaution and is being monitored, Boudreaux said. Parish officials have also said they monitoring the air for natural gas levels and what is called the lower explosive limit, or LEL, around the waterborne bubble locations and in populated areas. LEL indicates a risk of explosion. The LEL has been zero in almost all reports. In a news release Friday, parish officials said that in the Sportsman's Drive area of Bayou Corne, a stationary air monitor hit 25.2 percent of the LEL on Thursday but officials say the reading is suspicious. Sheriff Mike Waguespack warned the public Friday not to tamper with the monitoring equipment. He said anyone caught tampering or trying to feed the monitors some type of foreign source "will be handled accordingly and will be arrested."

Concerns would occur at 60 percent of LEL, and 100 percent would reflect an ignition risk. Boudreaux said he also heard community concerns about daily air monitoring reports on the parish website. The reports reflect passes by a boat near the bubbling locations and recently installed neighborhood air monitoring equipment, Boudreaux said. He said monitoring tests for chemicals in addition to LEL, including, in some cases, hydrogen sulfide, or H2S. Hydrogen sulfide is regularly tested in connection with oil and gas exploration. He said concerns would begin at levels of 35 parts per million and can be toxic at 100 ppm. The latest reports Friday show less than 1 ppm for hydrogen sulfide.
by Staff Writers
Corvallis OR (SPX)

Pinyon pine forests near Los Alamos, N.M., had already begun to turn brown from drought stress in the image at left, in 2002, and another photo taken in 2004 from the same vantage point, at right, show them largely grey and dead. (Photo by Craig Allen, U.S. Geological Survey).

New research concludes that a one-two punch of drought and mountain pine beetle attacks are the primary forces that have killed more than 2.5 million acres of pinyon pine and juniper trees in the American Southwest during the past 15 years, setting the stage for further ecological disruption. The widespread dieback of these tree species is a special concern, scientists say, because they are some of the last trees that can hold together a fragile ecosystem, nourish other plant and animal species, and prevent serious soil erosion.
The major form of soil erosion in this region is wind erosion. Dust blowing from eroded hills can cover snowpacks, cause them to absorb heat from the sun and melt more quickly, and further reduce critically-short water supplies in the Colorado River basin.
The findings were published in the journal Ecohydrology by scientists from the College of Forestry at Oregon State University and the Conservation Biology Institute in Oregon. NASA supported the work.
"Pinyon pine and juniper are naturally drought-resistant, so when these tree species die from lack of water, it means something pretty serious is happening," said Wendy Peterman, an OSU doctoral student and soil scientist with the Conservation Biology Institute. "They are the last bastion, the last trees standing and in some cases the only thing still holding soils in place."
"These areas could ultimately turn from forests to grasslands, and in the meantime people are getting pretty desperate about these soil erosion issues," she said. "And anything that further reduces flows in the Colorado River is also a significant concern."
It's not certain whether or not the recent tree die-offs are related to global warming, Peterman said. However, the 2007 report of the Intergovernmental Panel on Climate Change projected that while most of the United States was getting warmer and wetter, the Southwest will get warmer and drier.
Major droughts have in fact occurred there, and the loss of pinyon pine and juniper trees would be consistent with the climate change projections, Peterman said.
Pinyon pine and juniper are the dominant trees species in much of the Southwest, routinely able to withstand a year or two of drought, and able to grow in many mountainous areas at moderate elevation. The trees are common in Utah, Colorado, New Mexico and Arizona, and may have expanded their range in the past century during conditions that were somewhat wetter than normal.
In some places up to 90 percent of these trees have now died, many of them during a major drought in 2003 and 2004. The new research concluded that most of the mortality occurred in shallow soils having less than four inches of available water in about the top five feet of the soil column.
Most of the tree mortality, the scientists said, was caused by trees being sufficiently weakened by drought that opportunistic bark beetle epidemics were able to kill the pinyon pine, and the vascular system of the juniper ceased to function.
Traditionally, pinyon pine and juniper were not considered trees of significant value. They were occasionally used for firewood, but otherwise small and not particularly impressive.
They perform key ecosystem functions, however, not the least of which is stabilizing soils and preventing erosion. They also provide some food in the form of pine nuts and juniper berries, and store carbon in their biomass, and in the soils beneath their canopies.
Related Links
Oregon State University
Water News – Science, Technology and Politics
*************************************************************************************************************
[In accordance with Title 17 U.S.C. Section 107, this material is distributed without profit, for research and/or educational purposes. This constitutes 'FAIR USE' of any such copyrighted material.]