Earthquakes
Date/Time (UTC)
Magnitude
Area
Country
State/Prov./Gov.
Location
Risk
Source
Details
25.06.2012 09:00:35
2.0
North America
United States
Hawaii
Lae 'Apuki (historical)
USGS-RSOE
25.06.2012 09:20:29
2.6
Europe
Greece
Klima
EMSC
25.06.2012 09:20:48
3.6
Europe
Greece
Khiliiadhou
EMSC
25.06.2012 09:21:08
2.6
Asia
Turkey
Yanikdegirmen
EMSC
25.06.2012 09:21:27
2.9
Europe
Italy
Mirabello
EMSC
25.06.2012 08:15:26
3.6
Asia
Turkey
Seyhsuvar
EMSC
25.06.2012 09:15:33
2.2
North America
United States
Texas
Silver City
USGS-RSOE
25.06.2012 08:15:48
2.0
Europe
Italy
La Balantina
EMSC
25.06.2012 08:40:35
4.3
Pacific Ocean
Tonga
Petani
USGS-RSOE
25.06.2012 09:21:47
4.3
Pacific Ocean – East
Tonga
Petani
EMSC
25.06.2012 08:16:10
2.5
Asia
Turkey
Kapibagi
EMSC
25.06.2012 08:16:30
2.8
Europe
Albania
(( Mish ))
EMSC
25.06.2012 07:10:01
3.3
Europe
Albania
(( Shermine ))
EMSC
25.06.2012 09:22:07
2.5
Europe
Spain
Los Llanillos
EMSC
25.06.2012 08:16:51
2.0
Europe
Greece
Agios Fokas
EMSC
25.06.2012 08:17:09
2.6
Europe
Spain
Los Llanillos
EMSC
25.06.2012 08:17:10
2.5
Europe
Spain
Los Llanillos
EMSC
25.06.2012 08:17:10
2.9
Europe
Spain
Los Llanillos
EMSC
25.06.2012 08:17:32
2.6
Europe
Spain
Los Llanillos
EMSC
25.06.2012 08:55:32
2.2
North America
United States
Alaska
Amchitka
USGS-RSOE
25.06.2012 06:10:33
3.2
North America
United States
Montana
Packers
USGS-RSOE
25.06.2012 07:10:41
2.9
Europe
Spain
Los Llanillos
EMSC
25.06.2012 07:11:04
2.4
Asia
Turkey
Kullar
EMSC
25.06.2012 07:11:26
2.0
Europe
Italy
Le Cremosine
EMSC
25.06.2012 06:05:28
4.6
Middle America
Guatemala
Departamento de Escuintla
Tecojate
USGS-RSOE
25.06.2012 07:11:52
4.6
Middle-America
Guatemala
Tecojate
EMSC
25.06.2012 07:12:15
3.6
South-America
Chile
Refresco Seco
EMSC
25.06.2012 07:12:36
2.2
Asia
Turkey
Marmaraereglisi
EMSC
25.06.2012 07:12:58
2.5
Europe
Spain
Los Llanillos
EMSC
25.06.2012 07:13:19
3.6
South-America
Argentina
Cienaguita
EMSC
25.06.2012 07:13:43
5.3
Pacific Ocean – East
Tonga
Haatua
EMSC
25.06.2012 05:30:45
5.2
Pacific Ocean
Tonga
Haatua
USGS-RSOE
25.06.2012 07:14:03
3.4
Asia
Turkey
Rahimler
EMSC
25.06.2012 07:14:04
3.0
Europe
Spain
Los Llanillos
EMSC
25.06.2012 07:14:32
2.2
Asia
Turkey
Kahya
EMSC
25.06.2012 07:14:51
2.5
Europe
Greece
Kalopirgos
EMSC
25.06.2012 07:15:15
2.7
Europe
Spain
Los Llanillos
EMSC
25.06.2012 07:15:39
2.3
Europe
Italy
Sannicandro Garganico
EMSC
25.06.2012 07:15:59
2.0
Europe
Italy
Casa Madonnina
EMSC
25.06.2012 07:16:24
2.9
Europe
Greece
Kokkinoyio
EMSC
25.06.2012 07:16:51
2.8
Europe
Spain
Los Llanillos
EMSC
25.06.2012 04:05:22
2.1
North America
United States
Alaska
Egegik
USGS-RSOE
25.06.2012 07:17:11
2.6
Europe
Spain
Tigaday
EMSC
25.06.2012 07:17:31
2.3
Asia
Turkey
Erisen
EMSC
25.06.2012 07:17:32
2.5
Europe
Spain
Los Llanillos
EMSC
25.06.2012 07:17:53
3.0
Asia
Turkey
Sarimehmet
EMSC
25.06.2012 07:18:16
3.3
Europe
Italy
Apricena
EMSC
25.06.2012 07:18:36
3.4
South-America
Chile
Chuquicamata
EMSC
25.06.2012 08:25:54
3.4
Caribbean
Dominican Republic
Provincia de La Altagracia
El Cabo
USGS-RSOE
25.06.2012 03:35:30
2.3
North America
United States
Alaska
Ellamar
USGS-RSOE
25.06.2012 07:19:02
2.8
Asia
Turkey
Inkoy
EMSC
25.06.2012 07:19:20
2.2
Asia
Turkey
Kahya
EMSC
25.06.2012 07:19:41
2.9
Asia
Turkey
Suruyolu
EMSC
25.06.2012 08:17:58
2.4
Europe
Greece
Skala Eresou
EMSC
25.06.2012 03:30:27
2.7
North America
United States
Arkansas
Gravesville
USGS-RSOE
25.06.2012 03:50:28
2.7
North America
United States
Arkansas
Sulphur Springs
USGS-RSOE
25.06.2012 07:20:03
4.7
Europe
Portugal
Corvo
EMSC
25.06.2012 02:35:32
4.7
Europe
Portugal
Regiao Autonoma dos Acores
Corvo
USGS-RSOE
25.06.2012 03:45:29
2.2
North America
Canada
British Columbia
Princeton
USGS-RSOE
25.06.2012 07:20:26
2.4
Asia
Turkey
Ocakli
EMSC
25.06.2012 07:20:45
2.0
Asia
Turkey
Caglayan
EMSC
25.06.2012 07:21:06
2.6
Asia
Turkey
Suruyolu
EMSC
25.06.2012 07:21:26
2.2
Asia
Turkey
Mesarya
EMSC
25.06.2012 07:21:47
2.0
Asia
Turkey
Agzikara
EMSC
25.06.2012 08:45:38
3.8
North America
United States
Alaska
Kaktovik
USGS-RSOE
25.06.2012 07:22:09
2.2
Asia
Turkey
Baskoy
EMSC
25.06.2012 07:22:30
2.4
Asia
Turkey
Suruyolu
EMSC
25.06.2012 07:22:51
4.6
Asia
Afghanistan
Valeyj (1)
EMSC
25.06.2012 00:45:32
4.5
Asia
Afghanistan
Velayat-e Badakhshan
Khal Khan
USGS-RSOE
25.06.2012 07:23:10
3.1
Europe
Spain
Los Llanillos
EMSC
25.06.2012 07:23:31
2.2
Europe
Italy
Bosellina
EMSC
25.06.2012 03:45:55
2.4
North America
Canada
British Columbia
Princeton
USGS-RSOE
25.06.2012 07:23:52
2.3
Asia
Turkey
Erisen
EMSC
25.06.2012 07:24:14
2.0
Asia
Turkey
Gunduzu
EMSC
25.06.2012 07:24:34
2.5
Asia
Turkey
Gunduzu
EMSC
25.06.2012 07:24:35
2.1
Asia
Turkey
Agzikara
EMSC
25.06.2012 07:24:53
3.0
Europe
Portugal
Facho
EMSC
25.06.2012 07:25:13
2.1
Asia
Turkey
Erisen
EMSC
25.06.2012 07:25:33
4.6
Europe
Portugal
Corvo
EMSC
24.06.2012 23:11:04
4.7
Europe
Portugal
Regiao Autonoma dos Acores
Corvo
USGS-RSOE
25.06.2012 07:25:55
4.4
Europe
Portugal
Corvo
EMSC
25.06.2012 07:26:17
2.2
Asia
Turkey
Suruyolu
EMSC
25.06.2012 07:26:36
2.1
Asia
Turkey
Derebey
EMSC
25.06.2012 07:31:25
2.8
Asia
Turkey
Yukarigolalan
EMSC
24.06.2012 22:25:42
4.9
Asia
Turkey
Van Ili
Suruyolu
USGS-RSOE
24.06.2012 21:50:37
4.9
Atlantic Ocean
South Georgia and the South Sandwich Islands
Grytviken
USGS-RSOE
24.06.2012 21:00:38
2.7
North America
United States
California
Caldwell Pines
USGS-RSOE
24.06.2012 20:51:01
3.2
North America
United States
California
Black Oaks
USGS-RSOE
24.06.2012 20:30:38
2.6
Middle America
Mexico
Estado de Baja California
Hidalgo
USGS-RSOE
24.06.2012 19:55:53
2.0
North America
United States
Hawaii
Kealakomo (historical)
USGS-RSOE
24.06.2012 20:00:35
3.5
North America
United States
Texas
Egan
USGS-RSOE
24.06.2012 17:55:43
2.0
North America
United States
Alaska
Sunshine
USGS-RSOE
24.06.2012 18:16:00
4.9
Indonesian archipelago
Indonesia
Panyawungan
USGS-RSOE
24.06.2012 21:10:49
2.0
North America
United States
Alaska
Drift River
USGS-RSOE
24.06.2012 15:15:53
2.9
North America
United States
California
Rockwood
USGS-RSOE
24.06.2012 15:16:16
4.5
Asia
Japan
Fukushima-ken
Ena
USGS-RSOE
24.06.2012 15:05:39
4.3
Asia
China
Tibet Autonomous Region
Sogma
USGS-RSOE
24.06.2012 21:05:36
2.3
North America
United States
Alaska
Atka
USGS-RSOE
24.06.2012 13:00:30
3.4
North America
United States
Alaska
Karluk
USGS-RSOE
24.06.2012 12:46:05
5.4
South America
Bolivia
Departamento de Potosi
Chilena
USGS-RSOE
24.06.2012 15:00:52
2.8
Caribbean
Puerto Rico
Hatillo Del Mar
USGS-RSOE
24.06.2012 11:10:50
2.1
North America
United States
California
Pine Grove
USGS-RSOE
24.06.2012 11:11:12
3.4
North America
United States
Texas
Calliham
USGS-RSOE
24.06.2012 10:35:40
4.7
North America
United States
Alaska
Amchitka
USGS-RSOE
24.06.2012 10:20:45
5.5
Asia
China
Sichuan Sheng
Zuosuo
USGS-RSOE
……………………………………..
M 6.1 EARTHQUAKE – NEAR THE EAST COAST OF KAMCHATKA, RUSSIA 06/24/12
Published on Jun 23, 2012 by EQReporter
6.1 magnitude earthquake strikes near the east coast of Kamchatka, Russia.
Magnitude
6.1
Date-Time
Sunday, June 24, 2012 at 03:15:02 UTC
Sunday, June 24, 2012 at 04:15:02 PM at epicenter
Location
57.601°N, 163.218°E
Depth
17.4 km (10.8 miles)
Region
NEAR THE EAST COAST OF KAMCHATKA, RUSSIA
Distances
268 km (166 miles) SSW (192°) from Il'pyrskiy, Russia
317 km (197 miles) NNW (329°) from Nikol'skoye, Komandorskiye Ostrova, Rus.
586 km (364 miles) NNE (28°) from Petropavlovsk-Kamchatskiy, Russia
2994 km (1860 miles) NNE (28°) from TOKYO, Japan

Posted by Mochizuki
Earthquake with the epicenter in Mt. Fuji happened 6/24/2012.
A 2.8 magnitude earthquake was reported under the Mt. Fuji volcano on the 24th of June. Mt. Fuji last erupted in 1707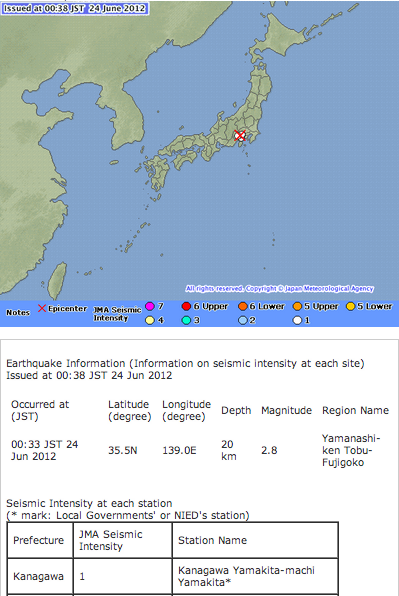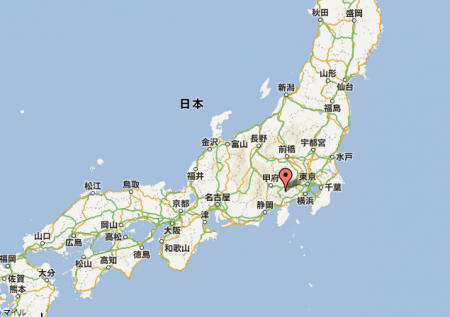 The epicenter is in the lake located at North to Mt. Fuji, about 10km from the top of the mountain.
Earthquake Report
Eruptive activity remains at low levels at volcanoes we have been watching in the Americas.
Nevado del Ruiz volcano (Colombia) seems to have settled into producing banded (alternating periods of higher and lower amplitude) tremor along with occasional volcanic earthquakes (station OLLE).
Low level tremor and small earthquakes have become apparent again on seismograms at nearby Galeras volcano (Colombia) (station ANGV).
Popocatepetl volcano (Mexico) continues to simmer with pulses of spasmodic tremor, small earthquakes and low level exhalations of gas and some ash.
At El Hierro, Canary Islands, Spain,  a new earthquake swarm seems to have started late tonight.  The strongest earthquake being a M3.1
Popocatepetl volcano, Mexico
Sporadic earthquakes at Galeras volcano, Colombia
Start of an new earthquake swarm at El Hierro, Canary Islands, Spain
Strong 3.1 earthquake (for local conditions at least) at El Hierro, Canary Islands, Spain
**********************************************************************************************************
Extreme Temperatures/ Weather
BALTIMORE CANYON TO HATTERAS CANYON OUT TO 36N 70W TO 34N 71W
HATTERAS CANYON TO CAPE FEAR OUT TO 34N 71W TO 32N 73W
CAPE FEAR TO 31N OUT TO 32N 73W TO 31N 74W
JUNEAU AK


FIRE WEATHER MESSAGE
PUEBLO CO
BILLINGS MT
MISSOULA MT
GRAND JUNCTION CO
NORTH PLATTE NE
RIVERTON WY
GREAT FALLS MT
DENVER CO
GOODLAND KS
RENO NV
LAS VEGAS NV
SALT LAKE CITY UT
ELKO NV
BOISE ID


| | | | | | | |
| --- | --- | --- | --- | --- | --- | --- |
| 25.06.2012 | Forest / Wild Fire | USA | State of Utah, Saratoga Springs | | | |
Description
A massive, out of control wildfire on Lake Mountain prompted evacuations Friday morning and was bearing down on an explosives factory. "It's close enough to where we're really worried," BLM spokeswoman Cami Lee said of the explosives plant. An evacuation of the Benches subdivision in Saratoga Springs has now begun. Officials have begun notifying residents door to door and through reverse 911 telephone calls. The evacuation area is everything south of Pony Express Parkway, east of Smith Ranch Road and east to Redwood Road. The affected subdivisions in Eagle Mountain include Kiowa Valley, Eagle Top, Fremont Springs and SilverLake. Highway 68 also was closed south of 400 North in Saratoga Springs. A shelter is being set up at West Lake High School. Just after 11 a.m. the temperature was already 90 degrees and the wind was blowing at 15 mph with gust up to 19 mph. Authorities were scrambling around 10 a.m. to notify residents of at least 250 homes in Saratoga Springs and Eagle Mountain that they needed to leave the area. Bureau of Land Management spokeswoman Teresa Rigby said that a change in wind was driving the Dump Fire east and it had come within a quarter of a mile of a neighborhood. The thick brown smoke was filling the air over much of northern Utah County and drifting east over the valley. An air tanker was flying overhead, visible only occasionally before it disappeared into the smoke. In Saratoga Springs the city's water department has shut off irrigation wast er to all location where culinary water is being used for irrigation, according to the city's Facebook page, so water tanks can fill and provide water and water pressure if the fire reaches homes. The city also is asking residents to turn off their irrigation systems this weekend. According to the BLM, the fire was being fought Friday morning by four hand crews, various fire engines, and a handful of helicopters. Additional hand crews were en route.
| | | | | | | |
| --- | --- | --- | --- | --- | --- | --- |
| 25.06.2012 | Forest / Wild Fire | USA | State of Colorado, [Pike National Forest] | | | |
Description
The fire burning behind Lake George in Park County is now 200 acres, and it is 0% contained. According to a park ranger for the Pike National Forest, the 11 mile canyon has been evacuated. That is between 150 and 200 homes. Everyone else in that area is under pre-evacuation orders. That means they must be ready to evacuate at a moment's notice. County road 96 and 92 at Highway 24 are both shut down right now. That fire started around noon on the Indian Paintbrush Ranch. We've heard several reports from witnesses who say they saw someone fire shots, and that may have hit a propane tank causing an explosion. But, Park Rangers say they are still investigating what caused this fire. Among the evacuees, about 500 campers with Camp Alexander. They were at 11 mile canyon. The Camp Director tells us they are all safely out of the fire's reach. Those campers are from all over Colorado, and out of state. They will have to stay the night at Woodland Park High School and/or Middle School. There are more than 40 firefighters fighting this fire, and witnesses say they have also seen drops from helicopters.
| | | | | | | |
| --- | --- | --- | --- | --- | --- | --- |
| 25.06.2012 | Forest / Wild Fire | USA | State of Colorado, [Fort Collins (Paradise Park) area] | | | |
Description
Crews on Saturday battled a fast-moving wildfire in northern Colorado that has scorched about 8,000 acres and prompted several dozen evacuation orders. Larimer County Sheriff's Office spokesman John Schulz said the fire was reported just before 6 a.m. Saturday in the mountainous Paradise Park area about 25 miles northwest of Fort Collins. The blaze expanded rapidly during the late afternoon and evening and by Saturday night, residents living along several roads in the region had been ordered to evacuate and many more were warned that they might have to flee. An evacuation center has been set up at a Laporte middle school. Officials didn't specify how many residents had evacuated but said they had sent out 800 emergency notifications alerting people to the fire and the possibility that might have to flee. "Right now we're just trying to get these evacuations done and get people safe," Schulz told Denver-based KMGH-TV, adding that "given the extreme heat in the area, it makes it a difficult time for (the firefighters)." Temperatures near Fort Collins reached the mid-80s Saturday afternoon with a humidity level of between 5 percent and 10 percent. Ten structures have been damaged, although authorities were unsure if they were homes or some other kind of buildings. No injuries have been reported. The cause of the fire was unknown. Aerial footage from KMGH-TV showed flames coming dangerously close to what appeared to be several outbuildings and at least one home in the area, as well as consuming trees and sending a large plume of smoke into the air. Two heavy air tankers, five single-engine air tankers and four helicopters were on the scene to help fight the blaze, which appeared to be burning on private and U.S. Forest Service land and was being fueled by sustained winds of between 20 and 25 mph. "It was just good conditions to grow," National Weather Service meteorologist Chad Gimmestad told The Associated Press. "The conditions today were really favorable for it to take off."
| | | | | | | |
| --- | --- | --- | --- | --- | --- | --- |
| Today | Forest / Wild Fire | USA | State of New Mexico, [Community of La Puebla, Santa Fe County ] | | | |
Description
Two wildfires broke out in the northern Santa Fe County community of La Puebla on Sunday evening, causing electricity to be cut off to some homes and other residences to be evacuated. The first, called the Rio Vista Fire, began about 6 p.m. with a vehicle that caught fire for unknown reasons at a residence near Rio Vista Run and Santa Fe County Road 88B. The car fire quickly spread to about 3 acres in the bosque on both sides of the Rio Santa Cruz near Camino de Flores, where it reportedly was crowning in cottonwood trees. A state Forestry Division spokesman said residents in a 2-mile radius were being advised to head south and that roadways in the area were expected to be congested. John Wheeler, a public information officer for the Santa Fe County Fire Department, said five residences were evacuated. He said county animal-control officers were removing some dogs from the residences. Fifty firefighters from various jurisdictions responded and "had a good handle" on the Rio Vista Fire by 8:30 p.m., he said. About 8 p.m., however, a second fire, dubbed the Alamo Fire, was reported about two miles away near Calle Alamo, causing most of the firefighters to be shifted to the second site. The Alamo Fire's origin is unknown, but by 9:30 p.m., it had grown to about 3 acres and was threatening five structures, Wheeler said. "We're going to have to cut power to a few houses out here," he said. "It looks like [electric power transmission lines] are going to catch fire." Wheeler said he didn't know how many residences would be without power, but he said the outage was likely to last overnight. Hot and dry conditions have made much of New Mexico a tinderbox. Calmer winds Sunday night were helping firefighters contain the La Puebla wildfires, but Wheeler cautioned New Mexicans to be "hypervigilant" of wildfires, at least until the summer rains begin.
***********************************************************************************************************
Storms, Flooding, Landslides
JACKSONVILLE FL


 Active tropical storm system(s)
Name of storm system
Location
Formed
Last update
Last category
Course
Wind Speed
Gust
Wave
Source
Details
Debby (AL04)
Gulf of Mexico
24.06.2012
25.06.2012
Tropical Storm
0 °
93 km/h
111 km/h
4.27 m
NHC
| | |
| --- | --- |
| Share: | |
| Storm name: | Debby (AL04) |
| Area: | Gulf of Mexico |
| Start up location: | N 26° 18.000, W 87° 30.000 |
| Start up: | 24th June 2012 |
| Status: | Active |
| Track long: | 169.50 km |
| Top category.: | |
| Report by: | NHC |

Useful links:

Past track

Date
Time
Position
Speed
km/h
Wind
km/h
Gust
km/h
Category
Course
Wave
Pressure
Source
24th Jun 2012
06:06:38
N 26° 18.000, W 87° 30.000
0
83
102
Tropical Storm
0
13
998 MB
NHC
24th Jun 2012
10:06:59
N 27° 18.000, W 87° 18.000
6
83
102
Tropical Storm
360
12
998 MB
NHC

Current position

Date
Time
Position
Speed
km/h
Wind
km/h
Gust
km/h
Category
Course
Wave
feet
Pressure
Source
25th Jun 2012
11:06:31
N 28° 36.000, W 85° 48.000
0
83
102
Tropical Storm
0 °
14
993 MB
NHC

Forecast track

Date
Time
Position
Category
Wind
km/h
Gust
km/h
Source
26th Jun 2012
18:00:00
N 29° 0.000, W 85° 30.000
Tropical Storm
93
111
NHC
26th Jun 2012
06:00:00
N 28° 54.000, W 85° 36.000
Tropical Storm
93
111
NHC
27th Jun 2012
06:00:00
N 29° 12.000, W 85° 24.000
Tropical Storm
102
120
NHC
28th Jun 2012
06:00:00
N 29° 24.000, W 85° 18.000
Tropical Storm
102
120
NHC
29th Jun 2012
06:00:00
N 29° 42.000, W 85° 12.000
Tropical Storm
83
102
NHC
30th Jun 2012
06:00:00
N 30° 12.000, W 85° 0.000
Tropical Depression
56
74
NHC
MOBILE AL
TAMPA BAY RUSKIN FL
TALLAHASSEE FL
NEW ORLEANS LA


………………………………………………
(CNN) — The expansive, stalled Tropical Storm Debby lashed Florida on Sunday, spawning apparent tornadoes in the central part of the state that killed one woman, a county spokeswoman said.
Gloria Rybinski, emergency operations spokeswoman for Highland County, said two twisters destroyed four homes in the southern end of the county and damaged others.
The woman was found dead in a home in Venus, located in the middle of the state roughly between Port St. Lucie and Sarasota, Rybinski said. In addition, a child in one of the affected homes was injured and transported to a hospital for treatment.
Packing 60 mph winds, Debby's eye was still 115 miles south-southwest of Apalachiocola, Florida (and 195 miles east-southeast of the mouth of the Mississippi River in Louisiana) according to the National Hurricane Center's 7 p.m. (8 p.m. ET) Sunday update.
Even so, it's already made a big impact — and is likely to cause damage, flooding and worse for days to come. In fact, the heart of the storm was churning but not moving in the Gulf of Mexico on Sunday evening, and forecasters still don't know where it will end up.
"Little movement is expected during the next couple of days, but this forecast remains uncertain due to weak steering currents," the Miami-based center said. "Some gradual strengthening is possible during the next 48 hours."
Offshoot tornadoes, like the ones that seemed to hit Highland County, are one major concern. The National Weather Service had tornado warnings out, indicating a high likelihood of a twister strike, in spots off-and-on throughout the day Sunday, and a less severe tornado watch is in effect for much of western Florida through 5 a.m. Monday.
And even if tornadoes don't occur, the combination of relentless rains and strong winds has proven enough to cause big problems.
The sprawling system's tropical storm force winds of 39 mph or stronger extend out 200 miles from its center. Such sustained winds were recorded early Sunday evening in several spots on the Florida Panhandle, west of Apalachicola.
Debbie Ponceti said wind was pushing run underneath the door to her home in Madeira Beach, about 10 miles east of St. Petersburg, while her front lawn has been reduced to mush and waters in a lagoon near her house are steadily rising. There was been no let up in the powerful rain, which is forecast to continue through Tuesday.
"Typically when a thunderstorm happens, it is over in 20 minutes," Ponceti told CNN iReport. "But this has been going on all day."
In nearby Redington Beach, fellow iReporter Keri Ann Eversole said winds appeared to be blowing between 40 to 50 miles per hour.
"The rain was coming down sideways," Eversole said. "(It) felt like glass."
Fire and rescue personnel in nearby Clearwater responded to 30 calls in an hour, as of 6 p.m. Sunday, to help people stranded in their cars due to the flooding or needing urgent medical help, the city's public safety spokeswoman Elizabeth Watts said. Beach areas were "basically underwater," as were many side streets and at least two major thoroughfares — U.S. Highway 19 and Gulf to Bay Boulevard.
Mandatory evacuation orders were issued for Alligator Point. St. George Island and other low-lying areas in Franklin County on the Florida Panhandle, the Federal Emergency Management Agency said in a Sunday night news release. Just to the east and also on the Gulf coast, voluntary evacuations are being encouraged in parts of Taylor and Wakulla counties.
And high winds have prompted authorities to shut down the Sunshine Skyway bridge on Interstate 275 connecting St. Petersburg and Bradenton, Florida, said Elizabeth LaRotonda with St. Petersburg police.
The hurricane center said tropical storm conditions will extend for the entire area from the Mississippi-Alabama line eastward to the Suwannee River, Florida, by night's end.
Beyond that, the new forecast track showed Debby remaining a tropical storm as it moves northward and makes landfall, possibly Thursday, on the Florida Panhandle. However, forecasters warned Debby's track remained uncertain and said the "new official track remains a low-confidence forecast."
Debby should dump 10 to 15 inches of rain in the Florida Panhandle and elsewhere in northern Florida before it's done, the hurricane center said, with as much as 25 inches possible in spots. Central Florida and southeast Georgia will likely be drenched with 5 to 10 inches, with smaller but still significant precipitation amounts in parts of coastal Alabama, southeastern Louisiana and south Florida.
"Given the recent heavy rainfall and wet soil conditions, these additional amounts will exacerbate the threat of flooding across portions of the central and eastern Gulf coast," the weather service said.
The combination of a storm surge and the high tide could cause 4 to 6 feet of flooding at Florida's Apalachee Bay to Waccasassa Bay, forecasters said. Parts of Florida's west coast and coastal Mississippi could see 2 to 4 feet deep waters.
The storm has raised concerns for those working on 596 manned oil and gas production platforms throughout the Gulf, run by various companies.
One of them, Shell, said in a statement Sunday morning that it had evacuated 360 staff the previous day and was planning further evacuations. ExxonMobil said it has "evacuated nonessential personnel" from its offshore facilities and is preparing to evacuate the rest.
And BP spokesman Brett Clanton said early Sunday evening that "we've evacuated the majority of our offshore personnel in the Gulf of Mexico" due to Tropical Storm Debby. "Those unable to be evacuated will shelter in place for the storm," he said.
Even though it was far from clear it would hit Louisiana, officials in that state weren't taking any chances — with Terrebonne Parish and Lafourche Parish among those issuing precautionary states of emergency, after the governor did the same.
In Plaquemines Parish, the state's southernmost parish, authorities were using baskets and tubes to keep Highway 23 — the parish's main evacuation and emergency route — free of water should the 4-foot levees be topped, said Billy Nungesser, parish president. The levees were being sandbagged as an additional precaution
"We want to be ahead of that as a precautionary measure," Nungesser said. The area is forecast to get a storm surge of 2 to 4 feet, he said — "with a direct hit, if it goes up a little bit more, we'll have those levees topped."
First day of summer, and the Northeast sure feels it
Minnesota, Wisconsin residents cope with deadly flooding
CNN's Jake Carpenter, Ashley Hayes, Jareen Imam, Stephanie Gallman, Greg Botelho, Marlena Baldacci and Vivian Kuo contributed to this report.
HUFF POST
BEIJING — Chinese state media say torrential rains have killed at least 16 people and affected 1 1/2 million people in southern and northern parts of the country.
The official Xinhua News Agency said Monday that the heavy rains over the past three days had affected 450,000 people and wiped out crops in the southern Guangxi region. Another more than 730,000 people were affected in the southern province of Jiangxi, and 312,000 were affected in the adjacent manufacturing powerhouse province of Guangdong.
Xinhua quoted a local government official as saying the direct economic losses so far were $20.3 million, and that water levels in 10 reservoirs and several major rivers had risen above warning levels.
Xinhua said rainstorm-triggered floods have also hit areas of Inner Mongolia in the north of China.
TALLAHASSEE FL
MELBOURNE FL
NORMAN OK


MOBILE AL
TALLAHASSEE FL


| | | | | | | |
| --- | --- | --- | --- | --- | --- | --- |
| Today | Flash Flood | China | Guangxi Zhuang Autonomous Region, [Guangxi-wide] | | | |
Description
At least 14 people were killed and more than 11 lakh people affected after downpours triggered flash floods and mudslides in China's southwestern regions and some parts in the north over the past three days. Floods triggered by the rainstorms have killed six people, affected the lives of more than 450,000 people, destroyed some 1,000 houses and inundated almost 17,000 hectares of cropland in southern Guangxi Zhuang autonomous region, a spokesman with the Regional Department of Civil Affairs said. Direct economic losses were estimated at 128 million yuan (USD 20.3 million), the spokesman said, adding local authorities have launched relief operations. Local meteorological authorities forecast that more heavy rainfalls will hit parts of Guangxi tomorrow.
TAMPA BAY AREA - RUSKIN FL
JACKSONVILLE FL
PENDLETON OR
DULUTH MN
SPOKANE, WA
JUNEAU AK
TWIN CITIES/CHANHASSEN MN


| | | | | | | | |
| --- | --- | --- | --- | --- | --- | --- | --- |
| | 25.06.2012 | Flood | Canada | Province of British Columbia, Mission | | | |
Description
As a flood watch continues around B.C., residents were urged to "evacuate when emergency officials request it" by minister of justice and attorney general Shirley Bond Saturday. "We understand how difficult it might be for families to leave their homes, but they are only asked to do that when there is an imminent potential safety risk. When an evacuation order is given, it is essential that everyone consider their safety and that of first responders and leave as requested," Bond said in a statement. "Emergency management officials don't want to see the forcible removal of anyone from a property – rather, we depend on individuals to heed the advice of public safety professionals, whose decisions and directions are made with the highest regard for the safety of you and your loved ones," Bond said. Swollen by melting snow and rain, the Fraser River has reached levels not seen for 40 years and has caused flooding from the province's interior to the Fraser Valley. Early Sunday, Environment Canada said that a slow-moving low pressure system situated off the coast of Oregon state was expected to drop between 10 to 20 mm on the Arrow Lakes, Slocan Lake and East Kootenay regions. It also forecasted potential development of severe thunderstorms with large hail and damaging winds Sunday afternoon.
TAMPA BAY RUSKIN FL


| | | | | | | |
| --- | --- | --- | --- | --- | --- | --- |
| Today | Landslide | Canada | Province of British Columbia, Village of Kaslo | | | |
Description
The Village of Kaslo has issued a red alert to residents after a mudslide on Josephine Creek, which empties into Kemp Creek, severely compromised water flows to the main reservoir said Chief Administrative Officer Rae Sawyer Sunday. Fact is the mudslide completely wiped out the main water dam to the village. "It's completely gone," Sawyer told The Nelson Daily Sunday night. "The dam on Kemp Creek Kemp Creek is gone and the reservoir is not filling up." The slide occurred sometime around noon Sunday. A contractor working in the area of the reservoir alerted village officials, which went into damage control. "Right now we've switched over to emergency water supplies from the Kaslo River but we're having a hard time keeping up with the demand," Sawyer explained. The slide had destroyed the dam, built of concrete and steel, which holds the intake to the main reservoir so no water is draining into the system. "We don't know yet if we can rebuild the dam at the same site . . . we're still assessing that," Sawyer explained. "At this time we're running on emergency systems from the Kaslo River that drains into a small reservoir in the water treatment plant. "It's a small reservoir that can't handle the normal demands of the village and that's what we're concerned about." Sawyer is hopeful residents comply with the village alert to conserve water. "We're asking residents to simply use extreme water conservation," Sawyer said. "Restrict water consumption to interior household use and set drinking water aside." Sawyer said the staff is still assessing the situation and is hopeful a plan will be put into place to fix the problem in a few days.
************************************************************************************************************
Climate Change
Terra Daily
by Staff Writers
Woods Hole MA (SPX)

A group of Emperor penguin adults make their way across sea ice in Terre Adelie in East Antarctica. In December, the adults return to the colony to provide food for the chicks. They can be observed walking in groups to the nearest open water areas where they feed. Disappearing sea ice may also affect the penguins' food source. The birds feed primarily on fish, squid, and krill, a shrimp like animal, which in turn feeds on zooplankton and phytoplankton, tiny organisms that grow on the underside of the ice. (Stephanie Jenouvrier, Woods Hole Oceanographic Institution).

At nearly four feet tall, the Emperor penguin is Antarctica's largest sea bird-and thanks to films like "March of the Penguins" and "Happy Feet," it's also one of the continent's most iconic. If global temperatures continue to rise, however, the Emperor penguins in Terre Adelie, in East Antarctica may eventually disappear, according to a new study by led by researchers from the Woods Hole Oceanographic Institution (WHOI). The study was published in the June 20th edition of the journal Global Change Biology.
"Over the last century, we have already observed the disappearance of the Dion Islets penguin colony, close to the West Antarctic Peninsula," says Stephanie Jenouvrier, WHOI biologist and lead author of the new study.
"In 1948 and the 1970s, scientists recorded more than 150 breeding pairs there. By 1999, the population was down to just 20 pairs, and in 2009, it had vanished entirely." Like in Terre Adelie, Jenouvrier thinks the decline of those penguins might be connected to a simultaneous decline in Antarctic sea ice due to warming temperatures in the region.
Unlike other sea birds, Emperor penguins breed and raise their young almost exclusively on sea ice. If that ice breaks up and disappears early in the breeding season, massive breeding failure may occur, says Jenouvrier.
"As it is, there's a huge mortality rate just at the breeding stages, because only 50 percent of chicks survive to the end of the breeding season, and then only half of those fledglings survive until the next year," she says.
Disappearing sea ice may also affect the penguins' food source. The birds feed primarily on fish, squid, and krill, a shrimplike animal, which in turn feeds on zooplankton and phytoplankton, tiny organisms that grow on the underside of the ice.
If the ice goes, Jenouvrier says, so too will the plankton, causing a ripple effect through the food web that may starve the various species that penguins rely on as prey.
To project how penguin populations may fare in the future, Jenouvrier's team used data from several different sources, including climate models, sea ice forecasts, and a demographic model that Jenouvrier created of the Emperor penguin population at Terre Adelie, a coastal region of Antarctica where French scientists have conducted penguin observations for more than 50 years.
Combining this type of long-term population data with information on climate was key to the study, says Hal Caswell, a WHOI senior mathematical biologist and collaborator on the paper.
"If you want to study the effects of climate on a particular species, there are three pieces that you have to put together," he says. "The first is a description of the entire life cycle of the organism, and how individuals move through that life cycle.
The second piece is how the cycle is affected by climate variables. And the crucial third piece is a prediction of what those variables may look like in the future, which involves collaboration with climate scientists."
Marika Holland of the National Center for Atmospheric Research is one such scientist. She specializes in studying the relationship between sea ice and global climate, and helped the team identify climate models for use in the study.
Working with Julienne Stroeve, another sea ice specialist from the National Snow and Ice Data Center, Holland ultimately recommended five distinct models. "We picked the models based on how well they calculated the sea ice cover for the 20th century," she says.
"If a model predicted an outcome that matched what was actually observed, we felt it was likely that its projections of sea ice change in the future could be trusted."
Jenouvrier used the output from these various climate models to determine how changes in temperature and sea ice might affect the Emperor penguin population at Terre Adelie.
She found that if greenhouse gas emissions continue to rise at levels similar to today-causing temperatures to rise and Antarctic sea ice to shrink-penguin population numbers will diminish slowly until about 2040, after which they would decline at a much steeper rate as sea ice coverage drops below a usable threshold.
"Our best projections show roughly 500 to 600 breeding pairs remaining by the year 2100. Today, the population size is around 3000 breeding pairs," says Jenouvrier.
The effect of rising temperature in the Antarctic isn't just a penguin problem, according to Caswell. As sea ice coverage continues to shrink, the resulting changes in the Antarctic marine environment will affect other species, and may affect humans as well.
"We rely on the functioning of those ecosystems. We eat fish that come from the Antarctic. We rely on nutrient cycles that involve species in the oceans all over the world," he says.
"Understanding the effects of climate change on predators at the top of marine food chains-like Emperor penguins-is in our best interest, because it helps us understand ecosystems that provide important services to us."
Also collaborating on the study were Christophe Barbraud and Henri Weimerskirch of the Centre d'Etudes Biologiques de Chize, in France, and Mark Serreze of the National Snow and Ice Data Center in the United States.
Related Links
Woods Hole Oceanographic Institution
Beyond the Ice Age
************************************************************************************************************
Solar Activity
2MIN News June 24, 2012: Quakes, Tropical Storm, F1 Critical Frequency
Published on Jun 24, 2012 by Suspicious0bservers
AMAZING: http://www.universetoday.com/95920/a-gamma-ray-burst-as-music/
TODAYS LINKS
Gulf Storm Threat: http://www.palmbeachdailynews.com/news/news/local/florida-or-texas-forecast-m…
Tel Aviv Protest Violence: http://www.haaretz.com/news/national/violent-arrests-of-social-protesters-in-…
Oil Workers Flee Debbie: http://www.weather.com/news/oil-workers-evacuated-20120623
China Spacedock: http://news.xinhuanet.com/english/sci/2012-06/24/c_131672642.htm
REPEAT LINKS
Spaceweather: http://spaceweather.com/ [Look on the left at the X-ray Flux and Solar Wind Speed/Density]
HAARP: http://www.haarp.alaska.edu/haarp/data.html [Click online data, and have a little fun]
SDO: http://sdo.gsfc.nasa.gov/data/ [Place to find Solar Images and Videos - as seen from earth]
SOHO: http://sohodata.nascom.nasa.gov/cgi-bin/soho_movie_theater [SOHO; Lasco and EIT - as seen from earth]
Stereo: http://stereo.gsfc.nasa.gov/cgi-bin/images [Stereo; Cor, EUVI, HI - as seen from the side]
SunAEON:http://www.sunaeon.com/#/solarsystem/ [Just click it... trust me]
SOLARIMG: http://solarimg.org/artis/ [All purpose data viewing site]
iSWA: http://iswa.gsfc.nasa.gov/iswa/iSWA.html [Free Application; for advanced sun watchers]
NOAA ENLIL SPIRAL: http://www.swpc.noaa.gov/wsa-enlil/cme-based/ [CME Evolution]
RSOE: http://hisz.rsoe.hu/alertmap/index2.php [That cool alert map I use]
JAPAN Radiation Map: http://jciv.iidj.net/map/
LISS: http://earthquake.usgs.gov/monitoring/operations/heliplots_gsn.php
Gamma Ray Bursts: http://grb.sonoma.edu/ [Really? You can't figure out what this one is for?]
BARTOL Cosmic Rays: http://neutronm.bartol.udel.edu//spaceweather/welcome.html [Top left box, look for BIG blue circles]
TORCON: http://www.weather.com/news/tornado-torcon-index [Tornado Forecast for the day]
GOES Weather: http://rsd.gsfc.nasa.gov/goes/ [Clouds over America]
INTELLICAST: http://www.intellicast.com/ [Weather site used by many youtubers]
NASA News: http://science.nasa.gov/science-news/science-at-nasa/
PHYSORG: http://phys.org/ [GREAT News Site!]

************************************************************************************************************
Space
Object Name
Apporach Date
Left
AU Distance
LD Distance
Estimated Diameter*
Relative Velocity
(2011 AH5)
25th June 2012
0 day(s)
0.1670
65.0
17 m – 39 m
5.84 km/s
21024 km/h
(2012 FA14)
25th June 2012
0 day(s)
0.0322
12.5
75 m – 170 m
5.28 km/s
19008 km/h
(2004 YG1)
25th June 2012
0 day(s)
0.0890
34.7
140 m – 310 m
11.34 km/s
40824 km/h
(2010 AF3)
25th June 2012
0 day(s)
0.1190
46.3
16 m – 36 m
6.54 km/s
23544 km/h
(2008 YT30)
26th June 2012
1 day(s)
0.0715
27.8
370 m – 820 m
10.70 km/s
38520 km/h
(2010 NY65)
27th June 2012
2 day(s)
0.1023
39.8
120 m – 270 m
15.09 km/s
54324 km/h
(2008 WM64)
28th June 2012
3 day(s)
0.1449
56.4
200 m – 440 m
17.31 km/s
62316 km/h
(2010 CD55)
28th June 2012
3 day(s)
0.1975
76.8
64 m – 140 m
6.33 km/s
22788 km/h
(2004 CL)
30th June 2012
5 day(s)
0.1113
43.3
220 m – 480 m
20.75 km/s
74700 km/h
(2008 YQ2)
03rd July 2012
8 day(s)
0.1057
41.1
29 m – 65 m
15.60 km/s
56160 km/h
(2005 QQ30)
06th July 2012
11 day(s)
0.1765
68.7
280 m – 620 m
13.13 km/s
47268 km/h
(2011 YJ28)
06th July 2012
11 day(s)
0.1383
53.8
150 m – 330 m
14.19 km/s
51084 km/h
276392 (2002 XH4)
07th July 2012
12 day(s)
0.1851
72.0
370 m – 840 m
7.76 km/s
27936 km/h
(2003 MK4)
08th July 2012
13 day(s)
0.1673
65.1
180 m – 410 m
14.35 km/s
51660 km/h
(1999 NW2)
08th July 2012
13 day(s)
0.0853
33.2
62 m – 140 m
6.66 km/s
23976 km/h
189P/NEAT
09th July 2012
14 day(s)
0.1720
66.9
n/a
12.47 km/s
44892 km/h
(2000 JB6)
10th July 2012
15 day(s)
0.1780
69.3
490 m – 1.1 km
6.42 km/s
23112 km/h
(2010 MJ1)
10th July 2012
15 day(s)
0.1533
59.7
52 m – 120 m
10.35 km/s
37260 km/h
(2008 NP3)
12th July 2012
17 day(s)
0.1572
61.2
57 m – 130 m
6.08 km/s
21888 km/h
(2006 BV39)
12th July 2012
17 day(s)
0.1132
44.1
4.2 m – 9.5 m
11.11 km/s
39996 km/h
(2005 NE21)
15th July 2012
20 day(s)
0.1555
60.5
140 m – 320 m
10.77 km/s
38772 km/h
(2003 KU2)
15th July 2012
20 day(s)
0.1034
40.2
770 m – 1.7 km
17.12 km/s
61632 km/h
(2007 TN74)
16th July 2012
21 day(s)
0.1718
66.9
20 m – 45 m
7.36 km/s
26496 km/h
(2007 DD)
16th July 2012
21 day(s)
0.1101
42.8
19 m – 42 m
6.47 km/s
23292 km/h
(2006 BC8)
16th July 2012
21 day(s)
0.1584
61.6
25 m – 56 m
17.71 km/s
63756 km/h
144411 (2004 EW9)
16th July 2012
21 day(s)
0.1202
46.8
1.3 km – 2.9 km
10.90 km/s
39240 km/h
(2012 BV26)
18th July 2012
23 day(s)
0.1759
68.4
94 m – 210 m
10.88 km/s
39168 km/h
(2010 OB101)
19th July 2012
24 day(s)
0.1196
46.6
200 m – 450 m
13.34 km/s
48024 km/h
(2008 OX1)
20th July 2012
25 day(s)
0.1873
72.9
130 m – 300 m
15.35 km/s
55260 km/h
(2010 GK65)
21st July 2012
26 day(s)
0.1696
66.0
34 m – 75 m
17.80 km/s
64080 km/h
(2011 OJ45)
21st July 2012
26 day(s)
0.1367
53.2
18 m – 39 m
3.79 km/s
13644 km/h
153958 (2002 AM31)
22nd July 2012
27 day(s)
0.0351
13.7
630 m – 1.4 km
9.55 km/s
34380 km/h
(2011 CA7)
23rd July 2012
28 day(s)
0.1492
58.1
2.3 m – 5.1 m
5.43 km/s
19548 km/h
(2012 BB124)
24th July 2012
29 day(s)
0.1610
62.7
170 m – 380 m
8.78 km/s
31608 km/h

| | |
| --- | --- |
| 1 AU = ~150 million kilometers,1 LD = Lunar Distance = ~384,000 kilometers | Source: NASA-NEO |
………………………………………….
Titanium-44 Could Solve The Mystery Of Exploding Stars 
MessageToEagle.com – Somewhere in the Milky Way, a massive old star is about to die a spectacular death. As its nuclear fuel runs out, the star begins to collapse under its own tremendous weight. Crushing pressure triggers new nuclear reactions, setting the stage for a terrifying blast. And then… nothing happens.
At least that's what supercomputers have been telling astrophysicists for decades.
Many of the best computer models of supernovas fail to produce an explosion. At the end of the simulation, gravity wins the day and the star simply collapses.
Clearly, physicists are missing something.
"We don't fully understand how supernovas of massive stars work yet," says Fiona Harrison, an astrophysicist at the California Institute of Technology.
To figure out what's going on, Harrison and colleagues would like to examine the inside of a real supernova while it's exploding. That's not possible, so they're doing the next best thing.
Using a telescope named "NuSTAR" –short for Nuclear Spectroscopic Telescope Array — they'll be scanning the debris from supernovas as soon as possible after the blast.
Launched over the Pacific Ocean on June 13, 2012, by a Pegasus XL rocket, NuSTAR is the first space telescope that can focus very high-energy X-rays, producing images roughly 100 times sharper than those possible with previous high-energy X-ray telescopes.
When NuSTAR finishes its check-out and becomes fully operational, scientists will use it to scan supernovas for clues etched into the pattern of elements spread throughout the explosion's debris.

"The distribution of the material in a supernova remnant tells you a lot about the original explosion," says Harrison.

An element of particular interest is titanium-44. Creating this isotope of titanium through nuclear fusion requires a certain combination of energy, pressure, and raw materials.

Inside the collapsing star, that combination occurs at a depth that's very special. Everything below that depth succumbs to gravity and collapses inward to form a black hole.
Everything above that depth will be blown outward in the explosion. Titanium-44 is created right at the cusp.
So the pattern of how titanium-44 is spread throughout a supernova remnant can reveal a lot about what happened at that crucial threshold during the explosion. And with that information, scientists might be able to figure out what's wrong with their computer simulations.
A supercomputer model of a spinning core-collapse supernova. NuSTAR observations of actual supernova remnants will provide vital data for such models. Credit: Fiona Harrison Some scientists believe the computer models are too symmetrical. Until recently, even with powerful supercomputers, scientists have only been able to simulate a one-dimensional sliver of the star. Scientists just assume that the rest of the star behaves similarly, making the simulated implosion the same in all radial directions.
But what if that assumption is wrong?
"Asymmetries could be the key," Harrison says. In an asymmetrical collapse, outward forces could break through in some places even if the crush of gravity is overpowering in others. Indeed, more recent, two-dimensional simulations suggest that asymmetries could help solve the mystery of the "non-exploding supernova."
If NuSTAR finds that titanium-44 is spread unevenly, it would be evidence that the explosions themselves were also asymmetrical, Harrison explains.
Cassiopeia A Light Echoes in Infrared Credit: O. Krause (Steward Obs.) et al., SSC, JPL, Caltech, NASATo detect titanium-44, NuSTAR needs to be able to focus very high energy X-rays. Titanium-44 is radioactive, and when it decays it releases photons with an energy of 68 thousand electron volts. Existing X-ray space telescopes, such as NASA's Chandra X-Ray Observatory, can focus X-rays only up to about 15 thousand electron volts.
Normal lenses can't focus X-rays at all. Glass bends X-rays only a miniscule amount—not enough to form an image.
X-ray telescopes use an entirely different kind of "lens" consisting of many concentric shells. They look a bit like the layers of a cylindrical onion.
Incoming X-rays pass between these layers, which guide the X-rays to the focal surface. It's not a lens, strictly speaking, because the X-rays reflect off the surfaces of the shells instead of passing through them, but the end result is the same.
The NuSTAR team has spent years perfecting delicate manufacturing techniques required to make high-precision X-ray optics for NuSTAR that work at energies as high as 79 thousand electron volts.
Their efforts could end up answering the question, "Why won't the supernova explode?"
NuSTAR
Published on Apr 1, 2012 by Kowch737
Black hole, neutron stars and gamma-ray bursts. Expert Dr. Fiona Harrison talks about her latest mission at CalTech, building the first on-orbit focusing telescope. She explains how it will work and what it will be used for.
Meteor reports of the latest worldwide meteors, fireballs and bolides worldwide. Report a Meteor/fireball/bolide worldwide and join the worldwide community of nightsky meteor fireball and bolide reporters and watchers. Owner LunarMeteorite*Hunter, Dirk Ross, Tokyo, Japan. All Rights Reserved – Copy allowed with link citation ONLY http://lunarmeteoritehunters.blogspot.com/ .
*************************************************************************************************************
Biological Hazards / HAZMAT /Wildlife
| | | | | | | |
| --- | --- | --- | --- | --- | --- | --- |
| Today | Biological Hazard | Australia | State of Queensland, Wunjunga [Wunjunga Beach] | | | |
Description
The mysterious death of 22 green turtles, a protected species, is puzzling experts in North Queensland. The experts have not ruled out poisoning and even drowning as a cause. The Department of Environment and Heritage Protection is investigating the deaths of the turtles found at Wunjunga Beach, about 100 kilometres south of Townsville. The department's director of threatened species, Wolf Sievers, said the vulnerable animals have been washing up on the beach for over a week. "It is very unusual for this many turtles to have stranded on one beach and we will be making every effort to establish what may have happened," Mr Sievers said. Senior turtle expert Dr Ian Bell said that initial investigations found no injuries, no obvious signs of malnutrition or illness. "It's a bit like turtle CSI, it's all about ruling out possible alternatives," Dr Bell said. "We're ruling out starvation. It doesn't look like it's any infectious type of disease, and it leaves us with two possibilities. "One is potential poisoning, and we're also looking at the possibility of a drowning. "At this stage we really don't know." The department hopes they will be able to establish the causes of death after performing further necropsies. The entire Great Barrier Reef is an important feeding area for green turtles, which are classified as a vulnerable species nationally under legislation. All of the green turtles, except one, have been large adult female green turtles. Adults have a shell length of about 1m and average about 130 kg, although some nesting females can weigh more than 180 kg. A loss of just one breeding size individual can have an impact on the species.
Biohazard name:
Mass Die-off (turtles)
Biohazard level:
0/4 —
Biohazard desc.:
This does not included biological hazard category.
Symptoms:
Status:
confirmed
| | | | | | | |
| --- | --- | --- | --- | --- | --- | --- |
| Today | HAZMAT | Chile | Provincia de Cachapoal , Codegua [Cristo del Parque school] | | | |
Description
20 children were affected after an accidental inhalation of certain chemical compounds, and they developed symptoms such as dizziness, nausea, and vomiting. It is not clear how these children became intoxicated with chemicals. Apparently, some chemical substances might have been dispersed in a premise next to Cristo del Parque school in Codegua community, and these may be the causative agents of the symptoms described in affected children. More than 20 children started their usual school activities in the morning, but soon they developed symptoms such as dizziness, headache, and nausea, and some children developed vomiting. Facing this situation, authorities from Cristo del Parque school decided to call parents of affected children, and they brought the most severely affected children to the nearest local health care facility. One of the children had to be brought to the Rancagua Regional Hospital because he developed intense abdominal pain. Ms. Ana Maria Silva, Mayor of the local community, added that the local Health Commission should investigate this occurrence, since some health-related complications have been recently described in this community because of the use of pesticides, such as high numbers of cases of cancer, congenital malformations, and problems in pregnant women, and this event is not the 1st of its kind. Codegua has been one of the communities in this region that has been significantly affected because of the excessive use of pesticides, and chemical spill emergencies have also been reported. We have to remember that last January [2012], one person died after being poisoned with ammonia fumes from a local packing shed in the area.
**************************************************************************************************************
Articles of Interest
Terra Daily
by Staff Writers
Ann Arbor MI (SPX)

Less oxygen dissolved in the water is often referred to as a "dead zone" (in red above) because most marine life either dies, or, if they are mobile such as fish, leave the area. Habitats that would normally be teeming with life become, essentially, biological deserts. Image credit: NOAA.

A dry spring in portions of the Midwest is expected to result in the second-smallest Gulf of Mexico "dead zone" on record in 2012, according to a University of Michigan forecast released last week. The U-M prediction calls for a 2012 Gulf of Mexico dead zone of about 1,200 square miles, an area the size of Rhode Island. If the forecast is correct, 2012 would replace 2000 (1,696 square miles) as the year with the second-smallest Gulf dead zone.
The smallest Gulf oxygen-starved, or hypoxic, zone was recorded in 1988 (15 square miles).
"While it's encouraging to see that this year's Gulf forecast calls for a significant drop in the extent of the dead zone, we must keep in mind that the anticipated reduction is due mainly to decreased precipitation in the upper Midwest and a subsequent reduced water flow into the Gulf," said aquatic ecologist Donald Scavia, professor at the U-M School of Natural Resources and Environment.
"The predicted 2012 dead-zone decline does not result from cutbacks in nitrogen use, which remains one of the key drivers of hypoxia in the Gulf."
The U-M prediction is one of two Gulf dead zone forecasts released today by the National Oceanic and Atmospheric Administration, which funds the research. The other NOAA-supported team, from the Louisiana Universities Marine Consortium and Louisiana State University, predicts a 2012 Gulf dead zone of 6,213 square miles.
The Michigan forecast model is based solely on 2012 spring nutrient inputs from the Mississippi River, which are significantly lower than average due to drought conditions throughout much of the watershed.
The Louisiana State University forecast model takes into account last year's above-normal nutrient load, which the Louisiana researchers say can remain in bottom sediments and can result in a "carryover effect" that increases the size of the 2012 dead zone.
Last year, the Gulf dead zone measured 6,765 square miles. The largest Gulf hypoxic zone measured to date occurred in 2002 and encompassed more than 8,400 square miles. The Gulf dead zone has averaged about 6,000 square miles over the past five years.
This year, for the first time, Scavia's U-M team was able to forecast the volume of hypoxic water contained in the dead zone. The most likely 2012 scenario corresponds to a volume of 2.6 cubic miles, according to the U-M team.
Scavia, director of the Graham Sustainability Institute and special counsel to the U-M president for sustainability, also released his annual Chesapeake Bay dead zone forecast today. It calls for an average-size dead zone in the Bay this year, down significantly from last summer's record-setter.
"These dead zones are ecological time bombs," he said. "Without determined local, regional and national efforts to control nutrient loads, we are putting major fisheries at risk."
In 2009, the dockside value of commercial fisheries in the Gulf of Mexico was $629 million. Nearly 3 million recreational anglers further contributed more than $1 billion to the Gulf economy, taking 22 million fishing trips.
Farmland runoff containing fertilizers and livestock waste-some of it from as far away as the Corn Belt-is the main source of the nitrogen and phosphorus that cause the annual Gulf of Mexico hypoxic zone. Each year in late spring and summer, these nutrients flow down the Mississippi River and into the Gulf, fueling explosive algae blooms there.
When the algae die and sink, bottom-dwelling bacteria decompose the organic matter, consuming oxygen in the process. The result is an oxygen-starved region in bottom and near-bottom waters: the dead zone.
"This forecast is a good example of NOAA, USGS and university partnerships delivering ecological forecasts that quantify the linkages between the watershed and the coast," said NOAA Administrator Jane Lubchenco.
"While the occurrence of a low-flow year following a year with major flooding will help us to evaluate any carryover effect from prior years, we should not lose sight of the ongoing need to reduce the flow of nutrients to the Mississippi River and thus the Gulf."
According to U.S. Geological Survey estimates, the Mississippi and Atchafalaya rivers transported 58,100 metric tons of nitrogen (in the form of nitrite plus nitrate) to the northern Gulf in May 2012, an amount that is 56 percent lower than average May nitrogen loads estimated in the last 33 years.
"These forecasts are the product of decades of research, monitoring and modeling on how decisions we make in the vast drainage basin of the Mississippi and its tributaries translates into the health of the coastal zone of the Gulf of Mexico," said U.S. Geological Survey Director Marcia McNutt.
"Comparing the actual hypoxic zone against the predictions will help scientists better understand the multiyear memory of this complex land-sea system, and ultimately better inform options for improving ecosystem productivity."
About a thousand miles northeast of the Gulf of Mexico in Chesapeake Bay, this year's hypoxic zone is expected to measure about 1.5 cubic miles, Scavia said. That's about average compared to measured volumes since 2000 but much smaller than last year's record-setter of 2.75 cubic miles, which was due to spring storms that washed large amounts of nutrients into rivers that feed the Bay.
So far in 2012, rainfall in the Chesapeake Bay watershed has been 50-to-75 percent of normal, Scavia said.
The actual size of the 2012 Gulf hypoxic zone will be announced following a NOAA-supported monitoring survey led by the Louisiana Universities Marine Consortium between July 27 and Aug. 3.
The amount of nitrogen entering the Gulf of Mexico each spring has increased about 300 percent since the 1960s, mainly due to increased agricultural runoff. The Gulf of Mexico/Mississippi River Watershed Nutrient Task Force has targeted 1,900 square miles as a long-term goal for the size of the Gulf dead zone.
Related Links
University of Michigan
University of Michigan hypoxia forecasts
NOAA hypoxia pages
Louisiana Universities Marine Consortium hypoxia information and forecasts
U.S. Geological Survey Gulf of Mexico nutrient and stream flow information
Water News – Science, Technology and Politics
 By Nancy Gohring
The profilers on deck, ready to be launched. Credit: Tom Sanford
(Phys.org) — Some might say that University of Washington oceanographers did well to only lose one of 21 underwater probes, given that they were deployed near the notorious Bermuda Triangle, where boats and airplanes have been known to disappear without a trace.
The scientists chose the location to research its swirling whirlpools via a pioneering experiment that repeatedly sent the probes deep into the ocean and back to the surface in unison.
"Nothing like this has ever been done," said Tom Sanford, an oceanographer at the UW's Applied Physics Laboratory. "It will be the paradigm for future experiments."
Typically, oceanographers may deploy an instrument in one place and then travel by boat to another spot to launch it again.
"You make observations that are a few kilometers apart but also a few hours apart. During that time, the tides change things and the wind blows. Yet you make measurements and treat them as if there was just a spatial change and not a temporal one," Sanford said.
His group invented the velocity sensors that were added to commercial autonomous profilers, so called because they take measurements as they travel vertically through the water creating a profile of the water's characteristics. They also changed the software to synchronize the path of the profilers, or underwater probes, which were programmed to dive to a specific depth and rise to the surface at scheduled intervals. When they reached the surface, they communicated their GPS positions and a small set of other data via satellites.

Enlarge
UW graduate student Nathan Lauffenburger and John Dunlap, APL principal engineer, launch one of the profilers. Credit: Tom Sanford
During the deployment, the profilers traveled within about a minute of each other.
The new velocity sensor on the profilers picked up electric current in the ocean to track the velocity of moving water. The sensors measure electric current generated when ocean water flows through the Earth's magnetic field. The higher the voltage the faster the water is moving.
The profilers were deployed during a three-week period last summer in the Sargasso Sea, which encompasses the so-called Bermuda Triangle, and placed in arrays covering areas of around 10 kilometers in diameter, a little more than 6 miles.
While Sanford deployed the 21 profilers, researchers from UW and many other organizations used a number of other technologies at the same time to collect a vast amount of data. The other technologies included four gliders, 42 drifters, three equipment-towing boats and an airplane. The equipment gathered data about ocean characteristics such as temperature, salinity and velocity to describe flow structure and mixing.
The researchers built such a sophisticated expedition because of the subject they are studying: internal waves and whirlpools, known as vortices.
"What's mysterious are these vortices that exist due to various processes and float around for a long life, banging into each other. They may be responsible for ocean mixing," Sanford said.
A vortex is a swirl of water that can be created in several ways, including water being pushed between land masses and then released into the open ocean. The subsurface features are hard to measure, Sanford said, because when they pass an underwater sensor they appear to be waves. Only by locating other sensors nearby at the same moment can researchers identify that movement as a swirl and not a wave.
Scientists are interested in ocean mixing in part so they can learn more about how climate change might affect the deep ocean. Researchers know that the atmosphere, tides, sunlight, and surface and internal waves affect the temperature of the top few meters of the ocean. They also have some understanding of large-scale eddies and ocean dynamics, visible via satellite images, that cause broader ocean mixing.
"What we have difficulty doing is identifying and tracking some of the smaller-scale features, particularly well below the surface. We know they're there but we don't know enough about their role in maintaining the ocean structure," Sanford said. Those features, like deep waves and vortices, mix upper water, which is warmer and has more carbon dioxide, deeper into the ocean.
Now that the expedition is complete, the researchers have started analyzing the data. Their initial graphs simply plot the raw data, with a squiggly vertical red line depicting the upward trajectory of each profiler and a blue line their downward paths. But they hope to be able to draw conclusions by more closely studying the data.
Provided by University of Washington
Study says sea level is rising far faster than elsewhere, which could increase incidence of New York flooding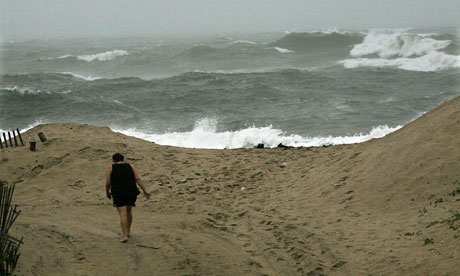 A stormy Atlantic ocean hits the coast of Buxton, North Carolina. Photographer: Ted Richardson/Bloomberg via Getty Images
Sea level rise is accelerating three to four times faster along the densely populated east coast of the US than other US coasts, scientists have discovered. The zone, dubbed a "hotspot" by the researchers, means the ocean from Boston to New York to North Carolina is set to experience a rise up a third greater than that seen globally.
Asbury Sallenger, at the US geological survey at St Petersburg, Florida, who led the new study, said: "That makes storm surges that much higher and the reach of the waves that crash onto the coast that much higher. In terms of people and communities preparing for these things, there are extreme regional variations and we need to keep that in mind. We can't view sea level rise as uniform, like filling up a bath tub. Some places will rise quicker than others and the whole urban corridor of north-east US is one of these places."
The hotspot had been predicted by computer modelling, but Sallenger said: "Our paper is the first to focus on using real data to show [the acceleration] is happening now and that we can detect it now."
The rapid acceleration, not seen before on the Pacific of Gulf coasts of the US, may be the result of the slowing of the vast currents flowing in the Altantic, said Sallenger. These currents are driven by cold dense water sinking in the Arctic, but the warming of the oceans and the flood of less dense freshwater into the Arctic from Greenland's melting glaciers means the water sinks less quickly. That means a "slope" from the fastest-moving water in the mid-Atlantic down to the US east coast relaxes, pushing up sea level on the coast.
"Coastal communities have less time to adapt if sea levels rise faster," said Stefan Rahmstorf, at the Potsdam Institute Germany, who published a separate study in the same journal, Nature Climate Change, on Sunday. Rahmstorf's team showed that even relatively mild climate change, limited to 2C, would cause global sea level to rise between 1.5 and 4 metres by the year 2300. If nations acted to cutting carbon emissions so the temperature rise was only 1.5C, the sea level rise would be halved, the researchers found.
The impacts of the rising seas are potentially devastating, said the scientists. "As an example, 1 metre of sea level rise could raise the frequency of severe flooding for New York City from once per century to once every three years," said Rahmstorf, adding that low lying countries like Bangladesh are likely to be severely affected. His colleague Michiel Schaeffer, at Wageningen University in the Netherlands, said: "Sea level rise is a hard to quantify, yet a critical risk of climate change. Due to the long time it takes for the world's ice and water masses to react to global warming, our emissions today determine sea levels for centuries to come."
Sallenger's work on the hotspot off the US east coast showed that the extreme acceleration in sea level rise could add 20-30% to the rise seen globally. "If this turns out to be a metre by 2100, it would add 20 to 30cm." In May, North Carolina legislators drew ridicule from experts by proposing a law that would require estimates of sea level rise to be based solely on historical data and to rule out any acceleration in future rises.
Rahmstorf said: "Sallenger's paper shows that, far from being spared accelerating sea level rise, [the coast here] has been over the past decades a hotspot of accelerating sea level rise." But he added that the cause of the hotspot was not fully understood, meaning it was uncertain whether the acceleration would continue.
Sallenger said: "We came up with a very clear correlation between the acceleration of sea level rise and rising temperature in the hotspot area. That suggests to me that as long as temperature continues to rise the hotspot will continue to grow."
APOCALYPTIC LIKE WEATHER PHENOMENON JUNE 2012
Published on Jun 24, 2012 by fidockave213
APOCALYPTIC LIKE WEATHER PHENOMENON JUNE 2012 …………………………………….PLAGUES PESTILENCE AND BIZARRE WEATHER PHENOMENON JUNE 2012
CREDIT…….music Epic Score – 08 Prepare for the End – Epic Action & Adventure, Vol. 7 – ES018…………………………………………………………………
­…………………………………. CREDIT………… http://www.youtube.com/watch?v=E0rP0wV3H9A&feature=plcp http://www.youtube.com/user/HannahDollFaceJones ……………………………………
CREDIT………… Dallas, TX Hail Storm 6/13/12 http://www.youtube.com/user/JARFRA1 …………………………………………..
CREDIT…………Freak hail storm in Dallas, Texas (Belmont Addition area) http://www.youtube.com/user/stewartmayer ……………………………………..
CREDIT…….. http://iwitness.weather.com ……… Mosquito Columns ………………
Amazing Alien Landscape On Earth – Dry Valley, Antarctica 
MessageToEagle.com – Antarctica is not entirely covered with ice. There are a few places which are cold and dry.
The Dry Valleys of Antarctica are remarkable in many ways.
A journey through this otherworldly landscape reveal incredible rock sculptures. Strangely, one of them happen to be very similar to the Easter Island statues!
Conditions here are similar to those on Mars, which is the reason why NASA did testing there for the Viking mission.
Dry Valley, Antarctica – Image credit: Peter West, National Science FoundationThe most important dry valleys include the Taylor, Wright, McKelvey, Balham, Victoria, and Barwick Valleys. Farther south along the coast of McMurdo there are some smaller similar valleys.
Lenticular clouds hover over Mount Erebus volcano – US Coast Guard photo
McMurdo Dry Valleys, Antarctica. This area is in Victoria Valley, west of Lake Vida. Polygonal ice patterns have formed as ice fills cracks produced in the ground by the freeze-thaw cycle. The McMurdo Dry Valleys are a dry, relatively ice-free region of Antarctica. The valleys are kept mostly ice-free by natural rock barriers that reduce the influx of glacier ice, and by a lack of snowfall. Credit: Georger Steinmetz/Science photo Library
It is not correct to say that these valleys are completely ice-free, because in some areas there is actually not much but at least little ice. Still, there is almost no snowfall in these valleys.
Lake Vanda in Wright Valley, with extremely salty water underneath thick layer of incredibly clear ice.The lakes in the Dry Valleys are intriguing and so are the ventifacts, geologic formations shaped by the wind, which are scattered across the areas.
A rock sculpture in Dry Valley. Image credit: George SteinmetzCompare the above image with Easter Island Statue below.
Another rock sculpture in the Dry Valley. Image credit: Kristan Hutchison
Image credit: Kristan Hutchison*************************************************************************************************************
[In accordance with Title 17 U.S.C. Section 107, this material is distributed without profit, for research and/or educational purposes. This constitutes 'FAIR USE' of any such copyrighted material.]