Earthquakes
Date/Time (UTC)
Magnitude
Area
Country
State/Prov./Gov.
Location
Risk
Source
Details
17.05.2012 10:35:35
3.0
North America
United States
Hawaii
Volcano
USGS-RSOE
17.05.2012 10:30:40
4.3
North America
United States
Texas
Meldrum
USGS-RSOE
17.05.2012 10:50:40
4.4
Pacific Ocean
Fiji
Tuvutha
USGS-RSOE
17.05.2012 09:18:56
4.4
Asia
Japan
Iwate-ken
Aneyoshi
USGS-RSOE
17.05.2012 10:20:24
4.4
Asia
Japan
Aneyoshi
EMSC
17.05.2012 09:10:30
4.7
South America
Chile
Region de Valparaiso
Quintero
USGS-RSOE
17.05.2012 09:15:35
4.7
South-America
Chile
Quintero
EMSC
17.05.2012 09:15:53
2.6
Europe
Greece
Kalochorion
EMSC
17.05.2012 09:16:16
3.2
Europe
Albania
Zminec
EMSC
17.05.2012 08:55:58
4.5
Atlantic Ocean
Greenland
Nord
USGS-RSOE
17.05.2012 09:16:38
4.5
Atlantic Ocean – North
Greenland
Nord
EMSC
17.05.2012 09:16:59
4.6
Pacific Ocean – West
Philippines
Baeto Point
EMSC
17.05.2012 10:20:49
2.6
Europe
Greece
Kotsikia
EMSC
17.05.2012 08:05:44
4.5
Pacific Ocean – West
Philippines
Province of Negros Oriental
Mausuagon
USGS-RSOE
17.05.2012 08:15:29
4.5
Pacific Ocean – West
Philippines
Mausuagon
EMSC
17.05.2012 08:15:55
4.0
Europe
Cyprus
Zyyi
EMSC
17.05.2012 08:16:17
2.6
Europe
Cyprus
Lymbia
EMSC
17.05.2012 08:16:39
3.0
Europe
Cyprus
Perakhorio
EMSC
17.05.2012 07:20:42
3.7
South America
Chile
Region de Valparaiso
Quintero
USGS-RSOE
17.05.2012 08:17:00
3.7
South-America
Chile
Quintero
EMSC
17.05.2012 07:10:29
3.0
Europe
Cyprus
Maa
EMSC
17.05.2012 06:25:41
4.4
South America
Peru
Departamento de Lima
Antioquia
USGS-RSOE
17.05.2012 07:10:51
4.4
South-America
Peru
Antioquia
EMSC
17.05.2012 05:55:32
3.3
North America
United States
Alaska
Susitna
USGS-RSOE
17.05.2012 06:05:29
3.0
Europe
Bosnia and Herzegovina
Milicevici
EMSC
17.05.2012 09:17:19
4.4
Indonesian Archipelago
Indonesia
Tapadaa
EMSC
17.05.2012 05:05:28
4.7
Pacific Ocean – West
Philippines
Kulagsing
EMSC
17.05.2012 05:06:19
4.7
Pacific Ocean – West
Philippines
Province of Davao del Sur
Kulagsing
USGS-RSOE
17.05.2012 04:55:44
4.4
Atlantic Ocean
Argentina
Provincia de San Juan
Villa Pituil
USGS-RSOE
17.05.2012 05:05:50
4.5
South-America
Argentina
Villa Pituil
EMSC
17.05.2012 05:10:54
4.0
Middle America
Mexico
Guerrero
Zacoalpan
USGS-RSOE
17.05.2012 06:05:50
4.0
Middle-America
Mexico
Zacoalpan
EMSC
17.05.2012 04:00:25
3.4
Europe
Greece
Anafi
EMSC
17.05.2012 03:05:51
4.5
South America
Venezuela
Estado Sucre
El Cobre
USGS-RSOE
17.05.2012 04:00:46
4.5
South-America
Venezuela
El Cedro
EMSC
17.05.2012 02:55:29
3.8
Europe
Greece
Vasilitsion
EMSC
17.05.2012 09:17:41
3.3
Europe
Cyprus
Neokhorio
EMSC
17.05.2012 01:15:34
2.9
Middle America
Mexico
Estado de Baja California
Perez
USGS-RSOE
17.05.2012 02:30:48
2.2
North America
Canada
British Columbia
Princeton
USGS-RSOE
17.05.2012 07:11:13
3.1
Asia
Turkey
Giryola
EMSC
17.05.2012 00:50:32
2.9
Asia
Turkey
Ambarcik
EMSC
17.05.2012 00:20:57
2.2
North America
United States
California
Black Oaks
USGS-RSOE
17.05.2012 00:10:26
2.4
North America
United States
California
Black Oaks
USGS-RSOE
17.05.2012 02:25:31
2.1
North America
United States
Washington
Olequa
USGS-RSOE
17.05.2012 00:21:17
2.1
Caribbean
Puerto Rico
Finca San Miguel
USGS-RSOE
16.05.2012 23:50:29
2.7
Europe
Romania
Ohaba Lunga
EMSC
16.05.2012 23:50:51
3.3
Asia
Turkey
Sobecayiri
EMSC
17.05.2012 02:20:53
2.2
North America
United States
Oregon
Weatherby
USGS-RSOE
16.05.2012 23:20:43
2.3
North America
United States
California
Malibu
USGS-RSOE
16.05.2012 22:50:27
2.6
Europe
France
Pessade
EMSC
16.05.2012 22:50:49
2.8
Asia
Turkey
Kabacamersin
EMSC
16.05.2012 21:35:41
2.7
North America
United States
Hawaii
Waiki'i
USGS-RSOE
16.05.2012 23:51:12
4.9
Indonesian Archipelago
Indonesia
Faighunago
EMSC
16.05.2012 21:45:34
2.4
Asia
Turkey
Avsiya
EMSC
16.05.2012 21:45:55
4.7
Indonesian Archipelago
Indonesia
Pasirputih
EMSC
16.05.2012 21:46:43
2.6
Asia
Turkey
Poyracik
EMSC
17.05.2012 00:10:48
2.0
North America
United States
California
Cholame
USGS-RSOE
16.05.2012 19:35:34
2.3
Asia
Turkey
Halkaavlu
EMSC
16.05.2012 20:40:29
3.0
Asia
Turkey
Karakoy
EMSC
16.05.2012 17:10:41
4.7
North America
United States
Alaska
Potter Hill
USGS-RSOE
16.05.2012 17:20:41
4.8
North America
United States
Alaska
Potter Hill
USGS-RSOE
16.05.2012 17:30:59
5.0
North-America
United States
 Alaska
Potter Hill
EMSC
16.05.2012 18:10:41
4.2
Middle America
Mexico
Estado de Oaxaca
Rio Venado
USGS-RSOE
16.05.2012 18:35:24
4.2
Middle-America
Mexico
La Esperanza
EMSC
16.05.2012 16:30:36
3.1
Asia
Turkey
Kizlan
EMSC
16.05.2012 14:40:43
2.0
North America
United States
California
Pinnacles
USGS-RSOE
16.05.2012 16:30:56
3.0
Asia
Turkey
Cokertme
EMSC
16.05.2012 15:30:30
2.9
Asia
Turkey
Karakoy
EMSC
16.05.2012 14:30:29
3.2
Asia
Turkey
Karakoy
EMSC
16.05.2012 14:30:51
2.8
Asia
Turkey
Karakoy
EMSC
16.05.2012 14:31:12
3.9
Asia
Turkey
Karakoy
EMSC
16.05.2012 14:31:32
3.1
Europe
Spain
Fuengirola
EMSC
16.05.2012 13:20:41
2.4
North America
United States
Alaska
Iniskin
USGS-RSOE
16.05.2012 13:15:39
4.6
Indonesian archipelago
Indonesia
Alkmaar
USGS-RSOE
16.05.2012 13:25:32
4.5
Indonesian Archipelago
Indonesia
Alkmaar
EMSC
16.05.2012 14:10:38
2.2
Caribbean
Puerto Rico
Corcega
USGS-RSOE
16.05.2012 12:40:42
3.1
North America
United States
Alaska
Chenega (historical)
USGS-RSOE
16.05.2012 12:45:38
4.6
South America
Chile
Region de Antofagasta
Monolito
USGS-RSOE
16.05.2012 13:25:54
4.7
South-America
Chile
Monolito
EMSC
17.05.2012 09:18:03
2.3
Europe
Germany
Pechofen
EMSC
16.05.2012 11:25:56
4.3
Atlantic Ocean
Argentina
Provincia del Neuquen
Invernada Vieja
USGS-RSOE
16.05.2012 12:25:26
4.3
South-America
Argentina
Invernada Vieja
EMSC
16.05.2012 13:26:16
2.5
Europe
Greece
Korifi
EMSC
16.05.2012 12:25:46
3.0
Europe
Greece
Paloi
EMSC
16.05.2012 11:20:34
2.2
Europe
Greece
Ellinikon
EMSC
16.05.2012 17:40:56
2.5
Caribbean
British Virgin Islands
Spanish Town
USGS-RSOE
16.05.2012 19:45:43
4.2
North America
United States
Alaska
Amchitka
USGS-RSOE
……….
A 6.0-magnitude earthquake struck Papua New Guinea on Wednesday, but no tsunami warning was immediately issued.
The quake hit the remote New Britain region at a depth of 154 kilometres, 512km northeast of Port Moresby, the US Geological Survey said.
Powerful earthquakes are common in impoverished PNG, which sits on the so-called Pacific Ring of Fire, a hot spot for seismic activity due to friction between tectonic plates.
A giant tsunami in 1998 killed more than 2,000 people near Aitape, on the country's northwest coast.
**********************************************************************************************************
Volcanic Activity
Mexico, May 16 (Prensa Latina) Acute respiratory infections increased by three percent among the inhabitants of the southeastern area of the State of Mexico, who are exposed to ash thrown by the Popocatepetl volcano, said the Ministry of Health.

The head of the Department of Epidemiological Surveillance of the Mexico State Health Institute, Hector Resendiz, said the increase in these diseases has occurred in children under eight years old and adults over 60.

According to the state agency, residents of Amecameca, Ozumba, Tepetlixpa, Ecatzingo and Atlautla are those who mostly received medical attention after April 21 when volcanic dust began to fall in those municipalities that are closest to Popocatépetl on the Mexico State's side.

Resendiz added that cases of conjunctivitis have also risen, "so far we have counted 348 cases of people who have been in contact with volcanic dust".

On Tuesday, the National Center for Disaster Prevention reported the new increased activity of the volcano, which now is on yellow alert phase three.

sgl/isa/lac/dfm
***********************************************************************************************************
Extreme Temperatures/ Weather
Snow fall as far south as the Midlands and overnight frosts were described as "unusual" weather for mid May by the Met Office as the forecasters admitted the Jubilee could be a washout.
Just 17 days before summer starts, hail and sleet hit the morning rush-hour in Wolverhampton, West Mids, as well as Staffordshire, Shropshire, Cheshire and Durham.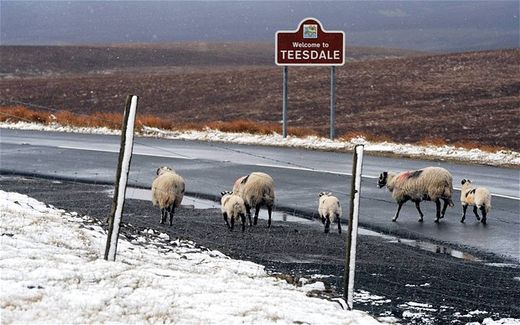 © NNP
Halfway through May and walkers on the moors above Teesdale in County Durham were met with hail, snow and bitterly cold winds
The Met Office said Scotland – where temperatures fell to a near record low for this time of year at -4C (25F) at Cairngorm, could see snow settling on the mountains and in the Pennines, Cumbria and southern Scotland,
Temperatures could even get below freezing overnight in the south in sheltered spots as the "unusual but not unprecedented" mid-May weather continues.
Usually temperatures are up to 16C (61F) at this time of year but even in the sunshine the mercury is only reaching 14C and in the wind most parts of the country are much colder.
The showers will ease off temporarily mid week before coming back in from the North West and hitting the South and South East by the weekend.
The passage of winds across the Atlantic, known as the jet stream, is part of the reason for the unsettled weather as it is creating a block of low pressure over the UK while southern Europe wallows in sunshine.
The Met Office forecast the weather "looks to remain unsettled" until at least June 12, meaning showers could hit the Queen's Diamond Jubilee celebrations on June 3-5.
Dave Britton, of the Met Office, it was impossible to predict conditions for each day this far in advance but that the weather is likely to remain unsettled.
"Conditions look to remain rather unsettled and changeable towards the end of May and into early June," he said.
Weather Online, that gives more long range forecasts, said the Wimbledon tennis championships, running from June 25 to July 8, could also be wet.
The Olympics, from July 27 to August 12, will start at the end of a week's rain, with "indifferent" conditions meaning rain is due at some point during the Games
Simon Keeling of WeatherOnline said: "A cooler and showery regime will establish into mid-June, with low pressure meaning potential rain and windier weather for all areas.
"Unsettled weather looks to continue through the remainder of June, apart from the close of the month, but July will start cool with showers for all as high pressure will be too far west for normal high summer weather.
"Mid-month sees a much warmer regime but it's then downhill with rain for all until the final week of July.
"The pattern will attempt to revert but I doubt it will make it, so 'indifferent' would be the best term to describe the weather."
Netweather forecast rainfall in the South-East down 10 per cent in June – but up 15 per cent in July. The good news is temperatures are expected to be 1C (1.8F) above normal in June and up 2C in July.
Netweather forecaster Paul Michaelwhite said: "Rainfall may be below or close-to-average in June, but a good deal of the UK looks to be close to or above-average in July. June and June are expected to be warmer than average."
By Tim Gaynor
PHOENIX | Thu May 17, 2012 12:49am EDT
(Reuters) – Crews with hand tools battled to contain wind-whipped Arizona wildfires on Wednesday that have raced across more than 30 square miles of parched ponderosa forest, brush and grassland, consuming several buildings and threatening a small town.
The Sunflower Fire, the largest of at least four blazes in central and eastern Arizona, has burned nearly 20 square miles (52 square kilometers) in the Tonto National Forest, about 40 miles north of Phoenix, fire officials said.
Days after the weekend eruption of the blaze, fire crews had managed to carve containment lines around just 10 percent of its perimeter.
This week's conflagrations marked the first major wildfires of the year in Arizona, after a record 2011 fire season in which nearly 2,000 recorded blazes swallowed more than 1,500 square miles, according to the National Interagency Fire Center.
The fires left a translucent veil of gray-brown smoke over the northeast Phoenix valley, obscuring views of nearby highlands where the blazes were burning.
About 350 residents of Crown King in central Arizona remained under evacuation orders after another blaze, the fast-moving Gladiator Fire, burned nearly 9 square miles (22 square kilometers) of ponderosa pine, brush and chaparral in the Prescott National Forest and destroyed several buildings.
Fanned by strong winds and dry weather, the Gladiator Fire also threatened homes in the Horsethief Basin area, as well as U.S. Forest Service campgrounds, lookout towers and power lines in the rugged, mountainous terrain, officials said. It was 5 percent contained.
"The terrain is extremely rugged and steep, and it's making it more difficult to fight the fire," said Michael King, a spokesman for the team fighting the fire.
"The crews are not driving up to it and squirting water. They are getting down there and grubbing out fire lines with hand tools and chainsaws," he added.
More than 1,000 firefighters battled to curtail the two blazes, aided by dozens of fire engines, water-dropping helicopters and air tankers.
Citing drought conditions, heat and "increased fire dangers," the Tonto National Forest was placed under tight fire restrictions on Wednesday.
On the San Carlos Apache reservation, in eastern Arizona, the Elwood Fire, caused by lightning, has charred more than 2 square miles (about 5 square kilometers) of ponderosa pine, juniper and oak since the weekend.
The Bull Flat Fire on the Fort Apache reservation, meanwhile, burned nearly 3 square miles (about 8 square kilometers) of brush and grassland. It is up to 45 percent contained.
Last year's so-called Wallow Fire, the largest blaze in the state's history, started in late May and torched about 840 square miles of prime forest land in eastern Arizona.
U.S. Senator John McCain ignited a furor when he suggested last June that the blaze might have been started by illegal immigrants. Two Arizona cousins later pleaded guilty to starting that fire when they left a campfire unattended.
(Reporting by Tim Gaynor; Editing by Steve Gorman, Cynthia Johnston and Philip Barbara)
| | | | | | | | |
| --- | --- | --- | --- | --- | --- | --- | --- |
|   | 16.05.2012 | Forest / Wild Fire | USA | State of Arizona, Crown King | | | |
Description
Firefighters were working to protect homes and cabins from the growing Gladiator Fire near Crown King as winds began to pick up Tuesday.The wildfire, which began as a structure fire at a private residence Sunday, had grown to 1,700 acres by 8:30 Tuesday morning with no containment, said Debbie Maneely with the U.S. Forest Service.Dry conditions were combining with erratic winds between 10 and 20 mph with gusts up to 35 mph to complicate firefighting efforts, according to a fire commander who briefed crews Tuesday morning.Winds from the southeast and south were expected to push the fire north and northwest today, officials said.Maneely said heavy air support was going to be used to aid ground crews. There were six air tankers, four helicopters and a lead plane expected to be in the air Tuesday.All roads leading into Crown King were closed, and a fire ban was in effect for Yavapai County, prohibiting all open fires and campfires, any open flame, fireworks and any equipment that might cause a spark.There are also severe restrictions including a ban on campfires, charcoal grills and wood stoves in the Prescott National Forest.Mandatory evacuations were ordered for residents of Crown King as the wildfire threatened the small tourist community tucked in the Bradshaw Mountains, the Yavapai County Sheriff's Office said.Maneely said that about 30 residents remain in the community, which has approximately 300 homes, and that half the residents live there year-round. Three structures had been destroyed by the fire as of Tuesday morning.A community meeting is planned for 6 p.m. Tuesday at Mayer High School, 17300 E. Mule Deer Dr. in Spring Valley, to update evacuees and members of the media. All the roads leading into Crown King were closed. The main road, Crown King Road, continues to be threatened and closed for periods of time because of the fire jumping the road.There was a road block at Cleator on Crown King Road restricting access up the mountain to fire and law enforcement personnel. The road was closed at Old Senator Highway (FR 52) and Goodwin Road, as well as the junction of Forest Road 362/FR 52 and Forest Road 362/FR 192 and the Cow Creek Road and Forest Road 711 coming out of Lake Pleasant.The wildfire, situated four miles north of Crown King, burned three structures the incident command staff said Monday. The Forest Service said there are 254 residential structures near Crown King and 55 cabins in the adjacent Horse Thief Basin area.The Prescott National Forest had reported early Monday morning that the fire had reached 3,000 acres. Officials later sent a correction stating that GPS data found the span of the fire to be 600 acres. Since then, the fire continues to grow.Red Cross volunteers opened a shelter for evacuees at Mayer High School. Red Cross was assisted by volunteers from Animal Disaster Services to shelter household pets and assist with placing large animals in safe places.Ryan Castiglia of the Crown King Saloon told CBS 5 News a couple of streets were evacuated in town.There were also 11 engines and seven hand crews battling the blaze Monday. The Glendale Fire Department deployed firefighters and a wildland engine to the fire.Crown King is the site of a former gold-mining town. The community is 28 miles west of Interstate 17 on Senator Highway. Nearly three years ago, Crown King was evacuated when a fire burned out of control, blackening more than 9,000 acres of forest land.A former National Park Services employee, David Alexander Cygan, 52, of Yuma, was charged with leaving a fire unattended and unextinguished on the Prescott National Forest.Residents in Cleator, a small community just down the mountain from the fire, were watching things anxiously. They hope this blaze will not be a repeat of the Lane 2 Fire in 2008."I was hoping I would never see it again in my lifetime, but hopefully, they will get this one under control faster, and no more homes will be lost," said Camille Shultz, a Cleator resident.The small community knows it could be next to face an evacuation. However, as residents watch crews go up the mountain, they hope containment is coming soon."We have seen a lot of hot shots that have already gone up, and they are a blessing for fires like this. They were four years ago, and they will be again," Shultz said.
| | | | | | | | |
| --- | --- | --- | --- | --- | --- | --- | --- |
|   | Today | Forest / Wild Fire | Canada | Province of Alberta, Bonnyville | | | |
Description
The progression of the fire in the Bonnyville/Forsythe Lake area to the north has stopped. The concern is that this afternoon the winds are expected to shift to the northwest bringing gusts of 20-40 km/hr. Crews have created a fire guard to the south, however, if the fire progresses past the fire guard there is a risk to 3 subdivisions and rural homes impacting as many as 150 residences and an agricultural operation. An AEMA field officer will remain on scene to provide support and advice to the Municipality. The fire is still north of highway 660 and Moose lake Provincial Park is on the north side of the lake south of the fire.Forestry firefighters are hitting the Forsythe Lake fire hard. The fire is four miles north of Moose Lake. Environmental and Sustainable Resource Development (SRD) has sent in additional dozers with the existing nine currently on the front lines. Two crews are working the south guard and one crew is on the north guard. Three more helicopters are now in the air. Currently there are approximately 160 firefighters on the ground. ESRD is continually assessing the Forsythe Lake fire and the evacuation order will be reevaluated in mid-afternoon.
As of noon Wednesday, the wildfire near Bonnyville had reached 800 hectares total. This fire is still listed as "out of control". At that time, there were helicopters, air tankers and heavy equipment on scene, and a fireguard has been built around 30% of the blaze.Around dinnertime Tuesday, Bonnyville RCMP began facilitating a voluntary evacuation of 12 residences in the Forsythe Lake area when the winds shifted and created a risk of fire spreading to those homes.
When the local State of Emergency was declared by the Municipal District, the 12 residences affected were put under mandatory evacuation. The Municipal District has jurisdiction of the situation right now. The MD is monitoring the fire, and is providing updates on its website.The Forsythe Lake fire, four miles north of Moose Lake, at Township 62-7, West of the 4th Meridian, is still considered out of control. Fire fighters continue to fight it, and SRD will reevaluate the situation Wednesday morning, based on weather and fire conditions, and make a decision as to when residents can return to their homes. Road blocks will remain in place within the fire area and RCMP will patrol the area for security reasons as long as there's a risk. Two dozers are working on a fireguard to contain the fire south of Muriel Lake at the intersection of Secondary Highway 657, going west to Kehewin First Nation within SW 12-59-5-W4 Meridian.The town of Bonnyville is about 15 kilometres southwest of the fire. The town is monitoring the fire at this point, but there is no great threat to the town currently, thanks to a nearby lake and low tree growth in the area. The CAO says the town of Bonnyville has a large fireguard.Sustainable Resource Development has updated the information for the three major wildfires burning in the province. It says "thanks to the excellent work of firefighters, the wildfire burning northwest of Grassland is now classified as 'being held'. This means that with the current weather and resources, we are not expecting the fire tow grow past containment boundaries." This fire was listed as "out of control" earlier Wednesday. It's being held at about 1000 hectares, but has seen minimal growth, and a guard around the fire is 90% complete. There are 80 firefighters on scene from two municipalities. Helicopters, air tankers and heavy equipment are also on scene.
The Lodgepole wildfire is now classified as "under control" at about 357 hectares. There is a fireguard around the fire and crews are working to extinguish the fire within the guard. There are 130 firefighters fighting the blaze, as well as helicopters, air tankers and heavy equipment.
SAN FRANCISCO BAY AREA
LOS ANGELES/OXNARD CA
EUREKA CA
CAPE FLATTERY TO CAPE LOOKOUT
POINT ST GEORGE TO POINT ARENA
POINT ARENA TO POINT CONCEPTION
POINT CONCEPTION TO GUADALUPE ISLAND




GAYLORD MI
BURLINGTON VT
ALBANY NY




FIRE WEATHER MESSAGE
FLAGSTAFF AZ
LAS VEGAS NV
ELKO NV
SALT LAKE CITY UT


***********************************************************************************************************
Storms, Flooding
| | | | | | | | | | | |
| --- | --- | --- | --- | --- | --- | --- | --- | --- | --- | --- |
| Name of storm system | Location | Formed | Last update | Last category | Course | Wind Speed | Gust | Wave | Source | Details |
| Aletta | Pacific Ocean – East | 14.05.2012 | 16.05.2012 | Tropical Storm | 280 ° | 65 km/h | 83 km/h | 3.66 m | NHC | |
| | |
| --- | --- |
| Share: | |
| Storm name: | Aletta |
| Area: | Pacific Ocean – East |
| Start up location: | N 9° 48.000, W 105° 54.000 |
| Start up: | 14th May 2012 |
| Status: | 01st January 1970 |
| Track long: | 182.58 km |
| Top category.: | |
| Report by: | TSRC |

Useful links:

Past track

Date
Time
Position
Speed
km/h
Wind
km/h
Gust
km/h
Category
Course
Wave
Pressure
Source
15th May 2012
05:05:03
N 10° 30.000, W 108° 30.000
22
74
74
Tropical Storm
140
12
1004 MB
TSRC
16th May 2012
07:05:44
N 11° 42.000, W 110° 54.000
17
74
93
Tropical Storm
285
12
1003 MB
TSRC
16th May 2012
11:05:10
N 11° 54.000, W 111° 42.000
17
74
120
Tropical Storm
285
12
1004 MB
TSRC

Current position

Date
Time
Position
Speed
km/h
Wind
km/h
Gust
km/h
Category
Course
Wave
feet
Pressure
Source
16th May 2012
20:05:23
N 11° 48.000, W 112° 36.000
15
65
83
Tropical Storm
280 °
12
100
 MILWAUKEE/SULLIVAN WI
COLUMBIA SC
LINCOLN IL
SPOKANE, WA
AUSTIN/SAN ANTONIO TX
CORPUS CHRISTI TX
HOUSTON/GALVESTON, TX
MISSOULA MT


************************************************************************************************************
Radiation
Andre Evans
Natural Society
The threat of radiation is constant and growing; too much radiation from medical testing and other sources is increasingly becoming a concern for many individuals around the world.
The average child will receive more than seven radiation emitting scans for medical procedure by age 18, not to mention all of the background radiation emitted from cell phones, as well as other various electronic devices.
With the advent of the TSA body scanners, using deadly terahertz radiation only adds to the controversy. An array of DNA destroying and cancer causing devices pervade our natural lives.
A recent study conducted using THz radiation found that the radiation's effects on genetic material are so devastating that they can actually destroy it. THz radiation effectively unzips the double helix strands, creating anomalies that would be detrimental to gene expression and replication.
The report concludes by saying that TSA scanners are not only a gross invasion of privacy, but are also producing long term effects on human health that ultimately shorten the lifespan of those who are unfortunate enough to be affected by them.
Add this to the constant exposure from cell phones, cell phone towers, and other forms of radiation including x-rays from medical procedures, and you have a mega-radiation dose over time. Radiation is indeed harmful; there's a reason why doctors leave the room after giving patients undergoing radiation a heavy lead coat.
The pervasive nature of this threat has even prompted the FDA to issue guidelines concerning radiation exposure and safety. This report notes of a proposal to create less dangerous scanners and technology in an attempt to mitigate the damage done, especially to younger individuals.
The fact that they would propose taking action shows that they know the effect of radiation is a real threat and causing damage daily. Taking this into account, you should also be aware of the dangers and necessity to protect yourself and others.
Steven Carter
Orthomolecular.org
People have been misinformed about the tragedy at Fukushima and its consequences. There is a continuing cover up, the reactors have not been stabilized, and radiation continues to be released.
The Japanese College of Intravenous Therapy (JCIT) has recently released a video for people wishing to learn more about how to protect themselves from contamination by taking large doses of vitamin C
Part 1
Watch Part 2 , Part 3 and Part 4
All four parts of the video are also available here. Readers may link to, embed in their webpages, and make copies of the video for free distribution.
Japanese Government Minimizes Danger; Ignores Vitamin C
In the fall of 2011, JCIT presented a study that Fukushima workers had abnormality gene expression, which may be avoided using dietary antioxidants, especially vitamin C. The data was presented in Japan, Taiwan, and Korea. The JCIT sent letters to the government urging the government to tell the people how they may protect themselves from radiation. To date, the recommendation has been ignored by Japanese government and TEPCO (Tokyo Electric Power Company).
Linus Pauling gained the Nobel Peace Prize in part based on his calculations of the number of deaths from nuclear weapons fallout.[1] He was supported by physicist and father of the Soviet bomb Andrei Sakharov, who also later received the Nobel Prize for peace.[2] These and other scientists estimated that there would be an extra 10,000 deaths worldwide for each megaton nuclear test in the atmosphere. A nuclear reactor can contain much more radioactive material than a nuclear weapon. Fukushima had six reactors, plus stored additional radioactive material and nuclear waste.
How Radiation Damages Cells
Ionizing radiation acts to damage living tissue by forming free radicals. Essentially, electrons are ripped from molecules. Removing an electron from an atom or molecule turns it into an ion, hence the term ionizing radiation. X-rays, gamma rays, alpha- and beta-radiation are all ionizing.
Most of the damage occurs from ionizing radiation generating free radicals in water, as water molecules are by far the most abundant in the body. While avoiding unnecessary exposure to ionizing radiation is clearly preferable, people affected by Fukushima do not have the luxury of avoiding contamination.
Antioxidants: Free-Radical Scavengers
Free-radical scavengers, as the name suggests, mop up the damaging radicals produced by radiation. The more common term for free radical scavenger is antioxidant. Antioxidants replace the electrons stripped from molecules by ionizing radiation. Antioxidants have long been used in the treatment of radiation poisoning.[3-7] Most of the harm from ionizing radiation occurs from free radical damage which may be quenched by the free electrons antioxidants provide. Fortunately, safe antioxidants are widely available as nutritional supplements. Vitamin C is the prime example.
Why Vitamin C?
Vitamin C is of particular importance and should be included at high intakes for anyone trying to minimize radiation poisoning. High dose vitamin C provides continual antioxidant flow through the body. It is absorbed from the gut and helps to replenish the other antioxidants. When it is used up, it is excreted in the urine. Importantly, it can chelate, or grab onto, radioactive heavy metal atoms and help eliminate them from the body. Large dynamic flow doses of vitamin C (about 3,000 mg, taken 4 times a day for a total of 12,000 mg) would exemplify antioxidant treatment. Higher doses have been used by Dr. Atsuo Yanagisawa and colleagues. [8,9]
Shortly after the disaster, Dr. Damien Downing described how supplements can help protect against radioactive fallout.[10] OMNS issued an update on the response to Fukushima in Japan.[11] Recently, Dr. Gert Schuitemaker has provided a review of vitamin C as a radio-protectant for Fukushima contamination.[12]
Persons living in the areas affected by radioactive contamination can take antioxidant supplements, especially high doses of vitamin C, to counteract the negative consequences of long-term low dose radiation exposure, as well as to protect the health of coming generations.[12,13] People who have a possible internal or external radiation exposure should take antioxidant supplements to maintain an optimal antioxidant reserve. Because of the enormous size and oceanic spread of Fukushima contamination, this literally applies to everyone.
"The International Society for Orthomolecular Medicine is pleased to have participated in the making of this important DVD on the protective effects of intravenous vitamin C on radiation exposure from the Fukushima nuclear plant in March 2011. We are in full support of the valuable work of Dr. Yanagisawa and his colleagues, and we very much appreciate the commitment of Mr. Daisuke Shibata, who has made it possible for the free distribution of the video around the world. May this orthomolecular message raise awareness and foster improvement in the treatment of radiation exposure."
Steve Hickey, PhD; Atsuo Yanagisawa, MD, PhD; Andrew W. Saul, PhD; Gert E. Schuitemaker, PhD; Damien Downing, MD
References:
1. The Nobel Foundation (1962) The Nobel Peace Prize 1962, Linus Pauling Biography,
2. Sakharov A. (1975) The Nobel Peace Prize 1975, Andrei Sakharov, Autobiography,
3. Brown SL, Kolozsvary A, Liu J, et al: Antioxidant diet supplementation starting 24 hours after exposure reduces radiation lethality. Radiat Res, 2010; 173: 462-468.
4. Zueva NA, Metelitsa LA, Kovalenko AN, et al: Immunomodulating effect of berlithione in clean-up workers of the Chernobyl nuclear plant accident [Article in Russian]. Lik Sprava, 2002; (1): 24-26.
5. Yamamoto T, Kinoshita M et al. Pretreatment with ascorbic acid prevents lethal gastrointestinal syndrome in mice receiving a massive amount of radiation. J Radiat Res (Tokyo) 2010; 51(2):145-56
6. Gaby A. Intravenous Nutrient Therapy: the "Myers' Cocktail". Alt Med Rev 2002; 7(5):389:403
7. Narra VR, Howell RW, Sastry KS, Rao DV. Vitamin C as a radioprotector against iodine-131 in vivo. J Nucl Med 1993; 34(4):637-40
8. Yanagisawa A. Orthomolecular approaches against radiation exposure. Presentation Orthomolecular Medicine Today Conference. Toronto 2011
9. Green MH, Lowe JE et al. Effect of diet and vitamin C on DNA strand breakage in freshly-isolated human white blood cells. Mutat Res 1994; 316(2):91-102
10. Downing D. (2011) Radioactive Fallout: Can Nutritional Supplements Help?, A Personal Viewpoint, OMNS, May 10,
11. OMNS (2012) Vitamin C Prevents Radiation Damage, Nutritional Medicine in Japan, Orthomolecular Medicine News Service, February 1.
12. Schuitemaker GE. Vitamin C as protection against radiation exposure. J Orthomolecular Med 2011, 26: 3; 141-145. [Also in Dutch: Schuitemaker G.E. Radioactiviteit in Japan: Orthomoleculair antwoord. Ortho 2011:3, June. ]
13. Yanagisawa A, Uwabu M, Burkson BE, Weeks BS, Hunninghake R, Hickey S, Levy T, (2011) Environmental radioactivity and health. Official JCIT Statement, March 29.
Nutritional Medicine is Orthomolecular Medicine. Orthomolecular medicine uses safe, effective nutritional therapy to fight illness. For more information: http://www.orthomolecular.org
************************************************************************************************************
Epidemic Hazards/Diseases
Doctors warn the virus is spreading quickly due to fighting, power cuts and curfews.
MIRAMSHAH: A measles outbreak has killed 12 children in the North Waziristan tribal region and is spreading as fighting, power cuts and curfews cause a vaccine shortage, doctors said on Monday.
North Waziristan, which is infamous for its alleged Taliban and al Qaeda sanctuaries, is frequently hit by US drone strikes.
"For the past three weeks we are daily receiving five to 10 children suffering from measles," said Dr Muhammad Ali Shah, chief of the agency headquarters hospital in Miramshah. He would normally see only one or two deaths a year from the disease, he said.
But another doctor, Mohammad Sadiq, said 12 children and a man had died from measles in the last three weeks, and that there were up to 70 confirmed cases in hospital.
The UN children's agency UNICEF said there had been 143 measles alerts this year in the seven tribal agencies of the country.
The measles virus is highly contagious and can be fatal, but can easily be prevented by proper immunisation.
However Shah said: "We do not have proper storage for measles vaccination because of long power outages and curfews and most of our stock expires due to these reasons."
Poverty and poor transport facilities mean villagers in the rugged, mountainous areas cannot come to hospitals for treatment, he added, while military operations and unrest mean vaccination teams cannot reach them.
"There is accumulation of significant number of unvaccinated children in different parts of this region which are revealing as outbreaks or alerts from time to time," said Dr Quamrul Hasan of the World Health Organisation (WHO).
WHO and local health officials are to carry out a supplementary campaign in the tribal areas aimed at vaccinating more than a million children aged under 10 by the end of June, he said.
Polio vaccination campaigns in tribal areas have in the past suffered because of rumours – sometimes spread by radio stations or from mosque loudspeakers – they were a Western conspiracy to sterilise children to reduce the Muslim population.
But UNICEF said work had been done to tackle misconceptions and there was less suspicion of the measles vaccine, administered by injection, than of the orally-administered polio dose.
Published in The Express Tribune, May 15th, 2012.
| | | | | | | | |
| --- | --- | --- | --- | --- | --- | --- | --- |
|   | 16.05.2012 | Epidemic Hazard | Turkey | [Tokat] | | | |
Description
Five people have died in the Black Sea region of Turkey of a disease that can be transmitted by tick bites, officials said.Saim Sener, Nigar Orman and Ayse Ortaacar of Kastamonu province in northern Turkey were taken to Ankara Numune Hospital Tuesday and died that day from Crimean-Congo hemorrhagic fever, Today's Zaman reported.A shepherd from Tokat district in Tokat province and a farmer from Corum province also died of the disease Tuesday.The disease, which affects mainly farm and slaughterhouse workers in the countryside and in the central Anatolia and Black Sea regions, is normally transmitted by bites from infected ticks or through direct contact with infected blood tissue in livestock.
Transmission between humans, through exposure to contaminated blood, is rare.As a result of global warming, ticks carrying the virus are multiplying faster, scientists said.The disease, for which there is no vaccine, causes hemorrhage, high fever, muscle pain and vomiting. In severe cases, the disease can cause a body rash, bleeding from the bowels and gums and renal failure.The disease, which has a mortality rate of about 30 percent, was first identified in Crimea in 1944 and later appeared in the Congo.
Biohazard name:
Crimean-Congo hemorrhagic fever
Biohazard level:
1/4 Low
Biohazard desc.:
Bacteria and viruses including Bacillus subtilis, canine hepatitis, Escherichia coli, varicella (chicken pox), as well as some cell cultures and non-infectious bacteria. At this level precautions against the biohazardous materials in question are minimal, most likely involving gloves and some sort of facial protection. Usually, contaminated materials are left in open (but separately indicated) waste receptacles. Decontamination procedures for this level are similar in most respects to modern precautions against everyday viruses (i.e.: washing one's hands with anti-bacterial soap, washing all exposed surfaces of the lab with disinfectants, etc). In a lab environment, all materials used for cell and/or bacteria cultures are decontaminated via autoclave.
Symptoms:
The disease, for which there is no vaccine, causes hemorrhage, high fever, muscle pain and vomiting. In severe cases, the disease can cause a body rash, bleeding from the bowels and gums and renal failure.
Status:
confirmed
************************************************************************************************************
Solar Activity
2MIN News May16
Published on May 16, 2012 by Suspicious0bservers
Solar eclipse this weekend
May 16, 2012 By Dr. Tony Phillips
A "ring of fire" over China in 2010.
Something strange is about to happen to the shadows beneath your feet.
NASA's Scary Simulation – Watch What Could Happen If The Sun Meets A Black Hole, Vid On msnNOW – now.msn.com
On Sunday, May 20th, the Moon will pass in front of the sun, transforming sunbeams across the Pacific side of Earth into fat crescents and thin rings of light.
It's an annular solar eclipse, in which the Moon will cover as much as 94% of the sun. Hundreds of millions of people will be able to witness the event. The eclipse zone stretches from southeast Asia across the Pacific Ocean to western parts of North America:
In the United States, the eclipse begins around 5:30 pm PDT. For the next two hours, a Moon-shaped portion of the sun will go into hiding. Greatest coverage occurs around 6:30 pm PDT.

Enlarge
The path of annularity cuts across the continental United States near sunset on May 20, 2012.
Because some of the sun is always exposed during the eclipse, ambient daylight won't seem much different than usual. Instead, the event will reveal itself in the shadows. Look on the ground beneath leafy trees  for crescent-shaped sunbeams and rings of light.
Near the center-line of the eclipse, observers will experience something special: the "ring of fire." As the Moon crosses the sun dead-center, a circular strip or annulus of sunlight will completely surround the dark lunar disk. Visually, the sun has a big black hole in the middle.
The "path of annularity" where this occurs is only about 200 miles wide, but it stretches almost halfway around the world passing many population centers en route: Tokyo, Japan; Medford, Oregon; Chico, California; Reno, Nevada; Albuquerque, New Mexico, and Lubbock, Texas. In those locations the ring of fire phenomenon will be visible for as much as 4 and a half minutes.
Read Full Article  and  Watch Video Here
Alex DeMarban | May 16, 2012
Wednesday's earthquake centered in Anchorage wasn't strong, but it rattled a few things to the floor, including at least one sleeping woman.
"We got a call from one lady who said she had fallen out of bed and was wondering what was going on," said Jeremy Zidek, spokesman with the state division of Homeland Security and Emergency Management. "We informed her there was an earthquake and she seemed to be happy with that answer."
The 4.6-magnitude temblor at 7:03 a.m. was a run-of-the-mill earthquake, the kind that happens a couple times a week somewhere in Alaska as the Pacific Tectonic Plate grinds under the North American plate, said Natasha Rupert, seismologist with the Alaska Earthquake Information Center.
But it was a rude awakening for a lot of Anchorage residents, who grabbed kids, hustled under doorways or watched shelves shake in a rare moment of collective vulnerability.
Alaska might get a lot of these 4-magnitude shakers, but they've struck Anchorage only eight times in the last 10 years. The last time one this big occurred within a 20-mile radius of downtown was Sept. 20, 2010, when a 4.9 struck.
The last time Anchorage reached the 5′s? That was in 2002, a 5.1.
Why'd it feel so strong? Because it was centered eight miles south of downtown and 37 miles deep, so close to Anchorage residents felt the jolting primary wave along with the jostling of the secondary waves. Farther away, the so-called short-sharp wave, which diminishes faster than those side-to-side waves, wouldn't have been noticeable.
"When you are farther you don't really feel the primary wave. It just dies out," she said.
Here's what Alaska Dispatch readers had to say about the 7:03 a.m. quake on Facebook:
• Felt a quick jolt in Sterling… nothing major.
• Strong wake up call in Wasilla.
• Got rattled by King's Lake.
• I'm here in Anchorage….Muldoon/Tudor area. Rattled my house…definitely way more than others. Scared the crap outta me….
• Woke us all up on JBER! No damage, though.
• Wow Anchorage, Talkeetna to Sutton. No damage in Sutton at this point.
• At first I thought the cat jumped on the large bookcase right by my desk, then I thought a car hit the building. And then it was over.
• Rockin' & rolling in my Trailer in Spenard!!!!
• Heard of things falling off a mantle…
• Very strong shaking up here in Bear Valley. Felt like it lasted 5 secs or longer. Agree, this one felt stronger than usual.
• We heard it before it hit! Pictures fell and hopefully that it the extent of the damage.
• Heard a roar coming and then the biggest jolt I have ever felt myself. For just a 4.7 I KNOW it must have been centered more closer to us then the normal. We live in Chugach Foothills area.
************************************************************************************************************
Space
Object Name
Apporach Date
Left
AU Distance
LD Distance
Estimated Diameter*
Relative Velocity
(2001 BA16)
18th May 2012
1 day(s)
0.1157
45.0
18 m – 41 m
6.66 km/s
23976 km/h
(2010 KK37)
19th May 2012
2 day(s)
0.0058
2.3
19 m – 43 m
10.94 km/s
39384 km/h
4183 Cuno
20th May 2012
3 day(s)
0.1218
47.4
3.5 km – 7.8 km
14.40 km/s
51840 km/h
(2006 KY67)
23rd May 2012
6 day(s)
0.1499
58.3
68 m – 150 m
13.88 km/s
49968 km/h
(2011 KG4)
24th May 2012
7 day(s)
0.1216
47.3
67 m – 150 m
11.50 km/s
41400 km/h

| | |
| --- | --- |
| 1 AU = ~150 million kilometers,1 LD = Lunar Distance = ~384,000 kilometers | Source: NASA-NEO |
*************************************************************************************************************
Earth
Jason Major
Universe Today
Researchers at the University of Maryland have discovered a way to identify and track sulfuric compounds in Earth's marine environment, opening a path to either refute or support a decades-old hypothesis that our planet can be compared to a singular, self-regulating, living organism – a.k.a. the Gaia theory.
Proposed by scientists James Lovelock and Lynn Margulis in the 70s, the Gaia theory likens Earth to a self-supporting singular life form, similar to a cell. The theory claims that, rather than being merely a stage upon which life exists, life – in all forms – works to actively construct an Earthly environment in which it can thrive.
Although named after the Greek goddess of Earth, the Gaia theory is not so much about mythology or New Age mysticism as it is about biology, chemistry and geology – and how they all interact to make our world suitable for living things.
Once called the Gaia hypothesis, enough scientific cross-disciplinary support has since been discovered that it's now commonly referred to as a theory.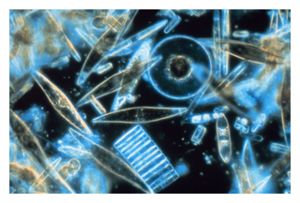 © NOAA
Marine phytoplankton — like these diatoms — may produce sulfur compounds that can be transmitted into the air, affecting climate. (NOAA image)
One facet of the Gaia theory is that sulfur compounds would be created by microscopic marine organisms – such as phytoplankton and algae – and these compounds could be transmitted into the air, and eventually (in some form) to the land, thus helping to support a sulfur cycle.
Sulfur is a key element in both organic and inorganic compounds. The tenth most abundant element in the Universe, sulfur is crucial to climate regulation – as well as life as we know it.
In particular, two sulfur compounds – dimethylsulfoniopropionate and its atmospherically-oxidized version, dimethylsulfide – are considered to be likely candidates for the products created by marine life. It's these two compounds that UMD researcher Harry Oduro, along with geochemist and professor James Farquhar and marine biologist Kathryn Van Alstyne (of Western Washington University) have discovered a way to track across multiple environments, from sea to air to land, allowing scientists to trace which isotopes are coming from what sources.
"What Harry did in this research was to devise a way to isolate and measure the sulfur isotopic composition of these two sulfur compounds," said Farquhar. "This was a very difficult measurement to do right, and his measurements revealed an unexpected variability in an isotopic signal that appears to be related to the way the sulfur is metabolized."
The team's research can be used to measure how the organisms are producing the compounds, under which circumstances and how they are ultimately affecting their – and our – environment in the process.
"The ability to do this could help us answer important climate questions, and ultimately better predict climate changes," said Farquhar. "And it may even help us to better trace connections between dimethylsulfide emissions and sulfate aerosols, ultimately testing a coupling in the Gaia hypothesis."
Whether or not Earth can be called a singular – or possibly even sentient – living organism of which all organisms are contributing members thereof may still be up for debate, but it is fairly well-accepted that life can shape and alter its own environment (and in the case of humans, often for the worse.) Research like this can help science determine just how far-reaching those alterations may be.
The study appears in this week's Online Early Edition of the Proceedings of the National Academy of Sciences (PNAS).
Read more on the University of Maryland's news page here.
*************************************************************************************************************
Wildlife
**************************************************************************************************************
Articles of Interest
Scientists say a fault-line running across Alaska could cause tsunamis of the same magnitude as the Japanese disaster of March last year. Attention has turned to the Alaskan-Aleutian subduction zone, a region where one of the earth's tectonic plate, carrying the Pacific Ocean, drops beneath the North American plate.
A particular section of the fault near the Semidi Islands has not ruptured since at least 1788, and measurements on this area – which lies four to five kilometres under water – reveal the pressure is accumulating rapidly. If the Pacific Ocean plate slips, as happened in the geographically-similar Tohoku subduction zone off the coast of Japan, a tsunami could occur – and the deaths could happen as far away as Hawaii and California.
According to Discovery.com, scientists are now investigating the underwater fault-line in the hope of estimating the likelihood of danger to the U.S. and to the Hawaiian islands.The last time a slip between the Alaskan plates occurred led to the Good Friday Earthquake, on March 27, 1964, which was the powerful earthquake in U.S. history – a 9.2 magnitude earthquake which led to 145 deaths.
Tsunamis also occurred in this area in 1947 and 1957, while a magnitude 7.4 earthquake occurred in the area last June, but as its location did not lead to a tsunami, a brief tsunami warning was recalled shortly afterwards.
Many of these deaths happened hundreds of miles away from the epicentre of the earthquake – with 90 per cent of the deaths caused by tsunamis.
The Japanese quake, which measured 9.0 magnitude, led to a 10-metre-high tsunami and ended up killing an estimated 18,000 people.
WashingtonsBlog
The Gulf Ecosystem Is Being Decimated
The BP oil spill started on April 20, 2010. We've previously warned that the BP oil spill could severely damage the Gulf ecosystem.
Since then, there are numerous signs that the worst-case scenario may be playing out:
A recent report also notes that there are flesh-eating bacteria in tar balls of BP oil washing up on Gulf beaches
If you still don't have a sense of the devastation to the Gulf, American reporter Dahr Jamail lays it out pretty clearly:
"The fishermen have never seen anything like this," Dr Jim Cowan told Al Jazeera. "And in my 20 years working on red snapper, looking at somewhere between 20 and 30,000 fish, I've never seen anything like this either."

Dr Cowan, with Louisiana State University's Department of Oceanography and Coastal Sciences started hearing about fish with sores and lesions from fishermen in November 2010.

Cowan's findings replicate those of others living along vast areas of the Gulf Coast that have been impacted by BP's oil and dispersants.

Gulf of Mexico fishermen, scientists and seafood processors have told Al Jazeera they are finding disturbing numbers of mutated shrimp, crab and fish that they believe are deformed by chemicals released during BP's 2010 oil disaster.

Along with collapsing fisheries, signs of malignant impact on the regional ecosystem are ominous: horribly mutated shrimp, fish with oozing sores, underdeveloped blue crabs lacking claws, eyeless crabs and shrimp – and interviewees' fingers point towards BP's oil pollution disaster as being the cause.

Eyeless shrimp

Tracy Kuhns and her husband Mike Roberts, commercial fishers from Barataria, Louisiana, are finding eyeless shrimp.

"At the height of the last white shrimp season, in September, one of our friends caught 400 pounds of these," Kuhns told Al Jazeera while showing a sample of the eyeless shrimp.

According to Kuhns, at least 50 per cent of the shrimp caught in that period in Barataria Bay, a popular shrimping area that was heavily impacted by BP's oil and dispersants, were eyeless. Kuhns added: "Disturbingly, not only do the shrimp lack eyes, they even lack eye sockets."
Eyeless shrimp, from a catch of 400 pounds of eyeless shrimp, said to be caught September 22, 2011, in Barataria Bay, Louisiana [Erika Blumenfeld/Al Jazeera]

"Some shrimpers are catching these out in the open Gulf [of Mexico]," she added, "They are also catching them in Alabama and Mississippi. We are also finding eyeless crabs, crabs with their shells soft instead of hard, full grown crabs that are one-fifth their normal size, clawless crabs, and crabs with shells that don't have their usual spikes … they look like they've been burned off by chemicals."

On April 20, 2010, BP's Deepwater Horizon oilrig exploded, and began the release of at least 4.9 million barrels of oil. BP then used at least 1.9 million gallons of toxic Corexit dispersants to sink the oil.

Keath Ladner, a third generation seafood processor in Hancock County, Mississippi, is also disturbed by what he is seeing.

"I've seen the brown shrimp catch drop by two-thirds, and so far the white shrimp have been wiped out," Ladner told Al Jazeera. "The shrimp are immune compromised. We are finding shrimp with tumors on their heads, and are seeing this everyday."

While on a shrimp boat in Mobile Bay with Sidney Schwartz, the fourth-generation fisherman said that he had seen shrimp with defects on their gills, and "their shells missing around their gills and head".

"We've fished here all our lives and have never seen anything like this," he added.

Ladner has also seen crates of blue crabs, all of which were lacking at least one of their claws.

Darla Rooks, a lifelong fisherperson from Port Sulfur, Louisiana, told Al Jazeera she is finding crabs "with holes in their shells, shells with all the points burned off so all the spikes on their shells and claws are gone, misshapen shells, and crabs that are dying from within … they are still alive, but you open them up and they smell like they've been dead for a week".

Rooks is also finding eyeless shrimp, shrimp with abnormal growths, female shrimp with their babies still attached to them, and shrimp with oiled gills.

"We also seeing eyeless fish, and fish lacking even eye-sockets, and fish with lesions, fish without covers over their gills, and others with large pink masses hanging off their eyes and gills."

Rooks, who grew up fishing with her parents, said she had never seen such things in these waters, and her seafood catch last year was "ten per cent what it normally is".

"I've never seen this," he said, a statement Al Jazeera heard from every scientist, fisherman, and seafood processor we spoke with about the seafood deformities.

Given that the Gulf of Mexico provides more than 40 per cent of all the seafood caught in the continental US, this phenomenon does not bode well for the region, or the country.

***

"The dispersants used in BP's draconian experiment contain solvents, such as petroleum distillates and 2-butoxyethanol. Solvents dissolve oil, grease, and rubber," Dr Riki Ott, a toxicologist, marine biologist and Exxon Valdez survivor told Al Jazeera. "It should be no surprise that solvents are also notoriously toxic to people, something the medical community has long known".

The dispersants are known to be mutagenic, a disturbing fact that could be evidenced in the seafood deformities. Shrimp, for example, have a life-cycle short enough that two to three generations have existed since BP's disaster began, giving the chemicals time to enter the genome.

Pathways of exposure to the dispersants are inhalation, ingestion, skin, and eye contact. Health impacts can include headaches, vomiting, diarrhea, abdominal pains, chest pains, respiratory system damage, skin sensitisation, hypertension, central nervous system depression, neurotoxic effects, cardiac arrhythmia and cardiovascular damage. They are also teratogenic – able to disturb the growth and development of an embryo or fetus – and carcinogenic.

Cowan believes chemicals named polycyclic aromatic hydrocarbons (PAHs), released from BP's submerged oil, are likely to blame for what he is finding, due to the fact that the fish with lesions he is finding are from "a wide spatial distribution that is spatially coordinated with oil from the Deepwater Horizon, both surface oil and subsurface oil. A lot of the oil that impacted Louisiana was also in subsurface plumes, and we think there is a lot of it remaining on the seafloor".

Marine scientist Samantha Joye of the University of Georgia published results of her submarine dives around the source area of BP's oil disaster in the Nature Geoscience journal.

Her evidence showed massive swathes of oil covering the seafloor, including photos of oil-covered bottom dwelling sea creatures.

While showing slides at an American Association for the Advancement of Science annual conference in Washington, Joye said: "This is Macondo oil on the bottom. These are dead organisms because of oil being deposited on their heads."

Dr Wilma Subra, a chemist and Macarthur Fellow, has conducted tests on seafood and sediment samples along the Gulf for chemicals present in BP's crude oil and toxic dispersants.

"Tests have shown significant levels of oil pollution in oysters and crabs along the Louisiana coastline," Subra told Al Jazeera. "We have also found high levels of hydrocarbons in the soil and vegetation."

According to the US Environmental Protection Agency, PAHs "are a group of semi-volatile organic compounds that are present in crude oil that has spent time in the ocean and eventually reaches shore, and can be formed when oil is burned".

"The fish are being exposed to PAHs, and I was able to find several references that list the same symptoms in fish after the Exxon Valdez spill, as well as other lab experiments," explained Cowan. "There was also a paper published by some LSU scientists that PAH exposure has effects on the genome."

The University of South Florida released the results of a survey whose findings corresponded with Cowan's: a two to five per cent infection rate in the same oil impact areas, and not just with red snapper, but with more than 20 species of fish with lesions. In many locations, 20 per cent of the fish had lesions, and later sampling expeditions found areas where, alarmingly, 50 per cent of the fish had them.

"I asked a NOAA [National Oceanic and Atmospheric Administration] sampler what percentage of fish they find with sores prior to 2010, and it's one tenth of one percent," Cowan said. "Which is what we found prior to 2010 as well. But nothing like we've seen with these secondary infections and at this high of rate since the spill."

"What we think is that it's attributable to chronic exposure to PAHs released in the process of weathering of oil on the seafloor," Cowan said. "There's no other thing we can use to explain this phenomenon. We've never seen anything like this before."

***

Crustacean biologist Darryl Felder, in the Department of Biology with the University of Louisiana at Lafayette is in a unique position.

Felder has been monitoring the vicinity of BP's blowout Macondo well both before and after the oil disaster began, because, as he told Al Jazeera, "the National Science Foundation was interested in these areas that are vulnerable due to all the drilling".

"So we have before and after samples to compare to," he added. "We have found seafood with lesions, missing appendages, and other abnormalities."

Felder also has samples of inshore crabs with lesions. "Right here in Grand Isle we see lesions that are eroding down through their shell. We just got these samples last Thursday and are studying them now, because we have no idea what else to link this to as far as a natural event."

According to Felder, there is an even higher incidence of shell disease with crabs in deeper waters.

"My fear is that these prior incidents of lesions might be traceable to microbes, and my questions are, did we alter microbial populations in the vicinity of the well by introducing this massive amount of petroleum and in so doing cause microbes to attack things other than oil?"

One hypothesis he has is that the waxy coatings around crab shells are being impaired by anthropogenic chemicals or microbes resulting from such chemicals.

"You create a site where a lesion can occur, and microbes attack. We see them with big black lesions, around where their appendages fall off, and all that is left is a big black ring."

Felder added that his team is continuing to document the incidents: "And from what we can tell, there is a far higher incidence we're finding after the spill."

"We are also seeing much lower diversity of crustaceans," he said. "We don't have the same number of species as we did before [the spill]."

***

Felder is also finding "odd staining" of animals that burrow into the mud that cause stain rings, and said: "It is consistently mineral deposits, possibly from microbial populations in [overly] high concentrations."

***

Dr Andrew Whitehead, an associate professor of biology at Louisiana State University, co-authored the report Genomic and physiological footprint of the Deepwater Horizon oil spill on resident marsh fishes that was published in the journal Proceedings of the National Academy of Sciences in October 2011.

Whitehead's work is of critical importance, as it shows a direct link between BP's oil and the negative impacts on the Gulf's food web evidenced by studies on killifish before, during and after the oil disaster.

"What we found is a very clear, genome-wide signal, a very clear signal of exposure to the toxic components of oil that coincided with the timing and the locations of the oil," Whitehead told Al Jazeera during an interview in his lab.

According to Whitehead, the killifish is an important indicator species because they are the most abundant fish in the marshes, and are known to be the most important forage animal in their communities.

"That means that most of the large fish that we like to eat and that these are important fisheries for, actually feed on the killifish," he explained. "So if there were to be a big impact on those animals, then there would probably be a cascading effect throughout the food web. I can't think of a worse animal to knock out of the food chain than the killifish."

But we may well be witnessing the beginnings of this worst-case scenario.

Whitehead is predicting that there could be reproductive impacts on the fish, and since the killifish is a "keystone" species in the food web of the marsh, "Impacts on those species are more than likely going to propagate out and effect other species. What this shows is a very direct link from exposure to DWH oil and a clear biological effect. And a clear biological effect that could translate to population level long-term consequences."

***

Ed Cake, a biological oceanographer, as well as a marine and oyster biologist, has "great concern" about the hundreds of dolphin deaths he has seen in the region since BP's disaster began, which he feels are likely directly related to the BP oil disaster.

"Adult dolphins' systems are picking up whatever is in the system out there, and we know the oil is out there and working its way up the food chain through the food web – and dolphins are at the top of that food chain."

Cake explained: "The chemicals then move into their lipids, fat, and then when they are pregnant, their young rely on this fat, and so it's no wonder dolphins are having developmental issues and still births."

Cake, who lives in Mississippi, added: "It has been more than 33 years since the 1979 Ixtoc-1 oil disaster in Mexico's Bay of Campeche, and the oysters, clams, and mangrove forests have still not recovered in their oiled habitats in seaside estuaries of the Yucatan Peninsula. It has been 23 years since the 1989 Exxon Valdez oil disaster in Alaska, and the herring fishery that failed in the wake of that disaster has still not returned."

Cake believes we are still in the short-term impact stage of BP's oil disaster.

"I will not be alive to see the Gulf of Mexico recover," said Cake, who is 72 years old. "Without funding and serious commitment, these things will not come back to pre-April 2010 levels for decades."

***

"We're continuing to pull up oil in our nets," Rooks said. "Think about losing everything that makes you happy, because that is exactly what happens when someone spills oil and sprays dispersants on it. People who live here know better than to swim in or eat what comes out of our waters."

Khuns and her husband told Al Jazeera that fishermen continue to regularly find tar balls in their crab traps, and hundreds of pounds of tar balls continue to be found on beaches across the region on a daily basis.

Meanwhile Cowan continues his work, and remains concerned about what he is finding.

"We've also seen a decrease in biodiversity in fisheries in certain areas. We believe we are now seeing another outbreak of incidence increasing, and this makes sense, since waters are starting to warm again, so bacterial infections are really starting to take off again. We think this is a problem that will persist for as long as the oil is stored on the seafloor."
Did the BP Spill Ever Really Stop?
We've repeatedly documented that BP's gulf Mocando well is still leaking.
Stuart Smith – a successful trial lawyer who won a billion dollar verdict against Exxon Mobil – notedrecently:
New sampling data from the nonprofit Louisiana Environmental Action Network (LEAN) provide confirmation that not only is BP's oil still very much present in the water in Bayou La Batre, but that it still exists in a highly toxic state nearly two years after the spill.

Here are photos of brown oily foam washing ashore in Bayou La Batre (just west of Mobile Bay) on February 27, 2012:

Water samples were taken by Dennis and Lori Bosarge, LEAN members from Coden, Alabama. The lab-certified test results are in (see full lab report at bottom), and they are startling in that they suggest that oil is still leaking from the Macondo reservoir – most likely from cracks and fissures in the seafloor around the plugged wellhead. Scientists believe the cracks were caused by BP's heavy-handed "kill" efforts.

***

Despite numerous opportunities to do so, the U.S. Coast Guard has never publicly denied that the Macondo field is still leaking. And these latest sampling results out of Bayou La Batre provide damning new evidence that the BP oil spill never really ended.
Government Sits On Its Hands …
The New York Times notestoday:
Congress's response to the spill has been truly pathetic. It has not passed a single bill to prevent another catastrophe, according to a report issued Tuesday by former members of a presidential commission that investigated the spill. Congress has failed even to codify the Interior Department's sound regulatory reforms, which could be undone by a future administration.

***

The administration has developed new standards for each stage of the drilling process – from rig design to spill response – insisting that operators fully prepare for worst-case scenarios. But the commissioners' report notes that the new equipment systems have not yet been tested in deep-water conditions.
Gulf seafood deformities alarm scientists
Published on Apr 17, 2012 by AlJazeeraEnglish
It's almost two years since BP's oil spill in the Gulf of Mexico. Now, scientists say they have found deformities among seafood and a great decline in the numbers of marine life. Dahr Jamail reports from New Orleans.
*************************************************************************************************************
[In accordance with Title 17 U.S.C. Section 107, this material is distributed without profit, for research and/or educational purposes. This constitutes 'FAIR USE' of any such copyrighted material.]