Environmental
by Teresa Messmore
Newark DE (SPX) May 11, 2012

Joseph Scudlark has gauged the acidity of rain at UD's collection station in Lewes for more than three decades.

Several decades ago, precipitation in Delaware was among the most acidic in the country. Pollutants in the air reacted with rainwater to sprinkle sulfuric, nitric and carbonic acids onto the ground below, affecting crops and ecosystems statewide.
The scientific consensus is that pollution controls enacted through the Clean Air Act Amendments in the 1990s and other measures have helped decrease the acidity of rain by approximately 60 percent to less harmful levels, as reflected in data gathered nationwide and by UD researchers in Lewes, Del., as part of a longstanding study.
"Every time it's rained since 1978, we've collected and analyzed samples," said Joseph Scudlark, assistant director of the School of Marine Science and Policy in the College of Earth, Ocean, and Environment. "It's one of the largest, longest continual records in the whole country, and the data shows pretty dramatically that the legislation is working."
Scudlark oversees an acid rain collection site in an isolated part of Cape Henlopen State Park. A specialized container sits out in the open with a small canopy to prevent debris from entering, and precipitation triggers a sensor powered by a nearby solar panel to open the lid and capture samples. Once the rain stops, the device automatically returns the cover.
Each day at 9 a.m. Scudlark's assistant collects the sample, which is prepared in a lab and shipped off with others obtained the same week to a central analysis station in Illinois through the National Atmospheric Deposition Program. The pH and concentration of certain substances are measured along with samples from 250 other locations around the country.
While the collection methods have been largely the same over the past three decades, the research associated with the project has shifted focus over time. In the early years, monitors concentrated on gauging the distribution and severity of acid rain nationwide.
UD's location at the Hugh R. Sharp Campus in Lewes was significant: Researchers wanted to know whether the atmosphere near the ocean counteracted the acid-producing qualities of pollutants, and found that it did not.
"This was in the very early days of acid rain and not a lot was known about it," Scudlark said.
In the 1980s, he worked with Thomas Church, E.I. du Pont Professor of Marine Studies, to analyze the presence of trace metal pollutants like lead, mercury, zinc and copper in rainwater and gauge their impact on coastal waters.
Later they and others started examining how nitrogen, including nitrogen from ammonia generated from the poultry industry, was entering the air and then Delaware's coastal waters to cause algal blooms and other problems.
By the mid-1990s, acid rain research focused on how well the Clean Air Act Amendments were working. Data gathered in Lewes and around the country shows dramatic improvements over the long term, taking into account natural variability in the climate from year to year.
With the pH scale ranging from 0 at its most acidic, 7 for pure water and 14 at most basic, precipitation acidity in Lewes improved from 4.3 to 4.7.
"It doesn't sound like a lot because pH is a logarithmic scale, but it represents a 60 percent decrease, which is significant," Scudlark said. "That is better than the original target of the legislation."
Yet while the changes have decreased the amount of acid entering these ecosystems, fish populations and vegetation have been slow to respond. The soils have been leeched of certain important nutrients, in some cases organisms have completely disappeared.
Certain fish, for example, have yet to return to previous numbers. That's why researchers continue to watch and monitor.
"It takes time for the soils, lake sediments and organisms to rebound," Scudlark said. "It's not reasonable to expect that they're just going to bounce back overnight."
Related Links
School of Marine Science and Policy
College of Earth, Ocean, and Environment
The Air We Breathe at TerraDaily.com
Corexit chemical dispersant used by BP during Gulf oil disaster linked to horrific human injuries
By Ethan A. Huff, 
(NaturalNews) A man who is now a paraplegic and who is also going blind has filed a lawsuit against British Petroleum (BP) and its related companies; Halliburton; Transocean; NALCO; ConocoPhilips and several other companies involved with the Deepwater Horizon oil disaster that began on April 20, 2010, in the Gulf of Mexico. According to the suit, BP officials lied about the safety of Corexit, an oil dispersant sprayed throughout the Gulf, which resulted in serious and permanent injuries for a dive…
Susan Aarde
Activist Post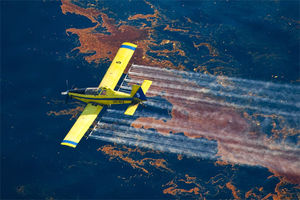 © Apalachicola Bay Corexit Poisoning
Quite incredibly, the EPA issued a positive report on May 1, 2012 regarding the safety and toxicity of various dispersants used in the BP Gulf Oil Spill. Included in this assessment was the use of Corexit.
This report "indicated that all eight dispersants had roughly the same toxicity," and all fell into the "practically non-toxic" or "slightly toxic" category. Scientists found that none of the eight dispersants displayed endocrine-disrupting activity of "biological significance."
The same report went on to say that "dispersant-oil mixtures were generally no more toxic to the aquatic test species than oil alone."
The first question that jumps out for those who have researched this subject with any degree of thoroughness is how this recent report fails to reconcile with previous studies performed by the EPA.
Here is some test data retrieved from the EPA website that was posted previous to the BP Gulf Oil Spill.
The dispersant (Corexit 9500) and dispersed oil have demonstrated the following levels of toxicity per the EPA website link that follows:
(1) 10.72 parts per million (ppm) of oil alone will kill 50% of the fish test species in a normal aquatic environment within 96 hours.
(2) 25.20 parts per million of dispersant (Corexit 9500) alone will kill 50% of the fish test species in a normal aquatic environment within 96 hours.
(3) 2.61 parts per million of dispersed oil (Corexit-laden) alone will kill 50% of the fish test species in a normal aquatic environment within 96 hours.
This data diverges from the recent report to such a significant degree that the results which were just posted at the EPA.gov website under the title of "The BP Oil Spill: Responsive Science Supports Emergency Response" must be seriously scrutinized.
What is the buying public to make of such conflicting data? Those who have medical conditions which require complete avoidance of toxic seafood need to know with certainty what they are eating.
Likewise, the fishermen in the Gulf need to know the true condition of their catch. Swimmers and beachgoers need to know the state of the water, as well as the beaches. Boaters ought to be informed of the relevant risk factors when out in the areas of recently sprayed waters, whether surface or deep sea.
The most serious questions to emerge from this report revolve around the issue of credibility. Can the EPA ever be trusted again to conduct the necessary research regarding anything having to do with the Gulf of Mexico oil spill caused by BP?
Issuing such blanket statements about the relatively low toxicity associated with this spill, irrespective of location on the beach, in the waters, in the wetlands or estuaries, seems to be quite disingenuous.
Furthermore, the federal government's declaration that the "clean up phase" of the Deepwater Horizon spill is over begs for review, especially in light of the large quantities of submerged oil unaccounted for residing in the water column, DOJ's discovery of false flow rate numbers reported by BP and new sightings of oil slicks all over the Gulf.
In light of all that, the clean up phase is not over and further use of Corexit dispersant isn't an effective solution.
Moreover, the fact that the EPA has approved for use a very safe bioremediation agent known as Oil Spill Eater II, but has yet to allow its use in the Gulf raises many additional questions.
From our investigation, it has become clear that Corexit has been given preferential treatment over other much safer alternatives. The Gulf Oil Spill Remediation Conference (GOSRC) was quoted as follows in this regard:
When we heard about Oil Spill Eater II, and the fact that it is EPA-approved (NCP listed) and has demonstrated its effectiveness at least 14 times for the BP Gulf Oil Spill, we wondered why it wasn't being used 24/7.
The GOSRC went on to issue a press release entitled: Coalition Of Enviro, Citizens And Political Groups Demand COREXIT Use Be Stopped which pointed out the deliberate false image which has been created around the use of this toxic dispersant – Corexit 9500.
The Gulf Rescue Alliance (GRA) also made the recent observations in their press release entitled: BP Gulf Oil Spill Revisited.
Many of these studies point out the obvious; that when you mix a tremendous volume of released oil with methane gas and further mix it with a toxic dispersant like Corexit, as they have done throughout this oil spill, a chemical cocktail is created that will have as far-reaching ecological ramifications as it will profound environmental consequences.
The Earth Orgainization (TEO) has also weighed in on this issue through their release of an excellent documentary entitled: Hidden Crisis in the GULF. Barbara Wiseman, TEO President, has been an ardent advocate for safer oil remediation measures since the very beginning of this oil spill. She has said that:
At the beginning of the disaster, TEO investigated to find effective, non-toxic technologies currently available in adequate supply to clean up an oil spill of this size. Once we isolated the best solutions, we then investigated to find what the barriers to getting them implemented were. The barriers have all come down to specific people in the EPA. They are, in effect, holding the Gulf hostage and, for some unexplained reason, won't let it be cleaned up.
Lastly, perhaps the words of Steven Pedigo reflect the voice of reason more than any other in this ongoing oil spill when he was quoted in A 2nd Anniversary Report on the BP Gulf Oil Spillas follows:
The toxic dispersants add absolutely nothing to EFFECTIVE RESPONSE. There is no scientific basis for it, and their use violates The Clean Water Act, EPA's charter and common sense.
Corexit's label clearly states it can cause kidney failure and death and the MSDS (Material Safety Data Sheet) specifically warns, 'Do not contaminate surface water with it. Additionally, toxicity testing in regards to marine species shows little tolerance by all forms of sea life; thus, applying it on spills as a preferred response method increases the toxicity of the spilled oil on which it is used.
**********************************************************************************************************
Cyber Space
By Vlad Savov  
People in the Netherlands have reason to celebrate today, following the expected passing into law of new net neutrality regulation. The legislation in question was agreed upon back in June last year, but it's only on Tuesday that the nation's second legislative chamber gave its blessing to the move, making everything official. Under the new law, mobile internet providers like KPN won't be able to charge for access to particular services like Skype or throttle traffic through them — both techniques that the company was intent on using to manage its mobile traffic.
Some exceptional reasons, such as network congestion and security, are allowed for slowing down users' connections, but the general thrust of the law is that operators ought to be blind to the traffic they carry and treat all of it equally. Dutch lobbying group Bits of Freedom also notes that the net neutrality law includes anti-wiretapping provisions, making it unlawful to use deep packet inspection on users' internet communications without their express consent or a legal warrant. All in all, it's a good day for privacy and internet freedom in the Netherlands, now how about we spread the good cheer throughout the whole European Union?
Mozilla Cracks Down on Memory Leaks in Firefox Add-Ons
It was only a few short months ago that Mozilla put its Firefox browser on a memory "diet," and this week it announced that it's doing much the same thing for Firefox add-ons as well.
"Leaky add-ons are a big problem," began the blog poston Monday from Mozilla developer Nicholas Nethercote.
Accordingly, Nethercote's post outlines a summary of Mozilla's strategy to deal with such problems as well as requesting help from testers of its current Nightly versions.
'Working Splendidly'
A promising new patch, in fact, has shown great potential in addressing what Nethercote calls "chrome-to-content" leaks.
"In theory it would prevent almost all add-ons' zombie compartments, which constitute the majority of leaks from add-ons," Nethercote explained. "And in practice, it appears to be working splendidly."
In fact, tests of the new patch so far have found a reduction in memory consumption of as much as 400 percent, Nethercote said.
The result–regardless of hardware capabilities–can be much faster browser speeds, he added.
"Even on high-end machines with lots of RAM, leaks can greatly hurt browser performance," Nethercote explained.
More details on the new patch can be found in a recent blog post by Kyle Huey, its creator.
The top-secret US National Security Agency is not required to reveal any deal it may have with Google to help protect against cyber attacks, an appeals court ruled Friday.
The US Court of Appeals in Washington upheld a lower court decision that said the NSA need not confirm or deny any relationship with Google, because its governing statutes allow it keep such information secret.
The ruling came in response to a Freedom of Information Act request from a public interest group, which said the public has a right to know about any spying on citizens.
The appeals court agreed that the NSA can reject the request, and does not even have to confirm whether it has any arrangement with the Internet giant.
"Any information pertaining to the relationship between Google and NSA would reveal protected information about NSA's implementation of its information assurance mission," Judge Janice Rogers Brown wrote in the appeals opinion.
The non-profit Electronic Privacy Information Center (EPIC) filed a formal request to make public documents related to the dealings, and said much of the information had already been in news media.
Facebook's Potential For Putting User Data to Work Off Network Stirs Debate
By Christina DesMarais, PCWorld
Facebook's desire to further put its user data to work for the social network makes sense because advertising is a major profit driver, and the company is looking to impress investors ahead of its IPO.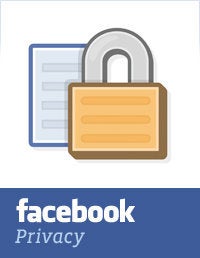 Facebook's business model revolves around serving people highly relevant ads, so it should come as no surprise that the company said recently that at some point it could launch an advertising network to display ads outside of its platform.
Privacy advocates are raising questions again, calling the company's proposed changes an inadequate attempt to quell privacy concerns, but Facebook says it is simply trying to be forthright with its users and potential investors.
In an explanation of changes document it posted on May 11, Facebook wrote, "We're also clarifying our existing disclosure that we might show ads off Facebook to explain that, if we showed these ads, they may or may not include social context (such as whether your friends have 'liked' a particular business)."
Phony Flash Player Plants Malware on Android Phones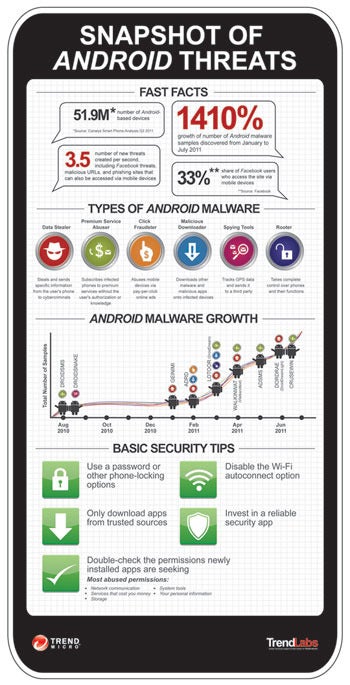 Source: Trend MicroAdobe Flash Player users beware: A website that promises visitors a free copy of the download for all versions of Android is reportedly planting malware on smartphones running Google's mobile operating system.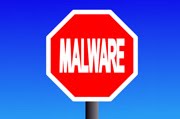 The infected web page used to distribute the malware was discovered in a number of Russian domains, wrote Karla Agregado, a fraud analyst with Trend Micro, in a recent company blog. A similar tactic emerged last month to infect Android phones with bogus copies of Angry Birds and Instagram.
When a visitor clicks the download button at the infected site, Agregado explained, a connection is made to another site that, without the guest's knowledge, sends a malicious APK file to the mobile web surfer's smartphone.
Once on the phone, the malware starts to secretly send text messages to premium numbers. This scam is a popular one among cyber criminals targeting Android phones. Symantec estimates in its most recent annual threat report that in 2011 some 18 percent of all mobile threats during the year involved premium SMS messages from infected phones.
"Malware that sends premium SMS text messages can pay the author $9.99 for each text and for victims not watching their phone bill could pay off the cyber criminal countless times," Symantec noted.
Facebook Proposes More Changes to Privacy Policy
Facebook said on Friday that it intends to make further changes to its privacy policy in order to respond to an audit by the Irish government, but privacy advocates saw the move as an inadequate attempt to quell privacy concerns prior to Facebook's planned initial public offering.
The proposed changes, which the company put out for public comment on Friday, don't appear to reflect any major shifts in policy. For the most part, the document makes more explicit how Facebook is already using user data. The company has also updated the policy to reflect newer features, such as cover photos.
The proposed changes are not final. A document highlighting the proposed changes is available on the website in PDF form, along with an explanation of the changes. The company is asking for user feedback and will host a web question-and-answer session about the changes May 14 at 9 a.m. Pacific time.
Sarah Downey, a privacy analyst and attorney at privacy software vendor Abine, said the more explicit language was required by a consent decree issued last year as part of a settlement with the U.S. Federal Trade Commission, and by the audit by the Irish Data Protection Commissioner.
Downey said once Facebook goes public, it will face pressure to generate more revenue and will probably accomplish that goal by using personal information to sell targeted advertising. The initial public offering (IPO) is expected to take place on May 18.
**********************************************************************************************************
Survival / Sustainability
How to make soap in a few easy steps
by M.D. Creekmore  
by Bam Bam
Soap Making Equipment
It is really easy to make soap at home. And the homemade product is by far superior to anything you could buy in the box stores. It is better for your skin and gives you something with which to barter. Everyone loves a nicely scented homemade bar of soap.
In this post, I want to walk you through the cold process method of making homemade soap. It's easier than you might think. Soap is made from three basic ingredients: lye, water and fat (oil). Adding lye water to fat results in a chemical reaction called saponification, the end result of which is soap.
About the ingredients: make sure your lye is 100 percent sodium hydroxide. (You don't want any additives.) Next use either rainwater or bottled water. There are all kinds of oils that are used to make soap, and some of them are very expensive. The ones that I have used so far include olive oil, palm oil, coconut oil, jojoba oil, caster oil, vegetable shortening and lard. It's good to use a combination of oils because different oils add different characteristics to the fished soap. For instance, caster oil is added for lather and olive oil is added to make a nice hard bar of soap. (More on this later.)
Here is the quick and dirty explanation of soap making. Measure out the water and the lye, and then add the lye to the water. Cool until lye mixture reaches 100 degrees. Then heat the oils to 100 degrees. When the lye water and the oils are both 100 degrees, add the lye water to the oils. Stir until the mixture reaches "trace". Then pour into your mold and leave unmolested overnight. Remove the soap from the mold and cut into bars. Let cure for six to eight weeks. (I will give a detailed explanation later.)
Week 8 of 52: Emergency Sanitation
Tess Pennington
Ready Nutrition
Have you ever wondered what it would be like if your trash wasn't picked up each week? Have you thought of how you dispose of it? What would happen to your town if trash was left to sit out in the sun to bake for weeks on end without anyone showing up to take it away?
The odor alone would be enough of a nightmare to face, but what about what is inside the trash itself (i.e., dirty diapers, contaminated medical supplies, rotting meat and food)? This type of situation would cause E. coli and bacteria to invade most everything that you touch. If a situation like this was allowed to fester, the potential for diseases and epidemics would create an entire new disaster to be dealt with.
No one really wants to discuss sanitation because it's an unpleasant and dirty subject; however, it is one of the most important areas to focus on when preparing for a disaster. In a disaster where water resources are compromised, people within a 50 mile radius could be adversely impacted by illness and disease just if one person handled the trash improperly. When trash cannot be picked up, it must be burned or buried by you; however, municipalities cannot risk contamination to the water source or soil from people who incorrectly bury their debris, so it is important to know how to properly dispose of your waste products.
If you find yourself in a situation where toilet paper is not available, you may have to resort to a more natural method of being hygienically clean. Below is a list of toilet paper alternatives for an emergency situation.
***********************************************************************************************************
Community
Revitalizing Traditional Native Food-ways Topic of Weekend Workshop
HOPKINS, MICHIGAN – The Gun Lake Band of Pottawatomi and the Great Lakes Lifeways Institute in partnership with the Native American Institute and MSU Extension have announced an in-depth weekend hands-on workshop on revitalizing access to traditional and healthy Native foods.
Event will Showcase Traditional Healthy Foods, Flavors and Ingredients
The workshop will be held this Saturday and Sunday at Camp Jijak in Hopkins, Michigan. The workshop will run from 9 am to 5 pm both days. The cost of the workshop is $35 for one day or $50 for both days. Registration cost includes lunches and Saturday evening feast and activities.
Having healthy and sustainable food systems is both a critical part of tribal sovereignty and crucial to the health and well being of native families and communities.
Traditional food systems used for generations by native communities in the Great Lakes Region including foraging, hunting, fishing, permaculture and gardening have long provided a diverse and healthy diet. These traditional practices sustainably balanced human needs with those of the local environment and brought communities and extended families together to meet common needs.
In today's world, the need to revitalize and build upon these traditional and sustainable practices is greater than ever. At 16.1 percent, American Indians have the highest age adjusted prevalence of diabetes among all US racial and ethnic groups. This workshop will provide an opportunity for around 100 participants from across Michigan to share knowledge, learn traditional food and agriculture practices and discover effective food programs from a variety of tribes throughout the region.
The event will be catered by Carly Shananaquet, of the Gun Lake Tribe. Each of the four meals provided at the event will showcase traditional healthy foods, flavors and ingredients, many of which have been produced by Native American communities.
Some of the foods being served include:
Adikmekwak (Tribally Harvested Lake Superior Whitefish)
Mnomen mine Seksi Wiyas (Wild Rice, Venison and Wild Leeks)
Acorn Meal Cranberry and Maple Muffins
Wild Spring Greens Salad with Ziwa'abo (Maple Vinegar) Dressing
Wishkmnomen (Sweet Maple Wild Rice)
American Hazelnut and Wild Plum Cookies
Bison Roast
Cree Style Pemmican
Damnabo (Corn Soup)
Wezhashkemdek (Boiled Hominy and Hickory Nut Dumplings)
Sassafras Gelato
Shktagnabo (Birch/Chaga tea)
Sassafrass Tea
***********************************************************************************************************
Activism
Day 238: Live Stream of the Occupy Movement
Josh Harkinson
Day 238 of the Occupy Movement: Live Video Stream And Twitter Feed
http://cdn.livestream.com/embed/globalrevolution?layout=4&width=560&autoplay=false&height=340
***********************************************************************************************************
Articles of Interest
by Staff Writers
Nairobi (AFP) May 11, 2012
Claus Mortensen is a private Kenyan rancher with a passion — endangered rhinos — and now a mission: to save his herd from slaughter by ruthless poachers who sell their horns to Asia, where they are prized as a miracle drug.
But costs are spiralling for Mortensen and other ranchers as they battle to keep one step ahead of the hunters and guarantee the survival of rhinos, and elephants, on their expansive, remote reserves.
"Seeing a dead rhino is terrible," said Mortensen, who runs Mugie ranch, around 300 kilometres (186 miles) north of the Kenyan capital Nairobi.
"Mugie is located in such a remote corner that to secure it we need many more helicopters and airplanes," he said.
Twenty rhinos were reintroduced to the 18,000-hectare (44,000-acre) sanctuary in 2004. Four years later, poachers struck, killing one animal and hacking off its horns.
"It happened again and again," said Mortensen, explaining that his and other ranchers' work has changed from basic conservation to intelligence gathering operations aimed at deterring poachers.
And the change has pushed up bills: private ranchers have had to triple the number of rangers working their reserves and it now costs an average $1,200 (900 euros) a month, up from $150, to keep one rhino alive.
"All night, all day… you have your telephone on, radio on, next to your bed and when somebody calls your heart stops beating," Mortensen said.
Kenya, which has the world's third largest rhino population — around 600 black and 300 white rhinos, is constantly battling poachers. In 2009, it suffered its worst year for rhino poaching when 12 black and six white rhinos were killed.
The illegal trade is driven by the voracious Asian and Middle Eastern demand for the animals' horns for use in traditional medicines for fevers, convulsions and as an aphrodisiac.
– Legal market for illegal horns –
The horns mainly contain keratin — a substance also found in animal hooves, human nails and hair — and despite having no medicinal value, demand continues to rise.
"The increase, escalation of poaching is driven by the growing influence of the Asian economy. There is a legal market for illegal horns," said Patrick Bergin, the director of the Washington-based African Wildlife Foundation (AWF).
"It is a complex phenomenon. Poachers are from international gangs and have sophisticated arms — and they are ready to do anything," said Patrick Omondi of the state-run Kenya Wildlife Service (KWS).
A kilo (2.2 pounds) of rhino horn can cost as much as $60,000 (45,000 euros), according to KWS estimates.
The KWS has transferred 11 of Mugie's rhinos to a park near the shores of Lake Victoria, and will relocate the rest to another more secure private ranch.
Poachers have also hit Kenya's renowned rhino sanctuaries in Laikipia, on the equator in the foothills of snowcapped Mount Kenya.
According to the British-based conservation charity Save the Rhino, the area has the largest population of rhinos in East and Central Africa, with 49 percent of Kenya's black rhino population and 70 percent of its white rhinos, but resources at the area's sanctuaries have been stretched fending off the marauding gangs.
"Private sanctuaries do not have enough money. They cannot afford to protect the rhinos," said Mordecai Ogadam of the Laikipia Wildlife Forum.
Between 2007 and 2011, Kenya lost 75 rhinos and so far this year, 12 have been killed, according to Kenya wildlife officials.
Authorities have arrested several suspected poachers and confiscated weapons and traps, but their efforts do not seem to deter the gunmen.
Despite a ban on rhino horn trade by the Convention on International Trade in Endangered Species, which took effect in 1975 and now has 175 members including Kenya, the world rhino population has almost been wiped out, with 90 percent lost since the 1970s, according to the AWF.
Related Links
Darwin Today At TerraDaily.com
by Staff Writers
Kathmandu (AFP) May 11, 2012
In a nation where a civil war and years of political deadlock have stunted prosperity and development, the burgeoning rhino population is one of Nepal's rare success stories.
The Himalayan country's endangered one-horned rhinoceros has increased its numbers significantly over recent years thanks to tightened security against poachers and community conservation programmes.
Wildlife experts spent a month last year conducting an exhaustive survey and counted 534 rhinos in Nepal's southern forests — 99 more than when the last such census was carried out in 2008.
"Despite all the hardship during the unrest in the country, we continued our support to the fullest extent to control poaching of rhinos and we are glad that our efforts have yielded positive results," said Diwakar Chapagain of WWF Nepal's wildlife trade control programme.
The wildlife organisation, which has been involved in anti-poaching and anti-trafficking programmes as well as habitat research for more than 30 years, expects numbers to keep improving.
The picture was not always so positive.
Thousands of greater one-horned rhinos, also known as the Indian rhinoceros, once roamed Nepal and northern India but their numbers plunged over the last century due to poaching and human encroachment on their habitat.
The animals are killed for their horns, which are prized for their reputed medicinal qualities in China and southeast Asia.
A single horn can sell for tens of thousands of dollars on the international black market, and impoverished Nepal's porous borders, weak law enforcement and proximity to China have made the country a hub for the illegal trade.
The population decline was particularly dramatic during Nepal's 1996-2006 civil war, when soldiers on anti-poaching details were re-deployed to fight a Maoist guerrilla insurgency.
"Because the security forces had to engage in other national security issues, priority to park security and wildlife protection was weakened," said Chapagain.
"Similarly, park guard posts were decreased to a few posts in a single location, which left a security vacuum in the habitats of the rhino and other wildlife.
"Poachers could go to parks without any fear of arrest."
When the conflict ended, the government made a priority of rebuilding its wildlife protection apparatus, said Maheshwar Dhakal, an ecologist with the Department of National Parks and Wildlife Conservation.
"But it took some time for the results to appear because the poachers had changed their strategies. They waited for the rains or night time so that the guards wouldn't be there," Dhakal told AFP.
"They entered the conservation areas from the bushes and during festivals when the security was at a minimum."
A key turning point in the fight to save the rhino occurred in 2009, when the government decided to enlist community groups to protect the animals, Dhakal said.
"We started to exchange information and create awareness campaigns in the local areas. We enlisted a group of local volunteers who would go on patrol in the jungle," he said.
"It boosted the morale of the local people. We also developed a network of committees under our office to make our efforts more coordinated."
This new approach yielded remarkable results last year, the first since records began in which no deaths of rhinos at the hands of poachers were recorded in Nepal.
"On the one hand, the Nepalese Army's patrolling was becoming more effective, and the police also arrested several poachers, on the other," said Dhakal.
"These campaigns were instrumental in the rise of numbers of rhinos and the decline in the illegal trade of their organs."
Related Links
Darwin Today At TerraDaily.com
Reward at $30,000
GREENVILLE, TEXAS – Lightning Medicine Cloud and his mother, Buffalo Woman, were killed and slaughtered before the special white buffalo reached his first birthday. He was slaughtered and skinned while the Little Soldier Family was out of town in Oklahoma City.
Lightning Medicine Cloud and
his mother, Buffalo Woman last Summer
Lightning Medicine Cloud, a white buffalo, was born on the Lakota Ranch on May 12, 2011. A special naming ceremony was held at the ranch on June 29, which drew thousands of people from various parts of the United States.
Arby Little Soldier, Lakota, great-great-great grandson of Sitting Bull and owner/operator of the ranch, stated then that the birth of a white buffalo is one in ten million occurrence.
Among some American Indian tribes, it is believed that the message of a white buffalo is that humankind should live with the understanding that all living beings are linked and interdependent. The birth of a white buffalo is an opportunity for all people to collectively focus their energy on the peaceful, healthy and harmonious world.
"I discovered Lightning Medicine Cloud dead after we returned home from Oklahoma City. Whoever came on to our ranch killed him, stripped the meat. I could tell it was him because the head was left with its white hair, along with the tail,"
Little Soldier told the Native News Network on Sunday night.
"On the other side of the pond, we discovered his mother. She was hit be a poisonous arrow. She died later last Monday night,"
Little Soldier continued.
"Whoever did this, singled out Lightning Medicine Cloud and his mother,"
stated Little Soldier.
"I am clueless at this point about who did. The Texas Rangers, BIA police and FBI are investigating this crime. Some are calling it a hate crime. I feel completely dishonored and disgraced. And, I am mad."
Little Soldier says his ranch is securely fenced in and believes the person or people responsible for the killings must have known they were out of town.
************************************************************************************************************
[In accordance with Title 17 U.S.C. Section 107, this material is distributed without profit, for research and/or educational purposes. This constitutes 'FAIR USE' of any such copyrighted material.]