Despite Chris Christie's emphatic win in New Jersey governor's race, it was a bad night for conservative factions in the GOP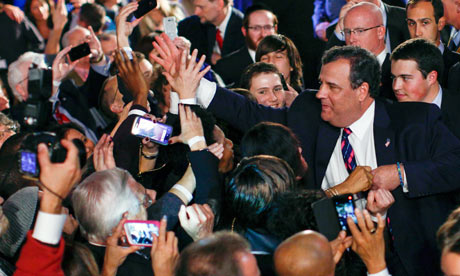 Republicans were considering the implications of a night of mixed electoral fortunes on Wednesday, capped by the re-election of New Jersey governor Chris Christie who won decisively with a campaign that appealed to moderates but alienated the conservative wing of his party.
Christie's emphatic win in New Jersey cemented his position as a contender for the Republican presidential nomination in 2016 and provided a boost to moderates in the GOP who have been battling with hardline conservatives.
The victory in New Jersey contrasted with defeat in Virginia, were the Tea Party-backed Republican Ken Cuccinelli lost to Democrat Terry McAuliffe. The race was closer than expected, but nonetheless represented a blow to Republicans; the first time since 1973 the party in the White House has won the state's gubernatorial race.
The New Jersey and Virginia races differed in significant ways, and analysts cautioned against drawing hard-and-fast conclusions about the wider political landscape for Republicans.
But it was symbolic moment: a centre-right, pragmatic Republican triumphed in New Jersey, a solidly Democratic state, while a staunchly conservative Republican lost in Virginia, a traditional swing-state he had been tipped to win just a few months ago.
Polls indicated that anger over the government shutdown, which was sharply felt in parts of northern Virginia, as well as discomfort with Cuccinelli's deeply conservative views, handed the race to McAuliffe, a controversial Democratic fundraiser and close ally of Bill and Hillary Clinton.
In New York, a Democrat won the race for city mayor for the first time in 20 years, with a landslide victory for Bill de Blasio. In Alabama, a closely-watched Republican primary was won by Bradley Byrne, in what was considered a victory for the party establishment against another Tea Party-inspired candidate, Dean Young.
Christie, who is due to assume the powerful chairmanship of the Republican Governor's Association (RGA), was the most high-profile winner of the night. His election, which drew the support of African American, Latino and women voters who have elsewhere been deserting Republicans, catapults Christie to the ranks of front-runners in the 2016 Republican presidential nomination.
Other likely candidates include senators Rand Paul, Ted Cruz and Marco Rubio, who have all adopted staunchly conservative positions that appeal to their base but alienate the moderates and independent voters generally seen as essential to take the White House.
Related articles