Environmental
ScienceDaily (May 28, 2012) — The nation's food supply may be vulnerable to rapid groundwater depletion from irrigated agriculture, according to a new study by researchers at The University of Texas at Austin and elsewhere.
---
The study, which appears in the journal Proceedings of the National Academy of Sciences, paints the highest resolution picture yet of how groundwater depletion varies across space and time in California's Central Valley and the High Plains of the central U.S. Researchers hope this information will enable more sustainable use of water in these areas, although they think irrigated agriculture may be unsustainable in some parts.
"We're already seeing changes in both areas," said Bridget Scanlon, senior research scientist at The University of Texas at Austin's Bureau of Economic Geology and lead author of the study. "We're seeing decreases in rural populations in the High Plains. Increasing urbanization is replacing farms in the Central Valley. And during droughts some farmers are forced to fallow their land. These trends will only accelerate as water scarcity issues become more severe."
Three results of the new study are particularly striking: First, during the most recent drought in California's Central Valley, from 2006 to 2009, farmers in the south depleted enough groundwater to fill the nation's largest human-made reservoir, Lake Mead near Las Vegas — a level of groundwater depletion that is unsustainable at current recharge rates.
Second, a third of the groundwater depletion in the High Plains occurs in just 4% of the land area. And third, the researchers project that if current trends continue some parts of the southern High Plains that currently support irrigated agriculture, mostly in the Texas Panhandle and western Kansas, will be unable to do so within a few decades.
California's Central Valley is sometimes called the nation's "fruit and vegetable basket." The High Plains, which run from northwest Texas to southern Wyoming and South Dakota, are sometimes called the country's "grain basket." Combined, these two regions produced agricultural products worth $56 billion in 2007, accounting for much of the nation's food production. They also account for half of all groundwater depletion in the U.S., mainly as a result of irrigating crops.
In the early 20th century, farmers in California's Central Valley began pumping groundwater to irrigate their crops. Over time, groundwater levels dropped as much as 400 feet in some places. From the 1930s to '70s, state and federal agencies built a system of dams, reservoirs and canals to transfer water from the relatively water-rich north to the very dry south. Since then, groundwater levels in some areas have risen as much as 300 feet. In the High Plains, farmers first began large-scale pumping of groundwater for crop irrigation in the 1930s and '40s; but irrigation greatly expanded in response to the 1950s drought. Since then, groundwater levels there have steadily declined, in some places more than 150 feet.
Scanlon and her colleagues at the U.S. Geological Survey and the Université de Rennes in France used water level records from thousands of wells, data from NASA's GRACE satellites, and computer models to study groundwater depletion in the two regions.
GRACE satellites monitor changes in Earth's gravity field which are controlled primarily by variations in water storage. Byron Tapley, director of the university's Center for Space Research, led the development of the GRACE satellites, which recently celebrated their 10th anniversary.
Scanlon and her colleagues suggested several ways to make irrigated agriculture in the Central Valley more sustainable: Replace flood irrigation systems (used on about half of crops) with more efficient sprinkle and drip systems and expand the practice of groundwater banking — storing excess surface water in times of plenty in the same natural aquifers that supply groundwater for irrigation. Groundwater banks currently store 2 to 3 cubic kilometers of water in California, similar to or greater than storage capacities of many of the large surface water reservoirs in the state. Groundwater banks provide a valuable approach for evening out water supplies during climate extremes ranging from droughts to floods.
For various reasons, Scanlon and other experts don't think these or other engineering approaches will solve the problem in the High Plains. When groundwater levels drop too low to support irrigated farming in some areas, farmers there will be forced to switch from irrigated crops such as corn to non-irrigated crops such as sorghum, or to rangeland. The transition could be economically challenging because non-irrigated crops generate about half the yield of irrigated crops and are far more vulnerable to droughts.
"Basically irrigated agriculture in much of the southern High Plains is unsustainable," said Scanlon
Cornucopia Institute
foodfreedomgroup.com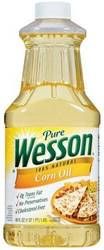 © foodfreedomgroup.com
The Cornucopia Institute is challenging what it calls a "conspiracy" between corporate agribusiness interests and the USDA that has increasingly facilitated the use of questionable synthetic additives and even dangerous chemicals in organic foods. In its new white paper, The Organic Watergate, Cornucopia details violations of federal law, ignoring congressional intent, that has created a climate of regulatory abuse and corporate exploitation.
When Congress passed the Organic Foods Production Act of 1990 it set up an independent advisory panel, the National Organic Standards Board (NOSB) that, uniquely, has statutory power. Any synthetic input or ingredient used in organic farming or food production must be reviewed by the NOSB to assure that it is not a threat to human health or the environment.
At the NOSB meeting in Savannah, Georgia last year, a giant Dutch-based multi-national conglomerate, Royal DSM N.V./Martek Biosciences, partnered with the nation's largest dairy processor, Dean Foods, to muscle through approval of DHA/ARA synthetic nutrient oils. The additives, derived from genetically mutated algae and soil fungus, are processed with petrochemical solvents, grown in genetically engineered corn, and formulated for use in infant formula, dairy and other products with a myriad of other unreviewed synthetic ingredients.
"All these elements of the Martek Biosciences products, along with outstanding safety and efficacy concerns, made them inappropriate and illegal in organics," said Charlotte Vallaeys, Director of Food and Farm Policy for Cornucopia. "So after witnessing this travesty, we decided to take a closer look at how other synthetic additives have been approved for use in organic foods in the past."
What The Cornucopia Institute investigation found is disturbing to many organic industry stakeholders. The Cornucopia report charges the USDA with "stacking" the NOSB with agribusiness executives that all too often have "sold out" the interests of organic farmers and consumers.
"The organic community came together and actually asked the government, in order to maintain a level playing field and organic integrity, to regulate our industry," said Mark A. Kastel, Codirector of The Cornucopia Institute. "How many other industries have ever asked the federal government for tough regulations and enforcement?"
In order to placate concerns of federal involvement in the nascent organic industry, Congress specifically earmarked the majority of the 15 seats on the NOSB for farmers, consumers, scientists and environmentalists as a way to balance the power of commercial interests involved in organic food manufacturing, marketing and retail sales.
"Many in the industry generally thought this system of shared power, with regard to synthetics in organics, was working until we received a wake-up call at the NOSB's meeting late last year in Savannah, Georgia," Kastel noted.
Since the NOSB was not constituted by Congress to be a scientific body, it relies on legally mandated technical reviews, by impartial scientists, of any synthetic materials that are petitioned for use in organics.
Cornucopia found that a small handful of scientists, working for corporate agribusiness, supplied the "independent" analyses to the board. In one example, an executive for Ralston Purina/Beech Nut, Dr. Richard Theuer, authored 45 of 50 technical reviews during a two-year period in the 1990s.
As a case study Cornucopia used the food ingredient carrageenan, a stabilizer and thickening agent that was initially approved for use in organic food in the mid-1990s. Theuer, and two other agribusiness-related food scientists, reviewed carrageenan without emphasizing its impacts on human health and the environment. Carrageenan, derived from seaweed, has been widely used in conventional foods for decades.
"Carrageenan is a well-documented inflammatory agent that has been found, in thousands of experiments in human cells and animals, to cause harmful effects, and low molecular weight carrageenan has been recognized by the World Health Organization's International Agency for Research on Cancer and the National Research Council of the United States as a possible human carcinogen," said Dr. Joanne Tobacman, a leading researcher on carrageenan and its human health impacts at the University of Illinois at Chicago.
Low molecular weight, or "degraded," carrageenan has been found, by industry research, to contaminate food-grade carrageenan. Other research has indicated that digestion, heating, bacterial action, and mechanical processing can increase the amount of degraded carrageenan obtained from higher molecular weight carrageenan. "Due to its unique chemical characteristics, there is no safe form of carrageenan," Dr. Tobacman added.
"Those of us in the industry, who are committed to the value of wholesome, nutritious foods that has been the hallmark of the organic industry, need the NOSB and the USDA to carefully and impartially review synthetic ingredients like carrageenan," said Michael Potter, President of Eden Foods, a Clinton, Michigan based manufacturer long viewed as an organic leader.
In an effort to remediate this ongoing scandal, in a letter to USDA Secretary Tom Vilsack, Cornucopia demanded that one of the newest appointees to the board, an executive at the giant California berry producer, Driscolls, be removed since she was placed in a slot Congress reserved for an individual who "owns or operates an organic farming operation."
"We have seen the USDA, in the past, appoint an executive from General Mills, as an example, to a consumer slot on the board. This gross scoffing at the law Congress passed as a safeguard against corporate domination needs to end right now," Kastel said. "We expected better from the Obama administration. Either the USDA will immediately remediate this problem or we will defend the organic law in federal court."
Cornucopia's white paper documents the long-term abuse of congressional intent, by stacking the board with agribusiness operatives, an illegal practice that has stretched over the past three administrations.
Another request in Cornucopia's letter to Secretary Vilsack was to reform the selection of independent scientists reviewing synthetics in organics, stating that the industry needs an impartial board and the board needs truly impartial expert advisors.
"I wish I was making this up, but one of the newest contractors to fulfill this review function is The Organic Center, the nonprofit offshoot of the Organic Trade Association, an agribusiness lobby group," Kastel added. "This is the proverbial fox watching the organic chicken coop."
The Organic Center's board is chaired by Mark Retzloff, President of Aurora Dairy, a giant factory farm milk producer bottling private-label organic milk for Walmart, Costco and Target. Aurora was found by the USDA in 2007 to have "willfully" violated 14 tenets of federal organic law – likely the largest scandal in organic industry history.
Other members of the Organic Center's leadership reads like a Who's Who of giant corporations involved in organics, including four individuals associated with Dean Foods and their WhiteWave division (Horizon and Silk).
"The Organic Center board members have worked, over the years, for many of the very companies seeking approval for use of synthetics in organic food," noted Cornucopia's Vallaeys. "Talk about a conflict of interest."
Despite these problems, Cornucopia's report is bullish on organics and hopeful that the situation at the USDA can be turned around. There are fewer than 300, mostly benign, non-organic and synthetic compounds that have been approved for use in organics. That number is dwarfed by the many thousands of chemicals used in conventional food production, many of them highly toxic and carcinogenic.
"We implore consumers not to reject organics because a handful of corporations have acted recklessly and the USDA has failed to do their legally mandated job. Organic farmers, and their ethical processing partners, need your support now more than ever," Kastel added. "And health conscious families deserve authentic organic food."
The Cornucopia Institute is collecting signed proxies, downloadable from their website's home page, asking organic industry stakeholders, including farmers and consumers, to sign the proxy and join in the demand that the USDA operate the organic program legally.
The growing dispute over synthetic ingredients is likely to be a hot topic at the next meeting of the National Organic Standards Board, set for May 22-25 in Albuquerque, NM.
"We know that carrageenan is up for review at this meeting and we hope the NOSB will revisit their controversial decision on Martek's DHA/ARA. We urge the board to take this opportunity to reinforce consumer confidence in the organic label," said Kastel.
About the Cornucopia Institute
The Cornucopia Institute is engaged in educational activities supporting the ecological principles and economic wisdom underlying sustainable and organic agriculture. Through research and investigations on agricultural and food issues, The Cornucopia Institute provides needed information to family farmers, consumers, stakeholders involved in the good food movement, and the media.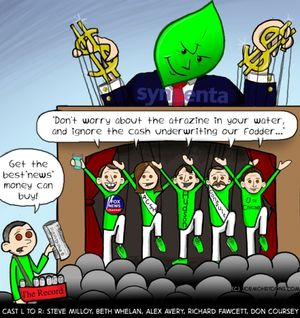 © joemohrtoons.com
Swiss chemical maker Syngenta's agreement to pay $105 million to settle a nearly 8-year-old lawsuit over one of its popular agricultural herbicides could help reimburse nearly 2,000 community water systems that have had to filter the chemical from its drinking water, a plaintiffs' attorneys said Friday, May 25.
The proposed deal, announced Friday by Syngenta, must be approved by a federal judge in southern Illinois, where community water systems from at least a half-dozen states have sought to have the company reimburse them for filtering weed-killing atrazine from their supplies.
As part of the deal, some 1,887 community water systems serving more than 52 million Americans may be eligible to make a claim, said Stephen Tillery, the St. Louis attorney behind the class-action lawsuit.
Syngenta said it agreed to settle the matter "to end the business uncertainty" and avoid further legal costs. Under the settlement, the company will continue to sell atrazine to U.S. corn growers and denies any liability linked to the chemical, which Syngenta said is used in more than 60 countries and has been marketed in the U.S. since 1959.
"This settlement is good for Syngenta and the farmers who depend on atrazine, as well as Syngenta's retailers, distributors, partners, and others who have been inconvenienced by this ongoing and burdensome litigation for almost eight years," Syngenta said.
**********************************************************************************************************
Cyber Space
Stuxnet x20: Massive cyber spy virus 'Flame' hits Iran, Israel
Published on May 29, 2012 by RussiaToday
A powerful data-snatching virus targeting computers in Iran, Israel and other Middle Eastern countries has been discovered by Russian experts. The worm has been used for years for what seems to be state-sponsored cyber espionage.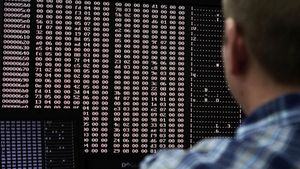 © Jim Urquhart/Reuters
An analyst looks at code in the malware lab of a cybersecurity defence lab at the Idaho National Laboratory. Computer viruses, such as the recently identified Flame worm, are being increasingly used as tools of state espionage.
A new kind of malware that is more sophisticated and damaging than the notorious Stuxnet and Duqu worms is likely being deployed by a nation state, say the cybersecurity firms that uncovered it.
"Duqu and Stuxnet raised the stakes in the cyberbattles being fought in the Middle East, but now we've found what might be the most sophisticated cyberweapon yet unleashed," wrote analyst Alexander Gostev in a blog post on the website of Kaspersky Lab Monday.
Moscow-based Kaspersky Lab, Budapest-based Laboratory of Cryptography and System Security (CrySysLab) and Iran's Maher Computer Emergency Response Team Co-ordination Centre (CERTCC) have all independently uncovered the Trojan while investigating widescale cyberattacks.
The worm, which has variously been dubbed Flame, Flamer or SkyWiper, is able to mine a vast array of data from infected machines by:
Surveying network traffic.
Taking screenshots, including in instant messaging programs.
Recording audio conversations via a computer's internal microphone.
Collecting passwords.
Intercepting keyboard actions
Gleaning information from devices connected to the infected machine by Bluetooth.
Scanning hard drives for specific file extensions or content.
Transmitting data to servers that control the malware
"Flame is one of the most complex threats ever discovered," Gostev wrote.
It far surpasses Stuxnet and Duqu, two worms behind cyberattacks against technology related to Iran's nuclear energy program, both in size – the program used to deploy it is 20 MB versus about 500 KB – and in its capability to steal information in so many different ways.
"It's a complete attack tool kit designed for general cyber-espionage purposes," writes Gostev.
7 countries hit
Like other viruses, it is able to replicate across a local network and removable devices such as USB sticks and portable drives and is controlled through a series of command-and-control servers around the world, which can also remotely remove every trace of the worm.
Just how it initially enters a computer is not yet known.
Kaspersky Lab discovered the worm, codenamed Worm.Win32.Flame, while carrying out work for the International Telecommunication Union, a United Nations agency, which had asked it to try to trace malware that was deleting sensitive information from computers in several countries in the Middle East.
Gostev said his company is still analysing the malware but that it is certain it was deployed in August 2010 and has been circulating since around February or March 2010 and possibly in earlier versions before that.
It has ruled out the possibility that the malware was created by hacktivists or cybercriminals because its intention is not to steal money, its architecture is vastly more complex than that used by hackers and its targets have been confined to several countries in the Middle East and Africa.
The company has concluded that it is likely the work of a nation state.
Kaspersky has so far identified seven countries that have been affected by Flame attacks:
Iran (189 targets)
Israel and Palestine (98 targets)
Sudan (32 targets)
Syria (30 targets)
Lebanon (18 targets)
Saudi Arabia (10 targets)
Egypt (5 targets)
Variety of targets
So far, there doesn't seem to be a pattern to the types of targets attacked. Individuals, educational institutions and state-related organizations have all been hit, Gostev said.
"From the initial analysis, it looks like the creators of Flame are simply looking for any kind of intelligence – emails, documents, messages, discussions inside sensitive locations, pretty much everything," Gostev writes. "We have not seen any specific signs indicating a particular target, such as the energy industry."
Iran's nuclear energy infrastructure was one of the targets of the Stuxnet cyberattack in 2010, so there will likely be suspicions that the newly identified worm might be deployed in similar ways.
The Stuxnet worm specifically targeted Siemens software and equipment, which is the basis of Iran's uranium-enrichment infrastructure, and did significant damage to Iran's nuclear capabilities.
Cybersecurity experts suspect it was created by Israeli or U.S. programmers at the behest of intelligence agencies in those countries.
euronews I talk : Should Europe sign up to ACTA or not?
Published on May 29, 2012 by Euronews
http://www.euronews.com/ On this week's I-talk, euronews talks to euro MP David Martin about ACTA – the Anti-Counterfeiting Trade Agreement.
It could fundamentally change the way we use the internet and what we do on the web.
But should the EU sign up to it? David Martin answers your questions.

**********************************************************************************************************
Survival / Sustainability
Long Term Urban Storage for Small Spaces- THE PLATFORM BED
Published on May 29, 2012 by CitySurvivalist
Prepper's Storage Containers for Small Living Spaces
Published on May 12, 2012 by CitySurvivalist
***********************************************************************************************************
Whistle Blowers
NSA & DOJ Whistleblowers Talk Whistleblowing in America
Published on May 29, 2012 by SamSeder
From the Majority Report, live M-F 12 noon EST and via daily podcast at http://Majority.FM:
NSA whistle-blower Thomas Drake and Jesselyn Radack, DOJ whistle-blower, on the government's intimidation and personal destruction of whistle-blowers. The Espionage Act, secret signing statements and how Obama has outdone Bush in squashing informants. Radack is also Drake's attorney, Director of National Security and Human Rights with the Government Accountability Project and author of TRAITOR: The Whistleblower and the "American Taliban". Drake was awarded the Ridenhour Prize for Truth-Telling in 2011.
Bradley Manning, the soldier accused of being behind the biggest leak of state secrets in U.S. history, is being denied a fair trial because the army is withholding from him crucial information that might prove his innocence or reduce his sentence, his defense team is arguing.
With Manning's court-martial approaching in September, his legal team has released details of what they claim is a shocking lack of diligence on the part of the military prosecutors in affording him his basic constitutional rights.
The stakes are high, with Manning facing possible life imprisonment for a raft of charges that include "aiding the enemy."
Manning's main civilian lawyer, David Coombs, has filed a motion with the military court in Fort Meade, Maryland, that sets out a catalogue of delays and inconsistencies in the army's handling of the case.
In particular, he claims the government has failed to disclose key evidence that could help Manning defend himself against the charges.
Source: Raw Story
HIGHLIGHTS
Almost two years after Manning was arrested, the military has not yet completed a search even of its own files to see if there is any material beneficial to the defense – -as it is legally obliged to do. care2.com
Manning faces 22 charges relating to the transfer of a massive trove of U.S. state secrets from military computers to the whistle-blowing website WikiLeaks. The Guardian
The leaks included video footage of a U.S. helicopter attack on a group of civilians in Baghdad, war logs from Iraq and Afghanistan and hundreds of thousands of secret U.S. embassy cables from around the world. The Guardian
He was arrested in May 2010 in a military base outside Baghdad, where he was working as an intelligence analyst, and has been in custody ever since. The Guardian
For several months after his arrest Bradley Manning was held in a high security prison where the detention conditions were fairly harsh and caused international concern. It was only after a number of prominent academics, legal scholars and political figures, including a British MP, signed a letter of protest that he was transferred to a medium-security jail.
***********************************************************************************************************
Activism
Quebec Student Movement Grows with Popular Support
Published on May 29, 2012 by TheRealNews
People from Montreal's communities bang pots and pans to show support as students broaden demands
The Julian Assange Show: Occupy Movement (E7)
Published on May 29, 2012 by RussiaToday
The Occupy movement has united hundreds of thousands across the world to fight social and economic inequality. In the latest edition of Assange's very own interview programme Julian Assange meets with prominent Occupy activists who say their collective efforts target global institutions.
Julian Assange Show – official video page: http://assange.rt.com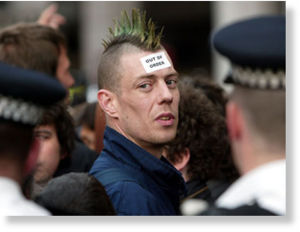 © Reuters/Stephen Hird
Anarchists in Britain "don't want rich tourists," they want "civil war." As the London Olympics draw nearer, those flying the black flag are going for gold in sabotage.
On the eve of the Olympic Games, the Federazione Anarchica Informale (FAI) seems fired up by unprecedented security measures being taken by British police. The British cell of the Italian anarchist group finds the "escalating police state frankly offensive."
In line with their ideological convictions, the Games set for July are viewed as a rightful cause to act.
"We have no inhibition to use guerrilla activity to hurt the national image and paralyze the economy however we can. Because simply, we don't want rich tourists – we want civil war," reads a statement on their website.
The same very statement has been used to justify a rash of recent offences currently being investigated by UK police.
Last Tuesday, railway services were severely disrupted in Bristol, a prominent city in England's south-west, after cables were set on fire. The perpetuators had to remove protective concrete slabs to access the lines.
It followed an attack on April 11, when several police stations in the same area were forced off the air. A police radio broadcasting mast on Dundry Hill was also damaged.
The FAI statement said it "specifically chose" targets in Bristol as the Ministry of Defense has located several installations nearby. A local business park of "military industry companies" such as Raytheon, Thales and QinetiQ can also be found there.
"If they are serious about trying to disrupt the Olympics by using simple techniques such as these, they are capable of causing utter havoc," admits a private sector security consultant.
The Olympics security bill tops £1 billion ($ 1.6 billion), with the Royal Air Force in London's airspace promising to shoot down passenger jets if required. Troops armed with surface-to-air missiles and warships will also be in place to do battle on the Thames. Still, most of this is to prevent Al Qaeda-style terrorist attacks, not "a low-intensity war" as promised by the FAI.
Sabotaging UK transport system during July games, especially at another end of the country, has the potential of severely hampering travel during a critical period. But the FAI could go further than that, as they are also known for sending letter bombs to officials and carrying out drive-by attacks. In a recent instance, two motorcyclists shot a chief executive of a nuclear power company in the kneecaps in the Italian city of Genoa a fortnight ago.
***********************************************************************************************************
[In accordance with Title 17 U.S.C. Section 107, this material is distributed without profit, for research and/or educational purposes. This constitutes 'FAIR USE' of any such copyrighted material.]