Earth Watch Report  -  Earthquakes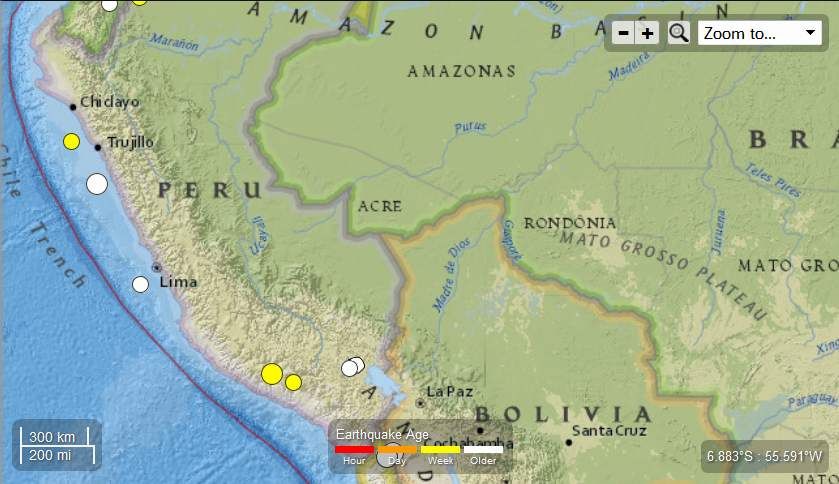 ….
Event Time
2013-05-13 13:54:07 UTC
2013-05-13 08:54:07 UTC-05:00 at epicenter
2013-05-13 08:54:07 UTC-05:00 system time
Location
7.949°S 79.913°W depth=55.6km (34.5mi)
Nearby Cities
71km (44mi) SSW of Pacasmayo, Peru
71km (44mi) WSW of Paijan, Peru
72km (45mi) SW of San Pedro de Lloc, Peru
74km (46mi) W of Santiago de Cao, Peru
552km (343mi) NW of Lima, Peru
….
Event Time
2013-05-14 23:39:17 UTC
2013-05-14 18:39:17 UTC-05:00 at epicenter
2013-05-14 18:39:17 UTC-05:00 system time
Location
15.613°S 73.132°W depth=112.0km (69.6mi)
Nearby Cities
93km (58mi) WSW of Orcopampa, Peru
120km (75mi) NNW of Camana, Peru
147km (91mi) SE of Puquio, Peru
191km (119mi) WNW of Arequipa, Peru
541km (336mi) W of La Paz, Bolivia
….
Instrumental Intensity
….
Event Time
2013-05-15 16:31:23 UTC
2013-05-15 11:31:23 UTC-05:00 at epicenter
2013-05-15 11:31:23 UTC-05:00 system time
Location
18.527°S 71.402°W depth=59.3km (36.8mi)
Nearby Cities
98km (61mi) S of Ilo, Peru
116km (72mi) W of Arica, Chile
134km (83mi) WSW of Tacna, Peru
155km (96mi) SSW of Moquegua, Peru
411km (255mi) WSW of La Paz, Bolivia
….
Tectonic Summary
Seismotectonics of South America (Nazca Plate Region)
The South American arc extends over 7,000 km, from the Chilean margin triple junction offshore of southern Chile to its intersection with the Panama fracture zone, offshore of the southern coast of Panama in Central America. It marks the plate boundary between the subducting Nazca plate and the South America plate, where the oceanic crust and lithosphere of the Nazca plate begin their descent into the mantle beneath South America. The convergence associated with this subduction process is responsible for the uplift of the Andes Mountains, and for the active volcanic chain present along much of this deformation front. Relative to a fixed South America plate, the Nazca plate moves slightly north of eastwards at a rate varying from approximately 80 mm/yr in the south to approximately 65 mm/yr in the north. Although the rate of subduction varies little along the entire arc, there are complex changes in the geologic processes along the subduction zone that dramatically influence volcanic activity, crustal deformation, earthquake generation and occurrence all along the western edge of South America.
Most of the large earthquakes in South America are constrained to shallow depths of 0 to 70 km resulting from both crustal and interplate deformation. Crustal earthquakes result from deformation and mountain building in the overriding South America plate and generate earthquakes as deep as approximately 50 km. Interplate earthquakes occur due to slip along the dipping interface between the Nazca and the South American plates. Interplate earthquakes in this region are frequent and often large, and occur between the depths of approximately 10 and 60 km. Since 1900, numerous magnitude 8 or larger earthquakes have occurred on this subduction zone interface that were followed by devastating tsunamis, including the 1960 M9.5 earthquake in southern Chile, the largest instrumentally recorded earthquake in the world. Other notable shallow tsunami-generating earthquakes include the 1906 M8.5 earthquake near Esmeraldas, Ecuador, the 1922 M8.5 earthquake near Coquimbo, Chile, the 2001 M8.4 Arequipa, Peru earthquake, the 2007 M8.0 earthquake near Pisco, Peru, and the 2010 M8.8 Maule, Chile earthquake located just north of the 1960 event.
Large intermediate-depth earthquakes (those occurring between depths of approximately 70 and 300 km) are relatively limited in size and spatial extent in South America, and occur within the Nazca plate as a result of internal deformation within the subducting plate. These earthquakes generally cluster beneath northern Chile and southwestern Bolivia, and to a lesser extent beneath northern Peru and southern Ecuador, with depths between 110 and 130 km. Most of these earthquakes occur adjacent to the bend in the coastline between Peru and Chile. The most recent large intermediate-depth earthquake in this region was the 2005 M7.8 Tarapaca, Chile earthquake.
….
Related articles