Putin: Snowden can stay in Russia if he stops damaging US
Published on Jul 1, 2013
President Vladimir Putin says NSA leaker Edward Snowden may stay in Russia, if he wants to, but only if he stops activities aimed against the United States.
"There is one condition if he wants to remain here: he must stop his work aimed at damaging our American partners. As odd as it may sound from me," Putin told a media conference in Moscow. READ MORE: http://on.rt.com/wct8fc
**********************************************************************************
Snowden seeks asylum in Russia
–
Edward Snowden reportedly sought asylum in Russia on Monday amid signs the U.S. and Russia were looking for a way to end the standoff over the 30-year-old leaker of U.S. security secrets.
Fox News reported Snowden's request for asylum was given to Russian officials by Sarah Harrison, a representative for WikiLeaks. Fox cited a report by the InterFax News Agency.
Russian President Vladimir Putin earlier on Monday suggested Snowden could stay in Russia, but that he must "stop his work aimed at harming our American partners."
"If he wants to stay here, there is one condition: He must stop his work aimed at harming our American partners, as strange as that sounds coming from my lips," Putin told reporters at a gas exporters' conference in Moscow, according to Reuters. "If he wants to go away somewhere and someone will accept him there, by all means," Putin said.
Reuters — quoting Russia's RIA news agency — reported Monday that Obama and Putin have told their security services to resolve the standoff over Snowden.
President Obama confirmed those reports Monday at a press conference in Africa where he said there are "high level discussions" underway with Russia to find a solution over the extradition of Snowden. Obama said he was "hopeful" that Russia would make the right decision on Snowden, who has leaked out a string of documents revealing National Security Agency spying campaigns.
************************************************************************************************
George W Bush Blasts Snowden, Defends NSA Programs He Put: 'Civil Liberties Were Guaranteed'
Published on Jul 1, 2013
Former President George W. Bush is insisting that a National Security Agency (NSA) Internet surveillance program started during his administration "guaranteed" civil liberties, and that Edward Snowden "damaged the country" by leaking details about it.
In an interview with CNN's Robyn Curnow published on Monday, Bush was confident that "the Obama administration will deal" with Snowden and the fallout from his leaks.
"I think he damaged the security of the country," he explained. "I put the program in place to protect the country, and one of the certainties is civil liberties were guaranteed."
The former president added that his program had found "the proper balance" between privacy and security.
Bush said that he "could care less" that polls showed more Americans now viewed him favorably.
"Ultimately history will judge the decisions I made, and I won't be around because it's going to take a while for the objective historians to to show up," he grinned. "So, I'm pretty comfortable with it. I did what I did."
Watch this video from CNN, broadcast July 1, 2013.
DESCRIPTION FROM RAWSTORY.COM
************************************************************************************************
Edward Snowden's Father's Lawyer Lays Out 'Conditions' For NSA Leaker's Return To U.S.
Published on Jul 1, 2013
Fox's Eric Bolling was the first to speak exclusively to Lonnie Snowden after his son, NSA leaker Edward Snowden, fled the country to Hong Kong. This morning on Fox & Friends, Bolling heard from Lonnie Snowden's lawyer, Bruce Fein, who laid out the family's demands for the Justice Department in an attempt to make a deal for Snowden to turn himself in.
Fein said he was attempting to work "with the Department of Justice of creating information directly to Mr. Edward Snowden that would enable him to make an intelligent decision of what's available back in the United States with regard to due process." The conditions that Fein laid out in a letter to Attorney General Eric Holder include that Snowden won't be detained before trial, that he wouldn't be subject to a gag order and that the trial would occur in a venue of Snowden's choice. Fein said he had not yet heard back from the Justice Department but stressed that these are not "ultimatums" but rather "conditions" that Lonnie Snowden believes will encourage his son to return to the U.S.
The lawyer also stressed his client's desire to make Snowden's trial not just about his son, but also about "who we are as a people, adding, "the right to be left alone from government snooping is a cherished right."
Bolling contrasted the family's message with that of Wikileaks founder Julian Assange, who appeared on ABC's This Week on Sunday and encouraged Snowden to continue seeking asylum and avoid being detained by the U.S. Bolling described Assange as someone who many Americans "have a big distaste for" and Fein dismissed him as nothing more than a "side show" in the Snowden case.
*************************************************************************************************

Ecuador cools on Edward Snowden asylum as Assange frustration grows
President Correa revokes Snowden's temporary travel document amid concerns WikiLeaks founder is 'running the show'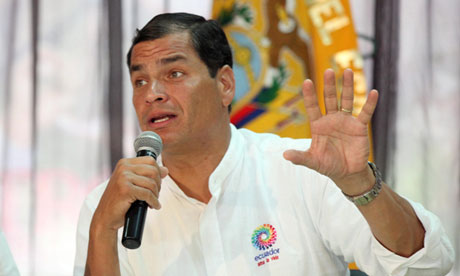 President Correa declared that the safe conduct pass issued by Ecuador's London consul – in collaboration with Assange – was unauthorised. Photograph: EPA
The plan to spirit the surveillance whistleblower Edward Snowden to sanctuary in Latin America appeared to be unravelling on Friday, amid tension between Ecuador's government and Julian Assange, the founder of WikiLeaks.
President Rafael Correa halted an effort to help Snowden leave Russia amid concern Assange was usurping the role of the Ecuadoran government, according to leaked diplomatic correspondence published on Friday.
Amid signs Quito was cooling with Snowden and irritated with Assange, Correa declared invalid a temporary travel document which could have helped extract Snowden from his reported location in Moscow.
Correa declared that the safe conduct pass issued by Ecuador's London consul – in collaboration with Assange – was unauthorised, after other Ecuadorean diplomats privately said the WikiLeaks founder could be perceived as "running the show".
According to the correspondence, which was obtained by the Spanish-language broadcaster Univision and shared with the Wall Street Journal, divisions over Assange have roiled Ecuador's government.
Ecuador's ambassador to the US, Nathalie Cely, told presidential spokesman Fernando Alvarado that Quito's role in the drama was being overshadowed by the WikiLeaks founder, who has sheltered in Ecuador's London embassy for the past year to avoid extradition.
"I suggest talking to Assange to better control the communications. From outside, [Assange] appears to be running the show."
Earlier this week a senior foreign diplomat in Quito told the Guardian that some – though not all – factions in the government were annoyed with what they saw as Assange grandstanding.
In a message attributed to Assange sent to Ecuador's foreign minister, Ricardo Patiño, and other top officials, the WikiLeaks founder apologised "if we have unwittingly [caused] Ecuador discomfort in the Snowden matter." The note continued: "There is a fog of war due to the rapid nature of events. If similar events arise you can be assured that they do not originate in any lack of respect or concern for Ecuador or its government."
*************************************************************************************************
Related articles