Why didn't CNN's international arm air its own documentary on Bahrain's Arab Spring repression?
A former CNN correspondent defies threats from her former employer to speak out about self-censorship at the network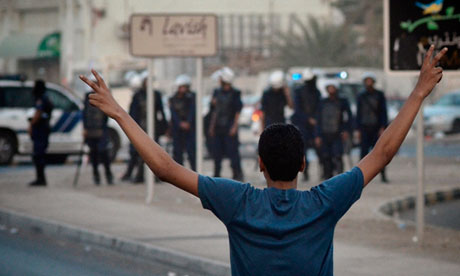 A Bahraini protester in Manama. Photograph: Mohammed Al-Shaikh/AFP/Getty Images
In late March 2011, as the Arab Spring was spreading, CNN sent a four-person crew to Bahrain to produce a one-hour documentary on the use of internet technologies and social media by democracy activists in the region. Featuring on-air investigative correspondent Amber Lyon, the CNN team had a very eventful eight-day stay in that small, US-backed kingdom.
By the time the CNN crew arrived, many of the sources who had agreed to speak to them were either in hiding or had disappeared. Regime opponents whom they interviewed suffered recriminations, as did ordinary citizens who worked with them as fixers. Leading human rights activist Nabeel Rajab was charged with crimes shortly after speaking to the CNN team. A doctor who gave the crew a tour of his village and arranged meetings with government opponents, Saeed Ayyad, had his house burned to the ground shortly after. Their local fixer was fired ten days after working with them.
The CNN crew itself was violently detained by regime agents in front of Rajab's house. As they described it after returning to the US, "20 heavily-armed men", whose faces were "covered with black ski masks", "jumped from military vehicles", and then "pointed machine guns at" the journalists, forcing them to the ground. The regime's security forces seized their cameras and deleted their photos and video footage, and then detained and interrogated them for the next six hours.
Lyon's experience both shocked and emboldened her. The morning after her detention, newspapers in Bahrain prominently featured articles about the incident containing what she said were "outright fabrications" from the government. "It made clear just how willing the regime is to lie," she told me in a phone interview last week.
But she also resolved to expose just how abusive and thuggish the regime had become in attempting to snuff out the burgeoning democracy movement, along with any negative coverage of the government.
"I realized there was a correlation between the amount of media attention activists receive and the regime's ability to harm them, so I felt an obligation to show the world what our sources, who risked their lives to talk to us, were facing."
CNN's total cost for the documentary, ultimately titled "iRevolution: Online Warriors of the Arab Spring", was in excess of $100,000, an unusually high amount for a one-hour program of this type. The portion Lyon and her team produced on Bahrain ended up as a 13-minute segment in the documentary. That segment, which as of now is available on YouTube, is a hard-hitting and unflinching piece of reporting that depicts the regime in a very negative light.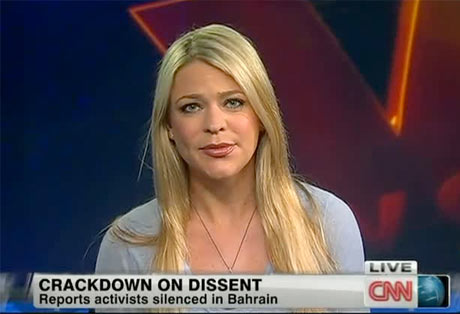 Amber Lyon on CNN, commenting on the March 2011 repression in Bahrain
**********************************************************************************************************************
Amber Lyon's iRevolution documentaries Egypt, Bahrain, Tunisia, …
Dictators Sponsor CNN | Interview with Amber Lyon
Published on Oct 3, 2012
Abby Interviews former CNN Investigative Journalist, Amber Lyon, about CNN's corrupt media empire, calling into question a media establishment where censorship can be bought.

Former CNN Reporter (Amber Lyon) threatened & silenced by CNN reveals CNN Lies & War Propaganda
Published on Oct 9, 2012

'Real Arab Spring in Bahrain which West ignores'
Published on Aug 16, 2012
Bahraini Human rights activist Nabeel Rajab has been sentenced to three years in jail for "participation in an illegal assembly" and "calling for a march without prior notification." – READ MORE http://on.rt.com/y95tqy
Patrick Henningsen, who's a geopolitical analyst, believes human rights chaos in Bahrain is beneficial for Western states.

Bahrain uprising anniversary: Worst clashes in months
Published on Feb 14, 2013
http://www.euronews.com/ Two years after their Arab Spring uprising against Bahrain's ruling family, protesters have been back on the streets in what they said was a day of civil disobedience.
Security forces fired warning shots to try to disperse a crowd of youths gathered in a village near the capital Manama.
They killed a teenager and several others were injured during the most violent clashes in months.
Thousands of people were arrested during the first uprising in early 2011. Dozens of political prisoners are still in jail.
Of those originally detained, seven prisoners have been interviewed by Amnesty International at Bahrain's Jaw prison.
All of them say they've been jailed on false charges or under laws that repress basic rights. Many were allegedly tortured in the first weeks of their arrests.
Human rights groups also claim security forces used excessive force two years ago.

Bahrain Shouting in the dark البحرين تصرخ في الظلام
Uploaded on Aug 4, 2011
Bahrain: An island kingdom in the Arabian Gulf where the Shia Muslim majority are ruled by a family from the Sunni minority. Where people fighting for democratic rights broke the barriers of fear, only to find themselves alone and crushed.
This is their story and Al Jazeera is their witness – the only TV journalists who remained to follow their journey of hope to the carnage that followed.
This is the Arab revolution that was abandoned by the Arabs, forsaken by the West and forgotten by the world.
Shouting in the dark can be seen from Thursday, August 4, at the following times GMT: Thursday: 2000; Friday: 1200; Saturday: 0100; Sunday: 0600; Monday: 2000; Tuesday: 1200; Wednesday: 0100; Thursday: 0600.
Arabic Translated:
http://www.youtube.com/watch?v=OyARJP…
http://www.youtube.com/watch?v=xaTKDM…
AlJazeeraEnglish

Related articles