Environmental
Cut world population and redistribute resources, expert urges
Nuclear disaster or plague likely unless population shrinks and natural resources are reassigned to poor, says Prof Paul Ehrlich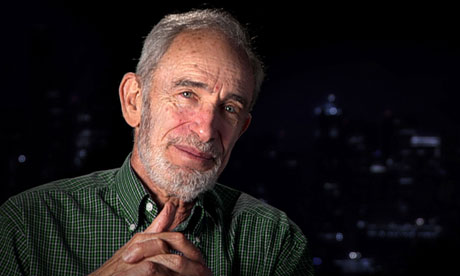 Paul Ehrlich says we face 'catastrophic or slow motion' disasters unless population is brought under control and resources redistributed. Photograph: Rex Features
The world's most renowned population analyst has called for a massive reduction in the number of humans and for natural resources to be redistributed from the rich to the poor.
Paul Ehrlich, Bing professor of population studies at Stanford University in California and author of the best-selling Population Bomb book in 1968, goes much further than the Royal Society in London which this morning said that physical numbers were as important as the amount of natural resources consumed.
The optimum population of Earth – enough to guarantee the minimal physical ingredients of a decent life to everyone – was 1.5 to 2 billion people rather than the 7 billion who are alive today or the 9 billion expected in 2050, said Ehrlich in an interview with the Guardian.
"How many you support depends on lifestyles. We came up with 1.5 to 2 billion because you can have big active cities and wilderness. If you want a battery chicken world where everyone has minimum space and food and everyone is kept just about alive you might be able to support in the long term about 4 or 5 billion people. But you already have 7 billion. So we have to humanely and as rapidly as possible move to population shrinkage."
Warm ocean currents behind majority of ice loss from Antarctica
Apr 26, 3:02 pm
London, April 26 (ANI): Warm ocean currents attacking the underside of ice shelves are the dominant cause of recent ice loss from Antarctica, researchers have claimed.
The finding brings scientists a step closer to providing reliable projections of future sea level rise.
An international team of scientists used a combination of satellite measurements and models to differentiate between the two known causes of melting ice shelves: warm ocean currents thawing the underbelly of the floating extensions of ice sheets and warm air melting them from above.
The researchers concluded that 20 of the 54 ice shelves studied are being melted by warm ocean currents. Most of these are in West Antarctica, where inland glaciers flowing down to the coast and feeding into these thinning ice shelves have accelerated, draining more ice into the sea and contributing to sea-level rise.
This ocean-driven thinning is responsible for the most widespread and rapid ice losses in West Antarctica, and for the majority of Antarctic ice sheet loss during the study period.
"We can lose an awful lot of ice to the sea without ever having summers warm enough to make the snow on top of the glaciers melt. The oceans can do all the work from below," said the study's lead author Hamish Pritchard of the British Antarctic Survey in Cambridge, United Kingdom.
**********************************************************************************************************
Cyber Space
CISPA Critics: Cybersecurity Act Will Increase Domestic Surveillance, Violate Privacy Rights
Published on Apr 26, 2012 by democracynow
DemocracyNow.org – As it heads toward a House vote, critics say the Cyber Intelligence Sharing and Protection Act (CISPA) would allow private internet companies like Google, Facebook and Microsoft to hand over troves of confidential customer records and communications to the National Security Agency, FBI and Department of Homeland Security, effectively legalizing a secret domestic surveillance program already run by the NSA. Backers say the measure is needed to help private firms crackdown on foreign entities — including the Chinese and Russian governments — committing online economic espionage. The bill has faced widespread opposition from online privacy advocates and even the Obama administration, which has threatened a veto. We speak with Michelle Richardson, legislative counsel for the American Civil Liberties Union.
To watch the complete independent, weekday news hour, read the transcript and download the podcast, please visit http://www.democracynow.org.
Murdoch admits 'cover-up' at News of the World
Thursday, 26 April 2012
Rupert Murdoch abruptly shut the Sunday tabloid when advertisers boycotted it, and the Leveson Inquiry was set up to probe the ethics of the press and its relations with politicians and police. (Reuters)
By AFP
LONDON
Rupert Murdoch admitted Thursday there was a "cover-up" over phone hacking at Britain's News of the World, but said he too was kept in the dark over a scandal that would blot his reputation for ever.
In his second and final day as star witness at an official inquiry in London into the ethics of the British press, the News Corp. chairman said he should have closed the tabloid years before he eventually did so in July 2011.
"There's no question in my mind that, maybe even the editor but certainly beyond that, someone took charge of a cover-up which we were victim to, and I regret that," the 81-year-old told the Leveson Inquiry.
The News of the World's royal editor and a private investigator were jailed in 2007 for phone hacking but the vast scale of the practice at the paper did not emerge until a new police probe in January 2011.
The scandal snowballed in July when it emerged the News of the World had illegally accessed the mobile phone voicemail messages of Milly Dowler, a murdered British schoolgirl, sparking public outrage.
Murdoch abruptly shut the Sunday tabloid when advertisers boycotted it, and Prime Minister David Cameron set up the Leveson Inquiry to probe the ethics of the press and its relations with politicians and police.
**********************************************************************************************************
Survival / Sustainability
Week 4 of 52: Communications
Having alternate communication devices on hand during a disaster can help maintain some sort of communication, as well as help maintain a sense of self reliance during difficult times.  Have at least one of the following alternative communication systems:
Wind up radios
Emails (if there is a power source)
Amateur radios
Family radio services offered by the FCC
CB radios
When making your choice, you should examine your own needs and match them with the appropriate communication system.
How to dehydrate and store food PART 1 – 10
Uploaded by Dehydrate2store on Jan 5, 2009
Visit http://www.dehydrate2store.com for more great videos, recipes, and information.
Also, you can find and "Like" our Dehydrate2Store group on Facebook to get the most up to date information on what we are doing at Dehydrate2Store!
Also, check out our new Shop page at
http://www.dehydrate2store.com/shop to find the great items seen in many of my videos! Thanks for watching!

***********************************************************************************************************
Activism
Reuniting the Spiritual and the Practical Through Activism
Posted: 25 Apr 2012 03:44 PM PDT
Julian Rose
Activist Post
One of the most significant hurdles to our development as 'whole' human beings is our attachment to the false separation made between what is considered 'practical' and what is considered 'spiritual'.
It is a dichotomy whose origins can be traced back to the invention of Religion: as a man-made vessel in which to encapsulate the spirit, and as a formal statement of belief in one faith or another faith; one temple or another temple; one god or another god. In other words, to that point in history when our nature and spirit led celebrations of the miracle of life were superseded by the intellectualisation and compartmentalisation of such experiences under the specific control of an authoritative body: i.e. a priesthood attached to a church.
Tragically, this false compartmentalisation of the spiritual has played a key role in keeping mankind locked away from the universality of spirit which is our birthright and true potential. So much so that it has been possible to foment crusading wars in the name of all-powerful sectarian gods and the blind faith which devotees hold in them. Millions have been, and continue to be, murdered in the name of the leading religions of our era, stretching back for centuries. For those who see themselves as free from 'religious' persuasions, money and power provide the latest totem of worship, but in truth this totem is followed with all the same blind belief as that to be found in religious cults.
When we are mere babies, those of us who were born into the Christian faith are initiated into the protective institutional arms of the church by the ritual known as 'baptism'. Here, the mark of the cross is symbolically drawn on our innocent foreheads by the priest whose finger is first dipped in sacred water deemed to form a direct link to John the Baptist's initiation of Jesus Christ in the waters of the river Jordan some 2,000 years ago. In the eyes of the church – we are then one of its children. A condition which can later be endorsed by participation in the Christian confirmation ceremony of our early teens.
All this, of course, is supposed to provide a kind of insurance policy against falling prey to the forces of evil. Against the powers of darkness enslaving our souls to the doctrine of the devil.
However, the net effect of taking out this insurance policy (by our parents initially) is to be signed up to a definition of life which gives little room for free thinking or exploration of what 'the spirit' really is or what it has in mind for us. Religion and the church having already defined the scope of our spirit for us, so that all we are supposed to do is dutifully follow the script.
Millions do take this road through life, as can be witnessed in the 'bible belt' area of the US and amongst devout individuals and communities throughout the world. So strong are the allegiances formed around 'religious beliefs' that when any two or more clash the inevitable result is conflict which all too soon leads to out and out war. Just witness the current vilification of Islam (and by extension Iran) by the Judeo-Christian warmongers of Washington who use such vilification to incite hatred which in turn provides a useful alibi for establishing acts of military aggression.
So, as a precursor to further examination, it is very important to recognise how religion and spirituality are often confused with one another. While there can certainly be cross-over between the religious and the spiritual, the reality is that one is a dogma and the other a universal force which can be tapped by all of humanity and which is free of dogma.
The big question is: how to refocus human attention on the true manifestation of the great spiritual force which has the power to transform our daily lives and to counteract the forces of oppression that keep a great part of the community of man in a state of somnolent slavery?
Many adherents of the various 'spiritual paths' on offer in to-days world, seem to feel that it is not their place to get involved in taking direct action on behalf of this Great Spirit. In fact, they misguidedly see activism as contradictory to maintenance of the spiritual path. Many appear to feel exempted from having to take action to ameliorate the wrongs perpetrated upon our physical, mental and political World. This is a great error of judgement in my view. While personal spiritual pursuit may cause a bright light to shine in one's own world, it nearly always fails to turn that light onto our oppressors in the physical world. It is due to this failure that our oppressors have largely got away with carrying on unimpeded in their progressive enslavement of mankind and the destruction of the environment which supports all life on earth.
A theory held by many spiritual aspirants is that 'confrontation' produces a negative vibration which detracts from spiritual development and only adds to the negative karma already present in society. However, to actively campaign for political, ecological or material change for the better requires that we confront the reality face to face, in order to know exactly what it is we are up against. Holding a fear that taking such a position might become an impediment to maintaining the peaceful vibratory levels achievable for example, in deep meditation, provides a false assessment of the truth.
In such cases, 'Peace' is wrongly defined as an essentially passive state largely free of any kind of friction. Spirituality thus takes on the appearance of a cosseted precious gem stone or delicate flower, the outward expression of a protective inner world which shuns contact with that which appears to be at odds with its supposed state of inner purity.
Adopting as a life philosophy such an inward 'frictionless' approach, has the net effect of leaving an open door to those who have no hesitation in exploiting the vacuum thus created. Free rein is given for negative forces to do their worst. At the extreme end these take the form of fascistic, totalitarian oligarchies that hold an almost total dominion in banking, big business, food and farming, health and education, politics, the media, the military and even the church. While such cartels are busy wielding their destructive powers upon our planet and upon our daily lives, those on the supposed path of 'higher awareness' all too often do nothing to apprehend the imposition of such a regime. Wittingly or unwittingly, they remain complicit in supporting the status quo: a way of life based on aggressive competition, consumerist indoctrination and violence.*
This is an innately hypocritical position: to preach peace and yet support violence – the violence that lies at the heart of our psychotic, capitalistic, consumption obsessed, Western societies. Leaving the forces of corruption unchallenged is simply not possible if one is truly following the spiritual path. On the contrary, the entre onto the spiritual path is achieved through committing to do one's utmost to free our planet from bondage and to protect that which is our Creator's work in all ways possible to us. If this means unmasking and exposing that which is blatantly dishonest, then this is what must be done.
It is my contention that by engaging in the direct defence of our basic freedoms and becoming active in the prevention of our collective enslavement, we discover the true means by which our largely dormant spiritual strength is most fully awakened. This way we become emissaries of a universal higher consciousness and are repaid a thousand times over for our efforts. Only when the inner work of spiritual practice is coupled to the outer work of activist involvement can we find the balance which once again unites the spiritual and the practical and makes us whole. Both must be entered into fully, for in reality they are two parts of one whole; just as an inhalation of breath is not separate from its exhalation. Why do we need to divide? That is the route of our oppressors.
Inner strength leads to outer action. Outer action leads in turn to more inner strength.. and so on ad infinitum. The resolution to the false state of separation made between these two states is ours for the making. The longer it remains sublimated within one or other of what we call 'spiritual' or what we call 'practical' there will be no respite for our divided world and no resolution to the sickness that holds back planetary rejuvenation.
What we call spiritual is actually the vibrant life force present in all matter, in all life. It is the composite energy expressed by the billions of swirling atoms that comprise all material and non material objects at all times. At the quantum point of engagement every cell in our body is now recognised as an intelligent being in its own right. A being having all the same intelligent faculties as the individual human being, but in microscopic form. The spirit courses through these cells in a manner indiscernible and inseparable from their cellular atomic structure. Everything that exists is at once spirit and material in simultaneity. The material is simply a third density expression of spirit.
Whereas spirit is simply the fourth, fifth and sixth density expression of the material.
Bradley Manning judge warns military prosecutors in WikiLeaks case
Judge refuses to dismiss most serious charge but tells prosecution it must prove private knew he was aiding the enemy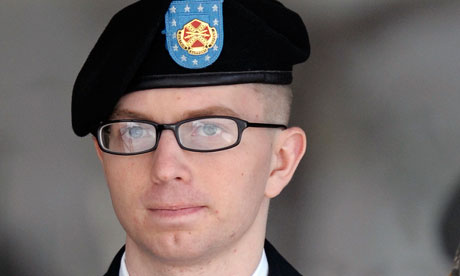 Bradley Manning will go on trial on 21 September. Photograph: Cliff Owen/AP
The military judge in the court-martial of the US soldier accused of handing WikiLeaks the biggest trove of unauthorised state secrets in American history has put army prosecutors on notice that they must prove Bradley Manning knew he was helping the enemy or face the possibility that the most serious charge against him be dismissed.
Colonel Denise Lind refused to throw out the charge – "aiding the enemy" – as had been requested by Manning's defence lawyers. But she told the military prosecution that during the trial, now scheduled for the end of September, that they would have to prove that the intelligence analyst was fully aware that he was helping the enemy when he allegedly handed hundreds of thousands of secret US documents to WikiLeaks.
Aiding the enemy is the most serious in the list of 22 charges that have been brought against Manning. It carries a maximum penalty of life in prison.
The trial will start on 21 September and is expected to last three weeks. It is certain to be closely followed in America and around the world, both by those who see Manning as a traitor to his country and military superiors, and by those who believe he was a hero who is being punished for being a whistleblower.
In seeking dismissal of the most serious offense, defense attorney David Coombs had argued that the charge did not properly allege that Manning intended to help al-Qaida when he allegedly sent hundreds of thousands of classified Iraq and Afghanistan war reports and state department diplomatic cables to the anti-secrecy website WikiLeaks.
Manning stated in an online chat with a confidant-turned-informant that he leaked the information because "I want people to see the truth".
Prosecutors had argued that Manning knew the enemy would see the material when it appeared on WikiLeaks, regardless of his intentions.
Help protect food and farm freedom in your area with local 'right-to-farm' laws
By Ethan A. Huff, April 25 2012
(NaturalNews) Throughout the last 100-or-so years, rapid urbanization has driven many farmers out of formerly-rural areas that have now become urban and suburban enclaves. And while every state in America now has some type of "right-to-farm" law on the books to protect farmers, who find themselves surrounded by new development, from being sued as a "nuisance," many cities and towns lack specific protections for backyard farmers whose livelihoods depend on their freedom to grow and raise food.
The tragic case involving Andrew Wordes from Roswell, Georgia, for instance, which we reported on recently, is a chilling example of what happens when government goes wild against food and farm freedom
(http://www.naturalnews.com/035524_Andrew_Wordes_Roswell_chickens.html). And while basic protections had been in place to protect Wordes from being assaulted and ultimately driven to death by his local "public servants," these protections clearly were not enough to stop the tragedy that unfolded.All across the country today, local farmers are facing similar troubles as they are being threatened by their neighbors, raided by the Feds, and ultimately targeted for extinction by those who seek to destroy the right to farm and grow food freely. And if we as Americans hope to preserve any semblance of food production and access that is not controlled by corporate conglomerates like Monsanto, then we must act now to pass, or strengthen existing, right-to-farm laws that protect our sources of sustenance from being bullied into oblivion.
***********************************************************************************************************
Articles of Interest
Beyond Market Forces
Agriculture As Though the Earth Mattered
Julian Rose,
Almost everything that has gone wrong with food, farming and our environment over the past three or four decades, has done so because of an unswerving allegiance to market forces and what is described as 'The Free Market'.
Agriculture, as the origin of the word conveys, is 'a culture of the field' and is not an industry and therefore should never have been subjected to the competitive and often aggressive cut and thrust of commerce. Once under the influence of the market economy, it became transformed into an industry in which ever greater productivity at ever lower costs became the all pervading mantra.
Only 35 years ago the average UK dairy herd had fifteen cows and the farmer made a reasonable living from selling his milk to the Milk Marketing Board or as a producer retailer. His/her fields supported a rotation involving mixed cropping and virtually all such farms kept some hens, three or four pigs and a bit of fruit and veg around the farm house. A very civilized life style.
In 1972 there were some forty five thousand dairy herds in the UK. Now there are just thirteen thousand and the rate of decline is still accelerating. An organic farmer I know has recently increased his milking herd from eighty cows to two hundred and fifty in a desperate attempt to keep his farm economically viable under the intense competition generated by an almost constant downward pressure on milk exerted by the inexhaustibly consumptive supermarkets.
In 1995, when milk sold in supermarkets for around 42p/litre, the retailer made 1p margin per litre and the farmer made 5p margin. By 2005 the milk price had risen to 51p/litre, but the farmer's return had remained too small to cover costs, necessitating some drastic action.
This same price squeezing exercise has been applied to all main UK farm supplies, not just milk.
The end of the road for most UK mixed family farms has thus been ushered forward by the sheer greed of the big retailers and their relentless pursual of profit at any cost.
On my own farm, in South Oxfordshire, I decided to bottle and sell my own unpasteurized organic milk. Mainly because I love the quality, texture and flavor of this food, but also to avoid getting sucked into the fickle price fluctuations of the bulk market.
Things went well at first with a small but healthy demand for our rich flavorful Guernsey milk and cream. But, on expanding my milk round into Reading, I ran into an intercernine supermarket price war for the 'white stuff' they sell. Tescos, Sainsbury and Asda all going for each others jugular – succeeded in dropping the retail price of milk by 8p/litre in less than one month. My newly aquired customers, still largely unaware of the outstanding difference in quality between the white stuff and real milk, complained that my price was uncompetitive and ceased their orders. It had the effect of undermining the economic viability of the delivery round and led on to the sad day (in 1998) when there was no option other than to sell my herd of sixty lovely Guernseys.
************************************************************************************************************
[In accordance with Title 17 U.S.C. Section 107, this material is distributed without profit, for research and/or educational purposes. This constitutes 'FAIR USE' of any such copyrighted material.]