Earthquakes
Date/Time (UTC)
Magnitude
Area
Country
State/Prov./Gov.
Location
Risk
Source
Details
02.06.2012 07:35:44
4.7
Australia
Australia
State of Western Australia
Bornholm
USGS-RSOE
02.06.2012 08:05:27
4.7
Australia & New-Zealand
Australia
Bornholm
EMSC
02.06.2012 08:05:48
2.2
Europe
Italy
Il Motto
EMSC
02.06.2012 07:05:23
2.8
Europe
France
Le Grand-Avis
EMSC
02.06.2012 07:05:49
3.7
Middle-East
Iran
Khayyam
EMSC
02.06.2012 07:06:12
2.4
Europe
Italy
Alberica
EMSC
02.06.2012 07:06:34
2.6
Europe
Italy
Redena
EMSC
02.06.2012 07:06:55
2.5
Asia
Turkey
Cukurgol Yaylasi
EMSC
02.06.2012 05:50:30
2.3
Middle America
Mexico
Estado de Baja California
La Puerta
USGS-RSOE
02.06.2012 05:25:25
2.0
North America
United States
Alaska
Port Graham
USGS-RSOE
02.06.2012 06:00:24
2.7
Europe
Greece
Kaloyerorrakhi
EMSC
02.06.2012 06:00:48
2.2
Europe
Italy
San Carlo
EMSC
02.06.2012 05:10:33
4.5
Indonesian archipelago
Indonesia
Isyuma
USGS-RSOE
02.06.2012 06:01:08
4.5
Indonesian Archipelago
Indonesia
Isyuma
EMSC
02.06.2012 04:45:36
2.2
North America
United States
California
Saddle Junction
USGS-RSOE
02.06.2012 04:56:41
2.0
Europe
Italy
Vigarano Mainarda
EMSC
02.06.2012 04:57:17
2.4
Europe
Greece
Kolimbia
EMSC
02.06.2012 04:25:30
2.8
North America
United States
Alaska
Karluk
USGS-RSOE
02.06.2012 04:59:05
2.3
Asia
Turkey
Uzunkol
EMSC
02.06.2012 04:59:49
2.2
Europe
Italy
La Collevata
EMSC
02.06.2012 03:55:23
2.0
Europe
Italy
Siracusa
EMSC
02.06.2012 03:55:43
2.3
Europe
Italy
Mirabello
EMSC
02.06.2012 03:56:05
2.1
Europe
Italy
La Collevata
EMSC
02.06.2012 03:56:26
2.6
Asia
Turkey
Kalkan
EMSC
02.06.2012 02:50:35
4.6
Europe
Russia
Alleroy
EMSC
02.06.2012 05:55:32
4.5
Asia
Russia
Respublika Ingushetiya
(( Manal ))
USGS-RSOE
02.06.2012 02:50:56
2.2
Europe
Italy
La Massara
EMSC
02.06.2012 02:30:30
2.9
North America
United States
Alaska
Cantwell
USGS-RSOE
02.06.2012 02:51:17
3.5
Europe
Greece
Ochthia
EMSC
02.06.2012 02:30:54
2.4
Caribbean
British Virgin Islands
The Settlement
USGS-RSOE
02.06.2012 02:51:38
2.0
Europe
Italy
Crevalcore
EMSC
02.06.2012 05:01:41
2.3
Asia
Turkey
Ciftlikkoy
EMSC
02.06.2012 05:01:44
2.3
Asia
Turkey
Ciftlikkoy
EMSC
02.06.2012 01:45:27
2.0
Europe
Poland
Gorzyce
EMSC
02.06.2012 05:03:41
2.4
Asia
Turkey
Cukurgol Yaylasi
EMSC
02.06.2012 01:45:48
3.4
Asia
Turkey
Cukurgol Yaylasi
EMSC
02.06.2012 02:51:59
2.1
Europe
Italy
Coronella
EMSC
02.06.2012 05:05:58
2.3
Asia
Turkey
Bekdemir
EMSC
02.06.2012 01:46:10
3.5
Europe
Italy
Corte Romana
EMSC
02.06.2012 06:01:29
2.4
Asia
Turkey
Kuyucak
EMSC
02.06.2012 01:46:30
2.1
Europe
Italy
La Campa
EMSC
02.06.2012 01:46:51
2.8
Europe
Italy
Pilastri
EMSC
02.06.2012 01:47:12
3.1
Asia
Turkey
Danisment
EMSC
02.06.2012 00:45:42
3.7
Asia
Taiwan
Yu-ju-k'ou
EMSC
02.06.2012 00:46:03
2.2
Europe
Italy
Ravarino
EMSC
02.06.2012 00:46:25
2.4
Europe
Italy
San Carlo
EMSC
02.06.2012 00:46:45
2.6
Europe
Italy
Casoni
EMSC
02.06.2012 06:01:48
2.4
Asia
Turkey
Karatas
EMSC
02.06.2012 00:47:05
2.0
Europe
Italy
Alberica
EMSC
02.06.2012 00:47:26
2.1
Europe
Italy
Alberica
EMSC
02.06.2012 00:47:47
2.2
Europe
Italy
Tramuschio
EMSC
02.06.2012 06:02:08
2.5
Europe
Greece
Kattavia
EMSC
02.06.2012 06:02:29
2.4
Europe
Greece
Livadaki
EMSC
02.06.2012 00:48:10
2.0
Europe
Italy
Alberica
EMSC
01.06.2012 23:45:36
2.1
Europe
Italy
Sparta
EMSC
02.06.2012 08:06:11
2.0
Europe
Greece
Vatsiana
EMSC
02.06.2012 06:02:50
2.1
Asia
Turkey
Kizilmescit
EMSC
01.06.2012 23:51:00
4.3
Pacific Ocean
New Zealand
Sumner
GEONET
02.06.2012 06:03:12
2.0
Asia
Turkey
Bodrum
EMSC
02.06.2012 06:03:32
2.1
Asia
Turkey
Derekoy
EMSC
02.06.2012 06:03:53
2.3
Asia
Turkey
Cukurgol Yaylasi
EMSC
02.06.2012 06:04:15
2.2
Asia
Turkey
Kavurma
EMSC
01.06.2012 23:25:59
2.3
Caribbean
Puerto Rico
Corcega
USGS-RSOE
01.06.2012 22:45:27
2.0
Europe
Italy
Cavezzo
EMSC
02.06.2012 06:04:34
2.2
Europe
Greece
Lipsoi
EMSC
01.06.2012 22:45:49
4.4
Indonesian Archipelago
Indonesia
Rumdai
EMSC
01.06.2012 22:46:11
2.2
Europe
Italy
Quarantoli
EMSC
01.06.2012 21:41:49
2.0
North America
United States
Alaska
Chelatna Lodge
USGS-RSOE
02.06.2012 06:04:52
2.7
Asia
Turkey
Agarti
EMSC
01.06.2012 21:40:33
2.6
Europe
Italy
Cavezzo
EMSC
01.06.2012 22:46:31
4.5
Asia
Japan
Omi
EMSC
01.06.2012 22:48:11
4.6
Asia
Japan
Chiba-ken
Hikata
USGS-RSOE
01.06.2012 21:40:52
2.0
Europe
Italy
Cavezzo
EMSC
01.06.2012 20:40:30
2.2
Europe
Italy
San Benedetto Po
EMSC
01.06.2012 21:20:41
4.7
Atlantic Ocean
Argentina
Provincia de San Juan
La Rinconada
USGS-RSOE
01.06.2012 21:41:11
4.7
South-America
Argentina
La Rinconada
EMSC
01.06.2012 20:20:34
2.1
North America
United States
California
Seminole Springs Trailer Park
USGS-RSOE
01.06.2012 20:15:40
2.8
North America
United States
Alaska
Iniskin
USGS-RSOE
01.06.2012 20:40:51
2.5
Europe
Greece
Kattavia
EMSC
01.06.2012 20:41:11
2.3
Europe
Italy
San Giovanni
EMSC
01.06.2012 20:41:32
2.5
Europe
Greece
Ayia Trias
EMSC
01.06.2012 20:41:55
2.7
Asia
Turkey
Ciftlikkoy
EMSC
01.06.2012 20:42:21
3.0
Asia
Turkey
Cukurgol Yaylasi
EMSC
01.06.2012 19:35:34
2.1
Europe
Italy
Dogaro
EMSC
01.06.2012 19:35:54
2.7
Europe
Italy
Poggio Rusco
EMSC
01.06.2012 18:35:33
2.5
Europe
Italy
San Lorenzo
EMSC
01.06.2012 18:35:55
2.3
Europe
Italy
Casa Alta
EMSC
01.06.2012 21:25:41
3.4
Caribbean
Dominican Republic
Provincia de La Altagracia
Liborio
USGS-RSOE
01.06.2012 18:36:22
2.1
Europe
Italy
Quarantoli
EMSC
01.06.2012 18:36:44
2.5
Europe
Italy
Casa Calari
EMSC
01.06.2012 18:37:04
2.0
Europe
Greece
Mardhation
EMSC
01.06.2012 17:35:29
2.1
Europe
Italy
Stellata
EMSC
01.06.2012 17:35:54
2.1
Europe
Italy
San Giacomo Roncole
EMSC
01.06.2012 18:37:24
4.6
Indonesian Archipelago
Indonesia
Omatena
EMSC
01.06.2012 17:36:14
2.3
Europe
Greece
Mardhation
EMSC
01.06.2012 16:20:40
2.0
North America
United States
Hawaii
Pähala
USGS-RSOE
01.06.2012 16:30:38
2.7
Europe
Italy
Renazzo
EMSC
01.06.2012 16:30:57
2.0
Asia
Turkey
Inlice
EMSC
01.06.2012 16:31:19
5.3
Pacific Ocean – East
Fiji
Vatoa
EMSC
01.06.2012 16:31:40
2.6
Europe
Italy
Casa Madonnina
EMSC
01.06.2012 15:30:37
2.8
Asia
Turkey
Mollanukus
EMSC
01.06.2012 15:30:56
2.3
Europe
Italy
Case Reggiani
EMSC
01.06.2012 15:05:49
2.1
North America
United States
Hawaii
Pähala
USGS-RSOE
01.06.2012 15:31:17
2.7
Europe
Italy
La Marchesa
EMSC
01.06.2012 14:46:18
2.0
North America
United States
California
Caldwell Pines
USGS-RSOE
01.06.2012 14:55:42
5.4
Asia
China
Xinjiang Uygur Zizhiqu
Wuqia
USGS-RSOE
01.06.2012 15:31:36
5.3
Asia
China
Wuqia
EMSC
01.06.2012 15:31:56
2.2
Asia
Turkey
Ciceklidere
EMSC
01.06.2012 15:32:17
3.4
Europe
Italy
Casa Madonnina
EMSC
01.06.2012 14:15:40
2.6
North America
United States
Alaska
Big Lake
USGS-RSOE
01.06.2012 14:45:50
4.1
Pacific Ocean
New Zealand
Woodville County
Brunswick
GEONET
01.06.2012 14:01:02
3.3
North America
United States
Alaska
Susitna
USGS-RSOE
01.06.2012 14:25:42
2.4
Europe
France
Saint-Hilaire-la-Croix
EMSC
01.06.2012 14:26:03
2.2
Asia
Turkey
Turkmentokat
EMSC
01.06.2012 14:26:26
3.5
Europe
Portugal
Cabo Raso
EMSC
01.06.2012 13:25:34
4.8
Asia
Pakistan
Jiwani
EMSC
01.06.2012 13:20:31
4.8
Asia
Pakistan
Balochistan
Jiwani
USGS-RSOE
01.06.2012 14:26:47
3.8
Europe
Portugal
Cabo Raso
EMSC
01.06.2012 14:27:08
3.5
Europe
Portugal
Cabo Raso
EMSC
01.06.2012 13:25:53
3.0
Asia
Turkey
Agarti
EMSC
01.06.2012 13:26:16
2.0
Europe
Italy
Quistello
EMSC
01.06.2012 13:26:37
2.3
Europe
Italy
San Giovanni del Dosso
EMSC
01.06.2012 13:26:58
2.5
Europe
Italy
Alberica
EMSC
01.06.2012 13:27:19
2.1
Europe
Italy
Marcellinara
EMSC
02.06.2012 03:10:44
2.6
Pacific Ocean
New Zealand
Woodville County
Springston
GEONET
01.06.2012 12:20:35
2.3
Europe
Italy
Alberica
EMSC
01.06.2012 12:20:56
2.1
Asia
Turkey
Ciftlikkoy
EMSC
01.06.2012 12:21:16
3.1
Europe
Italy
Trivellano
EMSC
01.06.2012 12:21:37
2.5
Asia
Turkey
Dikmen
EMSC
01.06.2012 12:21:58
2.3
Europe
Italy
Crevalcore
EMSC
01.06.2012 12:22:20
2.4
Europe
Italy
San Biagio
EMSC
01.06.2012 12:22:40
2.1
Asia
Turkey
Karaca
EMSC
01.06.2012 11:15:33
5.2
Asia
Japan
Uruido
EMSC
01.06.2012 11:11:16
5.2
Asia
Japan
Saitama-ken
Nishi-hojubana
USGS-RSOE
01.06.2012 11:15:58
3.3
Europe
Italy
Casate Raffa
EMSC
01.06.2012 11:16:23
2.7
Europe
Italy
La Balantina
EMSC
01.06.2012 11:16:45
2.9
Europe
Albania
Balajt e Poshtem
EMSC
01.06.2012 11:17:06
3.0
Asia
Turkey
Kavakli
EMSC
01.06.2012 13:27:40
2.2
Europe
Greece
Kokkinoyio
EMSC
01.06.2012 10:15:34
2.8
Europe
Italy
Concordia sulla Secchia
EMSC
01.06.2012 09:25:42
2.0
North America
United States
Alaska
Iniskin
USGS-RSOE
01.06.2012 10:15:53
2.3
Europe
Italy
Drauto
EMSC
01.06.2012 09:15:56
5.8
Indonesian archipelago
Indonesia
Prori
USGS-RSOE
01.06.2012 09:10:30
6.1
Indonesian Archipelago
Indonesia
Prori
EMSC
01.06.2012 09:00:44
2.8
North America
United States
Nevada
Amargosa Valley
USGS-RSOE
01.06.2012 09:10:54
3.5
Europe
Greece
Kolimbia
EMSC
01.06.2012 09:11:13
4.9
Indonesian Archipelago
Indonesia
Buha
EMSC
01.06.2012 08:45:36
4.9
Indonesian archipelago
Indonesia
Buha
USGS-RSOE
01.06.2012 09:11:34
2.3
Europe
Italy
Pezzi di Gala
EMSC
01.06.2012 09:11:54
2.7
Europe
Greece
Kontaiika
EMSC
01.06.2012 11:17:27
2.0
Europe
Greece
Bokhali
EMSC
01.06.2012 09:21:02
3.2
Pacific Ocean
New Zealand
Woodville County
Mayfield
GEONET
……………………………
Manokwari: A moderate 5.8-magnitude earthquake struck Indonesia's West Papua province on Friday, the US Geological Survey reported, sending panicked residents rushing outdoors.
The quake, which struck at 15:56 pm local time (06:56 GMT) near the town of Manokwari in eastern Indonesia, had residents leaving homes and buildings, but there were no immediate reports of damage.
"I was outside my house when the ground began to shake. I ran indoors to grab my three grandchildren who were napping inside and rushed back out," said Leo Ayomi, a 60-year-old grandmother.
The quake struck 92 kilometre (57 miles) west of Manokwari at a depth of 24 kilometre.
5/31/2012 — Japanese officials forecast LARGE Tokyo earthquake soon
Published on May 31, 2012 by dutchsinse
Original link here:
http://www3.nhk.or.jp/daily/english/20120531_11.html
Japanese researchers say a massive earthquake could occur off a peninsula to the east of Tokyo, in an area separate from the one that triggered the Great Kanto Earthquake of 1923.
The Geospatial Information Authority of Japan reported to a government panel on Wednesday that analysis of global positioning system data shows that the tip of the Boso Peninsula has been moving about 3 centimeters north each year since 1997.
The authority says quake-causing strain may be building up in the area, where a marine tectonic plate slides under a continental plate.
The situation is similar around the Miura Peninsula to the south of Tokyo, near Yokohama.
Pressure there was released in the 1923 earthquake, but the area off Boso Peninsula has not had a major quake for at least 300 years.
Researcher Takuya Nishimura says an earthquake occurring in this zone could have a magnitude of around 8. He says the authority will continue its analysis to increase the accuracy of its estimations.

by Staff Writers
Lima (AFP)
Peru carried out a nationwide safety drill on Thursday to see how authorities respond to a cataclysmic 8-magnitude earthquake with an epicenter just west of the capital, and the resulting tsunami.
Authorities fear that such a quake and tsunami could kill more than 50,000 people, destroy about 200,000 homes, and leave some two million people homeless.
"This toll represents the worst case scenario if we are not prepared," Lima Mayor Susana Villaran, who leads civil defense efforts, told AFP.
Thousands of workers streamed onto the streets of Lima, population eight million, when the drill kicked off at 10:00 am (1500 GMT).
At that moment the pretend quake struck 190 km (118 miles) west in the Pacific, unleashing a tsunami that would take 15 to 20 minutes to hit the coast.
Officials said some 80 percent of residents actively participated in drill.
Goals of the exercise included evaluating how authorities respond, how prepared the public was, and how the emergency and evacuation routes worked, especially in areas that could be flooded by a tsunami.
"We left the hospital quickly but in an orderly fashion, taking scores of patients with us," said Milagros Perez, a doctor at Lima's maternity hospital.
Perez carried a child down four floors and stood in the middle of the street, following advice from civil defense officials, after the "quake" struck.
Every year the Andean nation of more than 28 million is rattled by low-intensity quakes because it sits on the edge of the Nazca tectonic plate.
It is critical "to know what to do, and who should do it, in the first 24 to 72 hours after an earthquake," Villaran warned.
Part of the sense of urgency is that Lima has not had a major earthquake in more than 250 years.
"We have to consider that earthquakes are cyclical beasts," explained Hernan Tavera, top quake expert at the Geophysical Institute of Peru earlier this week.
The last powerful quake to strike Lima was in October 1746, and is believed to have been as strong as the 8.8 magnitude quake that hit southern Chile in February 2010, Tavera said.
The quake and the tsunami wave that followed, which devastated the nearby port city of Callao, killed between 15,000 and 20,000 people.
Lima has experienced two strong quakes in living memory: a 7.5 magnitude quake in October 1966 that left 200 dead and caused a minor tsunami, and another in October 1974 at 7.2-magnitude which killed 252 people. Another 300,000 lost their homes.
Jitters about a potentially devastating quake have been mounting in Lima, in part because of the 2007 earthquake that hit Pisco — 250 kilometers to the south — that left more than 500 people dead, and intense coverage of the Chile's 2010 earthquake and Japan's devastating 2011 quake and tsunami.
Related Links
Bringing Order To A World Of Disasters
A world of storm and tempest
When the Earth Quakes
**********************************************************************************************************
Volcanic Activity
Volcano threatens millions in Mexico
Mexico's Popocatepetl Volcano has blasted a tower of ash over nearby towns and villages prompting authorities to consider the possibility of evacuations.
Popocatepetl sits roughly halfway between Mexico City and the city of Puebla, meaning some 25 million people live within a 90-km (60-mile) radius of the volcano.
Over a month ago, the volcanic eruptions started growing larger.
Scientists are saying the Tanagaroa seamount off the Bay of Plenty coast should be declared off limits to commercial exploitation by fishing and mining.
A group of Wellington scientists have just confirmed volcanic activity on the deep water seamount.
 A sonar image of the Tangaroa Seamount. Image: Niwa.
Niwa principal scientist Malcolm Clark says they have discovered new hydrothermal vents, which create chimney-like structures.
"Some of the venting we found was very high temperature, black smoker type situations, where the temperature is several hundred degrees Celsius," says Malcolm.
He has just returned from taking the first biological samples of the animals which have adapted to Tangaroa's unique environmental conditions.
The top of the seamount is nearly a kilometre below the ocean's surface.
"These are species which are adapted to live in quite extreme conditions, high levels of hydrogen sulphide which is toxic to most life forms, quite high temperatures, they're deep, there's no light, they're under quite high pressure," says Malcolm.
The research will help agencies protect these habitats from fishing or mining.
"These seamounts and deep sea areas in general are sites of deep sea trawling for species like orange roughy and they're also of interest for seabed mining," says Malcolm.
While there's no sea bed mining at the moment, Australian-based companies Nautilus and Neptune minerals have licences to explore for what is known as "sea floor massive sulphides".
"These are deposits that are rich in copper and zinc and also some gold and silver associated with them that occur on the seamounts," says Malcolm.
Niwa's research vessel Tangaroa recently returned from a three-week voyage, with pictures, film footage and samples of new discoveries from the deep-sea floor, including footage of a new hydrothermal vent on an undersea volcano on the Tangaroa seamount.
"We were able to collect both underwater footage and specimens of chemosynthetic barnacles, mussels, and shrimps on Tangaroa Seamount," says Malcolm.
There are 50 submarine volcanoes stretching along the Kermadec Ridge. It's a significant feature of the Western Pacific, extending almost 1500km to the edge of the New Zealand., northeast of the Kermadec Islands.
Hydrothermal vents associated with these volcanoes release hot water and gases with different chemical compositions, so specific communities have adapted to survive in each area.
"The benthic community on Tangaroa seamount, a combination of mussels and barnacles and shrimps, isn't unique, but differs from that found on a number of neighbouring seamounts. "The seamount communities were also very different from those we observed and sampled on the slope and canyons, which typically had muddy seafloor, rather than rocks.
"This trip confirmed our working hypothesis that the environments generated in these different deep-sea habitats vary in their characteristics, and they result in faunal communities that can differ, within close proximity," says Malcolm.
***********************************************************************************************************
Extreme Temperatures/ Weather
LAS VEGAS NV





GRAY ME
DETROIT/PONTIAC MI
Russell Contreras and Susan Montoya Bryan
Associated Press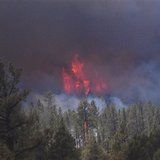 © AP Photo/U.S. Forest Service
This image provided by the U.S. Forest Service shows a May 29, 2012 photo, of the massive blaze in the Gila National Forest, seen from Neighbors Mountain directly east of Glenwood, N.M. Fire officials said Wednesday the wildfire has burned more than 265 square miles has become the largest fire in New Mexico history.
Reserve – A smoky haze hangs over the rugged canyons and tree-covered expanses of southwestern New Mexico as the largest wildfire in the state's recorded history marches across more of the Gila Wilderness.
The virtually unchecked wildfire is fueling experts' predictions that this is a preview of things to come as states across the West contend with a dangerous recipe of wind, low humidity and tinder-dry fuels.
The Whitewater-Baldy blaze has charred more than 190,000 acres, or nearly 300 square miles, in Gila National Forest and has become the largest wildfire burning in the country.
Gov. Susana Martinez viewed the fire from a New Mexico National Guard helicopter Thursday and saw the thick smoke shrouding some of the steep canyons that are inaccessible to firefighters. She described the terrain as "impossible," saying there was no way for firefighters to directly attack the flames in the rugged areas of wilderness.
"It's going to keep going up," she said of the acreage burned. "Be prepared for that."
Along the fire's northern edge, Martinez spotted crews doing burnout operations designed to slow the erratic blaze, which has surpassed last year's Las Conchas fire as the state's largest ever. That fire charred 156,593 acres and threatened the Los Alamos National Laboratory, the nation's premier nuclear facility.
From the air, Martinez could see the blanket of smoke stretching for miles. She used words like daunting and enormous, fitting since fire managers said the blaze could smolder until the region gets significant rainfall during the summer monsoon season.
More than 1,200 firefighters are at the massive blaze near the Arizona border. It has destroyed a dozen cabins and eight outbuildings, fire information officer Iris Estes said.
Experts say persistent drought, climate change and shifts in land use and firefighting strategies mean other western states likely will see similar giant fires this season.
"We've been in a long drought cycle for the last 20 years, and conditions now are great for these type of fires," said Steve Pyne, author of Tending Fire: Coping with America's Wildland Fires and a life science professor at Arizona State University. "Everything is in line."
Agencies in New Mexico, Colorado and Arizona are bracing for the worst. Many counties have established emergency telephone and email notification systems to warn of wildfires, and most states have enlisted crews from other jurisdictions to be ready when the big ones come.
"It's highly likely that these fires are going to get so big that states are going to need outside resources to fight them," said Jeremy Sullens, a wildland fire analyst at the National Interagency Fire Center.
According to the National Weather Service, a dry climate is expected to prolong drought conditions across the Great Basin and central Rockies during the fire season. Large portions of Nevada, Arizona, Utah, Colorado and New Mexico will remain under severe drought conditions.
"We're transitioning from La Nina to El Nino, so we have no guidance to what's going to happen, like if we will get more rain or less rain," said Ed Polasko, a weather service meteorologist.
A lack of moisture means fewer fuels to burn in some areas, but unburned vegetation elsewhere could pose a problem since many states received no sustained snow or rain this winter and spring.
That's what happened in New Mexico's Gila Wilderness, where a lack of snow failed to push down grass, which worsened the fire danger, Sullens said.
Typically, fires in the area don't cross the middle fork of the Gila River, said Danny Montoya, an operations section chief with the Southwest Incident Management Team.
"This year, it did get across," Montoya said. "We're getting humidity levels during the day about 2 to 3 percent. Normally, during summer you'd see 5 to 12 percent."
Officials closed the Gila Cliff Dwellings National Monument on Thursday due to smoke generated from the fire. The National Park Service said the closure would remain in effect until conditions improve.
The blaze is 5 percent contained, but fire managers expect that to jump as crews bolstered lines on the northern end. Scars from previous burns were also helping to slow the flames on the southeastern flank.
"We're continuing with burnout operations and we've been helped with a slight rise in humidity and decreased winds," Estes said.
Another reason states in the West will see more massive fires this season is because, coupled with drought and dry climate, crews have experienced changes in firefighting strategies and agencies have changed some policies in fighting wildfires in isolated areas, Pyne said.
"In the last 20 years or so, agencies have generally been reluctant to put firefighters at risk in remote areas," Pyne said. "It wasn't like that decades ago."
Instead, he said agencies have focused attention on burnout operations until conditions are safe to begin containment.
Not that those practices and the large fires are bad things, Pyne said. For example, he said the Gila Wilderness has been a target for controlled burns.
"So maybe," Pyne said, "this is how it's supposed to happen."
***********************************************************************************************************
Storms, Flooding, Landslides
AMARILLO TX


 Active tropical storm system(s)
 
Name of storm system
Location
Formed
Last update
Last category
Course
Wind Speed
Gust
Wave
Source
Details
Mawar (04W)
Pacific Ocean
02.06.2012
02.06.2012
Tropical Storm
315 °
83 km/h
102 km/h
3.66 m
JTWC
| | |
| --- | --- |
| | |
| Storm name: | Mawar (04W) |
| Area: | Pacific Ocean |
| Start up location: | N 16° 6.000, E 124° 42.000 |
| Start up: | 02nd June 2012 |
| Status: | Active |
| Track long: | 0.00 km |
| Top category.: | |
| Report by: | JTWC |

Useful links:

Past track

Date
Time
Position
Speed
km/h
Wind
km/h
Gust
km/h
Category
Course
Wave
Pressure
Source

Current position

Date
Time
Position
Speed
km/h
Wind
km/h
Gust
km/h
Category
Course
Wave
feet
Pressure
Source
02nd Jun 2012
01:06:01
N 16° 6.000, E 124° 42.000
11
83
102
Tropical Storm
315 °
12
JTWC

Forecast track

Date
Time
Position
Category
Wind
km/h
Gust
km/h
Source
03rd Jun 2012
06:00:00
N 19° 0.000, E 125° 0.000
Typhoon I.
139
167
JTWC
03rd Jun 2012
18:00:00
N 20° 24.000, E 125° 54.000
Typhoon II.
157
194
JTWC
04th Jun 2012
18:00:00
N 23° 24.000, E 128° 30.000
Typhoon I.
130
157
JTWC
05th Jun 2012
18:00:00
N 27° 0.000, E 132° 48.000
Tropical Storm
111
139
JTWC
06th Jun 2012
18:00:00
N 30° 48.000, E 140° 6.000
Tropical Storm
83
102
JTWC
………………………..
North Carolina and Pennsylvania each reportedly see tornado action
Patrick Semansky  /  AP
Doug Swinton surveys his property after a tree fell through his home's roof in Gamber, Md., on Friday. Authorities say strong winds brought down trees and branches across southern and eastern Carroll County.
By Miguel Llanos
msnbc.com
updated 6/1/2012 11:46:19 PM ET
Tornado and flash flood alerts from the Washington, D.C., and Baltimore areas to as far south as Florida had residents keeping eyes on the skies and commuters trying to get home safely.
In Washington, D.C., some 11,000 utility customers had lost power, as had 5,000 in neighboring Prince George's County, Md.
Airports in Washington and Baltimore saw major disruptions starting late afternoon.
The Orange Line commuter train was suspended when a tree fell on the tracks during rush hour, NBC Washington reported.
The entire metro D.C. area was under a tornado watch until 2 a.m. ET. The watch was extended from 9 p.m. because a second round of storms was expected to move through the area.
Up to 4 inches of rain was expected in some areas, and minor street flooding caused some traffic disruptions.
Rivers such as the Potomac, Shenandoah and Monocacy are not expected to rise out of their banks, but smaller streams and creeks could, NBC News Washington reported.
The Maryland Office of Emergency Management reported some damage to businesses and homes in Hartford County.
In North Carolina, witnesses said they saw a tornado touch down a few miles outside Elizabeth City. No damage was reported.
Another tornado was reported in Westmoreland County, Pa., but details were not immediately available.
The Storm Prediction Center listed several dozen reports of severe wind and hail, some of which downed trees or caused light property damage.
Tornado alerts were also issued in parts of Florida, including St. Lucie County, earlier Friday. A flash flood watch is in effect in the Miami area , NBC Miami reported.
MOUNT HOLLY NJ



| | | | | | | | |
| --- | --- | --- | --- | --- | --- | --- | --- |
|   | 01.06.2012 | Flash Flood | Uganda | Easter Region, [District of Butaleja] | | | |
Description
As the world is set to mark World Environment Day on June 5, farmers in the remote village of Doho in the eastern Ugandan district of Butaleja are paying a heavy price as a result of harsh climate change effects. Flash floods have left many families homeless, gardens submerged and roads destroyed. Affected areas include Doho-Kholi and Doho-Habra in Mazimasa sub-county, and Namehere, where more than 1,000 hectares of food crops, mainly rice, cassava, sweet potatoes, beans, maize, as well as numerous houses, have been destroyed. The floods are as a result of intermittent rains uphill forcing rivers downhill to bust their banks ferociously sweeping away everything a long their way. The heavy rains according to environmental experts are a result of the now unpredictable rainy seasons which they attribute to climate change. Isaac Malinga, who has been a farmer for over two decades, told Xinhua that he is back to square one as the floods have destroyed all his crops. He said what makes it had is he can now not afford to pay tuition fees for his children who are now back at school following the opening of a new school term.

"This season is a loss and we are now planning for the next. Previously around this time of the year we would be harvesting but at the moment there is almost nothing. We have now resorted to buying everything including food," he as he pondered the next move. For Abu Walubusya another farmer on the same village as Malinga, the floods have struck him to the bare. As he spoken to Xinhua in his flood cassava and rice gardens, he wondered how he is going to take care of the 20 children in his household. "The floods have affected me so much. The water has destroyed all my crops yet I have many children to look after; they now sleep hungry. We urgently need help so that this water can be diverted away from our gardens," he said. "My children are hungry, I have come here to find food but see all crops have been destroyed yet I have got many other responsibilities like school fees. It is here that I earn a living but all is gone," he added. According to the villagers here, they used not to have such floods but now each and every year the situation gets worse. Climate change is a real concern, planting trees will help mitigate the effects of climate change," said Muruli Mukasa, minister in charge of the presidency.
BALTIMORE MD/WASHINGTON DC





MOUNT HOLLY NJ
BALTIMORE MD/WASHINGTON DC
DULUTH MN
TWIN CITIES/CHANHASSEN MN
LA CROSSE WI
DES MOINES IA
GREAT FALLS MT
SIOUX FALLS SD


by Staff Writers
Seattle WA (SPX)

The Landsat satellite image at left shows a huge lake on the Tsangpo River behind a dam created by a landslide (in red, lower right of the lake) in early 2000. The image at right shows the river following a catastrophic breach of the dam in June 2000. Credit: U.S. Geological Survey/NASA.

Some of the steepest mountain slopes in the world got that way because of the interplay between terrain uplift associated with plate tectonics and powerful streams cutting into hillsides, leading to erosion in the form of large landslides, new research shows.
The work, presented online May 27 in Nature Geoscience, shows that once the angle of a slope exceeds 30 degrees – whether from uplift, a rushing stream carving away the bottom of the slope or a combination of the two – landslide erosion increases significantly until the hillside stabilizes.
"I think the formation of these landscapes could apply to any steep mountain terrain in the world," said lead author Isaac Larsen, a University of Washington doctoral student in Earth and space sciences.
The study, co-authored by David Montgomery, a UW professor of Earth and space sciences and Larsen's doctoral adviser, focuses on landslide erosion along rivers in the eastern Himalaya region of southern Asia.
The scientists studied images of more than 15,000 landslides before 1974 and more than 550 more between 1974 and 2007. The data came from satellite imagery, including high-resolution spy satellite photography that was declassified in the 1990s.
They found that small increases in slope angle above about 30 degrees translated into large increases in landslide erosion as the stress of gravity exceeded the strength of the bedrock.
"Interestingly, 35 degrees is about the same angle that will form if sand or other coarse granular material is poured into a pile," Larsen said. "Sand is non-cohesive, whereas intact bedrock can have high cohesion and should support steeper slopes.
"The implication is that bedrock in tectonically active mountains is so extensively fractured that in some ways it behaves like a sand pile. Removal of sand at the base of the pile will cause miniature landslides, just as erosion of material at the base of hill slopes in real mountain ranges will lead to landslides."
The researchers looked closely at an area of the 150-mile Tsangpo Gorge in southeast Tibet, possibly the deepest gorge in the world, downstream from the Yarlung Tsangpo River where the Po Tsangpo River plunges more than 6,500 feet, about 1.25 miles. It then becomes the Brahmaputra River before flowing through the Ganges River delta and into the Bay of Bengal.
The scientists found that within the steep gorge, the rapidly flowing water can scour soil from the bases, or toes, of slopes, leaving exposed bedrock and an increased slope angle that triggers landslides to stabilize the slopes.
From 1974 through 2007, erosion rates reached more than a half-inch per year along some 6-mile stretches of the river within the gorge, and throughout that active landslide region erosion ranged from 0.15 to 0.8 inch per year. Areas with less tectonic and landslide activity experienced erosion rates of less than 0.15 inch a year.
Images showed that a huge landslide in early 2000 created a gigantic dam on a stretch of the Po Tsangpo. The dam failed catastrophically in June of that year, and the ensuing flood caused a number of fatalities and much property damage downstream.
That event illustrates the processes at work in steep mountain terrain, but the processes happen on a faster timescale in the Tsangpo Gorge than in other steep mountain regions of the world and so are more easily verified.
"We've been able to document the role that landslides play in the Tsangpo Gorge," Larsen said. "It explains how steep mountain topography evolves over time."
The work was financed by NASA, the Geological Society of America, Sigma Xi (the Scientific Research Society) and the UW Quaternary Research Center and Department of Earth and Space Sciences
Related Links
University of Washington
Tectonic Science and News
************************************************************************************************************
Epidemic Hazards/Diseases
| | | | | | | | |
| --- | --- | --- | --- | --- | --- | --- | --- |
|   | 01.06.2012 | Epidemic Hazard | USA | State of Pennsylvania, Stowe [West Pottsgrove Elementary School, Grosstown Road] | | | |
Description
A student at the Pottsgrove School District's West Pottsgrove Elementary School has contacted chicken pox, and other children may have been exposed to the illness, Principal Terri Koehler warned parents Thursday (May 31, 2012) in an e-mail. "Because the virus that causes chickenpox spreads easily, exposed children who have never had the vaccine or the disease will most likely" get it, Koehler's message cautioned. "Although chickenpox is not usually a serious illness, it can cause severe complications such as pneumonia, and can even result in death. Even a relatively mild illness can result in the loss of a week or more of class time for a child," she added. State law requires that children attending school be protected against chickenpox with two doses of varicella vaccine, Koehler noted. Those already vaccinated, as well as students wo receive vaccinations within 5 days of exposure are less likely to contract the disease, she wrote. It is possible that, for religious or other reasons, some children may not be vaccinated. Children who develop chickenpox, even if previously vaccinated, should be kept from attending school "until the rash has scabbed over," Koehler said.
Biohazard name:
Chickenpox
Biohazard level:
2/4 Medium
Biohazard desc.:
Bacteria and viruses that cause only mild disease to humans, or are difficult to contract via aerosol in a lab setting, such as hepatitis A, B, and C, influenza A, Lyme disease, salmonella, mumps, measles, scrapie, dengue fever, and HIV. "Routine diagnostic work with clinical specimens can be done safely at Biosafety Level 2, using Biosafety Level 2 practices and procedures. Research work (including co-cultivation, virus replication studies, or manipulations involving concentrated virus) can be done in a BSL-2 (P2) facility, using BSL-3 practices and procedures. Virus production activities, including virus concentrations, require a BSL-3 (P3) facility and use of BSL-3 practices and procedures", see Recommended Biosafety Levels for Infectious Agents.
Symptoms:
Status:
confirmed
| | | | | | | | |
| --- | --- | --- | --- | --- | --- | --- | --- |
|   | 01.06.2012 | Epidemic Hazard | Australia | State of New South Wales, Westmead | | | |
Description
Sydney residents are warned to be on high alert for measles after three babies came down with the potentially deadly virus in Sydney's west. Three children have been recently diagnosed with measles at the emergency department at the Children's Hospital Westmead. The Western Sydney Public Health Unit is in the process of contacting people who may have been exposed in the hospital, in the days around May 11. High vaccination rates mean the virus is uncommon, but NSW Health wants people to know it's now circulating in the community.
Biohazard name:
Measles
Biohazard level:
3/4 Hight
Biohazard desc.:
Bacteria and viruses that can cause severe to fatal disease in humans, but for which vaccines or other treatments exist, such as anthrax, West Nile virus, Venezuelan equine encephalitis, SARS virus, variola virus (smallpox), tuberculosis, typhus, Rift Valley fever, Rocky Mountain spotted fever, yellow fever, and malaria. Among parasites Plasmodium falciparum, which causes Malaria, and Trypanosoma cruzi, which causes trypanosomiasis, also come under this level.
Symptoms:
Status:
confirmed
************************************************************************************************************
Solar Activity
2MIN News June1: Gamma Bursts, Antarctic Quake, Spaceweather
Published on Jun 1, 2012 by Suspicious0bservers
TODAYS LINKS
Chemtrails: http://www.sciencedaily.com/releases/2012/05/120531112614.htm
Solar Storm: http://www.nasa.gov/mission_pages/sunearth/news/particles-gle.html
Water Temp: http://earthobservatory.nasa.gov/IOTD/view.php?id=78144
Internet: http://phys.org/news/2012-05-internet.html
Galaxies: http://phys.org/news/2012-05-hubble-milky-destined-head-on-collision.html
REPEAT LINKS
Spaceweather: http://spaceweather.com/ [Look on the left at the X-ray Flux and Solar Wind Speed/Density]
HAARP: http://www.haarp.alaska.edu/haarp/data.html [Click online data, and have a little fun]
SDO: http://sdo.gsfc.nasa.gov/data/ [Place to find Solar Images and Videos - as seen from earth]
SOHO: http://sohodata.nascom.nasa.gov/cgi-bin/soho_movie_theater [SOHO; Lasco and EIT - as seen from earth]
Stereo: http://stereo.gsfc.nasa.gov/cgi-bin/images [Stereo; Cor, EUVI, HI - as seen from the side]
SunAEON:http://www.sunaeon.com/#/solarsystem/ [Just click it... trust me]
SOLARIMG: http://solarimg.org/artis/ [All purpose data viewing site]
iSWA: http://iswa.gsfc.nasa.gov/iswa/iSWA.html [Free Application; for advanced sun watchers]
NOAA ENLIL SPIRAL: http://www.swpc.noaa.gov/wsa-enlil/cme-based/ [CME Evolution]
RSOE: http://hisz.rsoe.hu/alertmap/index2.php [That cool alert map I use]
LISS: http://earthquake.usgs.gov/monitoring/operations/heliplots_gsn.php
Gamma Ray Bursts: http://grb.sonoma.edu/ [Really? You can't figure out what this one is for?]
BARTOL Cosmic Rays: http://neutronm.bartol.udel.edu//spaceweather/welcome.html [Top left box, look for BIG blue circles]
TORCON: http://www.weather.com/news/tornado-torcon-index [Tornado Forecast for the day]
GOES Weather: http://rsd.gsfc.nasa.gov/goes/ [Clouds over America]
INTELLICAST: http://www.intellicast.com/ [Weather site used by many youtubers]
NASA News: http://science.nasa.gov/science-news/science-at-nasa/
PHYSORG: http://phys.org/ [GREAT News Site!]

Neutron monitors around world 'lit up' despite relatively small size of flare
First time in six years flare affected Earth like this
Data being analysed by satellite which scans particles invisible to others
By Rob Waugh
After an unusually long quiet period, the sun unleashed a solar flare on May 17 this year – but scientists are now puzzling over what happened on Earth.
Neutron monitors all round the world lit up in response to the blast for the first time in six years, despite the fact it was an M-Class, or moderate, flare.
The 'answering' pulse shouldn't have happened at all. Now scientists are trying to unravel what happened – and why our planet 'pulsed' in response.
James Ryan, an astrophysicist at the UNH Space Science Center said, 'This solar flare was most unimpressive and the associated CME was only slightly more energetic. And looking at it optically, it was remarkably dim, it was, all things considered, a ninety-eight pound weakling of solar events.'
Scientists are now analysing the data using a satellite which scans an range of bizarre particles invisible to other spacecraft – PAMELA, a European spacecraft dedicated to watching rays from space.
Launched in 2006 and dedicated to studying cosmic rays, just two weeks before the most recent blast from the Sun PAMELA was retasked to focus on solar physics due to the Sun's ever-increasing activity.
For decades, there has been strong debate as to what complex processes produce the extremely energetic particles that are registered on the ground; is it the shockwave in front of a CME or do the particles come from the solar flare itself?
For decades, there has been strong debate as to what complex processes produce the extremely energetic particles that are registered on the ground; is it the shockwave in front of a CME or do the particles come from the solar flare itself?
The most recent event will allow the study of the evolution of the flare from low to high energies without interruption.
'The PAMELA satellite provides us with a bridge that has never existed before,' says Ryan, 'a bridge between solar energetic particles measured by other spacecraft and those made on the ground by neutron monitors, like the one we've operated here in Durham for decades. Spanning that gap has opened up new opportunities.'
Jason Major
Universe Today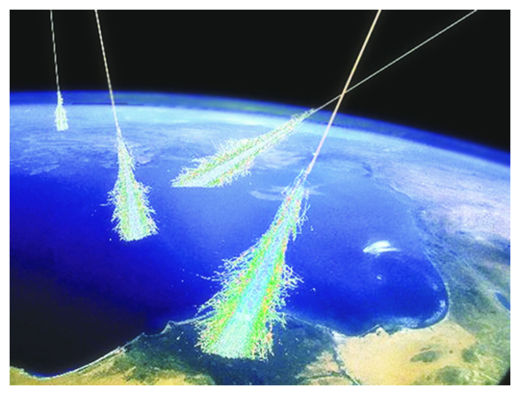 © Simon Swordy/University of Chicago, NASA
Artist's impression of solar cosmic rays striking Earth's atmosphere.
When a moderate-sized M-class flare erupted from the Sun on May 17, it sent out a barrage of high-energy solar particles that belied its initial intensity. These particles traveled at nearly the speed of light, crossing the 93 million miles between the Sun and Earth in a mere 20 minutes and impacting our atmosphere, causing cascades of neutrons to reach the ground – a rare event known as a ground level enhancement, or GLE.
The first such event since 2006, the GLE was recorded by a joint Russian/Italian spacecraft called PAMELA and is an indicator that the peak of solar maximum is on the way.
The PAMELA spacecraft – which stands for Payload for Antimatter-Matter Exploration and Light-nuclei Astrophysics – is designed to detect high-energy cosmic rays streaming in from intergalactic space. But on May 17, scientists from NASA's Goddard Space Flight Center convinced the Russian team in charge of PAMELA to grab data from the solar event occurring much closer to home.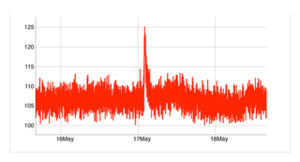 © University of Oulu/NASA's Integrated Space Weather Analysis System
This graph shows the neutrons detected by a neutron detector at the University of Oulu in Finland from May 16 through May 18, 2012.
The result: the first observations from space of the solar particles that trigger the neutron storms that make up a GLE. Scientists hope to use the data to learn more about how GLEs are created, and why the May 17 "moderate" solar flare ended up making one.
"Usually we would expect this kind of ground level enhancement from a giant coronal mass ejection or a big X-class flare," said Georgia de Nolfo, a space scientist at NASA's Goddard Space Flight Center.
"So not only are we really excited that we were able to observe these particularly high energy particles from space, but we also have a scientific puzzle to solve."
Fewer than 100 GLEs have been recorded in the last 70 years, with the most powerful having occurred on February 23, 1956. Like most energetic solar outbursts, GLEs can have disruptive effects on sensitive electronics in orbit as well as on the ground, and based on recent studies may even have adverse effects on cellular systems and development.
************************************************************************************************************
Space
Faintest Baby Galaxy Discovered -
It's One Of The Furthest Known 
MessageToEagle.com – Astronomers at Arizona State University have found an exceptionally distant galaxy, ranked among the top 10 most distant objects currently known in space.
Light from the recently detected galaxy left the object about 800 million years after the beginning of the universe, when the universe was in its infancy.
A team of astronomers, led by James Rhoads, Sangeeta Malhotra, and Pascale Hibon of the School of Earth and Space Exploration at ASU, identified the remote galaxy after scanning a moon-sized patch of sky with the IMACS instrument on the Magellan Telescopes at the Carnegie Institution's Las Campanas Observatory in Chile.
The observational data reveal a faint infant galaxy, located 13 billion light-years away.

"This galaxy is being observed at a young age. We are seeing it as it was in the very distant past, when the universe was a mere 800 million years old," says Rhoads, an associate professor in the school.

"This image is like a baby picture of this galaxy, taken when the universe was only 5 percent of its current age. Studying these very early galaxies is important because it helps us understand how galaxies form and grow."

The galaxy, designated LAEJ095950.99+021219.1, was first spotted in summer 2011. It is a rare example of a galaxy from that early epoch. It will help astronomers make progress in understanding the process of galaxy formation.
This galaxy, like the others that Malhotra, Rhoads, and their team seek, is extremely faint and was detected by the light emitted by ionized hydrogen. The object was first identified as a candidate early-universe galaxy in a paper led by team member and former ASU postdoctoral researcher Hibon. The search employed a unique technique they pioneered that uses special narrow-band filters that allow a small wavelength range of light through.
A special filter fitted to the telescope camera was designed to catch light of narrow wavelength ranges, allowing the astronomers to conduct a very sensitive search in the infrared wavelength range. "We have been using this technique since 1998 and pushing it to ever-greater distances and sensitivities in our search for the first galaxies at the edge of the universe," says Malhotra, an associate professor in the school.
False color image of the galaxy LAEJ095950.99+021219.1 . In this image, blue corresponds to optical light (wavelength near 500 nm), red to near-infrared light (wavelength near 920 nm), and green to the narrow range of wavelengths admitted by the narrow bandpass filter (around 968 nm). LAEJ095950.99+021219.1 appears as the green source near the center of the image cutout. The image shows about 1/6000 of the area that was surveyed. (Credit: Photo by James Rhoads)
"Young galaxies must be observed at infrared wavelengths and this is not easy to do using ground-based telescopes, since the Earth's atmosphere itself glows and large detectors are hard to make."
To be able to detect these very distant objects which were forming near the beginning of the universe, astronomers look for sources which have very high redshifts. Astronomers refer to an object's distance by a number called its "redshift," which relates to how much its light has stretched to longer, redder wavelengths due to the expansion of the universe.
Objects with larger redshifts are farther away and are seen further back in time. LAEJ095950.99+021219.1 has a redshift of 7. Only a handful of galaxies have confirmed redshifts greater than 7, and none of the others is as faint as LAEJ095950.99+021219.1.
"We have used this search to find hundreds of objects at somewhat smaller distances.
We have found several hundred galaxies at redshift 4.5, several at redshift 6.5, and now at redshift 7 we have found one," explains Rhoads. "We've pushed the experiment's design to a redshift of 7 — it's the most distant we can do with well-established, mature technology, and it's about the most distant where people have been finding objects successfully up to now."
"With this search, we've not only found one of the furthest galaxies known, but also the faintest confirmed at that distance. Up to now, the redshift 7 galaxies we know about are literally the top one percent of galaxies. What we're doing here is to start examining some of the fainter ones — thing that may better represent the other 99 percent," Malhotra adds.
Resolving the details of objects that are far away is challenging, which is why images of distant young galaxies such as this one appear small, faint, and blurry.
"As time goes by, these small blobs which are forming stars, they'll dance around each other, merge with each other and form bigger and bigger galaxies. Somewhere halfway through the age of the universe they start looking like the galaxies we see today — and not before. Why, how, when, where that happens is a fairly active area of research," explains Malhotra.
The find was enabled by the combination of the Magellan telescopes' tremendous light gathering capability and exquisite image quality, thanks to the mirrors built in Arizona's Steward Observatory; and by the unique ability of the IMACS instrument to obtain either images or spectra across a very wide field of view.
The research, published in the June 1 issue of The Astrophysical Journal Letters, was supported by the National Science Foundation (NSF).
MessageToEagle.com via Arizona State University
See also:
Intriguing Object With Previously Unknown Waveform Discovered
X-ray 'Echoes' Will Help Probe
A Supermassive Black Hole's Surroundings 
MessageToEagle.com – Most big galaxies host a big central black hole containing millions of times the sun's mass. When matter streams toward one of these supermassive black holes, the galaxy's center lights up, emitting billions of times more energy than the sun.
For years, astronomers have been monitoring such "active galactic nuclei" (AGN) to better understand what happens on the brink of a monster black hole.
Now, an international team of astronomers using data from the European Space Agency's (ESA) XMM-Newton satellite has identified a long-sought X-ray "echo" that promises a new way to probe supersized black holes in distant galaxies.
"Our analysis allows us to probe black holes through a different window. It confirms some long-held ideas about AGN and gives us a sense of what we can expect when a new generation of space-based X-ray telescopes eventually becomes available," said Abderahmen Zoghbi, a postdoctoral research associate at the University of Maryland at College Park (UMCP) and the study's lead author.

One of the most important tools for astronomers studying AGN is an X-ray feature known as the broad iron line, now regarded as the signature of a rotating black hole. Excited iron atoms produce characteristic X-rays with energies around 6,000 to 7,000 electron volts — several thousand times the energy in visible light – and this emission is known as the iron K line.
Matter falling toward a black hole collects into a rotating accretion disk, where it becomes compressed and heated before eventually spilling over the black hole's event horizon, the point beyond which nothing can escape and astronomers cannot observe.
A mysterious and intense X-ray source near the black hole shines onto the disk's surface layers, causing iron atoms to radiate K-line emission.
The inner part of the disk is orbiting the black hole so rapidly that the effects of Einstein's relativity come into play — most notably, how time slows down close to the black hole. These relativistic effects skew or broaden the signal in a distinctive way.
The galaxy NGC 4151 is located about 45 million light-years away toward the constellation Canes Venatici. Activity powered by its central black hole makes NGC 4151 one of the brightest active galaxies in X-rays. Credit: David W. Hogg, Michael R. Blanton, and the Sloan Digital Sky Survey Collaboration
Astronomers predicted that when the X-ray source near the black hole flared, the broad iron K line would brighten after a delay corresponding to how long the X-rays took to reach and illuminate the accretion disk.
Astronomers call the process relativistic reverberation. With each flare from the X-ray source, a light echo sweeps across the disk and the iron line brightens accordingly.
Unfortunately, neither ESA's XMM-Newton satellite nor NASA's Chandra X-ray Observatory possess telescopes powerful enough to spot reverberations from individual flares.
This illustration compares the environment around NGC 4151′s supermassive black hole with the orbits of the planets in our solar system; the planets themselves are not shown to scale. Echoes of X-ray flares detected in XMM-Newton data demonstrate that the X-ray source (blue sphere, center) is located above the black hole's accretion disk. The time lag between flares in the source and their reflection in the accretion disk places the X-ray source about four times Earth's distance from the sun. Credit: NASA's Goddard Space Flight Center
The team reasoned that detecting the combined echoes from multiple flares might be possible if a sufficiently large amount of data from the right object could be analyzed. The object turned out to be the galaxy NGC 4151, which is located about 45 million light-years away in the constellation Canes Venatici. As one of the brightest AGN in X-rays, NGC 4151 has been observed extensively by XMM-Newton.
Astronomers think that the galaxy's active nucleus is powered by a black hole weighing 50 million solar masses, which suggested the presence of a large accretion disk capable of producing especially long-lived and easily detectable echoes.
Since 2000, XMM-Newton has observed the galaxy with an accumulated exposure of about four days. By analyzing this data, the researchers uncovered numerous X-ray echoes, demonstrating for the first time the reality of relativistic reverberation. The findings appear in the May 8 issue of Monthly Notices of the Royal Astronomical Society.
The team found that echoes lagged behind the AGN flares by a little more than 30 minutes. Moving at the speed of light, the X-rays associated with the echo must have traveled an additional 400 million miles — equivalent to about four times Earth's average distance from the sun — than those that came to us directly from the flare.
"This tells us that the mysterious X-ray source in AGN hovers at some height above the accretion disk," said co-author Chris Reynolds, a professor of astronomy at UMCP and Zoghbi's adviser. Jets of accelerated particles often are associated with AGN, and this finding meshes with recent suggestions that the X-ray source may be located near the bases of these jets.
"The data show that the earliest echo comes from the most broadened iron line emission. This originates from closest to the black hole and fits well with expectations," said co-author Andy Fabian, an astrophysicist at the University of Cambridge in England.
Amazingly, the extreme environment at the heart of NGC 4151 is built on a scale comparable to our own solar system. If we replaced the sun with the black hole, the event horizon would extend less than halfway to Earth if the black hole spins rapidly; slower spin would result in a larger horizon. The X-ray source would hover above the black hole and its accretion disk at a distance similar to that between the sun and the middle of the asteroid belt.
"Teasing out the echo of X-ray light in NGC 4151 is a remarkable achievement. This work propels the science of AGN into a fundamental new area of mapping the neighborhoods of supermassive black holes," said Kimberly Weaver, an astrophysicist at NASA's Goddard Space Flight Center in Greenbelt, Md., who was not involved in the study. NASA Goddard hosts the XMM-Newton Guest Observer Facility, which supports U.S. astronomers who request observing time on the satellite.
The detection of X-ray echoes in AGN provides a new way of studying black holes and their accretion disks. Astronomers envision the next generation of X-ray telescopes with collecting areas large enough to detect the echo of a single AGN flare in many different objects, thereby providing astronomers with a new tool for testing relativity and probing the immediate surroundings of massive black holes.
MessageToEagle.com via NASA
See also:
Intriguing Object With Previously Unknown Waveform Discovered
 
Object Name
Apporach Date
Left
AU Distance
LD Distance
Estimated Diameter*
Relative Velocity
(2007 LE)
02nd June 2012
0 day(s)
0.0478
18.6
390 m – 870 m
19.77 km/s
71172 km/h
(2012 KX41)
02nd June 2012
0 day(s)
0.0371
14.4
27 m – 61 m
13.40 km/s
48240 km/h
(2012 KO18)
02nd June 2012
0 day(s)
0.0825
32.1
100 m – 230 m
15.27 km/s
54972 km/h
(2012 JW11)
02nd June 2012
0 day(s)
0.1310
51.0
110 m – 250 m
5.15 km/s
18540 km/h
(2012 HK31)
04th June 2012
2 day(s)
0.0336
13.1
22 m – 50 m
3.03 km/s
10908 km/h
(2012 KN18)
05th June 2012
3 day(s)
0.0425
16.6
31 m – 70 m
10.17 km/s
36612 km/h
(2008 MG1)
05th June 2012
3 day(s)
0.1268
49.3
290 m – 640 m
22.32 km/s
80352 km/h
(2009 LE)
06th June 2012
4 day(s)
0.1150
44.8
50 m – 110 m
13.61 km/s
48996 km/h
(2006 SG7)
06th June 2012
4 day(s)
0.0857
33.4
71 m – 160 m
16.47 km/s
59292 km/h
(2001 LB)
07th June 2012
5 day(s)
0.0729
28.4
200 m – 450 m
11.56 km/s
41616 km/h
(2012 JU11)
09th June 2012
7 day(s)
0.0736
28.6
27 m – 60 m
3.80 km/s
13680 km/h
(2012 GX11)
10th June 2012
8 day(s)
0.1556
60.5
170 m – 380 m
6.38 km/s
22968 km/h
(2012 KM11)
14th June 2012
12 day(s)
0.0942
36.7
30 m – 67 m
5.92 km/s
21312 km/h
(2012 HN40)
15th June 2012
13 day(s)
0.1182
46.0
230 m – 510 m
13.79 km/s
49644 km/h
(2002 AC)
16th June 2012
14 day(s)
0.1598
62.2
740 m – 1.7 km
26.71 km/s
96156 km/h
137120 (1999 BJ8)
16th June 2012
14 day(s)
0.1769
68.8
670 m – 1.5 km
14.88 km/s
53568 km/h
(2011 KR12)
19th June 2012
17 day(s)
0.1318
51.3
140 m – 310 m
10.10 km/s
36360 km/h
(2004 HB39)
20th June 2012
18 day(s)
0.1605
62.5
77 m – 170 m
8.88 km/s
31968 km/h
(2008 CE119)
21st June 2012
19 day(s)
0.1811
70.5
21 m – 46 m
3.22 km/s
11592 km/h
308242 (2005 GO21)
21st June 2012
19 day(s)
0.0440
17.1
1.4 km – 3.1 km
13.27 km/s
47772 km/h
(2011 AH5)
25th June 2012
23 day(s)
0.1670
65.0
17 m – 39 m
5.84 km/s
21024 km/h
(2012 FA14)
25th June 2012
23 day(s)
0.0322
12.5
75 m – 170 m
5.28 km/s
19008 km/h
(2004 YG1)
25th June 2012
23 day(s)
0.0890
34.7
140 m – 310 m
11.34 km/s
40824 km/h
(2010 AF3)
25th June 2012
23 day(s)
0.1190
46.3
16 m – 36 m
6.54 km/s
23544 km/h
(2008 YT30)
26th June 2012
24 day(s)
0.0715
27.8
370 m – 820 m
10.70 km/s
38520 km/h
(2010 NY65)
27th June 2012
25 day(s)
0.1023
39.8
120 m – 270 m
15.09 km/s
54324 km/h
(2008 WM64)
28th June 2012
26 day(s)
0.1449
56.4
200 m – 440 m
17.31 km/s
62316 km/h
(2010 CD55)
28th June 2012
26 day(s)
0.1975
76.8
64 m – 140 m
6.33 km/s
22788 km/h
(2004 CL)
30th June 2012
28 day(s)
0.1113
43.3
220 m – 480 m
20.75 km/s
74700 km/h

| | |
| --- | --- |
| 1 AU = ~150 million kilometers,1 LD = Lunar Distance = ~384,000 kilometers | Source: NASA-NEO |
*************************************************************************************************************
[In accordance with Title 17 U.S.C. Section 107, this material is distributed without profit, for research and/or educational purposes. This constitutes 'FAIR USE' of any such copyrighted material.]