Senator Elizabeth Warren once again slammed financial regulators in a speech Tuesday saying their complacency has allowed "Too Big to Fail" banks to continue to flourish five years after they sent the economy tumbling.
"Who would have thought five years ago, after we witnessed firsthand the dangers of an overly concentrated financial system, that the Too Big to Fail problem would
Sen. Elizabeth Warren questions regulators at a Senate Banking Committee hearing. (Image: C-SPAN)only have gotten worse?" Warren asked, speaking at an event organized by progressive think tank the Roosevelt Institute and Americans for Financial Reform.
"Today, the four biggest banks are 30% larger than they were five years ago," she continued. "And the five largest banks now hold more than half of the total banking assets in the country. One study earlier this year showed that the Too Big to Fail status is giving the 10 biggest U.S. banks an annual taxpayer subsidy of $83 billion."
The speech was given to promote passage of the 21st Century Glass-Steagall Act put forth by Warren along with Senators John McCain (R-Ariz.), Maria Cantwell (D-Wash.), and Angus King (I-Maine).
The Act, according to Warren, would "make banking boring" and reinstate many of the protections found in the original Glass-Steagall legislation including walling off many of the riskier banking activities like investment banking, swaps dealing and private equity activities as well as eliminate banks' ability to rely on federal depository insurance as a "backstop for high-risk activities."
Further, the legislation would dismantle the "behemoths" so they would no longer be "too big to fail, or for that matter, too big to manage, too big to regulate, too big for trial, or too big for jail."
During the speech, Warren went on to explain how, despite the passage of Dodd-Frank, little has been done to alter the Too Big to Fail status of many of our financial institutions. Fingering regulation agencies' failure to miss many of the rule-making deadlines, Warren urged them to set a timeline to address the problem of bank concentration.
She continued:
We should not accept a financial system that allows the biggest banks to emerge from a crisis in record-setting shape while working Americans continue to struggle. And we should not accept a regulatory system that is so besieged by lobbyists for the big banks that it takes years to deliver rules and then the rules that are delivered are often watered-down and ineffective.

What we need is a system that puts an end to the boom and bust cycle. A system that recognizes we don't grow this country from the financial sector; we grow this country from the middle class.
Warren's comments come amid a speculative fervor over whether or not she will run as the progressive contender to Hillary Clinton in the 2016 presidential election following the publication of an article by Noam Scheiber in the New Republic Sunday.
_____________________
This work is licensed under a Creative Commons Attribution-Share Alike 3.0 License.
……….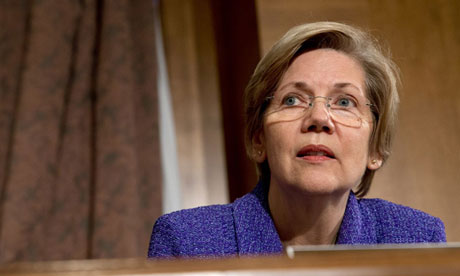 Senator Elizabeth Warren cemented her growing reputation as a darling of the political left on Tuesday with a wide-ranging speech challenging the Obama administration to take on Wall Street and break up its biggest banks.
Amid renewed speculation that she might challenge Hillary Clinton for the 2016 Democratic nomination, Warren appeared at a congressional event to attack regulators for failing to tackle the problem of financial institutions that are "too big to fail".
"We have got to get back to running this country for American families, not for its largest financial institutions," said Warren, who said the issue was an indictment of how little had changed since the 2008 banking crash.
The four biggest Wall Street banks are 30% larger than before the financial crisis, she said, while the five biggest institutions hold more than half the bank assets in the country.
Warren claimed this amounted to an $83bn-a-year taxpayer subsidy for some Wall Street institutions, because they were so large that they could safely rely on a government bailout in the event of a future crisis, and were therefore able to take bigger risks than rivals. She also cited research suggesting the crash had cost up to $14tn, or $120,000 for each American household.
……….
Related articles