Compromise spending package contains provisions asking the NSA to quantify the effectiveness of its surveillance program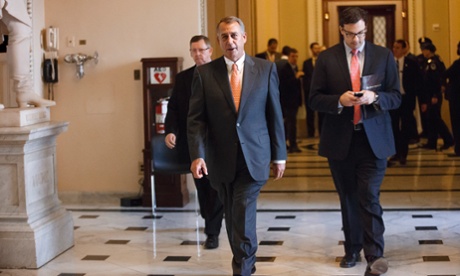 Congress is calling on the National Security Agency to detail the effectiveness of its bulk data collection programmes and will outlaw certain types of domestic surveillance, using two little-noticed clauses included in its giant federal spending bill.
The $1.1tn budget bill passed the House of Representatives Wednesday afternoon by 359-67 votes and is expected to become law after clearing the Senate as soon as Friday.
But in a sign of pent-up reform pressure on Capitol Hill, two measures dealing with the NSA were quietly included in the 1,600-page spending text with relatively little fanfare – or opposition from the White House – and are likely to pave the way for more binding legislative efforts once President Barack Obama outlines his own response to the surveillance scandal on Friday.
The first, and more unexpected, of the two NSA budget measures directs the agency to reveal "the number of records acquired by the NSA as part of its bulk telephone metadata program" over a five-year period, and to turn the data over to the House and Senate judiciary committees within 90 days.
"This report shall provide, to the greatest extent possible, an estimate of the number of records of United States citizens that have been acquired by NSA as part of the bulk telephone metadata program and the number of such records that have been reviewed by NSA personnel in response to a query," it demands.
It is also calls for more information on the vexed question of how helpful such metadata has been in foiling terror plots, something that both NSA critics and Obama's own review panel say has been greatly exaggerated.
Related articles