Politics and Legislation
Journalist, Plaintiff Chris Hedges Hails "Monumental" Ruling on NDAA Indefinite Detention
Published on May 17, 2012 by democracynow
DemocracyNow.org – In a rare move, a federal judge has struck down part of a controversial law signed by President Obama that gave the government the power to indefinitely detain anyone it considers a terrorism suspect anywhere in the world without charge or trial — including U.S. citizens. Judge Katherine Forrest of the Southern District of New York ruled the indefinite detention provision of the National Defense Authorization Act likely violates the First and Fifth Amendments of U.S. citizens. We speak with Chris Hedges, a journalist who filed the suit challenging the NDAA along with six others, and Bruce Afran, the group's attorney. "This is another window into the steady assault against civil liberties," Hedges says. "What makes [the ruling] so monumental is that finally, we have a federal judge who stands up for the rule of law."
To watch the complete daily, independent news hour, read the transcript, download the podcast, and for more information, visit http://www.democracynow.org/

Homeland Battlefield: Congress still ok with indefinite detention and torture of Americans
Published on May 18, 2012 by RTAmerica
On Wednesday, activists and journalists across America rejoiced in a federal judge's ruling that the National Defense Authorization Act is unconstitutional. The judge sided with the plaintiffs when it came to section 1021 of the act, which allows for the military to indefinitely detain Americans at home and abroad without due process. But now Congress is seeking to create a new NDAA. On Friday, the US House of Representatives approved the 2013 NDAA and even shot down an amendment that would cancel the indefinite detention provisions. Carl Mayer, attorney for The Mayer Law Group representing the plaintiffs, joins us for more on the NDAA.


Iranian protesters denounce Saudi-Bahrain union plan
 * Cleric: Union is "ill-fated plot" Muslims won't tolerate
* Iran-Gulf Arab tensions on the rise
May 18 (Reuters) – Thousands of Iranians rallied on Friday against plans for union between Saudi Arabia and Bahrain, state television showed, and an influential cleric denounced the idea as an "ill-fated plot" that will never be tolerated by Muslims.
Tension between Iran and U.S.-allied Gulf Arab states has run high in recent months with Arab leaders accusing Tehran of fomenting Shi'ite Muslim unrest in Bahrain – a charge that Shi'ite Iran and the protesters deny.
The dispute worsened when Tehran denounced efforts by six Gulf Arab states at a summit earlier this week to forge closer political and military union, largely to counter Iran's growing regional power. The talks ended inconclusively.
In the run-up to the Riyadh meeting, speculation was rife that an initial union would be announced between Saudi Arabia and Bahrain, where anti-government protests led by majority Shi'ites have gripped the island state since last year.
"This plot is an ill-fated plot that is taking place with the American and Zionist (Israeli) green light but they should know that the people of Bahrain and the region, Muslims around the world and in Iran will never tolerate it," cleric Kazem Sediqi said in a Friday sermon broadcast live on state radio.
Iranian state television aired footage of thousands of people holding rallies around the country and chanting slogans against the ruling royal families in Bahrain and Saudi Arabia to protest against the proposed Manama-Riyadh union.
"Instead of surrendering to its own people, it (the Bahraini government) is surrendering its identity, with total abjectness, to another country," Sediqi said.
Tehran summoned the Bahraini charge d'affaires on Thursday to complain about a statement from the small Gulf island state – strategically sensitive as the base for the U.S. Fifth Fleet – that accused Iran of violating its sovereignty.
by Staff Writers
Beijing (AFP)
Blind activist Chen Guangcheng said Thursday China had agreed to issue him a passport within 15 days, allowing him to go to the United States after a bitter row between Beijing and Washington.
It was the first indication of when Chen would be allowed to leave the country since he left the US embassy more than two weeks ago after seeking refuge there following his dramatic escape from house arrest.
Speaking to AFP by telephone from the hospital where he is being treated, Chen also said authorities had promised to investigate murder charges brought against his nephew that he has said are motivated by revenge.
"Officials visited yesterday, we filled out passport application forms for myself, my wife and children," said the 40-year-old legal campaigner, who triggered a diplomatic crisis when he fled to the US embassy last month.
"They said the passports should be issued within 15 days," he added. The couple have a nine-year-old son and a six-year-old daughter.
Chen, one of China's best-known dissidents, has won plaudits for exposing rights abuses including forced sterilisations and late-term abortions under China's "one-child" family planning policy.
His activism earned him a four-year prison sentence that ended in 2010 when he was placed under extra-judicial house arrest in his home village of Dongshigu in the eastern province of Shandong, where he languished until his escape.
Wednesday's meeting with government officials was his first since May 7, when they told Chen they were processing papers for him to leave for the US, where he has been offered fellowships to study law.
Details of his dramatic flight from house arrest have gradually emerged during his time in hospital, and on Thursday, he told how he feared for his life and for the safety of the villagers who helped him.
"After I escaped from home, that is when I was the most worried," Chen said.
"There were at least 60 or so people guarding me in the village. If they had discovered I had escaped they could have beaten me to death. At that time it was very, very dangerous."
News of Chen's escape broke just days before US Secretary of State Hillary Clinton arrived in Beijing for pre-arranged talks and made headlines around the world, causing major embarrassment for the Chinese government.
As Clinton arrived in China, Chen left the US embassy and was taken by diplomats to a Beijing hospital after Chinese authorities guaranteed his safety.
Since then, he has accused local officials in Shandong of targeting his relatives out of revenge for his escape.
His nephew, Chen Kegui, is in detention charged with "intentional homicide" over an attack on a local official who broke into the family's home after discovering that Chen had escaped from under the noses of his guards.
The official was said at the time to have survived the attack and the charge has baffled lawyers representing Chen Kegui, who say it will not stand up in court. Police in Yinan county, which includes Dongshigu, refused to comment on the case when contacted by AFP.
Chinese Human Rights Defenders, a rights group, said police had detained and tortured Chen Guangcheng's older brother Chen Guangfu, the father of Chen Kegui, on April 27 — the day of the break-in.
"Authorities handcuffed Chen Guangfu and shackled his legs, and then whipped his hands with a leather belt, struck him in the ribs, and stomped hard on his feet," the group said in a statement late Wednesday.
"The abuses against Chen Guangfu represent the most physically violent treatment to surface so far among the spate of retaliatory acts towards those with links to Chen Guangcheng after his flight from house arrest."
Chen Guangfu remains "under strict control" and cannot contact other family members, including many who are also being monitored by authorities, the group said, citing local sources in Yinan.
Chen Guangcheng said the government officials who visited him on Wednesday had promised to investigate the situation.
Two lawyers had tried to visit Chen Kegui on Wednesday but were turned away by police.
"Yinan police said the person in charge was not there and did not allow them to see Chen Kegui," Chen Guangcheng told AFP, adding he feared authorities were refusing visits because his nephew had been beaten.
Related Links
China News from SinoDaily.com
Pro-Liberty Super PAC
Published on May 18, 2012 by RTAmerica
The phrase 'political action committee' has become a four letter word to many Americans and thanks to Citizen's United, PACs can throw as much money as they wish into political campaigns. Critics of PACs say money shouldn't control politics and it leaves the average citizen voiceless, but what if you could start your own super PAC? John Ramsey, founder of Liberty for All Super PAC, and Preston Bates, executive director for the same organization, joins us to explain why they started their own super PAC.


**********************************************************************************
Economy
Paul Krugman on Eurozone: "The Whole Thing Could Fall Apart in a Matter of Months"
Published on May 17, 2012 by democracynow
DemocracyNow.org – The European economic crisis is expected to top the agenda at the G8 meeting tomorrow at Camp David. In Greece, voters will soon head to the polls for another round of elections which will be viewed by many as a referendum on the Euro. Our guest today, Nobel Prize-winning economist Paul Krugman, warns the current bank run in Greece could spiral into the end of the Eurozone. "It is really quite shocking," Krugman says. "I hate to sound apocalyptic." Meanwhile, France's new finance minister has reiterated that the country's new socialist government will not ratify the European Union's fiscal pact calling for greater austerity.
To watch the complete daily, independent news hour, read the transcript, download the podcast, and for more information, visit http://www.democracynow.org/

UK's David Cameron: Greece Is On The Brink, Survival Of The Euro In Question
By Matt Falloon
MANCHESTER, England, May 17 (Reuters) – Prime Minister David Cameron urged Europe's rulers on Thursday to do more to quell the euro zone debt crisis and raised the prospect of a Greek default to argue he must stick to his unpopular attempt to cut spending and reduce debt at home.
Warning that the survival of the euro was now in question, Cameron showed growing alarm and frustration that the crisis was spinning out of control, threatening Britain's $2.5 trillion economy and his own electoral prospects in 2015.
"Greece is on the brink, the survival of the euro in question," Cameron told business leaders on a grey and damp morning in the northern English city of Manchester.
"Faced with this, I have a clear task: to keep Britain safe. Not to take the easy course – but the right course," he added.
Echoing the words of Bank of England Governor Mervyn King, Cameron said the crisis in the European Union – Britain's biggest trading partner – had lasted more than two years but the "storm" was far from over.
"We are in unchartered territory which carries huge risks for everybody. As I have consistently said, it is in Britain's interest for the euro zone to sort out its problems."
He said Europe's problems showed the dangers of scrapping his government's attempt to cut Britain's vast budget deficit, though he called on the European Central Bank to stimulate demand to help peripheral euro members.
Read Full Article And  Watch Video Here
Euro crisis: Run on nationalised Spanish bank sees customers withdraw €1BILLION… as French government slashes its own pay by 30%
A €1billion run on a recently nationalised Spanish bank has sparked further fears that the 17-nation eurozone is about to implode.
European markets fell as fears of a continent-wide contagion from goverment-less Greece's economic crisis also spread.
Shares in Bankia, Spain's fourth biggest bank formed in 2010 through a merger of seven struggling regional savings institutions, today plummeted by 27 per cent.
The pan-European FTSE 300 index was down 0.9 per cent at 984.22 points by 10.26.am, close to a four-and-a-half-month low of 983.95 points reached yesterday.Spain's benchmark IBEX index fell nearly 2 per cent to its lowest level since mid-2003.It came following a report in El Mundo newspaper that its customers had withdrawn more than €1billion from their accounts over the past week.
In Chicago, Nurses Rally for "Robin Hood" Tax
National Nurses United calls for international campaign for financial transaction tax
Transcript
VOICEOVER: On Friday, May 18th, several thousand nurses belonging to the National Nurses United union rallied in downtown Chicago's Daley plaza to host what they have dubbed the people's G8. The action coincides with a number of mobilizations planned over the weekend in Chicago, which was set to host both the G8 and NATO summits. The federal government decided to move the G8 Summit to Camp David in a remote part of Maryland, citing security concerns over the large protests planned against the economic and military conferences.
DAVID DOUGHERTY: The nurses are continuing their demands for what they're calling a Robin Hood tax, which would charge half of 1 percent for all financial transactions on Wall Street over 100 dollars, which they say could generate an estimated 350 billion dollars per year. VOICEOVER: RoseAnne DeMoro is the executive director of National Nurses United, the largest registered nurse union in the country. She says that rather than spending public funds on the military and US interventions abroad, the Robin Hood tax could be used to pay for a variety of social services at home that have been slashed in the wake of austerity measures.
John Williams: The Recovery Is An Illusion (GLD, SLV, TZA, SDS, INDEXSP:.INX)
JT Long: John Williams, author of the ShadowStats.com newsletter, shines light on his interpretations of the GDP
, CPI, unemployment and other government statistics in this exclusive Gold Report interview from the recent Recovery Reality Check conference. Highlights include what the money supply measures tell him and why QE3 will be a hard sell.
The Gold Report: John, at the recent Casey Research Recovery Reality Check conference you described the economic recovery heralded by the Obama administration as an illusion based largely on skewed inflation data. Can you walk us through why, based on your calculations, a recovery is impossible?
John Williams: We can start with the gross domestic product (GDP), which like most economic reports is adjusted for inflation. If you take inflation out of it, what is left should be changes in economic activity, as opposed to changes from prices going up or down.
The Federal Reserve System: The Ultimate Disorganizing Organization
Jeff Harding:  In the remarks below I evaluate the Federal Reserve System
— and the institution of central banking more generally — from the perspective of an organizational economist. While I strongly disagree with many of the key policies of the Federal Reserve Board both before and after the financial crisis and Great Recession, my argument does not focus on particular actions taken by this or that chair and board. The problem is not that the Fed has made some mistakes — perhaps addressed by restating its statutory mandate, scrutinizing its behavior more carefully, and so on — but that the very institution of a central monetary authority is inherently destabilizing and harmful to entrepreneurship and economic growth. …
Instead, market forces should determine levels of borrowing and saving, owning and renting, and entrepreneurial activity. Put differently, the monetary system is so important that it cannot be entrusted to a government agency — even a scientifically distinguished, nominally independent, prestigious organization like the Federal Reserve
System.— Peter G. Klein.
This quote comes from Professor Peter Klein's blistering critique of the Fed's role as central economic planner in his May 8 testimony before the House Financial Services Committee's Subcommittee on Domestic Monetary Policy and Technology. This is a brilliant analysis of the causes of our economic woes and I urge you to read it. If you wish to see his testimony on C-SPAN, go here. It includes testimony by Professors Jeffrey Herbener and John Taylor. Klein gives a good lesson in Austrian economic theory in practice. His testimony was published on Mises.org.
Russia protests spark massive money outflow
Published on May 18, 2012 by AlJazeeraEnglish
Russia's continuing protest movement that began in 2011 against alleged corruption and vote-rigging by the ruling United Russia party of President Vladimir Putin has caused many wealthy Russians to move their financial assets abroad amid widespread fears of a looming economic crisis.
The outflow of capital from Russia was more than $80.5b in 2011 and $42b so far in this year, prompting economists to urge the government to tackle corruption and become more business-friendly.
Rory Challans reports from Moscow.

Europe: 'Cuts Aren't Working…Let's Spend…Oh Wait…' (NYSEARCA:SPY)
Chris Ciovacco: The gravity of the global debt crisis can be seen in the flip-flop game plans from policymakers. The reaction to the 2008 crisis was to try to "spend our way out of this". That didn't work
, but it did succeed in pushing debt levels even higher. The second approach, championed by Germany's Angela Merkel, is based on the "cut spending and restore confidence" theory. That isn't working either.
Now we have come full circle with Tim Geithner and the IMF again calling for "pro-growth" policies. Pro-growth is a politically correct way of saying "spend money we don't have." According to the Wall Street Journal (WSJ), the Keynesian approach of the government leading the private sector to the promise land of growth, is now being embraced by the most broke nation of them all – Greece:
Mr. Tsipras, the head of Greece's left party and an engineer by training, recommends a stimulus package to boost the Greek economy and has called for tearing up the country's existing austerity-for-loans program. He has suggested scrapping plans to lay off 150,000 public-sector workers by 2015, and repealing recent measures to push down private-sector wages. He favors nationalizing the banking system so as to better direct lending policies, and speaks favorably of Franklin Delano Roosevelt's Depression-era New Deal program and President Barack Obama's stimulus package—something Mr. Tsipras said is lacking in Europe.
***********************************************************************************
Wars and Rumors of War
As the United States considers the Islamic jihadi threats confronting it from all sides, it might do well to focus on its southern neighbor, Mexico, which has been targeted by Islamists and jihadists, who, through a number of tactics—from engaging in da'wa, converting Mexicans to Islam, to smuggling and the drug cartel, to simple extortion, kidnappings and enslavement—have been subverting Mexico in order to empower Islam and sabotage the U.S.
According to a 2010 report, "Close to home: Hezbollah terrorists are plotting right on the U.S. border," which appeared in the NY Daily News:
Mexican authorities have rolled up a Hezbollah network being built in Tijuana, right across the border from Texas and closer to American homes than the terrorist hideouts in the Bekaa Valley are to Israel. Its goal, according to a Kuwaiti newspaper that reported on the investigation: to strike targets in Israel and the West. Over the years, Hezbollah—rich with Iranian oil money and narcocash—has generated revenue by cozying up with Mexican cartels to smuggle drugs and people into the U.S. In this, it has shadowed the terrorist-sponsoring regime in Tehran, which has been forging close ties with Hugo Chavez of Venezuela, who in turn supports the narcoterrorist organization FARC, which wreaks all kinds of havoc throughout the region.
Another 2010 article appearing in the Washington Times asserts that, "with fresh evidence of Hezbollah activity just south of the border [in Mexico], and numerous reports of Muslims from various countries posing as Mexicans and crossing into the United States from Mexico, our porous southern border is a national security nightmare waiting to happen." This is in keeping with a recent study done by Georgetown University, which revealed that the number of immigrants from Lebanon and Syria living in Mexico exceeds 200,000. Syria, along with Iran, is one of Hezbollah's strongest financial and political supporters, and Lebanon is the immigrants' country of origin.
A jihadist cell in Mexico was recently found to have a weapons cache of 100 M-16 assault rifles, 100 AR-15 rifles, 2,500 hand grenades, C4 explosives and antitank munitions. The weapons, it turned out, had been smuggled by Muslims from Iraq. According to this report, "obvious concerns have arisen concerning Hezbollah's presence in Mexico and possible ties to Mexican drug trafficking organizations (DTO's) operating along the U.S.—Mexico border."
Iran attack decision nears, Israeli elite locks down
(Reuters) – A private door opens from Israeli Prime Minister Benjamin Netanyahu's office in central Jerusalem directly into a long, modestly furnished, half-paneled room decorated with modern paintings by Israeli artists and a copy of Israel's 1948 declaration of independence. It contains little more than a long wooden table, brown leather chairs and a single old-fashioned white projector screen.
This inner sanctum at the end of a corridor between Netanyahu's private room and the office of his top military adviser, is where one of the decade's most momentous military decisions could soon be taken: to launch an Israeli attack on Iran's nuclear program.
Time for that decision is fast running out and the mood in Jerusalem is hardening.
Iran continues to enrich uranium in defiance of international pressure, saying it needs the fuel for its civilian nuclear program. The West is convinced that Tehran's real objective is to build an atomic bomb – something which the Jewish state will never accept because its leaders consider a nuclear armed-Iran a threat to its very existence.
Adding to the international pressure, U.S. ambassador to Israel Daniel Shapiro said this week American military plans to strike Iran were "ready" and the option was "fully available".
The central role Iran plays in Netanyahu's deliberations is reflected in the huge map of the Middle East hanging by the door of his office. Israel lies on one edge, with Iran taking pride of place in the centre.
Experts say that within a few months, much of Iran's nuclear program will have been moved deep underground beneath the Fordow mountain, making a successful military strike much more difficult.
Yemeni troops kill 11 al-Qaida militants in south
By AHMED AL-HAJ
The Associated Press
SANAA, Yemen — Government troops killed 11 al-Qaida fighters in southern Yemen on Friday, as the army battled its way into the outskirts of a key town under the militants' control, military officials said.
FILE – In this Wednesday, Jan. 6, 2010 file photo, an anti-terrorist unit from the Central Security Forces of the Ministry of Interior trains in the Sarif area on the eastern outskirts of the capital Sana, in Yemen. Yemeni warplanes and troops backed by heavy artillery waged a four-front assault on al-Qaida militants Tuesday, trying to uproot their hold in the southern desert with the help of a team of U.S. troops at a nearby air base. (AP Photo, File)
Al-Qaida-linked fighters have taken over a swath of territory and several towns in the south over the past year, pushing out government forces and establishing their own rule. In recent weeks, the army has launched a concerted effort to uproot the militants from their strongholds — and is closely coordinating with a small contingent of U.S. troops who are helping guide the operations from inside Yemen.
On Friday, Yemeni troops moved in on Jaar in Abyan province, killing eight al-Qaida fighters in clashes about 10 kilometers (six miles) north of the town. Recapturing Jaar would better position the military to take back Zinjibar, the provincial capital that has been under al-Qaida control for more than a year.
Mosaic News  : Renewed Clashes Erupt in Lebanon's Tripoli as Hezbollah is Blamed
Today's headlines in full:
Massive demonstrations in Syria's Aleppo University ahead of UN visit
BBC Arabic, UK
Renewed clashes erupt in Lebanon's Tripoli as Hezbollah is blamed
BBC Arabic, UK
Israel and Iran beat the drums of war ahead of nuclear talks in Baghdad
Al Jazeera, Qatar
White House threatens to target anyone 'obstructing' transition in Yemen
Al-Alam, Iran
US to give Israel another USD 70 million for Iron Dome missile defense system
Press TV, Iran
Bahrain's al-Wefaq opposes proposed Saudi-Bahrain union
Press TV, Iran
Egypt's military ruler pledges fair presidential elections
Dubai TV, UAE
Israeli interior minister says African migrants in Israel should be jailed
IBA, Israel
South Sudanese minister of agriculture appeals to Israel amid growing food crisis
IBA, Israel
Iraqis mark national day for the martyrs of the mass graves
Al-Forat TV, Iraq
Image: Lebanese soldiers point their rifles as they are deployed after clashes between Sunni Muslim Salafists and supporters of the Syrian Social Nationalist Party (SSNP) in the old souk of the port-city of Tripoli, northern Lebanon, May 15, 2012: REUTERS/Mohamed Azakir
Mosaic is a Peabody Award-winning daily compilation of television news reports from the Middle East, including Egypt, Lebanon, Israel, Syria, the Palestinian Authority, Iraq and Iran. Watch more Mosaic at http://www.linktv.org/mosaic

D.R. Congo refugees flee to Rwanda
Published on May 18, 2012 by AlJazeeraEnglish
The fighting in the Democratic Republic of Congo has displaced hundreds of thousands people, something the UN's refugee agency has described as a disaster.
The fighting between DRC troops and rebel soldiers has been most intense in the hills of North Kivu region.
Many of the refugees have headed to neighbouring Rwanda.
Al Jazeera's Nazanine Moshiri reports from Goma in the eastern DRC, on the border with Rwanda.

'Car bomb blast' near Syrian military complex
Published on May 19, 2012 by AlJazeeraEnglish
A car bomb has exploded in the eastern Syrian city of Deir Ezzor, causing an unknown number of casualties, according to state-run media and an opposition group.
The blast reportedly struck a parking lot for a military intelligence complex on Saturday.

'Saudis modern gladiators serving US'
Published on May 19, 2012 by RussiaToday
Demonstrations have taken center stage in the Gulf, where tens of thousands rallied in Iran and Bahrain against the latter's integration plans with Saudi Arabia. In Bahrain crowds chanted that their country was 'not for sale', while Tehran said the proposed deal was a plot aimed at wiping the entire state off the map.
Soraya Sepahpour-Ulrich, US independent researcher talks to RT. She says the United States has typically used Saudi Arabia similar to the Roman Empire used gladiators.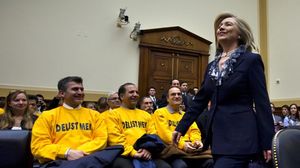 Wink and a nod: Hilary Clinton walks past MEK activists
The Munafiqeen [Hypocrites] will be in the lowest depths of the Fire: no helper wilt thou find for them.

~ Sura 4 (An-Nisa), ayah 145, Qur'an
A couple of months ago, one of those dubious leaks made by "unnamed US officials" caught my eye. US media did something it doesn't often do; it publicised 'secret' Israeli government policy. Giving five minutes of prime time TV to Iranian scientist Mohammad Javad Larijani, brother of Ali Larijani, philosopher and chairman of the Parliament of Iran, two "senior U.S. officials" confirmed for NBC News what Mohammad Larijani was telling them: that Israel was behind the assassinations of Iranian scientists.
Specifically, the US officials stated that Israel's Mossad was financing, training and arming an Iranian dissident group that goes by many names, but which we'll call the People's Mujahedin of Iran (MEK) for now. In return, the MEK is "providing Israel with information." Speaking through NBC, these unknown officials confirmed what Larijani and the Iranian government have been saying for years: that Israel, through the MEK, carried out the attacks in which motorcycle-borne assailants attached sophisticated magnetic bombs to the exterior of the victims' cars. The US officials further stated that the Obama administration is aware of the assassination campaign but has no direct involvement.
No sooner had the story been leaked than a series of car bombings took place outside Israeli embassies in India, Georgia and Singapore. The same types of bombs used in the assassinations of Iranian scientists were used to blow up vehicles near Israeli diplomats. The Israelis never actually intended to kill any of their own, because the Mossad warned the embassies ahead of time. Israel of course blamed Iran for the bombings. But these stunts were clearly intended to deflect attention from the US government's confirmation that Israel is murdering Iranian scientists through its surrogate, the MEK, and, once again, portray Israel as the eternal victim.
The Obama administration may not have had direct involvement in the assassination of Iranian scientists, but it is the height of hypocrisy for the US government to pretend that it isn't involved in subverting Iran's civilian nuclear program. The CIA was kidnapping Iranian scientists and bribing them to 'defect' as recently as 2010 and as far back as 2007. Since at least 2005, the US regime has been up to its neck in dealings with multiple terrorist organisations based in countries encircling Iran, of which Jundullah, in the region of Balochistan on the Pakistani border, is arguably the most notorious.
Have a listen to this NBC commentary on the Israeli assassinations program 'leak' and take note of the 'expert view' at the end:
***********************************************************************************
Articles of Interest
72-year-old Austin veteran is held at gunpoint, home seized because of underground bunker
By J. D. Heyes,

(NaturalNews) If ever there were an example of government adding insult to injury, this is it. What else could you call it when a city government fills in your underground bunker with concrete then bills you$90,000 to do it?Two years ago, Austin, Texas, resident Joe Del Rio awoke to find city officials demanding he let them in to inspect his home. Before it was all over, the local media reported, a police SWAT team and a host of firefighters had been called in as well.
Del Rio's crime? City officials had a problem with what they described as a "multi-level bunker-type space" under his home that supposedly held suspicious materials.
Detained and questioned for the next 10 hours, authorities eventually let Del Rio, then 70, go free. But over the course of the next few years, his case took some bizarre twists. For one, the city wound up billing him $90,000 for sending a small army of cement trucks to his home to fill in the bunker, saying such action was necessary and prudent in order to make his home "safe."
Egypt's revolution fails to benefit slum dwellers
Published on May 19, 2012 by AlJazeeraEnglish
Across Egypt there are millions of people living in slums.
Last year's revolution focused on Egyptians demanding their rights in Tahrir Square – but have the country's slum-dwellers gained anything from the uprising?
With just a few days to go before the Presidential election, Al Jazeera's Jamal Elshayyal went to find out.

New biofuel makes headlines in the US
Published on May 18, 2012 by AlJazeeraEnglish
A new biofuel made from old newspapers and plant waste is making headlines in the US.
Butanol gives motorists the same mileage as petrol but pumps far fewer pollutants into the atmosphere.

************************************************************************************
[In accordance with Title 17 U.S.C. Section 107, this material is distributed without profit, for research and/or educational purposes. This constitutes 'FAIR USE' of any such copyrighted material.]