Earthquakes
Date/Time (UTC)
Magnitude
Area
Country
State/Prov./Gov.
Location
Risk
Source
Details
17.08.2012 22:25:29
2.1
North America
United States
California
Cobb
USGS-RSOE
17.08.2012 22:55:35
5.0
Asia
Taiwan
Taitung City
USGS-RSOE
17.08.2012 21:45:31
2.5
North America
United States
California
Potter Valley
USGS-RSOE
17.08.2012 21:50:25
4.2
Middle America
Mexico
Oaxaca
San Miguel Quetzaltepec
USGS-RSOE
17.08.2012 22:15:20
4.2
Middle-America
Mexico
Oaxaca
San Miguel Quetzaltepec
EMSC
17.08.2012 21:05:34
2.0
North America
United States
California
Mountain Gate
USGS-RSOE
17.08.2012 21:15:24
3.1
South-America
Bolivia
Potosí
Villa Alota
EMSC
17.08.2012 20:10:25
3.1
South-America
Bolivia
Potosí
Villa Alota
EMSC
17.08.2012 21:00:52
4.3
Pacific Ocean
New Zealand
Te Kaha
GEONET
17.08.2012 19:10:35
2.4
North America
United States
Alaska
Port Alsworth
USGS-RSOE
17.08.2012 20:10:43
2.0
Europe
Italy
The Marches
Monte Vidon Combatte
EMSC
17.08.2012 18:50:31
2.1
North America
United States
California
Cobb
USGS-RSOE
17.08.2012 19:05:25
4.6
Indonesian Archipelago
Indonesia
Komodo
EMSC
17.08.2012 19:05:48
4.9
Indonesian Archipelago
Papua New Guinea
Bougainville
Panguna
EMSC
17.08.2012 18:40:36
4.9
Indonesian archipelago
Papua New Guinea
Bougainville
Panguna
USGS-RSOE
17.08.2012 19:06:08
2.7
Asia
Turkey
Mu?la
OEluedeniz
EMSC
17.08.2012 17:55:33
3.0
North America
United States
California
Big Bear Lake
USGS-RSOE
17.08.2012 19:06:28
4.1
Europe
Iceland
Southern Peninsula
Grindavik
EMSC
17.08.2012 18:10:48
4.8
Asia
Japan
Chiba
Hasaki
USGS-RSOE
17.08.2012 19:06:48
4.6
Asia
Japan
Chiba
Hasaki
EMSC
17.08.2012 18:05:24
3.6
Asia
Taiwan
Taiwan
Daxi
EMSC
17.08.2012 18:05:46
3.0
Asia
Turkey
Adana
Kadirli
EMSC
17.08.2012 18:06:05
2.2
Asia
Turkey
Mu?la
Yatagan
EMSC
17.08.2012 19:07:09
3.9
Indonesian Archipelago
Indonesia
North Sumatra
Sibolga
EMSC
17.08.2012 20:40:32
2.9
North America
United States
Alaska
King Cove
USGS-RSOE
17.08.2012 17:05:19
2.3
Asia
Turkey
Bursa
Yenice
EMSC
17.08.2012 16:01:22
3.2
South-America
Chile
Valparaíso
Los Andes
EMSC
17.08.2012 16:02:09
2.5
Europe
Italy
Abruzzo
Balsorano Vecchio
EMSC
17.08.2012 16:02:34
2.1
Europe
Italy
Latium
Terracino
EMSC
17.08.2012 20:35:29
2.6
North America
United States
Alaska
Adak
USGS-RSOE
17.08.2012 15:10:31
2.8
Caribbean
Puerto Rico
Lajas
Palmarejo
USGS-RSOE
17.08.2012 14:15:36
2.9
Middle America
Mexico
Baja California
Puebla
USGS-RSOE
17.08.2012 17:06:05
3.8
Europe
Russia
Tyva
Saryg-Sep
EMSC
17.08.2012 14:55:25
2.7
Europe
Italy
Sicily
Rodi
EMSC
17.08.2012 14:30:38
2.1
Caribbean
Puerto Rico
Cabo Rojo
Betances
USGS-RSOE
17.08.2012 14:55:46
4.4
Asia
Japan
Ibaraki
Kitaibaraki
EMSC
17.08.2012 14:00:26
4.4
Asia
Japan
Ibaraki
Kitaibaraki
USGS-RSOE
17.08.2012 13:45:52
2.2
North America
United States
California
Tres Pinos
USGS-RSOE
17.08.2012 13:50:25
3.1
Europe
Spain
Catalonia
Vielha
EMSC
17.08.2012 16:25:23
2.5
North America
United States
Montana
Sedan
USGS-RSOE
17.08.2012 13:50:50
2.0
Europe
Italy
The Marches
Monte Vidon Combatte
EMSC
17.08.2012 13:51:11
3.4
Middle-East
Iran
?z??rb?yj?n-e Gharb?
Qarah Zia' od Din
EMSC
17.08.2012 12:50:51
2.8
Asia
Turkey
Karabük
Gozyeri
EMSC
17.08.2012 11:45:27
2.7
Europe
Italy
Sicily
Portopalo
EMSC
17.08.2012 11:45:48
3.9
Middle-East
Iran
East Azarbaijan
Ahar
EMSC
17.08.2012 11:46:09
2.1
Asia
Turkey
Elaz??
Kovancilar
EMSC
17.08.2012 11:46:30
2.1
Asia
Turkey
Kütahya
Tavsanli
EMSC
17.08.2012 10:55:28
2.2
North America
United States
California
Yucaipa
USGS-RSOE
17.08.2012 11:10:58
5.0
Indonesian archipelago
Papua New Guinea
Bougainville
Panguna
USGS-RSOE
17.08.2012 11:46:52
5.0
Indonesian Archipelago
Papua New Guinea
Bougainville
Panguna
EMSC
**********************************************************************************************************
Volcanic Activity
Paloma Migone
stuff.co.nz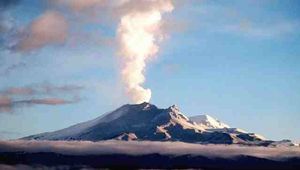 The smell of sulphur from Mt Tongariro has crept back to the lower North Island, with some residents complaining about irritation to their skin and eyes.
The smell has become common since the volcano erupted at 11.50pm on August 6 with residents as far as Blenheim noticing it.
The Horizon Regional Council today received "multiple complaints" about the smell being back and some residents said the sulphur had become an irritant.
Council emergency manager Shane Bayley said the smell was the result of wind drift from the mountain and was not a cause for concern.
"Our air quality monitoring sites in Taumarunui and Taihape are not showing any elevated presence of fine air particles.
"However, our team will be keeping an eye on the situation and will alert the public if this situation changes."
If the sulphur was affecting people's respiratory system, eyes or skin, MidCentral Health recommended people stay indoors with all the doors and windows closed, a council spokeswoman said.
Mt Tongariro has kept quiet in the past week, and seismic activity was low overnight.
But GNS vulcanologist Brad Scott said the volcano was degassing, producing a lot of gas and steam.
"It's putting out about 2000 tonnes of sulphur dioxide and 4000 tonnes of carbon dioxide per day. That's what people are detecting and smelling."
Scott said there were three possible scenarios for the volcano, with the most likely being no further eruptions in the next week.
The second most-likely scenario was that there may be a similar eruption to what occurred on August 6.
Scott said the least-likely scenario was that a larger eruption would occur.
Emergency services, DOC, Civil Defence, New Zealand Transport Agency and district health boards met on Friday to discuss an evacuation plan should the volcano erupt again.
Families living closest to Mt Tongariro have an action plan to refer to.
Conservation Minister Kate Wilkinson and Taupo MP Louise Upton met with iwi, the community and tourism industry leaders at Tongariro National Park today.
11:58 16/08/2012
MOSCOW, 16 August (RIA Novosti)
The Ivan Groznyy ("Ivan the Terrible") volcano erupted early on Thursday morning on the island of Iturup, part of the Kuril group in Russia's Far East.
The volcano spewed a column of ash onto the surrounding area. Local people in the nearest towns, Goryachiye Klyuchi (9 kilometers away) and the city of Kurilsk (25 kilometers), noticed a faint smell of hydrogen sulfide gas, which disappeared later.
The eruption poses no threat to nearby human settlements.
Scientists recorded signs of the impending eruption on Wednesday, when gas emissions on the volcano's northeast slope increased, a Sakhalin region Emergency Ministry representative told RIA Novosti. Observation of the volcano continues.
Scientists say the eruption was started by recent torrential rain, causing a huge increase in the volume of water in underground channels around the volcano. Ivan Groznyy also erupted in 1968, 1973, and 1989, but none of the eruptions threatened life nearby.
Related News
Multimedia
***********************************************************************************************************
Extreme Temperatures/ Weather
Are Methane Hydrates Dissolving?
by Staff Writers
Kiel, Germany (SPX)

An approved team for ocean research: the German research vessel MARIA S. MERIAN and the submersible JAGO. Photo: JAGO-Team, GEOMAR.

West of Spitsbergen methane gas is effervescing out of the seabed. Is this an indication that methane hydrates in the seabed are dissolving due to rising temperatures? And what would the effects be? An expedition with the German research vessel MARIA S. MERIAN and the submersible JAGO lead by GEOMAR | Helmholtz Centre for Ocean Research Kiel hopes to help answer these questions. The expedition began this week in Reykjavik.
The average temperatures of the atmosphere are rising; the average temperatures of the oceans, too. Not only living organisms react sensititvely to these changes. The transitional zones between shallow shelf seas and the deep sea at continental slopes store a huge amount of methane hydrates in the sea bed.
These specific, ice-like compounds only forms at low temperatures and under high pressure. When the water temperature directly above the sea bed rises, some of the methane hydrates could dissolve and release the previously bound methane.
"This scenario incorporates two fears: Firstly that enormous amounts of this very powerful greenhouse gas will be released into the atmosphere, and secondly that the continental slopes may become unstable" explains the geophysicist Professor Christian Berndt from GEOMAR, Helmholtz Centre for Ocean Research Kiel.
He is leading an expedition starting today on the German research vessel MARIA S. MERIAN which will analyse the sea off the western shore of Spitsbergen in order to find out whether the first methane hydrates in the sea bed are dissolving and what the consequences might be.
The expedition builds on research conducted by marine scientists from Kiel who worked in this area of the sea in 2008. Back then they found over 250 places where gas was escaping the sea bed. "These spots lie directly on the border of the area of stable hydrates" explains Professor Berndt. "Therefore we presume that the hydrates are dissolving from the rim inwards."
During the upcoming expedition, the scientists from Kiel will be working together with colleagues from Bremen, Switzerland, Great Britain and Norway to discover whether the gas emanation shows signs of dissolved hydrates and whether this is due to warmer sea beds.
With the help of echo sounders, researchers will seek out new gas sources in order to determine the total amount of escaping gas. With Germany's only submersible JAGO, they will closely investigate the gas outlets in up to 400 metres depth.
"It is interesting for us, for example, to find out whether special microorganisms that can break down the methane before it is released in the atmosphere have settled around the outlets" explains Professor Tina Treude from GEOMAR, who will be running the microbiological work during the expedition.
Parallel to this, geophysicists, lead by Professor Sebastian Krastel from GEOMAR, will investigate the slopes under the gas outlet spots for signs of instability using acoustic and seismic methods.
"The methane hydrates act like binding cement on these slopes. If they dissolve, chances are that parts of the slopes will slide", explains Professor Krastel, who focuses on marine hazards at GEOMAR.
"Overall the program on this trip is very extensive. Now let us hope that the weather will play along so that we can conduct all planned tests", says the head of the expedition Christian Berndt shortly before the departure to Iceland.
Related Links
GEOMAR
Water News – Science, Technology and Politics
| | | | | | | |
| --- | --- | --- | --- | --- | --- | --- |
| Today | Forest / Wild Fire | France | Prefecture of Bordeaux, [Lacanau] | | | |
Description
A forest fire that has devastated 550 hectares of coastal pine forest close to one of France's best surfing beaches continued to rage today. The start of a heatwave that was set to send temperatures in the area soaring to 40 degrees Celsius this weekend was complicating the task of 200 firefighters battling to bring the blaze under control. The fire started on Thursday afternoon in the area between the inland town of Lacanau and the spectacular Atlantic beaches that are this week hosting the Lacanau Surf Pro event featuring some of the world's top surfers. Four Canadair waterbombers were deployed from dawn in an attempt to stop the fire spreading further. To date only five residences have had to be evacuated but local authorities have taken the preventative step of temporarily banning the public from all wooded areas in the Gironde department. A cigarette butt dropped from a car on Thursday is thought to have started the blaze. The Landes forest, which spreads across the Gironde and the neighboring departments of Landes and Lot and Garonne, is the largest maritime pine forest in Europe. French authorities have issued a health alert for several regions this weekend after forecasters predicted unusually high temperatures in the southwest and centre of the country. An unexpected and sustained heatwave in the first two weeks of August 2003 left an estimated 15,000 mostly elderly people dead.
| | | | | | | |
| --- | --- | --- | --- | --- | --- | --- |
| Today | Forest / Wild Fire | USA | State of Idaho, [Enclosure Gulch area] | | | |
Description
U.S. Forest Service officials are reporting a 250-acre wildfire in the Enclosure Gulch area west of Ketchum, just seven-tenths of a mile from where the Castle Rock Fire started five years ago. Ketchum District Ranger Kurt Nelson said that in less than two hours the fire had grown rapidly from the one acre first reported at 3 p.m. this afternoon. The cause of the fire is yet unknown. Nelson said that winds from the southwest are pushing the fire into the area burned by the Castle Rock Fire in 2007. If it follows that path, the fire will burn slower and less hot, giving crews a chance to fight it. However, he said, if winds shift to the northwest, the fire could be pushed into the Deer Creek and Greenhorn Gulch drainage. "It is a concern," Nelson said.

"The growth potential, the rate of speed … it's doubled in size every half hour." The fire is still five miles from any houses. Nelson said that air resources and smokejumpers have been called, but were unable to land because of smoke both from the fire, called the Enclosure Fire, and the Halstead Fire, an 80,000-acre blaze north of Stanley. Currently, Nelson said there are Bureau of Land Management and U.S. Forest Service helitack teams fighting the fire, as well as volunteers from local fire departments in the area for structure protection. Hand crews, engines and tankers are on scene along with approximately 25 personnel. "We're getting attention," Nelson said. "We are a priority." Travis Wyatt, meteorologist from the National Weather Service in Pocatello, said that winds were set to die down overnight as a high-pressure ridge moves into the area. There is no red-flag fire warning in place, and Wyatt said there likely won't be one until Saturday as winds pick up and thunderstorms are ready to sweep in. Initial concerns that winds might push the fire towards homes in the Frenchman's Bend subdivision about 2.5 miles to the east prompted a call to Ketchum and Sun Valley fire departments, already stretched thin due to sending aid to the Halstead fire near Stanley.

A "Structure Protection Task Force," or, firefighters and equipment, was rallied around 5:30 p.m. in the parking lot of River Run and were advised that though there were no evacuations at this time, residents should be told to be prepared to leave if they have to. By 7 p.m., crews were also being sent to speak to residents of the Greenhorn subdivision to alert them to the situation. "The smoke's going to get worse before it gets better," Ketchum Fire Chief Mike Elle told the Idaho Mountain Express. Elle requests that Wood River Valley residents and concerned citizens not call the Fire Department for information, but to instead refer to the Idaho Mountain Express and Blaine County websites for updates on the situation. Phone calls to the department have clogged the phone lines and disrupted communication with his staff, he said.
| | | | | | | |
| --- | --- | --- | --- | --- | --- | --- |
| 17.08.2012 | Forest / Wild Fire | USA | State of Washington, [East of Cle Elum] | | | |
Updated:
Friday, 17 August, 2012 at 10:03 UTC
Description
Washington's lieutenant governor has declared a state of emergency in central Washington because of a still-growing wildfire. The emergency declaration allows the National Guard to lend helicopters to the firefighting effort. The blaze has chased hundreds of people from their homes between Cle Elum and Ellensburg. Tuesday State Commissioner of Public Lands Peter Goldmark called the wildfire "one of the most dangerous" Washington state has experienced "in the last number of years." "One testament to the degree to which the fire is so dangerous is the fact that it is able to jump the nearby river," he said. "It jumps highways … a burning ember under the force of the wind and the hot embers that are released through burning fuels. So it's an explosive, dangerous situation." Goldmark toured the fire lines Tuesday afternoon before visiting the command center in Cle Elum. There, the incident commander says the blaze has destroyed more than 70 homes at this point. Neither official would estimate when the growing blaze could be contained. They say they need the gusty winds to die down first.
***********************************************************************************************************
Storms / Tornadoes / Flooding
 Active tropical storm system(s)
Name of storm system
Location
Formed
Last update
Last category
Course
Wind Speed
Gust
Wave
Source
Details
Hector (EP08)
Pacific Ocean – East
11.08.2012
17.08.2012
Tropical Depression
335 °
46 km/h
65 km/h
3.66 m
NOAA NHC
| | |
| --- | --- |
| Share: | |
| Storm name: | Hector (EP08) |
| Area: | Pacific Ocean – East |
| Start up location: | N 17° 30.000, W 106° 0.000 |
| Start up: | 11th August 2012 |
| Status: | 12th August 2012 |
| Track long: | 715.64 km |
| Top category.: | |
| Report by: | NOAA NHC |

Useful links:

Past track

Date
Time
Position
Speed
km/h
Wind
km/h
Gust
km/h
Category
Course
Wave
Pressure
Source
11th Aug 2012
19:00:40
N 17° 30.000, W 106° 0.000
11
56
74
Tropical Depression
270
10
1002 MB
NOAA NHC
12th Aug 2012
05:40:34
N 18° 30.000, W 108° 6.000
20
65
83
Tropical Storm
290
11
999 MB
NOAA NHC
12th Aug 2012
16:49:25
N 18° 18.000, W 110° 0.000
17
74
93
Tropical Storm
270
15
997 MB
NOAA NHC
13th Aug 2012
04:46:16
N 18° 6.000, W 110° 42.000
9
74
93
Tropical Storm
270
10
993 MB
NOAA NHC
13th Aug 2012
10:38:02
N 18° 6.000, W 111° 24.000
11
65
83
Tropical Storm
270
16
994 MB
NOAA NHC
13th Aug 2012
16:43:16
N 18° 6.000, W 112° 12.000
11
65
83
Tropical Storm
270
16
994 MB
NOAA NHC
14th Aug 2012
04:58:09
N 18° 0.000, W 113° 12.000
9
74
93
Tropical Storm
270
10
993 MB
NOAA NHC
14th Aug 2012
10:50:22
N 17° 54.000, W 114° 0.000
9
74
93
Tropical Storm
265
10
997 MB
NOAA NHC
14th Aug 2012
16:39:58
N 18° 6.000, W 114° 24.000
9
74
93
Tropical Storm
280
10
997 MB
NOAA NHC
15th Aug 2012
05:01:39
N 17° 12.000, W 115° 6.000
4
65
83
Tropical Storm
260
10
999 MB
NOAA NHC
15th Aug 2012
11:18:06
N 17° 12.000, W 115° 12.000
4
65
83
Tropical Storm
20
9
1002 MB
NOAA NHC
15th Aug 2012
16:40:23
N 17° 48.000, W 115° 12.000
7
65
83
Tropical Storm
360
9
1002 MB
NOAA NHC
16th Aug 2012
04:54:11
N 18° 48.000, W 115° 24.000
9
46
65
Tropical Depression
355
12
1004 MB
NOAA NHC
16th Aug 2012
10:53:47
N 19° 0.000, W 115° 48.000
7
46
65
Tropical Depression
335
9
1004 MB
NOAA NHC
16th Aug 2012
16:46:49
N 19° 42.000, W 115° 54.000
7
46
65
Tropical Depression
335
9
1004 MB
NOAA NHC

Current position

Date
Time
Position
Speed
km/h
Wind
km/h
Gust
km/h
Category
Course
Wave
feet
Pressure
Source
17th Aug 2012
10:55:19
N 20° 48.000, W 116° 24.000
11
46
65
Tropical Depression
335 °
12
1005 MB
NOAA NHC

Forecast track

Date
Time
Position
Category
Wind
km/h
Gust
km/h
Source
18th Aug 2012
06:00:00
N 22° 24.000, W 117° 12.000
Tropical Depression
28
37
NOAA NHC
19th Aug 2012
06:00:00
N 23° 0.000, W 117° 30.000
Tropical Depression
28
37
NOAA NHC
| | | | | | | | | | | |
| --- | --- | --- | --- | --- | --- | --- | --- | --- | --- | --- |
| Kai-tak (14W) | Pacific Ocean | 12.08.2012 | 17.08.2012 | Typhoon I | 280 ° | 111 km/h | 139 km/h | 5.18 m | JTWC | |
| | |
| --- | --- |
| Share: | |
| Storm name: | Kai-tak (14W) |
| Area: | Pacific Ocean |
| Start up location: | N 16° 36.000, E 128° 30.000 |
| Start up: | 12th August 2012 |
| Status: | Active |
| Track long: | 1,385.72 km |
| Top category.: | |
| Report by: | JTWC |

Useful links:

Past track

Date
Time
Position
Speed
km/h
Wind
km/h
Gust
km/h
Category
Course
Wave
Pressure
Source

Current position

Date
Time
Position
Speed
km/h
Wind
km/h
Gust
km/h
Category
Course
Wave
feet
Pressure
Source
17th Aug 2012
16:35:22
N 21° 30.000, E 107° 54.000
31
111
139
Typhoon I
280 °
17
JTWC

Forecast track

Date
Time
Position
Category
Wind
km/h
Gust
km/h
Source
| | | | | | | | | | | |
| --- | --- | --- | --- | --- | --- | --- | --- | --- | --- | --- |
| Gordon (AL08) | Atlantic Ocean | 16.08.2012 | 17.08.2012 | Hurricane I | 95 ° | 102 km/h | 120 km/h | 5.79 m | NOAA NHC | |
| | |
| --- | --- |
| Share: | |
| Storm name: | Gordon (AL08) |
| Area: | Atlantic Ocean |
| Start up location: | N 29° 54.000, W 55° 6.000 |
| Start up: | 16th August 2012 |
| Status: | Active |
| Track long: | 428.80 km |
| Top category.: | |
| Report by: | NOAA NHC |

Useful links:

Past track

Date
Time
Position
Speed
km/h
Wind
km/h
Gust
km/h
Category
Course
Wave
Pressure
Source

Current position

Date
Time
Position
Speed
km/h
Wind
km/h
Gust
km/h
Category
Course
Wave
feet
Pressure
Source
17th Aug 2012
16:39:57
N 34° 30.000, W 46° 18.000
30
102
120
Hurricane I
95 °
19
997 MB
NOAA NHC

Forecast track

Date
Time
Position
Category
Wind
km/h
Gust
km/h
Source
19th Aug 2012
06:00:00
N 35° 0.000, W 34° 30.000
Hurricane I
120
148
NOAA NHC
20th Aug 2012
06:00:00
N 36° 48.000, W 27° 0.000
Hurricane I
102
120
NOAA NHC
21st Aug 2012
06:00:00
N 39° 30.000, W 20° 30.000
Tropical Depression
83
102
NOAA NHC
…………………………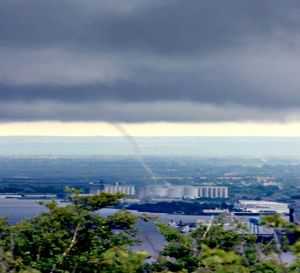 After initially reporting that last week's waterspout was also Duluth's first tornado, the National Weather Service says it has found record of another Duluth tornado more than 50 years ago.
The waterspout on Thursday, Aug. 9, churned across Sky Harbor Airport in Duluth and Barker's Island in Superior. For the few seconds it was on land, the waterspout was classified as a weak tornado.
First checks with the Weather Service office in Duluth turned up no previous Twin Ports tornadoes. But meteorologists there kept digging through the records.
"After doing more research, it was discovered that there was a tornado in Duluth on May 26, 1958," meteorologist Carol Christenson wrote in a memo on Monday to Duluth weather reporters.
The Duluth News-Tribune at the time called the 1958 storm a "miniature tornado" that collapsed a garage and damaged two Duluth-area lake cabins.
"A witness said the violent winds picked up the garage 'like a child's toy' and smashed it back to earth," the paper reported in the May 27, 1958, edition. "The small twister pulled off the doors of a garage owned by Irving West, 6611 Greene St. They bounced off the nearby Ing Stockland garage and landed about 30 to 40 yards away."
Greene Street is in West Duluth. The "wind storm" started about 4:35 p.m. and lasted about five minutes, the Stocklands told the News Tribune.
"Stockland, who lives at 6617 Greene, said the wind was pulling up rocks and mud. He and his wife were at the rear of theirhouse when the funnel, following the ravine along Highway 61, struck West's garage," the newspaper reported.
A city-regional track meet was going on at Public Schools Stadium about a mile to the east. Witnesses there reported seeing that the distant funnel "tossed out pieces of paper," but the track meet was not long disrupted.
"Team members and spectators dashed for cover while the hail fell," according to the News-Tribune report. "Ditches were dug to drain the track and allow the meet to resume."
Christenson pointed out that the News-Tribune also reported on a possible twister on July 11, 1935, but that one was never confirmed.
"Swirling into the city on the wings of a torrential rain, a miniature tornado struck in the heart of the Gary-New Duluth district shortly before 8 a.m. yesterday, flattening a row of coal sheds (and) a frame garage and causing general damage to trees in the vicinity," the News-Tribune reported on July 12, 1935. "The United States weather bureau had no means of officially recording the twister, the high wind having limited itself to the Gary-New Duluth district."
Source: Associated Press
************************************************************************************************************
Radiation / Nuclear
| | | | | | | |
| --- | --- | --- | --- | --- | --- | --- |
| Today | Nuclear Event | Belgium | Province of East Flanders, [Doel and the Tihange Nuclear Power Plant] | | | |
Description
Belgium's nuclear regulator has questioned the safety of the Electrabel-operated Doel 3 reactor due to cracks in the pressure vessels that have already forced the shutdown of a similar unit at the Tihange nuclear plant. Belgium has halted the 1,006-megawatt Doel 3 reactor until at least the end of August after the discovery of suspected cracks in the pressure vessel. But it is possible that the reactor could be shut down for good. Willy De Roovere, who heads the FANC regulator agency, said it was always hard for a company to meet a requirement to prove a nuclear plant is safe. He told a news conference that Electrabel, the Belgian unit of France's GDF Suez, would have to show that "in a period of the remaining lifetime there is no single risk, there is no risk at all that cracks can go [on to produce leaks]." A spokeswoman for Electrabel said, as quoted by Reuters: "Is it safe or not to continue the production of Doel 3? That's what we will have to prove to the FANC."

The vessel in question was built by now-defunct Dutch company Rotterdamsche Droogdok Maatschappij, which also constructed the pressure vessel for another Belgian unit, Tihange 2, as well as parts for nuclear plants throughout Europe and in the Americas. The Belgian agency BELGA reported that Tihange 2 was halted yesterday, as it has the same pressure vessel as Doel. "I would like to remind that Doel 3 and Tihange 2 have been halted and do not represent any danger for the population, the workers and the environment," De Roovere was quoted as saying. Rotterdamsche Droogdok Maatschappij was also responsible for two units in Germany that are no longer operating, two in the Netherlands, two in Spain, one in Sweden, two in Switzerland, 10 in the United States and one in Argentina, said the Paris-based Nuclear Energy Agency, an agency within the Organisation for Economic Cooperation and Development. Nuclear specialists from the countries where the Dutch vessels are in use are due to meet in Brussels today (17 August). De Roovere said it was doubtful the Doel operations would resume before the end of September and that regulators would meet again in October to discuss the issue.

The Doel 3 reactor had been scheduled to close in 10 years' time, according to a nuclear exit plan the Belgian government adopted in July. GDF Suez is expected to trim significantly its 47-year-old nuclear business now that Belgium, the only nation where it operates nuclear plants, is phasing out its reliance on atomic power. Belgium has long considered a complete exit from nuclear energy (see background), but that will depend on its having enough alternative sources of energy in place. EU member states are each responsible for determining policy on nuclear power and on the energy mix in general. However, the European Commission has initiated a series of voluntary stress tests as part of efforts to ensure safety following Japan's Fukushima nuclear disaster. They were meant to be completed before the Commission's August summer break, but governments have been given extra time for further assessments. Speaking in Essen, Germany, EU Energy Commissioner Günther Oettinger said he expected the stress tests to be completed in October and that they would include the assessment from regulators about risks associated with the possible cracks in the Belgian unit. "In the coming weeks, we expect clear results from the Belgium regulators about possible risks," he said.
*************************************************************************************************************
Epidemic Hazards / Diseases
| | | | | | | |
| --- | --- | --- | --- | --- | --- | --- |
| Today | Epidemic Hazard | Democratic Republic of the Congo | Province of Orientale, [Haut Uele District] | | | |
Description
Ebola virus disease has killed 4 people among 7 cases in the Haut Uele District of Orientale Province of the Democratic Republic of Congo (DRC), according to a statement on 14 Aug 2012 by Jean-Marc Madindi, provincial medical inspector of Orientale Province. According to Dr Madindi, 3 deaths among 6 cases occurred in the district of Haut Uele, and a angle death in Dungu district. Samples from these cases have been sent to a diagnostic Laboratory in Uganda for confirmation by laboratory techniques, and the results are awaited. The provincial health authorities are being supported by the Belgian branch of Medecins Sans Frontieres. The chief medical officer of health of the Butembo District Health District, Dr Mundama Witende, has advised the urban populations of Beni and Butembo, which are located along the border with Uganda, to adopt strict procedures to prevent cross-border movements without good reason. The population have also been instructed to avoid consumption of meat derived from primates. Likewise, the population has been advised to avoid contact with the blood or secretions of patients suspected to have contracted [Ebola virus disease]. The bodies of those thought to have died as a result of ebolavirus infection should not be touched or washed. An outbreak of [Ebola virus disease] was reported at the beginning of July in Uganda at a place located 200 kilometres [124 mi] from the capital Kampala and about 50 kilometres from the border with the Orientale and Nord-Kivu provinces of the DRC.
Biohazard name:
Ebola Fever
Biohazard level:
4/4 Hazardous
Biohazard desc.:
Viruses and bacteria that cause severe to fatal disease in humans, and for which vaccines or other treatments are not available, such as Bolivian and Argentine hemorrhagic fevers, H5N1(bird flu), Dengue hemorrhagic fever, Marburg virus, Ebola virus, hantaviruses, Lassa fever, Crimean-Congo hemorrhagic fever, and other hemorrhagic or unidentified diseases. When dealing with biological hazards at this level the use of a Hazmat suit and a self-contained oxygen supply is mandatory. The entrance and exit of a Level Four biolab will contain multiple showers, a vacuum room, an ultraviolet light room, autonomous detection system, and other safety precautions designed to destroy all traces of the biohazard. Multiple airlocks are employed and are electronically secured to prevent both doors opening at the same time. All air and water service going to and coming from a Biosafety Level 4 (P4) lab will undergo similar decontamination procedures to eliminate the possibility of an accidental release.
Symptoms:
Status:
confirmed
| | | | | | | |
| --- | --- | --- | --- | --- | --- | --- |
| Today | Epidemic Hazard | Bhutan | Trashiyangtse District, Jamkhar | | | |
Description
About 20 people, including gewog [village block] livestock agents and villagers in Jamkhar, Trashiyangtse, are taking anti-rabies vaccine, after they handled the carcass of a jersey cow that was suspected to have died from rabies on Sun 12 Aug 2012. Some of them had also consumed milk from the same cow. Regional livestock development centre in Khangma, Trashigang, through a rapid test of the brain sample, confirmed "mild positive rabies" as the cause of the cow's death. "The samples will also be sent to the National Centre for Animal Health in Serbithang for polymerised chain reaction tests to further confirm the positivity of the tests," the centre's programme director, Dr Tshering Dorji, said. Trashiyangtse's dzongkhag [district] livestock officer, Toula Dukpa, said the disease has been contained with the carcass buried safely, after treating it with phenol, lime, and bleaching powder. "Surrounding areas and bedding used for the carcass were also burnt to contain the spread of the disease to both animals and humans," he said. Dogs in the neighbourhood were also given post exposure treatment as control measure. He said that there was no outbreak of rabies in Jamkhar. "It's suspected that the cow was bought from Dewathang and carried the disease to Jamkhar," he said. People have been alerted to report to the nearest renewable natural resources centre on the death of cattle from similar symptoms. No transmission to human or new cases of rabies have been reported in the gewog after the incident.
Biohazard name:
Rabies
Biohazard level:
3/4 Hight
Biohazard desc.:
Bacteria and viruses that can cause severe to fatal disease in humans, but for which vaccines or other treatments exist, such as anthrax, West Nile virus, Venezuelan equine encephalitis, SARS virus, variola virus (smallpox), tuberculosis, typhus, Rift Valley fever, Rocky Mountain spotted fever, yellow fever, and malaria. Among parasites Plasmodium falciparum, which causes Malaria, and Trypanosoma cruzi, which causes trypanosomiasis, also come under this level.
Symptoms:
Status:
confirmed
************************************************************************************************************
Climate Change
Phys.org
  South Pacific countries will experience more extreme floods and droughts, in response to increasing greenhouse gas emissions, according to a paper out today in the journal Nature. Ads by Google Texas Smelly Well Water – Smelly and Rotten Egg Smell Removal Smelly Water Cleaned W/O Chemicals –
http://www.NationsPure.com
The changes will result from the South Pacific rain band responding to greenhouse warming. The South Pacific rain band is largest and most persistent of the Southern Hemisphere spanning the Pacific from south of the Equator, south-eastward to French Polynesia. Occasionally, the rain band moves northwards towards the Equator by 1000 kilometres, inducing extreme climate events. The international study, led by CSIRO oceanographer Dr Wenju Cai, focuses on how the frequency of such movement may change in the future. The study finds the frequency will almost double in the next 100 years, with a corresponding intensification of the rain band. Dr Wenju and colleagues turned to the extensive archives of general circulation models submitted for the fourth and fifth IPCC Assessments and found that increases in greenhouse gases are projected to enhance equatorial Pacific warming. In turn, and in spite of disagreement about the future of El Niño events, this warming leads to the increased frequency of extreme excursions of the rain band. During moderate El Niño events with warming in the equatorial eastern Pacific, the rain band moves north-eastward by 300 kilometres. Countries located within the bands' normal position such as Vanuatu, Samoa, and the southern Cook Islands experience forest fires and droughts as well as increased frequency of tropical cyclones, whereas countries to which the rain band moves experience extreme floods. "During extreme El Niño events, such as 1982/83 and 1997/98, the band moved northward by up to 1000 kilometres. The shift brings more severe extremes, including cyclones to regions such as French Polynesia that are not accustomed to such events," said Dr Cai, a scientist at the Wealth from Oceans Flagship. A central issue for community adaptation in Australia and across the Pacific is understanding how the warming atmosphere and oceans will influence the intensity and frequency of extreme events. The impact associated with the observed extreme excursions includes massive droughts, severe food shortage, and coral reef mortality through thermally-induced coral bleaching across the South Pacific. "Understanding changes in the frequency of these events as the climate changes proceed is therefore of broad scientific and socio-economic interest." More information: More extreme swings of the South Pacific Convergence Zone due to greenhouse warming, Nature, 2012. Journal reference: Nature search and more info website Provided by CSIRO search and more info website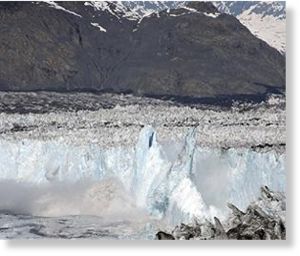 1.5 million years of climate history revealed after scientists solve mystery of the deep
The study successfully reconstructed temperature from the deep sea to reveal how global ice volume has varied over the glacial-interglacial cycles of the past 1.5 million years of Tabular icebergs. The production of tabular icebergs is a major mechanism of mass loss from the Antarctic Ice Sheet. Icebergs are calved during both rapid ice-shelf collapse and as part of the normal transfer of mass through the ice sheet to the surrounding ocean.
Scientists have announced a major breakthrough in understanding the Earth's climate machine by reconstructing highly accurate records of changes in ice volume and deep-ocean temperatures over the last 1.5 million years. The study, which is reported in the journal Science, offers new insights into a decades-long debate about how the shifts in the Earth's orbit relative to the sun have taken the Earth into and out of an ice-age climate.
Being able to reconstruct ancient climate change is a critical part of understanding why the climate behaves the way it does. It also helps us to predict how the planet might respond to man-made changes, such as the injection of large quantities of carbon dioxide into the atmosphere, in the future.
Unfortunately, scientists trying to construct an accurate picture of how such changes caused past climatic shifts have been thwarted by the fact that the most readily available marine geological record of ice-ages – changes in the ratio of oxygen isotopes (Oxygen 18 to Oxygen 16) preserved in tiny calcareous deep sea fossils called foraminifera – is compromised.
This is because the isotope record shows the combined effects of both deep sea temperature changes, and changes in the amount of ice volume. Separating these has in the past proven difficult or impossible, so researchers have been unable to tell whether changes in the Earth's orbit were affecting the temperature of the ocean more than the amount of ice at the Poles, or vice-versa.
The new study, which was carried out by researchers in the University of Cambridge Department of Earth Sciences, appears to have resolved this problem by introducing a new set of temperature-sensitive data. This allowed them to identify changes in ocean temperatures alone, subtract that from the original isotopic data set, and then build what they describe as an unprecedented picture of climatic change over the last 1.5 million years – a record of changes in both oceanic temperature and global ice volume.
Included in this is a much fuller representation of what happened during the "Mid-Pleistocene Transition" (MPT) – a major change in the Earth's climate system which took place sometime between 1.25 million and 600 thousand years ago. Before the MPT, the alternation between glacial periods of extreme cold, and warmer interglacials, happened at intervals of approximately 41,000 years. After the MPT, the major cycles became much longer, regularly taking 100,000 years. The second pattern of climate cycles is the one we are in now. Interestingly, this change occurred with little or no orbital forcing.
"Previously, we didn't really know what happened during this transition, or on either side of it," Professor Harry Elderfield, who led the research team, said. "Before you separate the ice volume and temperature signals, you don't know whether you're seeing a climate record in which ice volume changed dramatically, the oceans warmed or cooled substantially, or both."
"Now, for the first time, we have been able to separate these two components, which means that we stand a much better chance of understanding the mechanisms involved. One of the reasons why that is important, is because we are making changes to the factors that influence the climate now. The only way we can work out what the likely effects of that will be in detail is by finding analogues in the geological past, but that depends on having an accurate picture of the past behaviour of the climate system."
Researchers have developed more than 30 different models for how these features of the climate might have changed in the past, in the course of a debate which has endured for more than 60 years since pioneering work by Nobel Laureate Harold Urey in 1946. The new study helps resolve these problems by introducing a new dataset to the picture – the ratio of magnesium (Mg) to calcium (Ca) in foraminifera. Because it is easier for magnesium to be incorporated at higher temperatures, larger quantities of magnesium in the tiny marine fossils imply that the deep sea temperature was higher at that point in geological time.
The Mg/Ca dataset was taken from the fossil record contained in cores drilled on the Chatham Rise, an area of ocean east of New Zealand. It allowed the Cambridge team to map ocean temperature change over time. Once this had been done, they were able to subtract that information from the oxygen isotopic record. "The calculation tells us the difference between what water temperature was doing and what the ice sheets were doing across a 1.5 million year period," Professor Elderfield explained.
The resulting picture shows that ice volume has changed much more dramatically than ocean temperatures in response to changes in orbital geometry. Glacial periods during the 100,000-year cycles have been characterised by a very slow build-up of ice which took thousands of years, the result of ice volume responding to orbital change far more slowly than the ocean temperatures reacted. Ocean temperature change, however, reached a lower limit, probably because the freezing point of sea water put a restriction on how cold the deep ocean could get.
In addition, the record shows that the transition from 41,000-year cycles to 100,000-year cycles, the characteristic changeover of the MPT, was not as gradual as previously thought. In fact, the build-up of larger ice sheets, associated with longer glacials, appears to have begun quite suddenly, around 900,000 years ago. The pattern of the Earth's response to orbital forcing changed dramatically during this "900,000 year event", as the paper puts it.
The research team now plan to apply their method to the study of deep-sea temperatures elsewhere to investigate how orbital changes affected the climate in different parts of the world.
"Any uncertainty about the Earth's climate system fuels the sense that we don't really know how the climate is behaving, either in response to natural effects or those which are man-made," Professor Elderfield added. "If we can understand how earlier changes were initiated and what the impacts were, we stand a much better chance of being able to predict and prepare for changes in the future."
************************************************************************************************************
Solar Activity
3MIN News August 16, 2012: Ocean Health Index
Published on Aug 16, 2012 by Suspicious0bservers
Earthquake/Solar Flare Watch: http://youtu.be/zd7Z6dmABf8 [August 12-18, 2012]
[EXPLANATION Video For Earthquake Watches] Last Quake Watch: http://youtu.be/SMiHsOYwdCs
Starwater did this in a VERY short amount of time: http://usnews.nbcnews.com/_news/2012/04/12/11160993-4-feet-of-hail-in-texas-r…
TODAY'S LINKS
Ocean Health Index: http://www.oceanhealthindex.org/
NY Floods: http://gothamist.com/2012/08/15/photos_brooklyn_queens_is_flooding.php#photo-9
PA Iodide Givaway: http://www.businessweek.com/ap/2012-08-06/potassium-iodide-tablets-being-dist…
REPEAT LINKS
Spaceweather: http://spaceweather.com/ [Look on the left at the X-ray Flux and Solar Wind Speed/Density]
HAARP: http://www.haarp.alaska.edu/haarp/data.html [Click online data, and have a little fun]
SDO: http://sdo.gsfc.nasa.gov/data/ [Place to find Solar Images and Videos - as seen from earth]
SOHO: http://sohodata.nascom.nasa.gov/cgi-bin/soho_movie_theater [SOHO; Lasco and EIT - as seen from earth]
Stereo: http://stereo.gsfc.nasa.gov/cgi-bin/images [Stereo; Cor, EUVI, HI - as seen from the side]
SunAEON:http://www.sunaeon.com/#/solarsystem/ [Just click it... trust me]
SOLARIMG: http://solarimg.org/artis/ [All purpose data viewing site]
iSWA: http://iswa.gsfc.nasa.gov/iswa/iSWA.html [Free Application; for advanced sun watchers]
NASA ENLIL SPIRAL: http://iswa.gsfc.nasa.gov:8080/IswaSystemWebApp/iSWACygnetStreamer?timestamp=…
NOAA ENLIL SPiral: http://www.swpc.noaa.gov/wsa-enlil/
NOAA Bouys: http://www.ndbc.noaa.gov/
RSOE: http://hisz.rsoe.hu/alertmap/index2.php [That cool alert map I use]
JAPAN Radiation Map: http://jciv.iidj.net/map/
LISS: http://earthquake.usgs.gov/monitoring/operations/heliplots_gsn.php
Gamma Ray Bursts: http://grb.sonoma.edu/ [Really? You can't figure out what this one is for?]
BARTOL Cosmic Rays: http://neutronm.bartol.udel.edu//spaceweather/welcome.html [Top left box, look for BIG blue circles]
TORCON: http://www.weather.com/news/tornado-torcon-index [Tornado Forecast for the day]
GOES Weather: http://rsd.gsfc.nasa.gov/goes/ [Clouds over America]
EL DORADO WORLD WEATHER MAP: http://www.eldoradocountyweather.com/satellite/ssec/world/world-composite-ir-…
PRESSURE MAP: http://www.woweather.com/cgi-bin/expertcharts?LANG=us&MENU=0000000000&…
HURRICANE TRACKER: http://www.weather.com/weather/hurricanecentral/tracker
INTELLICAST: http://www.intellicast.com/ [Weather site used by many youtubers]
NASA News: http://science.nasa.gov/science-news/science-at-nasa/
PHYSORG: http://phys.org/ [GREAT News Site!]

************************************************************************************************************
Space
Object Name
Apporach Date
Left
AU Distance
LD Distance
Estimated Diameter*
Relative Velocity
(2008 TC4)
18th August 2012
1 day(s)
0.1937
75.4
140 m – 300 m
17.34 km/s
62424 km/h
(2012 OP4)
18th August 2012
1 day(s)
0.1039
40.4
300 m – 670 m
22.54 km/s
81144 km/h
(2012 EC)
20th August 2012
3 day(s)
0.0815
31.7
56 m – 130 m
5.57 km/s
20052 km/h
(2006 CV)
20th August 2012
3 day(s)
0.1744
67.9
290 m – 640 m
13.24 km/s
47664 km/h
162421 (2000 ET70)
21st August 2012
4 day(s)
0.1503
58.5
670 m – 1.5 km
12.92 km/s
46512 km/h
(2007 WU3)
21st August 2012
4 day(s)
0.1954
76.0
56 m – 120 m
5.25 km/s
18900 km/h
(2012 BB14)
24th August 2012
7 day(s)
0.1234
48.0
27 m – 60 m
2.58 km/s
9288 km/h
(2012 FM52)
25th August 2012
8 day(s)
0.0599
23.3
510 m – 1.1 km
17.17 km/s
61812 km/h
66146 (1998 TU3)
25th August 2012
8 day(s)
0.1265
49.2
3.0 km – 6.8 km
16.03 km/s
57708 km/h
(2009 AV)
26th August 2012
9 day(s)
0.1615
62.8
670 m – 1.5 km
22.51 km/s
81036 km/h
331769 (2003 BQ35)
28th August 2012
11 day(s)
0.1585
61.7
240 m – 530 m
4.64 km/s
16704 km/h
(2010 SC)
28th August 2012
11 day(s)
0.1679
65.3
16 m – 36 m
9.56 km/s
34416 km/h
4769 Castalia
28th August 2012
11 day(s)
0.1135
44.2
1.4 km
12.06 km/s
43416 km/h
(2012 LU7)
02nd September 2012
16 day(s)
0.1200
46.7
440 m – 990 m
8.16 km/s
29376 km/h
(2012 FS35)
02nd September 2012
16 day(s)
0.1545
60.1
2.3 m – 5.2 m
2.87 km/s
10332 km/h
(2012 HG31)
03rd September 2012
17 day(s)
0.0716
27.9
440 m – 990 m
10.33 km/s
37188 km/h
(2012 PX)
04th September 2012
18 day(s)
0.0452
17.6
61 m – 140 m
9.94 km/s
35784 km/h
(2012 EH5)
05th September 2012
19 day(s)
0.1613
62.8
38 m – 84 m
9.75 km/s
35100 km/h
(2011 EO11)
05th September 2012
19 day(s)
0.1034
40.2
9.0 m – 20 m
8.81 km/s
31716 km/h
(2007 PS25)
06th September 2012
20 day(s)
0.0497
19.3
23 m – 52 m
8.50 km/s
30600 km/h
329520 (2002 SV)
08th September 2012
22 day(s)
0.1076
41.9
300 m – 670 m
9.17 km/s
33012 km/h
(2011 ES4)
10th September 2012
24 day(s)
0.1792
69.8
20 m – 44 m
12.96 km/s
46656 km/h
(2008 CO)
11th September 2012
25 day(s)
0.1847
71.9
74 m – 160 m
4.10 km/s
14760 km/h
(2007 PB8)
14th September 2012
28 day(s)
0.1682
65.5
150 m – 340 m
14.51 km/s
52236 km/h
226514 (2003 UX34)
14th September 2012
28 day(s)
0.1882
73.2
260 m – 590 m
25.74 km/s
92664 km/h
(1998 QC1)
14th September 2012
28 day(s)
0.1642
63.9
310 m – 700 m
17.11 km/s
61596 km/h
(2002 EM6)
15th September 2012
29 day(s)
0.1833
71.3
270 m – 590 m
18.56 km/s
66816 km/h

| | |
| --- | --- |
| 1 AU = ~150 million kilometers,1 LD = Lunar Distance = ~384,000 kilometers | Source: NASA-NEO |
…………………………….
Phys.org
Hubble watches star clusters on a collision course Enlarge This is a Hubble Space Telescope image of a pair of star clusters that are believed to be in the early stages of merging. The clusters lie in the gigantic 30 Doradus nebula, which is 170,000 light-years from Earth. The Hubble observations, made with the Wide Field Camera 3, were taken Oct. 20-27, 2009. The blue color is light from the hottest, most massive stars; the green from the glow of oxygen; and the red from fluorescing hydrogen. Credit: NASA, ESA, R. O'Connell (University of Virginia), and the Wide Field Camera 3 Science Oversight Committee (Phys.org) — Astronomers using data from NASA's Hubble Space Telescope have caught two clusters full of massive stars that may be in the early stages of merging. The clusters are 170,000 light-years away in the Large Magellanic Cloud, a small satellite galaxy to our Milky Way. Ads by Google 2012 Photographer Classes – Find 2012 Photography Schools. Local & Online Classes – Get Info! – AllColleges.org/Photographer What at first was thought to be only one cluster in the core of the massive star-forming region 30 Doradus (also known as the Tarantula Nebula) has been found to be a composite of two clusters that differ in age by about one million years. The entire 30 Doradus complex has been an active star-forming region for 25 million years, and it is currently unknown how much longer this region can continue creating new stars. Smaller systems that merge into larger ones could help to explain the origin of some of the largest known star clusters. Lead scientist Elena Sabbi of the Space Telescope Science Institute in Baltimore, Md., and her team began looking at the area while searching for runaway stars, fast-moving stars that have been kicked out of their stellar nurseries where they first formed. "Stars are supposed to form in clusters, but there are many young stars outside 30 Doradus that could not have formed where they are; they may have been ejected at very high velocity from 30 Doradus itself," Sabbi said. She then noticed something unusual about the cluster when looking at the distribution of the low-mass stars detected by Hubble. It is not spherical, as was expected, but has features somewhat similar to the shape of two merging galaxies where their shapes are elongated by the tidal pull of gravity. Hubble's circumstantial evidence for the impending merger comes from seeing an elongated structure in one of the clusters, and from measuring a different age between the two clusters. According to some models, the giant gas clouds out of which star clusters form may fragment into smaller pieces. Once these small pieces precipitate stars, they might then interact and merge to become a bigger system. This interaction is what Sabbi and her team think they are observing in 30 Doradus. Also, there are an unusually large number of high-velocity stars around 30 Doradus. Astronomers believe that these stars, often called "runaway stars" were expelled from the core of 30 Doradus as the result of dynamical interactions. These interactions are very common during a process called core collapse, in which more-massive stars sink to the center of a cluster by dynamical interactions with lower-mass stars. When many massive stars have reached the core, the core becomes unstable and these massive stars start ejecting each other from the cluster. The big cluster R136 in the center of the 30 Doradus region is too young to have already experienced a core collapse. However, since in smaller systems the core collapse is much faster, the large number of runaway stars that has been found in the 30 Doradus region can be better explained if a small cluster has merged into R136. Follow-up studies will look at the area in more detail and on a larger scale to see if any more clusters might be interacting with the ones observed. In particular, the infrared sensitivity of NASA's planned James Webb Space Telescope (JWST) will allow astronomers to look deep into the regions of the Tarantula Nebula that are obscured in visible-light photographs. In these areas cooler and dimmer stars are hidden from view inside cocoons of dust. Webb will better reveal the underlying population of stars in the nebula. The 30 Doradus Nebula is particularly interesting to astronomers because it is a good example of how star-forming regions in the young universe may have looked. This discovery could help scientists understand the details of cluster formation and how stars formed in the early universe. Provided by NASA's Goddard Space Flight Center search and more info website
*************************************************************************************************************
Biological Hazards / Wildlife / Hazmat
| | | | | | | |
| --- | --- | --- | --- | --- | --- | --- |
| Today | Biological Hazard | United Kingdom | England, Blackpool | | | |
Description
A drug user has died after being infected with anthrax, health experts said. The Health Protection Agency said that a person who injected drugs died in hospital in Blackpool. The name of the person or the hospital has not been disclosed. The HPA said the source of the infection is presumed to be contaminated heroin. The news comes after a spate of cases in Europe since early June. The HPA said it is 'unclear' whether the case in Blackpool and another case in Scotland – which was confirmed at the end of July – are linked to the European outbreak. Anthrax is a rare bacterial infection and is primarily a disease of herbivorous mammals, though other animals and some birds can also contract it. Bacillus anthracis spores can survive in the environment for years or decades. Dependent on the dose and route of exposure, the symptoms may develop within a week of taking heroin. An HPA spokesperson said: 'The patient comes from the north west of England and was taken to hospital earlier this week and died shortly afterwards. 'The infection was cultured in the laboratory and the results came back last night that it was anthrax. 'It is very difficult to identify the source of the anthrax because the spores are miniscule. We do not know where it may have originated. 'We are telling people on the ground who work with drugs users to be aware of the danger and look out for gashes that develop around injection sites.

'You can treat anthrax with antibiotics if caught early, otherwise it can be fatal. That is the vital message we are trying to get out.' Since June there have been seven confirmed cases of the infection – one in Scotland, three in Germany, two in Denmark, and one in France. These are the first cases of anthrax among drug users in Europe since the outbreak during 2009 and 2010. That outbreak saw 119 cases in Scotland, five cases in England and two cases in Germany. Among them was heroin user Shane Brown, 24, from Blackpool, who died after testing positive for anthrax at the town's Victoria Hospital in 2010. Signs of infection include redness or excessive swelling at the injection site, or a high temperature, chills or a severe headache or breathing difficulties. Dr Dilys Morgan, an expert in zoonotic infections at the HPA, said: 'It's likely that further cases among PWID (people who inject drugs) will be identified as part of the ongoing outbreak in EU countries. 'The Department of Health has alerted the NHS of the possibility of PWID presenting to emergency departments and walk-in clinics, with symptoms suggestive of anthrax. 'Anthrax can be cured with antibiotics, if treatment is started early. It is therefore important for medical professionals to know the signs and symptoms to look for, so that there are no delays in providing the necessary treatment.' European health experts say that the recent cases could have come from the same batch of contaminated heroin in the 2009 to 2010 outbreak. Dr Morgan added: 'As part of the response to the 2009/10 outbreak, the HPA developed an algorithm for the clinical evaluation and management of PWID with possible anthrax. 'This algorithm specifies the kinds of presentations where anthrax should be considered, and outlines the actions to take.'

Anthrax in drug users was considered to be very rare. Prior to the 2009-2010 outbreak in Scotland, just one previous case had been reported in Norway in 2000. The risk to the general population is negligible. It is extremely rare for anthrax to be spread from person to person.

Biohazard name:
Anthrax contained heroin (fatal)
Biohazard level:
4/4 Hazardous
Biohazard desc.:
Viruses and bacteria that cause severe to fatal disease in humans, and for which vaccines or other treatments are not available, such as Bolivian and Argentine hemorrhagic fevers, H5N1(bird flu), Dengue hemorrhagic fever, Marburg virus, Ebola virus, hantaviruses, Lassa fever, Crimean-Congo hemorrhagic fever, and other hemorrhagic or unidentified diseases. When dealing with biological hazards at this level the use of a Hazmat suit and a self-contained oxygen supply is mandatory. The entrance and exit of a Level Four biolab will contain multiple showers, a vacuum room, an ultraviolet light room, autonomous detection system, and other safety precautions designed to destroy all traces of the biohazard. Multiple airlocks are employed and are electronically secured to prevent both doors opening at the same time. All air and water service going to and coming from a Biosafety Level 4 (P4) lab will undergo similar decontamination procedures to eliminate the possibility of an accidental release.
Symptoms:
Status:
confirmed
…………………………..
The cause of a fatal illness that affects captive snakes has been identified, a study has shown. The condition – called Inclusion Body Disease (IBD) – affects constrictor snakes including boas and pythons. There is no treatment and symptoms include "stargazing" – a fixed upward stare – as well as breathing problems and general muscular paralysis.
It was long suspected that the disease was caused by a virus, but until recently its identity remained elusive. The research is published in the open-access journal mBio.
In this breakthrough study, researchers from the University of California San Francisco analysed samples obtained from snakes diagnosed with IBD, using sensitive DNA sequencing techniques.
In amongst some of the snake DNA was foreign genetic material – nucleic acid – that closely resembled that present in viruses belonging to a family called arenaviruses. This family includes Lassa Fever virus, which is associated with haemorrhagic fever in humans. However, there is no evidence that the newly discovered virus can pass from snakes to humans.
The scientists were also able to grow the virus from samples taken from one of the snakes.
Dr Mark Stenglein, who co-led the current study, said "we don't yet have formal evidence that these viruses cause the disease… although there is a good correlation [between disease and the presence of virus] … there's definitely a possibility that other things cause this".
Arenaviruses can be divided into two main groups based on the location of the species they naturally infect – New World viruses originate from the Americas, whilst Old World viruses are found in Africa and Asia. Genetically, the newly discovered virus is distinct from these two groups.
Commenting on the finding, the editor of the paper Michael Buchmeier, professor of infectious diseases at University of California Irvine, suggests that these snake viruses "may be representative of a predecessor of the Old World and New World branches of the [arenavirus] family".
The genetic analyses also revealed that one of the genes in the newly isolated virus group was more like that present in viruses belonging to a totally different family of haemorrhagic viruses called filoviruses. Ebolavirus belongs to this family.
The new discovery follows similar research published online in April 2012 in the journal Infection, Genetics and Evolution, which describes isolation of a novel virus from snakes – this time in Australia – that showed symptoms very similar to IBD. However, the virus isolated in this study belonged to a very different virus family known as paramyxoviruses.
Professor Jim Wellehan from the University of Florida College of Veterinary Medicine, who authored the paramyxovirus study, said: "The epidemiology of the paramyxoviruses is different [to IBD]. These are hot agents that snakes die quickly from, and it works fast. You have a room full of dead snakes in a week."
It is uncertain how the highly contagious IBD virus is spread. One possibility is that transmission occurs through inhalation – either directly from another infected snake or indirectly from contaminated bedding or following handling. Alternatively, mites – often found in colonies suffering from an IBD outbreak – might be implicated.
So far the disease seems to be restricted to captive snakes but some scientists are worried that the release of captive bred or rehabilitated snakes might unwittingly unleash this devastating virus into the wild.
| | | | | | | |
| --- | --- | --- | --- | --- | --- | --- |
| Today | HAZMAT | Australia | State of New South Wales, Newcastle | | | |
Description
One hundred litres of a highly toxic and potentially explosive chemical that spilled at an industrial site near Newcastle have been mopped up without incident, authorities say. Police established a 300-metre exclusion zone and evacuated 100 people after a 1000-litre drum of methyl ethyl ketone cracked at a warehouse in Tomago about 1.45pm (AEST) on Thursday. Power was switched off in the neighbouring area, streets were closed and all ignition sources were removed as hazmat officers in fully encapsulated suits inspected the site and began the cleanup job. Six Fire and Rescue NSW crews worked to contain the spill and the area was deemed safe by Thursday evening, Superintendent Paul Bailey said. "Everything is either back open or in the process of being reopened," he said. "We've had no run-off into waterways." A spokesman earlier described the chemical as "highly flammable, very explosive, very toxic". It's believed the tank containing the liquid had rolled from a forklift.
**************************************************************************************************************
Articles of Interest
Antonia Juhasz
Los Angeles Times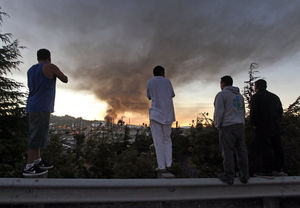 © Lance Iversen / San Francisco Chronicle / Associated Press
People view the fire at the Chevron Richmond Refinery. The fire burned out of control for more than five hours, sending a giant black cloud of toxic chemicals, including sulfur dioxide and nitrogen oxide, thousands of feet into the air and out across the bay.
The facility that caught fire violates pollution rules and is a daily threat to workers and neighbors.
Stay inside, close your windows and doors, and turn off air conditioning and heating units. Pets and all children in sporting activities should be brought inside, and have duct tape ready should you need to further seal windows and doors.
These are among the "shelter in place" warnings made to Bay Area residents last week in response to a massive fire at theChevron Corp.refinery in Richmond. The fire burned out of control for more than five hours, sending a giant black cloud of toxic chemicals, including sulfur dioxide and nitrogen oxide, thousands of feet into the air and out across the bay. While automated calls went to more than 18,000 people, some 160,000 residents live in the areas directly affected by the warning. More than 5,700 people have sought medical treatment.
Chevron is the world's eighth-largest corporation and hands-down the largest in California. The Richmond refinery is also the state's single largest contributor to greenhouse gas emissions, having released 4.5 million metric tons of greenhouse gases in 2010 alone.
Built in 1902, the refinery shows its age. Rather than use its $27 billion in 2011 profits to run the cleanest, safest and most transparent refinery possible, Chevron operates a refinery that is in constant violation of federal and state law and a daily threat to the health and safety of its workers and neighbors.
More than 25,000 people, including those in two public housing projects, live within just three miles of the refinery. Nearly 85% of the residents live below the federal poverty line; the same percentage is listed as "minorities" according to the U.S. Census. Within one mile of or abutting the refinery are businesses, houses, an elementary school and playgrounds.
Since at least April 2009, the refinery has been in noncompliance of the Clean Water Act and the National Pollutant Discharge Elimination System in every quarter but one. Until July 2010, the refinery had been in "high-priority violation" of Clean Air Act compliance standards, the most serious level of violation noted by the EPA, since at least 2006. Under constant pressure from community organizations, Chevron has been assessed hundreds of thousands of dollars in penalties for repeated Clean Air Act violations – nearly 100 citations in just the last five years, including 23 in 2011 alone.A 2008 study by UC Berkeley and Brown University researchers concluded that the air inside some Richmond homes was more toxic than that outside because of harmful pollutants from the refinery being trapped indoors.
The Contra Costa County Health Services Department lists the residents of Richmond as one of the "most at-risk groups" in the county: They are hospitalized for chronic diseases at significantly higher rates than the county average, including for female reproductive cancers, which are more than double the county rate. Chevron is one of four refineries in Contra Costa County where nearby incidence of breast, ovarian and prostate cancers are the second highest in California, and where nearby residents suffer higher rates of asthma, childhood asthma and asthma-related deaths.
The Aug. 6 fire is the third major disaster at the refinery in 12 years, each caused by an old leaking pipe. In January 2007, an explosion rocked the refinery, leading to a five-alarm fire. A leaking corroded pipe "that should have been detached two decades ago," according to investigators, was to blame. In 1999, an 18,000-pound plume of sulfur dioxide smoke was released after an explosion caused by a leak in a pipe that was more than 30 years old.
But neither Richmond nor Chevron is alone. The U.S. Chemical Safety Board, an independent federal agency that investigates major incidents at oil refineries, concluded last month that nationwide safety at U.S. refineries has not improved, despite scores of fatalities, over the last decade, and won't until companies develop better safety systems.
In a 2007 report about BP's 2005 Texas City oil refinery disaster, which killed 15 workers, the board warned of a pervasive "complacency toward serious safety risks" across the leading oil companies' refinery operations. It called on the Occupational Safety and Health Administration to "require these corporations to evaluate the safety impact of mergers, reorganizations, downsizing and budget cuts."
This year so far, serious oil refinery fires have broken out at a ConocoPhillips refinery in Los Angeles, twice at one BP refinery in Indiana, and in Louisiana, Oklahoma, Tennessee, Washington and at other locations. Using industry-reported data, the United Steelworkers estimates that at least one fire occurs every week at a U.S. oil refinery. Operating in noncompliance with federal and state regulations, moreover, appears to be all-but-standard operating procedure across the industry.
Oil industry operations are not clean, safe or healthful. But they can certainly be far cleaner, safer, more healthful and more transparent than current industry practice.
Big Oil is the wealthiest industry the world has known. The companies can and must be forced through stricter federal and state regulation, aggressive enforcement and direct community and worker oversight to be held to the highest possible standard, including current law.
Richmond has always been a company town. But in 2006 its residents rebelled, rejecting Chevron's handpicked political candidates and electing as mayor the Green Party's Gayle McLaughlin. State and federal officials who serve as the industry's handmaidens should anticipate an even broader rebellion as the outcome of this latest tragic, yet painfully predictable, oil company disaster.
Antonia Juhasz is the author of several books on the oil industry, including "The Tyranny of Oil." She is also the editor and lead author of three Alternative Annual Reports on Chevron and the former director of the Chevron Program at San Francisco-based Global Exchange.
Crystals from chaos: Physicists observe new form of carbon Enlarge Simulated structures showing the starting material (left) of carbon-60 "buckyballs" (magenta) and m-xylene solvent (blue) and its superhard form (right) after being compressed by more than 400,000 atmospheres of pressure inside a diamond anvil cell. Although the crushed buckyballs are amorphous, the solvent preserved the material's long-range crystalline order. Image by Lin Wang, Carnegie Institution of Washington (Phys.org) — A team of scientists led by Carnegie's Lin Wang has observed a new form of very hard carbon clusters, which are unusual in their mix of crystalline and disordered structure. The material is capable of indenting diamond. This finding has potential applications for a range of mechanical, electronic, and electrochemical uses. The work is published in Science on Aug. 17. Ads by Google Texas Smelly Well Water – Smelly and Rotten Egg Smell Removal Smelly Water Cleaned W/O Chemicals –
http://www.NationsPure.com
Carbon is the fourth-most-abundant element in the universe and takes on a wide variety of forms—the honeycomb-like graphene, the pencil "lead" graphite, diamond, cylindrically structured nanotubes, and hollow spheres called fullerenes. Some forms of carbon are crystalline, meaning that the structure is organized in repeating atomic units. Other forms are amorphous, meaning that the structure lacks the long-range order of crystals. Hybrid products that combine both crystalline and amorphous elements had not previously been observed, although scientists believed they could be created. Wang's team—including Carnegie's Wenge Yang, Zhenxian Liu, Stanislav Sinogeikin, and Yue Meng—started with a substance called carbon-60 cages, made of highly organized balls of carbon constructed of pentagon and hexagon rings bonded together to form a round, hollow shape. An organic xylene solvent was put into the spaces between the balls and formed a new structure. They then applied pressure to this combination of carbon cages and solvent, to see how it changed under different stresses. Crystals from chaos: Physicists observe new form of carbon Enlarge An optical photomicrograph of a diamond anvil surface shows two "ring crack" dents (magenta arrows) after it was used to compress a buckeyball/xylene material with nearly 330,000 atmospheres of pressure. The cracks indicate that the crushed material is "superhard"., that is, nearly as hard as diamond, the world's hardest bulk material. Image by Lin Wang, Carnegie Institution of Washington At relatively low pressure, the carbon-60′s cage structure remained. But as the pressure increased, the cage structures started to collapse into more amorphous carbon clusters. However, the amorphous clusters still occupy their original sites, forming a lattice structure. The team discovered that there is a narrow window of pressure, about 320,000 times the normal atmosphere, under which this new structured carbon is created and does not bounce back to the cage structure when pressure is removed. This is crucial for finding practical applications for the new material going forward. This material was capable of indenting the diamond anvil used in creating the high-pressure conditions. This means that the material is superhard. If the solvent used to prepare the new form of carbon is removed by heat treatment, the material loses its lattice periodicity, indicating that that the solvent is crucial for maintaining the chemical transition that underlies the new structure. Because there are many similar solvents, it is theoretically possible that an array of similar, but slightly different, carbon lattices could be created using this pressure method. "We created a new type of carbon material, one that is comparable to diamond in its inability to be compressed," Wang said. "Once created under extreme pressures, this material can exist at normal conditions, meaning it could be used for a wide array of practical applications." More information: "Long-Range Ordered Carbon Clusters: A Crystalline Material with Amorphous Building Blocks," by L. Wang et al, Science, 2012. Scientists create new form of matter that can dent diamonds Journal reference: Science search and more info website Provided by Carnegie Institution for Science search and more info website
*************************************************************************************************************
[In accordance with Title 17 U.S.C. Section 107, this material is distributed without profit, for research and/or educational purposes. This constitutes 'FAIR USE' of any such copyrighted material.]