Earthquakes
MAG
UTC DATE-TIME
y/m/d h:m:s
LAT
deg
LON
deg
DEPTH
km
 Region
MAP
 3.3
2012/09/12 23:24:02
  19.578
  -64.125
59.0
 VIRGIN ISLANDS REGION
MAP
 5.4  
2012/09/12 21:52:17
 -23.915
  82.951
10.0
 SOUTH INDIAN OCEAN
MAP
 2.6
2012/09/12 20:42:00
  33.932
 -116.730
12.6
 SOUTHERN CALIFORNIA
MAP
 3.1
2012/09/12 20:10:27
  18.872
  -64.470
40.0
 VIRGIN ISLANDS REGION
MAP
 2.6
2012/09/12 19:45:04
  59.083
 -153.142
85.7
 SOUTHERN ALASKA
MAP
 5.1  
2012/09/12 19:29:56
  36.687
  71.367
188.6
 HINDU KUSH REGION, AFGHANISTAN
MAP
 2.8
2012/09/12 17:30:36
  52.026
 -169.391
56.0
 FOX ISLANDS, ALEUTIAN ISLANDS, ALASKA
MAP
 3.3
2012/09/12 15:26:46
  51.858
 -169.319
27.4
 FOX ISLANDS, ALEUTIAN ISLANDS, ALASKA
MAP
 3.3
2012/09/12 14:48:16
  19.331
  -64.724
13.0
 VIRGIN ISLANDS REGION
MAP
 4.9  
2012/09/12 14:23:05
  10.391
  126.716
4.1
 PHILIPPINE ISLANDS REGION
MAP
 4.6  
2012/09/12 13:46:08
  51.193
  178.670
52.4
 RAT ISLANDS, ALEUTIAN ISLANDS, ALASKA
MAP
 3.1
2012/09/12 12:10:46
  19.534
  -64.168
70.0
 VIRGIN ISLANDS REGION
MAP
 3.1
2012/09/12 11:33:18
  18.428
  -66.669
128.0
 PUERTO RICO
MAP
 5.2  
2012/09/12 11:27:51
 -10.111
  161.071
87.4
 SOLOMON ISLANDS
MAP
 3.1
2012/09/12 10:26:26
  19.332
  -63.854
47.0
 VIRGIN ISLANDS REGION
MAP
 3.4
2012/09/12 10:25:07
  19.557
  -64.386
50.0
 VIRGIN ISLANDS REGION
MAP
 4.8  
2012/09/12 09:37:29
  24.990
  123.192
15.4
 SOUTHWESTERN RYUKYU ISLANDS, JAPAN
MAP
 4.7  
2012/09/12 09:20:54
 -32.484
  -68.523
101.8
 MENDOZA, ARGENTINA
MAP
 4.6  
2012/09/12 07:18:43
  24.984
  123.135
10.2
 SOUTHWESTERN RYUKYU ISLANDS, JAPAN
MAP
 3.0
2012/09/12 07:08:08
  19.419
 -155.289
33.1
 ISLAND OF HAWAII, HAWAII
MAP
 3.8
2012/09/12 06:42:14
  60.245
 -151.965
68.1
 KENAI PENINSULA, ALASKA
MAP
 4.8  
2012/09/12 06:29:35
  9.527
  -85.190
35.0
 OFF THE COAST OF COSTA RICA 
MAP
 2.7
2012/09/12 05:51:11
  41.225
 -117.486
0.0
 NEVADA
MAP
 4.6  
2012/09/12 05:50:54
  41.774
  71.954
28.4
 KYRGYZSTAN
MAP
 4.5  
2012/09/12 05:23:18
  9.215
  -77.788
46.0
 NEAR THE NORTH COAST OF COLOMBIA
MAP
 4.2
2012/09/12 05:00:25
  36.755
  24.190
10.1
 SOUTHERN GREECE
MAP
 3.0
2012/09/12 04:50:39
  19.757
  -64.314
25.0
 NORTH OF THE VIRGIN ISLANDS
MAP
 5.6  
2012/09/12 04:28:15
  -5.067
  152.131
65.7
 NEW BRITAIN REGION, PAPUA NEW GUINEA
MAP
 4.4
2012/09/12 04:10:52
  9.635
  -85.122
34.9
 OFF THE COAST OF COSTA RICA
MAP
 2.6
2012/09/12 04:04:37
  19.609
  -64.379
25.0
 VIRGIN ISLANDS REGION
MAP
 3.6
2012/09/12 04:02:56
  19.648
  -64.275
38.0
 VIRGIN ISLANDS REGION
MAP
 5.5  
2012/09/12 03:27:45
  34.811
  24.064
27.4
 CRETE, GREECE
MAP
 2.7
2012/09/12 03:11:20
  18.046
  -65.498
18.0
 PUERTO RICO REGION
MAP
 5.0  
2012/09/12 02:57:26
 -40.013
  46.035
10.0
 SOUTHWEST INDIAN RIDGE
MAP
 4.6  
2012/09/12 02:13:04
  10.197
  -85.440
37.3
 COSTA RICA
MAP
 4.6  
2012/09/12 01:13:26
  11.955
  -88.839
35.0
 OFF THE COAST OF CENTRAL AMERICA
Islamabad: A tremor of moderate earthquake was felt in Islamabad, Peshawar and other parts of Pakistan, however no causalities were reported.
According to the Pakistan Metrological Department (PMD), the intensity of the earthquake was magnitude 5.5 on Richter scale. The earthquake was felt in Islamabad, Peshawar, Rawalpindi, Swat, Malakand, Dir, North Punjab and other parts of Pakistan.
The focal point of the quake was near the Afghan-Tajik border. The tremors created panic among the residents.
GSN Stations
These data update automatically every 30 minutes. Last update: September 13, 2012 09:19:00 UTC
Seismograms may take several moments to load. Click on a plot to see larger image.
**********************************************************************************************************
Volcanic Activity
| | | | | | | |
| --- | --- | --- | --- | --- | --- | --- |
| 12.09.2012 | Volcano Eruption | Japan | Kagoshima Prefecture, [Sakura-jima Volcano, Island of Kyushu] | | | |
Description
Described as "a stronger than usual explosion" by volcanic activity specialists, the Sakurajima eruption was captured by four live cameras set up by the Japanese Ministry of Land, Infrastructure and Transport. The volcano, located in Japan's southern Kagoshima region, erupted at 20:42 local time (11:42GMT) on Tuesday and sent a plume of ash 15,000ft in the air, according to Japanese authorities.
***********************************************************************************************************
Extreme Temperatures/ Weather
***********************************************************************************************************
Storms / Flooding
  Active tropical storm system(s)
Name of storm system
Location
Formed
Last update
Last category
Course
Wind Speed
Gust
Wave
Source
Details
Sanba (17W)
Pacific Ocean
11.09.2012
13.09.2012
SuperTyphoon
340 °
213 km/h
259 km/h
5.79 m
JTWC
| | |
| --- | --- |
| Share: | |
| Storm name: | Sanba (17W) |
| Area: | Pacific Ocean |
| Start up location: | N 11° 6.000, E 133° 48.000 |
| Start up: | 11th September 2012 |
| Status: | Active |
| Track long: | 371.17 km |
| Top category.: | |
| Report by: | JTWC |

Useful links:

Past track

Date
Time
Position
Speed
km/h
Wind
km/h
Gust
km/h
Category
Course
Wave
Pressure
Source
11th Sep 2012
09:49:04
N 11° 6.000, E 133° 48.000
33
65
83
Tropical Storm
345
20
JTWC
12th Sep 2012
05:03:46
N 12° 42.000, E 131° 48.000
15
102
130
Tropical Storm
310
18
JTWC
12th Sep 2012
10:43:24
N 13° 6.000, E 131° 0.000
17
120
148
Typhoon I.
295
15
JTWC

Current position

Date
Time
Position
Speed
km/h
Wind
km/h
Gust
km/h
Category
Course
Wave
feet
Pressure
Source
13th Sep 2012
11:08:12
N 15° 36.000, E 129° 30.000
17
213
259
SuperTyphoon
340 °
19
JTWC

Forecast track

Date
Time
Position
Category
Wind
km/h
Gust
km/h
Source
14th Sep 2012
06:00:00
N 19° 6.000, E 128° 48.000
SuperTyphoon
259
315
JTWC
14th Sep 2012
18:00:00
N 21° 0.000, E 128° 18.000
SuperTyphoon
259
315
JTWC
15th Sep 2012
06:00:00
N 22° 54.000, E 127° 48.000
SuperTyphoon
250
306
JTWC
16th Sep 2012
06:00:00
N 27° 24.000, E 126° 48.000
SuperTyphoon
222
269
JTWC
17th Sep 2012
06:00:00
N 32° 24.000, E 126° 48.000
Typhoon IV
185
232
JTWC
18th Sep 2012
06:00:00
N 38° 24.000, E 128° 42.000
Typhoon II
130
157
JTWC
| | | | | | | | | | | |
| --- | --- | --- | --- | --- | --- | --- | --- | --- | --- | --- |
| Nadine (AL14) | Atlantic Ocean | 11.09.2012 | 13.09.2012 | Hurricane I | 305 ° | 111 km/h | 139 km/h | 5.18 m | NOAA NHC | |
| | |
| --- | --- |
| Share: | |
| Storm name: | Nadine (AL14) |
| Area: | Atlantic Ocean |
| Start up location: | N 16° 18.000, W 43° 6.000 |
| Start up: | 11th September 2012 |
| Status: | Active |
| Track long: | 549.85 km |
| Top category.: | |
| Report by: | NOAA NHC |

Useful links:

Past track

Date
Time
Position
Speed
km/h
Wind
km/h
Gust
km/h
Category
Course
Wave
Pressure
Source
12th Sep 2012
05:01:17
N 17° 48.000, W 45° 12.000
24
65
83
Tropical Storm
300
13
1004 MB
NOAA NHC
12th Sep 2012
10:46:22
N 18° 36.000, W 46° 36.000
28
74
93
Tropical Storm
300
15
1001 MB
NOAA NHC

Current position

Date
Time
Position
Speed
km/h
Wind
km/h
Gust
km/h
Category
Course
Wave
feet
Pressure
Source
13th Sep 2012
11:12:43
N 21° 30.000, W 51° 18.000
26
111
139
Hurricane I
305 °
17
990 MB
NOAA NHC

Forecast track

Date
Time
Position
Category
Wind
km/h
Gust
km/h
Source
14th Sep 2012
06:00:00
N 25° 24.000, W 54° 0.000
Hurricane II
130
157
NOAA NHC
14th Sep 2012
18:00:00
N 27° 36.000, W 54° 12.000
Hurricane II
130
157
NOAA NHC
15th Sep 2012
06:00:00
N 29° 18.000, W 53° 18.000
Hurricane I
120
148
NOAA NHC
16th Sep 2012
06:00:00
N 31° 30.000, W 49° 30.000
Hurricane I
111
139
NOAA NHC
17th Sep 2012
06:00:00
N 32° 30.000, W 44° 0.000
Hurricane I
111
139
NOAA NHC
18th Sep 2012
06:00:00
N 34° 0.000, W 38° 0.000
Hurricane I
111
139
NOAA NHC
| | | | | | | | | | | |
| --- | --- | --- | --- | --- | --- | --- | --- | --- | --- | --- |
| Kristy (EP11) | Pacific Ocean – East | 12.09.2012 | 13.09.2012 | Tropical Depression | 295 ° | 83 km/h | 102 km/h | 4.57 m | NOAA NHC | |

| | |
| --- | --- |
| Share: | |
| Storm name: | Kristy (EP11) |
| Area: | Pacific Ocean – East |
| Start up location: | N 16° 42.000, W 106° 0.000 |
| Start up: | 12th September 2012 |
| Status: | Active |
| Track long: | 128.78 km |
| Top category.: | |
| Report by: | NOAA NHC |

Useful links:

Past track

Date
Time
Position
Speed
km/h
Wind
km/h
Gust
km/h
Category
Course
Wave
Pressure
Source

Current position

Date
Time
Position
Speed
km/h
Wind
km/h
Gust
km/h
Category
Course
Wave
feet
Pressure
Source
13th Sep 2012
11:10:36
N 18° 30.000, W 108° 30.000
17
83
102
Tropical Depression
295 °
15
1002 MB
NOAA NHC

Forecast track

Date
Time
Position
Category
Wind
km/h
Gust
km/h
Source
14th Sep 2012
18:00:00
N 20° 30.000, W 112° 48.000
Hurricane I
111
139
NOAA NHC
14th Sep 2012
06:00:00
N 19° 36.000, W 111° 12.000
Hurricane I
102
120
NOAA NHC
15th Sep 2012
06:00:00
N 21° 42.000, W 114° 30.000
Hurricane I
102
120
NOAA NHC
16th Sep 2012
06:00:00
N 23° 54.000, W 118° 12.000
Tropical Depression
74
93
NOAA NHC
17th Sep 2012
06:00:00
N 25° 0.000, W 120° 30.000
Tropical Depression
46
65
NOAA NHC
18th Sep 2012
06:00:00
N 25° 30.000, W 121° 0.000
Tropical Depression
37
56
NOAA NHC
………………………………………….
---
USGS Flyover Shows Storm Damage and Marsh Dieback
Posted: 11 Sep 2012 06:00 AM PDT
A flyover of southeast Louisiana revealed storm damage from Hurricane Isaac and marsh dieback, some of which was occurring before Hurricane Isaac. The flyover was conducted by the U.S. Geological Survey National Wetlands Research Center (NWRC), U.S. Fish and Wildlife Service, and the U.S. Department of Agriculture Natural Resources Conservation Service.
The flight examined areas from Wax Lake Delta, La., to Ship Island, Miss., and preliminary assessments suggest that Hurricane Isaac damaged coastal wetlands in a manner that is substantial, but not unprecedented. Damage to coastal wetland areas was evident throughout much of southeast Louisiana. The intensity of hurricane effects was most abundant in areas of upper Breton Sound, an area just to the south of the community of Braithwaite, which experienced devastating flooding. Breton Sound had been experiencing some slight recovery from the extensive damage inflicted by Hurricanes Katrina and Gustav; however, scientists observed many of the initial effects of Hurricane Isaac to be reactivations of previous damages in these newly recovering areas. Photos from the flyover are available online.
"The before and after images from coastal flyovers reveal the disappearance of some of the Gulf's most biologically and economically significant landscape disappearing before our very eyes, on human time scales," said USGS Director Marcia McNutt. "There are many compounding factors that lead to enhanced coastal vulnerability, with hurricanes sweeping in to deliver the coup de grace."
Other areas in which physical damage to coastal wetlands was observed include the north shore of Lake Pontchartrain near Slidell, areas surrounding the Rigolets to include the mouth of the Pearl River, and the Chandeleur Islands. The majority of structural changes in these areas appear to be reactivations or intensifications of effects of previous storms. Previous storms such as hurricanes Audrey, Hilda, Betsy, Andrew, Katrina, Rita, Gustav, and Ike are known to have damaged coastal wetlands and contributed to wetland loss, and Isaac appears to have been yet another blow to Louisiana's fragile but vital coastal wetlands.
"Louisiana's coastal land loss is the greatest environmental, economic and cultural tragedy on the North American Continent, and marsh dieback exacerbates this ongoing disaster," said USGS NWRC Director Phil Turnipseed. "The NWRC is dedicated to continuing to investigate the causes of land loss in order to provide decision makers with information that can help reduce land loss in the future."
The most prevalent effects of Hurricane Isaac observed were expansive wrack fields. Wrack is accumulated organic debris and trash that are transported and deposited by a hurricane's surge. Wrack deposits from Hurricane Isaac were observed throughout southeast Louisiana, burying existing marsh areas and obstructing infrastructure, such as canals and railroads. Generally wrack deposits eventually decompose and the areas are re-vegetated, but in the short-term wrack can kill the existing wetland vegetation.
Very few downed trees were observed in forested wetlands from Hurricane Isaac, especially compared to that of Hurricane Katrina, which is likely indicative of the lesser intensity of this storm. Even in areas where no physical removal of wetlands or vegetation was evident, the vegetation which did survive was observed to have sustained substantial damage.
Large areas of marsh dieback, termed "brown marsh" or "sudden marsh dieback," were observed in the Terrebonne and Barataria basins in Louisiana. Previous reports of sudden marsh dieback in the spring and summer of 2012, before Hurricane Isaac, indicate that the dieback in this area has been increasing over time and may be the result of a combination of other stressors. Evidence of vegetation stress, such as widespread discoloration, was also observed in areas that were directly impacted further to the east by hurricane storm surge. The browning and destruction in the marshes east of the Mississippi River in coastal Louisiana appear to be recent, indicating a more direct link to salinity and flooding stress associated with the Hurricane Isaac's storm surge. The USGS will further investigate the recent history of sudden marsh dieback events in coastal Louisiana. Subsequent aerial surveys will be conducted to quantify the extent of brown marsh and to potentially separate the phenomenon of sudden dieback and the storm surge impacts.
Sudden marsh dieback events have occurred over the last decade in coastal marshes from the Northern Gulf of Mexico to Maine. One of the most severe events occurred in 2000, where almost 25,000 acres (about 400 square miles) of salt marsh were impacted throughout Louisiana's Mississippi River Delta Plain. The cause of sudden marsh dieback is still under debate, but may be cyclical depending on interactive climate conditions, sea level changes, and other environmental factors.
Marsh dieback can lead to land loss since the roots of the plants help hold the marsh together and, in some cases, increase the elevation of the marsh. As the plants die, the elevation of the marsh sinks when the roots deteriorate, turning marsh to shallow open water.
Louisiana currently experiences more wetland loss then all other states in the U.S. combined. Coastal Louisiana has lost a wetland area the size of Delaware, equaling 1,883 square miles, over the past 78 years, according to a 2011 USGS National Wetlands Research Center study.
Visit NWRC's hurricane research for more information. To view images collected during post-Hurricane Isaac reconnaissance flights, click on the Hurricane Isaac link. To learn more about brown marsh, visit the Coastal Marsh Dieback (Brown Marsh) website.
| | | | | | | |
| --- | --- | --- | --- | --- | --- | --- |
| 12.09.2012 | Flash Flood | USA | State of Utah, [Santa Clara area of Washington County] | | | |
Description
Stacie Rogers was happy to hear that an employee got the seven preschoolers out of her performing art school and safely home – a flood was coming. Rogers, owner of Talent Sprouts, got word from the city early Tuesday afternoon that her business and others needed to evacuate. Heavy rain in southern Utah Tuesday afternoon caused flooding in the Santa Clara area of Washington County, which was declared a disaster area after an earthen dike broke. Extremely heavy rain fell into a small canyon above Santa Clara, which drained into what used to be a dry wash but has since been developed with homes and businesses, said Pete Wilensky, lead forecaster for the NWS in Salt Lake City. Between Monday evening and Tuesday at 2:44 p.m., 3.41 inches of rain fell in nearby Ivins, according to the NWS website. A retention pond swollen by the torrential rain broke through a canal dike near Sunset Boulevard and North Canyon View Drive, unleashing a flood of muddy red water. Shortly after noon, the city had evacuated 60 homes and 15 businesses threatened by water pouring toward the Santa Clara River. Water flooded at least several homes and businesses near the intersection of Santa Clara Drive and Canyon View Drive, said Chad Hays, director of parks and trails for Santa Clara. The waters flooded at least 10 to 15 homes, though officials were still trying to assess the extent of the damage Tuesday evening. The Red Cross of Utah provided snacks, water and dry ground for evacuees in the first floor of the Santa Clara City Building. Most of the water from the retention pond had stopped flowing by late Tuesday afternoon, and the city allowed people to return to their homes and businesses, some to see the damage for themselves. That included Randy Snow, owner of the Domino's Pizza at 2311 Santa Clara Drive.
| | | | | | | |
| --- | --- | --- | --- | --- | --- | --- |
| 12.09.2012 | Flash Flood | USA | State of Nevada, [Las Vegas area] | | | |
Description
An intense thunderstorm is flooding streets and washes and prompting 911 calls for swift-water rescues in the Las Vegas area. Clark County spokesman Dan Kulin says rescuers are trying to confirm a report of a person in the water in a wash near Viking Road. That's northeast of Maryland Parkway and Flamingo Road. But Las Vegas officials say firefighters haven't confirmed any reports of people being swept away by water. The National Weather Service has issued a flash flood warning until 4 p.m. Tuesday in the central Las Vegas area. Almost an inch of rain was reported at McCarran International Airport just before 2 p.m. Officials say some motorists are reporting high water in intersections around the Las Vegas area.
| | | | | | | |
| --- | --- | --- | --- | --- | --- | --- |
| 13.09.2012 | Flash Flood | Pakistan | State of Balochistan, [Balochistan-wide] | | | |
Description
Torrential rains continued lashing northern and eastern Balochistan, rendering hundreds of families homeless, inundating vast area of agriculture land and cutting off Balochistan from rest of the country. Two dead bodies have also recovered from the rainwater in Dera Murad Jamali and Bolan district while eight people, among them three women were also missing. Provincial government, Pak Army and Frontier Corps have started rescue operation in the rain battered areas of the province. The prevailing spate of intermittent rains which started five days back has badly affected Naseerabad, Jaffarabad, Kohlu, Barkhan, Rakhni, Sibi, Qila Saifullah, Zhob, Harnai, Loralai and Musa Khail districts of Balochistan rendering hundreds of families homeless and suspending train and road network with Punjab, Sindh and Khaibar Pakhtunkhwa. The torrential rains continued lashing parts of Balochistan for fifth consecutive day inundating hundreds of houses, destroying standing crops on millions of acre, injuring hundreds of people.Road network linking Balochistan to rest of the country has suspended as rain has pounded portion of roads in Qila Saifullah, Loralai, Harnai, Naseerabad, Jaffarabad, Zhob, Dera Ghazi Khan, Bolan and Sibi districts. Police official told that flash floods swept away three women namely Rahima, Saeeda and Saeeda in QIla Saifullah. Torrential rains has submerged the portion of railway track at Jacobabad-Sibi Junction, suspending train services in Balochistan. Balochistan is cut- off from rest of the country as road network is already disrupted due to the heavy rains in northern and eastern Balochistan. According to reports pouring in from different areas of the province, rain-battered people are fleeing to safer places. However, the provincial government has declared emergency and dispatched rescue teams to the rain-battered areas. On account of reports of possible breach in the Pat Feeder Canal, the leaves of the Irrigation department staff has been cancelled. PPP Balochistan president while addressing a press conference at his residence said that recent rains have played havoc in Naseerabad district. "Rains have so far claimed 12 lives while 4 lakh people are trapped in Naseerabad he said adding rains left hundreds of families homeless, destroyed 7 lakh acre rice crops. He maintained that rainwater has gushed into the houses in the district and people awaiting response from government and international humanitarian organizations. Meanwhile, under the supervision of Secretary Information Technology Captain retired Mohammad Akbar Durrani, Balochistan government has established relief cell for the masses of the rain battered areas. Relief goods comprising tents, ration, medicine and other stuff has been dispatched to the affected population.
************************************************************************************************************
Radiation / Nuclear
By NOBUTARO KAJI/ Staff Writer
| | | | | | | |
| --- | --- | --- | --- | --- | --- | --- |
| 12.09.2012 | Explosion | Netherlands | North Holland, Velsen-Noord [Nuon Power Plant] | | | |
Description
Eight people have been injured in an explosion at a Nuon power plant in Velsen Noord, west of Amsterdam. Three people have been rushed to hospital and one may be seriously injured, news agencies reported. One eyewitness said: 'There was a big explosion followed by several little ones. There were flames but not a real fire.' Others told the Telegraaf the incident may have been caused by workers making changes in the high-voltage sub-station. Once the area has been declared safe, fire officers will enter the building and try to establish more.
************************************************************************************************************
Climate Change
Climate change, algal blooms and 'dead zones' in the Great Lakes Enlarge The green scum shown in this image is the worst algae bloom Lake Erie has experienced in decades. Such blooms were common in the lake's shallow western basin in the 1950s and 60s. Phosphorus from farms, sewage, and industry fertilized the waters so that huge algae blooms developed year after year. The blooms subsided a bit starting in the 1970s, when regulations and improvements in agriculture and sewage treatment limited the amount of phosphorus that reached the lake. But in 2011, a giant bloom spread across the western basin once again. Credit: Jesse Allen and Robert Simmon, using data provided courtesy of the United States Geological Survey (Phys.org)—Climate change is expected to increase the frequency of intense spring rain storms in the Great Lakes region throughout this century and will likely add to the number of harmful algal blooms and "dead zones" in Lake Erie, unless additional conservation actions are taken, according to a University of Michigan aquatic ecologist.
Climate models suggest that the number of intense spring rain storms in the region could double by the end of the century, contributing to an overall 30 to 40 percent increase in spring precipitation, said Donald Scavia, director of the U-M's Graham Sustainability Institute. That increase, combined with the greater availability of phosphorous due to current agricultural practices in the Midwest, means that increased amounts of the nutrient will be scoured from farmlands and run into rivers that feed Lake Erie, fueling algae blooms and low-oxygen zones known as dead zones. "Climate change is likely to make reducing phosphorous loads even more difficult in the future than it is now, which will likely lead to even more toxic algae blooms and larger dead zones unless more conservation is undertaken," said Scavia, who will present his latest findings on the topic Wednesday morning during Great Lakes Week events in Cleveland. "Current agricultural practices and climate are conspiring to increase the phosphorous loads that make their way into Lake Erie," said Scavia, a professor at the U-M School of Natural Resources and Environment. The agricultural practices that contribute to increased availability of phosphorous from fertilizer include no-till farming, a method of planting crops without plowing. The technique reduces soil erosion but also leaves "high concentrations of phosphorous in the upper surface soil, and these intense storms appear to be flushing it out," Scavia said. The widespread adoption of no-till farming and other agricultural techniques since the mid-1990s have had some positive effects but appear to have also increased the availability of the type of phosphorous, known as soluble reactive phosphorous, that promotes algae blooms, Scavia said. Since the mid-1990s, intense spring rain storms have also become more common in the Great Lakes region, especially in southeast Michigan and northwest Ohio, the regions that provide runoff into Lake Erie, Scavia said. Current agricultural best management practices – such as planting buffer strips around cropland, protecting wetlands and using less fertilizer – applied at the current scales are likely "not going to be sufficient to reduce the phosphorous loads to the levels we need to prevent the blooms and to get rid of the dead zones," Scavia said. In the late 1960s, 1970s and early 1980s, control strategies focused on reducing phosphorous from specific sources, such as waste-treatment plants. Reductions from those so-called point sources led to major gains in Great Lakes health, including a drop in the frequency and extent of harmful algae blooms and dead zones. Some of those gains have been reversed since the mid-1990s. The increased availability of soluble reactive phosphorous and a surge in extreme rainfall events in the region have contributed to a resurgence of both harmful algal blooms and dead zones in Lake Erie, Scavia said. Algae blooms can foul harbors, clog boat motors, reduce fish populations, and can sometimes be toxic to humans. Dead zones are low-oxygen regions where most aquatic organisms cannot survive. Provided by University of Michigan search and more info website
************************************************************************************************************
Solar Activity
2MIN News Sept 12. 2012
Published on Sep 12, 2012 by Suspicious0bservers
TODAY'S LINKS
Jupiter Impact: http://www.flickr.com/photos/19299984@N08/7976507568
Pakistan Flooding: http://www.thefrontierpost.com/article/180827/
Leslie on Sat: http://vortex.accuweather.com/adc2004/pub/includes/columns/andrews/2012/400×2…
More Leslie: http://www.torontosun.com/2012/09/11/tropical-storm-leslie-slams-into-newfoun…
Herd Losses: http://www.weather.com/news/isaac-ranch-herd-losses-20120911
Planets Form in Center of Galaxy: http://www.sciencedaily.com/releases/2012/09/120911151936.htm
REPEAT LINKS
Spaceweather: http://spaceweather.com/ [Look on the left at the X-ray Flux and Solar Wind Speed/Density]
HAARP: http://www.haarp.alaska.edu/haarp/data.html [Click online data, and have a little fun]
SDO: http://sdo.gsfc.nasa.gov/data/ [Place to find Solar Images and Videos - as seen from earth]
SOHO: http://sohodata.nascom.nasa.gov/cgi-bin/soho_movie_theater [SOHO; Lasco and EIT - as seen from earth]
Stereo: http://stereo.gsfc.nasa.gov/cgi-bin/images [Stereo; Cor, EUVI, HI - as seen from the side]
SunAEON:http://www.sunaeon.com/#/solarsystem/ [Just click it... trust me]
SOLARIMG: http://solarimg.org/artis/ [All purpose data viewing site]
iSWA: http://iswa.gsfc.nasa.gov/iswa/iSWA.html [Free Application; for advanced sun watchers]
NASA ENLIL SPIRAL: http://iswa.gsfc.nasa.gov:8080/IswaSystemWebApp/iSWACygnetStreamer?timestamp=…
NOAA ENLIL SPIRAL: http://www.swpc.noaa.gov/wsa-enlil/
US Wind Map: http://hint.fm/wind/
NOAA Bouys: http://www.ndbc.noaa.gov/
NOAA Environmental Visualization Laboratory: http://www.nnvl.noaa.gov/Default.php
RSOE: http://hisz.rsoe.hu/alertmap/index2.php [That cool alert map I use]
GOES Xray: http://www.swpc.noaa.gov/sxi/goes15/index.html
JAPAN Radiation Map: http://jciv.iidj.net/map/
LISS: http://earthquake.usgs.gov/monitoring/operations/heliplots_gsn.php
Gamma Ray Bursts: http://grb.sonoma.edu/ [Really? You can't figure out what this one is for?]
BARTOL Cosmic Rays: http://neutronm.bartol.udel.edu//spaceweather/welcome.html [Top left box, look for BIG blue circles]
TORCON: http://www.weather.com/news/tornado-torcon-index [Tornado Forecast for the day]
GOES Weather: http://rsd.gsfc.nasa.gov/goes/ [Clouds over America]
RAIN RECORDS: http://www.cocorahs.org/ViewData/ListIntensePrecipReports.aspx
EL DORADO WORLD WEATHER MAP: http://www.eldoradocountyweather.com/satellite/ssec/world/world-composite-ir-…
PRESSURE MAP: http://www.woweather.com/cgi-bin/expertcharts?LANG=us&MENU=0000000000&…
HURRICANE TRACKER: http://www.weather.com/weather/hurricanecentral/tracker
INTELLICAST: http://www.intellicast.com/ [Weather site used by many youtubers]
NASA News: http://science.nasa.gov/science-news/science-at-nasa/
PHYSORG: http://phys.org/ [GREAT News Site!]
QUAKES LIST FULL: http://www.emsc-csem.org/Earthquake/seismologist.php

************************************************************************************************************
Space
Object Name
Apporach Date
Left
AU Distance
LD Distance
Estimated Diameter*
Relative Velocity
(2007 PB8)
14th September 2012
1 day(s)
0.1682
65.5
150 m – 340 m
14.51 km/s
52236 km/h
226514 (2003 UX34)
14th September 2012
1 day(s)
0.1882
73.2
260 m – 590 m
25.74 km/s
92664 km/h
(1998 QC1)
14th September 2012
1 day(s)
0.1642
63.9
310 m – 700 m
17.11 km/s
61596 km/h
(2002 EM6)
15th September 2012
2 day(s)
0.1833
71.3
270 m – 590 m
18.56 km/s
66816 km/h
(2002 RP137)
16th September 2012
3 day(s)
0.1624
63.2
67 m – 150 m
7.31 km/s
26316 km/h
(2009 RX4)
16th September 2012
3 day(s)
0.1701
66.2
15 m – 35 m
8.35 km/s
30060 km/h
(2005 UC)
17th September 2012
4 day(s)
0.1992
77.5
280 m – 640 m
7.55 km/s
27180 km/h
(2012 FC71)
18th September 2012
5 day(s)
0.1074
41.8
24 m – 53 m
3.51 km/s
12636 km/h
(1998 FF14)
19th September 2012
6 day(s)
0.0928
36.1
210 m – 480 m
21.40 km/s
77040 km/h
331990 (2005 FD)
19th September 2012
6 day(s)
0.1914
74.5
320 m – 710 m
15.92 km/s
57312 km/h
(2009 SH2)
24th September 2012
11 day(s)
0.1462
56.9
28 m – 62 m
7.52 km/s
27072 km/h
333578 (2006 KM103)
25th September 2012
12 day(s)
0.0626
24.4
250 m – 560 m
8.54 km/s
30744 km/h
(2002 EZ2)
26th September 2012
13 day(s)
0.1922
74.8
270 m – 610 m
6.76 km/s
24336 km/h
(2009 SB170)
29th September 2012
16 day(s)
0.1789
69.6
200 m – 440 m
32.39 km/s
116604 km/h
(2011 OJ45)
29th September 2012
16 day(s)
0.1339
52.1
18 m – 39 m
4.24 km/s
15264 km/h
(2012 JS11)
30th September 2012
17 day(s)
0.0712
27.7
270 m – 600 m
12.60 km/s
45360 km/h
137032 (1998 UO1)
04th October 2012
21 day(s)
0.1545
60.1
1.3 km – 2.9 km
32.90 km/s
118440 km/h
(2012 GV11)
05th October 2012
22 day(s)
0.1830
71.2
100 m – 230 m
6.96 km/s
25056 km/h
(2009 XZ1)
05th October 2012
22 day(s)
0.1382
53.8
120 m – 280 m
16.87 km/s
60732 km/h
(2006 TD)
06th October 2012
23 day(s)
0.1746
68.0
88 m – 200 m
13.03 km/s
46908 km/h
(2009 TK)
06th October 2012
23 day(s)
0.0450
17.5
100 m – 230 m
11.10 km/s
39960 km/h
(2004 UB)
08th October 2012
25 day(s)
0.1995
77.6
240 m – 530 m
14.65 km/s
52740 km/h
277830 (2006 HR29)
11th October 2012
28 day(s)
0.1917
74.6
190 m – 440 m
7.88 km/s
28368 km/h
(2008 BW2)
11th October 2012
28 day(s)
0.1678
65.3
3.1 m – 6.8 m
11.10 km/s
39960 km/h
(2005 GQ21)
12th October 2012
29 day(s)
0.1980
77.0
620 m – 1.4 km
23.86 km/s
85896 km/h
(2012 GV17)
12th October 2012
29 day(s)
0.1500
58.4
160 m – 370 m
16.11 km/s
57996 km/h

| | |
| --- | --- |
| 1 AU = ~150 million kilometers,1 LD = Lunar Distance = ~384,000 kilometers | Source: NASA-NEO |
………………………………….
Around the world, amateur astronomers have been scanning the cloudtops of Jupiter for signs of debris from an explosion witnessed by Dan Peterson and George Hall on Sept. 10th. So far the cloud layer is blank. "Several observers have now obtained excellent images on the second and third rotations after the fireball, and there is nothing new nor distinctive at the impact site," reports John H. Rogers, director of the Jupiter Section of the British Astronomical Association: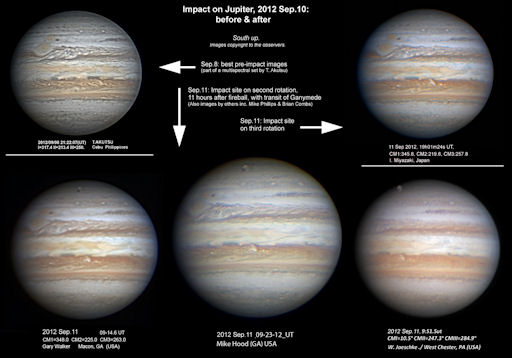 The fireball was probably caused by a small asteroid or comet hitting Jupiter. Apparently, the giant planet swallowed the impactor whole.
When fragments of Comet Shoemaker-Levy 9 hit Jupiter in 1994, each major flash observed by NASA's Galileo spacecraft produced a "bruise," a murky mixture of incinerated comet dust and chemically altered Jovian gas twisting and swirling among the clouds. In July 2009, amateur astromer Anthony Wesley discovered a similar mark thought to be debris from a rogue asteroid crashing into the planet.
So where is the debris this time? Perhaps the impactor was small, packing just enough punch to make a flash, but without leaving much debris. Indeed, studies suggest that Jupiter is frequently struck by relatively small 10-meter-class asteroids. In such cases, minimal debris is to be expected.
POLAR LIGHTS:
In the Arctic, springtime ended months ago. Nevertheless, butterflies have been sighted. This one appeared last night over Grøtfjord, Norway: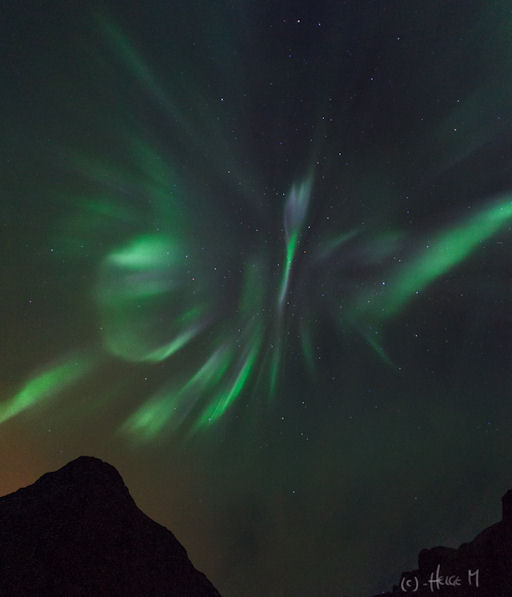 Helge Mortensen took the picture on Sept. 12th. "The auroras were not a strong as some I've seen, but it was still nice to be outside and watch such a beautiful apparition," he says.
This Northern Lepidoptera appeared when a "kink" in the interplanetary magnetic field (IMF) drifted past Earth, briefly opening a crack in our planet's magnetosphere. Solar wind poured in to fuel the display. At the peak of the storm, the Arctic Circle was glowing from Scandinavia to Iceland to Canada.
Earth's polar magnetic field is settling down again, but more Arctic auroras are in the offing, especially on Sept 14-15 when a solar wind stream is expected to reach our planet
The galaxy cluster Abell 1689 is famous for the way it bends light in a phenomenon called gravitational lensing. A new study of the cluster is revealing secrets about how dark energy shapes the universe. Full story.
CREDIT: NASA, ESA, E. Jullo (JPL/LAM), P. Natarajan (Yale) and J-P. Kneib (LAM)
Dark energy, the mysterious substance thought to be accelerating the expansion of the universe, almost certainly exists despite some astronomers' doubts, a new study says.
After a two-year study, an international team of researchers concludes that the probability of dark energy being real stands at 99.996 percent. But the scientists still don't know what the stuff is.
"Dark energy is one of the great scientific mysteries of our time, so it isn't surprising that so many researchers question its existence," co-author Bob Nichol, of the University of Portsmouth in Engalnd, said in a statement. "But with our new work we're more confident than ever that this exotic component of the universe is real — even if we still have no idea what it consists of."
*************************************************************************************************************
Biological Hazards / Wildlife
| | | | | | | |
| --- | --- | --- | --- | --- | --- | --- |
| 12.09.2012 | Biological Hazard | USA | State of California, [Along the Klamath River and its reservoirs] | | | |
Description
Water quality officials are posting blue-green algae warnings along the Klamath River and its reservoirs, encouraging people to stay out of the water. "It's a human health issue," said Craig Tucker, a Klamath campaign coordinator for the Karuk tribe. "The hotter and drier it is, the worse the algae blooms." Users are warned to avoid contact with the blue-green algae, which contains the microcystis toxin. Microcystin is a known tumor promoter and liver toxin, according to a press release from the Karuk Tribe Department of Natural Resources. Craig said that the blooms affect reservoirs along the Klamath every year, but do not always contaminate the river downstream. This year, however, posted warning areas include Copco Reservoir, Iron Gate Reservoir and the river itself downstream to Turwar on the Yurok Reservation. The algal blooms usually occur between June and October because shallow, nutrient-rich water trapped behind the Klamath dams heats up. This provides an optimal environment for algae to bloom. "We think the only way to deal with it is dam removal," Tucker said. Blooms normally occur while downstream tribes are holding annual World Renewal ceremonies. According to the release, the ceremonies require spiritual leaders to bathe in the river, which puts them at risk of exposure. Tucker said, the Karuk medicine men who do the rituals are at an elevated risk.
Biohazard name:
Blue-Green Algae bloom (cyanobacteria)
Biohazard level:
0/4 —
Biohazard desc.:
This does not included biological hazard category.
Symptoms:
Status:
**************************************************************************************************************
Articles of Interest
| | | | | | | | |
| --- | --- | --- | --- | --- | --- | --- | --- |
| | 12.09.2012 | Technological Disaster | Egypt | Capital City, Cairo [District of Shubra] | | | |
Description
At least seven people were killed, eight injured and five remain missing after a five-story building collapsed today in the district of Shubra in the Egyptian capital Cairo. Several such incidents in Egypt have been caused by building violations and bad maintenance.
| | | | | | | |
| --- | --- | --- | --- | --- | --- | --- |
| 12.09.2012 | Power Outage | Canada | Province of Newfoundland and Labrador, [Avalon Peninsula] | | | |
Description
Approximately 9,000 Newfoundland Power customers on the Avalon Peninsula are still without power as of midday Wednesday, one day after tropical storm Leslie hit the island. According to Newfoundland Power spokeswoman Michele Coughlan, 6,000 of those customers are in the St. John's area, with five main feeders in need of repairs. The remaining 3,000 customers are spread throughout the Avalon Peninsula. Over 60 poles needed replacing as of this morning, according to Coughlan. Trees tangled with power lines and lines downed by fallen trees were continuing to pose problems for the electric utility, she said. Siding detached from various buildings had also caused problems for power lines. Coughlan said the company intends to have all main feeders repaired by Wednesday's supper hour, adding that isolated outages for some customers may run into Thursday.
…………………………………….
by Staff Writers
Munich, Germany (SPX)

Illustration only.

Related Links
Helmholtz Association of German Research Centres
Bringing Order To A World Of Disasters
When the Earth Quakes
A world of storm and tempest
by Staff Writers
Pasadena CA (JPL)

The flight path of the first HS3 Global Hawk unmanned aircraft from NASA's Dryden Flight Research Center at Edwards Air Force Base, Calif. to NASA's Wallops Flight Facility in Wallops Island, Va., on Sept. 5-6 included investigations of a tropical disturbance in the Gulf of Mexico and Hurricane Leslie in the Atlantic. Image credit: NASA. For a larger version of this image please go here.

Related Links
NASA's Airborne Science Program
HAMSR
HS3
Bringing Order To A World Of Disasters
When the Earth Quakes
A world of storm and tempest
*************************************************************************************************************
[In accordance with Title 17 U.S.C. Section 107, this material is distributed without profit, for research and/or educational purposes. This constitutes 'FAIR USE' of any such copyrighted material.]