Environmental
It's Time to Ban Atrazine
A commonly used herbicide called atrazine is a suspected carcinogen, but legal nonetheless.
The herbicide atrazine is in the news for multiple reasons these days, as Tom Philpott explains below. In addition to concerns that this widely used pesticide may cause cancer, evidence has recently surfaced showing that, for more than a decade, Syngenta has spent millions of dollars to pay scientists and journalists to deny and deflect the growing documentation of the human health dangers posed by atrazine. Plus, cancer is not the only concern with this chemical; a new report from the National Institute of Environmental Health Sciences names atrazine among a group of endocrine-disrupting chemicals that are "obesogens" — meaning they are suspected of contributing to the obesity epidemic now underway in this country. Here are links to these important stories:
Developing News and Information About Atrazine
Severe Drought Grips Brazil's Northeastern Region
Published on May 7, 2012 by IBTimesTV
The worst drought in 30 years in Brazil's poor north-eastern region has destroyed crops and prompted officials to limit water use in the 266 districts that have declared a state of emergency.
Lakes have dried up, forcing thousands of families who live in remote areas to walk miles in order to pick up water.
The agriculture secretary in the town of Maracas, Gilmar Rocha, said the drought problems have become constant in the region.
"The local neighborhood of Porto Alegre, is located close to the Contas' river, and we use the river's water in our homes. But the river is drying up and the problems are constant now," he said.
As a result of the drought, ranchers have been struggling to feed and water cattle while farmers have been left to watch their crops shrivel into the dusty soil.
Forty-two-year-old Jose Oliveira de Sousa, who works at a raft station in the district of Maracas, said many of his colleagues have been left unemployed as a result of the drought.
"Everyone is going through a big crisis because of the drought. Our jobs have been taken away from us, from the fishermen to the farmers to the boat and raft operators," he said.
According to weather experts, the drought may last up to October.The drought in the Southern hemisphere is caused by La Nina, which is cooling equatorial Pacific waters.

**********************************************************************************************************
Cyber Space
Facebook Users Share and 'Like' Too Much, Report Says
By Christina DesMarais, PCWorld    May 6, 2012 6:49 AM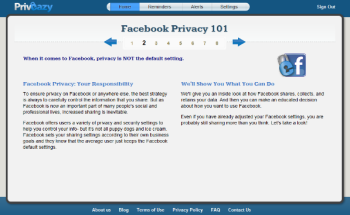 Facebook has nearly 1 billion users, but a good chunk of them are clueless when it comes to using the social network safely, a new study conducted by Consumer Reports has found.
Consumer Reports projected its findings after questioning Facebook, security experts, privacy lawyers, app developers, and victims of security and privacy abuse as well as surveying 2002 online households, including 1340 that use Facebook.
The findings are pretty telling.
Oversharing is common. A projected 4.8 million Facebook users have publicly indicated where they planned to go on a certain day even though doing so could tip-off thieves, stalkers, or others with nefarious intent. Another 4.7 million "liked" a Facebook page about health conditions or treatments, in spite of the fact that insurers could use that data against them.
Millions don't use privacy controls. Nearly 13 million users have never set or don't know about the social network's privacy tools. And more than a quarter of users have shared their wall posts with an audience broader than their friends.
Data is a premium to Facebook. "It is very likely that no government or corporation has ever managed to gather such a huge amount of personal and often highly sensitive data," said Max Schrems, an Austrian law student who retrieved 1222 pages worth of his personal information last year from Facebook. Among them he found wall posts, messages, e-mail addresses, and friend names that he had previously deleted from his account.
Third parties can see your data. Many Facebook apps garner data about users' friends. That means even if you don't use a particular app it could have access to your data just by way of one of your friends who is using it.
[See more: Which Facebook Apps Steal Your Data (and How to Stop Them)]
London's Olympics Plans Include Cybersecurity
By Anh Nguyen, Computerworld-UK
Cabinet Office minister Francis Maude has warned that the London 2012 Olympic Games "will not be immune" to cyber attacks.
However, it may depend on the type of cyber attack, as the CIO for the London Organizing Committee for the Olympic Games (LOCOG) said last year that cyber criminals would find it "very hard" to launch a distributed denial of service (DDoS) attack on the Games' website.
Maude, speaking on a visit to Estonia, pointed out that the Beijing Olympics in 2008 experienced 12 million cybersecurity attacks, and said that hackers would be looking to "disrupt" this year's Games as well.
He said: "We have rightly been preparing for sometime. A dedicated unit will help guard the London Olympics against cyber attack.
"We are determined to have a safe and secure Games."
Foreign intelligence agencies, or groups working on their behalf, also continue to target UK government networks, Maude said.
He added: "We know that the threat is accelerating."
By Andrew Feinberg
FB PAC, Facebook's new political action committee, spent its first-ever quarter of activity hewing to a more or less bipartisan donation strategy with emphasis on the House and Senate Judiciary committees, the PAC's first quarter disclosure form shows.
Facebook's PAC was formed at the end of 2011, but the company's strong revenues and high valuation in the run up to its initial public offering allowed executives it raises funds from plenty of resources to donate. CEO Mark Zuckerberg, COO Sheryl Sandberg, and several board members including LinkedIn founder Reid Hoffman and Netscape founder and venture capitalist Marc Andreessen contributed the maximum allowable $5,000 to the committee.
Some of Facebook's Washington-based employees contributed comparatively small amounts, including public policy manager Adam Conner.  Conner, who was an aide to Rep. Louise Slaughter (D-N.Y.) before becoming Facebook's first D.C. hire, kicked in $300 to help get the PAC off the ground.
But the Washington office's real contribution to the PAC – strategy – becomes clear after a read of its first quarter disclosure for 2012.
Of the $128,900 the PAC took in, it quickly gave away $119,000, distributing the donations on a mostly bipartisan basis. Uncharacteristic for most tech companies, the final tally of contributions favored Republicans $65,500 to $53,500.
Typical leadership cash magnets like House Speaker John Boehner (R-Ohio), Minority Leader Nancy Pelosi (D-Calif.) and Senate Majority and Minority leaders Harry Reid (D-Nev.) and Mitch McConnell (R-Ky.) were FB PAC recipients.
But despite the almost bipartisan final breakdown, many of the PAC's donations seemed to ignore party labels altogether, going instead either to tech favorites like Rep. Anna Eshoo (D-Calif.), Greg Walden (R-Ore.) and Fred Upton (R-Mich.) or Judiciary committee veterans like Reps. Darrel Issa (R-Calif.), Mary Bono Mack (R-Calif.) Zoe Lofgren (D-Calif.), James Sensenbrenner (R-Wis.) and Sens. John Cornyn (R-Texas), Orrin Hatch (R-Utah), Amy Klobuchar (D-Minn.) and Chuck Schumer (D-N.Y.).
**********************************************************************************************************
Survival / Sustainability
Food Storage Powdered Milk Recipe: Homemade Condensed Soups
Uploaded by everydayfoodstorage on Nov 9, 2008
Make your own condensed soups from food storage! You'll save a ton of money and have more control over the ingredients! For more information about magic mix and cooking with your food storage, visit http://everydayfoodstorage.net/about-food-storage/magic-mix
Making Cheese with Dehydrated MIlk
You might have noticed I am a big guy; almost all of my excess padding comes from my love of cheese, meat, and mayo. I don't eat a lot of sweets, but I will eat cheese by the pound. This led me to begin learning how to make my own cheese, and researching raising livestock for milk production. At this time, we have decided not to raise milk goats due to the small size of our fenced yard, but I still like making cheese. From a TEOTWAWKI or a grid down catastrophic disaster making fresh cheese is still possible even if you don't have access to fresh milk as long as you have stored some dry powdered milk.
This article documents my first attempt at making cheese in this manner, I have read about it for some time, but finally decided to step up and try it. It is supposed to be pretty easy – It's basically the same as making ricotta cheese. We will start with a simple curd cheese, which can be used in the place of ricotta in recipes.
In a later article we will also show how to take this recipe and further process it to make a mock Parmesan cheese that you can either use alone or mix with actual Parmesan to make it last longer.
  Read Full Article Here

***********************************************************************************************************
Community
Q: What's a CSA? A: Community Supported Agriculture
Uploaded by JoshNYC11 on Jun 24, 2008
Food contamination scares and global warming worries are making people think about where exactly their produce comes from. More Americans are now deciding to get it straight from the farmer — not by going to a farmer's market, but through buying a "share" of a small farm's harvest up front.
***********************************************************************************************************
Whistle Blowers
This file photo shows American troops.
A Pentagon report has revealed that the US Defense Department has failed to protect whistleblowers, who have reported misconduct and wrongdoing.
The Washington Post reported officials in the Department of Defense's Office of Inspector General have systematically ignored Pentagon rules provided to protect those responsible of reporting fraud, abuses and the waste of taxpayer money.
A nonprofit watchdog group, Project on Government Oversight, obtained the May 2011 report under the Freedom of Information Act.
The document was based on an investigation that evaluated the performance of the Inspector General's Directorate for Military Reprisal Investigations. The report disclosed that the directorate frequently disregarded evidence of grave punishments against those in the service who complained.
The reprisals contained demotions, threatened or real discharges, dismissals, trial and mental health referrals.
The investigating team argued the office's plans to disregard more than half of the 152 cases it studied, and urged it to improve its procedures and start implementing the protective regulations.
Following the report, Marguerite C. Garrison, the Defense Department's deputy inspector general for administrative investigations, reorganized the office last year and began a revamp of its manual.
However, independent experts voiced doubts about the effectiveness of the move.
"This devastating report proves one of our worst fears – that military whistleblowers have systematically been getting a raw deal," said Danielle Brian, executive director of the Project on Government Oversight.
SAB/AGB/JR/HGH
***********************************************************************************************************
Activism
'Nabeel Rajab arrested after tweeting about Assange's RT show'
ished on May 7, 2012 by RussiaToday Bahrain authorities have arrested the country's most prominent human rights activist and harsh critic of the state's ruling family. Nabeel Rajab was detained just days before his appearance on Julian Assange's show here on RT. In the programme, which airs on Tuesday, the whistleblower gets an insight from him, and a fellow Egyptian activist, into the uprisings in the Arab States. RT spoke with London-based author and journalist Afshin Rattansi, who believes that Nabeel Rajab and his fellow activists have a lot of challenges to face in the future.

OWS being dubbed 'domestic terrorists'?
Published on May 7, 2012 by RTAmerica
Last week, the FBI thwarted a plan of five self-proclaimed anarchist who were plotting to blow up a bridge near Cleveland, Ohio. The mainstream media has been on a campaign to associate the five individuals to the Occupy movement and are now questioning the entire movement. An undercover FBI agent allegedly sold the group explosives and many critics believe the government is attempting to discredit the movement. Here is our report.

OWS being discredited by the US government?
Published on May 7, 2012 by RTAmerica
The Cleveland Five, a group of five men who are self-proclaimed anarchists were caught by the FBI after allegedly planning to blow up a bridge in Ohio. The plot which was intercepted on May Day, the day of Occupy Wall Street's resurgence, has the media quickly connecting the five individuals to the Occupy movement. Lynne Jackson, co-founder and president for Project Salam, helps us take a closer look at this case and these controversial tactics.

***********************************************************************************************************
[In accordance with Title 17 U.S.C. Section 107, this material is distributed without profit, for research and/or educational purposes. This constitutes 'FAIR USE' of any such copyrighted material.]