Earthquakes
Date/Time (UTC)
Magnitude
Area
Country
State/Prov./Gov.
Location
Risk
Source
Details
03.07.2012 06:05:28
2.1
North America
United States
California
Valle Vista
USGS-RSOE
03.07.2012 05:35:26
2.2
Middle America
Mexico
Baja California
Alberto Oviedo Mota
USGS-RSOE
03.07.2012 05:30:23
5.1
Asia
Japan
Chiba
Kawaguchi
EMSC
03.07.2012 05:30:41
2.6
Europe
Spain
Canary Islands
La Restinga
EMSC
03.07.2012 05:30:59
2.9
Europe
Spain
Canary Islands
La Restinga
EMSC
03.07.2012 05:31:17
3.8
Europe
Spain
Canary Islands
La Restinga
EMSC
03.07.2012 05:31:35
2.1
Europe
Portugal
Faro
Sagres
EMSC
03.07.2012 04:25:24
4.7
Pacific Ocean – West
Guam
Asan-Maina Municipality
Asan-Maina Village
EMSC
03.07.2012 04:27:33
4.7
Pacific Ocean – West
Guam
Asan-Maina Municipality
Asan-Maina Village
USGS-RSOE
03.07.2012 04:25:44
2.7
Europe
Greece
Ionian Islands
Limni Keriou
EMSC
03.07.2012 04:26:07
2.7
Europe
Spain
Canary Islands
La Restinga
EMSC
03.07.2012 03:10:29
2.2
North America
United States
California
East Foothills
USGS-RSOE
03.07.2012 03:05:39
2.6
North America
United States
California
Nubieber
USGS-RSOE
03.07.2012 04:26:26
2.2
Europe
Greece
South Aegean
Emponas
EMSC
03.07.2012 04:26:46
2.3
Europe
Greece
South Aegean
Fanai
EMSC
03.07.2012 03:20:22
3.5
South-America
Chile
Antofagasta
Calama
EMSC
03.07.2012 03:21:59
4.6
Asia
Japan
Fukushima
Namie
USGS-RSOE
03.07.2012 03:20:44
4.6
Asia
Japan
Fukushima
Namie
EMSC
03.07.2012 03:21:04
2.7
Europe
Italy
Sicily
Saponara Villafranca
EMSC
03.07.2012 03:30:35
4.3
North America
United States
Alaska
Adak
USGS-RSOE
03.07.2012 04:27:06
4.3
North-America
United States
Alaska
Adak
EMSC
03.07.2012 02:20:22
4.6
South-America
Bolivia
Potosí
Villa Alota
EMSC
03.07.2012 03:05:58
4.3
South America
Bolivia
Potosí
Villa Alota
USGS-RSOE
03.07.2012 02:20:47
3.2
Europe
Spain
Canary Islands
La Restinga
EMSC
03.07.2012 02:21:07
3.4
Europe
Spain
Canary Islands
La Restinga
EMSC
03.07.2012 02:21:26
3.3
Europe
Spain
Canary Islands
La Restinga
EMSC
03.07.2012 02:21:46
3.5
South-America
Chile
Antofagasta
Calama
EMSC
03.07.2012 02:22:07
3.7
Europe
Greece
Ionian Islands
Volimai
EMSC
03.07.2012 01:55:39
5.7
South America
Peru
Ica
Hacienda Ullujaya
USGS-RSOE
03.07.2012 02:22:27
5.8
South-America
Peru
Ica
Hacienda Ullujaya
EMSC
03.07.2012 02:22:47
3.2
Europe
Spain
Canary Islands
La Restinga
EMSC
03.07.2012 02:23:07
3.4
Europe
Spain
Canary Islands
La Restinga
EMSC
03.07.2012 01:30:37
2.4
Middle America
Mexico
Baja California
Alberto Oviedo Mota
USGS-RSOE
03.07.2012 02:23:26
2.2
Europe
Italy
Emilia-Romagna
San Prospero
EMSC
03.07.2012 01:15:23
4.4
Europe
Spain
Canary Islands
La Restinga
EMSC
03.07.2012 01:15:40
3.8
North-America
United States
Alaska
Atka
EMSC
03.07.2012 01:00:35
3.8
North America
United States
Alaska
Atka
USGS-RSOE
03.07.2012 01:15:59
2.3
Europe
Norway
Nordland
Hemnesberget
EMSC
03.07.2012 01:16:20
3.1
Europe
Spain
Canary Islands
La Restinga
EMSC
03.07.2012 02:23:44
3.1
Europe
Spain
Canary Islands
La Restinga
EMSC
03.07.2012 02:24:03
3.4
Europe
Spain
Canary Islands
La Restinga
EMSC
03.07.2012 01:16:39
3.1
Asia
Turkey
Van
Toyga
EMSC
03.07.2012 01:16:58
3.2
Europe
Spain
Canary Islands
La Restinga
EMSC
03.07.2012 01:17:15
2.9
Asia
Turkey
Manisa
Akhisar
EMSC
03.07.2012 01:17:38
3.9
Europe
Spain
Canary Islands
La Restinga
EMSC
03.07.2012 01:17:57
2.6
Europe
Spain
Canary Islands
La Restinga
EMSC
03.07.2012 02:55:30
3.0
Caribbean
British Virgin Islands
Road Town
USGS-RSOE
03.07.2012 01:18:18
3.2
Europe
Spain
Canary Islands
La Restinga
EMSC
03.07.2012 01:18:36
3.5
Europe
Spain
Canary Islands
La Restinga
EMSC
03.07.2012 01:18:55
3.4
Europe
Spain
Canary Islands
La Restinga
EMSC
**********************************************************************************************************
Extreme Temperatures/ Weather / Drought
TWIN CITIES/CHANHASSEN MN
NORTHERN INDIANA
LINCOLN IL
WILMINGTON OH
ST LOUIS MO
PADUCAH KY
DETROIT/PONTIAC MI
MOUNT HOLLY NJ
WILMINGTON OH
PITTSBURGH PA
KANSAS CITY/PLEASANT HILL MO
QUAD CITIES IA IL
LA CROSSE WI
GREEN BAY WI
TWIN CITIES/CHANHASSEN MN
ABERDEEN SD
DES MOINES IA
MILWAUKEE/SULLIVAN WI
SIOUX FALLS SD
CHARLESTON WV
ST LOUIS MO
NORTH PLATTE NE
RAPID CITY SD
| | | | | | | |
| --- | --- | --- | --- | --- | --- | --- |
| 02.07.2012 | Extreme Weather | USA | State of Alabama, [Alabama-wide] | | | |
Description
Several storms caused major damage around the Tennessee Valley Sunday. The Claysville Snack Bar in Guntersville bar was completely blown away by the storm. In Limestone county, a huge tree landed on top of an RV in Coxey. It's unknown if anyone was inside. Extreme heat from the Midwest to eastern parts of the U.S. helped fuel severe thunderstorms that knocked out power to millions over the weekend. Crews are still working to restore electricity to the millions who are without power as they try to cope with the heat. A grocery store chain helped in parts of Virginia and Maryland Sunday by giving away 10-pound bags of ice to those in need. "People have been clearing debris from roads together so we like the sense of community, but we would like our power back just because it is so hot and we'd like to get back to normal if we possibly can," said one storm victim. So far, 16 people have died and four governors have declared a state of emergency.
| | | | | | | |
| --- | --- | --- | --- | --- | --- | --- |
| 02.07.2012 | Extreme Weather | Germany | MultiStates, [Bavaria, Hessen, Saxony and Baden-Wurttemberg] | | | |
Description
Weekend electrical storms killed four people, injured at least 100 others, caused power outages and disrupted train service across Germany, officials said. Officials said a woman was killed in Bavaria Saturday when a tree fell on her car while three women golfers were killed by a lightning strike Friday in Hessen. Many of the people who were wounded sustained their injuries while outdoors, reported on Sunday. At least 51 festival-goers were hurt, nine seriously, when lightning struck a mast at the "With Full Force" heavy metal outdoor festival in Saxony. A festival in Baden-Wurttemberg was cut short Sunday after wind tossed tents and debris, injuring at least 10 attendees. Eighteen others were injured at a Volksfest in Bavaria when wind-blown tree branches were hurled into the crowd, officials said. The German weather service said 8,135 lightning strikes were recorded in the Berlin area alone.
……………………………………..
Violent storms in the DC area have killed at least 13 people, uprooted thousands of trees and left over 1.3 million homes and businesses without power across the Mid-Atlantic during a powerful heat wave. Popular Internet services went down too.
States of emergency were declared in Maryland, Virginia, Washington DC, Ohio, and West Virginia on Saturday after storm winds hit almost 130 kilometers per hour and caused a series of fatalities, while reports from power companies have warned it may take up to a week to restore electricity. Officials are extremely concerned about the outage occurring in the middle of a record heat wave. The area affected by the storms was far ranging, including New Jersey and Indiana. However, the most extensive damage occurred in West Virginia, Virginia, Maryland, and Washington DC.
At least four people were killed by falling trees, reports the Washington Post, citing local police officials. Two of the fatalities occurred in the Springfield area of Virginia's Fairfax County. A male driver was killed at Old Keene Mill Road and Bauer Drive when a tree struck his car. A 90-year-old woman was killed in her bed when a tree fell on her house.
A falling tree has also killed a 71-year-old woman in her bed in Silver Spring in Maryland's Montgomery County. And a 25-year-old Edgewater man died when a tree fell on his car as he drove on Harwood Road in Anne Arundel County.
One person died in Washington, DC, after accidentally touching a live electrical wire. Following the incident the Pepco electric service provider issued a warning urging people to be cautious around the numerous downed power lines.
Two more deaths have been reported in Albemarle county and two others in Bedford county, both in the state of Virginia. One person is reported missing after a boat capsized Friday night off Chesapeake Beach in Calvert County, Maryland. Four others have been rescued.
Virginia Governor Robert McDonnell said Friday night's storm had triggered the largest non-hurricane power outage in state history. It has also forced the closure of 250 roads because of fallen trees.
"This is a very dangerous situation for Virginia," McDonnell said. "Recovery will be difficult… It's going to be days before power is fully restored in the commonwealth."
President Barack Obama has called McDonnell and Maryland Governor Martin O'Malley, as well as the governors of Ohio and West Virginia, to offer the federal government's help.
Hurricane-like storms have also knocked out an Amazon data center in Ashburn, Virginia. A number of popular Internet services, including Netflix, Pinterest, Heroku and Instagram have been cut off for several hours, something that did not go unnoticed by their users worldwide.
"Severe thunderstorms caused us to lose primary and backup generator power to an Availability Zone in our east region overnight,"
an Amazon spokeswoman Tera Randall said on Saturday.
"We have restored service to most of our impacted customers and continue to work to restore service for our remaining impacted customers."
Meanwhile, temperatures have been breaking the 100°F-mark (38°C) for two days in a row, and are not expected to be any lower on Sunday. Local authorities have open libraries, swimming pools and cooling centers to provide residents with respite from the heat.
Malls around the region are jammed with people buying power outlets for their phones and computers. Long lines are also reported at gas stations where power is still available.
More storms are expected later on Saturday, though they are unlikely to be as widespread or powerful as Friday's.
">

Local resident Betty Coll (L) shows friend Joe Straub (R) damages in front of her house after a powerful overnight storm in the Washington, DC region June 30, 2012 in Falls Church, Virginia (Alex Wong/Getty Images/AFP)">

Local resident Betty Coll (L) shows friend Joe Straub (R) damages in front of her house after a powerful overnight storm in the Washington, DC region June 30, 2012 in Falls Church, Virginia (Alex Wong/Getty Images/AFP)">

Debris from the storm-damaged Park Tanglewood apartments, some of which were exposed when high winds tore open a hole in the roof and knocked out the electricity, sits atop cars and utility lines in the parking lot in Riverdale, Maryland, June 30, 2012 (Reuters/Jonathan Ernst)">

">

People react upon seeing storm damage in the Capitol Hill neighborhood in Washington, June 30, 2012 (Reuters/Jonathan Ernst)
See Full Article And Photos Here
FIRE WEATHER MESSAGE
RIVERTON WY
BILLINGS MT
GREAT FALLS MT
CHEYENNE WY
BISMARCK ND
SALT LAKE CITY UT
POCATELLO ID
RAPID CITY SD
MISSOULA MT
GLASGOW MT
| | | | | | | |
| --- | --- | --- | --- | --- | --- | --- |
| Today | Forest / Wild Fire | USA | State of Montana, [Near to Townsend] | | | |
Description
Crews battled a wildfire near Townsend. Officials said it charred about 450 acres as of Sunday evening. The blaze was reported at about 3:15. Broadwater County crews have enlisted the assistance of the state Department of Natural Resources and the U.S. Forest Service, according to Sheriff Brenda Ludwig. The fire is off of Indian Creek Road and was actively burning in Bureau of Land Management and Montana National Guard lands. It has entered the Limestone Hills Range. No structures were threatened as of Sunday evening. Indian Creek Road and Old Woman's Grave Road were closed to help fire crews. Even though the roadways have been reopened, Ludwig urged nonresidents to stay out of the area. Broadwater County Fire Chief Ed Shindoll said the cause of the blaze is under investigation. His department has about 25 firefighters, Forest Service has a crew of 17 on the blaze and the DNRC has nine personnel. A DNRC helicopter was being used Sunday afternoon but had to leave due to high winds, Shindoll said. A storm was making its way through the area at about 6 p.m. "It just started sprinkling here," Ludwig said. Broadwater County, as well as Lewis and Clark and Jefferson counties, were under a severe thunderstorm watch until late Sunday night. "We have to watch and see what the storm brings," Shindoll said. "Winds have been pretty steady at probably 30 miles per an hour plus and they haven't died down yet." Ludwig said the fire area got a small amount of moisture."Every little bit helps," she added. Crews will be on the fire throughout the night.
| | | | | | | |
| --- | --- | --- | --- | --- | --- | --- |
| Today | Forest / Wild Fire | USA | State of Arizona, [Safford Ranger District of the Coronado National Forest] | | | |
Description
Firefighters continue to battle the 8,000-acre Grapevine Fire in the Safford Ranger District of the Coronado National Forest. The blaze is burning at low elevation in grass and bush, and crews continued to hold the fire south of Highway 266 from the west side Forest Boundary east to Gillespie Wash, fire officials told KPHO-TV on Sunday. The fire has led to the closure of Coronado National Forest lands south of State Route 266, known as Greasewood and Kane Spring Mountains. No structures have been destroyed. Firefighters said the fire, which was caused by lightning, is 10 percent contained.
| | | | | | | |
| --- | --- | --- | --- | --- | --- | --- |
| 02.07.2012 | Drought | USA | State of Nebraska, [Nebraska-wide] | | | |
Description
Gov. Dave Heineman has declared a state emergency due to the current drought conditions throughout Nebraska. The declaration allows state workers to help with emergency situations that arise from the drought, and frees up resources for the effort. It also gives greater flexibility to the Nebraska National Guard and the Nebraska Emergency Management Agency to use resources as needed. Heineman says the drought poses an imminent threat to the ability of local governments to respond. The governor has also directed the state Department of Roads to move up the scheduled start of roadside haying in 55 counties.
***********************************************************************************************************
Storms, Flooding,  Landslides
GREEN BAY WI
TWIN CITIES/CHANHASSEN MN
DULUTH MN
NORMAN OK
Hurricane force storms batter Washington DC
Published on Jul 1, 2012 by itnnews
Parts of the US mid-Atlantic region have been battered by hurricane force storms, following a day of record heat. Report by Sam Datta-Paulin.

There is a risk of locally damaging thunderstorms on Independence Day, which could not only impact daytime picnics and festivals, but also evening fireworks in the Northeast.
Just about every major city and small community has some sort of fireworks display on or around the Fourth of July. However, storms erupting in over a dozen states could impact activities and have some folks running for cover.
Dry air nosed into the Northeast late in the weekend, reducing the risk of violent thunderstorms for a couple of days.
Unfortunately, another surge of humid air ahead of an approaching cool front could have the atmospheric volatility index on the rise for July Fourth from the Ohio Valley states to the mid-Atlantic and New England.
While not quite the same setup and crushing outcome as the Derecho of this past Friday and Saturday, thunderstorms that form in the afternoon and evening will have the potential to bring localized power outages from damaging wind gusts and frequent lightning strikes.
Brief downpours from the storms can also cause disruptions to outdoor plans.
The storms are likely to hit some areas that were missed (New England and the northern mid-Atlantic) by the Derecho and could overlap areas that were hit (Ohio Valley and the southern mid-Atlantic) by the system.
Southeastward progress of the cool front will be critical for the bulk of the thunderstorm activity.
Odds favor showers and thunderstorms to be in the vicinity of the Great Lakes during the morning and midday hours on Independence Day. Slightly cooler, more stable conditions are likely in the region by the evening.
During the afternoon, building storms are likely to be passing through the northern Appalachians and part of the Ohio Valley. Much of this area will clear out in time for evening fireworks, but a few places may not. Cities on the bubble with the storms include Cincinnati, Pittsburgh and State College.
During the evening, the risk of strong to severe storms is likely to extend from Boston to New York City, Philadelphia, Washington, D.C., to the central and southern Appalachians.
Spotty storms and showers can erupt ahead of the "main batch of thunderstorms and linger in their wake." The details of which may not be known until July 4th itself.
We will continue to update you on the situation. Be sure to check AccuWeather.com for the latest radar in your local area.
Since the holiday is in the middle of the week, there may be no desirable options for rescheduling fireworks, if storms come calling at the wrong time. Fortunately, most storms in this pattern will be brief. Despite some delays, the storms should generally move on in less than an hour.
In areas where rain falls and ceases just prior to fireworks, calm, moist conditions in its wake potentially could inhibit smoke from clearing, perhaps leading to poor viewing conditions.
In other parts of the nation, it is drought and fire danger that is foiling fireworks plans.
Just a Reminder
Keep an eye out for rapidly changing weather conditions on your holiday ventures.
During a thunderstorms, severe or not, lightning poses the greatest risk to your life.
If you can hear thunder, you are at risk for being struck by lightning.
Seek shelter in a building or hard-top vehicle as storms approach. (Picnic pavilions, trees and golf carts are not safe places to be during thunderstorms.)
By Ian Simpson
Yahoo News
WASHINGTON (Reuters) – Relentless heat gripped much of the eastern United States for a fourth straight day on Monday, with about 2.1 million homes and businesses without power after violent storms and soaring temperatures killed at least 18 people.
Power companies warned it could take several days to restore electricity completely in some areas as much of the United States sweltered in a heat wave. Two hundred and eighty-eight temperature records were set nationwide on Sunday.
"Above-normal temperatures will continue to affect a large portion of the country from the northern Plains to the Mid-Atlantic over the next few days," the National Weather Service said.
Many areas will see temperatures from 90 degrees Fahrenheit to more than 100 degrees (37.7 C), it said in a statement. Excessive heat warnings and advisories remained over much of the mid-Mississippi Valley and southern states.
Severe thunderstorms were possible in Kentucky and Missouri and in the north-central states, the weather agency said.
Emergencies were declared in Maryland, Ohio, Virginia, West Virginia and Washington because of damage from a rare "super derecho" storm packing hurricane-force winds across a 700-mile (1,100 kilometer) stretch from the Midwest to the Atlantic Ocean.
About 2.1 million homes and businesses from Illinois to New Jersey were still without power, with the biggest concentration in the Washington area.
With power lines down across the region, the U.S. government told federal workers in the Washington area they could take unscheduled leave or work from home on Monday and Tuesday.
Baltimore Gas & Electric said about 213,000 customers remained affected. Almost 1,200 utility workers from 12 states and Canada are helping restore power or are on their way to central Maryland, the company said.
A dust storm known as a "haboob" rolls into downtown Phoenix on Tuesday night, July 5, 2011. (AP Photo/Amanda Lee Myers)
Monsoon moisture will be on the increase across the Four Corners region this week, increasing the rain chances for the region and putting Phoenix at risk for another haboob.
A haboob is a type of intense dust storm carried by strong winds that are usually the aftermath of a thunderstorm.
Recent thunderstorms that have dotted the Four Corners region have produced more dry lightning strikes than substantial rainfall.
That will change starting Tuesday when the door is opened for monsoon moisture to start streaming northward.
The initial surge of moisture will help ignite a cluster of thunderstorms across southeastern Arizona and southern New Mexico Tuesday afternoon.
The desert areas of southern Arizona, including Phoenix, may then become the target of a haboob Tuesday night as these thunderstorms track westward. Gusty winds racing away from the thunderstorms would trigger the massive dust storms.
The added moisture in the air will also allow the thunderstorms to drop substantial rainfall Tuesday afternoon and night.
The same can be said across more of the Four Corners region as the week progresses and the monsoon moisture spills northward.
Significant rain-producing thunderstorms are definitely great news for a region where numerous wildfires are burning, but the welcome rain could come at a cost.
Too much rainfall in a short amount of time threatens to trigger flash flooding. Streams, creeks and arroyos could quickly turn into raging waterways.
Areas recently burned by wildfires are highly susceptible to not only flash flooding, but also mudslides with the severely charred soil not able to absorb the rain as quickly as normal.
Where the rain pours down on the burn areas in the mountains, the flooding rain and mud could flow down to impact the neighboring lower elevations.
Gusty winds racing away from the thunderstorms will not only be confined to the desert areas of Arizona but could also occur elsewhere across the Four Corners region. A shift or increase in wind where a wildfire is burning will create serious problems for firefighters.
AccuWeather.com meteorologists will also be monitoring the potential for some of the thunderstorms to turn severe with damaging winds.
GREAT FALLS MT
POINT ST GEORGE TO POINT ARENA
POINT ARENA TO POINT CONCEPTION
MEDFORD, OR
Amateur Videos: Huge waterspout filmed on Sochi shoreline
Published on Jul 1, 2012 by RussiaToday
Witnesses were able to film a huge waterspout moving along the shoreline near the Russian coastal city of Sochi. It closely passed vessels at sea before hitting the city with heavy rain and hail. There are no reports of damages.

GREEN BAY WI 
MARQUETTE MI
DULUTH MN
ALBUQUERQUE NM
TALLAHASSEE FL
JACKSONVILLE FL
TAMPA BAY AREA - RUSKIN FL
SPOKANE, WA
DULUTH MN
MISSOULA MT
FAIRBANKS AK
DULUTH MN
| | | | | | | | |
| --- | --- | --- | --- | --- | --- | --- | --- |
| | 02.07.2012 | Flash Flood | Malaysia | Pulau Pinang, George Town | | | |
Description
Heavy rain that persisted for more than two hours from noon on Monday resulted in several major roads in George Town being cut off due to a flash flood. A check by Bernama found that among the roads that were affected were Jalan P. Ramlee, part of Jalan Perak, Jalan Logan, Kampung Makam, Jalan Sungai Pinang, Jalan Anson and Jalan Patani. The water level in certain areas rose to as high as 1.5 metres but no one was evacuated. However, the flood resulted in hundreds of vehicles being trapped for almost four hours due to traffic congestion. A senior officer of the Jalan Perak Fire Station, Shahrulnizam Che Hassan said the station had received a report from the public that a handicapped woman was trapped in her home. "During the incident at 1.44pm, the water level rose up to chest level and firemen had to break open the door of the 40-year-old woman's house to take her out," he said when contacted, here. He said the woman did not suffer any injury and had to stay with her neighbour until the flood subsided. A resident in Jalan P. Ramlee, Lee Eng Hong, 60, said his house was damaged by mud brought by the flash flood. He said he could not remove is car and motorcycle to higher ground as the flood occurred swiftly and the flood water entered his home. Meanwhile, Disaster and Operations Officer of the Department of Civil Defence, North-East District, Noor Mohd Saidi Noor Lajis said the department was monitoring the flood situation which was reported to be receding.
| | | | | | | |
| --- | --- | --- | --- | --- | --- | --- |
| 02.07.2012 | Complex Emergency | Bangladesh | Multiple Regions, [Between Chittagong and Coxs Bazar] | | | |
Description
More than 55 people have been killed in landslides in southeast Bangladesh after three days of rains that triggered flash floods and severed transport links, officials said Wednesday. The army has been deployed to help with search and rescue efforts in the affected hill region of Chittagong, said the region's chief administrator, Sirajul Haq Khan, who warned that the toll could rise. According to Khan, at least 26 people died in a series of landslides and flash floods in and around Chittagong port and the district of Cox's Bazar. In neighbouring Bandarban district, 30 bodies have been recovered from multiple landslide sites, local administrator Tariqul Islam said. "Rescue efforts had been hampered as communications have been largely snapped because of flash floods and heavy rain," Islam said. "Ten of the victims were children and scores of others were injured," he said. Bandarban police chief Saiful Ahmed said most of the victims were asleep when the huge chunks of mud buried them alive. "One family has lost 12 members," Ahmed said. Chittagong port received 40 centimetres (16 inches) of rain in a single 12-hour period on Tuesday. Flights in and out of Chittagong's Shah Amanat International Airport have been suspended since Tuesday afternoon. According to the state Disaster Management Information Centre, around 50,000 people were affected by the flash floods, and many of them forced to take shelter on higher ground. Train links between Chittagong and the rest of the country were also severed after a railway bridge collapsed due to a rain-triggered flash flood.
************************************************************************************************************
Epidemic Hazards / Diseases
| | | | | | | |
| --- | --- | --- | --- | --- | --- | --- |
| Today | Epidemic Hazard | Cuba | Departmento de Granma, Manzanillo | | | |
Description
Two people died and more than 50 remain hospitalized in the eastern city of Manzanillo, where an outbreak of cholera required authorities to set up a quarantine at the Celia Sanchez Manduley Provincial Surgical Clinic," reported the Miami-based Café Fuerte website, though there has been no confirmation or denial of the incidents in the official state-run media. "The hospital can't cope, the aisles are full of stretchers with patients…now with more than 50 people, including children and adults who are hospitalized as a result of the disease," was a statement attributed to Manzanillo resident Misleidi Calvente Figueredo. Calvente said several communities have been quarantined, while all Manzanillo health care workers have been mobilized. Police and State Security officers are reported to be guarding the medical center, according to testimonies received from residents. Fortunately, Cuba is not without experience in fighting cholera, as hundreds of Cuban doctors have worked in a campaign against the disease in the neighboring country of Haiti.
Biohazard name:
Cholera
Biohazard level:
2/4 Medium
Biohazard desc.:
Bacteria and viruses that cause only mild disease to humans, or are difficult to contract via aerosol in a lab setting, such as hepatitis A, B, and C, influenza A, Lyme disease, salmonella, mumps, measles, scrapie, dengue fever, and HIV. "Routine diagnostic work with clinical specimens can be done safely at Biosafety Level 2, using Biosafety Level 2 practices and procedures. Research work (including co-cultivation, virus replication studies, or manipulations involving concentrated virus) can be done in a BSL-2 (P2) facility, using BSL-3 practices and procedures. Virus production activities, including virus concentrations, require a BSL-3 (P3) facility and use of BSL-3 practices and procedures", see Recommended Biosafety Levels for Infectious Agents.
Symptoms:
Status:
suspected
| | | | | | | | |
| --- | --- | --- | --- | --- | --- | --- | --- |
| | 02.07.2012 | Epidemic Hazard | MultiCountries | [Uganda and DRC] | | | |
Description
A cholera out break has been reported at Karambo near Bunagana border post and Busanza border line at Uganda's border with DR Congo, Kisoro District Health Officer Dr. Steven Nsabiyunva has said. The outbreak comes at the peak of the influx of refugees from DR Congo to Uganda. Speaking to the New Vision at his office on Friday, Dr Nsabiyunva said the district health team was considering making a quarantine to protect refugees already at Nayakabande refugee reception center and the district population at large. He urged health officials at Nyakabande to ensure proper use of mobile toilets and to emphasize hand washing. "We are considering isolating new comers as one way of controlling spread of the disease and protecting the district population. Cholera is spread through exposing food to excreta of an infected person. It is characterized by acute vomiting and diarrhea. If left untreated it can kill in 24 hours. Asked about cross border trade in food items, the doctor said his office was still trying to put in place control measures. In February this year, an outbreak of dysentery hit the camp and has reportedly lingered on due to poor disposal of excreta. "Saucepans are used for bathing and washing clothes while basins are used for serving food" said a source at the refugee center who preferred anonymity.
Biohazard name:
Cholera Outbreak
Biohazard level:
3/4 Hight
Biohazard desc.:
Bacteria and viruses that can cause severe to fatal disease in humans, but for which vaccines or other treatments exist, such as anthrax, West Nile virus, Venezuelan equine encephalitis, SARS virus, variola virus (smallpox), tuberculosis, typhus, Rift Valley fever, Rocky Mountain spotted fever, yellow fever, and malaria. Among parasites Plasmodium falciparum, which causes Malaria, and Trypanosoma cruzi, which causes trypanosomiasis, also come under this level.
Symptoms:
Status:
confirmed
************************************************************************************************************
Solar Activity
1MIN News July 2, 2012 – No Electricity for S0 [As I upload, %4 Battery life]
Published on Jul 2, 2012 by Suspicious0bservers
Youtuber: dontfear2012 — is that the flare pattern you saw too? lol
Spaceweather: http://spaceweather.com/ [Look on the left at the X-ray Flux and Solar Wind Speed/Density]
HAARP: http://www.haarp.alaska.edu/haarp/data.html [Click online data, and have a little fun]
SDO: http://sdo.gsfc.nasa.gov/data/ [Place to find Solar Images and Videos - as seen from earth]
SOHO: http://sohodata.nascom.nasa.gov/cgi-bin/soho_movie_theater [SOHO; Lasco and EIT - as seen from earth]
Stereo: http://stereo.gsfc.nasa.gov/cgi-bin/images [Stereo; Cor, EUVI, HI - as seen from the side]
SunAEON:http://www.sunaeon.com/#/solarsystem/ [Just click it... trust me]
SOLARIMG: http://solarimg.org/artis/ [All purpose data viewing site]
iSWA: http://iswa.gsfc.nasa.gov/iswa/iSWA.html [Free Application; for advanced sun watchers]
NOAA ENLIL SPIRAL: http://www.swpc.noaa.gov/wsa-enlil/cme-based/ [CME Evolution]
NOAA Bouys: http://www.ndbc.noaa.gov/
RSOE: http://hisz.rsoe.hu/alertmap/index2.php [That cool alert map I use]
JAPAN Radiation Map: http://jciv.iidj.net/map/
LISS: http://earthquake.usgs.gov/monitoring/operations/heliplots_gsn.php
Gamma Ray Bursts: http://grb.sonoma.edu/ [Really? You can't figure out what this one is for?]
BARTOL Cosmic Rays: http://neutronm.bartol.udel.edu//spaceweather/welcome.html [Top left box, look for BIG blue circles]
TORCON: http://www.weather.com/news/tornado-torcon-index [Tornado Forecast for the day]
GOES Weather: http://rsd.gsfc.nasa.gov/goes/ [Clouds over America]
INTELLICAST: http://www.intellicast.com/ [Weather site used by many youtubers]
NASA News: http://science.nasa.gov/science-news/science-at-nasa/
PHYSORG: http://phys.org/ [GREAT News Site!]

24 Hours of Solar Flare Onslought! – July 2, 2012
Published on Jul 2, 2012 by SunsFlare
Solar activity continued at moderate levels on Sunday with a pair of M-Class flares around Sunspot 1513. The largest of these events was an M2.8 flare at 19:18 UTC Sunday afternoon. Sunspot 1515 located in the southern hemisphere is largest region on the visible solar disk, but has so far only produced C-Class solar flares. Both 1513 and 1515 retain Beta-Gamma magnetic configurations and may produce additonal M-Class flares on Monday.
The solar wind remains above 600 km/s and minor geomagnetic activity will be possible at very high latitudes. Visible aurora will be possible around the polar regions. – Solarham.com

Earth Facing M5.6 Solar Flare + Coronal Mass Ejection – July 2, 2012
Published on Jul 2, 2012 by SunsFlare
Strong M5.6 Flare – Sunspot 1515 Around 10:52 UTC Time – July 2, 2012. There is an associated coronal mass ejection which may have an earth directed component. However, early data from Stereo Ahead shows that it will mostly head south and miss us entirely. The next variable will be whether or not the coronal mass ejection cloud expands enough to encompass the Earth as well.
Big sunspot AR1515 erupted on July 2nd at 10:52 UT, producing an M5.6-class solar flare that almost crossed the threshold into X-territory. NASA's Solar Dynamics Observatory recorded the extreme ultraviolet flash: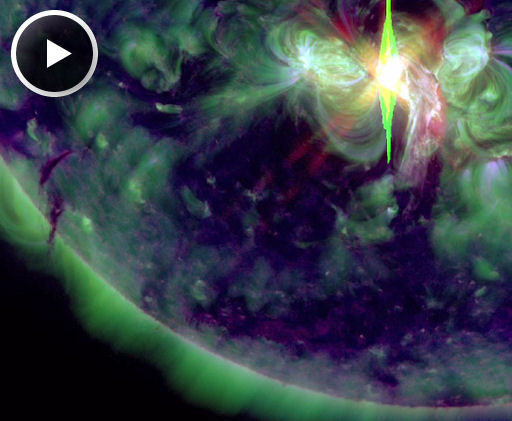 A pulse of x-rays and UV radiation from the flare illuminated Earth's upper atmosphere, producing waves of ionization over Europe. Such waves alter the propagation of low-frequency radio transmissions. In Lofoten, Norway, Rob Stammes recorded the ionospheric disturbance using a 60 kHz receiver: data.
The eruption also hurled a CME into space, but not directly toward Earth. The south-traveling cloud could deliver a glancing blow to our planet's magnetosphere on July 4th or 5th.
************************************************************************************************************
Space
Object Name
Apporach Date
Left
AU Distance
LD Distance
Estimated Diameter*
Relative Velocity
(2008 YQ2)
03rd July 2012
0 day(s)
0.1057
41.1
29 m – 65 m
15.60 km/s
56160 km/h
(2005 QQ30)
06th July 2012
3 day(s)
0.1765
68.7
280 m – 620 m
13.13 km/s
47268 km/h
(2011 YJ28)
06th July 2012
3 day(s)
0.1383
53.8
150 m – 330 m
14.19 km/s
51084 km/h
276392 (2002 XH4)
07th July 2012
4 day(s)
0.1851
72.0
370 m – 840 m
7.76 km/s
27936 km/h
(2003 MK4)
08th July 2012
5 day(s)
0.1673
65.1
180 m – 410 m
14.35 km/s
51660 km/h
(1999 NW2)
08th July 2012
5 day(s)
0.0853
33.2
62 m – 140 m
6.66 km/s
23976 km/h
189P/NEAT
09th July 2012
6 day(s)
0.1720
66.9
n/a
12.47 km/s
44892 km/h
(2000 JB6)
10th July 2012
7 day(s)
0.1780
69.3
490 m – 1.1 km
6.42 km/s
23112 km/h
(2010 MJ1)
10th July 2012
7 day(s)
0.1533
59.7
52 m – 120 m
10.35 km/s
37260 km/h
(2008 NP3)
12th July 2012
9 day(s)
0.1572
61.2
57 m – 130 m
6.08 km/s
21888 km/h
(2006 BV39)
12th July 2012
9 day(s)
0.1132
44.1
4.2 m – 9.5 m
11.11 km/s
39996 km/h
(2005 NE21)
15th July 2012
12 day(s)
0.1555
60.5
140 m – 320 m
10.77 km/s
38772 km/h
(2003 KU2)
15th July 2012
12 day(s)
0.1034
40.2
770 m – 1.7 km
17.12 km/s
61632 km/h
(2007 TN74)
16th July 2012
13 day(s)
0.1718
66.9
20 m – 45 m
7.36 km/s
26496 km/h
(2007 DD)
16th July 2012
13 day(s)
0.1101
42.8
19 m – 42 m
6.47 km/s
23292 km/h
(2006 BC8)
16th July 2012
13 day(s)
0.1584
61.6
25 m – 56 m
17.71 km/s
63756 km/h
144411 (2004 EW9)
16th July 2012
13 day(s)
0.1202
46.8
1.3 km – 2.9 km
10.90 km/s
39240 km/h
(2012 BV26)
18th July 2012
15 day(s)
0.1759
68.4
94 m – 210 m
10.88 km/s
39168 km/h
(2010 OB101)
19th July 2012
16 day(s)
0.1196
46.6
200 m – 450 m
13.34 km/s
48024 km/h
(2008 OX1)
20th July 2012
17 day(s)
0.1873
72.9
130 m – 300 m
15.35 km/s
55260 km/h
(2010 GK65)
21st July 2012
18 day(s)
0.1696
66.0
34 m – 75 m
17.80 km/s
64080 km/h
(2011 OJ45)
21st July 2012
18 day(s)
0.1367
53.2
18 m – 39 m
3.79 km/s
13644 km/h
153958 (2002 AM31)
22nd July 2012
19 day(s)
0.0351
13.7
630 m – 1.4 km
9.55 km/s
34380 km/h
(2011 CA7)
23rd July 2012
20 day(s)
0.1492
58.1
2.3 m – 5.1 m
5.43 km/s
19548 km/h
(2012 BB124)
24th July 2012
21 day(s)
0.1610
62.7
170 m – 380 m
8.78 km/s
31608 km/h
(2009 PC)
28th July 2012
25 day(s)
0.1772
68.9
61 m – 140 m
7.34 km/s
26424 km/h
217013 (2001 AA50)
31st July 2012
28 day(s)
0.1355
52.7
580 m – 1.3 km
22.15 km/s
79740 km/h

| | |
| --- | --- |
| 1 AU = ~150 million kilometers,1 LD = Lunar Distance = ~384,000 kilometers | Source: NASA-NEO |
*************************************************************************************************************
Mysterious Booms / Rumblings
*************************************************************************************************************
Biological Hazards / Wildlife / Hazmat
| | | | | | | |
| --- | --- | --- | --- | --- | --- | --- |
| 03.07.2012 | Biological Hazard | China | Xinjiang Uygur Autonomous Region, [The area was not defined.] | | | |
Description
China's northwestern Xinjiang Uygur autonomous region has reported an outbreak of H5N1 in poultry, the Ministry of Agriculture (MOA) announced Monday. The disease has killed 1,600 chickens raised by the Xinjiang Production and Construction Corps (XPCC), a unique economic and semi-military government organization of about 2.5 million people. A total of 5,500 XPCC-farmed chickens showed symptoms of suspected avian flu on June 20, according to the MOA. The National Avian Influenza Reference Laboratory Monday confirmed the epidemic was H5N1 bird flu after testing samples collected at the farm, the MOA said. Local authorities have sealed off and sterilized the infected area, where a total of 156,439 chickens have been culled and safely disposed of to prevent the disease from spreading, according to the MOA. Bird flu, or avian influenza, is a contagious disease of animal origin caused by viruses that normally infect only birds and, less commonly, pigs. It can be fatal to humans.
Biohazard name:
H5N1 – Highly pathogenic avian influenza virus
Biohazard level:
4/4 Hazardous
Biohazard desc.:
Viruses and bacteria that cause severe to fatal disease in humans, and for which vaccines or other treatments are not available, such as Bolivian and Argentine hemorrhagic fevers, H5N1(bird flu), Dengue hemorrhagic fever, Marburg virus, Ebola virus, hantaviruses, Lassa fever, Crimean-Congo hemorrhagic fever, and other hemorrhagic or unidentified diseases. When dealing with biological hazards at this level the use of a Hazmat suit and a self-contained oxygen supply is mandatory. The entrance and exit of a Level Four biolab will contain multiple showers, a vacuum room, an ultraviolet light room, autonomous detection system, and other safety precautions designed to destroy all traces of the biohazard. Multiple airlocks are employed and are electronically secured to prevent both doors opening at the same time. All air and water service going to and coming from a Biosafety Level 4 (P4) lab will undergo similar decontamination procedures to eliminate the possibility of an accidental release.
Symptoms:
Status:
confirmed
| | | | | | | | |
| --- | --- | --- | --- | --- | --- | --- | --- |
| | 02.07.2012 | Biological Hazard | Philippines | Central Visayas, [Tagbilaran Strait] | | | |
Description
Bureau of Fisheries and Aquatic Resources (BFAR-Bohol) raised an alarm against gathering and eating shellfish from the tide flats of Tagbilaran City bay following a suspected case of red tide. BFAR-Bohol head Cresencio Pahamutang explained the alarm is based on an algal bloom, which is what caused the red coloration in the waters (red tide) that witnesses observed on the sea below Matig-a Lodge along Burgos Street, Tagbilaran City. Pahamutang said BFAR confirmed the reports based on the latest results from the 10 monitoring stations set up at specific points between Dauis Bridge in Junction Mansasa to Maribojoc Bay. According to Pahamutang, a worker at the Matig-a Lodge reported the unusual discoloration in the waters, prompting the BFAR to investigate by going to their monitoring stations. From their tests, Pahamutang shared that from the usual three cells per liter average yield in the collecting stations, they noticed around 1,475 to 1,365 cells per liter. A total ban and alarm against shellfish gathering and eating was issued when the mirco-organisms monitored reach 10,000 units per liter, he explained. With the noticed unusually high concentration of algal micro-organisms in the Tagbilaran Strait, the BFAR said they have coordinated with the Provincial Fisheries and Aquatic Resources Management Council as well as Poblacion 1 Barangay Chairman Arlene Karaan to advise people to stop harvesting shellfish from the mentioned areas. Pahamutang said these algae, also called dinoflagellates have toxins that are usually absorbed by bottom feeding shellfish, making them unfit for human consumption. For fishes from the area, the BFAR chief said as long as the fish is properly prepared before cooking, it may not be affected as much.
Biohazard name:
Red Tide
Biohazard level:
0/4 —
Biohazard desc.:
This does not included biological hazard category.
Symptoms:
Algal bloom happens when an unusually large concentration of aquatic micro-organisms amass in a coastal area, often causing discoloration. When the algae is present in high concentrations, water can be discolored from murky, to purple to pink or red, thus, its common name the red tide.
Status:
| | | | | | | |
| --- | --- | --- | --- | --- | --- | --- |
| 02.07.2012 | HAZMAT | Israel | Southern District, [Mekorot Water Company, Near to Ein Yahav] | | | |
Description
One person was killed and ten were injured on Monday when a pipe of flowing hydrochloric acid exploded at a drilling installation operated by the Mekorot water company near Ein Yahav in the Arava region of the South. The injured were evacuated by helicopters and ambulances to Soroka University Medical Center in Beersheba. One person was in critical condition, four in serious condition, and five others were lightly injured. The Environmental Protection Ministry said there is no danger to area residents as a result of the explosion. After exploring the area, a team of ministry workers determined that the risk range is only 200 meters, and that the closest residential population is five kilometers away from the site. The staff members provided instructions to police officers on site as to how to properly protect themselves and enter the facility, the ministry added. MK Dov Henin (Hadash), chairman of the Knesset's Joint Committee on Environment and Health, warned of the dangers that such glitches in a pipe system can cause and called for firmer regulations in response to Monday's event. "Time and time again we see that the status quo in the field of hazardous materials in Israel is forfeiting the lives and health of citizens, workers and bystanders," Henin said. "Glitches in hazardous materials are not inevitable and we can prevent them but in order to do this, a true revolution in regulations of this field is required." Such new regulations, Henin explained, should include high standards for hazardous material facilities as well as for all the transmission systems associated with the plants. "I intend to convene the committee to discuss the accident that occurred and the lessons that need to be learned from it from corner to corner," Henin said. Police closed Highway 90 to traffic in both directions.
| | | | | | | |
| --- | --- | --- | --- | --- | --- | --- |
| 02.07.2012 | HAZMAT | United Kingdom | England, Colchester [Severalls Business Park] | | | |
Description
A suspected chemical leak left 30 people needing medical treatment. A 400 metre exclusion zone was set up in Severalls Business Park in Colchester and hundreds were told to leave the area as noxious fumes filled the air.
**************************************************************************************************************
Articles of Interest
By Jillian MacMath, AccuWeather.com Staff Writer
The above graphic is circulating on Twitter referring to the lockout of union workers from Consolidated Edison after reaching an impasse in contract negotiations. Tweeted by user J. Simone Posner.
Customers are fearing a blackout across New York state, as temperatures continue to push into the 90s this week and Consolidated Edison is without more than 8,000 of its utility workers.
Negotiations between Con Ed and the workers union collapsed on Sunday just hours after the existing contract expired, causing Con Ed to close its walk-in centers, suspend meter reading and limit work on major construction projects.
Negotiations between Con Ed and the union lasted more than ten days and involved various issues, such as pensions, wages and health care.
After Con Ed's request for the union to sign a two-week contract extension fell through, Con Ed ordered that union workers not show up for work on Monday. The impasse was a result of Con Ed's demand that the union not strike without giving seven days notice.
Con Ed said it is has trained managers working on essential operations in the absence of its utility workers, but the union has responded publicly that Con Ed managers don't have the technical knowledge to handle serious problems.
This has many customers fearing the worst: a blackout amid a heat wave.
"So, is there a betting pool running to see how long it takes for a black out because of the ConEd lockout?" twitter user Allison Sommer's tweeted this morning.
Garnering support for the union, a graphic is also circulating on Twitter, adorning the Utility Workers Union crest and the phrase "We didn't strike, They locked us out."
There's no word yet how long the lockout will last, but Con Ed has stated that they will call in management retirees if it becomes necessary.
New York state may see severe, gusty storms across New York state Tuesday night through Wednesday, increasing the risk for power outages.
"The main concern with these storms will be strong and potentially damaging wind gusts, and locally flooding downpours," said AccuWeather meteorologist Erik Pindrock. "There will also be just enough wind shear for an isolated tornado; however, that will not be the rule."
It is not expected that the storms will be particularly damaging.
"Anyone that experiences a severe thunderstorm could face a loss of power; however, I don't believe this particular setup will be close to as bad as what we saw last Friday with millions of people losing power," Pindrock said.
But tensions remain high between Con Ed and many of its 3.2 million customers.
"If theres a blackout and someone dies," Brian Konash tweeted Monday, "only NYPD will stand between [Con Ed] and the pitchforks."
The Con Ed power outage map updated as of 1:45 p.m. EDT on Monday.
For the most up-to-date map click here.
*************************************************************************************************************
[In accordance with Title 17 U.S.C. Section 107, this material is distributed without profit, for research and/or educational purposes. This constitutes 'FAIR USE' of any such copyrighted material.]