Eurozone crisis: Banking sector could be 'wiped out' if weakest nations leave
Analysis by Credit Suisse estimates that up to 58% of the value of Europe's banks could be wiped out by the departure of the 'peripheral' countries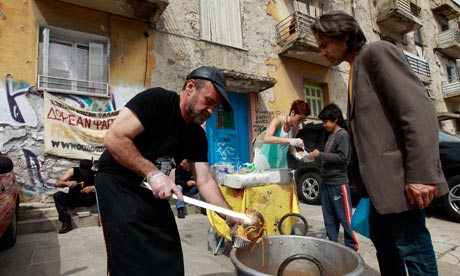 A soup kitchen in Athens, Greece. Photograph: John Kolesidis/Reuters
Few large eurozone banks would be left standing and the banking sector could face a €370bn (£298bn) lossif the euro crisis results in the single currency bloc breaking apart, according to one of the first indepth analyses of what might happen if the eurozone disintegrates.
The analysis by Credit Suisse estimates that up to 58% of the value of Europe's banks could be wiped out by the departure of the "peripheral" countries – Greece, Ireland, Italy, Portugal and Spain – from the eurozone.
Even if the single currency remains intact some €1.3tn of credit could be sucked out of the system as banks retrench to their home markets, unwinding years of financial integration, the Credit Suisse analysis warns. his represents as much as 10% of the credit in the financial system.
"We find that a Greek exit could be manageable … but in a peripheral exit, few of the large listed eurozone banks would be left standing," the Credit Suisse report said.
The banking sector could need capital injections of as much as €470bn if the three scenarios considered by the Credit Suisse analysts – a Greek exit, an exit of the periphery countries and a situation where banks retrench domestically – happen at once.
The UK's banks will not escape unscathed, although they are better insulated than those in the eurozone. In the event that the peripheral countries leave the eurozone, Barclays faces losses of €37bn and bailed out Royal Bank of Scotland some €26bn.
If only Greece were to leave the single currency, the Credit Suisse analysts calculate that losses for Europe's banks would be limited to some 5% of the stock market value of banks across the eurozone with French banks and investment banks being hit hardest. Credit Agricole would be worst effected by a Greek exit.
The Credit Suisse analysts insist they are not expecting the euro area to break up – or for Greece to leave – but they believe it is likely there will be a dramatic reduction in cross-border business – leading to less loans for businesses and individuals. The International Monetary Fund has estimated that some €2tn of credit could be lost through a eurozone break up and the Credit Suisse analysts point out they have only analysed the impact on banks they research.
Ratings agency Fitch also estimated the impact of a Greek exit from the eurozone. While the direct impact would be minimal, Fitch warned that "the indirect impact of a Greek redenomination on banks throughout the eurozone could be severe".
"A robust response from policymakers would be required to prevent contagion, and Fitch would expect a strong public statement of commitment by the European Central Bank and eurozone policymakers to provide support, if required," Fitch said.
"Banks in Portugal and Ireland are more vulnerable to contagion risks as these nations could be perceived 'next in line' for a euro exit. If the EU policy response fails to control contagion risks and if bank runs and capital flight were to become a reality, banks in these countries would be under severe stress," it said.
The Credit Suisse analysts said that banks have been preparing for a potential Greek exit so the impact would be limited, so long as "it is an orderly event".
But if there is an exit of the five countries in the periphery the the consequences for the banks in those countries would be substantial"with some of them having their tangible equity largely wiped out". Among those which would fall into this category are Intesa Sanpaolo in Italy.
"
Beijing on alert for possible Greek eurozone exit
An election poster for Greece's left-wing Syriza party. (File photo/CNS)
China must take precautions against a possible exit by debt-ridden Greece from the eurozone, as an exit could cause turbulence in global financial markets and hurt exports and growth, government economists and analysts have warned.
Measures they have suggested to counter the crisis include adjusting asset holdings in the eurozone, boosting domestic demand, promoting structural reforms and hedging exchange losses, as well as maintaining a stable currency.
The world's second-largest economy might see its year-on-year growth dip below 7% if Greece leaves the eurozone under current circumstances, according to Ba Shusong, an economist with the Development Research Center of the State Council, China's cabinet. "That scenario and its impact on employment would be undesirable for the Chinese government," Ba said.
His comments come ahead of national election polls conducted in Greece on Sunday, with global investors fearing that a left-wing coalition government will emerge from the election and tear down the bailout deals that have kept Greece afloat since 2010, leading to default and an exit from the eurozone.
Financial turbulence in Europe was a major driver in China's economic downshift early this year, as it reduced external demand markedly, Ba said, adding that a Greek exit from the eurozone will make the situation worse.
He urged authorities to follow developments in Europe closely and adjust economic policies in line with the changes. China should reduce its holdings of assets in the eurozone's peripheral countries if Greece moves toward an exit, Ba suggested.
To offset external impact with domestic demand, the government must continue to maintain investment growth, carry out structural tax reduction and boost the role of private capital, he added. There is a strong possibility that Greece will drop out of the eurozone in the future if economic turmoil continues in the region, although it is unlikely that it will happen immediately, Ba estimated.
The economist noted that if Greece stays in the eurozone, China's exports will pick up after bottoming in the second quarter of 2012 and there should not be any massive fiscal stimulus like the 4-trillion-yuan (US$634 billion) investment plan rolled out in late 2008 to counter the global financial crisis.
Xiang Songzuo, deputy head of the International Monetary Institute at Renmin University of China in Beijing, said Greece is unlikely to withdraw from the eurozone at present and will return to talks with the EU, no matter which party gains power in the election.
Xiang said the government should take measures to maintain financial stability, especially the stability of the Chinese currency, adding that Beijing's current policies to support growth are already the best response to the eurozone crisis.
China's economy expanded at its slowest rate in nearly three years in the first quarter of 2012, growing 8.1% year on year, as the European sovereign debt crisis diminished export orders and a subdued property sector cooled investment.
Export and industrial output growth rebounded slightly in May from lower-than-expected levels in April, but fixed-asset investment and retail sales have continued to slow, according to official data. To buoy the slowing economy, China announced its first interest rate cut in more than three years last week. It has also fast-tracked some investment projects, opened the way for private capital to enter state-dominated industries and provided subsidies for purchases of energy-saving home appliances.
Economic troubles are likely to continue to plague Greece, which will weaken China's exports gradually, said Yao Wei, China economist at Societe Generale. China's monthly import and export growth will likely stay in the single digits from now until the third quarter, he forecast. However, Xiang said he believes there is no need to worry too much about the impact, as China's major trading partner in the eurozone is Germany, whose economy remains resilient.
Exporters have been advised to prepare for fluctuations in the euro's value against the Chinese yuan, which will incur greater risks of exchange losses.
The euro is expected to continue depreciating against the yuan in the near future and Chinese firms can use forward foreign exchange contracts and other financial derivatives to hedge exchange risks, said Ye Yaoting, a foreign exchange analyst with the Bank of Communications.
Companies should change euros into US dollars or yuan and receive future payments in non-euro currencies as much as possible, advised Wan Chao, an investment manager at Ping An Asset Management.
The EU is China's largest trading partner. Its trade with China edged up 1.3% year on year in the first five months of 2012, compared to the 7.7% growth of the country's total foreign trade.
Meanwhile, Chinese banks have been scaling back financial derivative trading with European banks to reduce exposure to risks. The Bank of China, the country's third-largest lender, suspended purchases of derivatives, such as credit default swaps, from French banks Societe Generale and Credit Agricole at the end of 2011.
Industrial and Commercial Bank of China and Bank of Communications have also reduced investment product transactions with Societe General, Credit Agricole and French lender BNP Paribas, according to the banks' reports.
Although China's financial sector has very limited exposure to sovereign and bank asset risks in the eurozone, massive capital outflow from risky markets will affect China if Greece breaks away from the eurozone, Yu Yongding, a former central bank adviser, was reported as saying in late May.
China's central bank and other departments should consider measures, including capital controls, capital market suspension and contingency fund injections, to counter the impact of a possible Greek withdrawal, Yu proposed.
Related articles