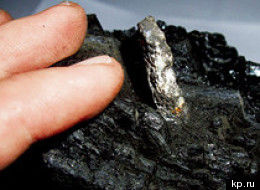 The Earth was so young 300 million years ago, the first land animals had yet to evolve into dinosaurs, most scientists believe.
If that's the case, how do you explain the discovery in Russia of a piece of a gear shift — a common machine part — embedded into a hunk of 300-million-year-old coal. Has this artifact been correctly identified? And if so, who could have made this thing? And for what purpose?
According to Komsomolskaya Pravda, a resident of Vladivostok — near the borders of China and North Korea — named Dmitry, recently noticed something odd about a hunk of coal he had obtained to heat his home during the winter.
A metallic-looking rail or rod was pressed into the coal, prompting Dmitry to contact biologist Valery Brier, in the seaside Primorye region.
Related articles