Politics and Legislation
Lawmakers: Cantor's $25k controversial donation may come up this week
By Molly K. Hooper
House Majority Leader Eric Cantor (R-Va.) this week may face tough questions from disgruntled rank-and-file GOP lawmakers upset with his $25,000 donation to a group dedicated to ousting incumbents in Congress.
When the House convenes on Monday, it will be the first time that members of the GOP conference will gather since Cantor's contribution to the anti-incumbent Campaign for Primary Accountability (CPA) became public.
More than a half dozen Republican lawmakers, stunned by the news of Cantor's donation, agreed to speak with The Hill on the condition of anonymity to vent their frustration without fear of retribution. The lawmakers interviewed included both younger and senior members of the GOP conference.
Secret Service agents placed on leave amid prostitution allegations, inquiry
By Jeremy Herb
Eleven Secret Service agents were placed on administrative leave Saturday as agency officials investigated allegations they were involved with prostitutes while on assignment in Colombia.
The agents involved were in Cartagena, Colombia ahead of President Obama's visit there this weekend, where he is attending the Summit of the Americas.
The agents implicated in the alleged prostitution scandal were sent back home.
Secret Service Assistant Director Paul S. Morrissey said they were interviewed in Washington, D.C. on Saturday and placed on administrative leave.
"This is standard procedure and allows us the opportunity to conduct a full, thorough and fair investigation into the allegations," Morrissey said, in a statement.
http://www.msnbc.msn.com/id/32545640
http://www.msnbc.msn.com/id/32545640
Congress poised to hit GSA on spending
By Mike Lillis
Dan Tangherlini, meet Capitol Hill.
Congress returns to Washington next week with its mind on taxes but its sights on another target: the General Services Administration (GSA).
In four separate hearings, lawmakers in both parties and both chambers will have the chance to sound off on a string of scandals that have plagued the relatively obscure agency, particularly its 2010 conference in Las Vegas, which cost taxpayers upwards of $822,000.Appearing before all four panels will be Brian Miller – the GSA Inspector General who sparked the uproar with his report on the Vegas junket – and Tangherlini, a former deputy mayor of D.C. tapped by the White House to head the embattled agency in the wake of the scandal
Obama: Free-trade pact with Colombia a 'high standards' agreement
By Meghashyam Mali
President Obama on Saturday urged U.S. and Latin American business leaders to act on the "enormous opportunity" closer economic ties would bring and defended a free-trade agreement with Colombia as a "win-win" for both nations.
Obama, who is attending the 33-nation Summit of the Americas in Cartagena, Colombia, addressed executives from the U.S. and Latin American countries.
At the summit, Obama will meet with Colombian President Juan Manuel Santos to discuss a wide range of issues, including the free trade deal agreed to by the U.S. and Colombia in October 2011.
In his address, Obama defended the agreement between Colombia and the U.S., saying that it was "an example of a free trade agreement that benefits both sides."
"It's a win-win. It has high standards, it's a high-standards agreement," Obama said to applause.
US secret service scandal widens to include military
Five soldiers confined to quarters over claims of inappropriate conduct as 11 secret service members are put on leave
Associated Press in Cartagena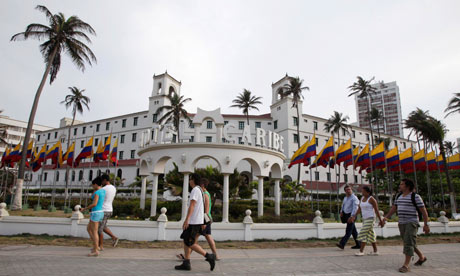 Hotel Caribe in Cartagena, Colombia, where the secret service agents and soldiers stayed. Photograph: Fernando Vergara/AP
The US secret service says it has put 11 agents on leave while it investigates alleged misconduct before a summit attended by Barack Obama in Colombia, as it emerged that five soldiers are also facing investigation.
The secret service apologised for the distraction the incident had caused at the summit in Cartagena, where Barack Obama is meeting leaders of more than 30 countries.
The US Southern Command announced that five service members, who were assigned to support the secret service and were staying at the same hotel as the agents under investigation, had violated their curfew and may have been involved in inappropriate conduct. The soldiers were confined to their quarters in Colombia and ordered not to have contact with others.
All the alleged activities took place before Obama arrived at the summit on Friday.
The misconduct being investigated involved prostitutes, it has been confirmed. Peter King, chairman of the House homeland security committee, said after he was briefed on the investigation that "close to" all 11 of the agents involved had brought women back to their rooms at a hotel separate from the one where Obama is staying.
The New York Republican representative said the women were "presumed to be prostitutes" but investigators were interviewing the agents.
Battle of Ideas: Anti-globalist fever grips France ahead of elex
Published on Apr 15, 2012 by RussiaToday
The bitter battle for French votes is intensifying, as Presidential rivals Nicolas Sarkozy and Francois Hollande, hold Sunday rallies in Paris. The election is just a week away and, with immigration and identity taking centre stage, Tesa Arcilla looks at whether France is witnessing a seismic shift to the right.

**********************************************************************************
Economy
IMF urges authorities to consider debt forgiveness to restore growth
The International Monetary Fund (IMF) has urged governments to consider "bold" interventions to reduce household debt levels and stimulate growth.
In the 1930s, the Roosevelt administration set up the Home Owners' Loan Corporation to buy distressed mortgages from banks in exchange for government debt. Photo: GETTY
By Philip Aldrick, Economics Editor
High levels of household debt restrain consumer spending and delay recoveries, the Bretton Woods institution concluded in an analysis of crises over the past century.
While cutting interest rates and unemployment benefits help, the IMF said the authorities should consider going further with "targeted household debt reduction policies".
Among its proposals, the fund suggested state-sponsored debt forgiveness plans for the most hard-hit families. Although the policies might initially be expensive, they would be beneficial by reinvigorating consumer spending and helping the economy, the IMF said.
It cited the actions of the US in 1933 in the midst of the Great Depression and Iceland after its recent banking collapse.
The Roosevelt administration in the US set up the Home Owners' Loan Corporation to buy distressed mortgages from banks in exchange for government debt. It then restructured the mortgages "to make them more affordable".
The policy cost 8.4pc of GDP, equivalent to £130bn in the UK this year, but saved 800,000 households from repossession. The US government had made a profit, before inflation, by the time the scheme was run off in 1951.
In Iceland, banks were made to accept reductions in mortgage interest payments of up to 40pc and the most distressed households had a portion of their outstanding debt written off.
Spain back in recession, says Economy Minister
Spain's Economy Minister, Luis de Guindos, said the country has probably tipped into its second recession since 2009, as government borrowing costs climbed back above 6pc.
Official data for the first three months of this year is not due until April 30, but Mr De Guindos said gross domestic product was likely to have fallen a similar amount to the October-December period of 2011 when it shrank 0.3pc.
"At the moment I see a first quarter with a similar pattern to the last quarter of last year," he said in an interview published in El Mundo newspaper on Monday.
The Spanish economy has reignited fears over the eurozone debt crisis with investors worried taht Madrid will fail to meet deficit-cutting targets at at time when the economy is tipping into recession.
Mr De Guindos ruled out any Greek-style debt rescue and said there are no plans for new tax increases or budget cuts this year.
He said the country had no "Plan B", adding: "Spain is not going to ask for a rescue. No intervention will take place.
***********************************************************************************
Wars and Rumors of War
Commander: Iranian Army among Strongest in World

TEHRAN (FNA)- A senior Iranian commander stressed the Army's capability to supply its military needs, and said Iran's Army is amongst the most powerful forces in the world.
Speaking to reporters on the occasion of Iran's Army Day (April 17), Commander of the Army's Western Operation Command General Amir Manouchehr Kazzemi said, "…today, the Army of the Islamic Republic of Iran is among the most powerful armed forces of the world."
"The Army of the Islamic Republic is not all dependent as far as military tools and equipment are concerned, and that is the result of the presence of expert personnel," Kazzemi stated.
Iran has taken wide strides in designing and manufacturing different types of light, semi-heavy and heavy weapons, military tools and equipment. Tehran launched an arms development program during the 1980-88 Iraqi imposed war on Iran to compensate for a US weapons embargo. Since 1992, Iran has produced its own tanks, armored personnel carriers, missiles and fighter planes.
Israeli TV report shows air force gearing up for Iran attack, says moment of truth is near
'IAF expects losses, and knows it can't destroy entire Iranian program'
By Greg Tepper
File: Fighter jet at the Uvda Air Force Base near Eilat. (photo credit: Ofer Zidon/Flash90)
A major Israel TV station on Sunday night broadcast a detailed report on how Israel will go about attacking Iran's nuclear facilities in the event that diplomacy and sanctions fail and Israel decides to carry out a military strike.
The report, screened on the main evening news of Channel 10, was remarkable both in terms of the access granted to the reporter, who said he had spent weeks with the pilots and other personnel he interviewed, and in the fact that his assessments on a strike were cleared by the military censor.
No order to strike is likely to be given before the P5+1 talks with Iran resume in May, the reporter, Alon Ben-David, said. "But the coming summer will not only be hot but tense."
In the event that negotiations fail and the order is given for Israel to carry out an attack on Iranian nuclear facilities, "dozens if not more planes" will take part in the mission: attack and escort jets, tankers for mid-air refueling, electronic warfare planes and rescue helicopters, the report said.
Ben-David said the Israel Air Force "does not have the capacity to destroy the entire Iranian program." There will be no replication of the decisive strikes on Iraq's Osirak reactor in 1981 or on Syria in 2007, he said. "The result won't be definitive." But, a pilot quoted in the report said, the IAF will have to ensure that it emerges with the necessary result, with "a short and professional" assault.
Ben-David said that if negotiations break down, and Iran moves key parts of its nuclear program underground to its Qom facility, the IAF "is likely to get the order and to set out on the long journey to Iran."
***********************************************************************************
Articles of Interest
Colonel Douglas Macgregor on Two Failed Wars and Why He Supports Ron Paul for President
Sunday, April 15, 2012 – with Anthony Wile
Col. Douglas Macgregor
The Daily Bell is pleased to present this exclusive interview with Colonel (ret) Douglas Macgregor (left).
Introduction: Colonel (ret) Douglas Macgregor is a decorated combat veteran, the author of four books. He is also Executive Vice President of Burke-Macgregor Group LLC, a consulting and intellectual capital brokerage firm based in Reston, Virginia. Macgregor was commissioned in the US Army in 1976 after one year at the Virginia Military Institute and four years at West Point. Macgregor has testified as an expert witness on national security issues before the House Armed Services Committee and the House Foreign Relations Committee. He is a supporter of Ron Paul  (R-Tex) and a spokesperson for veterans' groups that are organizing marches and demonstrations on behalf of Republican candidate for president, Ron Paul.
Daily Bell: Give us some background on yourself and the US military-industrial complex.
Colonel Douglas Macgregor: Let's be clear. I think we are spending far more on defense than we need to and that's been true for a very long time. It's become a self-perpetuating industry, sometimes referred to as a self-licking ice cream cone. I think it's a good way to depict the American defense establishment at this point, though. I am by no means anti-defense or anti-defense industry but I think we can extract more for our money and we can do business much better than we are or what we have been doing for a very long time. One of the reasons that I wrote the books on military reform and reorganization is because until you go after the defense system and reorganize it and change it, the defense industry is not going to be changed. The defense industry has organized itself to support the client and it mirrors a very Byzantine, bloated defense establishment that we maintain in the United States.
Unlike many people, I walked away in 1991 from Desert Storm with the view that we had failed strategically to achieve our objective. The generals were, as usual, very timid and reluctant to fight. We assembled this monumental military force designed to take on and defeat the Soviet Armed Forces in Europe and we didn't use it effectively. We didn't use it effectively for a whole range of reasons – because we were organized to refight WWII, which was a mistake, but also because the people at the top were very much bureaucrats who had risen through the ranks in peace time and they failed.
The political leadership chose to ignore that failure because they could, and I'm talking about George Bush Sr. and others, who thought they could capitalize on this great strategic achievement, which was not a great strategic achievement politically in the next election. As we know, that did not work. The American people, as usual, were not terribly engaged. They were happy to lead cheers, happy to receive the usual glowing reports regardless of whether or not they were accurate.
And so I walked away from the desert and that experience and we should have taken it more seriously than we did and made fundamental changes in reforms. Again we did not because there was no interest in the senior ranks to do so and no one in Congress was either sufficiently well informed or interested to make any changes. So the result is you have this trillion-dollar defense establishment that is still designed for the most part to maintain large numbers of generals and admirals and headquarters and to feed politicians' re-election campaign coffers and sustain this bloated defense industry. Again, it's all linked together but it all begins fundamentally with the nature of this military establishment.
World Bank chief not appointed 'on merit', says Nigerian candidate Ngozi Okonjo-Iweala
Ngozi Okonjo-Iweala, the Nigerian candidate to head the World Bank, said on Monday that the appointment was not being decided on merit and that the US nominee would win.
Ngozi Okonjo-Iweala, the Nigerian Finance Minister and a former World Bank managing director, expects the US candidate to win.
"You know this thing is not really being decided on merit," Ms Okonjo-Iweala, the Nigerian Finance Minister and a former World Bank managing director, told reporters at a briefing on the country's 2012 budget.
"It is voting with political weight and shares and therefore the United States will get it."
The World Bank's directors meet on Monday to decide who will be the powerful institution's next chief, with all expectations that the United States will maintain its unbroken lock on the position.
Ms Okonjo-Iweala said that despite the apparent failure of developing nations to have a nominee appointed to the post, her candidacy had helped inject change into the process.
************************************************************************************
[In accordance with Title 17 U.S.C. Section 107, this material is distributed without profit, for research and/or educational purposes. This constitutes 'FAIR USE' of any such copyrighted material.]