Politics and Legislation
Top senators are calling for a hearing on the "continuing leaks of classified information" allegedly from the White House after a recent media report detailed a U.S. cyber warfare targeting Iran's nuclear facilities.
A report in The New York Times on Friday provided classified details of the U.S cyber attack.
Since the beginning of his term, President Barack Obama secretly ordered cyber attacks targeting computers that run Iran's nuclear enrichment facilities, the Times reported, attributing the information to the program's participants.
Senators John McCain and Dianne Feinstein, a Republican and a Democrat respectively, discussed the possibility of holding hearings to address the leak of information.
"I am pleased to report that chairman Carl Levin has agreed to hold a hearing on these leaks in the Senate Armed Services Committee," McCain said in a statement Tuesday.
McCain said the alleged leaks are detrimental to U.S. security and accused the White House of releasing the information to boost the president's political standing ahead of the November election.
"With the leaks that these articles were based on, our enemies now know much more than they even did the day before they came out about important aspects of the nation's unconventional offensive capability and how we use them," McCain said in remarks on the Senate floor.
"Such disclosures can only undermine similar ongoing or future operations and, in this sense, compromise national security. For this reason, regardless of how politically useful these leaks may be to the president, they have to stop."
Feinstein decried the leaks too, saying she discussed the possibility of a joint hearing with Levin, chairman of the senate committee.
"Today, I sent a classified letter to the president outlining my deep concerns about the release of this information," Feinstein said Tuesday. " I made it clear that disclosures of this type endanger American lives and undermine America's national security."
White House deputy press secretary, Josh Earnest, has said the administration is committed to withholding classified information.
"I'm saying that I'm not in a position to talk to you about any of the details that were included in the story," he said. "But I am telling you that this administration — well, that it's our view, as it is the view of everybody who handles classified information, that information is classified for a reason; that it is kept secret, it is intended not to be publicized because publicizing it would pose a threat to our national security."
McCain and Saxby Chambliss, a top Republicans who serves on the intelligence committee, cited other recent leaks, including the release of information on the administration's efforts to expand drone programs on militants in Yemen. The public airing of the Yemen plot angered intelligence and national security officials.
"Let me be clear: I am fully in favor of transparency in government — I have spent my entire career in Congress furthering that principle," McCain said.
"But what separates these sorts of leaks from, say, the whistle-blowing that fosters open government or a free press is that these leaks expose no violations of law, abuses of authority, or threats to public health or safety. They are merely gratuitous and utterly self-serving."
Chambliss called for a probe on the "pattern" of leaks.
Gitmo detainees stay imprisoned years after being cleared
Published on Jun 11, 2012 by RTAmerica
Then Senator Obama touted if he became president of the United States, he would make shutting down Guantanamo Bay a top priority. But for many, the failure of restoring the right to Habeas Corpus to those prisoners is unacceptable. On Monday, the Supreme Court gave a preview of the cases it would be willing to hear in its next term from detainees being held in the Cuban facility. Several people in Gitmo have been officially cleared for release, but still remain behind bars. Andy Worthington, author of The Guantanamo Files, joins us to explain why that is.

**********************************************************************************
Economy
David Wilkinson
Free Britain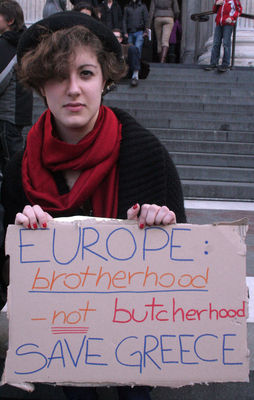 As eurosceptics, who have devoted many years of our lives to opposing this new EU regime that has descended over Europe, our first loyalty, our whole sympathy, must be with the victims of the EU ambition: we are all Greeks now.
The Greek people are the victims of an experiment. And let us not confuse Greeks, the people like us, and the institutions of government that are in Greece but are tiers in the EU governmental hierarchy.
Not all people are opponents of the EU nor of the way the EU governs Europe. Such people will say that the Greeks are to blame for all their woes. For some people it simply would not do if blame was seen to lay with the EU, the institutions of the Euro and the foreign banks who made speculative loans. These people say that they all conducted themselves with perfect virtue and should suffer no loss – and that the people must pay. And so television screens all over Europe have shows vilifying the swarthy, lazy, greedy Greek.
Alright, the average Greek may have borrowed too much, retired too early and defended himself too enthusiastically against the taxation of a kleptocratic state. But all his sin was not to have the power to doubt every word he was told by his politicians, his newspapers and his television. What people of what nation could have done that? Not even the British. If a man, even if he is a fool, believes a lie, is he as guilty as the liar? All Greeks did was to live the way they were told was the way to live.
The Greeks are victims of an experiment. The European Union always claims that it has kept the peace in Europe since the second world war, although it never kept much peace in Greece then. The EU claims that it brought civilised democracy to the post-Soviet east of Europe after the fall of the Berlin Wall as if those countries would be savage without the guiding wisdom of Brussels – and yet after the fall of dictators in Greece, membership of the EU has brought little virtue to the governing elite of Greece. Rather, Brussels has kept in place a compliant regime and connived in scandalous dishonesty to fit Greece into the Euro. Good sense was discarded for the vanity of the Euro.
In as much as all people are responsible for who they allow to govern them, all Greeks are culpable. As are all Europeans. But did the Greek people ask to join the Euro in a referendum? Then they are innocent as all Europeans are innocent.
The Greeks must take some small responsibility for their woes. But we have been taught to love our neighbour. We have been taught to love our neighbour always and not to love him apart from when he makes a mistake or when he is in need. If a man loses his job, his savings, his ability to choose how his country is run, everything as a result of this euro-crisis and that does not make him our neighbour, then what would?
Greeks are hurting. They have been the first to suffer the severe pain of the Euro construct. Their pain is that of those first into battle – should those of us still safe for the moment mock their wounds? Because the hardship, then suspension of democratic rule and national independence are coming to us soon. Look at Greece and you see Ireland. Look and see your own future.
So should we pay to the ECB and their laundry boys at the IMF? If you asked a Eurosceptic to pay for the freedom of another country then he is glad to pay just as a true patriot will fight for the freedom of another's country. But we are not being asked to pay for the freedom of Greece but for the lasting austerity, hardship and what is almost slavery of Greece. We are not being asked to make gifts to a neighbour who has suffered misfortune but to save banks from the folly of their greed and the Euro madness of their ambition. We are not being asked to do anything that will lead to the happiness of Greeks but to save the Euro from collapse. If Roger Helmer is remembered for anything it should be his "They are trying to save the cancer and not the patient". There has been no better description of the efforts to perpetuate precisely what afflicts Europe.
EU politicians join together to tell Greece how to vote in her second election. But this was in the way of bullies. Cameron is no Palmerston, but a British Prime Minister should send a message to the Greek people that however they vote we are friends. Communist politics in Greece made some kind of sense when the USSR could subsidise such decisions but not now. However the protest is absolutely necessary. Now Greece has a hard path through protest and instability before a sensible way out of this can be trodden. Our Government must tell Greeks that if they must leave the Euro, then we will stand by you. In any case, it will be for the best.
No, we will not pay for your top civil servants to retire at 50 nor to turn you into a nation of beggars. Greeks will work hard and fight like demons (as Churchill observed) for freedom. So we are prepared to do what we can to help regain freedom, responsibility and a serious route to regained prosperity. Because that is how the Eurosceptic shows true European solidarity.
We are all Greeks. When Percy Bysshe Shelly wrote this he meant that so much of what is beautiful in our civilisation today had its origin in Greece. Today we see that a horror that could engulf all of Europe is planted in Greece. The banners we see in London and the blog we read that say "we are all Greek" ask us to join in solidarity against this horror.
Comment: A small but important point: The USSR never subsidised Greek 'communism'. Greek 'communism', which is better described as anarchism, developed organically in response to the Nazi invasion. Ordinary Greeks organised themselves spontaneously at a local level because they were living under pathocracy, not because of some desire for ideological association with Soviet 'communism'. They did what they had to do to survive. Then the British invaded the country before the end of the Second World War and reinstated the local Nazis, under whose totalitarian rule Greeks lived until 1974. What is emerging in response to the economic war against Greece today is the same development of local, organic and cohesive networks. So the pathocracy turns up the heat in an effort to "prevent this domino from falling", which is really code-speak for preventing genuinely socialist networks and ideas from spreading beyond Greek borders.
Breakingviews: Greeks caught between rock and hard place
Published on Jun 11, 2012 by ReutersVideo
June 11 – Breakingviews editor Hugo Dixon says Greeks must choose between the pain of sticking with the euro and the chaos of bringing back the drachma.
Germany keen on helping bailout eurozone
Published on Jun 11, 2012 by AlJazeeraEnglish
In Germany, there appears to be strong support for the Spanish bailout.
But one former central banker says Germany can no longer continue to bankroll an increasingly worsening European crisis.
Nick Spicer with this report from Berlin.

Spain Getting $125 Billion Bailout
Published on Jun 11, 2012 by IBTimesTV
Some good news for Spain today -The European Union's finance ministers are lending up 125 billion dollars to its banks in order to revive those who are sunk with faulty mortgages.
Prime Minister Mariano Rajoy was reluctant for weeks to accept the bailout and was working to see if Spain could fix the problem for themselves.
It was obviously not the case – but! investor's reacted immediately to the financial backing and Spain's IBEX sprang to life with a four percent gain
Economy analyst Miguel Murado explains that the bailout is just the first step and that there is much more work to be done.
The bailout means very little to the roughly 25 percent of the unemployed who are feeling helpless
Unemployment still remains at an astounding 25 percent. Many fear that more budget cuts will mean even more layoffs and that things are only going to get worse…. before they can get better.

***********************************************************************************
Wars and Rumors of War
Atia Abawi & Akbar Shinwari
NBC News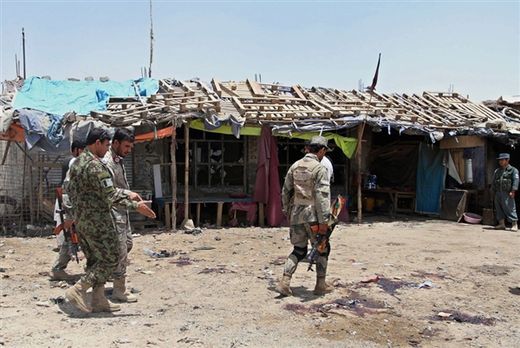 © EPA/I. SAMEEM
Afghan security officials inspect the scene of a suicide attack in Kandahar, Afghanistan, Wednesday.
A dusty marketplace in southern Afghanistan was turned into a gruesome scene of blood and bodies on Wednesday after at least two suicide attacks, which left 22 civilians dead and at least 50 others injured, officials said.
Taliban spokesman Qari Yousef Ahmadi said the militant group was behind the attacks in Kandahar, the capital of Kandahar province and the spiritual birthplace of the insurgency, The Associated Press reported.
In the east, two American pilots were killed in a helicopter crash amid enemy activity, an un-named senior U.S. defense official at the Pentagon told The Associated Press. NATO confirmed that two service members had been killed in the crash but not their nationality or any other information.
Also in the east, Afghan officials and residents said a pre-dawn NATO air-strike targeting militants killed civilians celebrating a wedding in Logar province, including women and children, although a NATO forces spokesman said they had no reports of civilians being killed in the overnight raid to capture a Taliban leader.
NATO said a number of insurgents had been killed as a result of the operation, and that two Afghan women had received medical care after being wounded. The women had not received life-threatening injuries, NATO said.
Kandahar attack
Afghan President Hamid Karzai condemned the Kandahar attack on civilians, saying it proved the "enemy is getting weaker because they are killing innocent people."
One suicide bomber detonated a three-wheeled motorbike filled with explosives first, Rahmatullah Atrafi, deputy police chief in Kandahar province told the AP. Then, as people rushed to assist the casualties, two other suicide bombers on foot walked up to the site and blew themselves up, he said.
The explosions left a bloody scene of body parts, shoes, soda cans, snacks and debris from three shops that were destroyed.
Mohammad Naeem, a 30-year-old shopkeeper, said he was selling soft drinks to a customer when the first blast occurred.
A local member of parliament told NBC News that at least 18 people were killed in the attack.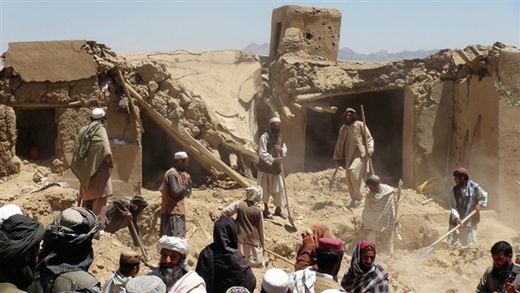 © AP Photo/Ihsanullah Majroh
Afghan villagers gather at a house destroyed in an apparent NATO raid in Logar province, south of Kabul, Afghanistan on Wednesday.
"Among those killed were civilians and members of the Taliban," Saib Khan told NBC News. "It is hard to obtain the exact number of casualties because a wedding party was staying in the same area where the airstrike occurred."
Local officials told Afghanistan's TOLOnews that 13 civilians had been killed in the airstrike.
There was no immediate explanation for the different accounts.
"I dropped to the ground," he told the AP. "When I got up, I looked outside and I heard people shouting for help."
Naeem said he helped his customer, who was wounded, into his shop.
"He was bleeding. I put cloth on his wound to stop the bleeding," he said. "I was busy with that when the other blasts occurred."
Islam Zada, a truck driver, was on the other side of the road having tea near his parked truck when the attack began.
"I couldn't see anything except for fire and dust," Zada said of the scene. "I found a wounded truck driver on our side of the road and went to help him," Zada said. "We gave him some water and when we were talking to him the other blasts occurred."
The number of Afghan civilians killed dropped 36 percent in the first four months of the year compared with last year, according to the latest figures compiled by the U.N. While the trend is promising, the U.N. laments that too many civilians are being caught up in the violence as insurgents fight Afghan and foreign forces.
The U.N. said last month that 579 civilians were killed in the first four months – down from 898 killed in the same period of 2011.
Anti-government forces caused 79 percent of civilian casualties and Afghan and foreign forces 9 percent, according to the U.N. It was not clear who was responsible for the remaining 12 percent.
MSNBC and The Associated Press contributed to this report.
Comment: Who in Afghanistan has a news station that broadcasts the truth worldwide? Leaving it to Western news media, we get whatever line of propaganda is dished out, all the while, being told what to think.
What, in terms of understandable logic does: "It is hard to obtain the exact number of casualties because a wedding party was staying in the same area where the airstrike occurred" exactly mean? Does it mean innocent wedding goers were so shredded by fragments it made it hard to determine the number of dead? Such pretty words but no graphic images of the carnage, thus they paint the picture however they please.
Only a monster without any form of Empathy could accept such pathological speech.
McCain: Saudis supply arms to Syrian opposition, US should follow lead
Published on Jun 11, 2012 by RussiaToday
The new Syrian opposition leader has also urged mass defections from the regime and promised support for the rebels. This, as U.S. senator John McCain has said that anti-Assad fighters are directly supplied with weapons from Arab Gulf states and wants Washington to follow that lead. International relations professor Mark Almond, says the U.S. will remain true to its idea of regime change.

Mosaic News 6/8/2012: Bahraini Protestors Demand the Right to Self-Determination
Published on Jun 11, 2012 by linktv
Bahraini protestors demand the right to self-determination, Jordanians continue to rally for economic reforms, bomb targeting government bus kills 20 in Pakistan, and more.
Today's headlines in full:
Bahraini protestors demand right to self-determination
Al-Alam, Iran
Jordanians continue to rally for economic reforms
BBC Arabic, UK
Yemenis take to streets in Sanaa, Taiz
Press TV, Iran
Bomb targeting government bus kills 20 in Pakistan
Press TV, Iran
NATO apologizes for Afghan civilian deaths
Press TV, Iran
Afghanistan: Dozens escape in explosive prison jailbreak by Taliban; four dead
Press TV, Iran
UN monitors reach massacre scene in Syria
Future TV, Lebanon
Egyptians protest against ex-premier ahead of runoff elections
Al Jazeera, Qatar
'Regards from Ulpana': Fresh Price Tag attacks hit Jewish-Arab village of Neve Shalom
IBA, Israel
Potential right-wing settlement deal will save Ulpana buildings from demolition
IBA, Israel
Abbas: In absence of talks, will seek UN recognition of Palestinian statehood
IBA, Israel
Palestinian town celebrates hunger striker Halahla's release
Palestine TV, Ramallah
Image: A protester holds a poster with pictures of people whom she said died in last year's government crackdown as she shouts anti-government slogans during a march called by Bahrain's leading opposition society al Wefaq, on Budaiya highway west of Manama June 8, 2012: REUTERS/Hamad I Mohammed
Mosaic is a Peabody Award-winning daily compilation of television news reports from the Middle East, including Egypt, Lebanon, Israel, Syria, the Palestinian Authority, Iraq and Iran. Watch more Mosaic at http://www.linktv.org/mosaic

***********************************************************************************
Articles of Interest
Bad Balance: US women paid less than men despite calls for equality
Published on Jun 11, 2012 by RussiaToday
America's women are now top of the class over men when it comes to getting advanced degrees. There's a sting in the tail though – their salaries still lag far behind their male counterparts. What's worse is that conservatives are blocking legislation to get fair pay, as Marina Portnaya explains.

Indian workers allege abuse in Qatar
Published on Jun 11, 2012 by AlJazeeraEnglish
Human Rights Watch is expected to release a scathing report on the treatment of migrant labourers in the Gulf state of Qatar.
Many migrant workers, mostly from India and other South Asian countries, have made allegations of physical abuse and non-payment of salaries by their Qatari employers.
The mounting accusations have prompted Indian politicians to seek comprehensive reform of their country's laws to protect migrant workers.
Al Jazeera's Sohail Rahman reports from the Indian state of Kerala.

Navy drone crashes in Maryland
Published on Jun 11, 2012 by adrinilinjunky
cnn.com
Washington (CNN) — A U.S. Navy drone crashed Monday in a marsh near Salisbury, Maryland.
The RQ-4A Global Hawk drone crashed during a routine training flight from Naval Air Station Patuxent River, according to Jamie Cosgrove, a spokeswoman for the Unmanned Aviation and Strike Weapons Program at the base.
There were no injuries to civilians and no property damage, said the Navy, which said it is investigating the cause.
Video from CNN affiliate WBOC showed smoke rising from brush fires in the unpopulated area.
The drone crashed into a tributary of the Nanticoke River, a U.S. Coast Guard official said. The crash site has been blocked to recreational boat traffic while the agency investigates, the Coast Guard official said.
As soon as Navy personnel lost contact with the unmanned vehicle, a piloted aircraft was dispatched to Maryland's Eastern Shore, where it came upon the wreckage and determined that it was unlikely anyone on the ground had been hurt, Navy officials told CNN.
The crash occurred at about 12:11 p.m., near Bloodworth Island in Dorchester County, the Navy said.
The aircraft is one of five aircraft acquired from the Air Force Global Hawk program. The BAMS-D program has been developing tactics and doctrine for the employment of high-altitude unmanned patrol aircraft since November 2006.
The drone can fly for 30 hours without refueling at altitudes as high as 11 miles. It is typically used for reconnaissance. Of the five drones based at southern Maryland's Naval Air Station Patuxent River, four are in routine training and one is deployed with the U.S. Navy Fifth Fleet, the officials said.
The basic RQ-4A Global Hawk UAV, manufactured for the U.S. Air Force by Northrop-Grumman, is the largest and most advanced drone in the U.S. military, according to the Navy. It is 44 feet long, has a 116-foot wingspan and weighs 25,600 lbs.
The vehicles cost $176 million apiece, the Government Accountability Office reported in 2010.
Crashes are highly unusual, Navy officials said.
************************************************************************************
[In accordance with Title 17 U.S.C. Section 107, this material is distributed without profit, for research and/or educational purposes. This constitutes 'FAIR USE' of any such copyrighted material.]