Earthquakes
| | | | | | | | | |
| --- | --- | --- | --- | --- | --- | --- | --- | --- |
| Date/Time (UTC) | Magnitude | Area | Country | State/Prov./Gov. | Location | Risk | Source | Details |
| | | | | | | | | | | |
| --- | --- | --- | --- | --- | --- | --- | --- | --- | --- | --- |
| 02.05.2012 23:25:54 | 2.8 | Europe | Greece | | Dhiyela | | | | EMSC | |
| 02.05.2012 22:20:46 | 2.0 | North America | United States | Hawaii | Pähala | | | | USGS-RSOE | |
| 02.05.2012 23:26:17 | 2.9 | Asia | Turkey | | Dogutepe | | | | EMSC | |
| 02.05.2012 23:26:39 | 2.3 | Asia | Turkey | | Rahimler | | | | EMSC | |
| 03.05.2012 00:30:47 | 4.1 | Europe | Russia | | Sarychevo | | | | EMSC | |
| 02.05.2012 21:55:46 | 2.1 | North America | United States | California | Parkfield Junction | | | | USGS-RSOE | |
| 02.05.2012 22:50:47 | 3.1 | Caribbean | Dominican Republic | Provincia de La Altagracia | Cabeza de Toro | | | | USGS-RSOE | |
| 02.05.2012 21:20:30 | 2.9 | Europe | Greece | | Matala | | | | EMSC | |
| 02.05.2012 22:01:00 | 3.1 | Caribbean | Puerto Rico | | Arenas | | | | USGS-RSOE | |
| 02.05.2012 21:41:37 | 4.8 | Pacific Ocean | New Zealand | Woodville County | Mokai | | | | GEONET | |
| 03.05.2012 01:51:40 | 3.5 | Pacific Ocean | New Zealand | Woodville County | Wairoto | | | | GEONET | |
| 02.05.2012 20:16:33 | 2.8 | North America | United States | California | Ora | | | | USGS-RSOE | |
| 02.05.2012 23:27:00 | 2.9 | Europe | Albania | | (( Bashkim )) | | | | EMSC | |
| 02.05.2012 20:15:32 | 2.4 | Asia | Turkey | | Hacilar | | | | EMSC | |
| 02.05.2012 23:27:22 | 5.1 | South-America | Chile | | Hanga Roa | | | | EMSC | |
| 02.05.2012 23:27:42 | 2.5 |  Europe | Montenegro | | Velika Plaza | | | | EMSC | |
| 02.05.2012 19:15:23 | 2.8 | Asia | Turkey | | Guvencli | | | | EMSC | |
| 02.05.2012 19:15:48 | 4.2 | Middle-East | Iran | | Mushi Kala | | | | EMSC | |
| 02.05.2012 19:51:05 | 4.5 | Indonesian archipelago | Indonesia | | Maniwori | | | | USGS-RSOE | |
| 02.05.2012 20:15:52 | 4.5 | Indonesian Archipelago | Indonesia | | Maniwori | | | | EMSC | |
| 02.05.2012 19:16:12 | 2.4 | Europe | Italy | | Iria | | | | EMSC | |
| 02.05.2012 19:16:31 | 2.4 | Europe | Italy | | San Fratello | | | | EMSC | |
| 02.05.2012 19:16:52 | 2.5 | Asia | Turkey | | Ismetpasa | | | | EMSC | |
| 02.05.2012 19:17:14 | 2.8 | Asia | Turkey | | Gavuragili | | | | EMSC | |
| 02.05.2012 18:10:34 | 2.5 | Europe | Greece | | Metokhion Zografou | | | | EMSC | |
| 02.05.2012 18:10:55 | 2.7 | Asia | Turkey | | Kahya | | | | EMSC | |
| 02.05.2012 17:10:26 | 2.4 | Asia | Turkey | | Ismetpasa | | | | EMSC | |
| 02.05.2012 17:10:52 | 2.0 | Asia | Turkey | | Karakuyu | | | | EMSC | |
| 02.05.2012 17:11:12 | 3.0 | Asia | Turkey | | Bilecik | | | | EMSC | |
| 02.05.2012 16:10:30 | 4.7 | Middle-America | Mexico | | Chun Cedro | | | | EMSC | |
| 02.05.2012 16:10:51 | 2.4 | Asia | Turkey | | Killan | | | | EMSC | |
| 02.05.2012 16:20:40 | 5.0 | Middle America | Mexico | Estado de Campeche | Chun Cedro | | | | USGS-RSOE | |
| 02.05.2012 16:11:12 | 2.2 | Asia | Turkey | | Ismetpasa | | | | EMSC | |
| 02.05.2012 18:35:37 | 2.4 | North America | United States | Alaska | Unga | | | | USGS-RSOE | |
| 02.05.2012 15:50:33 | 2.3 | North America | United States | California | Parkfield Junction | | | | USGS-RSOE | |
| 02.05.2012 16:11:32 | 2.2 | Asia | Turkey | | Foca | | | | EMSC | |
| 02.05.2012 16:12:13 | 3.4 | Asia | Turkey | | Ismetpasa | | | | EMSC | |
| 02.05.2012 15:36:09 | 2.0 | North America | United States | Alaska | Petersville | | | | USGS-RSOE | |
| 02.05.2012 16:12:34 | 2.2 | Europe | Germany | | Dittersbach | | | | EMSC | |
| 02.05.2012 22:46:04 | 3.0 | North America | United States | Wyoming | Three Forks | | | | USGS-RSOE | |
| 02.05.2012 15:13:18 | 2.0 | North America | United States | Alaska | Susitna | | | | USGS-RSOE | |
| 02.05.2012 14:55:46 | 4.0 | North America | Canada | British Columbia | Port Hardy | | | | USGS-RSOE | |
| 02.05.2012 15:10:30 | 4.0 | North-America | Canada | | Port Hardy | | | | EMSC | |
| 02.05.2012 15:10:52 | 2.5 | Asia | Turkey | | Mollakasim | | | | EMSC | |
| 02.05.2012 15:11:12 | 5.6 | Australia & New-Zealand | Australia | | Pelverata | | | | EMSC | |
| 02.05.2012 14:40:38 | 5.5 | Australia | Australia | State of Tasmania | Pelverata | | | | USGS-RSOE | |
| 02.05.2012 15:11:31 | 2.5 | Asia | Turkey | | Karakuyu | | | | EMSC | |
| 02.05.2012 15:11:53 | 3.0 | Asia | Turkey | | Kahya | | | | EMSC | |
| 02.05.2012 15:12:15 | 3.1 | Europe | Spain | | Las Entinas | | | | EMSC | |
| 02.05.2012 15:12:35 | 2.2 | Asia | Turkey | | Agzikarahan | | | | EMSC | |
| 02.05.2012 15:12:55 | 3.0 | Asia | Turkey | | Ismetpasa | | | | EMSC | |
| 02.05.2012 14:10:28 | 2.0 | Europe | Czech Republic | | Strupcice | | | | EMSC | |
| 02.05.2012 17:20:30 | 2.4 | North America | Canada | British Columbia | Gibsons | | | | USGS-RSOE | |
| 02.05.2012 13:50:37 | 3.2 | North America | United States | California | Capetown | | | | USGS-RSOE | |
| 02.05.2012 14:10:49 | 2.3 | Asia | Turkey | | Degirmendere | | | | EMSC | |
| 02.05.2012 14:11:11 | 4.0 | Asia | Turkey | | Ismetpasa | | | | EMSC | |
| 02.05.2012 14:12:43 | 4.0 | Asia | Turkey | Izmir Ili | Ismetpasa | | | | USGS-RSOE | |
| 02.05.2012 13:35:54 | 2.1 | North America | United States | California | Dixie | | | | USGS-RSOE | |
| 02.05.2012 13:36:17 | 2.0 | North America | United States | Alaska | Donnelly | | | | USGS-RSOE | |
| 02.05.2012 14:13:08 | 3.4 | Caribean | Puerto Rico | | El Morro | | | | USGS-RSOE | |
| 02.05.2012 14:11:31 | 2.6 | Asia | Turkey | | Kahya | | | | EMSC | |
| 02.05.2012 13:51:02 | 3.5 | Caribbean | Puerto Rico | | Costa Dorado | | | | USGS-RSOE | |
| 02.05.2012 13:36:39 | 4.1 | Middle America | Mexico | Estado de Chiapas | El Encanto | | | | USGS-RSOE | |
| 02.05.2012 14:11:53 | 4.1 | Middle-America | Mexico | | El Encanto | | | | EMSC | |
| 02.05.2012 14:12:14 | 2.1 | Asia | Turkey | | Ismetpasa | | | | EMSC | |
| 02.05.2012 13:05:35 | 3.7 | Asia | Turkey | | Ulusar | | | | EMSC | |
| 02.05.2012 12:20:36 | 5.0 | Asia | India | Union Territory of Andaman and Nicobar Islands | Koi-hoa | | | | USGS-RSOE | |
| 02.05.2012 13:05:55 | 5.0 | Asia | India | | Koi-hoa | | | | EMSC | |
| 02.05.2012 20:30:33 | 2.2 | North America | United States | California | Pinnacles | | | | USGS-RSOE | |
| 03.05.2012 00:51:13 | 3.9 | Pacific Ocean | New Zealand | Woodville County | Jamestown | | | | GEONET | |
| 02.05.2012 23:15:35 | 3.8 | Asia | Russia | Stavropol'skiy Kray | (( Klyuch )) | | | | USGS-RSOE | |
| 03.05.2012 00:15:40 | 5.1 | Pacific Ocean | Tonga | | Haatua | | | | USGS-RSOE | |
8 small quakes have hit in recent weeks
Posted: May 2, 2012 11:45 AM ET
A swarm of earthquakes struck off Vancouver Island in recent weeks. (U.S. Geological Survey)
External Links
(Note:CBC does not endorse and is not responsible for the content of external links.)
Experts say a "swarm" of small earthquakes off the northwest coast of Vancouver Island are part of the normal seismic activity in the area, and they could continue for several more days.
A 4.0 magnitude earthquake that struck just after midnight on Tuesday morning was the eighth small quake with a magnitude between 3.8 and 4.7 to strike the region since April 22.
Earthquakes Canada notice:
There is a light swarm of earthquakes occurring offshore of Vancouver Island. The largest event was a magnitude 4.7 earthquake on Apr 22 and seven other earthquakes in the magnitude 4 range on Apr 27. These earthquakes are too far from land to be felt.
Source: Natural Resources Canada
Pacific Geoscience Centre Seismologist Gary Rogers said the activity is focused along a 20-kilometre stretch along an area called the Raveer Delwood Fault, located about 200 kilometres offshore.
"In the very thin crust that we have out there off our west coast of Vancouver Island, it often fractures in a series of small earthquakes, usually about this size being the maximum."
Rogers said more small earthquakes are expected in the area over the next week.
"They often go on for days. There's been a lot of smaller ones, so eventually they'll wind down, but typically, what we've seen in the past is that most of these swarms last a few days to a week or so."
A similar but more powerful swarm that struck the same area in August 2008 included a magnitude 5.2 quake.
Experts have been warning a major earthquake hits B.C. every 500 years, and the last one was in 1700. But they said the swarm of small earthquake activity does not indicate a larger earthquake is more likely in the short term.
The last significant quake to rattle the West Coast was a magnitude 6.5 tremor centered that struck about 50 kilometres off the west coast of the island in September of 2011, swaying high-rises as far away as Vancouver, Kelowna and Seattle.
**********************************************************************************************************
Volcanic Activity
Satellite Spies Smoking, Hot Sandwich: Big Pic
May 2, 2012 — A plume of volcanic smoke is seen rising from the appropriately-named Mount Asphyxia volcano, located on Zavodovski Island in the southern Atlantic. The image was acquired on April 27 by NASA's Aqua satellite.
Zavodovski is part of the South Sandwich Islands, a group of 11 British-owned islands located 217 miles southeast of South Georgia, off the tip of South America. Only 3.1 miles wide, the icy island is dominated by the 1,800-foot-high stratovolcano.
Aptly named, the sulphuric fumes from Asphyxia coupled with the stench of penguin droppings — the island is a breeding ground for millions of chinstrap penguins — can be suffocating for human visitors.
The plume is seen here snaking into upper-level winds where it takes a turn to the northwest. The other islands exhibit swirling cloud vortices on their lee sides, created by their disturbance of prevailing winds.
BIG PIC: Cloud Island Tango
–by Jason Major
via NASA/GSFC/Jeff Schmaltz/MODIS Land Rapid Response Team.
***********************************************************************************************************
Extreme Temperatures/ Weather
| | | | | | | | |
| --- | --- | --- | --- | --- | --- | --- | --- |
|   | 02.05.2012 | Extreme Weather | China | Jiangxi Province, | | | |
Extreme Weather in China on Wednesday, 02 May, 2012 at 20:11 (08:11 PM) UTC.
Description
Continuous torrential rain in east China's Jiangxi Province has left four people dead, it was announced on Wednesday.By 9 am Wednesday, 18,000 residents who were threatened by floods had been relocated, according to a statement issued by the provincial civil affairs department.Torrential rain has disrupted life for 543,000 residents in 34 counties, districts and cities of the province, and damaged 33,900 hectares of crops, the statement said.More than 5,700 houses have been toppled, with another 4,200 seriously damaged, it added.The National Disaster Reduction Commission and the Ministry of Civil Affairs on Monday initiated an emergency response to battle the rain-triggered disaster.Storms have affected large parts of southern China, bringing landslides.In Shaoguan city of Guangdong Province, which borders Jiangxi, one person was killed and another two were missing after rain-triggered landslides.Landslides also disrupted traffic on a section of an international highway in Tibet Autonomous Region, and in Shennongjia, a forestry resort in central China's Hubei Province, although the flow of vehicles had resumed on Wednesday.
MEDFORD, OR
***********************************************************************************************************
Storms, Flooding
Sodden Britain braced for more floods
by Staff Writers
London (AFP)

A man and his dog were killed as they tried to cross a flooded ford in Hampshire, in southeast England, on Monday, while in Northamptonshire in central England, 1,000 holidaymakers were evacuated from a caravan park. File image courtesy AFP.

Southern England and Wales were on high flood alert Tuesday, with thousands of homes at risk from a deluge that has killed one person after Britain's wettest April in over 100 years.
Rivers were being closely monitored as flood defences held back muddy water from over 25,000 homes, the Environment Agency said. A total of 40 warnings of expected flooding and 152 alerts for possible floods were in place Tuesday.
"There is still a risk of flooding across many parts of England and Wales with particular focus on Somerset, Dorset and Devon," the agency said Monday evening, ahead of a night of thunder and heavy showers.
Forecasters the Met Office said Tuesday that heavy rain was starting to ease but "there will still be a good deal of standing water and a continued risk of localised flooding since river levels remain high".
Provisional Met Office data showed the past month has been the wettest April since records began in 1910. Figures to April 29 showed 121.8mm (4.8 inches) of rain fell on average, almost double the long-term average for April of 69.6mm.
A man and his dog were killed as they tried to cross a flooded ford in Hampshire, in southeast England, on Monday, while in Northamptonshire in central England, 1,000 holidaymakers were evacuated from a caravan park.
Despite the downpour, large parts of Britain remain officially in drought after two dry winters, with householders under instructions to save water where they can.
Related Links
Bringing Order To A World Of Disasters
When the Earth Quakes
A world of storm and tempest
| | | | | | | | |
| --- | --- | --- | --- | --- | --- | --- | --- |
|   | 02.05.2012 | Thunderstorm | Nepal | Balwatoli [Kishanganj district] | | | |
Thunderstorm in Nepal on Wednesday, 02 May, 2012 at 12:02 (12:02 PM) UTC.
Description
Six persons, including two women and as many girls, were killed and over 50 others injured in a thunderstorm at Balwatoli in Bihar's Kishanganj district, an official said today. The thunderstorm accompanied by cyclonic wind and hailstorm struck the area yesterday trapping the inhabitants under its fury killing six persons, while over 50 others sustained injuries, Disaster Management Additional Collector Shatrughan Chaudhary said. Of the dead, five of them were identified as Chameli Begum (10), Navolal Ram, his son Neeraj Kumar, Mando Devi, Samukta Khatun, he said. The injured were admitted to hospitals, Chaudhary said. The thunderstorm also caused largescale devastation in the area damaging several houses, he said. An ex-gratia of Rs 1.5 lakh will be paid to the kin of the victims and Rs 10,000 will be given those whose houses have been damaged, the Assistance Collector said.
HASTINGS NE
DULUTH MN
DES MOINES IA
GRAND RAPIDS MI




GREEN BAY WI
GAYLORD MI
HASTINGS NE
OMAHA/VALLEY NEBRASKA




MOBILE AL
SAN JUAN PR






CLEVELAND OH
BOISE ID
SPOKANE, WA
INDIANAPOLIS IN
SPRINGFIELD MO
TULSA OK
NORMAN OK
WICHITA KS






************************************************************************************************************
Radiation/Biological Hazard
Dead fish cause panic in Western Turkey
İZMİR – Doğan News Agency
Locals in Izmir's Tahtalı district are in a panic due to the appearance of dead fish in the area. Şaşal Village locals believe fire extinction planes, which are currently being used in the area for trial flights, are the cause behind the dead fish.
Many dead fish have washed up on shore around the village due to waves and wind, said locals speaking to Doğan news agency.
"This is the first time that we have experienced such an event here. Sometimes the river basin becomes the area for test fligths. We think that this is affecting the current situation of dead fish."
May/02/2012
************************************************************************************************************
Solar Activity
3MIN News May2: Full Update + Quake Watch
Published on May 2, 2012 by Suspicious0bservers
QUIET SUN: Solar activity is low, with only a smattering of isolated C-flares occasionally breaking the quiet. NOAA: The chance of X-flares today is no more than 1%.
SUNSPOT MIRAGE: Yesterday, May 1st, when the sun rose over Veszprem, Hungary, big sunspot AR1471 split into three pieces. "It was a mirage–the strongest I have ever seen!" says Monika Landy-Gyebnar, who photographed the apparition:
Landy-Gyebnar explains how she arranged this photo-op: "We had a nice, clear and windless morning. I set up my camera where I could see the sun rising over a cold valley where fog often collects; it is a location colder then its surroundings. I hoped the inversion layer at the valley would provide some distortion–and indeed it did. The image I saw when sun appeared was incredible!"
The entire event lasted no more than a few minutes, "but it seemed to be a century to me!" she says. A short animation of the mirage may be found here.
QUIET SUN: Solar activity is low, with only a smattering of isolated C-flares occasionally breaking the quiet. NOAA: The chance of X-flares today is no more than 1%.
************************************************************************************************************
Space
METEORS FROM HALLEY'S COMET: Earth is entering a stream of debris from Halley's Comet, source of the annual eta Aquarid meteor shower. Because the shower's radiant is located below the celestial equator, southern hemisphere observers are favored, but even northerners will be able to see at least a few flecks of Halley-dust disintegrating in the atmosphere when the shower peaks this weekend. The best time to look is during the hours before sunrise on Sunday, May 6th. Bright moonlight will cap the meteor rate at about 30 per hour.
In recent nights, NASA's all-sky meteor network has picked up a number of early eta Aquarid fireballs. This one was bright enough to shine through the glow of sunrise and clouds over Tullahoma, Tennessee, on April 29th:
According to analysts at NASA's Meteoroid Environment Office, this particular speck of comet dust hit the atmosphere traveling 62 km/s (139,000 mph) and disintegrated about 84 km (52 mi) above Earth's surface.
The full Moon of May 5-6, 2012, with interfere with the visibility of the eta Aquarid peak. Radar signals, however, penetrate moonlight with ease. Tune into Space Weather Radio for live echoes from eta Aquarids passing over the US Air Force Space Surveillance Radar in Texas.
SPACE.com
Wed, 02 May 2012 15:56 CDT
A NASA space telescope has detected an incredible energy burst from a distant black hole, an explosion so intense that it boosted the black hole's X-ray brightness by at least 3,000 times, scientists say. The outburst came from a black hole in the spiral galaxy M83, about 15 million light-years away from Earth. Using NASA's Chandra X-ray Observatory, astronomers found a new object, called an ultraluminous X-ray source (ULX), that emits more X-rays than most "normal" systems in which a companion star orbits around a black hole or neutron star, the researchers said.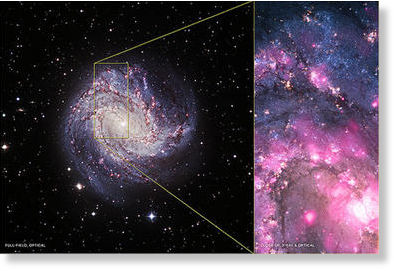 © Left image – Optical: ESO/VLT; Close-up – X-ray: NASA/CXC/Curtin University/R. Soria et al., Optical: NASA/STScI/Middlebury College/F. Winkler et al.
At left is an optical view of M83. At right is a composite image showing X-ray data from Chandra in pink and optical data from the Hubble Space Telescope in blue and yellow. The ULX is located near the bottom of the composite image.
The observations from Chandra spanned several years, and scientists noticed that the ULX in M83 increased its X-ray brightness by at least 3,000 times.
This surprisingly sudden brightening is one of the largest changes in X-rays ever seen for this type of object, according to the researchers. In fact, ultraluminous X-ray sources do not typically have periods of dormancy. [Photos: Black Holes of the Universe]
In the accompanying image, the left is an optical view of M83. On the right is a composite image showing X-ray data from Chandra in pink and optical data from the Hubble Space Telescope in blue and yellow. The ULX is located near the bottom of the composite image.
Optical images of the black hole in M83 were taken by the European Southern Observatory's Very Large Telescope in Chile. These images revealed a bright blue source where the ULX is located during the X-ray outburst. Yet, before the outburst, this blue source cannot be seen, the scientists said.
The discrepancy suggests that the companion to the black hole in M83 is a red giant star that is more than 50 million years old. The mass of this object is less than four times the mass of the sun, and according to theoretical models that predict the evolution of stars, the black hole in M83 should be almost as old as this companion red giant star.
The bright blue emission that could be seen during the X-ray outburst could be the black hole's disk brightening significantly as it acquires more material from its companion star, the astronomers said.
Another strangely behaved ULX from a black hole with an old, companion red giant star was found recently in the galaxy M31. These new discoveries in M83 and M31 show that there could be a population of similar black holes that are older and more volatile, the researchers said.
The mass of the ULX in M83 is estimated to be between 40 to 100 times the mass of the sun.
The astronomers also found that the black hole in this system may have formed from a star surprisingly rich in "metals," or elements that are heavier than helium. Based on previous observations, the ULX is located in a metal-rich region.
Large concentrations of metals increase the rate of mass lost from massive stars, siphoning mass before they collapse. This also decreases the mass of the resulting black hole.
Current theoretical models suggest that in regions highly rich in metals, only black holes with masses less than about 15 times that of the sun should form. As a result, the findings based on the ULX in M83 could dispute these models, the researchers said.
Another plausible explanation is that the black hole is so old that it formed at a time when heavy elements were much less abundant in M83, before metals were sprinkled throughout by later generations of supernovas. Astronomers are also investigating the possibility that the mass of the black hole in M83 is only about 15 times that of the sun.
The Daily Galaxy
Wed, 02 May 2012 13:51 CDT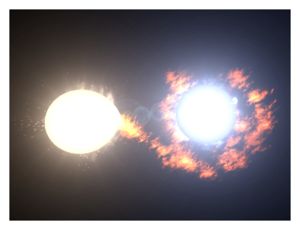 © MPL 3D
Algol, aka the Demon Star, is actually a binary star in the Perseus constellation, and has been discovered by a group of Finnish researchers to be first noted by the Egyptians some 3200 years ago. It is one of the best known eclipsing binaries, the first such star to be discovered, and also one of the first (non-nova) variable stars to be discovered.
The eclipses in binary stars give precise information of orbital period changes. Alogl brightens and dims every 2.867 days, a phenomenon first described in semi-modern western astronomy by John Goodricke, who wrote about what he saw with the naked eye back in 1783.
The irregular orbital period changes of this longest known eclipsing binary continues to puzzle astronomers. The mass transfer between the two members of this binary should cause a long-term increase of the orbital period, but observations over two centuries have not confirmed this effect.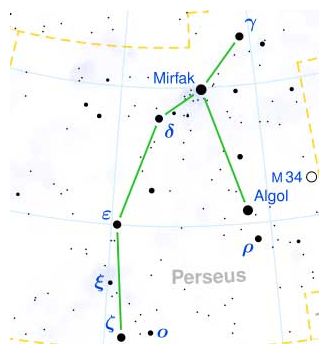 © MPL 3D
The Finnish research team presents evidence indicating that the period of Algol was 2.850 days three millenia ago. For religious reasons, the ancient Egyptians recorded this period into the Cairo Calendar, which describes the repetitive changes of "The Raging one." Cairo Calendar may be the oldest preserved historical document of the discovery of a variable star.
The data from the Cairo Calendar however describes the binary period as 2.85 days –slightly less than the 2.867 days observed today. The Helsinki team doesn't believe this difference is due to error, they think it's because the period has changed over time, and that they say, gives credence to the theory that the Algol binary is actually a three star system as new research suggests: Beta Persei A, B, and C.
Reference:
Did the ancient egyptians record the period of the eclipsing binary Algol – the Raging one?
*************************************************************************************************************
Wildlife
Jeanna Bryner
LiveScience
Tue, 01 May 2012 21:21 CDT
More than 32 Yangtze finless porpoises have been found dead in the Dongting and Poyang lakes in China in the last two months, leading wildlife experts to worry whether the rare animals are being pushed closer to extinction, the World Wildlife Fund has reported.
Yangtze finless porpoises live mainly in the freshwater Yangtze River and the two lakes, where the bodies of more than 32 of them have been found since March 3. One of the porpoises was pregnant, according to the blog Save Yangtze Finless Porpoise.
"This tragedy shows that Yangtze finless porpoise is facing enormous challenges," said Lei Gang, head of WWF China's Central Yangtze program, in a statement. "The porpoise deaths illustrate that without effective measures to fundamentally reverse the trend of ecological deterioration, [the] future of the incredible creature is far from certain."
After examining the dead porpoises, scientists were left with a long list of possible culprits, including electro-fishing, strikes by boat-engine propellers, food shortages and pollution.
In electro-fishing, which is illegal, people use storage batteries to fire huge electric charges into the Yangtze and then collect the dead fish that float to the surface, according to an EDGE blog entry by Sam Turvey, who has studied wildlife along the Yangtze, including the Yangtze dolphin or baiji.
An autopsy report released April 17 by the Institute of Hydrobiology (IHB) under the Chinese Academy of Sciences suggests two of the finless porpoises were killed due to electro-fishing and boat-engine propellers.
Some experts have noted that climate change has lowered water levels in the Yangtze and its lakes, making it more difficult for porpoises to find food, but the researchers have yet to find any evidence that lack of food is resulting in porpoise deaths.
A 2006 IHB survey found about 1,800 Yangtze finless porpoises in the Yangtze River and connected lakes, but that number has been decreasing. From 2006 to 2010, the number of Yangtze finless porpoises in just the Dongting Lake decreased to 198.
Rather than relocate the porpoises, local government officials, along with cetacean experts with the WWF, are considering conservation measures in the Dongting Lake.
In addition, the local government plans to implement a ban on illegal fishing (including electro-fishing), regulate sand dredging and limit boat speeds, according to the WWF.
**************************************************************************************************************
[In accordance with Title 17 U.S.C. Section 107, this material is distributed without profit, for research and/or educational purposes. This constitutes 'FAIR USE' of any such copyrighted material.]