Gregory Hicks (Whistleblower) Embarrassed By Blame Placed On YouTube Video. Benghazi Hearing

Published on May 8, 2013
Trey Gowdy (R-SC) used his short time addressing former deputy chief of mission for the U.S. in Libya, Gregory Hicks, to establish the fact that the American diplomatic staff in Libya were "embarrassed" by the White House's effort to blame the Benghazi attack on an inflammatory YouTube video. Gowdy established that the State Department had informed the Libyan government on the day after the attack that "Islamic terrorists" were likely behind the assault.
"When Ambassador [Christopher] Stevens talked to you perhaps minutes before he died, as a dying declaration, what did he say to you?" Gowdy asked.
"He said, 'Greg, we're under attack," Hicks replied.
Gowdy and Hicks established that there was no demonstration outside the consulate that day. He noted that U.N. Ambassador Susan Rice proceeded to blame the attack on a video. When asked what his reaction to Rice's statements was, Hick's replied, "I was stunned. My jaw dropped. And I was embarrassed."
RELATED: LIVE STREAM: Witnesses Testify At House Committee Hearing On Benghazi
Gowdy read from a portion of an email form an aide to former Sec. Hilary Clinton which stated that the State Department had informed the Libyan government that the individuals who carried out the attack were linked to "Islamic terrorists."
"Mr. Hicks, I want to know, number one, why in the world would Susan Rice go on five Sunday talk shows and perpetuate a demonstrably false narrative?" Gowdy asked. "And secondarily, what impact did it have on the ground in Benghazi the fact that she contradicted the president of Libya?"
Hicks declined to answer the first question, but said Rice's statements helped facilitate introducing FBI investigators into Libya. Bureacuracy in Llbya hampered the investigation's progress, however, and the crime scene was left unsecured for 18 days.
****************************************************************************
US officials blocked rescue effort while Benghazi burned, Congress told
Diplomat Gregory Hicks accuses State Department of cover-up in evidence that may yet hurt Hillary Clinton's White House bid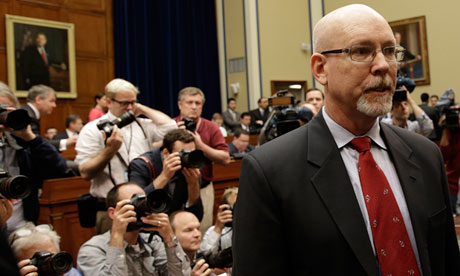 While US diplomats were pulling bodies from a burning Libyan consulate and frantically smashing up hard drives last 11 September, their superiors blocked rescue efforts and later attempted to cover up security failings, according to damaging new evidence that may yet hurt Hillary Clinton's presidential hopes.
In vivid testimony to Congress on Wednesday, Gregory Hicks, deputy to murdered US ambassador Christopher Stevens, revealed for the first time in public a detailed account of the desperate few hours after the terrorist attacks on the US consulate in Benghazi.
He also said that Stevens went to Benghazi to beat a 30 September deadline to convert the mission to a permanent posting. There was additional time pressure because Clinton planned to visit Libya later in the year and to announce the opening of the post, Hicks said.
But Hicks and two other state department witnesses also singled out the government response for criticism. Until now that criticism had been largely dismissed as a partisan effort by Republican congressman to smear former Clinton, who was secretary of state at the time.
Hicks claimed Clinton's chief of staff, Cheryl Mills, telephoned him to complain that he had given critical evidence to congressional investigators without the presence of a "minder" from the state department. "A phone call from that senior a person is generally considered not to be good news," said Hicks, who said he had since been demoted. "She was upset. She was very upset."
The career diplomat also alleged he was actively discouraged by officials from asking awkward questions about why other top Clinton aides, including the UN ambassador Susan Rice, initially blamed the attack on a spontaneous protest that got out of control. He described that briefing he described as "jaw-dropping, embarrassing and stunning". It is now thought the attacks, involving up to 60 heavily armed militia, were co-ordinated by Ansar al-Sharia, a group affiliated to al-Qaida, and timed to coincide with the 11th anniversary of the attacks on the World Trade Center in New York and the Pentagon in Washington.
The allegations of a state department cover-up follow equally embarrassing claims that military leaders blocked efforts to dispatch special forces troops to the Benghazi consulate.
In testimony that first emerged on Monday, Hicks claims that four special forces soldiers with him in Tripoli were "furious" when they were told by superiors in Washington that they could not join a relief flight to Benghazi organised by the Libyan government in the hours after the initial attack.
Mark Thompson, a former marine who heads the foreign emergency support team, also alleged that the White House blocked his efforts to dispatch a specialist group from the US that is designed to respond to incidents such as the Benghazi attaack.
Hicks said he was told that US air force jets based in Italy could have reached the consulate in "two to three hours" but were blocked, out of fear of offending the Libyan government, and because a refuelling tanker could not be found.
Pentagon officials have repeatedly argued that none of the available military assets could have reached Benghazi in time to prevent the death of ambassador Stevens and three other consular staff. But Hicks insisted even if they had been too late, better attempts should have been made. "People in peril in future need to know that we will go to get them," he said. "That night we needed to demonstrate that resolve even if we still had the same outcome."
Hicks also rejected the defence given by Hillary Clinton when pressed on the initial delay in attributing the attack to terrorists, arguing the US undermined its Libyan allies who were rightly pointing to Ansar al-Sharia.
"President Magarief was insulted in front of his own people, in front of the world. His credibility was reduced. His ability to govern was [damaged]. He was angry … He was still steamed about the talk shows two weeks later. I definitely believe it negatively affected our ability to get the FBI team quickly to Benghazi."
*****************************************************************************
Gregory Hicks (Whistlesblower) Benghazi Testimony Pt1
Published on May 8, 2013
Hicks said that the day of the attack was a routine day until they say news of the earlier Cairo embassy-storming attempt. He informed his superior, Ambassador J. Christopher Stevens of the attempt.
Later in the day he received a message the attack had started. He went to the tactical operations center, while on the phone with the ambassador. The call was cut due to poor cell performance. After reaching the center, Hicks received more information about the attack and next called the annex chief to activate their emergency response team.
He then called the operations center at the State Department to report the attack and their response. He then called senior officials in Libya to request assistance from the local government. After that was done he reported it to Washington.
According to Hicks, the night unfolded in four phases. There was an attack on the diplomatic annex. The villa was invaded were several of the casualties were. The 6 person response team from Bengazhi managed to temporarily clear the diplomatic compound. The body of Shawn Smith was pulled out during this time. There was a second wave of attackers and the teams evacuated to another location.
The second phase commenced when the team returned to the annex later in the night. They suffered several probing attacks but repelled them. The Tripoli response team begins to arrive during this phase.
Phase three is when the ambassador's body was recovered. Reports came out that the ambassador was taken to hospital that was suspect to be controlled by Islamic militants. Hicks received conflicted reports of the location of the ambassador. He then received reports that the embassy in Tripoli was under attack and the staff prepared to evacuate. He is also keeping Washington informed
At 2:00 A.M. he receives a call from Sec. of State Clinton; They mostly talked about the search of the ambassador and the need to evacuate. Clinton agrees with evacuation. The PM of Libya called around 3:00 A.M. to inform Hicks of the ambassadors' death. Hicks immediately telephoned Washington of the news.
The team destroyed all of the information in the annex as is standard US diplomatic procedure. They decided to evacuate at dawn and arrived at another compound. The mortar attack started when they arrived. The attack killed several.
Hicks claims that they were in them process of evacuating to a plane but the security officer who was in charge did not have authorization to go ahead.
*****************************************************************************
Reps. Chaffetz & Lynch Clash Over Intimidation Of Benghazi Witnesses On Fox News Sunday
Published on May 5, 2013
Jason Chaffetz (R-UT) and Rep. Stephen Lynch (D-MA) paid a visit to Fox News Sunday this week to talk Benghazi. Speaking of the investigation into the review and the charge that witnesses have been blocked from testifying, the pair clashed over the arguments, with Lynch asserting that Democrats have been left out of the whole process.
"The Republicans control the House," Lynch said. "We don't have the ability to hold a hearing. The Democrats have been completely kept out of this whole process. This has been a one-sided investigation, if you want to call it that. … I think it's disgraceful."
Chaffetz said that witnesses have "absolutely" been threatened and intimidated from coming forward. They're "scared to the death" of what the State Department is doing, he asserted. Lynch jumped in to argue that Chaffetz's assertions were "completely false" — that the attorneys have not asked for the information yet and, in fact, the State Department would cooperate.
Not surprisingly, Chaffetz was insistent about his story, further adding that Democrats are more than welcome to participate in the process. But they simply haven't. The congressmen refuted nearly every point they made to each other, neither agreeing on much about where the situation stands.
Chris Wallace later jumped in to pose the question about how much then-Secretary of State Hillary Clinton knew about the security requests (which she said she never saw). Every cable that goes to the department, he told Chaffetz, has Clinton's name on it — so that's not necessarily a way to argue that Clinton should have seen that cable. Chaffetz by asking for the release of the unclassified document.
Clinton, he argued, "claims" to take full responsibility for what happened, but simultaneously "pleads ignorance."
*****************************************************************************
Diplomat: State Lawyers Told Me Not to Speak to GOP Lawmaker Probing Benghazi
May 8, 2013
(CNSNews.com) – A senior U.S. diplomat in Libya was instructed by State Department lawyers – for the first time in his 22-year foreign service career – not to speak to a visiting lawmaker who was investigating last September's attack on the U.S. consulate in Benghazi, a congressional panel heard Wednesday.
"I was instructed not to allow the RSO [regional security officer], the acting deputy chief of mission and myself to be personally interviewed by Congressman Chaffetz," Gregory Hicks, who was the number two official at the embassy in Libya at the time of the attack, told the House Oversight and Government Reform Committee.
Rep. Jason Chaffetz (R-Utah), who chairs the committee's subcommittee on national security, homeland defense and foreign operations, visited Libya to investigate the Sept. 11 attack in which U.S. Ambassador Chris Stevens, foreign service officer Sean Smith and Navy Seals Tyrone Woods and Glen Doherty were killed.
"So, the people at State told you, 'Don't talk to the guy who's coming to investigate'?" Rep. Jim Jordan (R-Ohio) asked Hicks during Wednesday's hearing.
"Yes, sir," Hicks replied.
"Have you ever had anyone tell you, 'Don't talk with the people from Congress coming to find out what took place'?"
"Never."
"Never," Jordan continued. "And you've had dozens and dozens of congressional delegations that you've been a part of."
"Yes, sir."
"First time it's ever happened."
"Yes, sir."
Hicks confirmed in response to further questioning that, when Chaffetz arrived in Libya a State Department lawyer had sought to be present at every meeting with the congressman.
******************************************************************************
Whistleblower on Amb. Rice's 5 Talk Shows: "I Was Stunned. My Jaw Dropped. I Was Embarrassed."
Related articles