Pentagon orders 600 troops to Eastern Europe, criticizes Russia
The U.S. guided-missile destroyer Donald Cook sails past Istanbul, Turkey, en route to the Black Sea. (Bulent Kilic / AFP/Getty Images / April 10, 2014)
WASHINGTON — The Pentagon said Tuesday that it was sending 600 soldiers to Eastern Europe for military exercises in response to "aggression" by Russia in Ukraine, the first U.S. ground forces dispatched to the region in the 2-month-old crisis.
The 173rd Infantry Brigade, a U.S. Army airborne unit based in Vicenza, Italy, will deploy 150-soldier companies to Poland, Latvia, Lithuania and Estonia over the next month and will rotate more U.S. forces to those and possibly other countries at least through the end of the year, Rear Adm. John Kirby, the Pentagon press secretary, told reporters.
The four countries, all of which were under Moscow's control during the Cold War and later joined NATO, have been among the most vocal in asking the U.S. and other alliance members to send forces to their territory in response to Russia's military buildup along the Ukrainian border.
"What we're after here is persistent presence, a persistent rotational presence," Kirby said. "If there's a message to Moscow … it's that we take our obligations" to defend NATO members "very, very seriously."
…..
( Sergei L. Loiko / Los Angeles Times / April 22, 2014 )
U.S. will stand by Ukraine in face of Russian aggression, Biden says
KIEV, Ukraine — The United States will stand by Ukrainians against Russian aggression that threatens their nation's sovereignty and territorial integrity, Vice President Joe Biden pledged Tuesday during a visit to Kiev.
"No nation has the right to simply grab land from another nation, and we will never recognize Russia's illegal occupation of Crimea, and neither will the world," Biden said after meeting with Ukraine's acting prime minister, Arseny Yatsenyuk. "No nation should threaten its neighbors by amassing troops along the border. We call on Russia to pull back these forces. No nation should stir instability in its neighbor's country."
Biden threatened greater costs and greater isolation for Russia, already facing fresh sanctions after annexing Crimea last month, and demanded that it "stop supporting men hiding behind masks in unmarked uniforms sowing unrest in eastern Ukraine."
"I came here to Kiev to let you know, Mr. Prime Minister, and every Ukrainian know that the United States stands with you and is working to support all Ukrainians seeking a better future," Biden said. "You should know that you will not walk this road alone. We will walk it with you."
He accused Russia of failing to abide by commitments to help de-escalate the situation in eastern Ukraine made last week during meetings with officials from the U.S., Ukraine and the European Union.
"Now it is time for Russia to stop talking and to start acting on the commitments that they made to get pro-Russia separatists to vacate buildings and checkpoints, accept the amnesty," Biden said. "That is not a hard thing to do …. We need to see this kind of concrete steps, we need to see them without delay."
Biden pledged that the U.S. would provide nonlethal military aid to Ukraine. He also noted that the U.S. had committed to providing a $1-billion loan guarantee to help shore up the interim government in Kiev, which took power in February with the fall of pro-Russian President Viktor Yanukovich.
…..
While no one ever lost money overestimating the capacity of the U.S. government to blunder, we cannot rule out that American officials knew exactly what they were doing when they helped provoke the crisis in Ukraine.
It is hard to believe that all these officials are so ignorant of Russian history that they could not anticipate how President Vladimir Putin would respond to U.S.-backed machinations in Kiev. These machinations led to the ouster of elected (if corrupt and power-hungry) president Viktor Yanukovych after street demonstrations, which included neo-Nazi elements now represented in the new government.
About these machinations there is little doubt. We have a phone call between Assistant Secretary of State for European and Eurasian Affairs Victoria Nuland and U.S. Ambassador to Ukraine Geoffrey Pyatt, in which they talk about who should rule Ukraine next. Nuland says, "I don't think Klitsch [an opposition leader, Vitaly Klitschko] should go into the government. I don't think it's necessary, I don't think it's a good idea…. I think Yats [Arseniy Yatsenyuk, another opposition leader] is the guy who's got the economic experience, the governing experience." Yatsenyuk became the prime minister after Yanukovych's ouster.
Pyatt responds, "I think you reaching out directly to him [Yatsenyuk] helps with the personality management among the three [opposition leaders]."
The U.S. government worked to replace Yanukovych with its "guy" — which is not what the Obama administration tells the American people.
Pyatt adds, "But anyway we could land jelly side up on this one if we move fast…. [W]e want to try to get somebody with an international personality to come out here and help to midwife this thing."
This phone call made headlines because Nuland used an obscenity regarding the European Union. But the news is that, contrary to public statements, the Obama administration sought to "midwife" regime change.
One need not be a Putin apologist to ask how the Americans failed to see that this activity would provoke the Russian president.
…..
Russia warns it will respond if interests attacked in Ukraine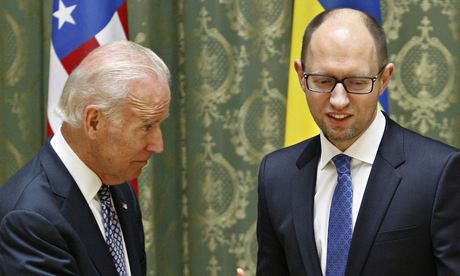 Russia issued a blunt warning on Wednesday that it would respond if its interests were attacked in Ukraine, as pro-Kremlin rebels in the east of the country braced for a new military offensive by Kiev.
The threat by the Russian foreign minister, Sergei Lavrov, in which he recalled the 2008 war with Georgia over breakaway South Ossetia, came as Russia accused Kiev and the US of distorting an agreement reached in Geneva last week to defuse the crisis and of ignoring what it said were provocative actions by Ukrainian nationalists.
Lavrov used an interview with the Russian state-controlled broadcaster RT to accuse the US of "running the show" in Ukraine, claiming that it was "quite telling" that Kiev had announced a new offensive in the east of the country after US Vice-President Joe Biden had visited.
"If we are attacked, we would certainly respond," Lavrov told RT.
"If our interests, our legitimate interests, the interests of Russians have been attacked directly, like they were in South Ossetia for example, I do not see any other way but to respond in accordance with international law."
The Russian foreign ministry said in a statement that it believed the west was serious about seeking peace in Ukraine but "the facts speak of the opposite".
Moscow also announced a seven-day naval exercise in the Caspian Sea and began military exercises in its Rostov region, bordering Ukraine. The US on Tuesday announced military exercises in Poland.The crisis deepened on Tuesday after Biden's departure from Kiev following a two-day visit. In a late-night phone call, the US secretary of state, John Kerry, told Lavrov, of his "deep concern over the lack of positive Russian steps to de-escalate" the crisis in eastern Ukraine, a state department official said.
Read More and Watch Videos Here
…..
Related articles