…………………………………….
Published time: 3 Oct, 2015 07:14Edited time: 3 Oct, 2015 13:23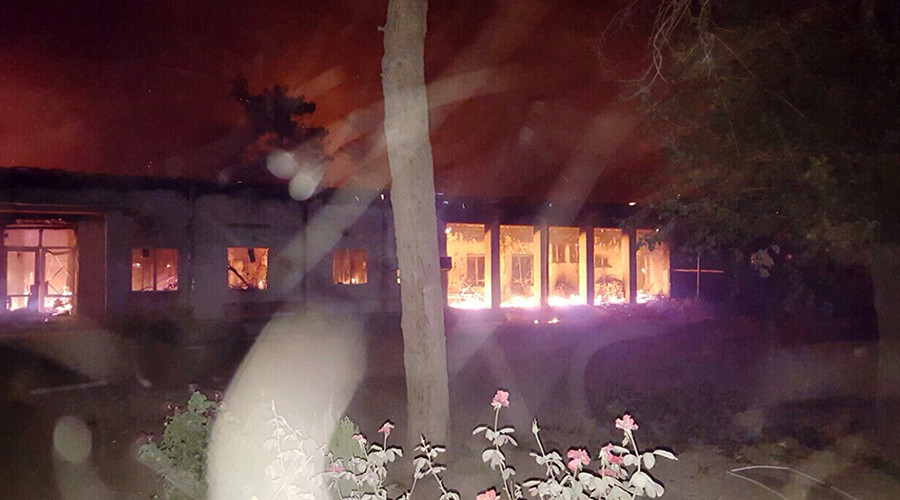 A hospital in the Afghan city of Kunduz has been hit and partially destroyed in an overnight "aerial attack" that killed at least nine Medecins Sans Frontieres staff. NATO has admitted a US airstrike may have caused accidental "collateral damage."
03 October 2015

21:25 GMT

Ivan Eland from the Center on Peace and Liberty at The Independent Institute told RT that the tragedy in Kanduz should show the US that it needs to pull out all its troops from Afghanistan "once and for all."
20:25 GMT

UN Secretary-General Ban Ki-moon strongly condemned the airstrikes in Kunduz that resulted in the death and injury of medical workers and patients at a MSF hospital. He called for a thorough and impartial investigation into the attack in order to ensure accountability.

"The Secretary-General recalls that hospitals and medical personnel are explicitly protected under international humanitarian law," the statement attributed to Ban said.

He commended the courageous and dedicated staff of the organization and extended his deepest sympathies to the families of the victims.
Yves Daccord Retweeted MSF International
Tragic news. @MSF please accept our condolences for the killing of your colleagues & patients in #Kunduz.
Yves Daccord added,
19:56 GMT

The World Health Organization (WHO) released a statement extending condolences to the families and colleges of those killed and injured in the bombing.
WHO once again urges all parties in the conflict to respect the safety and neutrality of health workers & health facilities #Kunduz
WHO calls on all govts & military officers to observe their obligations under intl law, ensure protection of health serv in conflict #Kunduz