Armed Men Seize Police Station in Eastern Ukraine City
DONETSK, Ukraine — Pro-Russian militants attacked police stations and other security facilities in the most populous part of eastern Ukraine on Saturday, in a brush fire of violent unrest that the government in Kiev immediately denounced as Russian "aggression."
The attacks on the Police Headquarters here and on a police station and a state security branch in Slovyansk about 60 miles away, along with reports of shooting in several other towns, suggested a coordinated campaign to destabilize the Donetsk region, a vitally important industrial and coal-mining area that borders Russia.
A local journalist on the scene said the raid on the police station appeared to be the work of local pro-Russian militants rather than a repeat of the scenario in Crimea, where heavily armed Russian soldiers without markings on their uniforms seized control of airports and other vital installations in late February at the start of a Kremlin-orchestrated campaign to annex the region.
In Donetsk, the regional capital, a group of unarmed pro-Moscow activists tried to storm a prosecutor's office, but were beaten back by riot police. A few blocks away, several hundred people gathered outside the headquarters of the regional administration to cheer pro-Russian groups that seized the building last Sunday and declared an independent state, the People's Republic of Donetsk. Ukrainian authorities vowed on Wednesday to end the occupation, by force if necessary, by Friday but later backed away from this threat, hoping that government promises of more local autonomy for Ukraine's Russian-speaking regions might resolve the standoff.
But there was no sign Saturday of the protesters ending their occupation. Instead, they reinforced their defensive barricades and welcomed several dozen Cossacks in military uniforms to their ranks.
Ukraine's acting president, Oleksandr V. Turchynov, called an emergency meeting late Saturday of the country's national security council to discuss the escalating crisis in the mainly Russian-speaking east of the country. Fears that the government is losing control have been fueled by the militants' seizing of a large number of weapons over the last week. Some 300 automatic rifles were taken from the Donetsk offices of the state security service after it was briefly taken over by pro-Russian protesters last weekend, and according to the Ukrainian Interior Ministry, 400 Makarov handguns and 20 automatic weapons were looted on Saturday from the police station in Slovyansk, which had been seized. "The goal of the takeover was the guns," the ministry said.
The demands of the pro-Russian activists in eastern Ukraine keep shifting between outright secession and greater autonomy within Ukraine. But calls for unity with Russia now seem to predominate, heightening concerns in the West that Moscow is orchestrating the disorder to create a pretext for an invasion. Russian troops have been massed for weeks near the Ukrainian border.
…..
Kiev government to deploy troops in Ukraine's east
4:01 PM Monday Apr 14, 2014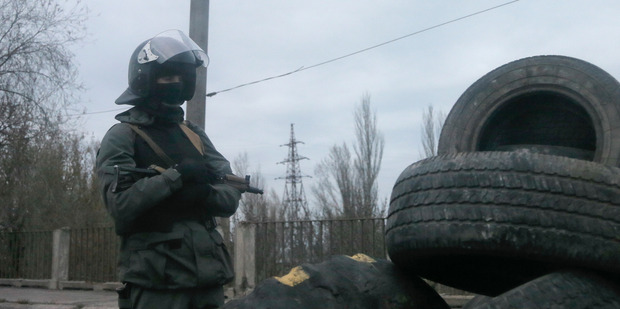 Armed pro-Russian activist stands at a makeshift checkpoint at the entrance into the eastern Ukrainian town of Slovyansk. Photo / AP
Turning to force to try to restore its authority in the vital industrial east, Ukraine's government announced it was sending in troops to try to quash an increasingly brazen pro-Russian insurgency, despite repeated warnings from the Kremlin.
Accusing Moscow of fomenting the unrest, Ukrainian President Oleksandr Turchynov said in a televised address that such a "large-scale anti-terrorist operation" would ensure Russia did not "repeat the Crimean scenario in Ukraine's east." Turchynov pledged to offer amnesty to anyone surrendering their weapons by Monday morning (local time).
Watch: Ukraine to launch anti-terror operation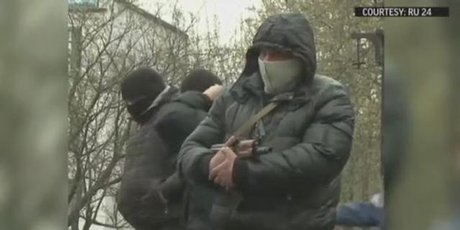 Reliance on the military is a response that hints at concerns over the reliability of the police, who have often proven unable or unwilling to repel pro-Russian gunmen and other Moscow loyalists from seizing key state facilities.
With tens of thousands of Russian troops massed along Ukraine's eastern border, there are fears that Moscow might use unrest in the mainly Russian-speaking region as a pretext for an invasion.
Speaking late Sunday on Russian state television, ousted president Viktor Yanukovych accused the CIA of being behind the new government's decision to turn to force, a claim the CIA denied as "completely false."
Yanukovych claimed that CIA director John Brennan met with Ukraine's new leadership and "in fact sanctioned the use of weapons and provoked bloodshed."
CIA spokesman Dean Boyd said that while the agency doesn't comment on Brennan's travel itinerary, the "claim that director Brennan encouraged Ukrainian authorities to conduct tactical operations inside Ukraine is completely false."
Ukraine now has "one foot into a civil war," Yanukovych declared, flanked by his former prosecutor general and interior minister, the two associates most despised by the protesters whose monthslong demonstrations were ignited by Yanukovych's decision to back away from closer relations with the European Union and turn toward Russia. Yanukovych fled to Russia in February, saying he feared for his life.
Earlier Sunday, Ukrainian special forces exchanged gunfire with a pro-Russia militia outside the eastern city of Slovyansk – the first reported gunbattle in the east, where armed pro-Russian men have seized a number of key government buildings to press their demands for referendums on autonomy and possible annexation by Russia, following the pattern set by the vote in Crimea last month. A Ukrainian security officer was killed and at least two others wounded.
Calling such attacks a "Russian aggression," Interior Minister Arsen Avakov said in a Facebook post Sunday that special forces of up to 12,000 people will be drawn from volunteers who will be tasked with resisting attacks from pro-Russian forces in their local areas.
Read More and Watch Videos Here
…..
…..
Related articles