Category:
The Human Mind
Published on Aug 12, 2013
Gayla Benefield was just doing her job — until she uncovered an awful secret about her hometown that meant its mortality rate was 80 times higher than anywhere else in the U.S. But when she tried to tell people about it, she learned an even more shocking truth: People didn't want to know. In a talk that's part history lesson, part call-to-action, Margaret Heffernan demonstrates the danger of "willful blindness" and praises ordinary people like Benefield who are willing to speak up. (Filmed at TEDxDanubia.)
Related articles
Michael Snyder
Activist Post
Should the government be trying to figure out if we are going to commit a crime in advance?  That sounds like something out of a Tom Cruise movie, but the truth is that "pre-crime" technologies such as were portrayed in Minority Report are being aggressively developed, and some have actually already been deployed.
We live at a time when technology is advancing at an exponential rate, and it can be really hard to keep up with how rapidly our world is changing.  In the future, authorities may not only be able to use pre-crime technology to read our minds, they might also be able to use technology to directly control our minds as well.
Yes, I know that sounds science fiction, but after I tell you about some cutting edge research that has been taking place at Harvard Medical School you might not think that such a notion seems so bizarre.
But first I want to discuss some of the very disturbing pre-crime technologies that the government is working on.
One of the most prominent programs is known as FAST (Future Attribute Screening Technology).  According to Wikipedia, this pre-crime system is already so advanced that developers claim that it has about an 80% success rate…
Future Attribute Screening Technology (FAST) is a program created by the Department of Homeland Security. It was originally titled Project Hostile Intent. The purpose is to detect "Mal Intent" by screening people for "psychological and physiological indicators" in a "Mobile Screening Laboratory".
The program was under the Homeland Security Advanced Research Agency and the Science & Technology Human Factors Behavior Science Division of DHS. In a meeting held on July 24, 2008 the DHS Under Secretary Jay Cohen stated, the goal is to create a new technology that would be working in real time as opposed to after a crime is already committed.
The DHS science spokesman John Verrico stated in September 2008 that preliminary testing had demonstrated 78% accuracy on mal-intent detection and 80% on deception.
The technology behind FAST is extremely complex, but it can be fooled.  So once FAST is operational you better not get too nervous or have a particularly bad day, because according to Professor Margaret Hu the consequences of being "convicted" of a pre-crime by FAST could potentially include "deportation, prison, or death"…
FAST is currently under testing by DHS and has been described in press reports as a "precrime" program. If implemented, FAST will purportedly rely upon complex statistical algorithms that can aggregate data from multiple databases in an attempt to "predict" future criminal or terrorist acts, most likely through stealth cybersurveillance and covert data monitoring of ordinary citizens. The FAST program purports to assess whether an individual might pose a "precrime" threat through the capture of a range of data, including biometric data. In other words, FAST attempts to infer the security threat risk of future criminals and terrorists through data analysis.
Under FAST, biometric-based physiological and behavioral cues are captured through the following types of biometric data: body and eye movements, eye blink rate and pupil variation, body heat changes, and breathing patterns. Biometric- based linguistic cues include the capture of the following types of biometric data: voice pitch changes, alterations in rhythm, and changes in intonations of speech. Documents released by DHS indicate that individuals could be arrested and face other serious consequences based upon statistical algorithms and predictive analytical assessments. Specifically, projected consequences of FAST 'can range from none to being temporarily detained to deportation, prison, or death.'
Perhaps you are reading this and you assume that the widespread implementation of such a system is still a long way off.
Well, if that is what you are thinking, you would be wrong.
In fact, pre-crime cameras are already being installed at important transit locations in San Francisco…
Hundreds of pre-crime surveillance cameras are to be installed in San Francisco's subway system that will analyze "suspicious behavior" and alert guards to potential criminal or terrorist activity – before any crime has been committed.
"Manufacturers BRS Labs said it has installed the cameras at tourist attractions, government buildings and military bases in the U.S. In its latest project BRS Labs is to install its devices on the transport system in San Francisco, which includes buses, trams and subways," reports the Daily Mail.
The cameras are programmed with a list of behaviors considered "normal". Anything that deviates from usual activity is classified as suspicious and guards are immediately alerted via text message or a phone call.
Equipped with the ability to track up to 150 suspects at a time, the cameras build up a "memory" of suspicious behavior to determine what constitutes potential criminal activity.
A total of 288 cameras will be installed across 12 transport hubs.
And without a doubt more major cities will soon be adopting such technology.
So try not to act suspiciously – someone may be watching.
Another very disturbing technological development was recently reported on by Businessweek.
Researchers at Harvard Medical School have apparently found a way for a human to control the mind of a rat…
Related articles

Image Source :  WIkimedia Commons
*****************************************************************
The Frightening New Mind Control Technology That Can Hack Your Brain
StoryLeak
by Daniel G. J.
July 28th, 2013
Updated 07/29/2013 at 2:58 am
There's a frightening new technology at the Massachusetts Institute of Technology (MIT) that's right out of a comic book. Scientists at the technical school have figured out how to implant false mental reactions in a mouse.
This technological 'advancement' is terrifying when considering that it could lead to real life brainwashing and mind control like that shown in the classic movie The Manchurian Candidate (the classic film starring Frank Sinatra). In the film, communists turn an average man into an assassin by implanting false memories into his mind.
A similar plot is found in Total Recall. The brainwashing shown in these movies were fantasy, but what's happening at MIT is apparently real.
A team of MIT researchers led by neuroscientist Susumu Tongawa figured out how to implant responses in the brains of mice by manipulating neurons. They even have a name for their technique, optogenetics, and it allows them to manipulate brain cells with chemicals. Remember the term optogenetics; we're going to be hearing a lot about it in years to come.
Brain Hacking
Basically, these scientists have figured out how to hack the brain much like cyber crooks can hack your computer. They're still a long way from hacking human brains, but that seems to be the goal here.
Related articles
Citizens Commission on Human Rights International
By Kelly Patricia O'Meara
July 23, 2013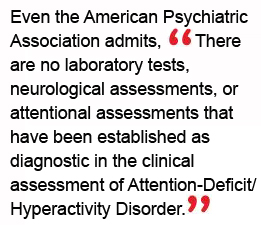 Given the enormous potential for great harm, one has to wonder how the Food and Drug Administration, FDA, gets away with giving its stamp of approval on a new "brain wave test," that allegedly will "help confirm an ADHD diagnosis," when there is no scientific or medical proof that any physical abnormality exists.
In fact, the mandate of the FDA demands the opposite of its latest approval action. According to the FDA website, the federal agency is tasked with protecting "the public health by assuring the safety, effectiveness, and security of human and veterinary drugs, vaccines and other biological products for human use and medical devices."
What part of approving a "brain waive test" for a psychiatric diagnosis that doesn't exist is "assuring the safety and effectiveness?" More to the point, since there is no proof that the alleged psychiatric diagnosis exists, how can the FDA possibly claim that any test, least of all one that consists of interpreting squiggly lines on a piece of paper, is safe or effective? Is this a case of group-think? The FDA heard, has been told, believes ADHD exists?
This kind of thinking is so two months ago. Remember it was just before the American Psychiatric Association (APA), held its annual get-together in May that the National Institute of Mental Health, NIMH, slammed the door on the APA's Diagnostic and Statistical Manual of Mental Disorders (DSM) which includes "ADHD," stating the manual is "at best, a dictionary, creating a set of labels and defining each."
The NIMH further explained that the APA's diagnoses "are based on a consensus about clusters of clinical symptoms, not any objective laboratory measure…" and "the weakness is its lack of validity."
And the APA, itself, writes, "There are no laboratory tests, neurological assessments, or attentional assessments that have been established as diagnostic in the clinical assessment of Attention-Deficit/Hyperactivity Disorder." Okay, seems pretty clear. The ADHD diagnosis is completely subjective and not based in science.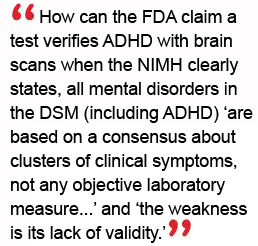 The FDA ignored these facts and, in what appears to be an irresponsible attempt to validate ADHD as a science-based psychiatric diagnosis, has opened the floodgates for creating more victims and the already epidemic numbers of children being diagnosed with the alleged ADHD will skyrocket.
According to the Centers for Disease Control and Prevention, CDC, there has been a 41 percent increase in the diagnosis of ADHD over the past decade and one in five high school boys (11 percent of all school-age children) have received the non-scientific diagnosis.
More troubling is that based on a 100 percent subjective ADHD diagnosis, nearly 3 million American children are currently taking prescription mind-altering drugs as "treatment" that are the equivalent of cocaine, carrying serious adverse reactions.
And aside from the fact that there is zero proof that ADHD is an abnormality of the brain, the FDA's approval of the new EEG device called, "Neuropsychiatric EEG-Based Assessment Aid," the NEBA System, is suspect on a number of levels, including its blatant lack of information about the data used to decide on approval.
Related articles
Elise Ackerman, Contributor
A few years ago a team of researchers from Brown University made headlines after they successfully demonstrated how a paralyzed woman who had lost the use of her arms and legs could control a robotic arm using her brainwaves. In a video, Cathy Hutchinson imagines drinking a cup of coffee, and the robotic arm brings the cup to her lips.

The scene is amazing, but also a little disturbing. Hutchinson is connected to the robotic arm through a rod-like "pedestal" driven into her skull. At one end of the pedestal, a bundle of gold wires is attached to a tiny array of microelectrodes that is implanted in the primary motor cortex of Hutchison's brain. This sensor, which is about the size of a baby aspirin, records her neural activity. At the other end of the pedestal is an external cable that transmits neural data to a nearby computer, which translates the signals into code that guides the robotic arm.
This method, known as BrainGate, pretty much defined state-of-the-art brain-computer interfaces at the end of the last decade. If the idea of a rod-through-the-head computer interface makes you cringe, you are not alone.
For some time, a small team of researchers at UC Berkeley has been working on plans for a less invasive, wireless monitoring system. Earlier this month, they released a draft paper: "Neural Dust: An Ultrasonic, Low Power Solution for Chronic Brain-Machine Interfaces."
Related articles
By Paul Rosenberg, FreemansPerspective.com
The productive people of this world are being abused. We all know it and we all complain about it. And most of the things we complain about (taxes, stupid laws, politicians and bureaucrats doing ridiculous things) are backed by large, powerful systems. That is why I chose "systemic abuse" for this article's title.
The idea of a system being abusive by nature often bothers people in a deep and obscure way, but that characterization is true. If we try to blame "one bad actor," we are lying and we know it.
I'm not going to waste time on the abuses of the current world systems. You must be aware of them, and you can get lists of complaints from many other sources.
Instead, I want to explain how we producers are really the controlling group in the world, even though most of us don't know it. We as a group can end our abuse whenever we change our minds about it, and we as individuals can do a lot to bring that about.
But in order to face a life without abuse, each producer will have to do some serious soul searching and adjustment. That sounds strange, I know, but it is true. It will become clearer as we proceed.
Knowing Ourselves
Let me begin with this: You don't have to be a superstar to count yourself among the producers. In fact, you don't even need to have a job. What matters is that, given a choice, you would rather create than live off of the production of others.
If you feel good coming home from an honest day of work; if you like pointing at something and saying "I made that;" if you care about your work as a carpenter, trucker, housewife, nurse, welder, shopkeeper, clerk, farmer, rancher, engineer, or any of a hundred other professions, you are a producer.
This desire for production is in us from childhood and perhaps from birth. It is natural to beings who have the ability to perceive, to will, and to compare before/after results. Even infants get satisfaction from willing and succeeding. Buckminster Fuller said it well: Every child has an enormous drive to demonstrate competence.
With these being the essential characteristics of producers, it would seem natural for them to generally feel good about themselves and to be generally confident. You would expect them to be proud of being the source of all the products and wealth in the world.
This, however, is not what we see. Rather, we see producers who are morally timid, who shrink when someone accuses them of being offensive, who fear being envied. Most modern producers don't feel they have full rights over their own lives. They believe it in measure, of course, but they also believe that other people (namely the operators of institutions) have a legitimate right to tell them how to drive, educate their children, spend their money, ingest substances, report their business dealings, and on and on and on.
As we've said a lot recently, this comes back to a perverse root assumption:
It is right for other people to order me around.
It is easy to see that so long as producers keep believing this, those who order them around will abuse them without end.
On the other hand, if the producers ever stop believing that their role in life is to be ordered around, the world changes in an instant – radically and dramatically for the better. The values of production, if ever dominant in the world or any section of it, generate not only prosperity, but morality.
The System and the Productive Class
As long as the productive class think it's right for systems to order them around and siphon off their production, the producers will be abused forever. It is as simple as that. So, let me say something clearly and even with indignation, which I think is warranted:
We build the system's roads, we build their monuments, we supply their banquets, we build and drive their limousines, we build their governor's mansions, and we cut their grass and install their air conditioning and repair their roofs. We pay their policemen and their firemen and their tax men. We pay for their cars and their gas and their guns and their bullets and their uniforms.
Without us, they have nothing but words. If we ever decide not to play their game, they are done. It doesn't matter how many enforcers they have on their payrolls – the moment we stop complying, those enforcers will see the end of their paychecks and will return home at night to face strong questions from us, their neighbors.
We producers are manifestly unhappy about what the systems of the world are doing to us, but most of us don't think we have any right to dictate to them. The truth, however, is this:
Without us, they are destitute, and we don't need them.
How This Happened to Us
What has happened is that we've been demoralized. We understand quite well that our wealth has been damaged; we understand much less well that our souls have been damaged.
In all of our lifetimes, the inherent dignity of work has been absent. Since the industrial revolution, when people took boring jobs simply for better pay, work has become something that most people try to escape. This has been a mistake.
Work is the insertion of creativity into the world. Creating things, improving things, or making it possible for other people to create is rewarding and important. Work is good, noble, and deserving of respect.
In our times, however, work has been replaced as something to respect by status, a gorilla-level instinct. It was a devolution.
We all learn about status at an early age, hearing stories about the rich, handsome prince and the most beautiful woman in the kingdom. We are told that only the exceptional few count.
All through our lives we are shown images of the unique and the few. For example, fashion models are not chosen merely for beauty, but for exclusivity. There are plenty of short, beautiful women, but they never show up in the ads, for the simple reason that they are many. Only the 1/50th of 1% who are exceptionally tall and good-looking are shown. The rest of us are then provided with products to make us feel we are approaching their exclusive level.
We have been living through a period dominated by hierarchy – where people who order other people around are important, and all others are an undifferentiated mass.
All of this is fraudulent and manipulative. Worse, it has left most of us with an inferiority complex. We are the unnamed peasants, the mundanes, the "workers."
There are many types of beauty in the world, many types of greatness, many reasons for respect. We can all partake, not just the rarest among us.
The importance of work should be judged by its creativity and by the benefit it brings, not by how much it controls. People should esteem others because of their virtues, not because of their positions. People should do good deeds based on their personal sense of benevolence, and this should not be limited to things that are chosen by 'leaders' in high positions.
What the productive class needs most is to have their confidence restored. They need to see status and exclusivity as the barbaric and manipulative ideas that they are.
We can be much more than we have been, and we would enjoy it a great deal. The problem is that we haven't considered ourselves worthy. After all, we're not the people in high places who get to order everyone else around.
We need to get over this.
[Editor's Note: This article is an excerpt from "outside the Matrix" author Paul Rosenberg's flagship newsletter - Freeman's Perspective - Issue #14: "The Systemic Abuse of the Productive Class: It Ends when We Say it Ends." If you liked it, consider taking a risk-free test drive. Not only will you gain immediate access to the rest of the issue (which includes 3 ways in which you can just "opt out"), but you'll also be able to enjoy the entire archive - more than 520 pages of research on topics of importance and inspiration to those looking for freedom in an unfree world. Plus valuable bonus reports and all new issues as well. Click here to learn more.]
*********************************************************************************************
More Americans Committing Suicide than During the Great Depression
Suicide rates are tied to the economy.
The Boston Globe reported in 2011:
A new report issued today by the Centers for Disease Control and Prevention finds that the overall suicide rate rises and falls with the state of the economy — dating all the way back to the Great Depression.

The report, published in the American Journal of Public Health, found that suicide rates increased in times of economic crisis: the Great Depression (1929-1933), the end of the New Deal (1937-1938), the Oil Crisis (1973-1975), and the Double-Dip Recession (1980-1982). Those rates tended to fall during strong economic times — with fast growth and low unemployment — like right after World War II and during the 1990s.
During the depths of the Great Depression, suicide rates in America significantly increased. As the Globe notes:
The largest increase in the US suicide rate occurred during the Great Depression surging from 18 in 100,000 up to 22 in 100,000 …
We've previously pointed out that suicide rates have skyrocketed recently:
The number of deaths by suicide has also surpassed car crashes, and many connect the increase in suicides to the downturn in the economy. Around 35,000 Americans kill themselves each year (and more American soldiers die by suicide than combat; the number of veterans committing suicide is astronomical and under-reported). So you're 2,059 times more likely to kill yourself than die at the hand of a terrorist.
NBC News reported in March:
Suicide rates are up alarmingly among middle-aged Americans, according to the latest federal government statistics.

They show a 28 percent rise in suicide rates for people aged 35 to 64 between 1999 and 2010.
RT reports:
In a letter to The Lancet medical journal, scientists from Britain, Hong Kong and United States said an analysis of data from Centers for Disease Control and Prevention indicated that while suicide rates increased slowly between 1999 and 2007, the rate of increase more than quadrupled from 2008 to 2010, Reuters reported.
Earlier this month, NY Daily News wrote:
The Great Recession may have been at the root of a great depression that caused suicides to soar among middle-aged Americans, a government report speculates.

The annual suicide rate for adults ages 35 to 64 spiked in the past decade, according to a study from the U.S. Centers for Disease Control and Prevention.

And a shaky economy that nose-dived into the worst financial crisis since the Depression may be the biggest reason why.

***

The CDC's Morbidity and Mortality Weekly Report said the annual suicide rate jumped 28.4% from 1999-2010.

It was the biggest increase of any age group, said the CDC, citing "the recent economic downturn" as one of the "possible contributing factors" for the increase.

"Historically, suicide rates tend to correlate with business cycles, with higher rates observed during times of economic hardship," the report said.
David Stuckler (a senior research leader in sociology at Oxford), and Sanjay Basu (an assistant professor of medicine and an epidemiologist in the Prevention Research Center at Stanford), write in the New York Times:
The correlation between unemployment and suicide has been observed since the 19th century.
(And see these articles by the Wall Street Journal and the Los Angeles Times.   This is obviously true world-wide.  For example, last year the New York Times reported:
The economic downturn that has shaken Europe for the last three years has also swept away the foundations of once-sturdy lives, leading to an alarming spike in suicide rates. Especially in the most fragile nations like Greece, Ireland and Italy, small-business owners and entrepreneurs are increasingly taking their own lives in a phenomenon some European newspapers have started calling "suicide by economic crisis."

***

In Greece, the suicide rate among men increased more than 24 percent from 2007 to 2009, government statistics show. In Ireland during the same period, suicides among men rose more than 16 percent. In Italy, suicides motivated by economic difficulties have increased 52 percent, to 187 in 2010 — the most recent year for which statistics were available — from 123 in 2005.)
Indeed, more Americans are killing themselves today than during the Great Depression. Specifically, there were were 123 million Americans in 1930.  The maximum suicide rate during the depths of the Great Depression was 22 out of 100,000  Americans.  That means that up to  27,060 Americans killed themselves each year.
Related articles
Sgt. John Russell pleaded guilty as part of a deal with prosecutors
UPDATED

 6:42 PM CDT May 16, 2013
(CNN) —A U.S. Army sergeant was sentenced Thursday to life in prison without parole for gunning down five fellow service members at a combat stress clinic in Iraq.
The sentence handed down at Joint Base Lewis-McChord, near Tacoma, Washington, came after Sgt. John Russell pleaded guilty to the killings in a deal in which prosecutors agreed not to seek the death penalty.
Russell pleaded guilty to the May 11, 2009, killings at Baghdad's Camp Liberty, telling a military court last month that he "did it out of rage."
The only question facing the judge, Col. David Conn, was whether Russell committed the slayings with premeditation, which the 48-year-old soldier disputed.
During a brief sentencing hearing, Conn ruled Russell killed with premeditation," meaning the sergeant could not be given a lesser sentence.
*****************************************************************************
| | |
| --- | --- |
| Mine resistant ambush protected vehicles sit in a row on the Camp Liberty MRAP fielding site, Feb. 20, 2009. The day marks the introduction of the 10,000th vehicle into the Iraq theater of operations. Photo Credit: U.S. Army, Spc. Christopher Gaylord. | |
LOS ANGELES (AFP) – A U.S. soldier convicted of killing five of his colleagues in Iraq in May 2009 was sentenced to life behind bars Thursday and dishonorably discharged.
Army Sgt. John Russell was convicted earlier this week over the murders at a clinic for soldiers suffering from war-related stress at Camp Liberty, the largest U.S. base in Iraq.
Russell, who previously denied responsibility, admitted the killings last month in a plea deal to escape a death sentence, worked out by his lawyers at Joint Base Lewis-McChord (JBLM), in the northwestern U.S. state of Washington.
On Thursday he was jailed for life, reduced to the rank of private and given a dishonorable discharge from the military, military spokeswoman Barbara Junius told AFP.
At the time of the Camp Liberty killings, the incident represented the single deadliest toll on U.S. forces in a month in Iraq, and came at a sensitive moment in the US military's occupation of the country it invaded in 2003.
Russell was on his third tour of duty in Iraq, and his unit was preparing to leave the country.
Due to concerns over Russell's mental state, his commanding officer had ordered about a week before the shooting that his weapon be confiscated and that he get counseling.
After pleading guilty last month, Russell gave an account of the killings for the first time. The victims were three soldiers receiving care at the clinic and two medical officers.
"I just did it out of rage, sir," he told the military judge, Col. David Conn, describing how he walked from room to room firing at mental health workers and patients.
"I was upset. I do not remember being angry, but I know that everyone who witnessed me outside the combat stress clinic said I looked angry," the Los Angeles Times quoted him as saying.
*****************************************************************************
Related articles
        
Cleveland women start road to recovery after nightmare
Year after year, the clock ticked by and the calendar marched forward, carrying the three women further from the real world and pulling them deeper into an isolated nightmare.
Now, for the women freed from captivity inside a Cleveland house, the ordeal is not over. Next comes recovery — from sexual abuse and their sudden, jarring re-entry into a world much different from the one they were snatched from a decade ago.
Therapists say that with extensive treatment and support, healing is likely for the women, who were 14, 16 and 21 when they were abducted. But it is often a long and difficult process.
"It's sort of like coming out of a coma," says Dr. Barbara Greenberg, a psychologist who specializes in treating abused teenagers. "It's a very isolating and bewildering experience."
Michelle Knight's grandmother: She doesn't want to be seen right now
The physical healing may take longer for some than for others. Michelle Knight may need reconstructive surgery for injuries suffered at the hands of her accused attacker, CBS Cleveland affiliate WOIO-TV reports.
Her grandmother, Deborah Knight, confirmed the information, telling WOIO-TV Thursday: "When she was severely beaten, he had beat her so bad in the face, she has to have facial reconstruction, and she's lost hearing in one ear."
Knight was released from MetroHealth Friday, the last of the three women to do so.
In the world the women left behind, a gallon of gas cost about $1.80. Barack Obama was a state senator. Phones were barely taking pictures. Things did not "go viral." There was no YouTube, no Facebook, no iPhone.
Emerging into the future is difficult enough. The two younger Cleveland women are doing it without the benefit of crucial formative years.
"By taking away their adolescence, they weren't able to develop emotional and psychological and social skills," says Duane Bowers, who counsels traumatized families through the National Center for Missing and Exploited Children.
"They're 10 years behind in these skills. Those need to be caught up before they can work on reintegrating into society," he says.
Kidnap victims freed in Cleveland
That society can be terrifying. As freed captive Gina DeJesus arrived home from the hospital, watched by a media horde, she hid herself beneath a hooded sweatshirt. The freed Amanda Berry slipped into her home without being seen.
"They weren't hiding from the press, from the cameras," Bowers says. "They were hiding from the freedom, from the expansiveness."
In the house owned by Ariel Castro, who is charged with kidnapping and raping the women, claustrophobic control ruled. Police say Castro kept them chained in a basement and locked in upstairs rooms, that he fathered a child with one of them, and that he starved and beat his captives into multiple miscarriages.
In all those years, they only set foot outside of the house twice — and then only as far as the garage.
"Something as simple as walking into a Target is going to be a major problem for them," Bowers says.
Jessica Donohue-Dioh, who works with survivors of human trafficking as a social work instructor at Xavier University in Cincinnati, says the freedom to make decisions can be one of the hardest parts of recovery.
Read Full Article and  Watch Video  Here
Related articles