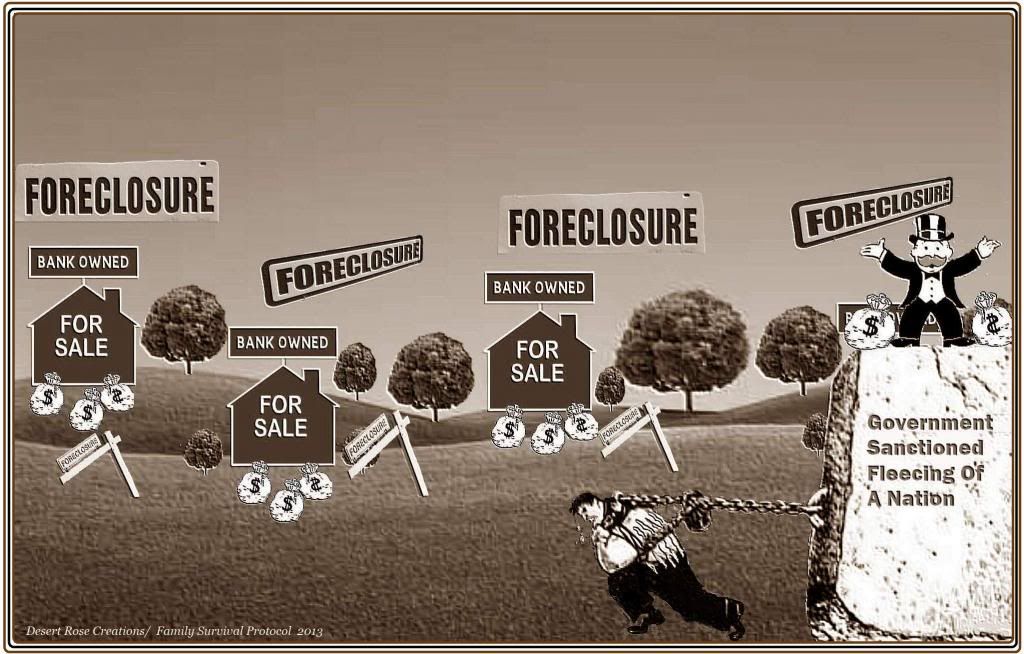 ***************************************************************************************************
Foreclosure compensation checks arrive, but anger some homeowners
Families who endured years of anguish or lost their homes due to banks wrongly reporting they were behind on their mortgage payments are calling the compensation payments resulting from a government settlement, many of which number in the low hundreds, "insulting." NBC's Lisa Myers reports.
Millions of American homeowners who have struggled with foreclosures are now receiving checks for compensation from the companies that serviced their mortgages — part of the federal government's efforts to resolve the foreclosure crisis. But some of those receiving checks tell NBC News that the payments are an insult that neither punishes the banks enough for "deficient" practices nor helps harmed homeowners recover.
Karen Pooley, 50, of Seattle, told NBC News that she fell behind on her mortgage after losing her job in the building industry in early 2009, and received a notice of default in February 2010.
Pooley said she's been fighting to save her home from foreclosure for the past three years.   Believing that her servicer did not follow legal procedures, she said she has contested the foreclosure through her state's foreclosure process, and managed to stop three foreclosure sales.  She said she also has tried to get authorities to investigate.
Last month, she received her settlement payment, a check for $300.
"It was more than pathetic. It was insulting," Pooley told NBC News. "I spent more in money on postage providing government agencies with detailed descriptions of what had happened in my case."
Timothy Platt, 52, a truck driver from Indianapolis, told NBC News he's also been fighting to save his home from foreclosure the past three years.  He claims his servicer made a mistake, declaring he and his wife behind on their mortgage when they were not.  Platt is suing the servicer, but has found trying to prove his case frustrating.
"They (the banks) have misrepresented the facts," he wrote to NBC News in an email last month, "they have insisted on pursuing foreclosure." 
On Thursday morning, Platt emailed NBC News, saying his settlement check had just arrived. It was for $500.
"It's kind of like a, like a slap in the face," Platt told NBC News during a stopover in Chicago.  "We've been trying to work through this for three years now, and we have no help whatsoever, and we've lost lots."
Both homeowners believe their mortgage servicers are in the wrong.  Each has gone to court to prevent the servicers from taking their homes.  Their respective servicers declined to comment to NBC News.
The compensation payment checks, which range from $300 up to $125,000, are part of the Independent Foreclosure Review Payment Agreement announced in January between federal regulators and 13 mortgage servicing companies, which were subject to enforcement actions for "deficient practices in mortgage loan servicing and foreclosure processing."  Deficient practices have included errors and misrepresentations and the "robo-signing" of documents.
The regulators are the U.S. Treasury's Office of the Comptroller of the Currency (OCC) and the Board of Governors of the Federal Reserve System.
The recipients of the checks are mortgage loan borrowers whose homes were in any stage of a foreclosure process during 2009 or 2010, and whose mortgage servicers were among the 13 companies, or their subsidiaries or affiliates.  Compensation payment checks, which began going out April 12, have so far been sent to 3.7 million homeowners. In all, 4.2 million eligible mortgage loan borrowers will receive them.
The 13 servicers are: Aurora, Bank of America, Citibank, Goldman Sachs, HSBC, JPMorgan Chase, MetLife Bank, Morgan Stanley, PNC, Sovereign, SunTrust, U.S. Bank, and Wells Fargo.
According to the OCC's online FAQ about the agreement, the servicers agreed "to provide more than $9.3 billion in cash payments and other assistance to help borrowers. The sum includes $3.6 billion in direct cash payments to eligible borrowers and $5.7 billion in other foreclosure prevention assistance, such as loan modifications and forgiveness of deficiency judgments."
By comparison, the five largest banks alone – Wells Fargo, Citigroup, Goldman Sachs, JPMorganChase, Bank of America – earned $60 billion in total profits last year.
Payout guided by 'the matrix'
What determines how much homeowners receive?
The largest payouts – $125,000 – are going to 1,082 members of the military wrongly foreclosed upon, and to just 53 homeowners across the country foreclosed upon even though they never missed a mortgage payment.  But most of the recipients – almost 2 million homeowners – will get the smallest payments of $300 to $600.
How much each homeowner gets depends on a complicated financial matrix designed by the regulators.
"In determining the payment amounts," reads a recent OCC press release, "borrowers were categorized according to the stage of their foreclosure process and the type of possible servicer error.  Regulators then determined amounts for each category, using the financial remediation matrix published in June 2012 as a guide, incorporating input from various consumer groups.")
Read Full Article and Watch Video Here
Related articles