Earth Watch Report -  Forest / Wild Fires
….
LiveResidents are warned to take shelter from two new bushfires in the Hunter, and Blue Mountains fires flare up as gusty winds strengthen, temperatures increase and humidity drops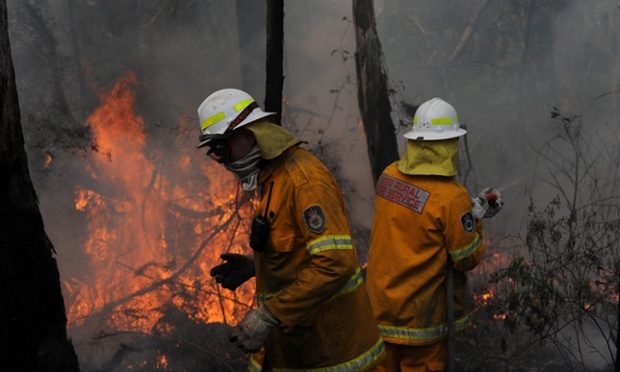 Here are the main points from the latest briefing from RFS NSW Commissioner Shane Fitzsimmons. You can watch the briefing in full below.
There are 79 fires burning across the state, 29 uncontained. Three emergency warning alerts are in place, and four "watch and act".
Springwood activity is increasing and the new fire near Dudley is burning towards properties. Fitzsimmons said: "there are plenty of firefighters and fire engines in and around those areas."
He asked parents not to try and pick up children still at the Redhead school until advised. The kids are safe.
There is a new breakout of fire near Raymond Terrace near Elizabeth Drive. It is burning near the Pacific Highway. It's not posing any immediate threat to property.
The Minmi fire is burning still to the west of the M1 motorway. The road is closed. "There's still a lot of work to do" before it's brought under control.
There are no reported significant breakouts in the other fires, although there are fires at the back of people's homes in some areas.
"We still have a few hours yet of the strong winds and warmer conditions. The winds are expected to continue right through to nightfall and beyond. We are expecting … that there will be a swing around overnight to a more southerly influence. It will be a dry change though…and we'll see a dry, cooler day tomorrow with fairly strong southwesterly winds, 40kmph gusting 60-80kmph. Whatever unfolds throughout the afternoon today, there will still be a lot of fire edge that firefighters have to deal with throughout tomorrow, the coming days and coming weeks."
A report from my colleague Oliver Milman:
What to do when you're staring down a fierce fire front? Head to the pub, of course.

Jared White, manager of the Royal Springwood Hotel, told Guardian Australia the establishment is acting as a hub for those who have lost property in Springwood, as well as those who are concerned fire is heading their way.

"The town is pretty quiet, people are ready to leave," he said. "A lot of them are heading here for support and reassurance. There have been heaps of people coming in, every second one of them with a story of losing something or friends who have done so.

"People aren't too down. It's a good community; people support each other. People who have moved out of the area have come back to offer to store things for their friends."

White said water-carrying helicopters were circling the town, although the current wind direction is pushing flames away from Springwood.

"I'm not too worried, but it will only take a change of wind for it to be heading our way," he added
Phil Holding, an RFS group captain for the Southwest Slopes zone, spoke to my colleague Oliver Milman this afternoon. Holding said that fires could continue to burn in parts of the Blue Mountains until the winter.
"I suspect they will keep burning for months," he told Guardian Australia. "They will thicken up the containment lines but further in rough country, given the terrain, I wouldn't be surprised if fires keep blowing up until winter. Unless we have a very wet summer, people will get very tired of it."
The air crane has been sent to the Springwood fire, where flare ups have pushed the fire up to an emergency warning level. Burning embers are being blown towards homes by strong gusty winds.
Roland Clarke lives in Mt Victoria on one of the area's streets hit hardest by the bushfire last week. Clarke told Guardian Australia how he and his neighbours stayed to prepare their homes and fight the fire off, but it came up so quickly that they had to run. His house was one of just a few that did not burn down.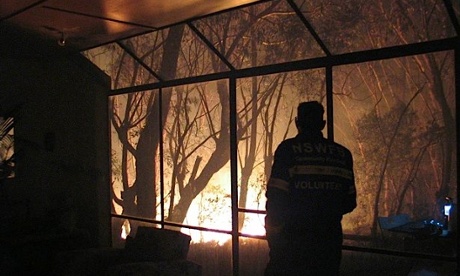 Updated at 3.44pm AEST
….
Related articles