…..
Mexico recovers stolen radioactive material
Authorities in Mexico have recovered dangerous radioactive material which was stolen last week.
Experts from the National Nuclear Security Commission used a remote-controlled robot to place the radioactive waste into a container.
The material, 60g (2.1oz) of cobalt-60 used for cancer treatment, was stolen while it was being taken from a hospital to a waste storage facility.
Six people have been arrested in connection with the theft.
The six were taken to hospital with signs of radiation exposure shortly after their arrest, but were later given the all clear by doctors.
One of the suspects was later released by police.
Opportunistic theft
They are believed to have been oblivious to the material inside the truck, which could potentially have been used to make a "dirty bomb" – an explosive device that can spread radioactive material over a wide area.
Related Stories
…..
Stolen radioactive material found in Mexico cornfield
Farmer treated for radiation exposure after handling cobalt-60 from obsolete medical equipment dumped by truck thieves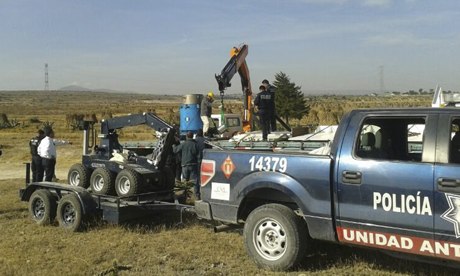 A shipment of highly radioactive cobalt-60 has been safely recovered after sitting in the cornfield where it was found a week ago dumped by thieves in central Mexico, according to the country's nuclear safety director.
Juan Eibenschutz, the director general of the National Commission of Nuclear Safety and Safeguards, said a robot was used to scoop up the dangerous material and deposit it in a safe container for transporting to a nuclear waste treatment facility.
"It's been recovered, and it's on its way to the waste site," he said.
Earlier on Tuesday, Eibenschutz had said the cobalt-60 was still in the field because emergency workers had not been able to get the robot close enough due to bales of corn stalks in the field.
"Things turned out well," he said a few hours later. "The operators of the robot prepared everything and were able to secure the material."
A federal police force statement added that 100 federal police, marines and local officers were still guarding the area.
…..
Related articles