Reblogged from :  Earth First News Wire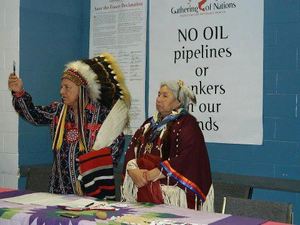 Cross Posted from Huffington Post
The State Department, still with "egg on its face" from its statement that Keystone XL would have little impact on climate change, sunk a little lower today as the most respected elders, and chiefs of 10 sovereign nations turned their backs on State Department representatives and walked out during a meeting. The meeting, which was a failed attempt at a "nation to nation" tribal consultation concerning the Northen leg of the Keystone XL Pipeline neglected to address any legitimate concerns being raised by First Nations Leaders (or leading scientific experts for that matter).
Tribal nations added probably the most critical danger of the pipeline which is to the water. Their statement is below:
On this historic day of May 16, 2013, ten sovereign Indigenous nations maintain that the proposed TransCanada/Keystone XL pipeline does not serve the national interest and in fact would be detrimental not only to the collected sovereigns but all future generations on planet earth. This morning the following sovereigns informed the Department of State Tribal Consultation effort at the Hilton Garden Inn in Rapid City, SD, that the gathering was not recognized as a valid consultation on a "nation to nation" level:
Southern Ponca
Pawnee Nation
Nez Perce Nation
And the following Oceti Sakowin (Seven Council Fires People):
Sisseton-Wahpeton Oyate
Ihanktonwan Dakota (Yankton Sioux)
Rosebud Sioux Tribe
Oglala Sioux Tribe
Standing Rock Tribe
Lower Brule Sioux Tribe
Cheyenne River Sioux Tribe
Crow Creek Sioux Tribe
The Great Plains Tribal Chairmans Association supports this position, which is in solidarity with elected leaders, Treaty Councils and the grassroots community, and is guided by spiritual leaders. On Saturday, May 18, the Sacred Pipe Bundle of the Oceti Sakowin will be brought out to pray with the people to stop the KXL pipeline, and other tribal nation prayer circles will gather to do the same.
Pursuant to Executive Order 13175, the above sovereigns directed the DOS to invite President Obama to engage in "true Nation to Nation" consultation with them at the nearest date, at a designated location to be communicated by each of the above sovereigns. After delivering that message, the large contingent of tribal people walked out of the DOS meeting and asked the other tribal people present to support this effort and to leave the meeting. Eventually all remaining tribal representatives and Tribal Historic Preservation Officers left the meeting at the direct urging of the grassroots organization Owe Aku. Owe Aku, Moccasins on the Ground, and Protect the Sacred are preparing communities to resist the Keystone XL pipeline through Keystone Blockade Training.