Published on Monday, December 2, 2013 by Common Dreams
'Revolutionary' Protesters in Ukraine Take Over Govt Buildings
After weekend of mass demonstrations, police stand down as people take over central square, city hall, and call for general strike
Hundreds of thousands gathered in the historic Independence Square in Kiev on Sunday, and by Monday morning the anti-government movement had taken full control of the area and several government buildings. (Photo: Getty/AFP)The hundreds of the thousands of street demonstrators who took to the streets across the Ukraine on Sunday show no signs of letting up as their calls for 'revolution' against the government of President Viktor Yanukovych were matched with strategic seizures of ground in the nation's capital of Kiev on Monday.
Kiev's Independence Square, according to reports, is now under the full control of the protesters who have set up barricades protecting the central gathering area. Meanwhile, key government offices came under occupation overnight with protesters setting up a makeshift headquarters inside city hall and government workers have been barred from entering their workplaces.
As the Guardian reports:
On Monday morning, as Kiev began its working week, tension was high as both ordinary people and opposition leaders were left guessing how events might unfold. Hundreds of protesters took up positions blocking entrances to government buildings to stop officials from getting to work, while others blocked off whole streets. Many of the people who spent the night in the two government buildings that were seized by protesters insisted they would not leave until the government falls.

In the western city of Lviv, stronghold of pro-European forces, the regional authorities announced a general strike on Monday.

The key political opposition to Yanukovych, such as the jailed former prime minister Yulia Tymoshenko and the heavyweight boxer Vitali Klitschko, have called on their supporters to refrain from violence but not to go home.

"This government is clearly over," said Vladimir Luchishin, 60, from Donetsk, who was sleeping at city hall, having arrived on Sunday. "If they try to fight back with force, it will only make things worse for them."

Police have retreated from most of the centre of Kiev but cordons of riot police remained in position, guarding the Presidential Administration – the scene of violent clashes on Sunday in which more than 100 police were injured. On Monday morning, the interior ministry said a total of 150 riot police and other officials had been injured, while 165 protesters had been injured, 109 of which required some kind of hospital treatment.
Protesters march in Kiev. (Photo: AFP/Getty)The calls for 'revolution' have mostly remained peaceful, with the majority of the large crowd speaking out against the violence that has occurred at the margins of their protests as ultra-rightwing nationalists have used the occasion of the protests to attack police, using petrol bombs, rocks, and other weapons in an effort to incite a violent response. As this video shows, some peaceful anti-government protesters on Sunday put themselves between the violent, masked provocateurs and a line of riot police who had taken up a defensive position:

"We should not be provoked. There are a lot of provocateurs. We can change the power in a civilized way. Our rally in Kiev today is a peaceful protest only," said heavyweight boxer Vitali Klitchko—a member of parliament, one of the most famous people in Ukraine and a supporter of the revolution—told people during a speech in the square on Sunday.
Klitchko is only one of many of Ukrainian lawmakers siding with the protesters and as negotiations continue behind closed doors on the government response, the life of the protest movement is making progress of its own.
As the New York Times reports:
Inna Bohoslovska, a member of Parliament who has quit Mr. Yanukovich's Party of Regions in support of the demonstrators, called on Monday for the government to resign. Demonstrators also continued to occupy City Hall in Kiev, where windows had been smashed and walls covered with graffiti. Under a sign for the Kiev City Council, someone had painted in black: "Revolution Headquarters."

After a huge rally on Sunday — a crowd estimated at a million or more that observers said exceeded even the largest gatherings of the Orange Revolution nine years ago — the demonstrators overnight blocked city streets, using Christmas decorations and police barricades intended to stop the protest.

The result was an oddly festive, fir-trimmed encampment at the heart of the Ukrainian capital. Protest leaders, sensing that momentum had turned to their advantage, continued to add infrastructure to their operation, bringing in television monitors and erecting a small tent city that included first-aid stations and canteens.

Having occupied the nearby Trade Unions building on Sunday, they seized control of a giant screen mounted on its facade, and replaced the advertising it had carried — first with images of the yellow-starred European Union flag, and by Monday morning with a live video feed of speakers on the protest stage outside.
On Twitter:
Tweets about "Ukraine Protest"
_____________________________________________
This work is licensed under a Creative Commons Attribution-Share Alike 3.0 License.
……….
'Any association with EU would be economic suicide for Ukraine'
Published on Dec 2, 2013
Another day of tension in the Ukrainian capital. Thousands remain in Kiev's central square, while others have moved to the Prime Minister's office. Protests turned violent during the night. Government buildings were stormed, and hundreds of people were injured, including police, protesters and journalists. Demonstrators are demanding the President's resignation following his rejection of an EU trade integration deal.
Clashes in Kiev amid massive pro-EU protests: LIVE UPDATES: http://on.rt.com/dhvlo2
RT LIVE http://rt.com/on-air
……….
Uproar in Ukraine: 'Push by West to create chaos & weaken ties with Russia'
Published on Dec 1, 2013
Thousands of pro-EU demonstrators chanting 'Revolution!' protested on 'Maidan' square in Kiev on Sunday, despite a court-imposed ban on rallies. Over 200 people – both protesters and police – were injured in the ensuing clashes. With Kiev a battleground RT discusses what's at stake there with William Engdahl – geopolitical analyst and author of 'Full Spectrum Dominance'. READ MORE: http://on.rt.com/dhvlo2
Also WATCH: Kiev protesters drive bulldozer towards police cordon http://youtu.be/xhbzhrfY1Lo
RT LIVE http://rt.com/on-air
………..
Kiev anti-government protesters remain in control in parts of city
Police keep their distance as Viktor Yanukovych's government ponders next move
Link to video: Ukrainian riot police clash with protesters Throngs of anti-government protesters remained in control of parts of central Kiev on Monday morning, as police kept their distance and Viktor Yanukovych's government pondered its next move.
After huge protests on Sunday, during which several hundred thousand people took to the streets of Kiev to call for the president's removal, protesters erected makeshift barricades around Independence Square – the hub of the 2004 Orange Revolution. Nearby, the main City Hall building was taken over by protesters without police resistance on Sunday evening.
Many of the windows were smashed and "Revolution HQ" was daubed in black paint on its stone Stalinist facade. Inside, hundreds of people milled around receiving refreshments; many who had travelled from the regions to Kiev were sleeping on the floor.
"We've just had enough. We're sick of this," said Alexander Yabchenko, a 33-year-old oncologist from Lviv in western Ukraine, who had travelled to Kiev to take part in the protests and was now offering medical help to those injured in the clashes at a makeshift medical centre inside the town hall. "I'm not part of any political party but I understand that only by trying to be more European can we end our troubles. Even from my own experience, I see so many problems with the medical system, and we just need to modernise."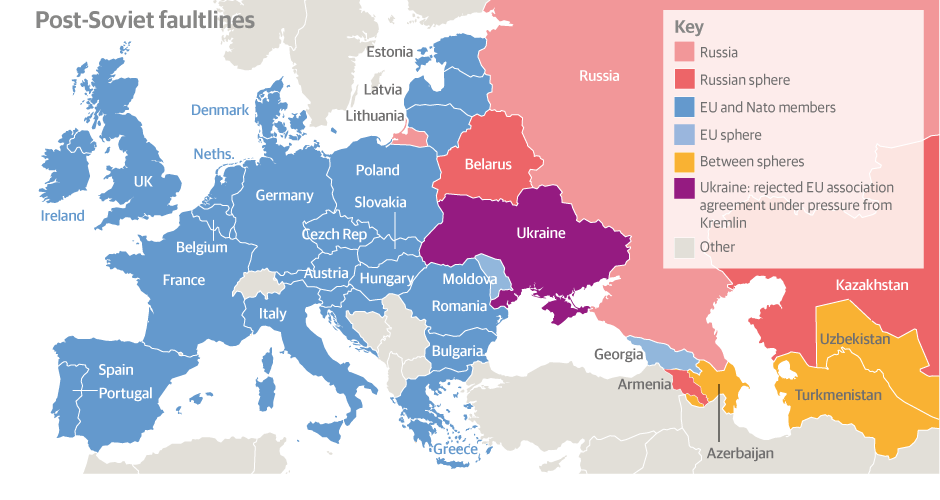 The protests began after Yanukovych walked away from an integration pact with the European Union that was supposed to be signed at a summit in Vilnius last Friday in favour of closer relations with Russia. The mood intensified when police cleared Independence Square with considerable force early on Saturday and banned further protest. The residents of Kiev ignored them, pouring into the square in vast numbers on Sunday, in a largely peaceful protest that turned violent at the fringes.
……….
Protests Drive Ukraine President Back to Europe

Facing huge anti-government demonstrations after spurning a deal with the European Union, Ukraine's embattled president sought Monday to quell public anger by moving to renew talks with Brussels.
The opposition, meanwhile, scrambled to secure enough votes in parliament to oust the Cabinet and try to force an early presidential election, in the biggest unrest in the country since the 2004 Orange Revolution.
President Viktor Yanukovych struggled to reaffirm his grip on power as thousands of demonstrators besieged government buildings in Kiev, his party suffered defections and three cities in the west of the country openly defied the central government.
The protests were sparked by Yanukovych's decision to ditch the political association and free trade pact with the EU, followed by the violent dispersal of a small peaceful rally in Kiev over the weekend.
Russian President Vladimir Putin, who strongly opposed the EU deal, denounced the opposition protests in Kiev as "pogroms."
On Monday, Yanukovych called European Commission President Jose Manuel Barroso and asked to renew negotiations on signing the association agreement. He also said in an interview with Ukraine's main television channels that he remains committed to European integration, but would like to negotiate better terms for the fragile Ukrainian economy.
Yanukovych urged the opposition for calm and dialogue with the government. But his call fell flat with opposition leaders who were hoping to summon enough parliamentary votes Tuesday to oust the Cabinet led by Yanukovych's loyal supporter, Prime Minister Mykola Azarov, and force an early presidential vote.
"We need to change the system. There must be a complete reloading of the leadership," world boxing champion turned opposition leader Vitali Klitschko told reporters.
It was unclear whether the opposition could muster the 226 votes it needs in the 450-seat parliament to oust Azarov and his Cabinet.
……….
Related articles