Image Source  :  Wikimedia . Org
By  Poco a poco
*******************************************
WASHINGTON — Senate leaders announced last-minute agreement Wednesday to avert a threatened Treasury default and reopen the government after a partial, 16-day shutdown. Congress raced to pass the measure by day's end.
The Dow Jones industrial average soared on the news that the threat of default was fading, flirting with a 200-point gain in morning trading.
"This is a time for reconciliation," said Senate Majority Leader Harry Reid of the agreement he had forged with the GOP leader, Sen. Mitch McConnell of Kentucky.
McConnell said that with the accord, Republicans had sealed a deal to have spending in one area of the budget decline for two years in a row, adding, "we're not going back."
One prominent tea party lawmaker, Sen. Ted Cruz of Texas, said he would oppose the plan, but not seek to delay its passage.
That was a key concession that signaled a strong possibility that both houses could act by day's end. That, in turn, would allow President Barack Obama to sign the bill into law ahead of the Thursday deadline that Treasury Secretary Jacob Lew had set for action to raise the $16.7 trillion debt limit.
Officials said the proposal called for the Treasury to have authority to continue borrowing through Feb. 7, and the government would reopen through Jan. 15.
There was no official comment from the White House, although congressional officials said administration aides had been kept fully informed of the negotiations.
In political terms, the final agreement was almost entirely along lines Obama had set when the impasse began last month. Tea party conservatives had initially demanded the defunding of the health care law as the price for providing essential federal funding.
Under a strategy set by Obama and Reid, Democrats said they would not negotiate with Republicans in exchange for performing what the White House called basic functions of keeping the government in operation and preventing Treasury from defaulting on its obligations.
A long line of polls charted a steep decline in public approval for Republicans in the course of what Sen. John McCain, R-Ariz., pronounced a "shameful episode" in the nation's history.
While the emerging deal could well meet resistance from conservatives in the Republican-controlled House, the Democratic Leader, Rep. Nancy Pelosi of California, has signaled she will support the plan and her rank and file is expected to vote for it in overwhelming numbers.
*********************************************
Will Boehner break the "Hastert Rule" today? The Hastert Rule explained
By Lynn Sweet | Get In Touch: @lynnsweet | lsweet@suntimes.com Sweet – October 16, 2013 9:19 am
WASHINGTON–In a 2003 speech, then Speaker Denny Hastert (R-Ill.) discussed his House management guidelines that became known as "The Hastert Rule." The rule calls for a leader not to send legislation to the House floor for a vote unless it has the support of the majority of the majority. On Wednesday, with just hours left to raise the debt ceiling or risk default, House Speaker John Boehner (R-Ohio)–who has been holding fast to the Hastert Rule–has to decide whether to break it.
My column on the role the Hastert Rule played in the runup to the partial government shutdown–Wednesday is Day 16–is HERE. Read the 2003 Hastert speech HERE.
Excerpt: Here is the Hastert Rule background and math:
At present, there are 232 Republicans and 200 Democrats, with three vacancies. If the House Democrats stick together — and so far they have — they would just have to pick off a handful of House Republicans.
While there are not many moderate Republicans — and they are drowned out by their Tea Party colleagues — there are enough to get to 217 votes to pass a bill.
But if Boehner went that route, he would violate the informal "Hastert Rule," which calls for any legislation first mustering the support of the majority of the majority. The reality is that any measure with provisions to win the backing of 116 House Republicans will not be supported by House Democrats.
*********************************************
The Washington Post
Shutdown Live Updates
In an interview on a local radio station, House Speaker John Boehner (R-Ohio) conceded that Republicans "didn't win" the current budget debate.
"We've been locked into a fight over here, trying to bring government down to size, trying to do our best to stop Obamacare," Boehner said. "We fought the good fight; we just didn't win."
Boehner also said he would "absolutely" allow a vote on the Senate plan even if a majority of House Republicans don't support the bill.
"There's no reason for our members to vote 'no' today," Boehner told conservative radio host Bill Cunningham, adding that he expected the government to open again Thursday.
*********************************************
Not surprising, but worth noting: Senate Minority Leader Mitch McConnell's (R-Ky.) primary opponent, businessman Matt Bevin, is out with a statement denouncing the deal McConnell helped craft
Here's part of Bevin's statement:
"McConnell just negotiated the GOP surrender to Harry Reid, leading the charge to give President Obama a blank check and lifting the debt ceiling once again without any spending reforms. Harry Reid has even praised McConnell for his 'cooperation.'

"After falsely promising that he would fight to eliminate Obamacare 'root and branch,' Sen. McConnell has instead given us more spending, more borrowing, and the Obamacare train wreck with exceptions for liberal pet interests."
Bevin's primary challenge — which is likely to be well-funded thanks to Bevin's personal wealth — has long hung over McConnell's negotiations in the current budget debate. Expect Bevin to keep up this line of attack in the months ahead, as he seeks to be a formidable opponent to McConnell.
*********************************************
Boehner urges House GOP to support Senate deal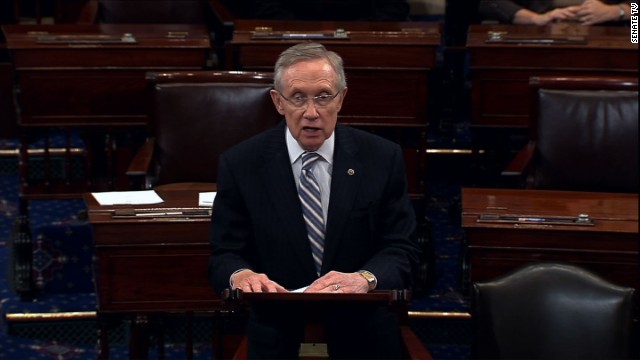 Washington (CNN) — Senate leaders on Wednesday announced a deal to end the partial government shutdown and avoid a possible U.S. default, and House Speaker John Boehner urged fellow Republicans to support it while a key GOP conservative said he wouldn't try to block it in the Senate.
"We fought the good fight; we just didn't win," Boehner told a radio station in his home state of Ohio in reference to GOP efforts to dismantle or defund President Barack Obama's signature health care reforms and extract deficit reduction concessions around the need to fund the government and raise the federal borrowing limit.
The Democratic-led Senate was expected to pass the agreement in a vote expected to take place by 7 p.m. ET on Wednesday night, followed within hours by a vote in the Republican-led House.
Both chambers will have to take special steps to get the legislation passed that quickly, raising concerns that tea party conservatives led by Sen. Ted Cruz of Texas would block or delay it in a final effort to include provisions intended to harm Obama's signature health care reforms.
However, Cruz told reporters that he wouldn't mount a filibuster or employ other procedural moves against the agreement. At the same time, he criticized his Senate colleagues for what he called their failure to listen to the American people and said the fight against Obamacare will continue.
National polls conducted since the start of the shutdown on October 1 indicate that while all sides are feeling the public's anger over the partisan political impasse, Republicans are getting blamed more than than Democrats or Obama.
Boehner and other House Republican leaders told their caucus they would vote for the agreement at an afternoon meeting that participants said ended with a standing ovation for the embattled speaker.
"Blocking the bipartisan agreement reached today by the members of the Senate will not be a tactic for us," Boehner said in a statement. "Our drive to stop the train wreck that is the president's health care law will continue."
News of the deal brought some relief to Wall Street as well as Washington, where the shutdown reached a 16th day with the government poised to lose its ability to borrow more money to pay bills after Thursday.
Senate Majority Leader Harry Reid hailed the agreement he worked out with his GOP counterpart Mitch McConnell as "historic," saying that "in the end, political adversaries put aside their differences."
Obama praised Senate leaders for reaching a compromise, and urged Congress to act quickly, White House spokesman Jay Carney said.
"As soon as possible is essentially the recommendation we have from here," he said.
U.S. stocks rose on the news of an agreement, with the benchmark Dow Jones Industrial Average jumping more than 200 points on the day.
Short-term plan
Reid said the Senate deal under discussion would reopen the government by funding it until January 15. It also would raise the debt limit until February 7 to avert a possible default on U.S. debt obligations for the first time.
It includes a provision to provide back pay to furloughed federal workers, leadership and congressional sources told CNN.
In addition, the White House supports a provision in the deal that strengthens verification measures for people getting subsidies under Obamacare, spokesman Jay Carney said.
Carney called the change "a modest adjustment," and said it didn't amount to "ransom" for raising the federal debt ceiling because both sides agreed to it and the White House supported it.
The Senate agreement also would set up budget negotiations between the House and Senate for a long-term spending plan.
McConnell fired an opening salvo for those talks, expected to begin soon and continue until December, when he said any ensuing budget deal should adhere to spending caps set in a 2011 law that included forced cuts known as sequestration.
"Preserving this law is critically important to the future of our country," McConnell said of the Budget Control Act, which resulted from the previous debt ceiling crisis in Washington.
The focus on an agreement shifted to the Senate after House Republicans failed on Tuesday to come up with a plan their majority could support, stymied again by demands from tea party conservatives for outcomes unacceptable to Obama and Senate Democrats, as well as some fellow Republicans.
Cruz, despite being in the Senate, is credited with spearheading the House Republican effort to attach amendments that would dismantle or defund the health care reforms known as Obamacare to previous proposals intended to end the shutdown.
All were rejected by the Democratic-led Senate, and Obama also pledged to veto them, meaning there was no chance they ever would have succeeded.
Republican Sen. Kelly Ayotte of New Hampshire called the House GOP tactic of tying Obamacare to the shutdown legislation "an ill-conceived strategy from the beginning, not a winning strategy."
However, Republican Rep. Steve King of Iowa advocated continued brinksmanship to try to change Obamacare, which conservatives detest as a big-government overreach.
"If we're not willing to take a stand now, then when will we take this stand?" he told CNN's "New Day," adding that if "the conservative Republican plan had been implemented five years ago, say at the inception of what is now the Obama presidency, we would have far less debt and deficit."
*********************************************
Related articles