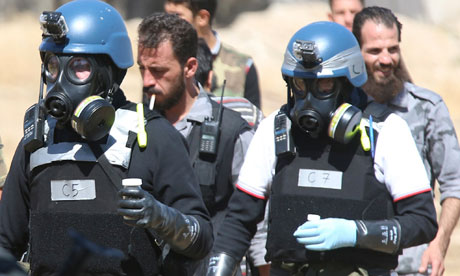 If the Obama administration wants an example of the difficulties involved in destroying chemical weapons, it might reflect upon its own struggles to get rid of cold-war era chemical arsenals stockpiled in tightly controlled storage facilities in Kentucky and Colorado.
The United States promised, but failed, to destroy these stocks by 2012 at the very latest. The most recent forecast from the US is that the process of "neutralising" the chemicals in its Colorado weapons dump will be finished by 2018; the date for Kentucky is 2023. That will be 11 years after the US promised to destroy its chemical weapons stockpiles, and eight years after Russia – the other major possessor of declared chemical weapons – says it will have finished destroying its arsenal.
About 2,611 tons of mustard gas remains stockpiled in Pueblo, Colorado. The second stockpile, in the Bluegrass region of Kentucky, is smaller – 524 tons – but more complicated to decommission, because it consists of a broader range of lethal gases and nerve agents, many of which are contained within weaponry.
Although the process of constructing neutralisation facilities in Colorado and Kentucky is well under way, both plants have still not begun testing procedures. The nature of the Kentucky stockpile makes it particularly difficult to destroy.
"They have every agent there and every weapon – rockets, artillery shells, landmines, spray tanks and aerial bombs," said Paul Walker, a program director at Green Cross International, which has facilitated the destruction of chemical weapons in the US and Russia since the mid-1990s.
Syria claimed this week that it would sign its chemical weapons over to international control, kickstarting a process that could lead to the destruction of the type of nerve agents that were alleged to have been used by the regime in suburbs outside Damascus on 21 August.
The proposal, endorsed by Russia, has been seized on by the White House as a diplomatic path that would avert military strikes, but doubts have been raised about the technical practicalities of securing Syria's chemical weapons and then destroying them.
The secretary of state, John Kerry, is flying to Geneva on Thursday for a two-day meeting with his Russian counterpart, Sergey Lavrov. The State Department said both diplomats would bring specialists to the meetings to discuss the "mechanics" of a programme of Syrian chemical weapons destruction.
The US and Russia have struggled to decommission their own stockpiles of weapons, built-up during decades of confrontation during the cold war. The process has taken place under the auspices the Chemical Weapons Convention – the same treaty Syria has now pledged to commit to.
Enforcement of the convention is overseen by the Organisation for the Prohibition of Chemical Weapons (OPCW), which is based at The Hague. The OPCW provided the scientists who conducted recent United Nations weapons inspections in Damascus and, if Syria were to commit to destroying its stockpiles, would oversee and verify the process.
*****************************************************************
Israel built chemical weapons stockpile, CIA document indicates
US intel report says spy satellites discovered facilities which may have been used to develop and store nerve agents
September 10, 2013, 9:28 pm
A newly discovered CIA document indicates that Israel likely built up its own chemical weapons arsenal.
Get The Times of Israel's Daily Edition by email
and never miss our top stories   Free Sign up!
Intelligence circles in Washington believe that Israel amassed a stockpile of chemical and biological weapons decades ago to complement its nuclear arsenal, Foreign Policy reported Monday on its website.
Information about Israel's chemical weapons production appears in a secret 1983 CIA intelligence estimate obtained by Foreign Policy.
American spy satellites in 1982 uncovered "a probable CW (chemical weapon) nerve agent production facility and a storage facility… at the Dimona Sensitive Storage Area in the Negev Desert," the CIA document reported. "Other CW production is believed to exist within a well-developed Israeli chemical industry.
*****************************************************************
Syria: Who else hasn't signed up to the chemical weapons treaty?
Egypt, North Korea, Angola, South Sudan, Israel and Myanmar haven't ratified the Chemical Weapons Convention, and Russia and the US haven't met their obligations under the convention. So what power does the CWC have?
By Sophie McBain Published 11 September 2013 10:25
UN arms experts inspect the site where rockets had fallen in Damascus' eastern Ghouta suburb on August 28, 2013, during an investigation into a suspected chemical weapons strike. Photo: Getty
Syria's foreign minister said on Tuesday night that the country intends to sign up to the Chemical Weapons Convention (CWC) and would halt its production of chemical arms, allow weapons inspectors in and disclose details of its chemical weapon stockpile.
The Chemical Weapons Convention was adopted by member states in 1992 and came into force in 1997. Signatories pledge not to use chemical weapons, to halt any trade or production of chemical weapons and to destroy their stockpile within ten years of signing. Syria is not the only state that has refused to sign the convention. Four other states, Angola, Egypt, North Korea and South Sudan have not signed up, and Israel and Myanmar signed the convention but never ratified it.
*****************************************************************
Related articles