The United States has led a chorus of international concern about Egypt's crackdown on demonstrators, publicly condemning the violence that resulted in the worst loss of life on a single day since the overthrow of President Mohamed Morsi last month.
The White House said "the world is watching" after a day on which at least 278 people were killed. But there was still no sign that the US was prepared to characterise Morsi's removal by the army as a coup – which would trigger an automatic congressional ban on $1.3bn in annual aid to the powerful Egyptian military.
"The violence will only make it more difficult to move Egypt forward on a path to lasting stability and democracy and runs directly counter to the pledges by the interim government to pursue reconciliation," said spokesman Josh Earnest.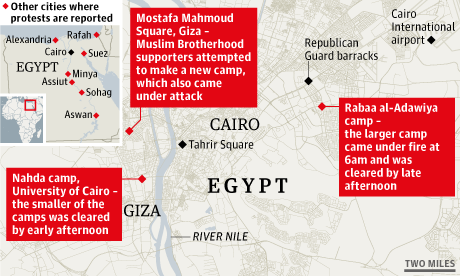 Lasting stability appeared further away than ever on Wednesday evening after the military declared a month-long state of emergency and the liberal Mohamed ElBaradei resigned as vice-president in the military-backed interim government.
The National Alliance to Support Legitimacy called on "all Egyptian people" to take to the streets "to stop the massacre" after police attacked its two sit-ins in Cairo's Nahda and Rabaa al-Adawiya squares early on Wednesday.
The alliance is an Islamist grouping led by the Muslim Brotherhood, which has been demanding Morsi's reinstatement as president since he was ousted by the army. Morsi supporters called for further nationwide protests.
Read More and Watch Video Here
***************************************************************************
Hundreds dead as Egypt witnesses day of bloody violence
Egypt appears to stands on the brink of civil war after the country witnessed its bloodiest day since Hosni Mubarak was ousted from power in 2011. Ruth Sherlock reports from Cairo.
By Ruth Sherlock and Gregg Morgan
10:53PM BST 14 Aug 2013
Riot police backed by armoured vehicles, bulldozers and helicopters swept away two encampments of supporters of ousted President Mohammed Morsi, setting off running street battles in Cairo and other Egyptian cities. At least 278 people were killed nationwide, many of them in the crackdown on the protest sites.
Vice President Mohamed ElBaradei, a Nobel Peace Prize laureate and pro-reform leader in the interim government, resigned in protest over the assaults as the military-backed leadership imposed a monthlong state of emergency and night-time curfew.
***************************************************************************
Related articles