Solar wind
speed: 401.2 km/sec
density: 4.0 protons/cm3
explanation | more data
Updated: Today at 0107 UT
X-ray Solar Flares
6-hr max: B4 2040 UT Jul21
24-hr: C3 0844 UT Jul21
explanation | more data
Updated: Today at: 2359 UT

Daily Sun: 21 July 13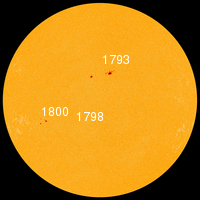 Sunspot AR1793 has a beta-gamma magnetic field that harbors energy for M-class solar flares. However, the sunspot is quiet. Credit: SDO/HMI


Solar activity is low. The biggest sunspot on the Earthside of the sun, AR1783, has been quiet for days even though it has a 'beta-gamma' magnetic field that harbors energy for M-class solar flares. NOAA forecasters estimate a slim 10% chance that AR1783 will break the quiet with an M-flare on July 21st.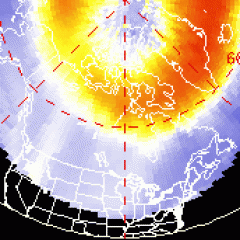 Switch to: Europe, USA, New Zealand, Antarctica
Credit: NOAA/POES

Planetary K-index
Now: Kp= 2 quiet
24-hr max: Kp= 2 quiet
explanation | more data

Interplanetary Mag. Field
Btotal: 5.1 nT
Bz: 2.0 nT north
explanation | more data
Updated: Today at 0107 UT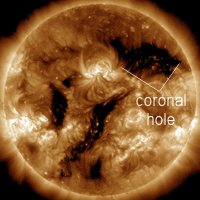 Earth is inside a solar wind stream flowing from the indicated coronal hole. Credit: SDO/AIA.
Related articles